Oporto is a romantically fading city, similar in its crumbling down & atmospheric decadence to Havana. For Port wine lovers, this is MECCA! Despite the town being frayed at the edges and not gentrified, we simply love Oporto (called "Porto in Portuguese),for the people, the food, the wine…
And here are some of our favorite spots for food and wine lovers-
BEST WINE LODGES
Taylor´s- Gorgeous lodge complete with house and outdoor terrace overlooking the Douro river. Taylor´s are the original port aristocrats with a fascinating history dating back to the 17th century. The tour is excellent and you learn not only about port but also the barrel coopering and vine-growing. Read a full profile of this port lodge here.

More info on Taylor´s
Ramos Pinto- Again, a beautiful lodge and a huge selection of wines to purchase and taste here. Ramos pinto has an excellent small wine museum as well. Read the complete profile of Ramos Pinto port lodge here.

More info on Ramos Pinto
Graham´s- Of all the lodges we have visited, Graham´s do the best tour. Their staff speak 7 languages and the visit is very informative and tailored to your existing port wine knowledge. You can book the "simple" tour with tasting of three ports like white port, Late Bottled Vintage (LBV) and 10 year old Tawny OR you can book a VIP tasting of higher end wines in their range. They have a good shop with many wine books for sale, and a wine bar. For port lovers, you could stay the whole morning here!

More info on Graham´s
Other good ones: Sandeman (who have both a port lodge in Oporto as well as a sherry bodega in Jerez de la Frontera), and Rozés, both are open to the public if you contact them first and make an appointment. Sandeman tends to get big groups while Rozés is more exclusive. Cálem (owned by Spanish investors) has a fantastic new visitors center on the riverfront in Vilanova de Gaia, and Croft have a beautiful cellar with excellent visitor´s center for tours and tastings.
More info on Port
Portuguese Winery Profiles
Portuguese Grape Varieties
VIP Port Wine Tours
BEST RESTAURANTS
Cafeina– Fun, trendy, young and chic.  Good for late dining, wine tasting (they do "wine flights" and atmosphere. Info here.
Shis– Elegant venue and hot chef (Antonio Vieira, formerly of Cafeina). Nice location on the Esplanade. Info here.
Presuntaria Transmontana 1 & 2– Our favorte place to go for the Portuguese version of tapas, called "Petiscos". Rustic, cozy, highly recommended. they have 2 venues, one in Porto and the other in Gaia.
Dom Tonho– Perennial favorite, love this place. You´ll find tourists but many locals, and the owner is a hoot. Right int he Ribeira, very picturesque setting. Info here.
Bull & Bear–  Refined and classy, great tasting menu and wines by the glass. Info here.
Foz Velha– Pretty dining room, elegant and expensive, as in Bull & Bear they have highly recommended tasting menus and many wines available by the glass. Great! Info here.
BEST HOTELS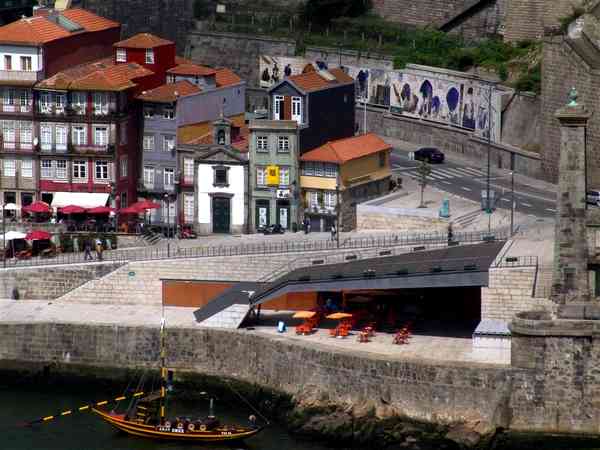 5* Porto Palacio Hotel & Spa- Recently renovated, this Leading Hotel of the World is an extremely comfortable place to stay and a major benefit here is Helio Loureiro´s restaurant. Stylish, great service and top class manager here, highly recommended. More info.
5* Sheraton Porto Hotel & Spa– While Porto palacio is classic and elegant, the Sheraton is contemporary, for a younger design crowd. Great restaurant as well and of course that fabulous spa. More info here.
3* Hotel Boa Vista- If you are on a budget, then this is a good option with great seafront location by the Castelo. Rooms are only okayish, but the sea views and price are worth it. More info.
Coming next year– we look forward to the opening of the new luxury Yeatman Hotel Wine Spa in the current Croft wine lodge in Vilanova de Gaia. Due to open in December 2009, look out for it!
BEST WINE BARS
Solar do Vinho do Porto- Beautiful, old fashioned wine bar specialized in ports (in fact, they only have ports, but maaaaaaaaaaaaany ports!) run by the Port Wine Institute and housed in a mansion. Come here for a quiet glass or three of port. Info here.
Degusto Wine Bar– Total contrast to the Solar, this is a trendy and ultra modern wine bar, very "scene-y" and cool. Contact details here.
Bogani Café– Love it love it love it. Great views over the river, comfy and luxurious chairs on the terrace, this is a café serving wine rather than a bonafied wine bar, but you could not get better views. Fab! Info here.
Cafe Majestic– actually not a wine bar as such (although you can order wine here), but Porto´s most striking and truly "majestic" cafe, dating back to the 1800´s and absolutely GORGEOUS. A "must". More info.
BEST SIGHTS
Livraria Lello– Yes, we are recommending a book shop, but not just any bookshop. This bookshop is the most beautiful we have ever seen in Southern Europe with a magnificent staircase, exquisite stained glass and many books in English on Portuguese wine and gastronomy on offer. This is a "must" while in Porto. You can also have a coffee and cakes in their cute cafe. Good profile and history of the shop here.
Palacio da Bolsa– The former stock exchange, this amazing mansion is TOTALLY  worth the visit. Don´t miss the Arabian room, wow! Wine lovers take note- the annual Essencia do Vinho wine fair is held here every February and is one of Portugal´s best organized wine events. Info here.
Serralves Art Museum– This contemporary art museum is also Oporto´s most famous Art Deco building and it is worth visiting not only for the wonderful museum but for its manicured gardens. Highly recommended and another "must". Info here.
Casa da Música– Porto´s best venue for concerts. They run regular concerts ranging from jazz to classical, and if you are  a music lover as well as wine lover, then check out their schedule of concerts.