Restaurants in Barcelona- Notes from a Foodie Weekend

We were in Barcelona last weekend checking out new suppliers, taking in some meetings and visiting some of our favorite foodie partners, here are some notes from our trip and tips for your next visit to Barcelona.
FRIDAY- CASA CALVET- We arrived to town after 9PM but managed to get freshened up before our late dinner at Casa Calvet. What a beautiful place! Located in a Catalan mansion designed by none other than Gaudi for a textile mogul at the turn of the last century, the whimsical dining room is all stained glass, "Modernista" design, mirrors, polished wood and brass. A "brindis" (toast) with cava was in order as we admired the setting and ordered the food. We shared wild mushrooms with chestnuts and Jamón Ibérico, perhaps not the most adventurous, but delish.  Other interesting starters included Bomba rice with conger eel and seasonal veg & Apple and foie gras ravioli with truffle cream. Alvaro Palacio´s "Terrasses" from Priorat was good value here and just gorgeous.  The mains selected were a delicate cod steak confit with porcini mushrooms and arbequina olives, artichoke chips and a rich duck liver with chickpeas and Iberian pancetta, aromatized with cumin. Gluttony, not hunger, made us finish with Apple tart tatin, made fresh to order. The other patrons dining this late were a mix of elegant Catalan couples and tourists. The food was not ground breaking or unique enough to be featured in a Bourdain episode, but was still very good and the setting beautiful, recommend for a special occasion.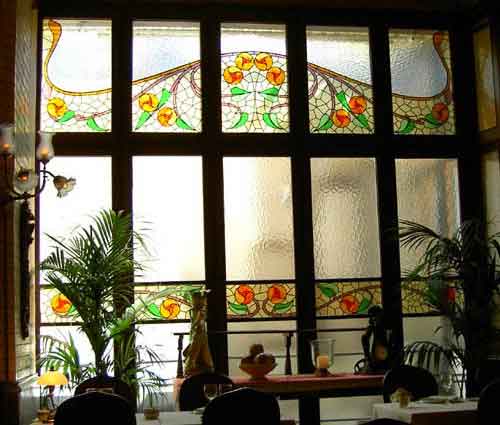 SATURDAY- EMBAT AND FONDA GAIG– While we normally breakfast at the Boqueria market when in town (cava and Joan´s garbanzos with Morcilla at Pinotxo in the market are a MUST), we had a meeting so had a quickie breakfast at "any old bar" of simple pan amb tomaquet (country bread drizzled with olive oil and sea salt and rubbed with tomatoes) and freshly squeezed orange juice as you do when in Spain…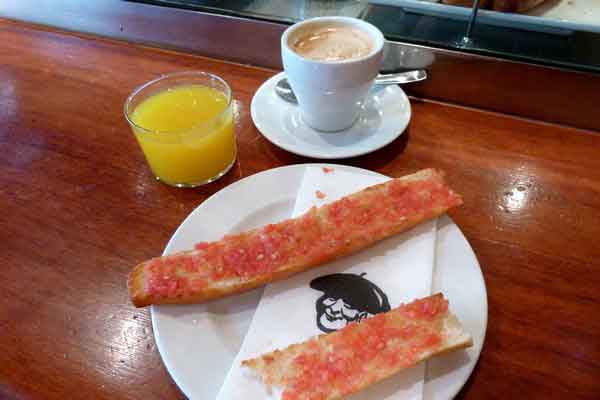 Lunch was with our friend, writer Tara Stevens who is launching a new cookbook as we speak (more on that later…) at the quite fantabulous "Embat".  We had heard good things about this swish little eatery, and it was the perfect lunch venue- light, airy, friendly, and not so crowded (dinner is more "sceney" apparently). Dinner was supposed to be the highlight today but lunch stole the show.  The wine list is very, very good, we selected a bottle of the current vintage of Vallegarcía Viognier (one of our favorite Spanish white wines), and it was peachy, fresh and creamy, love that wine.  An amuse bouche of Cauliflower pannacotta with caviar set the tone (mmmmms and ooooohs) and we continued with STUNNING cannelones stuffed with duck (a flagship dish,  Canelons d'ànec amb rossinyols de pi"), seared scallops with apple and pancetta, and followed with heavenly slow cooked beef, lobster rice and pigeon three ways. Simply yum, yum and more yum. I think dessert was actually a favorite dish, a refreshing "Sopa de romaní amb meló i llimona" ( a kind of soupy sorbet of melon, lemon and rosemary). Too delicious to describe in words… We were stuffed at this stage so decided to walk it off and do some gourmet shopping while in town. Visits to Escribà, Cacao Sampaka, the Corte Inglés supermarket were in order!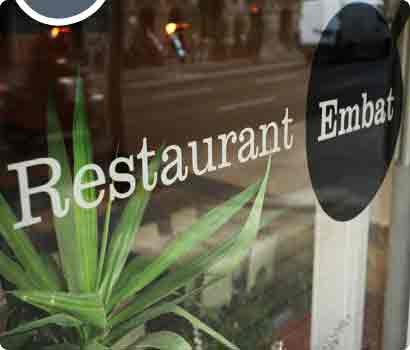 Dinner then was at Fonda Gaig, an old time favorite, relaxed, understated and  chic, with traditional Catalan cuisine served in a brasserie setting by mythical Michelin starred chef Carles Gaig (Fonda Gaig is his nostalgic eatery, known for its trad cuisine while "Restaurante Gaig", located at the stylish Hotel Cram is the trendy, creative Michelin starred eatery.) Don´t ask us where we found room (the more you eat the hungrier you get!), but we managed to have a full dinner and dessert (!):  Salteado de setas de temporada (sautéed wild mushrooms) and Senyor Gaig's biblical croquettes. For mains Pato con peras  (duck with pears) , Vieiras con salteado de alcachofas  (scallops with artichokes) and Albondigas con sepia  (meatballs with cuttlefish). To finish, nothing else would do but Crema Catalana, sublime. We were dying for a bottle of Artadi Rioja, but they just sold the last bottle so we had a very good bottle of Muga. We waddled back to our hotel, luckily a good 20 minute walk so we were able to digest… a bit….
SUNDAY- CASA DELFÍN– Our friend Kate who owns the truly wonderful Taller de Tapas chain (in our view the freshest and absolute best tapas in Barcelona!) invited us down to her newest venue in Barcelona, the Casa Delfín, a historic and well loved neighborhood restaurant that Kate recently took over.  Respecting the clientele and traditional Catalan cuisine, Casa Delfín has all the classic dishes on offer, as well as traditional tapas (Padrón peppers, anchovies, Jamón, calamares, you name it). While the inside of the restaurant is darling, kind of Parisian bistro a la Catalana, it was a sunny day and sitting inside on such a beautiful afternoon was not an option! We tasted our way through their tapas menu (major highlights were the savory garbanzos, and the nearly sweet, utterly buenísimo sautéed artichokes) and for mains had absolutely delicious seafood rice and a Sunday staple, liver and onions. They serve zippy Alella by the glass and, unusual for Spain, have some nice half bottles on offer. The crowd inside was all local, many older, elegant Catalan couples, while outside on the "terraza" was a mix of funky, younger locals and tourists like us 🙂 Recommended, especially for Sunday lunch.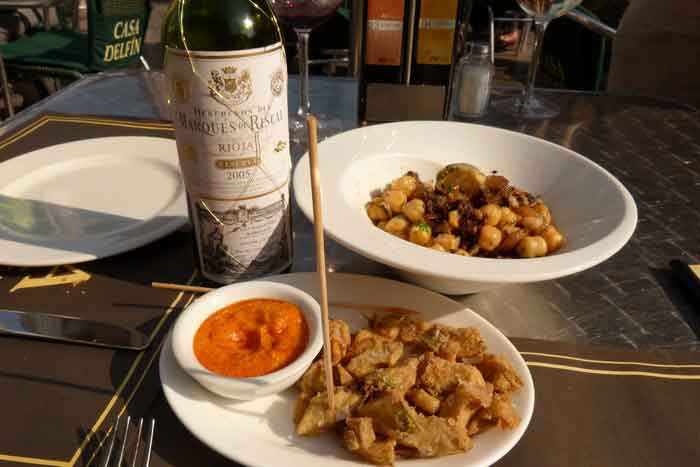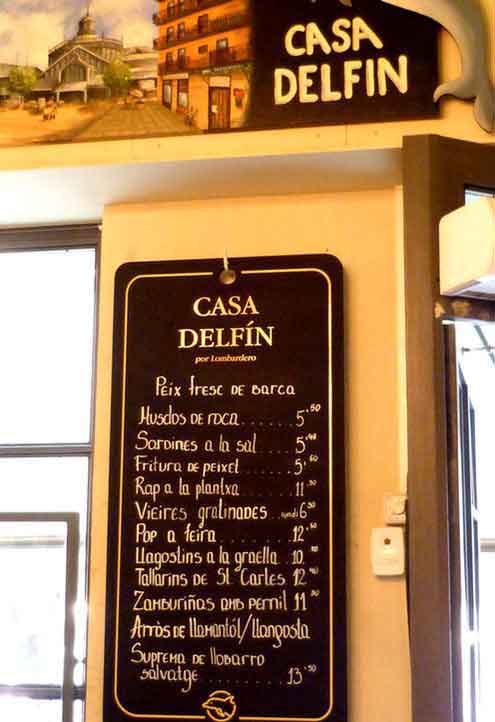 For our digestif, we took a long walk from the Borne quarter into the Eixample and sat down for a Campari at  the lovely Casa Fuster, our main hotel partner in Barcelona. They have a beautiful bar which is a stylish, relaxed place to have an afternoon drink or coffee and read the newspaper, listen to jazz. Casa Fuster is the coolest place to stay in Barcelona in our opinion, for location, rooms and setting. And alas, late afternoon called for packing, weighing suitcases exploding with our gourmet shopping, and heading to the airport.  A reveure, Barcelona!
Other spots we love in Barcelona: Cinc Sentits (for an elegant but unpretentious Michelin starred dinner delivered in perfect English as the owners are Canadian-Catalan), Abac (for a special "date night" Michelin dinner in glam setting), the old fashioned and pretty "La Dama" restaurant (romantic), Katherine´s Formageria de  la Seu cheese shop (where onsite cheese tastings can be organized), Sergi Arola`s trendy tapas bar at the Hotel Arts, and the tremendous wine selection at the Vila Viniteca enoteca (we organize  Spanish cheese and wine masterclasses here in their cellar). On our next visit to Barcelona we plan to dine again (it´s been a while) at Alkimia and will check out Carles Abellan´s newish Tapaç 24.
Shots around town…