This past weekend we enjoyed a lovely research trip at the Parador of Chinchón, a tiny little historic village, located about an hour south of Madrid, on the way to the Royal gardens of Aranjuez. The spec of a village is comprised of an arcaded medieval main square (lined with 235 wooden and brightly painted balconies), a castle in ruins, a few narrow little streets lined with old mansions, and an abundance of excellent restaurants. The Plaza Mayor (main square) has been used for the centuries for royal galas, juegos de cañas (jousts), executions under the Inquisition, Military parades and bullfights. Bullfights and a running of the bulls, in fact, still take place. This is the classic place to go for a Sunday lunch out of town, for Madrileños. Chinchón is famous for its Liquors- Anis (made from aniseed,  a clear liquor taken as a digestif, similar to grappa)  and Limoncillo (similar to Limoncello, made with lemons, also taken as a digestif). You can visit the distillery, "Alcoholera" if you want to see the process (about 11 km outside of Chinchón). If you will be visiting Madrid, then Chinchón is a fun little detour for the afternoon or for a nice dinner and overnight stay.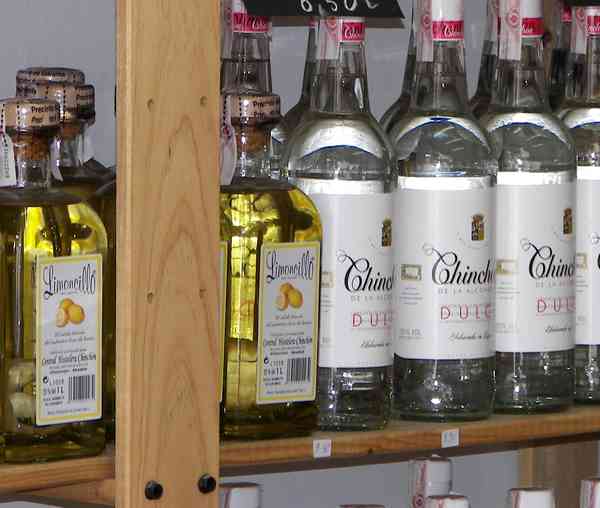 WHEN TO GO- why not time it to coincide with local festivities? You have the Anis and Wine festivals at the end of March and the garlic festival in October. Religious events include Semana Santa (Holy Week) the fiestas of Chinchón´s patron saints Nuestra Señora de Gracia y San Roque is on 12-18 August (although it is very warm in summer!).  Winter is also a nice time to enjoy the atmospheric restaurants and meat heavy dishes.
WHERE TO STAY- the Parador Hotel, located in the converted 17th century Augustine convent. Dating back to 1626, the convent hosted many VIPs including the Archduke of Austria (during the war of Spanish succcession). It´s small and very pretty with a beautiful rose garden and excellent restaurant, serving historic recipes (such as the traditional "Cocido" whose recipe dates back to the 1700´s.
WHERE TO DINE– We love the Cuevas del Murcielago (Bat Caves) for its rustic dishes and old wine vats (called "Tinajas") and the more elegant Casa Pregonero, right in the Plaza Mayor.
WHAT TO SEE- If you come to the village for the day only, then pop into the rose garden at the Parador. The Plaza Mayor will be your first visit and you can visit the Teatro Lope de Vega and the main church with its Assumption of the Virgin painted by Goya.