GOURMET HOTSPOT IN BARCELONA
We asked local Barcelona gourmet guru and professional travel writer Tara Stevens to recommend a fabulous eatery in Barcelona for our most special clients looking for a memorable lunch, and here is what Tara shared with us: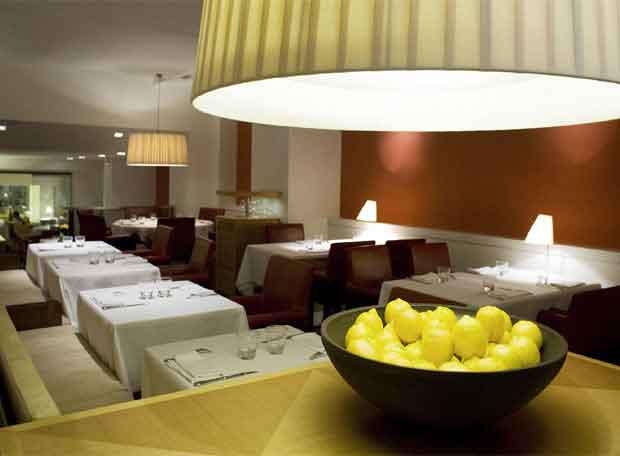 Fonda Gaig-
Thoroughly enjoyed this. Service was a delight, aside from the sour faced puss manning the till when we left. Señora Gaig was particularly welcoming. The place is vast, creamy decor with lovely plump, red, leather armchairs at each table laid with linen and Riedel glasses, so that you really feel inspired to sit back and get stuck in. Actually, my friend and I spent half of lunch snuggling deep into these fabulous creations declaring how wonderful it all was. Felt luxurious without being stuffy. There's no music (piped or otherwise) and they've got excellent white sound so you're not disturbed by other tables, but equally there's a good sense of space here. Don't feel crammed in at all. Overall atmosphere is really very laid back, the staff pleasant without being overly fussy (which I find perfect).
The food is very traditionally Catalan – canelones (superb), wood cock on the specials (ultra gamey, but definitely a winner for a lot of folks), a boring ensalada de huerta (but then, salad is salad and we needed something green), excellent plump, sweet scallops with friend artichoke quarters. Great bread, less good oils and vinegars, and a substantial though not wildly interesting wine list (if you look hard you'll find some interesting boutique wineries like Baigorri, but generally pretty much what you'd expect) and interestingly enough the Catalan wines seem to have a higher price hike than those from Rioja or Ribera, say.
Our bill came in at €136, and I left a €10 which is a lot for lunch. However, we choose a mid-range wine €31.60 for a Marques de Vargas 2004, and the woodcock was pricey being a seasonal game bird. A quick gander at a couple of other bills on leaving told me that €100 for two was more standard.
All in all though, I left feeling I'd had a treat, largely because you feel so cosseted sitting there. Compare this to a few weeks ago when I ate at Fermí Puig's Petit Comite, and felt ripped off by the time I'd finished. And they invited me. But really, who charges €13 for a potato?
Trendy restaurants Barcelona
Fonda Gaig to sum up-   it's new, of the moment, a great destination for a long lunch or dinner, very relaxed, very Catalan and super comfortable. Best of all they'll get to rub shoulders with genuine uptowners as opposed to destination diners.