Jameson needs little introduction to fans of top-quality Irish spirits. The brand has become a "battering ram' for the reputation of Ireland's underrated contribution to the category, knocking down doors and opening up new palates to this delicious product. It has become a global trailblazer, proving that Ireland can produce world-class whiskey. Today the brand is owned by Irish Distillers, a subsidiary of the global drinks firm Pernod Ricard. Over 7.3 million cases were sold in 2018 – Jameson is the best-selling Irish whiskey in the world, not to mention one of Ireland's signature tourist attractions.
The brand was founded in 1780 by John Jameson, a lawyer from the town of Alloa in Scotland. Married to the eldest daughter of a famous whiskey distiller – John Haig – he was ideally placed to carry on the fine Scottish tradition in Dublin. Quickly establishing a reputation across Ireland for the quality of its product, Jameson was officially incorporated at the turn of the 20th century, operating as John Jameson and Son Ltd. Each successive generation continued this fine family tradition until Jameson became one of the world's largest whiskey brands.
A new chapter in the firm's history occurred in 1966 when John Jameson merged with rival companies Cork Distillers and John Powers to create the Irish Distillers group. Following the merger, it was decided to close the original distillery in Dublin, moving production to the freshly inaugurated distillery in Midleton, which is outside of the city of Cork. The company went from strength to strength, until it was decided to pass control to Pernod Ricard in 1988. Nevertheless, this was to the brand's great benefit. Investing heavily, Pernod Ricard has ensured that Jameson has stayed ahead of the competition, and played a crucial role in establishing a premium for the category. It has done so by creating higher strength, older and rare whiskeys that are just as good as the very best Scottish brands. Moreover, tourism has been a chief priority for the firm since the acquisition – Irish Distillers spent over 12 million dollars renovating the original distillery in Dublin, turning it into a major tourist attraction.
Indeed, thanks to pioneers like Irish Distillers, there is plenty for the whiskey tourist in Ireland to do. The impressive waterwheel at the old Jameson distillery in Bow Street in Dublin offers a foretaste of what is to come – the Jameson visitor center is plush and stylish, albeit free of the aroma of fermentation and distillation. Meanwhile, at the stunning old distillery at Midleton, you can all but hear the laughter of former workers. It was replaced by a newer distillery, a huge and impressive operation which towers over the old distillery and is probably the most advanced in Europe.
The other good news is that Jameson whiskey has never been better. It is a poster-child for excellent blended whiskey, the signature style from Ireland. However, it is very distinct from the blended whiskeys produced in Scotland. In Ireland, a blend is a mix of pot still whiskey and grain whiskey, blended before aging in oak casks. Jameson 18-years old Gold Reserve is one of our favorites, a powerful blended style bursting with spice, honeycomb and red berries offset by a rich oiliness. Yet it is the Jameson entry-level brand that continues to win over hoards of new fans. It may be ubiquitous the world over, but familiarity should not breed contempt, for Jameson yellow label is a beauty. Rich, elegant and mellow, this is Irish whiskey at its finest.
Whiskeys produced
Jameson 12-year-old Special Reserve

Jameson 18-year-old Gold Reserve

Jameson Rarest Vintage Reserve
Distillery details
Bow St
Smithfield Village
Dublin, 7
Tel +353 (0) 1 807 2355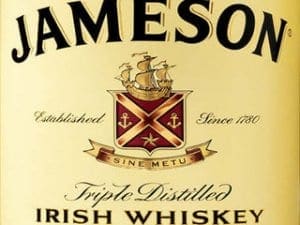 Winemaker

Brian Nation

Owner

Irish Distillers – subsidiary of Pernod Ricard

Production

4.7 million cases per annum