Introduction to the Red Wines of Spain
Spain's viticultural landscape is anchored in both tradition and modernity. Vines have been cultivated since Roman times, and the nation has more vineyards than any global wine producer. As a result, cold winters and hot summers can easily ripen a broad palate of red varieties, often cultivated according to the local appellation or DO (Denominacion de Origen) rules. These DOs strictly regulate the grape varieties and production methods; Spanish wineries or bodegas were traditionally places where wine was aged, often for several years in old American barrels. Many winemakers still follow this time-honored practice today, releasing wines when they are ready to drink instead of when they're ready to sell.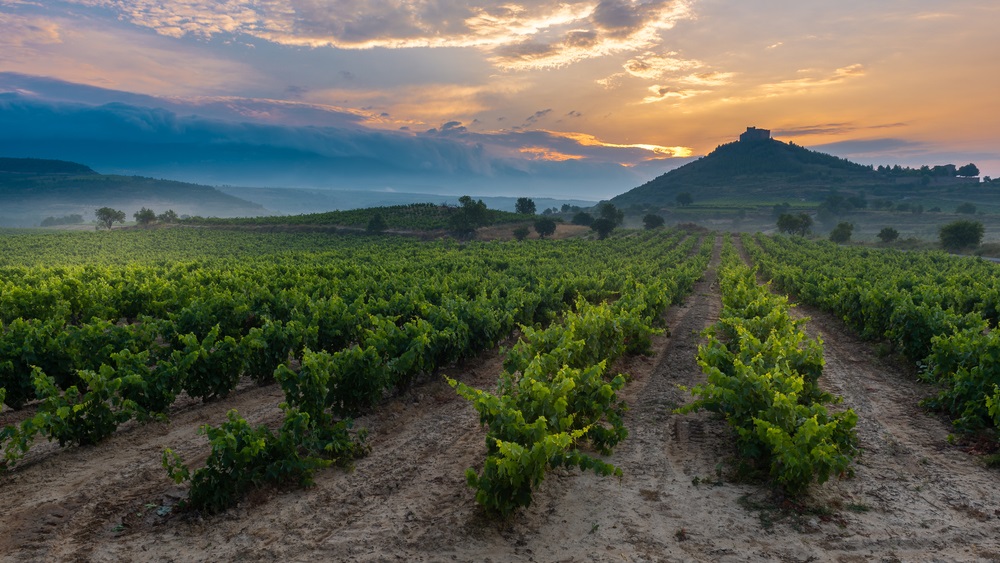 Yet the Spanish red wine picture is changing fast. No longer are the most famous regions necessarily commanding the most significant interest or investment; in Castilla La Mancha, known as the sarten (frying pan) of Spain, winemakers like Elías López Montero are crafting Garnacha wines of incredible finesse, elegance, and poise. Formerly derided zones such as Valdepeñas and Malaga are transcending their reputations for producing coarse, alcoholic dross. Telmo Rodriguez, Alvaro Palacios, and other pioneers continually search for the next undiscovered terroir or region, spreading their tentacles in all four corners of the Iberian Peninsula. It's a brilliant time to become acquainted with Spain's diverse red wine portfolio.
Of course, Tempranillo (the key red grape of Rioja and Ribera del Duero) remains very popular, and winemakers are relishing the depth and minuscule yields of old (often centenarian) plantings of bush vines. Nevertheless, Spain's red wine landscape is unrecognizable when compared to the 20th century. In the 1980s, Spain had, effectively, just Sherry and Rioja to shout about, while few collectors outside of Spain had ever tasted Vega Sicilia. But that was before a rash of investment flowed into Spain at the turn of the Millennium, transforming hitherto unremarkable regions into hotbeds of experimentation and excitement. Fifteen years ago, few oenophiles had heard of Mencia, Bobal, or Monastrell. Now wine merchants, restaurant owners, and buyers are queuing up to promote the awesome diversity of Spanish red wine.
Today, Spain's greatest reds arguably come from Rioja, Ribera del Duero, Penedes, Priorat, Jumilla, and Bierzo. What unites these eclectic regions is balance: acidity and freshness are increasingly being prioritized over brute strength and high alcohol. At the same time, the paradigm of lavishly aging wines in new French barrique is being toned down. Instead, modern Spanish winegrowers want to have their cake and eat it – the best red wines are both gloriously concentrated and yet refined, imbued with bags of fresh acidity and poise. This is the face of contemporary Spanish red wine.
Key Spanish Wine Regions
La Rioja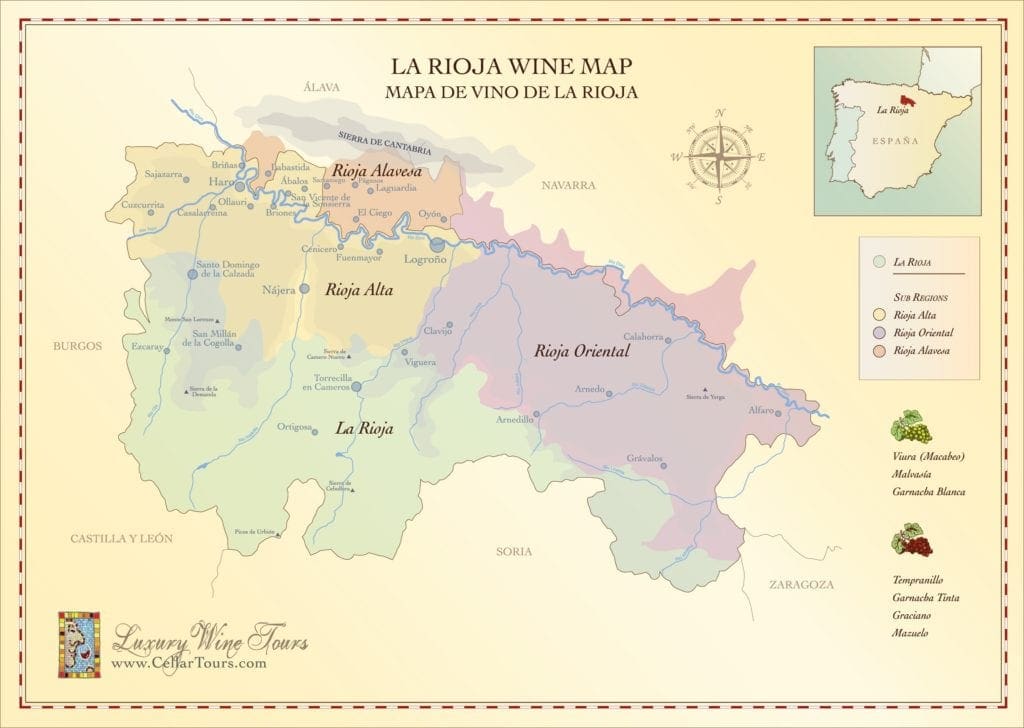 Does Rioja really need an introduction? Enthusiasts and collectors have been swooning over the region's velvety and supremely elegant red wines for over a century, traditionally aged for many years in American oak barrels. Its reputation was forged in the late 1800s when Bordeaux merchants were forced to look for new sources of wine after the phylloxera louse devastated French vineyards. They taught the Riojan establishment how to age in 225-liter oak casks and so an iconic style was born. Located in the northeast of Spain, Rioja has over 61,000 hectares under vine, divided into three sub-regions. Rioja Alta is situated in the central-western section of the appellation, while Rioja Alavesa is in the northern Basque province of Alava. The warmer and lower vineyards of Rioja Oriental are where growers produce the best Garnacha wines. Tempranillo is the mainstay of Rioja production, planted on calcareous soils and typically blended with smaller amounts of Garnacha, Graciano, and Mazuelo (Carignan). The resulting wine is medium-bodied, silky smooth, and very moreish.
There has been an explosion of new approaches and wine styles in the 21st century: single-vineyard wines are becoming more common, as are single-varietal cuvees based on Garnacha and even Graciano. But for many acolytes, only long-aged Tempranillo blends represent the true face of Rioja.
Read more about Rioja:
---
Ribera del Duero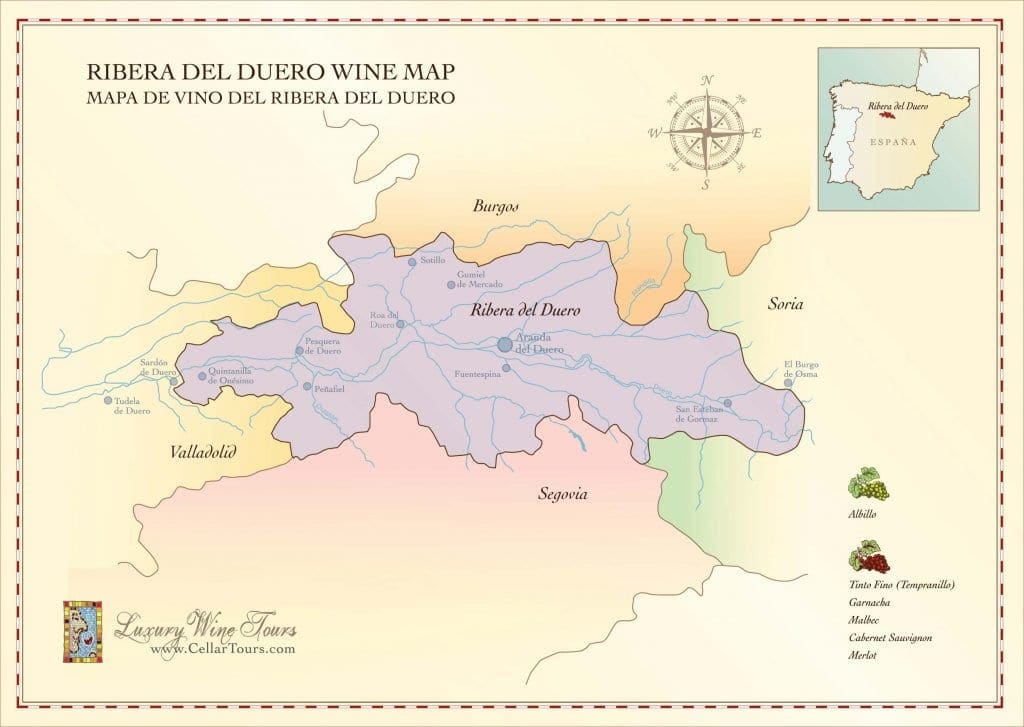 Ribera del Duero is a phoenix risen from the ashes – a region totally transformed. When the zone was awarded DO status in 1982, it started with just 14 wineries. Today, approximately 300 growers are marketing powerful and structured red wines, often exclusively based on the Tempranillo grape. Unlike Rioja, Ribera del Duero has always prioritized aging in French barrique, imbuing its signature export with a potent combination of immense concentration, deep color, lively acidity, and oaky opulence. As a result, the region's most famous exports – Vega Sicilia and Pingus – are among the most expensive and prestigious red wines being made in modern Spain.
Ribera del Duero is situated northwest of Madrid, in the arid, barren plains of Castilla y Leon. The area boasts a colorful and dark history: El Cid – the scourge of the Moors (actually a mercenary who also hired his services to the Islamic caliphate) – was born near Burgos in Castilla Y Leon. The region was also a frontline in the clash of Christian and Muslim civilizations during the Reconquista. As a result, much blood has been spilled over Castilla y Leon's diverse terroir.
Today, however, it is a region of prosperity and growing recognition. Vines are planted on both sides of the river Duero, blanketing a broad valley that moves from regional capital Valladolid upstream to Aranda del Duero. It is the expanding heartland of powerful Spanish red wine.
Read more about Ribera del Duero:
---
Priorat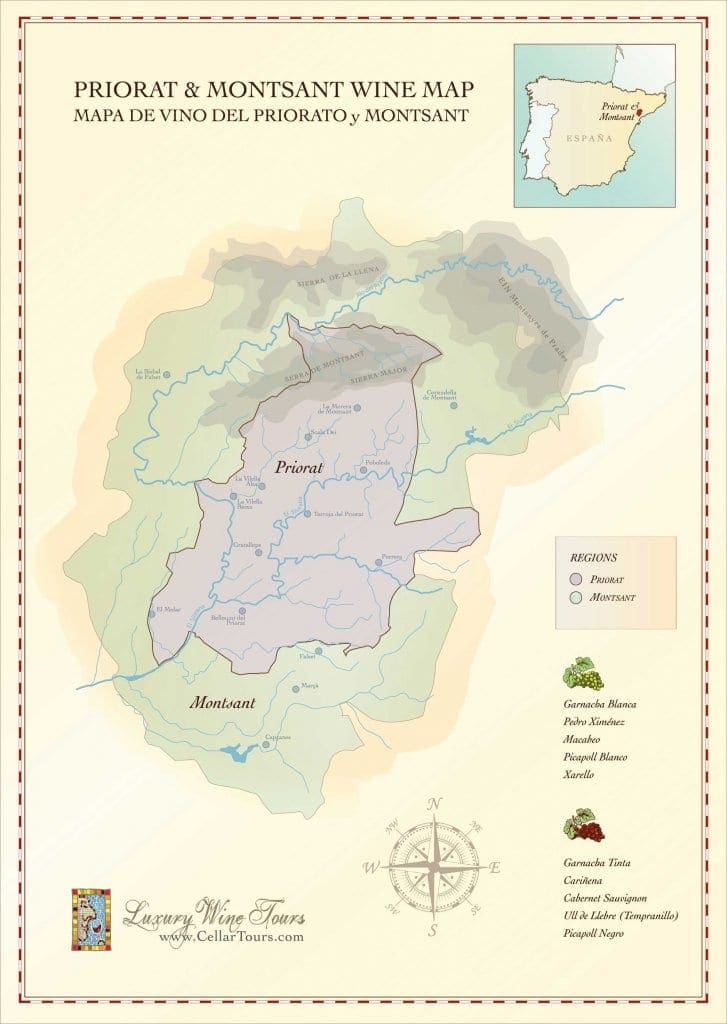 Catalunya's fine wine powerhouse has been planted with vines since at least the 12th century when the Carthusian monks established a Priorat (priory) in the 1100s. Unfortunately, the phylloxera louse destroyed much of Priorat's viticulture; however, its fortunes were resuscitated in the late 20th century by the godfather of the Spanish luxury movement. Born in Rioja, Alvaro Palacios worked with his contemporaries René Barbier from Penedes and Switzerland's Daphne Glorian. They, amongst others, arrived in Priorat the late 1980s and saw the potential of the region's ancient Garnacha vineyards for fine wine production. Applying modern winemaking techniques and utilizing new French oak, they made powerful and hitherto unseen wines from the best local fruit.
The secret to their success is threefold: superlative winemaking, sensibly low volumes, and unparalleled terroir. The local soil, known as licorella, is dark brown slate that offers both warm conditions to ripen fruit and perfect drainage. The result is wines of incredible concentration, finesse, and balance. Single-vineyard Priorat is in high demand and short supply. The region has also been at the forefront of Spain's terroir movement in recent times, unveiling a hierarchical ranking of its best 'Grand Cru' vineyards in 2019.
Read more about Priorat:
---
Penedes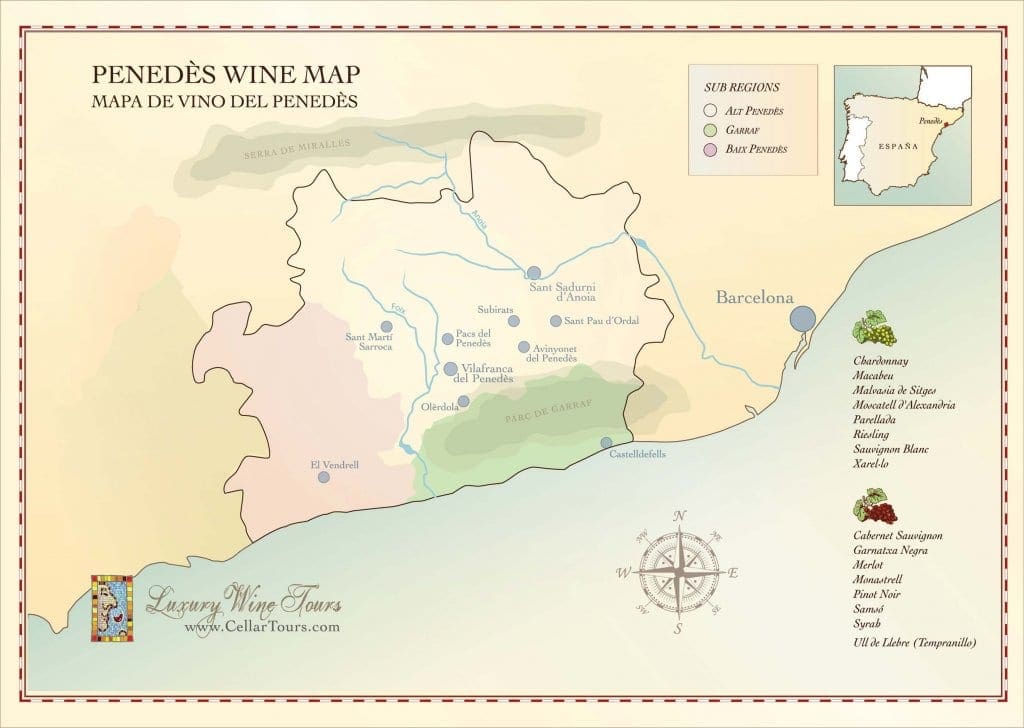 South and west of Barcelona is a world of constant renewal and experimentation. Unlike Rioja and Ribera del Duero, the Penedes region has no one signature red grape variety. Instead, it is widely planted to international imports such as Merlot, Syrah, and Cabernet Sauvignon. In addition, Penedes is the home of the Torres family, one of the great pioneers of putting Spanish viticulture on the international map. They produce a range of excellent wines in Penedes – the region's hot and dry summers are ideal for ripening a diverse range of red grape varieties. Yet, in addition to marketing a delicious portfolio of international grapes like Cabernet Sauvignon (branded as Mas La Plana), the family has been experimenting with local Catalan varieties such as Trepat.
Elsewhere, the appellation's best winegrowers are constantly seeking out higher altitude sites in the scrubland of Alt Penedes. The best of these wines are made from low-yielding old vines planted on poor soils. Meanwhile, over 95% of all Spanish sparkling wine, known as Cava, is made in Penedes. Indeed, the Penedes region is a land of massive – and expanding – diversity.
Read more about Penedes:
---
Toro
Toro is another of Spain's modern red wine miracles. In the 1990s, this corner of Castilla y Leon was blessed with just eight bodegas dedicated to producing the ripest and robust expressions of Tempranillo imaginable. They caught the eye of both influential critics and investors like Pablo Alvarez, the owner of Vega Sicilia. So when he unveiled a new project in the zone, known as Pintia, Toro knew it would never look back.
There are now over 60 wineries in the Toro DO, located in the Zamora province and east of the city of the same name. It has risen from a recherché backwater into a global star, attracting investors from Bordeaux, the US, and the luxury goods conglomerate LVMH. The region is a sea of old bush vines planted on clay and sandy soils that bake in the extreme continental climate. Indeed, in some vintages, Toro receives less than 400mm of rain per year.
This makes it hard to explain to freshness and vitality inherent to these big, bold reds from Spain's hinterland. However, growers have a secret weapon, and that weapon is altitude. Many of the best vineyard sites are found at altitudes of between 600-800 meters, ensuring that winemakers can harness all the benefits of cooler nights and acidity retention. As a result, modern Toro is both virile and refined.
Read more about Toro
---
Bierzo
In a very unspoiled and beautiful corner of Northwest Spain, you'll discover Bierzo. The region's cool climate is ideally suited to cultivating the Mencia grape, producing the antithesis of big and beefy red wine. Planted along the banks of the River Sil and heavily influenced by the cool Atlantic current, Mencia ripens to piercing acidity and unparalleled freshness. The terroir is quite mixed – there is a great deal of clay and metamorphic soils of quartzite and slate. Like Toro, centenarian vines are by no means uncommon; many of the approximately 3000 hectares of vines are at least 65 years old. Today, over 80 winegrowers are marketing medium-bodied wines that deserve 5-star gastronomic treatment. Look out for Descendientes de Palacios if you want to experience Bierzo at its best.
Read more about Bierzo:
Top Spanish red grape varieties

Tempranillo
A celebrity among Spanish viticulture, Tempranillo is known as Tinto Fino in Ribera del Duero and Ull de Llebre in Catalunya. This early ripening red grape variety (Tempranillo is derived from the word Temprano, which means early in Spanish) is much-loved for producing soft and aromatically expressive red wines. The signature aromas of strawberry, red cherry, and plum fade into smoky complexity, with age-old Rioja, typically reeks of tobacco leaf, spice, and shoe leather. Tempranillo is no picnic to cultivate (early budding makes it vulnerable to spring frosts), but the wine it produces is magnificent.
---
Mencia
The deeply colored and pungently aromatic Mencia has no equal in the world of Spanish red wine. Only planted in Spain and Portugal, the grape is much appreciated for its robust structure, lively acidity, and ability to age for many years after release. In its youth, you'll encounter notes of blackberry, pomegranate, and black cherry. With age, tertiary flavors of wood smoke, coffee, and truffle should emerge.
---
Garnacha
Garnacha Tinta (Grenache Noir to the French) was once derided as coarse, alcoholic, and as subtle as a fluorescent airstrip. But champions of the grape like Alvaro Palacios have definitively proven that the Southern Rhone grape can produce superlative and long-lived red wine in the Iberian Peninsula. Currently thriving in Rioja Oriental, Jumilla, Sierra de Gredos, and south of Madrid, Garnacha ripens to high alcohol levels and pungent aromas. The powerful scent of red fruit and spice always clues in critics during a blind tasting. Old bush vines in the Campo de Borja and the Gredos mountains are now highly prized commodities.
---
Monastrell
Monastrell lacks the fame of Tempranillo and the glamour of Mencia, and yet it is now responsible for some of Spain's most exciting reds. Known as Mourvedre in the South of France, the grape blends well with Garnacha and Syrah, adding flesh, body, and spice. However, single-varietal Monastrell wines made in east-central Spain are increasingly prized for their concentration, weight, and longevity. Young examples are bursting with flavors of raspberry, plum, and black cherry. It is usually full of alcohol, tannin, and extract. Older bottles are a delight; aromas of forest floor, truffle, and game leap from the glass.
---
Cariñena
It goes by several synonyms: Carignan in France, Mazuelo in Rioja and Cariñena in Aragon. It has historically been maligned for its tendency towards high yields and alcohol; however, the grape can produce structured and concentrated wine in the right hands. It is widely planted in France's Languedoc region and is still an essential ingredient in Priorat. Overcropped vines continue to produce dross, but the top examples are a million miles away from this caricature. Indeed, old bush vines in Aragon and Rioja are making pungent and intense wine, with pronounced aromas of black fruits, licorice, white pepper, and garrigue.
---
Bobal
Bobal undoubtedly remains a relatively obscure red grape variety in the great pantheon of Spanish viticultural treasures. It is native to the Utiel-Requena region of southeastern Spain and can be found in several up-and-coming DOs, including Valencia, Alicante, and Murcia. In the past, Bobal was regarded with little interest; however, a younger generation of winemakers finally gave the grape the respect it deserves. Ripening to naturally high levels of tannin and acidity, the grape's thick skins are full of intense flavoring compounds. Aromas of chocolate and sour cherry instantly leap from the glass, making Bobal an ideal partner to grilled chuletas (lamb chops) and warm summer evenings.
Related Blog Posts