The length and breadth of Italian red wine
Italy wrote the book on viticultural diversity. A nation of just over 59 million people boasts a treasure trove of indigenous grape varieties and esoteric wine styles that has no equal anywhere in the world. If you care to look, untold riches are waiting to be discovered in this complex, incredibly diverse country.
The catalyst for this unprecedented creativity and dynamism has its origins in the ancient world. Although the Etruscans controlled the center of the Italian peninsula in the 8th century BC, Greek traders and colonists were starting to gain a foothold in southern Italy. They founded a series of independent city-states along the coast and on Sicily, known as the kingdom of Magna Graecia. Their arrival heralded a turning point in Italian viticulture, as the Greeks brought all manner of grape varieties with them. Indeed, the colonists once called Italy 'oenotria' or the land of wine. Subsequent visitors to mainland Italy and its islands, including the Visigoths and Aragonese, have all left their indelible mark on the nation's vinous identity.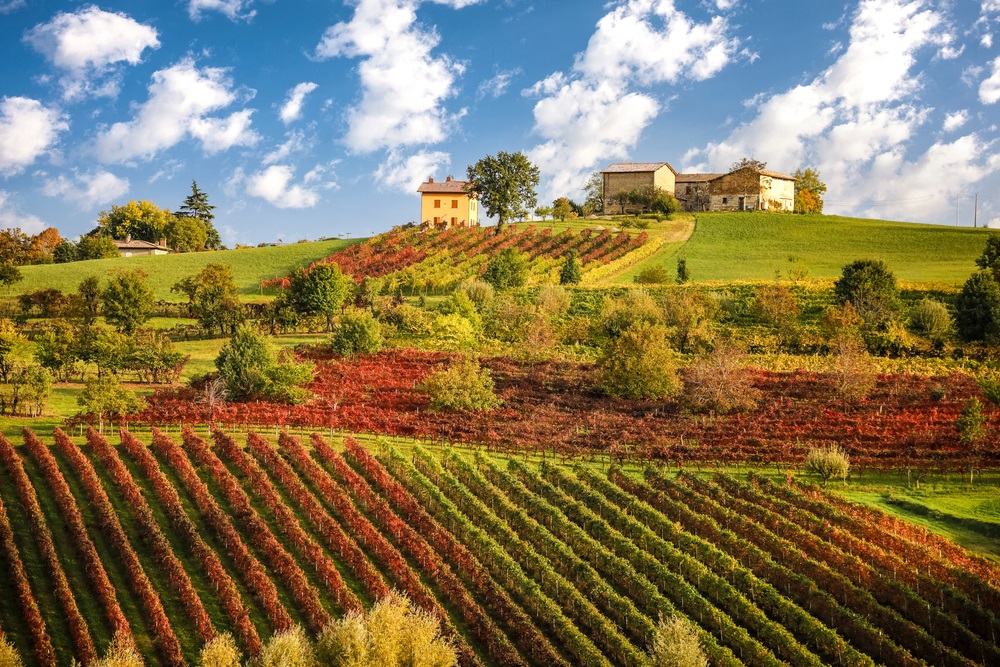 Ultimately, Italy's unbelievably varied topography is responsible for the wine paradise we enjoy today. Every Italian region is in the wine business, offering a distinct set of traditions, terroirs, and climatic variances. In addition, there are endless opportunities to grow almost every grape variety known to man due to the mosaic of soil types, vineyard elevations, micro-climates, and aspects. As a result, generalizations about Italian wine are impossible.
Yet, the forces of globalization and standardization are present in Italian vineyards. Cabernet Sauvignon arrived as far back as the early 1800s. By the 20th century, many regions counted on the easy money to be made from ubiquitous wine styles like varietal Merlot and Sauvignon Blanc. The Super Tuscan revolution of the 1960s and 70s has undeniably produced a surfeit of exceptional wines, often based on the classic Bordeaux blends.
However, the 21st century has seen Italy return to its roots. A global market increasingly saturated with international varietals is no longer the commercial nirvana for Italian growers. As a result, the reverence for Chardonnay and Syrah is fading quickly, as consumers seek out points of difference and authenticity in their wine choices. Of course, there will always be international wine styles made in Italy – the best examples are indeed great wines. But they can never compete with the excitement of exploring the road less traveled; Fiano, Greco, Negroamaro, Nerello Mascalese, Teroldego, and Lagrein are all waiting to be discovered. After a slow start, Italy is waking up to absolute and undeniable truth; its future success depends on embracing its past.
North-East Italy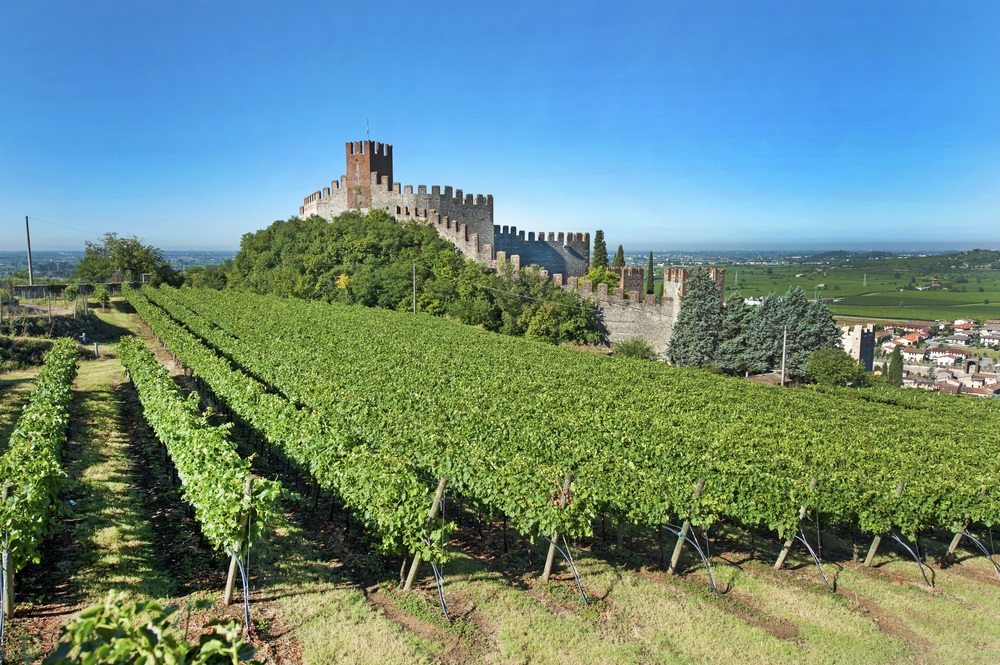 If Tuscany represents the true soul of Italian wine, then the vineyards of northeastern Italy run a close second. Nevertheless, this eclectic and spectacular mountainous region is responsible for a sparkling wine icon: Prosecco. Made across nine provinces in the wider region, Prosecco has remained astonishingly popular, not least because it is both affordable and delicious.
Indeed, this corner of Italy offers a wealth of excellent sparkling wines. The Trentino-Alto Adige region is home to several thriving appellations, including TrentoDoc. Ferrari (no relation to the car) is the market leader, producing a range of excellent traditional method wines from Pinot Noir (and Chardonnay) grapes cultivated on steep valley slopes. Situated close to the Austrian border, Trentino-Alto Adige offers a wealth of local curiosities. Teroldego Rotaliano and Lagrein are authentic originals – two red grapes seldom seen outside northern Italy. Meanwhile, the sparkling red Lambrusco made in Emilia-Romagna is loved by some and detested by others. Croatina is another obscure gem of the region, also found in Lombardy.
There are more treasures to be discovered in the Veneto province. The hills of Verona encompass a broad palate of wine styles, including the much-loved Valpolicella. Amarone della Valpolicella is magnificent – a potent and concentrated red wine that has no parallel. By comparison, Italy's far northeastern corner is dedicated to producing white wine. Friuli-Venezia borders Slovenia and has been a powerhouse of Italian Pinot Grigio and Sauvignon Blanc for decades. Nevertheless, some exciting reds are being made in the appellations of Colli Orientali and Carso, the latter based on the (generally) unknown Refosco grape variety. The smaller Collio DOC appellation, situated to the south of Orientali, is also gaining a reputation for its fresh and fruity red wines.
Key indigenous red grape varieties of north-east Italy
Croatina
Described as "the Syrah of Italy" by some, Croatina is a late-ripening and high-yielding variety, requiring judicious pruning throughout the season to control its growth. However, it can produce fragrant and elegant red wine in the right terroirs (such as 'DOC Oltrepò Pavese Bonarda' in Lombardy). It is often blended with Barbera.
Read more about the Croatina grape variety
Lambrusco
A rarity in the world of wine, the red Lambrusco grape is made into a 'frizzante' style in parts of Emilia Romagna. It is minded to produce high yields unless its natural vigor is checked.
Teroldego
A wonder of the Trentino region, Teroldego is a late-ripening variety, producing intensely pigmented red wines that require a dry growing season.
Read more about the Teroldego grape variety
Lagrein
A specialty of Alto Adige, Lagrein produces floral and tannic wines with beautiful aromatics.
Read more about the Lagrein grape variety
Corvina
A late-ripening variety, Corvina is the dominant grape in most Valpolicella wines. It is much-loved for its signature sour cherry, damson, and raspberry flavors.
Read more about the Corvina grape variety
Refosco
Seldom enjoyed outside of its homeland, the term Refosco refers to a family of closely related red grape varieties. It is mainly found in Slovenia and neighboring Friuli-Venezia.
Read more about the Refosco grape variety
Overviews of the North-Eastern Italian Wine Regions
Food & Wine Tours of North-Eastern Italian Wine Regions
---
North-West Italy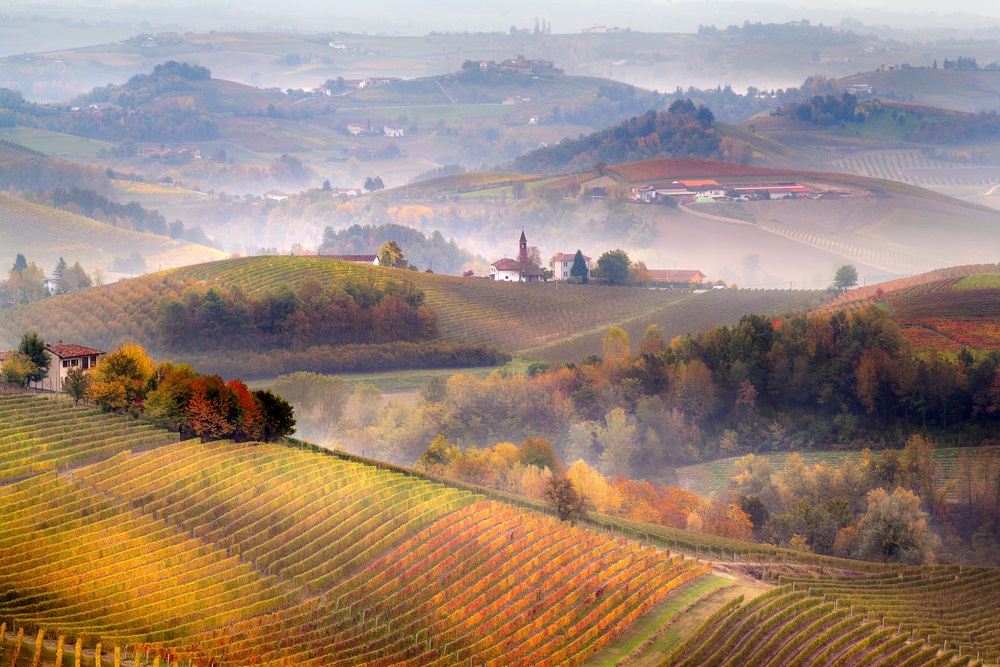 For many wine lovers, northwest Italy begins and ends with Nebbiolo. The signature red grape of Barolo and Barbaresco is arguably responsible for Italy's greatest red wine style – a rival to Grand Cru Burgundy. Yet other wonders are discovered in the region, including Barbera, Dolcetto, and Rossese. Italy's smallest wine region, Valle d'Aosta, grows Nebbiolo on steep Alpine hills, producing fine and elegant wines with bags of acidity. Its indigenous varietal is the little-known Petit Rouge, a dark-skinned variety that yields aromatic and floral wines. The Fumin grape is another local curiosity.
But it is the vineyards located south-east of Turin that really excites the critics. Situated on the Right Bank of the River Tanaro the wines of Barolo and Barbaresco continue to fetch a handsome price. However, 'lesser' appellations throughout Piedmont are now crafting excellent Nebbiolo wines at very fair prices. The hills of the Roero appellation, on the opposite side of the river to Barolo, have proven to be an excellent terroir for the Nebbiolo grape. The zone of Monferrato situated further north is another excellent source of affordable 'Barolo imitations.'
Next in line to the throne is Barbera, Piedmont's second red grape variety. It comes in many guises: light and fruity, unoaked and lavishly seasoned in French barrique. Although many consumers gravitate towards more delicate and softly structured Barbera wines, the latter is often robust and concentrated.
It has two heartlands: the communes of Alba and Asti. There are further sub-zones in the appellations of Barbera d'Asti and Alba, including Tinella and Astiano. The zone of Nizza was elevated to DOCG status in 2014. It is probably the finest source of Barbera wines made in Italy today.
Dolcetto must not be excluded from this list. It produces the most delectable red wines; soft, fresh, and fruit-driven. It dominates vineyards cultivated in Alba's hills, where it will reliably ripen even at high altitudes. Relatively low in alcohol and very food-friendly, Dolcetto is a wine style for the emerging age of moderation and restraint. Grignolino is a very esoteric red grape native to Piedmont. Only small quantities are made and rarely exported. Light and low in tannin, it is a wine style for early consumption.
Key indigenous red grape varieties of northwest Italy
Barbera
Barbera must be grown on warm soils with a south-facing aspect as an early-ripening red variety. At its best, the grape produces soft and velvety wines, with aromas of red berries and cinnamon. Judiciously oaked example offers more structure and depth.
Dolcetto
Dolcetto is increasingly finding a fan base abroad due to its moderate alcohol and soft tannins. It prefers calcareous and sandy soils and will ripen in cooler climates. Unfortunately, it can nearly always be drunk at a young age.
Nebbiolo
It takes an experienced professional to master this notoriously capricious grape variety. Capable of producing exquisite red wines, or astringent dross, Nebbiolo needs warm conditions and well-drained calcareous soils. It ripens late in the season and must be handled carefully in the winery. The top wines will age for decades after release.
Read more about the grape varieties of Piedmont
Overviews of the North-Eastern Italian Wine Regions
Food & Wine Tours of North-Western Italian Wine Regions
---
Central Italy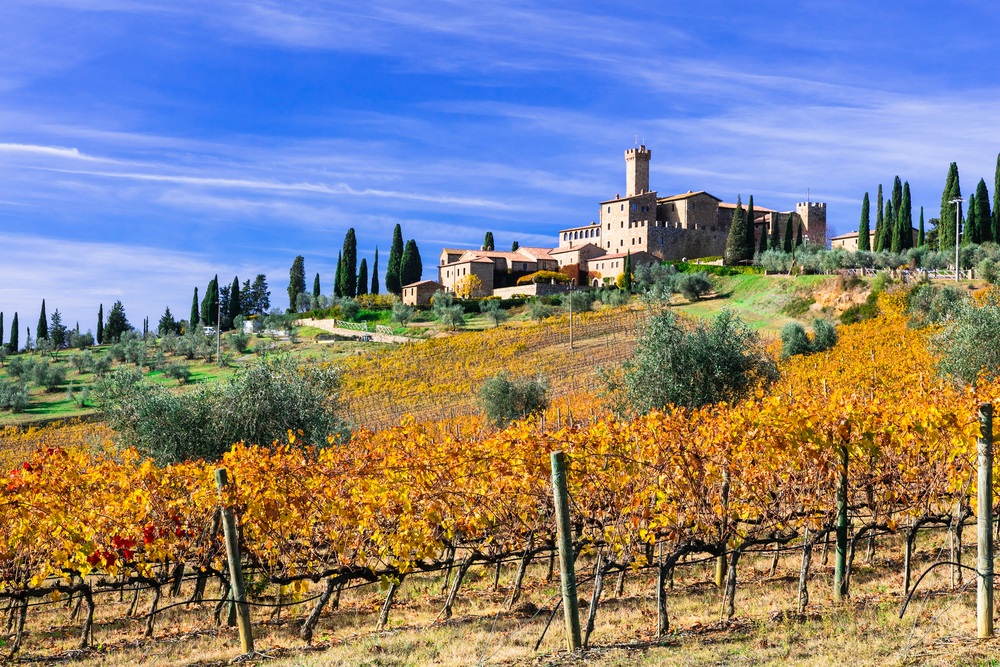 Seasoned travelers often insist that central Italy is the most beautiful place in the world. They may have a point; the rolling pastoral landscape that defines Tuscany's Chianti Classico and Montalcino regions are breathtaking, a bucolic idyll defined by vines, cypress trees, and endless olive groves. It is the most instagrammable place in Europe before we even start talking about excellent wine and gastronomy.
Above all, central Italy is a complex and paradoxical wine destination, with endless variances in soil, elevation, and winemaking philosophy. On the one hand, the Maremma region of coastal Tuscany is defined by its love of international varietals – it is the birthplace of Sassicaia, founded by the Marchese Incisa della Rochetta in the 1940s. But, on the other hand, the site he chooses for his inaugural wine project now has its own appellation: Bolgheri. Further south, the Maremma zone is full of Bordeaux blends, with a particular nod to Cabernet Franc. The best of this firmament is admittedly world-class.
However, oenophiles usually gravitate towards the original flavors of central Italy. Montepulciano is cultivated on the Adriatic coast in the appellation of Montepulciano d'Abruzzo. As a result, the best wines are very reminiscent of Merlot, with their aromas of red berries and eucalyptus. Moreover, the variety's usually moderate tannin levels make it an accessible choice for impatient wine lovers.
The same cannot be said for Sangiovese, the signature red grape of Chianti Classico and Brunello di Montalcino. The hills between Florence and Siena have been cultivating Sangiovese for many centuries. The Chianti zone was the first in the world to be delimited in the 1600s. Historically, the now subordinate Caniaolo grape was the mainstay of Chianti blends, a state of affairs that endured until the 19th century. Today, some growers blend in Merlot and/or Cabernet Sauvignon into their wines. However, a growing movement is to make 100% Sangiovese wines a legal requirement for the top-tier Gran Selezione and Riserva categories. The local Colorino is also occasionally added. Contemporary Chianti Classico is fastidiously made, designed to be aged for many years after release.
Brunello di Montalcino has long been a favorite of US collectors. Only 100% Sangiovese wines are permitted – rich and powerful vinous icons that owe their weight and structure to the hotter climate of Montalcino, located south of Siena. Its neighbor to the east, Montepulciano (not to be confused with the appellation in Abruzzo), again produces Sangiovese-dominant wines in a warm climate. There are also some excellent wines being made in Umbria, most notably the 'Super Umbrians' of Torgiano.
Key indigenous red grape varieties of central Italy
Canaiolo
Once prolific in central Tuscany, Canaiolo has made a modest comeback in recent times. The biggest challenge is its tendency to give inflated yields unless its natural vigor is curtailed throughout the growing season. However, the thin-skinned Canaiolo can yield fragrant and tasty wine with red berry aromas and medium tannins.
Read more about the Canaiolo grape variety
Colorino
Renowned for its high level of coloring pigments, Colorino is only occasionally added to modern Chianti blends. However, some growers do appreciate the tannic structure and acidity that the grape can bring to the final product due to Colorino's thick skins packed full of phenolic compounds.
Montepulciano
Montepulciano is perhaps the most underrated of central Italy's viticultural assets, a late-ripening and deep-colored grape. But, confusingly, it is also the name of an unrelated famous town in Tuscany.
Read more about the Montepulciano grape variety
Sangiovese
It competes with Nebbiolo for the title of 'Italy's most globally recognized grape variety.' The principal red grape of west-central Italy has a reputation for being difficult to grow successfully, yet it can offer rich rewards if handled with care and attention. It produces sublime and structured red wine in the hills of Chianti Classico and Montalcino, where it receives the necessary heat and sunlight to ripen its hefty tannins.
Read more about the Sangiovese grape variety
Overviews of the Central Italian Wine Regions
Food & Wine Tours of Central Italian Wine Regions
---
Southern Italy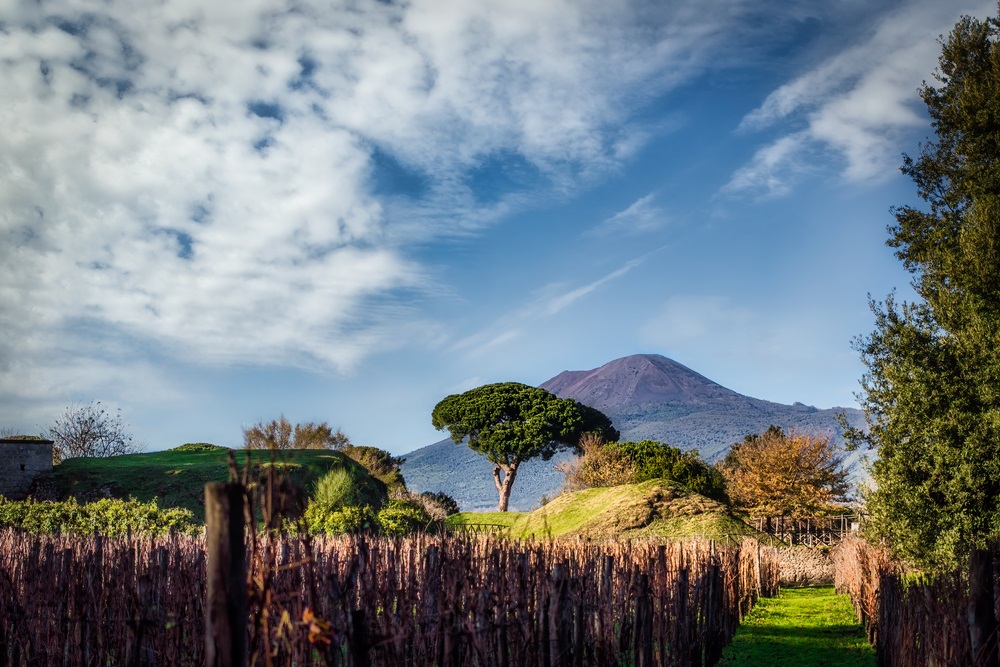 Known as il Mezzogiorno (land of the midday sun), southern Italy has undergone a radical image change of late. Industrial volumes and lackluster quality have been replaced by a growing collection of premium wines crafted by growers and winemakers who care. Moreover, as the market for cheap European wine is eroded by competition from the New World, local winegrowers are continually upping their game. The result is an area brimming with innovation and excitement, mainly focusing on indigenous varieties.
The pleasure starts in Campania, home of the tannic and brooding Aglianico grape. However, the finest expressions are found in the Taurasi DOCG zone, situated east of Naples. Old Aglianico vines grown on the volcanic hills of Taurasi produce racy and potent wine, described as the "Barolo of the south." Its closest rival is the appellation Aglianico del Vulture in the more southerly province of Basilicata. The grape is cultivated on the higher slopes of an extinct volcano, moderating the barmy summer heat and maintaining freshness in the wines. The grape is also found on the Adriatic coast, in the small region of Molise.
Indeed, southern Italy has the richest source of esoteric grape varieties and wine styles in Europe. Lacryma Christi reds grown on the slopes of Mount Vesuvio can be delicious, as can the red varietals of the little-known Caserta province, north of Naples. Under the IGT Terre del Volturno, growers make small volumes of the red Casavecchia, a grape seldom seen outside the zone. Further south in Calabria, you'll discover Ciro, a red wine based on the Gaglioppo grape. The wines are often delicate and aromatically expressive, with an enticing bouquet of cherries and oriental spices.
The 'heel of the Italian boot' has more surprises in store yet. Puglia's wine scene has undergone a similar transformation, with a renewed emphasis on protecting its low-yielding bush vines and their remarkable concentrated berries. The area's most important appellation is the Primitivo di Manduria DOC, home to the Primitivo or Zinfandel grape. As a result, the best wines are voluptuous, powerful, and yet refined, with a pungency unequaled anywhere in Italy. Growers are also achieving great things in the flat Salento peninsula, exploiting the cooler micro-climates that are a concomitant feature of the strong Adriatic sea breezes.
Negroamaro is another variety worthy of a closer look. Although the name means "black of bitter," the grape can produce elegant and balanced wine in the right hands. The vines suit the arid climate down to the ground; Negroamaro vines are very robust and hardy, capable of surviving for prolonged periods without water. It thrives in the appellations of Salice Salentino and Nardo, especially when planted on calcareous soils. In addition, the cooling breezes from the Gulf of Taranto help keep the alcohol levels in check.
Key indigenous red grape varieties of southern Italy
Aglianico
The star variety of southern Italy is becoming more fashionable with each passing year. It has no shortage of phenolic compounds or extracts, and poor examples can be fiercely tannic and austere. But at its best, Aglianico is incomparable, dark, deep, and brooding.
Read more about the Aglianico grape variety
Negroamaro
'Black of bitter' needs the right soils and climate to succeed. Its natural vigor must constantly be kept in check to ensure that quality emerges after the harvest. It has the potential for both high quality and high volume.
Read more about the Negroamaro grape variety
Primitivo
Known as Zinfandel in the US, the early-ripening Primitivo was originally from Croatia. In the right hands, it can make sophisticated and potent wine. Unfortunately, however, many fiercely alcoholic and unbalanced bottles are still around.
Read more about the Primitivo grape variety
Overviews of the Southern Italian Wine Regions
Food & Wine Tours of Southern Italian Wine Regions
---
Italian Mediterranean Islands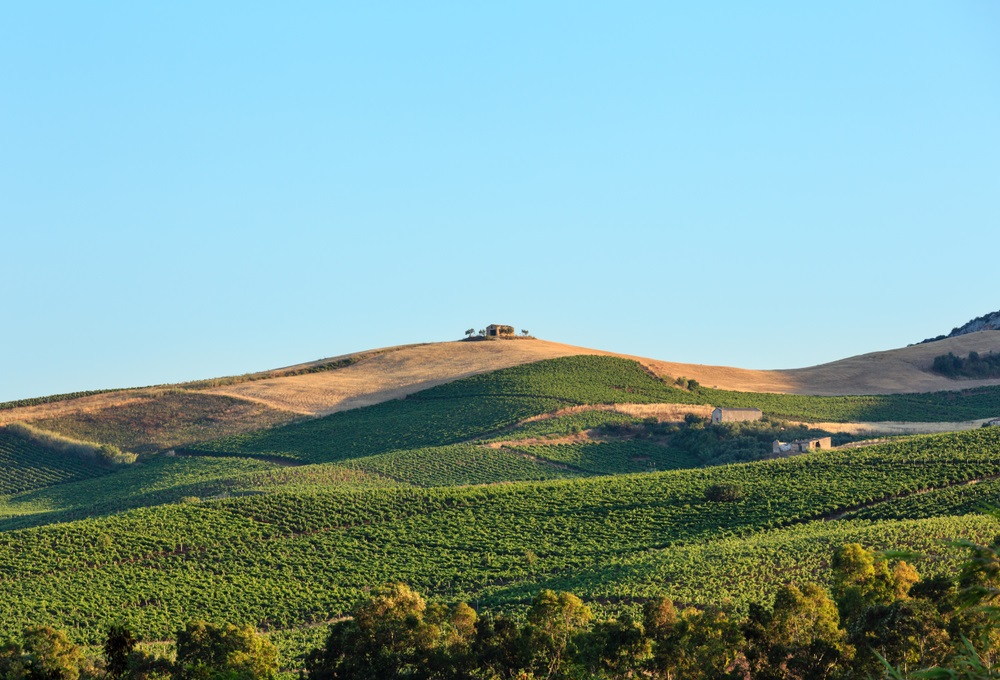 It would take a lifetime to get to grips with the viticultural treasures of Sicily and Sardinia. There are as rich in indigenous varieties as in culture and history; the Greeks, Romans, and Moors have controlled Sicily over the centuries. The north-western tip of Sicily is closer to Africa than Europe, ensuring that irrigation is required for a great deal of the island's arid landscape. However, the island's varied topography helps moderate the heat in certain places, particularly on the dramatic slopes of Mount Etna.
This is frontier winemaking at its most authentic – who else in Europe could claim to grow vines on an active volcano? As a result, investors have flocked to the vineyards of Etna, keen to harness the potential of several indigenous varieties and an impressive range of elevations, exposures, and soil types. The two superstar grapes of Etna are Nerello Mascalese and Nerello Cappuccio, often blended under the Etna Rosso appellation. They are also combined with another Sicilian red grape, called Nocera, under the auspices of the Faro DOC in the island's northeastern corner.
However, the indigenous grape that made Sicily's reputation abroad is undoubtedly Nero d'Avola. Grown in the appellations of Eloro and Noto in south-eastern Sicily, it makes structured and age-worthy wine. Calcareous soils suit it best, as high elevations moderate the evening heat. Nero d'Avola does not need any help to produce excellent wine, although it is blended with the local Frappato in the Cerasuolo di Vittoria DOCG in southern Sicily. Frappato is a wonderful variety, yielding wines of inimitable freshness and style. Its acidity and bright red fruit profile are a welcome foil to Nero d'Avola's power and concentration.
Sardinia, meanwhile, has admittedly been slower to attract international attention and investment to its wines. Nevertheless, there are some remarkable discoveries to be made here; the island was ruled by the kingdom of Aragon for four centuries, endowing the island with some of Spain's key grape varieties. Under the local synonym Cannonau, Grenache is producing some beautiful wines in the appellation of Cannonau di Sardegna DOC. The best wines are made inland, with some exciting things happening in the village of Mamoiada. Rioja's Graciano and Marzuelo are also grown in Sardinia, known locally as Bovale Sardo and Bovale Grande. The widely planted Monica grape makes fruity and pleasant reds, albeit rarely exceptional. The almost unheard-of Giro grape is another curiosity.
Carignano del Sulcis, located in the southwest of the island, is probably Sardinia's most promising appellation at present. The legendary Tuscan oenologist Giacomo Tachis was drawn to the area, his attention captured by Carignan's ungrafted old bush vines. When blended with Grenache and Graciano, the wines are reminiscent of Priorat – spicy, full-bodied, and unbelievably concentrated.
Key indigenous red grape varieties of the islands
Frappato
Thin-skinned and challenging to grow, Frappato requires plenty of patience from the grower. But those who succeed will be rewarded with an aromatic and elegant red wine. Its first preference is planted on sandy/calcareous soils with good drainage.
Read more about the Frappato grape variety
Nerello Mascalese
Sicily's most exciting red grape variety has enraptured critics – and winemakers. It is a medium-colored and characterful variety with singular aromas of cinnamon, garrigue, and sour cherry. When planted on volcanic soils, Nerello Mascalese transmits a sense of place with razor-sharp precision.
Read more about the Nerello Mascalese grape variety
Nerello Cappuccio
An obvious partner to the tannic charms of Nerello Mascalese, Cappuccio tends to make lighter and softer wine. It thrives on the volcanic slopes of Mt.Etna.
Nero d'Avola
Tough and resourceful, Nero d'Avola is not particularly difficult to cultivate. It copes with the intense heat of the Sicilian summer with relative ease, producing Syrah-like red wines of potency and finesse. Top wines combine black fruit aromas with a spicy and full-bodied palate, driven by tertiary flavors of fennel, tobacco, and cedarwood.
Read more about the Nero d'Avola grape variety
Overviews of the Italian Islands Wine Regions
Food & Wine Tours of  Italian Islands Wine Regions