Wine buyers and sommeliers always ask the same question: how did a country once obsessed with the color red become renowned for producing superlative white wines? Was it massive investment from overseas, Spanish derring-do, sheer luck – witchcraft? The answer is probably all of the above (bar sorcery!) But whatever the catalyst for this unprecedented transformation, we can be sure of at least one thing. The world of saline and aromatic whites has become much more exciting – and varied – since the Iberian Peninsula entered the race.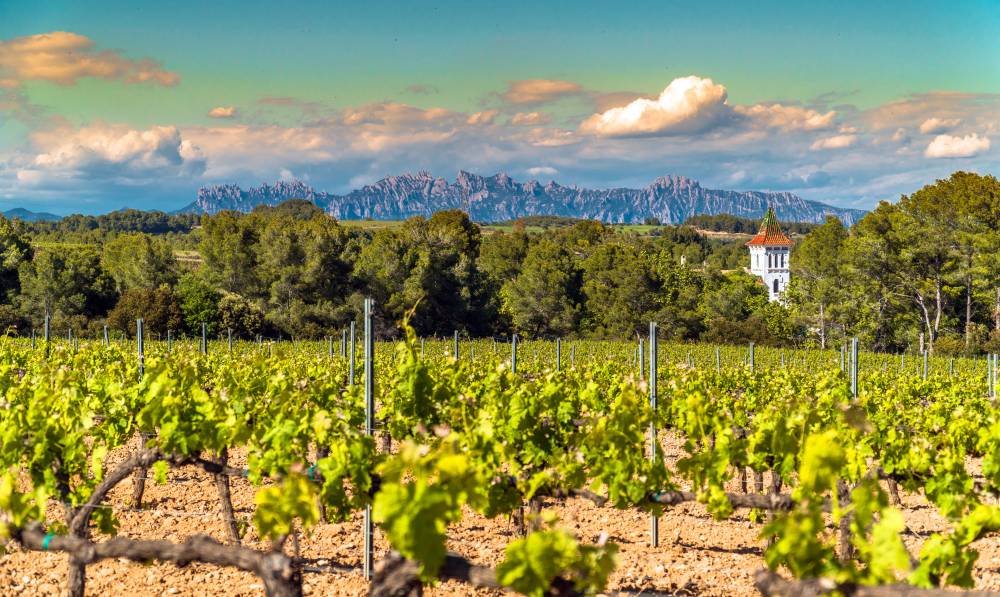 Before the 1980s, Spain's white wine scene was not in rude health. The industry was maintained by exports of Rioja, Cava, Sherry, and large volumes of bulk wine. The few premium labels that made it abroad – Rioja Blanco is one of the rare examples of a longstanding tradition – were subject to extensive periods of maturation in oak. Oxidized and often quite lifeless, they could hardly stimulate the palates of modern consumers. Something had to be done.
"Spain's association as a red wine country, in addition to the relatively recent technological advances and progress in white winemaking, forestalled our entry into the blanco segment," observes Marques de Riscal's marketing and PR manager, Ramon Roman. "We didn't work on promoting our wines abroad until the 1990s, which initially put us at a disadvantage compared to other white wine regions." Rioja's oldest bodega has been at the forefront of Spain's white revolution, investing heavily in the Rueda region in Castilla y León. To put it mildly, Spain has more than made up for the lost time.
The nation has more vines planted than anywhere else in Europe – this affords producers almost limitless possibilities to craft both crowd-pleasing and esoteric styles. Much innovation can be attributed to Spain's Millennial generation, post-Franco winemakers who favored modern vinification techniques, and a renewed focus on terroir. Thanks to their pioneering efforts, regions as diverse as Rueda, Rias Baixas, Valdeorras, Penedès, and Costers de Segre are now producing wines as vibrant and fruit-driven as any from the New World. Today, Spain's output of white wines is very diverse, albeit the critical mass prioritizes aromatics and fruit quality over long periods of oak maturation.
One notable exception is Viña Tondonia Gran Reserva Blanco; the winemaking formula at this Rioja stalwart has hardly changed since the bodega was founded. But that is no bad thing: classical white Rioja offers a pleasing counterpart to the pungent freshness of Albariño and Verdejo. Elsewhere, resurrecting once forgotten grapes like Caíño Blanco is all the rage in Galicia; several years ago, Torres planted a new white variety, a forgotten Catalan grape called "Selma Blanca," in the vineyards of Catalunya. Tradition and modernity continue to coexist happily in the Spanish landscape. Meanwhile, Spain's denominaciones (appellations) keep multiplying, so much so that it's hard to keep track of progress across all corners of the Iberian Peninsula.
In one sense, this is a story of forward momentum: new wineries, new styles, new techniques, and obscure vineyards coming to the fore. But in many ways, Spain is just going back to its roots. The country has long boasted a staggering range of diverse terroirs that are ideally suited to producing premium white styles. Thankfully, these high-potential sites and indigenous varieties are now given the respect they deserve.
And there is more still to come. Although the premium label market is at saturation (most Spanish whites are affordable), the luxury segment remains embryonic. Vega Sicilia owner Pablo Alvarez is determined to produce a flagship Spanish wine "comparable in quality to Montrachet." At the same time, Remirez de Ganuza has started marketing an exceptional – and expensive – white cuvee: Olagar. Moreover, there is no paucity of international capital pouring into Spain; Californian wine giant E.& J. Gallo signed an agreement with Galician producer Martin Codax to increase the distribution of Albariño in the US.
Thirty-five years ago, the suggestion that Spain would one-day hold court in the global white wine market would have been met with snorts of derision. Yet, in the 2020s, sommeliers are increasingly tempted to scale down their New World Sauvignon Blanc offer in deference to the intense demand for Albariño, Godello, and Verdejo. Of course, it is not certain that Spain will be able to maintain the astonishing momentum of the past few decades; economic, supply chain, and inflationary pressures are affecting the entire globe. But whatever direction Spain takes, oenophiles can no longer complain that their options are limited to the number of fingers on one hand. Today, the dilemma is where to start rather than a problem of lack of choice. A lifetime of excitement is waiting to be discovered in the vineyards of modern Spain, particularly if you seek perfumed, refreshing, and utterly delicious white wines.
Galicia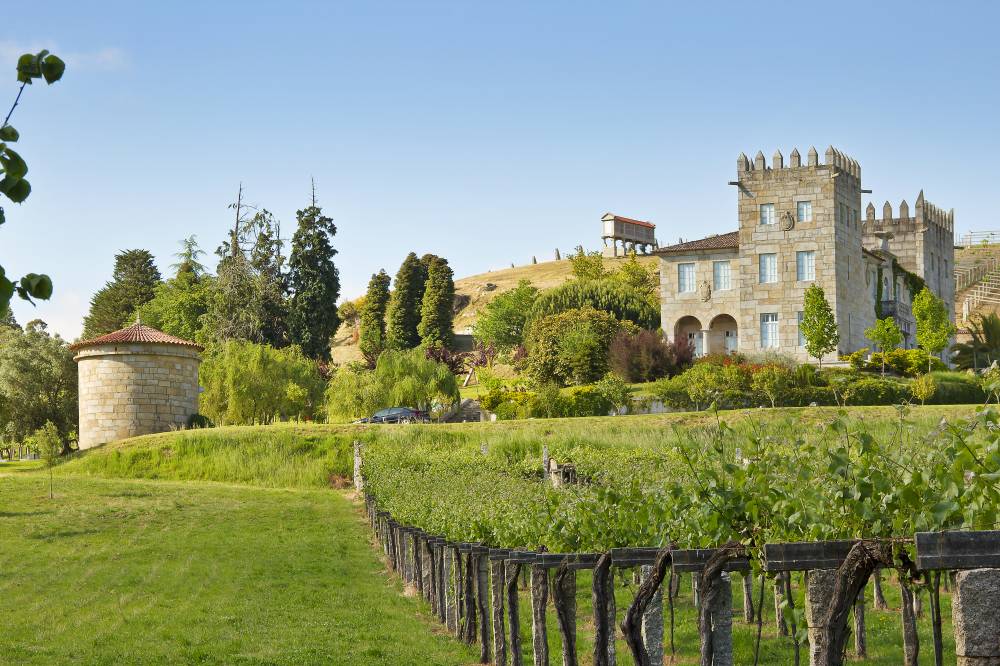 How did this happen? How did a formerly poor and neglected corner of northwest Spain become an export giant – prosperous and renowned?
By delivering exactly what modern consumers desire, that's how. Galicia's cool, damp climate is ideally suited to producing slow-ripening, highly aromatic fruit. The indifferent wines made in the mid-20th century are now largely a forgotten memory; Palomino and Alicante Bouschet were pressed into service after the advent of phylloxera due to their generous yields and forgiving nature. However, as global fashion swung towards saline whites in the 1990s, growers ripped out these underperforming varieties, replacing them with Albariño and esoteric gems like Treixadura. Galicia has not looked back since: the area under vine continues to expand while the region's appellations lure in talent from across the world.
Galicia's most important DO remains Rias Baixas. The landscape is some of the most arresting in Spain; the unspoiled coastline, lush, bucolic hills, and shallow fjords invoke Scandinavia in their pristine beauty. But there is a major difference: Scandinavia does not produce fresh white wines with ample acidity and verve. Although Rias Baixas is northern Spain's most famous appellation, it is not characterized by high-volume producers and corporate brands. With a few exceptions, viticulture in this part of Spain is carried out on a small scale, often run by several generations of the same family. Inland from the Atlantic, the most common sight is pergolas – vines are trained on horizontal trellises well above the ground, with the trunks attached to granite posts. Fragrant Albariño is the zone's key export, increasingly blended with 'minor' grapes like Loureiro and Treixadura. We've yet to sample a disappointing bottle.
The structured and concentrated Godellos of Ribeira Sacra and Valdeorras are no less impressive. Situated to the east of Ourense, both sub-regions have staked their reputation on this wonderful grape, producing firm, mineral-scented wines with racy acidity and unsurpassed depth. The almost dangerously steep slate terraces of Ribeira Sacra are now responsible for some of Europe's finest whites. And, like Rias Baixas, it is dominated by boutique wineries rather than corporate behemoths. The white wine region Ribeiro, north of Rias Baixas and flanked by the Minho River, has become the esoteric capital of Galicia. Winegrowers such as Luis Rodriguez continue to proselytize the weird and wonderful, resurrecting almost extinct grapes like Brancellao. This is a region where nothing stands still.
More about the Galicia
Key white grape varieties
Albariño
The darling of sommeliers worldwide, Albariño is no longer limited to the vineyards of Spain and California. Indeed, this irresistible white grape is turning up in regions as diverse as Sonoma and Marlborough. Nonetheless, the best wines are arguably still made in Galicia – winegrowers have taken full advantage of the grape's fresh citrus profile and generous acidity. Top examples are aged on their fine lees to create silky heaven.
Read more about Albariño
Godello
Winemaker Rafael Palacios believes that Godello can produce white wines to rival Grand Cru Burgundy. We can't argue with that; top examples can excite the palate as much as any Montrachet. In addition, it produces rich and full-bodied wine that benefits from oak maturation.
Read more about Godello
Treixadura
Difficult to pronounce and challenging to grow, Treixadura can nonetheless yield beautifully fragrant and very elegant white wine. It requires a delicate balance between warmth, sunlight, and moisture to deliver its best.
Read more about Treixadura
Loureiro
Hardly recognized outside of Galicia, Loureiro is usually added to blends to enhance freshness and acidity. However, it can work as a standalone varietal if the terroir and winemaking are up to scratch. Expect a surfeit of lime cordial and tropical fruit on the palate.
Read more about Loureiro
Caíño Blanco
Rescued from extinction in the late 1900s, Caíño Blanco now has a niche following in the vineyards of Galicia. It yields perfumed white wines that are not dissimilar to Albariño – citric, floral, and always refreshing.
Read more about Caíño Blanco
---
Basque Country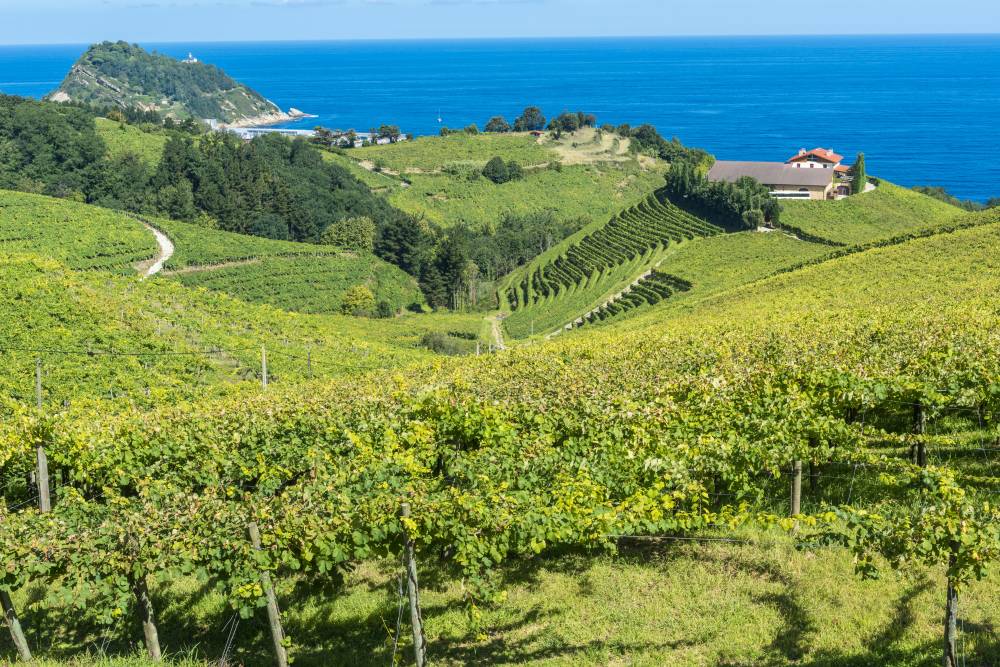 Take all your preconceptions about Spain and throw them away. The Basque Country is wet, green, and verdant, with a climate reminiscent of northern Europe! The wines of the Basque Country, way up on the Bay of Biscay around the cities of San Sebastian and Bilbao, reflect this reality. Most red grapes would not ripen in the hilly vineyards of northern Spain; however, the local variety Hondarrabi Zuri acquits itself nicely. It is used to make Txakoli, a Basque specialty that could be described as the antithesis of oaked Chardonnay. Expect a mouthful of racy – some would say tart – citric fruit and enough acidity to last a lifetime. Gastronomic paradise is Txakoli served with Atlantic shellfish caught that morning. It doesn't get any better than this.
More about the Basque country
Key white grape variety
Hondarrabi Zuri
Reliably tart and inimitably fresh, Hondarrabi Zuri is one of the few varieties to thrive in the inclement climate of Atlantic Spain. In very wet years, under-ripeness can be a real issue. Yet, in good vintages, the grape's moderate alcohol and racy palate make Hondarrabi Zuri a firm favorite in the summer months.
Read more about Hondarrabi Zuri
---
Castilla y León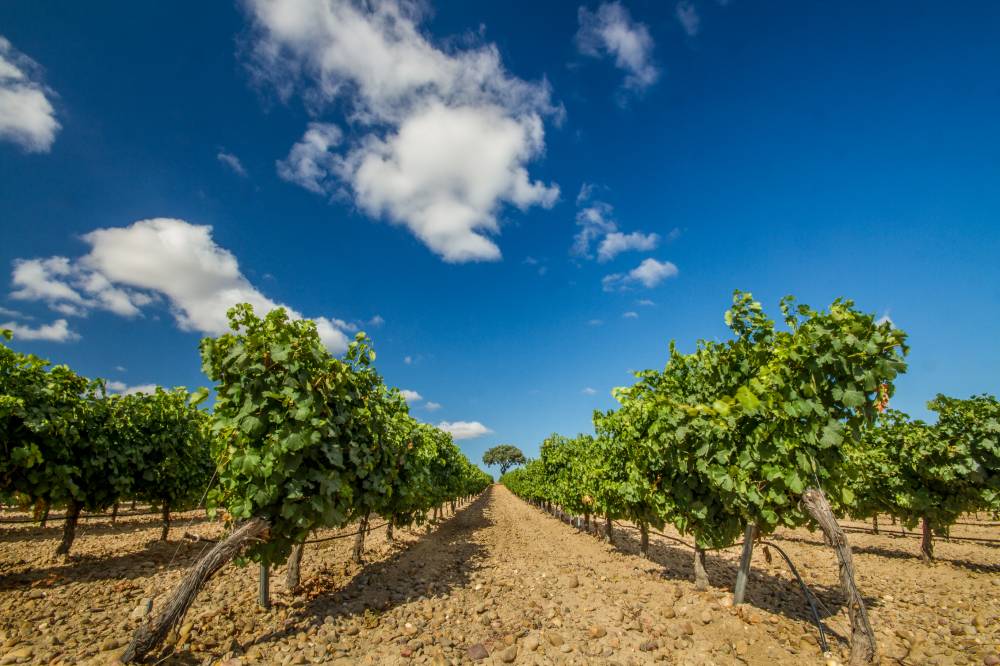 It is exquisitely ironic that Spain's white wine revolution began in the arid plains of Castilla y León. In the early 1970s, the vineyards of Rueda (northwest of Madrid) were used to make fortified wines of little interest. But Rioja legend Marques de Riscal decided to move its white production to Rueda in this decade, attracted by the diversity of soils. Investing heavily in the region, Riscal planted great swathes of Verdejo and revolutionized how white wines were made in Rueda. Out went the old paradigm of slow oxidation in wood; temperature-controlled fermentation and careful juice handling in stainless steel have become de rigueur throughout Spain. Made mainly from the Verdejo grape – occasionally blended with Sauvignon Blanc – Rueda has become Spain's version of Marlborough. It produces significant volumes of attractively-priced white wines, albeit there is very little dross being made in Rueda today. It is also one of the nation's biggest export success stories – you don't have to look hard to find Verdejo wines in the US.
The same cannot be said for Albillo Real. Occasionally blended into the dense red wines of Ribera del Duero, Albillo has developed a cult following in the vineyards of Castilla y León. Pioneers such as Marta Gomendio craft delicious wines from this esoteric grape: unctuously textured and bursting with apricot fruit. Its international profile, of course, remains extremely low. But the Spanish trailblazers are doing all they can to change that.
Key white grape varieties
Albillo
The term 'Albillo' actually refers to a family of grape varieties, including Albillo Mayor, Albillo Real, and Albillo de Albacete. Albillo Real is the mutation most commonly found in Castilla y León – both Pingus and Vega Sicilia maintain a few parcels, occasionally blended into their signature red wines. It needs low yields – and plenty of sunlight – to produce high-quality wine. The top examples are fragrant and textured.
Read more about Albillo
Verdejo
Verdejo can yield wines as delicious and refreshing as Kiwi Sauvignon Blanc. Relatively straightforward to grow, it holds its acidity well, tolerating the arid climate and sometimes harsh conditions of Castilla y León. Lime-scented Verdejo has become perennially popular in the wine bars of London, Madrid, New York, and San Francisco. The trend shows no sign of dying down.
Read more about Verdejo
---
Catalunya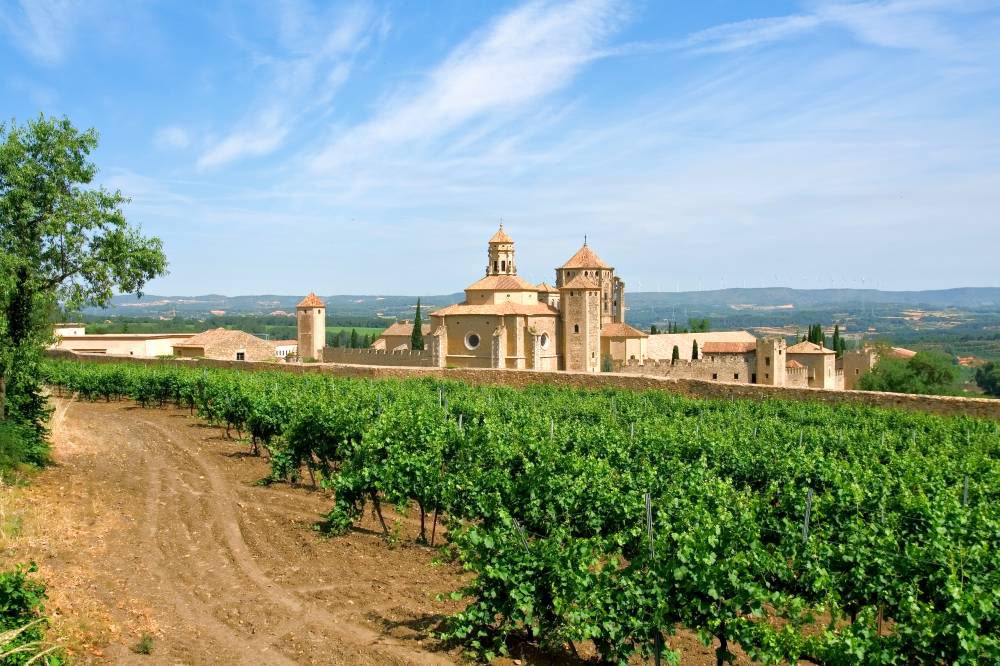 From language to gastronomy and architecture, they do things differently in Catalunya. The region, situated in north-eastern Spain, is blessed with a diverse portfolio of terroirs, ranging from the Mediterranean coastline to the cooler subalpine climate of the mountainous interior. As a result, Catalan winegrowers have superlative natural resources at their disposal, judiciously exploited to make a vast range of wine styles.
The most famous of these is, of course, Cava. Spain's iconic bubbly is mainly produced in Penedès, south of Barcelona. Yet still wines, based on the classic Cava grapes, have become very modish in Catalunya of late. Penedès has long been the region's leading appellation, a vast expanse of land that spreads inland from the Mediterranean. However, high elevation sites are now yielding delicious and racy varietal wines, including Xarel-lo, the backbone of all great Cava.
Interestingly, Penedès established its reputation as the center of international styles, spearheaded by Miguel Torres in the 1960s. But having proved that Spain can make excellent Chardonnay (Milmanda), Cabernet Sauvignon, and Merlot, the Torres family has been championing indigenous grapes like Trepat noir, which is increasingly used to make excellent fizz. Terra Alta, meanwhile, is the most important producer of Garnacha Blanca in Spain; located southwest of Barcelona, the sun-kissed vineyards account for about a third of the world's total acreage. The best wines are ripe and structured, with an unmistakable whiff of garrigue on the nose.
However, Catalunya's white wine powerhouse is undoubtedly Costers del Segre. Composed of seven sub-zones, each with its own soil types and elevations, Costers del Segre offers a myriad of climats and mesoclimates. The vineyards spread northeast from the city of Lleida, heading into the spectacular mountains of Catalunya. Although many excellent whites are being made in the appellation today, the old vine Macabeo (Viura) should be singled out for heightened praise. Old Macabeo bush vines, planted at altitudes of up to 750 meters, yield incredibly concentrated and potent fruit. They offer a pleasing counterpoint to the wines of Raimat (northwest of Lleida), which generally relies on international varieties. Alella, a stone's throw away from Barcelona, is the undisputed capital of ancient Xarel-lo vines. Unlike Penedès, they are generally used to make still wines rather than bubbly.
More about Catalunya Region
Wine Regions
Wine Maps
Wine Tours
Key white grape varieties
Viura
Viura is one of Spain's most underrated viticultural treasures, known as Macabeo in Catalunya. Old parcels can produce dazzling wines that have it all: perfume, structure, acidity, and depth. Viura also responds well to oak aging, imbuing the wines with a Burgundian-like opulence.
Read more about Viura
Xarel-lo
The signature white grape of Cava can also turn its hand to still wine production, especially if the site and winemaking are second to none. Wines can vary in 'pitch,' ranging from lemon freshness to more structured and multifaceted whites, with aromas of fennel and thyme.
Read more about Xarel-lo
Parellada
Challenging to grow, Parellada responds well to high elevation sites that allow the grapes to maintain good acidity in the Mediterranean climate of coastal Catalunya. Rarely produced as a still wine, Parellada is an important part of the Cava recipe.
Read more about Parellada
Garnacha Blanca
Until recently, this mutation of Grenache Noir was ignored by virtually everyone – apart from growers in Terra Alta. However, they have long demonstrated that, despite popular misconception, Garnacha Blanca can yield voluptuous and delicious white wines with notes of stone fruit, white flowers, and lavender.
Read more about Garnacha Blanca
---
Rioja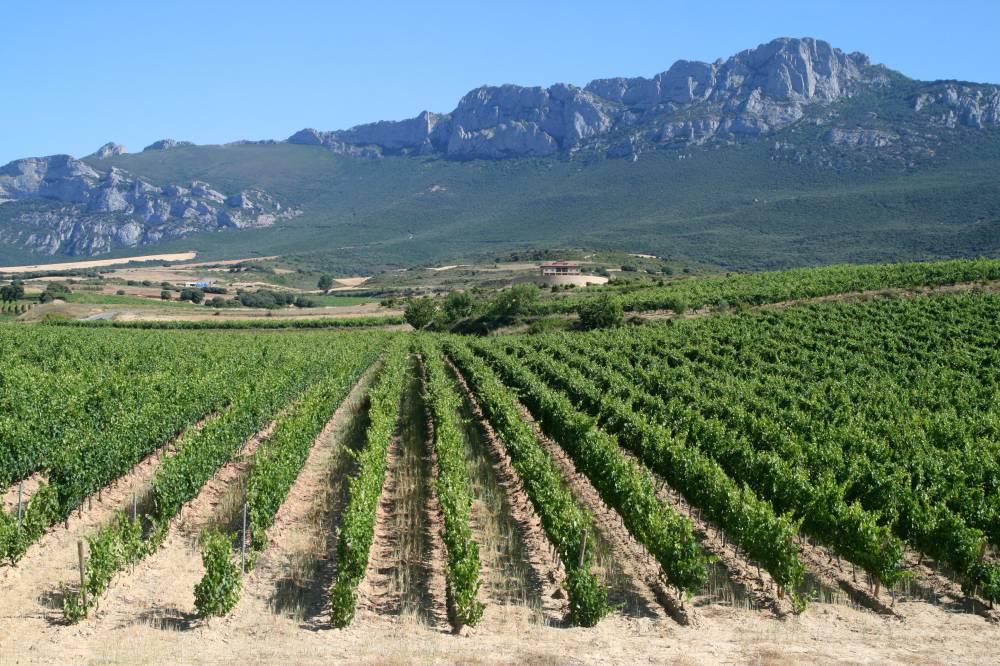 Any region that encompasses more than 60,000 hectares of vines has to be varied. Long split into three key sub-regions – Rioja Alavesa, Alta, and Oriental – Spain's most emblematic vineyard has it all. Conditions vary dramatically from the sweltering summer heat of Alfaro to the continental climate of Labastida, where grapes may struggle to ripen in cooler vintages. Calcareous marls give way to sandy soils in certain sub-zones, ensuring that Rioja can cultivate an eclectic palate of grape varieties. And yet, Rioja only really embraced diversity in the early 21st century. For decades, oak-aged reds were the cut and thrust of Rioja's export success. Only a tiny minority of white was sent abroad, enjoyed by a few enthusiasts of that trademark oxidative style.
But no longer. About one bottle of Rioja in 20 is now white wine – impressive growth off a very small base. The region's burgeoning white wine industry relies heavily on Viura, supplemented by smaller amounts of Malvasía, Tempranillo Blanco, and Garnacha Blanca. Since 2007, the Consejo Regulador (regulatory council) has also permitted a certain percentage of Chardonnay, Verdejo, and Sauvignon Blanc into the blends, albeit they remain rare.
The net result is that Rioja now offers a substantive choice of different styles, from the traditional complexity of Viña Tondonia and Marques de Murrieta to the Burgundian finesse of Remirez de Ganuza's Olagar. Some of Spain's most expensive and long-lived whites are made in Rioja today, a fact that Tim Atkin MW and other critics frequently highlight. If the terroir is first-rate and the oak maturation is well judged, then Rioja Blanco, enriched and refined in barrel and bottle, can challenge the greatest wines of Pessac-Leognan and Puligny-Montrachet. These cuvées, despite the efforts of men like Jose Urtasun, are not yet collector's items in the French mold. But they deserve to be.
Of course, greatness does not solely derive from prestige and scarcity. A great deal of white Rioja is excellent quality and affordable – the antidote to masses of bland Pinot Grigio consumed worldwide. When you combine indigenous Spanish grapes, superior Riojan soils, and winemaking je ne sais quoi, incredible things happen. After a slow start, Rioja is poised to join the ranks of Europe's top white producers. It's about time.
More about La Rioja
Key white grape varieties
Viura
Discussed above
Tempranillo Blanco
Only a tiny volume of Tempranillo Blanco is cultivated in Spain, resulting from a random mutation that occurred at some point in the past. Discovered in 1988 by oenologist Jesus Galilea Esteban, a small parcel of Tempranillo Blanco was propagated by scientists in the region. It is typically used to enliven blends, noted for its aromas of stone fruit, lemon grass, and orange blossom.
Read more about Tempranillo Blanco
Garnacha Blanca
Discussed above
Malvasía de Rioja
Part of an extensive family of ancient grape varieties, very little Malvasía de Rioja is planted in Rioja today. Nevertheless, winemakers like Byran MacRobert have proven that it can yield stupendous mono-varietal wine in Rioja – a mouthful of honeysuckle, stone fruit, and lime. It is also occasionally added to Rioja blends, including the wines of Lopez de Heredia.
Read more about Malvasía de Rioja
---
Andalusia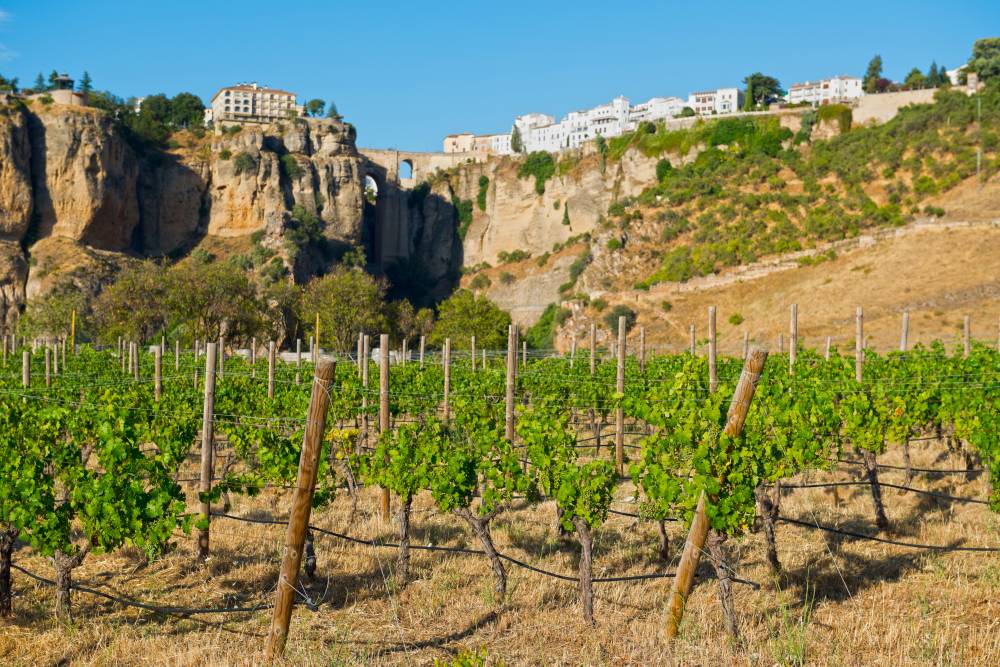 Andalucia staked its reputation on vinos generosos: fortified wines (both sweet and dry) that could last a lifetime in bottle. But this magnificent region has been diversifying its offer of late, having branched out into dry white styles. Telmo Rodriguez has done much to revive the fortunes of ailing regions like Malaga, attracting a surfeit of talent into these vineyards that flank the azure blue Mediterranean sea. Established in 2001, the Sierras de Malaga DO was created for dry table wines, now among Spain's most authentic and exciting bottles. Ronda is celebrated as the leading light of the appellation's five sub-zones, responsible for some of Andalucia's most consistently excellent wine. A mixture of international and indigenous grape varieties are cultivated in the zone, although our money is on the Spanish originals.
Of course, Andalucia's greatest contribution to the world of wine remains Sherry. Although we must concede that the acreage has shrunk significantly in the 21st century – Sherry is not massively in vogue with younger drinkers – it has rebounded of late. The region's capital, Jerez de la Frontera, is a monument to beautiful architecture and good living; tapas bars are found at every ten paces, where enjoying bite-sized morsels with a chilled glass of fino is considered obligatory. Palomino provides the backbone to all great Sherry, which comes in various guises. You could write a book on the subject, although suffice it to say, Palomino is most definitely a summer drink. The richer, deeper sherries of Amontillado and Oloroso shine in the cooler months, especially when paired with mouthwatering Jamon Bellota.
Montilla-Moriles, just south of Cordoba, is another important face in Andalucia's wine industry. Yet this part of the region eschews dry wines for producing Pedro Ximénez, the most unctuous and tooth-rotting style imaginable. Instead, a great deal of the annual harvest is actually shipped to Jerez for making sweet wines – these bottles can challenge sugar-laden chocolate desserts to a duel and win. Taken every day, Pedro Ximénez would soon become a cloying nuisance on the palate. But as an occasional treat, there are few experiences quite like it.
More about Andalucia
Key white grape varieties
Palomino
The signature white grape of Sherry is, paradoxically, incapable of producing high-quality table wine. Instead, it yields very neutral must with low acidity and high pH; yet the Sherry process transforms this lackluster concoction into a thing of real beauty. It is one of the great miracles of Spanish winemaking.
Read more about Palomino
Pedro Ximénez
Fitness enthusiasts should look away now: Pedro Ximénez (PX) is responsible for producing dessert wines with over 450 grams of sugar per liter. However, the grape is currently enjoying a modest revival in Spain, having found favor with Michelin sommeliers in Spain's hottest destination restaurants. Unfortunately, the variety is difficult to grow, meaning that success does not come every year.
Read more about Pedro Ximénez