Thirty-five years ago, Portugal was overwhelmingly associated with one signature wine style: port. In the eyes of many consumers, fortified wines and gallons of sun-kissed Mateus rosé were the totals of the nation's viticultural output; many bottles were enjoyed on vacation, only to be quickly forgotten. Isolated behind Spain on the Atlantic fringe, collectors and oenophiles scarcely gave Portugal a second thought. It was a nation trapped in a stasis field – inertia and mediocrity were rife.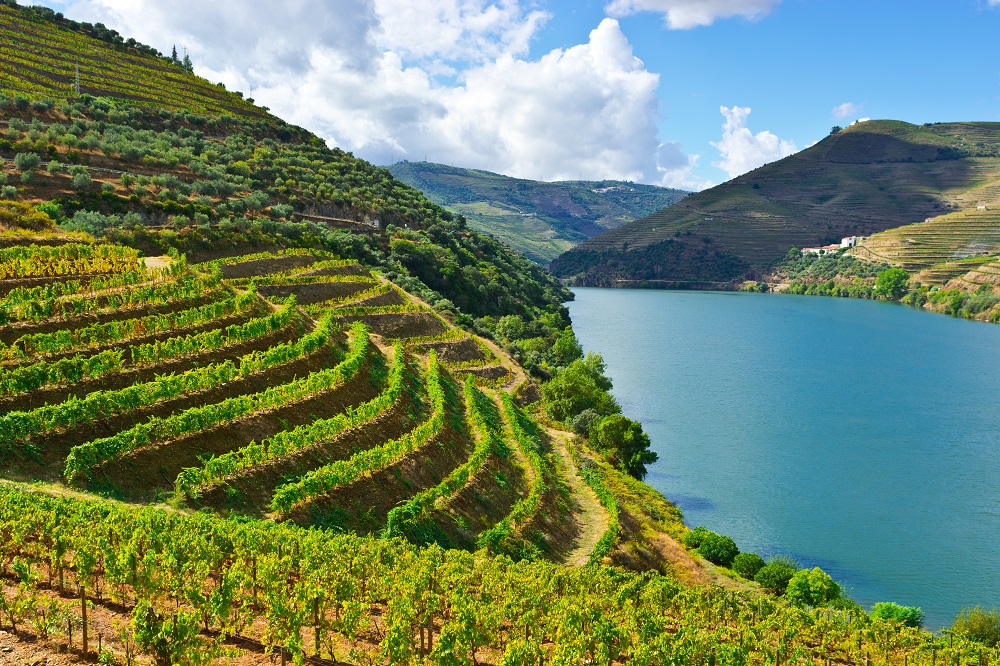 Yet a series of tectonic movements have transformed Portugal's wine industry in the 21st century. As a result, modern-day Portuguese growers have a confidence and swagger, increasingly delighted with the global response to their diverse portfolio of wine styles. Although citizens of this great country have long been passionate advocates of their indigenous grapes and quirky customs, sommeliers in New York, London and Tokyo have recently joined the party. Indeed, the ranks of willing ambassadors are swelling as more and more importers, and buyers delve into this treasure trove of unique grape varieties.
The key to Portugal's salvation has been major investment allied to a more internationalist perspective from its winemaking community. After decades of cooperative dominance, family-run estates (Quintas) are making waves, driving much of the exciting progress in quality and innovation. They are steered by the emerging generation of younger winemakers, many of whom have worked a few vintages abroad. Australian-trained pioneers such as David Baverstock and Peter Bright have also impacted the table wine revolution, producing highly individual wines. What attracted them to this once archaic industry? The incredibly varied terroir, gorgeous scenery, benign climate, and unrivaled food and cultural scene might have had something to do with it.
Although Portugal is a relatively small European country, it is renowned for its varied climatic conditions, soil types, aspects, and elevations. As a result, different regions and sub-zones are subject to the influences of Atlantic, Mediterranean, and continental climates, respectively. In the vineyards, you will find many soil types, including granite, slate, clay-limestone, and sandy soils. The net result is an enviable set of conditions to fashion high-quality red wines from Syrah/Tempranillo blends to single-vineyard Touriga Nacional from the Dão region.
Make no mistake: Portugal's talented winegrowers are not squandering this opportunity. In recent years, the quality of table wines has soared across every region – the racy acidity and tannic balance of Bordeaux come naturally to Portugal. Contemporary labels are fresh, aromatic, and approachable. This is partly due to more sophisticated viticultural and winemaking techniques; Portugal has finally embraced the 'finesse over ripeness' evolution in modern enology. Temperature control, destemmers, maturation in French barrique, and more gentle extractions produce wines that do not require aging in bottle for a decade. However, you'll still witness the time-honored practice of foot-stomping in Lagares (concrete baths) in certain estates at harvest time. It must also be said that international grapes like Syrah are making inroads into Portuguese viticulture – especially in the Alentejo region.
Nevertheless, Portugal's biggest trump card is its indigenous vines and original tastes. This is a powerful USP in an increasingly homogenized global wine scene. Many of the most impressive table wines are blends, although mono-varietal styles are becoming more popular in some regions. What's more, Portuguese winemakers are fiercely protective of their traditions and heritage; growers in Bairrada were once minded to remove the (occasionally) fiercely tannic Baga grape and replace it with 'easier' varieties. However, establishing the 'friends of Baga' group has done much to save the grape's reputation and standing in the region. As any producer will tell you, all the best red wines need some time in bottle to show their full hand.
Of course, some will mourn this transition into modernity. Portugal's wine industry has changed beyond recognition, while certain traditional styles and historic wine estates have faded into obscurity. But the fact remains: Portuguese wine is more accessible than ever. The astringent and off-putting tannins of old have been replaced with a more gentle and polished viticultural expression – styles that are more likely to find favor with international palates. Yet Portugal's top labels do not sacrifice structure and acidity for instant gratification. This complex nation continues to maintain that difficult balancing act between modernization and respect for traditions and customs; wine estates have retained their proud individuality, but they've also been accepted into the ranks of first-division wine countries. It's an unprecedented achievement and one worthy of celebration. However, the best, senhoras e senhores, is still to come.
Key Portuguese red wine regions:
Douro Valley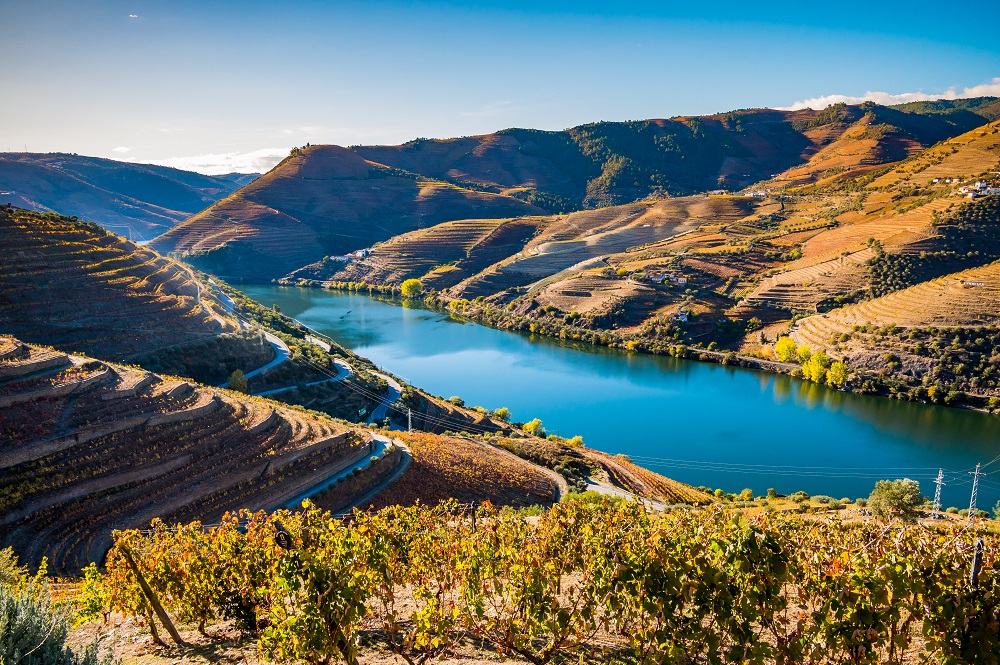 The Douro Valley wears many faces. It is a spectacularly beautiful region, a thriving tourist destination, an important wildlife reserve, and, of course, the home of port wine. Exquisite fortified wines have been made in this part of northern Portugal for centuries, matured and bottled in the ancient cellars of Vila Nova de Gaia. However, the Douro has another vocation, despite the continuing association with fortified wine. Today, almost half of the annual production is dry red styles from indigenous grape varieties. The best of this firmament are a dream come true for wine lovers; structured, complex, age-worthy, and deeply aromatic. Like all fine wines, they owe their greatness to an inimitable combination of soil, climate, tradition, and variety.
However, in one sense, it is a miracle that viticulture has endured in the Douro Valley. The climate can be harsh, with very inclement winters and baking hot summers. Moreover, the steep schist slopes of the river are extremely difficult and costly to farm – many of the original terraces dating back to the 1600s survive today. The Douro was the first European vineyard to have its boundaries demarcated in 1756. The original delimited zone, Cima Corgo, remains the biggest port producer, although major investment has fueled the expansion into new areas further upstream.
Of the Douro's three sub-regions, the Douro Superior is the driest, flattest and newest addition to the valley's wine industry. It is a gigantic gorge, with vineyards planted on both sides of the river – it eventually flows into Spain to become the mighty Duero. Although the continental climate inevitably leads to torrid summers, deep-rooted vines can produce some of the finest table grapes in the zone, packed full of anthocyanins, sugar, and phenolic compounds. The easternmost part of the valley continues to attract newcomers, lured by the reasonable land prices and unparalleled opportunities to make exceptional table wines.
But port aficionados will always insist that Cima Corgo is the most important part of the central Douro valley. It is the region's oldest and most iconic vineyard, protected from the Atlantic gales by the Serra do Marão. The 'Grand Cru' sites are widely agreed to be the plots above the town of Pinhão, in addition to several tributaries, including Tedo and Tua. In light of global warming, the current trend is to produce table wines from vines cultivated on high-altitude sites in these often cooler tributaries, particularly the Torto. The diurnal temperature variation is ideally suited to yielding berries with balanced levels of alcohol and extract; managing alcohol levels is an increasing headache for growers across southern Europe.
Historically, the westerly Baixa Corgo zone was considered too damp for high-quality viticulture – the area was dominated by smallholdings and cooperatives, generally making inexpensive and young port. But with temperatures on the rise, producers are reassessing their former apathy towards the Atlantic-influenced sub-region. There is untapped potential to make both premium red and white styles in Baixa Corgo – some have suggested that more Arinto should be planted, the nation's most exciting white grape. In ten years, the landscape in this formerly neglected area is likely to look very different.
There is also a longstanding tradition of classifying vineyards in the Douro, ranked from A down to F. The criteria for determining where you stand in the hierarchy are factors like aspect, elevation, soil structure, vine age, training, and yield. In times past, the best grapes would always be reserved for port wines; however, this paradigm is now considered anachronistic. With international markets showing a growing appetite for premium styles from the Douro, table wines are no longer an afterthought. Observing the region's enormous potential, several famous winemakers from Bordeaux have invested in the Douro – Bruno Prats, and the Symington family is one important example. Of course, the wines vary enormously in character and quality, from the Burgundian sophistication of Niepoort's Charme to the awesome intensity of Xisto. These flagship icon wines of the 21st century continue to provoke debate, excitement, and perhaps even disagreement. But few wine lovers ever express apathy towards the Douro Valley.
More about the Douro Valley
Main red grape varieties
Touriga Nacional
Portugal's celebrity red grape arguably stands head and shoulders above the rest. It can produce the most fragrant and complex red wine imaginable, with sophisticated tannins and beautifully fresh acidity. Few grapes in the world can rival the class of Touriga Nacional. Thankfully, this message is starting to catch on.
Read more about Touriga Nacional
Tinta Roriz/Aragonês
Known as Tempranillo in Spain, Tinta Roriz is heavily planted throughout the Iberian Peninsula. It yields aromatic and smooth reds, ideal for table and port wine production. Moderate tannins and versatility are its trademarks.
Read more about Tinta Roriz / Aragonês
Tinta Amarela/Trincadeira
Tinta Amarela is far from easy to grow; it is susceptible to rot in wet weather and excessive ripeness in hot vintages. But the rewards justify hard work in the vineyard: perfumed red wines with enticing flavors of crushed red berries and violets on the palate.
Read more about Tinta Amarela
Tinta Cão
The name means 'Red Dog' in Portuguese – some would argue that this is an apt summation of the variety. In cool years, the acidity and tannin levels can be fiercely astringent and quite unattractive. However, when Tinta Cão gives its best, the results are quite stunning: bright color, grippy tannins, and bags of fruity complexity.
Read more about Tinta Cão
Tinta Barroca
Wonderful Tinta Barroca produces ripe and concentrated red wines in the Douro Valley, long used to add body and alcohol to port blends. In recent years, growers have been crafting more elegant table wine expressions from the grape, offering bright acidity and a voluptuous texture.
Read more about Tinta Barroca
---
Dão and Bairrada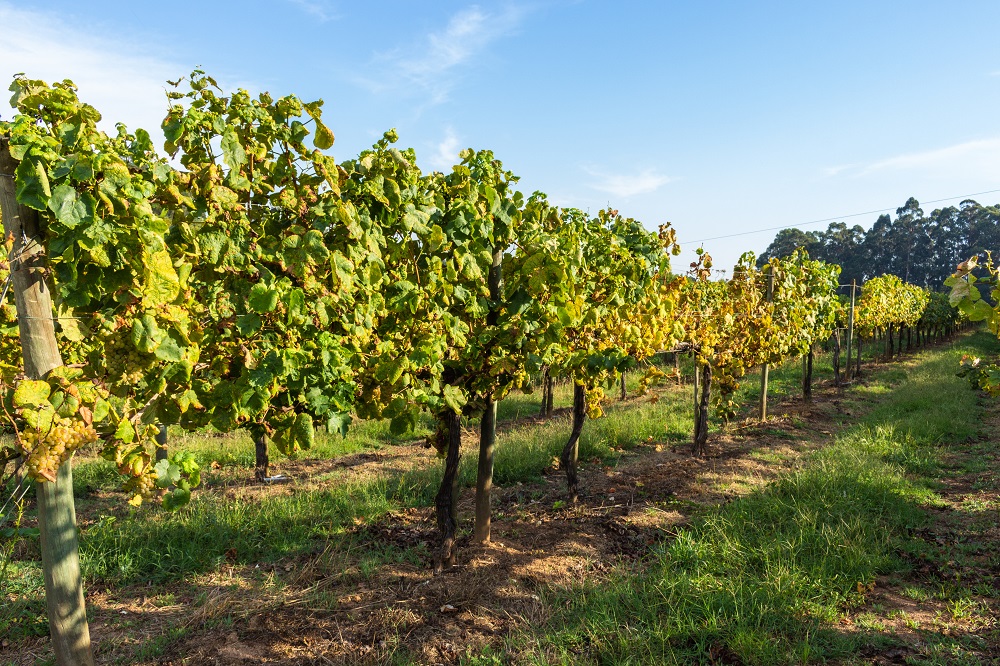 Dão and Bairrada are a gift to wine lovers who seek original flavors and esoteric styles. Indeed, despite being two of Portugal's oldest wine-growing regions, a revolution is spreading like wildfire through the wineries and vineyards of Dão and Bairrada. The modern paradigm focuses on growing indigenous varieties to their full potential, producing a more accessible style of red wine without sacrificing authenticity.
Yet, more importantly, both regions offer growers a viticultural paradise. Bairrada is a verdant and tranquil wine zone northeast of Lisbon and flanked by the highway that links the capital to Oporto. The proximity to the Atlantic ensures that drought is seldom an issue in Bairrada; in wet vintages, grapes can admittedly struggle to ripen. However, the advantage is a natural climate conducive to making fresh, balanced, and elegant wines. The area's range of hills encompasses a patchwork of distinct terroirs and sub-zones, including granite and calcareous soils rich in lime.
The most exciting red wines are currently fashioned from Baga – imagine a Portuguese interpretation of Nebbiolo, and you're halfway there. In the past, rustic winemaking and poor viticulture resulted in tough and tannic reds that could remain dormant for over ten years in bottle. However, pioneers like Luis Pato have reinvigorated the grape's reputation, ensuring that bunches are destemmed, and that fermentation occurs at controlled temperatures. As a result, contemporary Baga is in vogue: fresh, vibrant, and not overly alcoholic. Increasingly complex whites are also made in Bairrada, in addition to some delicious single-varietal Touriga Nacional, Bastardo, and Tinta Roriz.
Dão stakes its reputation on the former. Some critics will tell you that this is Portugal's most dynamic region, brimming with innovation and investment. Located east of the Bairrada vineyard, Dão (like its neighbor) was once derided for churning out vast quantities of astringent dross. Then the Roques family and others demonstrated that Portugal was neglecting its most precious resource: old indigenous vines. Named after the river that dissects the region, the vineyards grow on an expansive granite plateau that contains sandy terroir and some schist. From one perspective, the growing conditions in Dão are far more benign than in Bairrada; vines are sheltered from the ravages of the Atlantic via Serra do Caramulo and the Serra da Estrela.
Consequently, the region enjoys cold winters and relatively dry and warm summers. The perfect scenario, in other words, for producing slow-ripening and highly aromatic fruit with food acidity. Elevation also plays a helping hand in this regard: some plots are found at 800 meters above sea level.
As elsewhere, money has poured into Dão, attracting newcomers to the region. Estates such as Quinta dos Roques, Quinta da Pellada and Quinta de Saes now make excellent mono-varietal expressions alongside the familiar blended styles. The top cuvées showcase a remarkable synergy between force and finesse; these are perfumed, structured, and deeply complex wines. The enormous potential of this part of the world to craft unique table wines was always apparent to outsiders. After a slow start, it is finally being realized. Dao has changed more, and for the better, than any other Portuguese vineyard.
More about Dão
Main red grape varieties
Baga
Baga is a challenging, beguiling, and, at times, infuriating variety, producing small berries packed full of acid and tannin; the vine will crop at high yields unless its growth is aggressively controlled. It, therefore, requires much effort and patience in the vineyard, although the rewards can be significant; perfumed and ethereal red wines boasting crunchy red fruit and lovely freshness.
Read more about Baga
Bastardo
Although it is one of Portugal's less common wine styles, growers remain passionately devoted to the grape – Bastardo is far more than simply an amusing name! Much appreciated for its advantageous sugar-to-acid ratio, the grape contributes perfume and freshness to port blends and shines brilliantly as a table wine. It is worth seeking out.
Read more about Bastardo
Touriga Nacional
Discussed above
Tinta Roriz
Discussed above
Tinta Cão
Discussed above
---
Estremadura/Setúbal Peninsula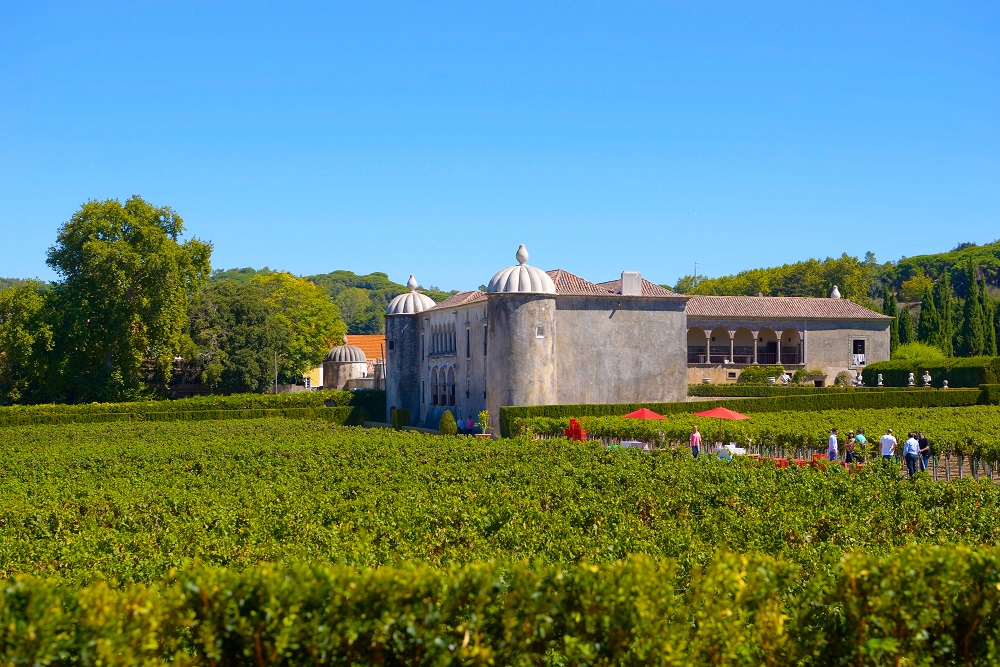 Situated close to the glorious capital of Lisbon, Estremadura and the Setúbal Peninsula were formerly ignored by Portuguese wine enthusiasts. However, as quality has soared in these two regions, the attention and interest have also climbed. Located northeast of Lisbon, Estremadura was once known simply as the 'Oeste' (west) region, a vineyard dedicated to producing large quantities of indifferent wine. However, it remains a very productive area, with one principal difference. With an abundance of clay-limestone soils, this maritime vineyard is now exporting some remarkable red and white wines, in addition to the entry-level supermarket fodder. The reds are generally bright and fruit-driven, with crisp acidity and food-friendly tannins.
There is also much excitement to be found in the beautiful Setúbal Peninsula. The vineyards are nestled between the Tagus and Sado estuaries, located southeast of Lisbon. The soils are a mix of calcareous terroir and warmer sandy terrain – the latter has a strong affinity with Castelão, the signature red grape of the region. Some of Portugal's leading pioneers of modern table wines have a base in Setúbal, including Bacaloã Vinhos and José María da Fonseca. They helped to set the benchmark for others to follow. We owe them a great deal.
More about the Estremadura/Setúbal Peninsula
Main red grape variety
Castelão/Periquita
The noble Castelão is one of Portugal's most widely planted grape varieties. Although it is admittedly prone to giving high yields, it can nonetheless produce utterly seductive red wine in the right hands, rich and concentrated, with ripe tannins and fresh acidity.
Read more about Castelão/Periquita
---
Minho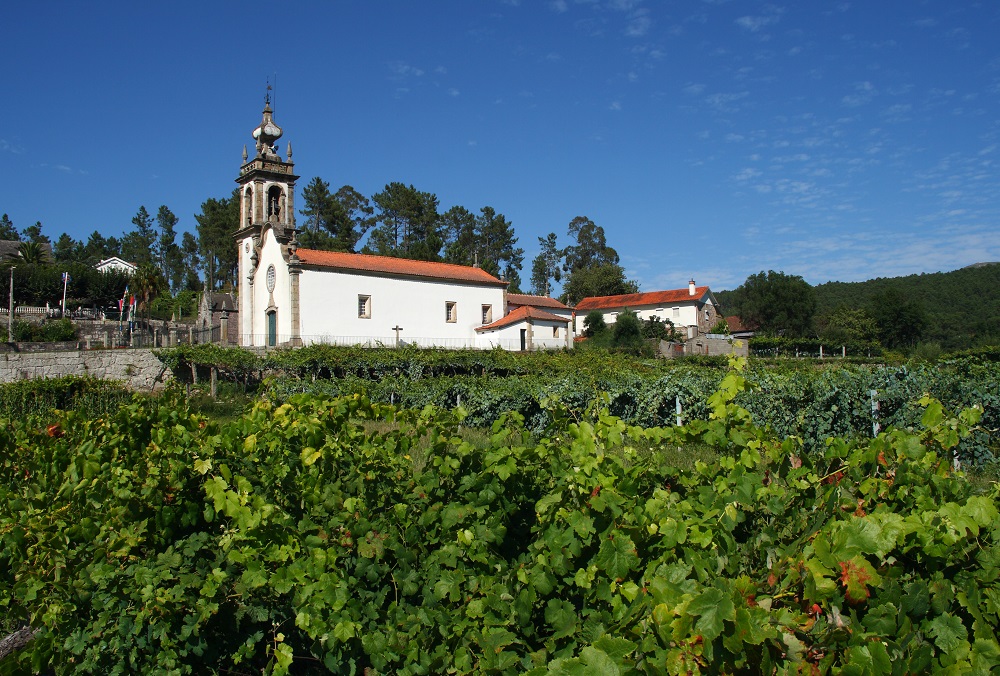 On the border with Galicia, you'll find one of Portugal's most lush and bucolic wine regions. Minho is an Instagram paradise: rolling green hills covered with vines and forests, supporting a diverse community of flora and fauna. It is also responsible for one of the country's most iconic exports – white Vinho Verde. However, what is less commonly known is that red Vinho Verde accounts for the mainstay of production in the region, albeit it is rarely exported. Incidentally, the name Verde (green) refers to the young style of wine rather than simply its color. Based on the Vinhão grape, local reds are perfect summer thirst quenchers: light-bodied, fresh, and always delicious.
Producing light and elegant styles comes naturally to growers in Minho – they make the most of the region's very wet and cool climate, where the Atlantic calls the shots. With average rainfall approaching the 1600mm per annum mark, it is little surprise that winegrowers harvest moderately ripe grapes packed full of acidity. Nevertheless, red Vinho Verde is a godsend on a hot summer day. It always hits the spot when paired with a selection of Portuguese tapas.
Main red grape variety
Sousão/Vinhão
A mid-to-late ripening variety, Vinhão (also known as Sousão) needs a carefully managed combination of sunlight, warmth, and moisture to produce good wine. As a result, it is arguably Europe's most esoteric grape – far from being a household name, Vinhão is almost exclusively consumed in the bars of northern Portugal. But if you like tart acidity and crisp summer fruit, you'll love a glass of Vinhão.
Read more about Sousão/Vinhão
---
Alentejo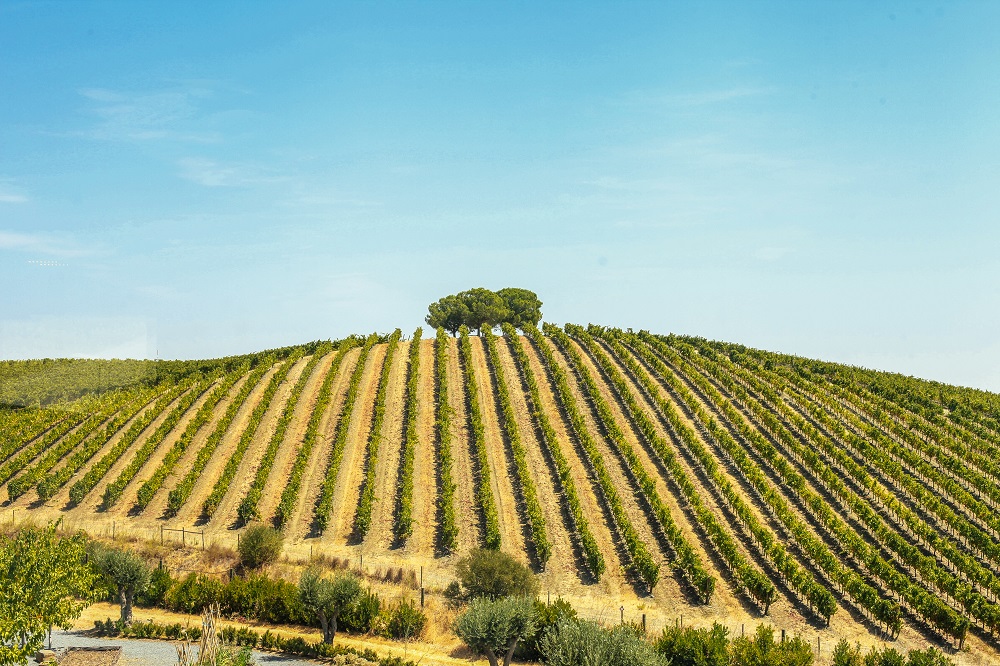 Not so long ago, Alentejo was derided – or just ignored – by international critics and oenophiles. Routinely described as 'the bread basket of Portugal,' the region was dismissed as backward and beyond redemption. Yet this caricature is now woefully out of date; Alentejo is a hotbed of ambition, investment, and vinous excitement. It demands a closer look.
Who started the ball rolling? José Roquette, co-founder of Herdade do Esporão, can take some of the credit. When the Portuguese soccer legend hired Australian David Baverstock in the late 1980s, he built a Napa-style winery the likes of which Alentejo had never seen. Suddenly, the global community was drawn to this expansive and beautiful landscape – the Rothschilds (owners of Chateau Lafite) invested in Quinta do Carmo in the early 1990s. Others soon followed, attracted by the limitless possibilities of making wine in what has been dubbed a 'pioneer country,' with few legal constraints or regulations. Today, more than 300 wineries are in the wider zone, compared to just 44 in 1995. Innovation and reinvention are the talk of the town.
However, Alentejo does have its cherished traditions. With some notable exceptions, this is the land of ranch-like estates passed down from generation to generation. However, growing grapes is a relatively new enterprise for some of the oldest Quintas. Of course, certain families have sold their inheritance to entrepreneurs from Lisbon and further afield, often seeking a more relaxed pace of life. But this is only for the region's benefit, as it brings new blood and ideas.
As you would expect, the terroir varies dramatically. There are outcrops of rich, loamy soils (occasionally too fertile), in addition to granite, schist, and limestone. In the south, drought can be a real issue, as vineyards are subject to over three thousand hours of sunshine a year. Irrigation is becoming essential in many parts of Alentejo, where the harvest typically begins in mid-August. There are currently eight sub-zones in the region: Borba, Evora, Granja-Amareleja, Moura, Portalegre, Redondo, Reguengos, and Vidigueira. Organic viticulture is becoming almost standard practice in the south – one of the advantages of growing grapes in such a dry climate is a lack of fungal diseases.
But Alentejo is not simply the land of endless heat waves. Northerly, Portalegre, the region's coolest sub-zone, is far wetter than areas such as Evora and Vidigueira in the south. It is defined by high-altitude vineyards, metamorphic terroir, and an abundance of small holdings; producers outside of Portalegre increasingly buy local grapes to add acidity and freshness to their red wines. Winemaker Rui Reguinga was one of the first to take notice of this untapped potential in the early 2000s, attracting diverse alumni of investors, including the Symington family and Sogrape. They continue making excellent dry red styles, including single-varietal Touriga Nacional, Alicante Bouschet, Trincadeira, Aragonês (Tempranillo), and a host of exotic blends. Syrah has also made inroads in Alentejo, producing rich and powerful reds that are closer to Barossa than Côte-Rôtie in character.
However, if you seek a more esoteric expression, you should discover Talha wines. The appellation Vinho de Talha was created in 2010, regulating the production of wines fermented and aged in large clay jars of the same name. Historically, the winemaking was very rustic; after the solid matter was run off, wines were stored in the talha under a layer of olive oil. After several years, the reds would be poured into your glass via a tap at the bottom of the container. The result was an interesting, usually oxidized, entry into local wine customs. Thankfully, winemakers take a more sophisticated approach today, crafting a unique style protected from oxidation yet carrying all the benefits of being matured in small clay vessels. They are a poignant symbol of what Portugal does best: combine the best elements of tradition and modernity to forge a bright and sustainable wine culture tailored for the 21st century.
More about the Alentejo
Main red grape varieties
Alicante Bouschet
Created by Henri Bouschet in the 19th century, Alicante Bouschet does have something of an ignoble past, having been used for decades to beef up the alcohol of cheap plonk. Nevertheless, it can yield fragrant, structured, and concentrated red wines if the terroir and winemaking are up to scratch. In addition, it thrives in the hot climate of southern Alentejo – a great deal of sunlight is needed to allow the berries to reach good levels of phenolic ripeness. Think plum and black cherry on the nose and crushed black fruits on the palate.
Read more about Alicante Bouschet
Tinta Roriz/Aragonês
Discussed above
Touriga Nacional
Discussed above
Tinta Amarela/Trincadeira
Discussed above