In the great pantheon of European wine nations, France stands alone. For centuries, L'Hexagone has pulled off a remarkable feat: viticultural diversity. Unlike Spain, Germany, and Italy, France has maintained a multi-faceted wine portfolio since the beginning, exporting red and white wines to eager clients worldwide. Of course, we do not wish to belittle Spain's progress in making aromatic white styles or marginalize Germany's rising reputation as a producer of fine Pinot Noir. Italy's Franciacorta, meanwhile, can now rival the best Champagnes in quality and finesse. But these are relatively new additions to the global market; many consumers still readily associate Italy with Chianti, Spain with Rioja, and Germany with Riesling. Old habits die hard in the world of wine – before the 1980s, Spain had no international clout in the white department. But consumers have been drinking Loire Chenin Blanc since the days of Louis XIV.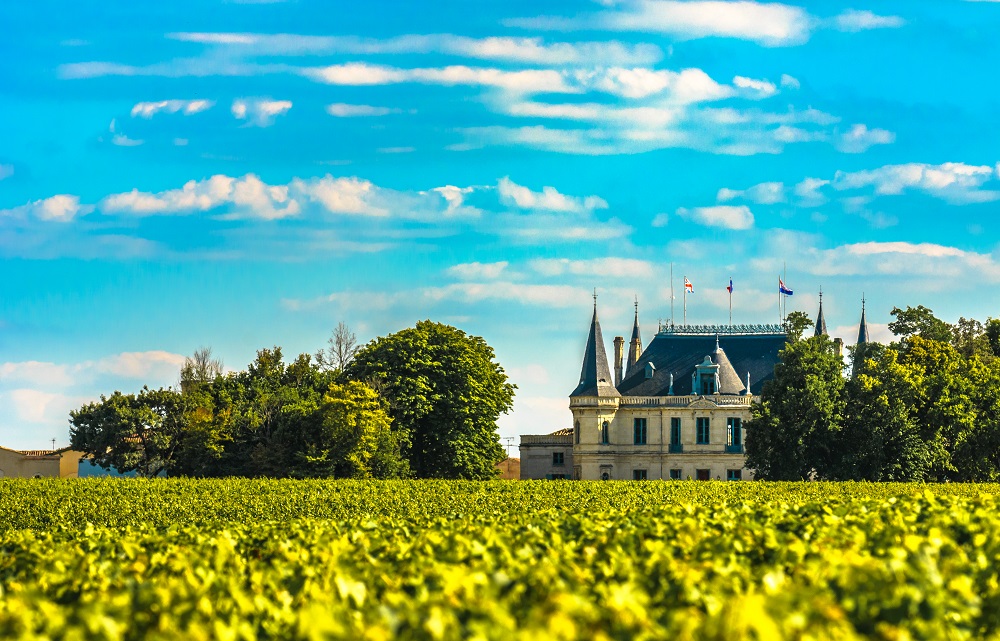 France's greatest strength has long been: its wines cannot be pigeonholed, stereotyped, or typecast. The country's astonishingly varied range of white wines is a pertinent example of this USP. A visitor to the wine shops of Beaune in the Côte d'Or may hastily proclaim that French white wine is "overpriced, overhyped, and scarcely available." That may well be true regarding the most famous Grand Crus and growers. But then the shop owner could unveil a glass of Aligoté: fresh, vibrant, and brimming with ripe acidity. As the historic 'underdog' of Burgundian winemaking, it remains very attractively priced. It is also one of Burgundy's most charming revival stories: a group calling themselves 'Les Aligoteurs' are working hard to reposition Burgundy's second white grape as an important part of the region's offer. They want to prove that the words 'Burgundy' and 'good value' are not mutually exclusive.
So too, are the wines of the Loire Valley seldom expensive, while hand-crafted Bordeaux Blanc from a good vintage delivers endless pleasure without the financial pain. Even the Rhône Valley, a region celebrated for its long-lived Syrah and exotically-spiced Grenache blends from Châteauneuf-du-Pape, has some white surprises up its sleeve. If you've never tasted Hermitage Blanc until now, prepare to be dazzled. It's a potent combination of Roussanne and Marsanne that rivals the majestic complexity and depth of top Puligny-Montrachet.
Yet, believe it or not, this is just the tip of the iceberg. France can boast some of the most heterogeneous topography in western Europe, with significant soil, climate, and terrain variances. This has enabled growers to cultivate a broad palate of varieties successfully; such diversity would be unthinkable anywhere else. Indeed, no one is suggesting that Cabernet Sauvignon could thrive in the vineyards of the Mosel, despite a series of very warm vintages! But in France, there is a home for almost every grape variety. How else could this nation produce saline Muscadet for a seafood lunch, followed by an exotically-ripe Châteauneuf-du-Pape Blanc for dinner? A catch-all, tidy summation of French white wine is simply impossible.
This is partly because attitudes and winemaking philosophies vary as much as terroir and climate. Chablis represents one extreme: only white wines can be marketed under the appellation banner, exclusively based on the Chardonnay grape. This stands in marked contrast to the liberalism of the IGP Pays d'Oc framework, enthusiastically adopted by winegrowers in the Languedoc-Roussillon. So never let it be said that the French wine industry is driven by humorless bureaucracy, high prices, and inflexible rules! France can deliver excitement, value, and diversity and still cater to the auction markets and their demands for rare vintages of Montrachet. But then again, what else do we expect from the greatest wine producer on earth?
Alsace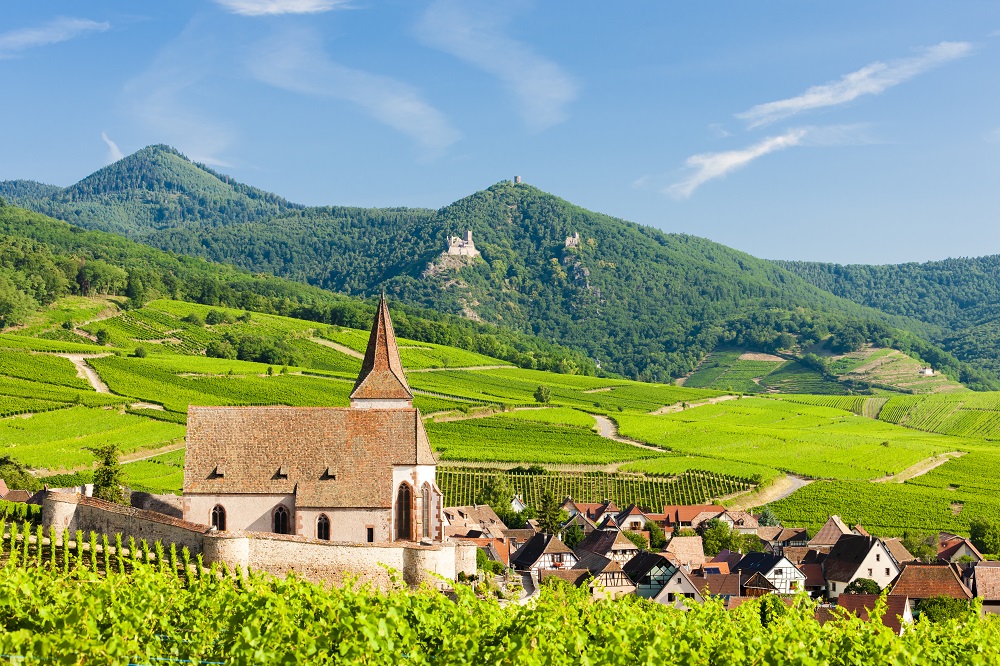 Alsace is a beacon of multiculturalism and diversity. Indeed, the province has switched political allegiances several times over the centuries and consequently shares many of its German counterpart's cultural norms and values. As a result, the wines of Alsace also reflect the geographical proximity to the German border. The Alsatians, like their neighbors, regard Riesling as the pinnacle of fine white wine – the two cultures are also happy to reference varieties on the label, unlike the Burgundians, for example. And like the Germans, winegrowers in Alsace are renowned for their hard work, diligence, and intense devotion to the land.
The vineyards of Alsace, situated in north-eastern France, have long been divided into two sub-regions: Bas-Rhin on the lower land to the north and the Haut-Rhin in the south, where the vast majority of Alsace's Grand Cru vineyards are to be found. Unlike Burgundy, this part of France was a real latecomer to the terroir classification party, only codifying a list of superior sites in 1983. The area under vine stretches for over 60 miles along the eastern flank of the Vosges mountains, responsible for the region's incredibly dry climate. The mountains, or rather their rain shadow and geological shifts, create a growing season blissfully free of rain during the summer and autumn months. Only Beziers and Perpignan in the Languedoc-Roussillon are drier than Alsace. Yet temperatures never reach the dizzy heights of the southern Mediterranean, although drought can be an issue in some years.
Nevertheless, Alsace's climate and varied soils – granite, gneiss, schist, sandstone, clay, and volcanic matter are all found – are highly conducive to producing fresh and aromatic white wines. The local philosophy emphasizes fruit over oak, with the occasional exception. Dry interpretations of Riesling, Pinot Gris, Muscat, Pinot Blanc, and Gewürztraminer are firm, structured, and racy – Vendage Tardive expressions compete with Sauternes for the title of Europe's greatest dessert wine style. Never let it be said that Alsace is a one-trick pony!
Main white grape varieties
Gewürztraminer
Its signature scent of lychee and rose petal is familiar the world over – Gewürztraminer yields exceptional dry and sweet styles in Alsace, particularly in the Grand Cru vineyards of Hatchsbourg and Sporen.
Read more about Gewürztraminer
Muscat Blanc
The finest variety of Muscat is increasingly used to make perfumed dry whites in the hills of Alsace. However, it is not easy to grow: Muscat is susceptible to powdery and downy mildew, grey rot, and attacks from the grape berry moth. In addition, it buds early, running the risk of frost destroying the potential yield during spring.
Read more about Muscat Blanc
Pinot Blanc
Sorely underrated, Pinot Blanc can produce delicious and full-bodied dry whites with aromas of hazelnuts, citrus, and buttered toast. Moreover, growing it is not difficult and will usually deliver a consistent yield.
Read more about Pinot Blanc
Pinot Gris
Pinot Gris can produce extremely characterful dry whites: full-bodied, smoky, and pungent. It is a cousin of Chardonnay, endowed with unusually dark-colored berries for a white variety. A noble grape.
Read more about Pinot Gris
Riesling
The world's most expressive, pungent grape reaches an apogee in the Grand Cru climats of Alsace. It is to white wine what Pinot Noir is to red; Riesling transmits the nuances of its terroir with razor-sharp precision and focus. In addition, it tends to be powerfully scented, reflecting minerals, citrus, flowers, and kerosene with age.
Read more about Riesling
---
Bordeaux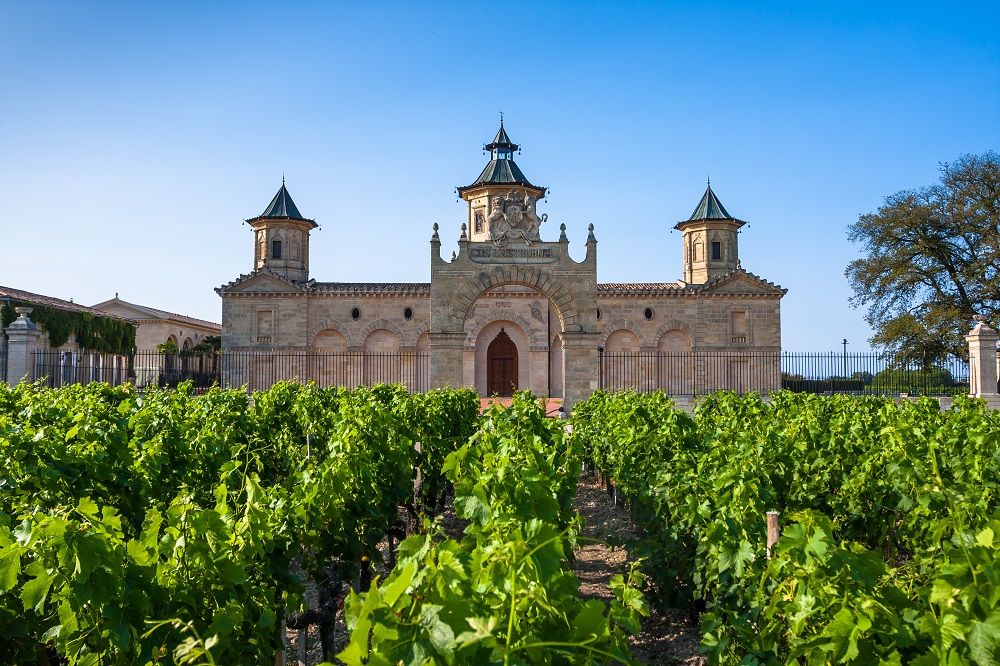 Although the fetishization of First Growth Bordeaux has reached almost ludicrous proportions, the region is still one of the most accessible and democratic in western Europe. Indeed, due to hype over Latour and Lafite, we tend to forget that Bordeaux produces a significant volume of good-value wine, including a generous supply of white. Moreover, these wines have a far longer history than red styles; after Henry II married Eleanor of Aquitaine in 1152, sweetened white wines from the vineyards of Graves became the toast of England's aristocracy. Today, several Bordeaux regions are in the white wine business, including Pessac-Leognan, Blaye, Bourg, Entre Deux Mers, and Sauternes.
From one perspective, this corner of southwestern France is far more suited to growing white varieties than red. However, the maritime climate of Bordeaux, combined with a tendency toward wet autumns, has long presented challenges at harvest time, not least the risk of unripe Cabernet Sauvignon. This is why the earlier-ripening Merlot has long been blended in the cellars of the Medoc, used as an insurance policy against bad harvests. Yet this is far less of an issue for white grapes, which tend to ripen earlier. As a result, over the past three decades, there have been scant few years where Bordeaux produced inexorable white wines. The same, sadly, cannot be said for the reds.
The majority of Bordeaux Blanc is a blend of Semillon and Sauvignon Blanc, often with a dash of Muscadelle thrown in to add perfume. The finest dry expressions of this age-old recipe are undoubtedly made in the vineyards of Pessac-Leognan, situated just south of Bordeaux city. All three varieties thrive on the well-drained gravel terroir of the zone, yielding perfumed wines of great finesse and longevity. The waxy texture and salinity of white Graves offer an excellent counterpoint to Bordeaux cuisine, particularly fresh oysters and mussels from Arcachon. Leading estates, such as Domaine de Chevalier, Haut-Brion, Chateau Olivier, and Latour-Martillac, produce wines that can improve in bottle for over 20 years. However, only Haut-Brion chooses to market its wines at Montrachet prices.
Meanwhile, the whites of Entre Deux Mers can offer fantastic value – likewise, the blends of Blaye and Bourg. Occasionally, Colombard will be used to add spice and potency to the cuvées made in Bordeaux's 'lesser' appellations, such as Blaye Côtes De Bordeaux. Naturally, winegrowers in Pessac-Leognan and Graves frown upon this practice, but we find that Colombard is an underrated resource in the vineyards northwest of Saint-Emilion.
Yet Bordeaux's greatest whites are not made in Pessac-Leognan or Blaye and Bourg. Instead, they are made in Sauternes, a region long-associated with majestic dessert wines capable of outliving their owners. Using botrytized grapes (a mold that punctures grape skins, desiccating the berries and concentrating the sugars), producers can fashion bottles of amber nectar – the most seductive, richly textured, and moreish sweet wines imaginable. However, they are rarely cloying due to the faultless winemaking and intelligent use of Sauvignon Blanc in the blend. Increasingly, leading estates in Sauternes have been forced to market a growing volume of dry white – a necessary evil in a zeitgeist where sweet wines have become passé. But as far as critics and collectors are concerned, the true magic of Sauternes will always reside in the miracle of botrytis.
Main white grape varieties
Colombard
Long regarded as a workhorse grape, Colombard is an important part of the Cognac and Armagnac industries, prized for its high acidity and generous yield. It also occasionally appears in Entre Deux Mers, Blaye, and Bourg wines.
Read more about Colombard
Muscadelle
A vital component of the delicious sweet wines of Monbazillac, the third white grape of Bordeaux is an underrated commodity. Both sweet and dry white Bordeaux can benefit from some Muscadelle in the blend – it adds texture, perfume, and acidity.
Read more about Muscadelle
Sauvignon Blanc
Commonly blended with Semillon in Pessac-Leognan and Sauternes, Sauvignon Blanc contributes much-needed acidity, freshness, and perfume to the blend. But it can also shine as a mono-varietal style, particularly in the vineyards of Sancerre.
Read more about Sauvignon Blanc
Semillon
The star white grape of Bordeaux, Semillon's thin skins make it highly susceptible to the botrytis mold responsible for the exquisite sweet wines of Sauternes and Barsac. Yet the grape also produces exceptional dry styles with lanolin, figs, and citrus aromas.
Read more about Semillon
---
Burgundy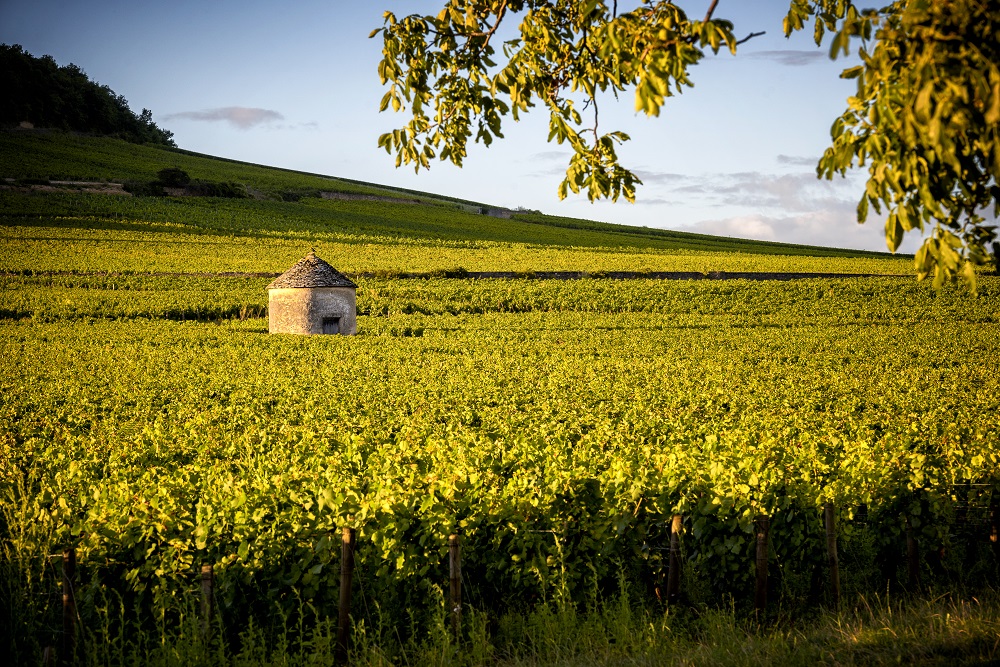 The Burgundians do not generally play favorites. Both of the region's star varieties, namely Pinot Noir and Chardonnay, are treated with equal respect and admiration in this part of central-eastern France. Aligoté is a different matter – we'll discuss that later. But, for the most part, growers would never suggest that red wines are more important to Burgundy's prosperity than the exquisite whites of Chablis, Meursault, Puligny-Montrachet, and Pouilly-Fuisse. There is a world of quality – and value – waiting to be explored in Burgundy blanc.
It has been this way for hundreds of years. After the Dukes of Burgundy assumed power in the 11th century, Chardonnay and Pinot Noir were decreed to be Burgundy's finest varieties. At the same time, Pinot Blanc, Gamay, and Aligoté were relegated to the second division. Thus, when the Cistercian monks delineated the finest terroirs of the region in the Middle Ages, they were concerned with red and white wines. Their groundbreaking work has stood the test of time: Burgundy's Grand Cru white vineyards are those same parcels identified by the monks centuries ago. They mainly reside in the Côte d'Or – Burgundy's most famous piece of real estate. The region has long been divided into two sub-zones: Côte de Nuits and Côte de Beaune. The former is almost exclusively associated with red wine, while the latter hosts the iconic Chardonnay villages of Meursault, Puligny-Montrachet, and Chassagne-Montrachet. It is here, on these limestone soils, that the most expensive Chardonnay in the world is made. For enthusiasts, the wines of Montrachet, Batard-Montrachet, and Chevalier Montrachet do not require any introduction. On the contrary: oenophiles have been known to faint at the very mention of these complex, powerfully structured, and richly-textured white wines!
However, many expressions of this singular grape made in Burgundy warrant closer inspection. The vineyards of Chablis, situated east of Auxerre, produce a more taut, steely interpretation of Chardonnay that has little in common with the richness of Meursault. Typically unoaked and brimming with fresh acidity, Chablis is the anthesis of overripe, hot climate Chardonnay. The best wines from the leading Grand Crus of the appellation – Blanchot is our favorite – will improve in bottle of decades, yielding tertiary aromas of sour cream, lanolin, honeysuckle, and white pepper. Fortunately, far more wine is available than in the villages of the Cote d'Or, which has kept prices reasonable. The same could be said for the ripe, buttery, and fruit-forward Chardonnays of the Mâconnais and the Côte Chalonnaise. Make no mistake: there is far more to Burgundy than trophy hunting and scarcity value.
This brings us nicely onto to the subject of Aligoté. Once maligned and ignored in equal measure, the underdog of Burgundy has enjoyed something of a renaissance of late. For this, we should thank Aubert de Villaine, who greatly helped resuscitate the grape's reputation at his property in Bouzeron. De Villaine's investment into the vineyards of the Côte Chalonnaise has proven what Aligoté is capable of: aromatic whites brimming with ripe acidity and citrus notes, white flowers, and melon. But, of course, as an aperitif, there are few finer wines.
Main white grape varieties
Aligoté
Don't believe what you've heard: Aligoté can produce high-quality wine in the right conditions. However, it is an early-ripening variety that requires careful pruning to control its sometimes overly generous yield. In addition, limestone soils suit it best.
Read More about Aligoté
Chardonnay
The great white grape of Burgundy is far less fussy than Pinot Noir, producing a broad range of styles in the various appellations of the region. From the steely authority of Chablis to the buttery opulence of Premier Cru Meursault, Chardonnay can turn its hand to anything.
Read more about Chardonnay
---
Gascony/Pays Basque
A verdant paradise covered in vines, Gascony and its neighbor Pays Basque are two of France's most unspoiled regions. Yet they are home to several dynamic wine appellations, including Jurancon, Irouleguy, and the increasingly popular IGP Cotes de Gascogne. Juracon is responsible for one of France's seminal sweet wine styles, a tangy, exotic blend of Petit Manseng, Gros Manseng, and occasionally Petit Courbu/Courbu Blanc. The vineyards are planted on the Pyrenees' lower slopes in the Bearn district. Traditionally, Petit Manseng was left to sweeten on the vine until late autumn; however, changes in fashion have forced growers to market a greater volume of dry styles from these indigenous grapes. Indeed, the home of Armagnac is today renowned for its dry table wines marketed under the auspices of the IGP framework. The choices open to the winemaker are many: Colombard, Ugni Blanc, Gros Manseng, and a whole host of other varieties that can be mixed up and bottled as Cotes de Gascogne.
Main white grape varieties
Colombard
Discussed above
Courbu Blanc/Petit Courbu
Almost genetically identical, Courbu Blanc and Petit Courbu are added to the wines of southwest France – sweet and dry – to enhance aroma and mouthfeel. However, they are rarely bottled as a mono-varietal style.
Read more about Courbu Blanc
Gros Manseng
Capable of producing both exceptional dry and sweet styles, Gros Manseng is very popular in the hills of Gascony. Relatively straightforward to grow, Gros Manseng's berries are packed full of aromatic compounds and acidity – two highly prized commodities in white winemaking.
Read more about Gros Manseng
Petit Manseng
For many critics, this is the finest white grape in Gascony. Low-yielding and richly perfumed, the variety will offer vibrant levels of acidity even at high sugar ripeness. This makes Petit Manseng suited to producing late-harvest dessert wines, albeit the grape is very versatile.
Read more about Petit Manseng
---
Loire Valley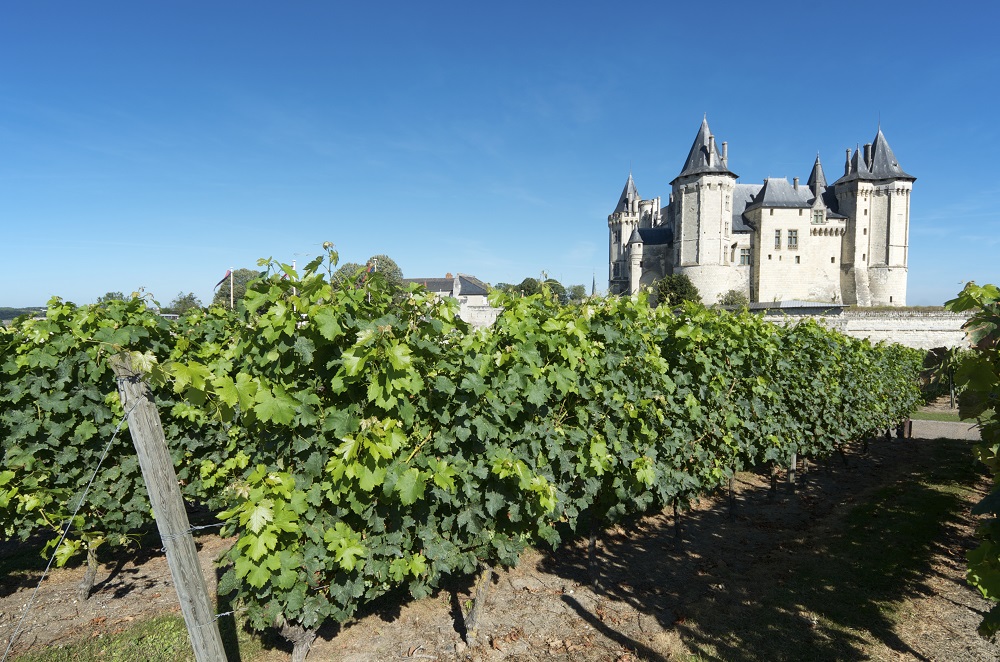 France's longest river – 629 miles – is an epicenter of fresh and fragrant white wines (still and sparkling), ranging from the acidic hit of Muscadet to the gooseberry-scented glories of Sancerre and Pouilly Fume. Situated in north-western France, the Loire has been an important wine producer since Roman times. As a result, it is an unmissable part of any exploration into the eclectic white grapes of France.
The Loire has traditionally been split into four sub-regions: Lower Loire, Middle Loire, Central Loire, and Upper Loire. As you would expect, each zone offers a unique set of growing conditions; soil and mesoclimate vary significantly across the valley. For example, the sub-zone of Anjou is renowned for its delicious Chenin Blanc wines, used to make both dry and sweet styles – the botrytized wines of Coteaux du Layon, Quarts de Chaume, and Bonnezeaux can rival Sauternes in quality, if not prestige. But if you seek the finest dry expression of Chenin Blanc in Europe – some would say the world – you need to explore the wines of Coulee de Serrant.
Moving further east, the town of Saumur is renowned for its 'truffeau,' the local synonym for crumbly limestone that has been used to construct ancient wine cellars. These cellars have housed millions of bottles of sparkling wine for over a century, marketed as both Saumur Brut and Cremant de Loire. So too, are the vineyards of Vouvray celebrated for producing distinctive, complex Chenin Blanc grown on the slopes of the river bank; vines thrive in the limestone terroir and warm climate of the Middle Loire.
However, the wines of Sancerre and Pouilly-Fume have the most cachet with global consumers. A singular expression of Sauvignon Blanc is produced here, quite different from the hedonistic excesses of Marlborough. Indeed, the Loire Valley offers a more restrained style characterized by its minerality, higher acidity, moderate alcohol, and a subtler fruit profile, wines that are made for the dinner table.
Main white grape varieties
Chenin Blanc
This is undoubtedly Loire's finest white grape: highly adaptable and versatile. Exported to South Africa and other New World countries, its natural home remains the Middle Loire. Expect aromas of citrus, quince, and lanolin.
Read more about Chenin Blanc
Melon de Bourgogne
Responsible for the seafood-friendly wines of Muscadet, Melon de Bourgogne is quite challenging to grow. Regular pruning is essential to keep the vine's natural vigor under control. Notes of citrus and green apple are the grape's trademark.
Read More about Melon de Bourgogne
Sauvignon Blanc
Discussed above.
---
Rhone Valley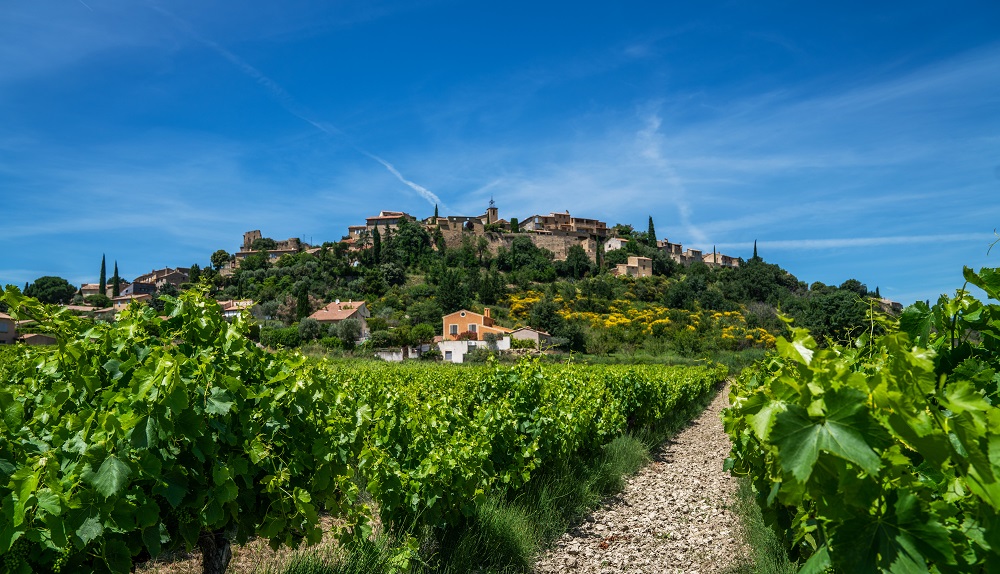 The Rhône Valley offers a treasure trove of original tastes, esoteric grape varieties, and exceptional wines. The reds, of course, are already widely respected in sommelier circles; very few serious wine lists would omit Côte-Rotie and Hermitage. But what is less commonly known is that the Rhône Valley is also a white wine powerhouse – hand-crafted, site-specific cuvees are a local specialty.
The most famous white appellation of the northern Rhône is undoubtedly Condrieu. It takes the Viognier grape and produces bottled magic: complex, structured, and silky wines for early drinking. Meanwhile, Hermitage's steep terraces and granite soils are not only suited to the cultivation of Syrah. Marsanne and Roussanne yield delectable wines in the appellation; Hermitage Blanc, produced in relatively small volumes, is a magnificent example of terroir and variety forming a harmonious marriage. A typical bottle is defined by its exotic perfume – passion fruit, guava, garrigue, and white pepper – and a voluptuous palate undercut by racy acidity. Some excellent Marsanne/Roussanne blends are sold under the Cotes du Rhône and Cotes du Rhône-Villages appellations.
Further south lies the ancient region of Châteauneuf-du-Pape. Like Hermitage and Côte-Rotie, the appellation is primarily associated with red wines – spicy blends of Grenache, Syrah, and Mourvedre (GSM). However, Châteauneuf-du-Pape Blanc is not to be sniffed at. It is a remarkable style that permits the inclusion of France's rarest grape varieties, including Picardan, Clairette Blanche, and Bourboulenc. These late-ripening grapes thrive in the area's warm and dry climate, with galets (giant pebbles) reflecting intense summer heat into the vine canopy. The results in bottle are memorable: often led by Grenache Blanc, white Châteauneuf-du-Pape is rich and spicy, with flavors of fennel, stone fruit, honey, and thyme. These are weighty, powerful whites to serve with the local Mediterranean cuisine. Bouillabaisse would be sublime!
Main white grape varieties
Bourboulenc
The late-ripening Bourboulenc had traditionally been used to add acidity and freshness to the blends of Châteauneuf-du-Pape Blanc. It produces small berries packed full of citrus and aniseed aromas.
Read more about Bourboulenc
Clairette Blanche
Clairette Blanche does not make life easy, as the variety buds early and is also highly susceptible to drought and leaf burn. Therefore, its prolific yield must also be controlled if top quality is sought.
Read more about Clairette Blanche
Grenache Blanc
Grenache Blanc is a late-ripening variety that suits a Mediterranean climate down to the ground like its red namesake. It adds spicy potency to the blends of Châteauneuf-du-Pape Blanc and is widely planted in the Languedoc-Roussillon.
Read more about Grenache Blanc
Marsanne
One of the star white grapes of Hermitage, Marsanne yields rich and unctuous wines of real class and distinction.
Read more about Marsanne
Picardan
One of Europe's rarest grape varieties, Picardan is used by a tiny percentage of growers in Châteauneuf-du-Pape. Nonetheless, it can yield racy and aromatic white wine.
Read more about Picardan
Roussanne
The sublime, always-elegant Roussanne has long been combined with Marsanne to bolster the latter's perfume, mouthfeel, and acidity.
Read more about Roussanne
Viognier
A mid-to-late-ripening variety, mastering Viognier takes work. If the site is too warm, it will yield utterly nondescript wine: flabby and alcoholic. Only masters of their craft will succeed!
Read more about Viognier
---
Savoie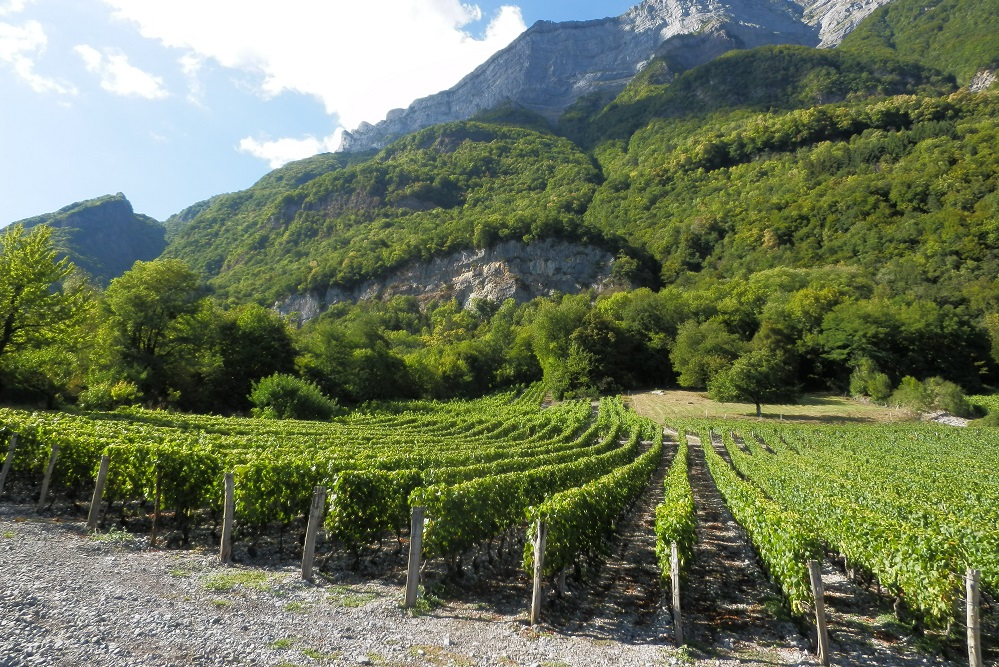 The glistening white slopes of Savoie have no historical association with fine wine – winter tourists were once the only international customers. Yet the rising demand for saline whites with moderate alcohol has led more and more sommeliers – and buyers – to the mountains of Savoie. As a result, cool climate viticulture is second nature to growers nestled in this spectacular border region, sharing grape varieties and wine styles with Switzerland. Indeed, local wine is far more likely to be white than red, often based on the fresh and fruity Jacquère variety. There is also some excellent sparkling made from the grape, marketed as Cremant de Savoie. Meanwhile, on the pristine shores of Lake Geneva, Chasselas produces a white that is stirringly reminiscent of the surrounding landscape: light, clean, and as fresh as the morning snow.
Main white grape varieties
Chasselas
Esoteric Chasselas has – or should have – an important role in the growing shift toward lighter, fresher styles. It delivers wines of moderate alcohol, racy acidity, and impeccable freshness – there's nothing to dislike.
Read more about Chasselas
Jacquère
Indigenous to the Savoie region, Jacquère's yield must be strictly controlled if the winemaker seeks quality. But a beautifully fragrant, classy white will emerge with care and attention in the vineyard and winery.
Read more about Jacquère
---
Languedoc-Roussillon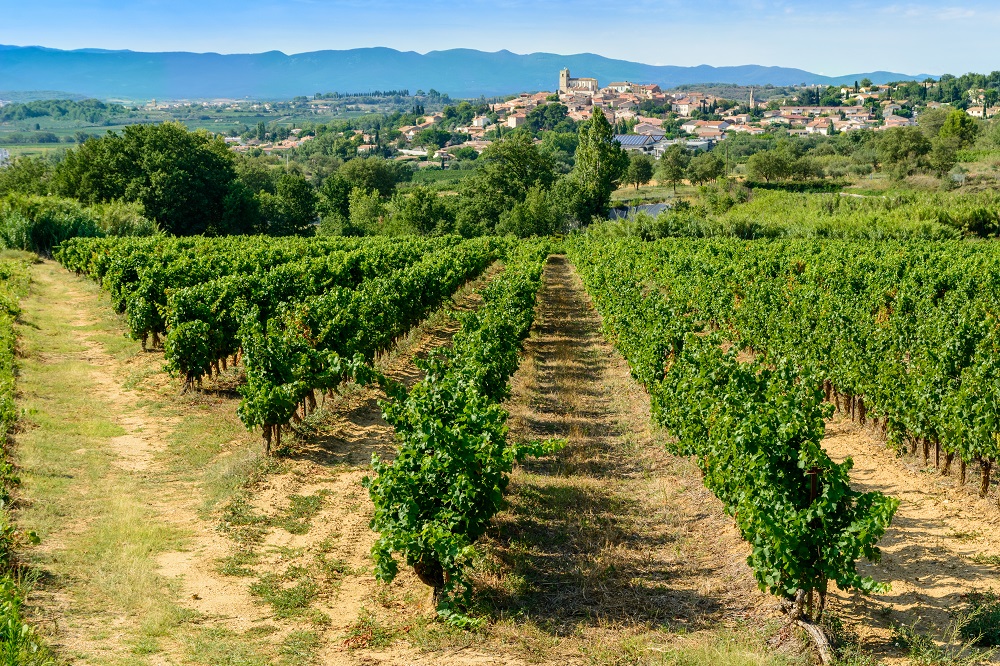 The sultry vineyards of the western Mediterranean remain a hotbed of innovation and excitement. There is ample scope for experimentation and rule-breaking in a region that encompasses over 280,000 hectares of vines, stretching from Montpelier to Perpignan on the Spanish border. Thus, while plenty of excellent wine is sold as an AOC (appellation d'origine controlee), a sizable volume is marketed as an IGP Pays d'Oc label. This framework delivers considerable freedom to ambitious winegrowers, certainly in terms of varieties permitted and winemaking methods. So it's a very attractive proposition for the Languedoc's most progressive firmament of younger winemakers.
Indeed, Pays d'Oc wineries don't play by appellation rules or any rules except their own. Capitulation is not a priority – a Pays d'Oc white can be made from over 40 varieties. One bottle might contain Vermentino and Roussanne; the other is a Chardonnay/Viognier blend. These white wines are for those who collect original tastes and don't demand trophies.
Nevertheless, two of the region's most important white styles are protected by appellation law. In the hills of Limoux, southwest of Carcassonne, are the Languedoc's premier cool climate vineyards; planted on high-elevation slopes, the terrain has been exploited for centuries to make Blanquette de Limoux, a style of sparkling wine that supposedly predates Champagne. Based on the Mauzac grape, these traditional method wines are superb, bursting with ripe fruit, fresh acidity, and verve. It is also one of the few destinations in France where the methode ancestrale is still practiced: a continuation of the first fermentation in bottle, trapping CO2 in the process. This a unique piece of European history that is well worth seeking out!
Of course, your preferences may nod toward still wines: summer thirst quenchers are another local triumph. In which case, you're going to love Picpoul de Pinet. Described as the Muscadet of the Midi, the style has become a massive hit with sommeliers and consumers in the US. Lemon-scented, with a touch of oyster shells and marine air, the similarities between Picpoul and Melon de Bourgogne are many. Yet Muscadet has been made for centuries – Picpoul de Pinet was awarded appellation status in 1985. Our guess is that the Languedoc-Roussillon will have as many venerable white styles as the Loire in another ten years.
Main white grape varieties
Clairette Blanche
Discussed above.
Grenache Blanc
Discussed above.
Marsanne
Discussed above.
Mauzac
Limoux's most important viticultural asset, Mauzac, delivers excellent wines of bracing acidity and freshness. However, it is sensitive to attacks from grapevine pests and grey rot.
Read more about Mauzac
Picpoul
Picpoul needs well-drained sandy soils and adequate sun exposure to deliver its best. Unfortunately, it is also susceptible to fungal diseases in wet weather. Yet the wine it produces can be mouthwateringly delicious – the Languedoc's version of Sauvignon Blanc.
Read more about Picpoul
Roussanne
Discussed above.