French cuisine is often recognized as the best gastronomy throughout the international culinary landscape. French food is beloved worldwide, from fresh baguettes and buttery croissants to artisanal cheeses and dishes like coq au vin, croque monsieur, and quiche Lorraine. Traditional French meals begin with an aperitif to whet the appetite, potentially served with something to nibble on. Next comes the starter, known as l'entrée in French, followed by a fish, meat, or poultry dish with vegetables known as le plat principal. And after the main course salad may be served. Finally, cheese is always enjoyed before dessert, and the full French meal concludes with liqueurs or a digestif. In 2010 UNESCO added the French gastronomic meal to its official World Heritage list, honoring intangible cultural heritage and traditions worldwide.
Gastronomic dining is a French national experience, but each region boasts distinctive delicacies. Many of which are determined by local seasonal produce. Read on to learn how French cuisine varies around the country and which French dishes to order in each region.

French Cuisine in Northern France
The metropolitan regions of Brittany, Normandy, Hauts de France (Nord-Pas-de-Calais-Picardie), Île de France, and the Grand Est (Alsace-Lorraine-Champagne-Ardenne) make up northern France. This region is predisposed to cooler, wetter weather thanks to its geography. Yet what northern France lacks in sunshine, it makes up for in culture and French gastronomy. The English Channel borders Normandy and Hauts de France to the northwest, introducing seafood into local cuisine. A wetter climate means green pastures ideal for grazing, which helped these regions create a reputation for tasty cheeses. At the same time, Germany borders eastern Grand Est infusing its culinary traditions into French dishes found in Alsace and Lorraine. Notably, the country's capital of Paris rests in Île de France, with a buzzing gastronomic culture of modern fine dining coupled with traditional French dishes.
French Food in Northeastern France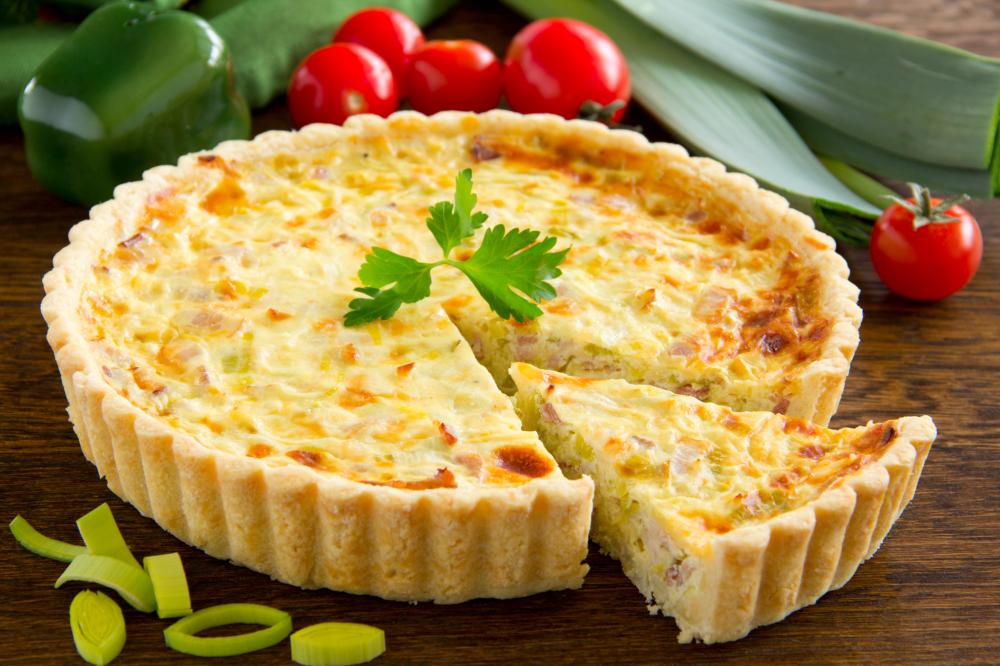 Quiche Lorraine
The regions of Alsace and Lorraine in northeastern France share a cooler climate with their German neighbors. The Vosges Mountains run through Alsace, elevating places like Strasbourg to great heights. Alsace and Lorraine meet at the highest point of the Lower Vosges in the Donon Mountains; consequently, these elevations and cool temperatures lead to a warm and filling local French cuisine.
Lorraine's French Dishes
In Lorraine, don't miss the potée Lorraine, a hearty stew with savory pork meat, potatoes, and winter vegetables like turnips, carrots, leeks, and cabbage. Indeed, the quiche Lorraine made with shortcrust pastry, eggs, ham, and cream is a must-try while in the region.
Alsatian Cuisine
While over in Alsace, the Vosges Mountains shelter the region's renowned vineyards allowing for the cultivation of aromatic whites like Riesling, Gewürztraminer, Pinot Gris, and Muscat. Alsatian cuisine also features heartwarming dishes like choucroute garnie made with sauerkraut, assorted meats, white wine, and herbs. As well as baeckeoffe, a robust casserole layered with marinated meats, potatoes, and onions flavored with local Alsatian wines.
Read more: Alsatian Cuisine: Explore Flammekueche, Pot au Feu, Coq au Riesling, and More
---
Northwestern French Cuisine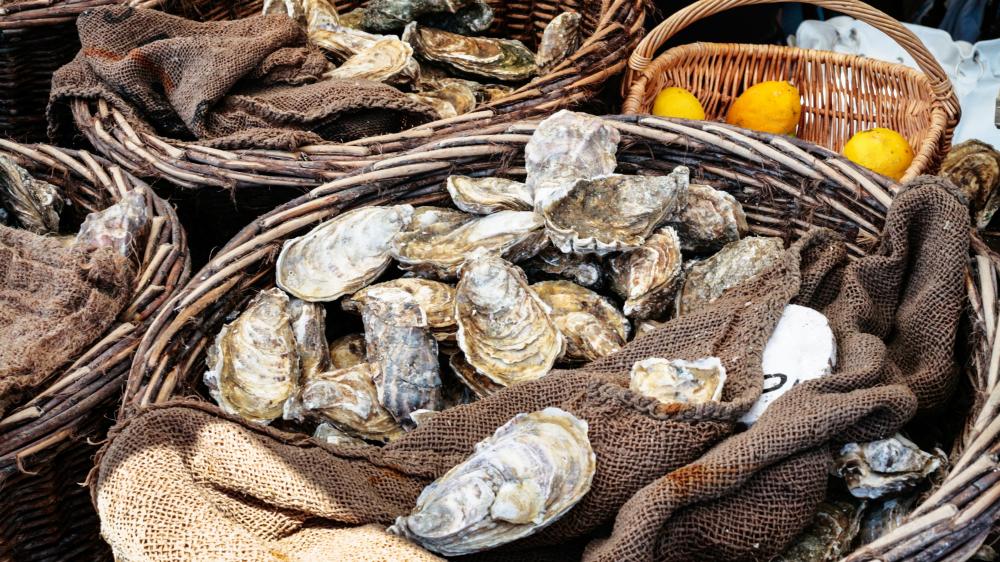 Breton Oysters
Both land and sea surround the northwestern French regions of Brittany and Normandy. With the Bay of Biscay sweeping up Brittany's south coast and the English Channel to the north, this French region is a peninsula surrounded by water.
Unlike other French regions, Brittany and Normandy don't have a thriving wine industry. So instead, they put widespread apple orchards to good use with their cidre, Pommeau, and Calvados brandy production.
Breton Cuisine
Strong Atlantic influences deliver a plethora of seafood delicacies to Breton cuisine, including oysters bursting with umami flavor, succulent Coquilles Saint-Jacques des Côtes-d'Armor (king scallops), a variety of mussels, langoustines, fish, and shellfish. Additionally, Brittany is France's leading dairy producer. This specialty led to the birth of the irresistible Breton butter used excessively in Brittany's famous kouign-amann pastries.
From buckwheat galettes to cotriade fish stew and poulet au cidre, the diverse dishes of Breton cuisine wholeheartedly embrace ingredients from land and sea.
Read More: Breton Cuisine: A Treasure Trove of Seafood, Crêpes, Cider, and More
Normandy Specialties
Normandy is settled above Brittany along the Atlantic coast and incorporates similar seafood into its cuisine. In addition, Normandy grows over 300,000 tonnes of apples each year, producing Calvados, France's famous apple brandy, along with an assortment of ciders and Pommeau, a mixture of apple juice and Calvados barrel aged together. Plus, the world-famous creamy Camembert cheese hails from this northerly French region.
Read More: The Best of Normandy Cuisine Besides Camembert and Calvados
---
French Food in North-Central France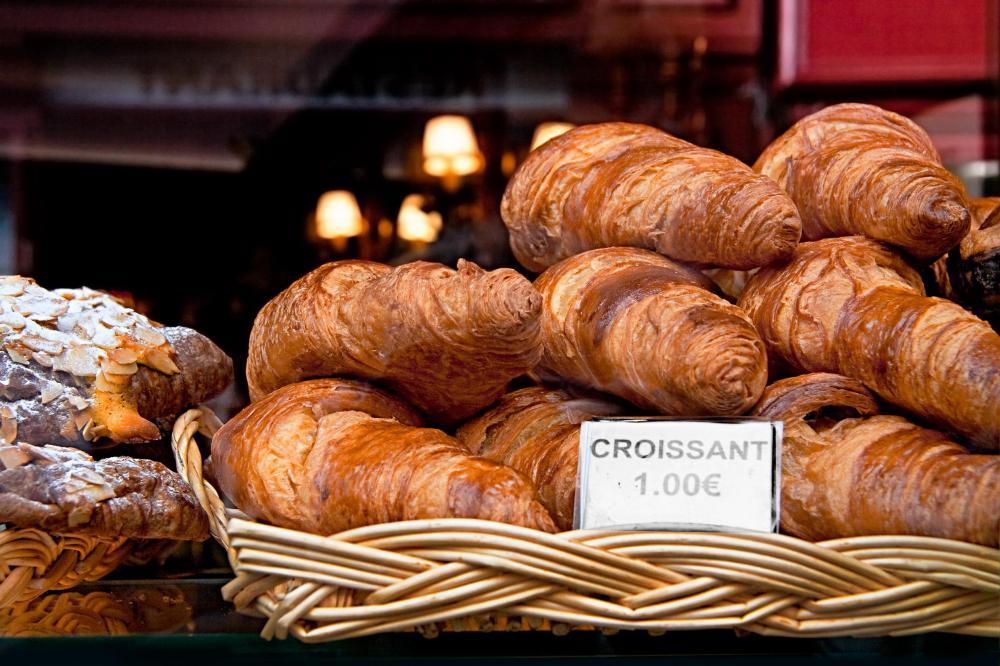 Infamous Parisian Croissant
North-central France incorporates the regions of Hauts de France (Nord-Pas-de-Calais-Picardie), Île de France, home to the country's capital city of Paris, and Champagne, which lies on the western edge of France's Grand Est region. The cool climate in these northern regions is ideal for cultivating wintery produce like potatoes, cabbage, sugar beets, and mushrooms.
The English Channel borders Hauts de France to the north, and Belgium lies on the other side of the region's eastern border. Despite its name, Hauts de France has the lowest elevation of any French region. Nearby England and Belgium have made their influences the region's cuisine.
French Gastronomy in Champagne
Both the chilly climate and the region's prestige have shaped Champagne cuisine. As a result, French dishes here share a contrasting history. Some originated in the nobility and the French monarchy courts, like pieds de porc à la Sainte-Menehould, which was served to King Charles VII when he visited Menehould. In contrast, the poor or middle class developed other French dishes, such as cacasse à cul nu and potée Champenoise, a winter vegetable stew.
Read more: The Cuisine of Champagne-Ardenne & The Best Champagne Food Pairings
Parisian Cuisine
The City of Lights has long been a bustling center for the arts, culture, and business alike. Parisian cuisine undoubtedly contributes to the city's vibrant allure. Paris is home to the first French baguette and boasts some of the best croissants, pan au chocolat, and crêpes in all of France. Moreover, there's no better way to satisfy a hunger worked up exploring the city than nestling into a curbside table at a Parisian brasserie. But with dishes like soup a'l'oignon, steak tartare, steak frites, croque monsieur, and os a moelle, good luck deciding what to order.
Read more: Parisian Cuisine: The Original Baguette, Steak Frites & Specialties of Parisian Brasseries
---
French Food in Central France
Île de France borders central France to the north, Burgundy to the east, Normandy and Pays de Loire and Aquitaine to the west, and Auvergne-Rhône-Alpes to the south. One of France's most celebrated wine regions, the Loire Valley begins here and stretches west to the Atlantic coast in Nantes.
Loire Valley Cuisine
Beyond the stately chateaux and their exquisite gardens, the Loire Valley comprises fertile plains that helped dub the region as the Garden of France. The local French cuisine incorporates fresh fruits and vegetables growing abundantly throughout the region, such as Chinon peaches, Nantes lamb's lettuce, and asparagus. Seafood dishes like pike or bream with sauce beurre blanc are prevalent near the coast. In contrast, meat and game are more common traveling inland. Don't miss Loire Valley's pork rillets, poulet en barbouille, and a traditional recipe beuchelle tourgangelle.
Read more: Loire Valley Cuisine: What to Eat While Sipping Sancerre, Chinon & Loire Valley Wines
---
What to Eat in Southeast France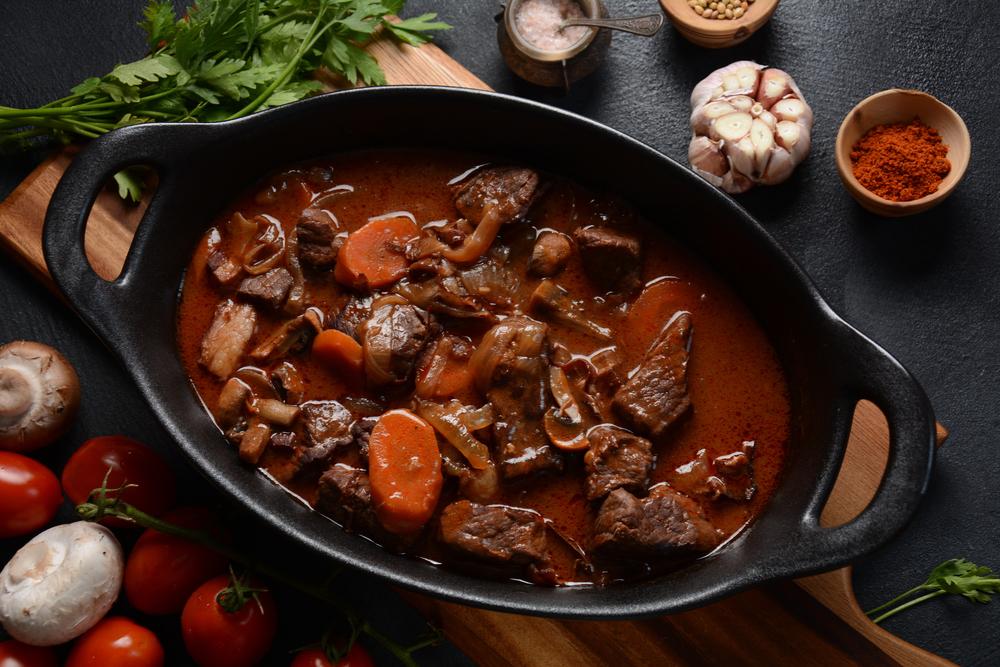 Boeuf Bourguignon
The Bourgogne-Franche-Comté region begins in central-eastern France bordered by Switzerland to the east. Burgundy, one of the world's most prestigious wine regions, covers the eastern half of the region. France's Auvergne-Rhône-Alpes region stretches south of Burgundy along the Rhône River and extends east to the Swiss and Italian borders.
Burgundy Cuisine
The esteemed French wine region, producing some of the most expensive wines on the international market, sweeps across the countryside from Dijon to Mâcon above Lyon. Burgundy cuisine embraces the regional terroir just as much as Burgundian wines. Expect earthy dishes like escargots de Bourgogne and carnivorous classics, such as jambon persillé, boeuf Bourguignon made with Charolais beef, coq au vin, and lapin à la moutarde prepared with vibrant Dijon mustard.
Read more: Burgundy Cuisine: The Best French Food in the Land of Pinot Noir & Chardonnay
Lyonnaise Cuisine
As the Gastronomic Capital of the World, Lyon is a promising destination for hungry travelers. Lyonnaise cuisine is guaranteed to deliver satisfaction with the rustic, homey les bouchons Lyonnais bistros and internationally renowned chefs like the late Paul Bocuse. Must-try dishes include the wholesome salade Lyonnaise, saucisson de Lyon brioche, fluffy quenelle dumplings doused in a savory sauce, and le tablier de sapeur for tripe enthusiasts.
Read more: Lyonnaise Cuisine: What to Eat in the Gastronomic Capital of the World
French Food in Rhône-Alpes
The French Alps claim much of the eastern territory of the Rhône-Alps, meaning Alpine cuisine is popular here. Cheese lovers will delight in Rhône-Alpes cuisine, which widely incorporates famous French cheeses, including Reblochon, Tomme de Savoie, Saint Marcellin, and Emmental. Heartwarming French dishes like a potato and cheese gratin called tartiflette, fondue Savoyarde, and the Rhône-Alpes raclette are the perfect fuel for hitting the Alpine slopes.
Read more: The Best Rhône-Alpes Food, Cheeses & French Wines to Match
---
French Dishes in Southwest France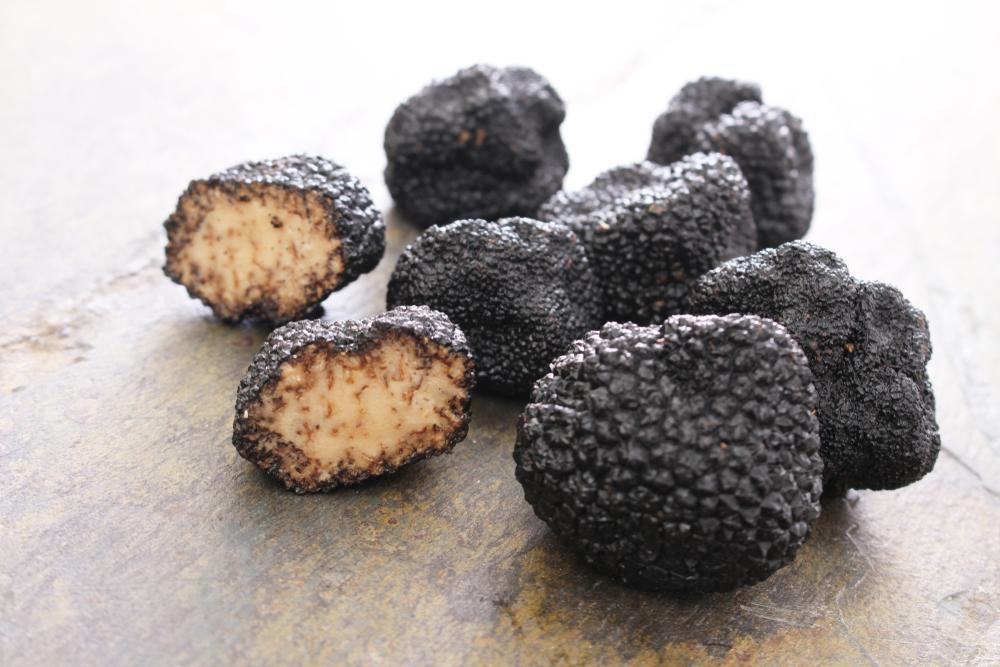 Black Truffles from Perigord
Southwest France extends from the Atlantic coast through the Dordogne and the Pyrenees along the Spanish border. Here you'll find Bordeaux and its internationally acclaimed wines from the Médoc, Pauillac, Margaux, and Saint-Émilion produced along the Gironde Estuary, Dordogne, and Garonne rivers. The Dordogne, also known as Périgord, lies inland and northeast of Bordeaux. Remarkably, the French countryside is genuinely some of France's most stunning terrain.
Bordeaux Cuisine
The Bordelaise are as skilled in the kitchen as in the vineyard. Delicacies like Aquitaine caviar, oysters from the Arcachon Basin, and fresh mussels are great ways to start a Bordeaux meal. Subsequent courses turn to land-based ingredients like les cèpes en persillade made with seasonal mushrooms, entrecôte à la Bordelaise, and Pauillac milk-fed lamb raised in the Médoc.
Read more: The Best of Bordeaux Cuisine: What to Eat & Drink in this French Wine Region
The Best Food in Périgord
French cuisine in Périgord is alive with the terroir of this landlocked region. Umami-rich black truffles, fragrant Périgord strawberries, and meaty walnuts are some of the region's most prized produce. Périgord is France's leading foie gras purveyor. At the same time, geese and duck are also featured in other prominent regional specialties like rillettes d'oie, confit de canard, and tournedos de magret. Be sure to savor the tarte au noix for dessert.
Read more: The Cuisine of Périgord, France: Truffles, Foie Gras, Wines of Bergerac & More
---
French Gastronomy in Southern France & the Mediterranean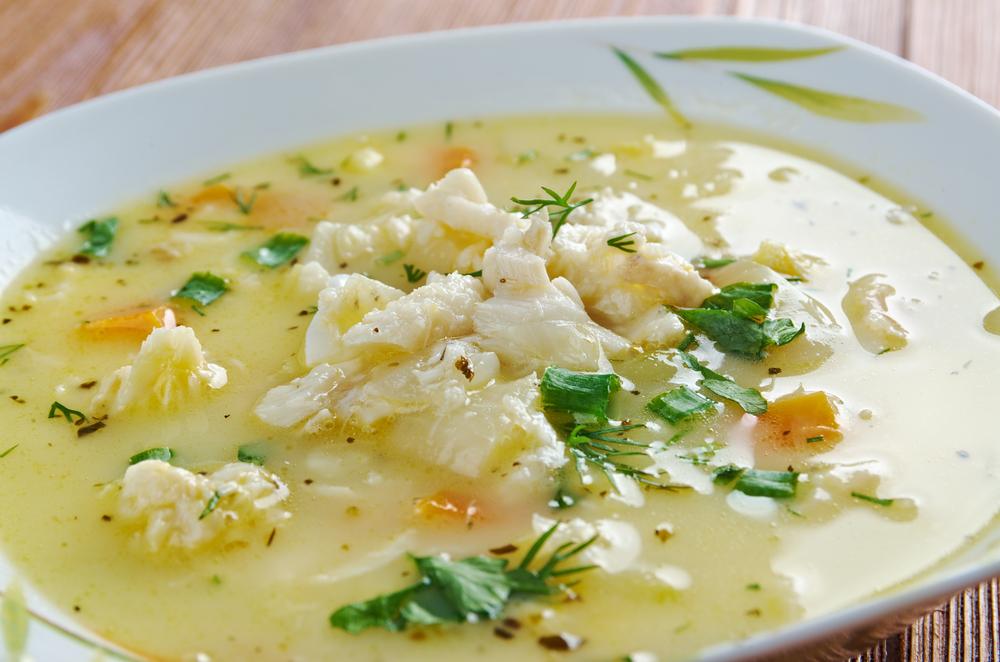 Bourride fish stew
Southern France expands across the Mediterranean coastline from the Pyrenees in the west to the Italian border in the east. The abundant sunshine in this region lends to a livelier cuisine with ingredients like olive oil, tomatoes, onions, and garlic are more prominently incorporated into French dishes. The signature mixture of thyme, rosemary, basil, oregano, and marjoram is known as herbs de Provence.
Languedoc-Roussillon Cuisine
Encompassing the western half of southern France, Languedoc-Roussillon cuisine incorporates the vibrant flavors of the Mediterranean coupled with Catalan influences from the other side of the Pyrenees. The eclectic cassoulet French stew originated here with several recipes which vary village by village. Inland amidst the foothills of the Massif Central, you'll find hearty cheese-based recipes like aligot. While along the coast, seafood is widely savored in French dishes such as stuffed squid à la Sétoise and a flavor-packed seafood stew called bourride.
Read more: The Diverse Cuisine of Languedoc-Roussillon from the Massif-Central to the Mediterranean Sea
Provencal Cuisine
Provencal cuisine is simple yet full of dynamic flavors and very fresh ingredients. Provencal cooking aligning with Mediterranean traditions, frequently utilizes olive oil, onions, tomatoes, olives, anchovies, and the previously mentioned herbs de Provence. Garlicky aioli is the region's signature sauce served with fish, potatoes, vegetables, and stews. Bouillabaisse seafood stew, salade Niçoise, and the region's signature vegetable ratatouille are classics in Provencal cuisine.
Read More: Provencal Cuisine: A Gastronomic El Dorado
Corsican Cuisine
Italian influences are evident in French cuisine on this sun-soaked Mediterranean island. Though seafood delicacies like azziminu soup and fresh grilled fish are widely enjoyed, Corsicans are more inclined towards meat-based dishes. The island is famous for its Nustrale pork charcuterie such as figatellu, lonzu, coppa, and prissutu. Popular recipes like civet de sanglier, a wild boar stew, veaux aux olives, a slowly simmered veal, and olive stew are not the average island fare.
Read more: Corsican Cuisine: Discover Brocciu, Chestnuts, Figatellu & Other Corsican Specialties
---
About Nicole Dickerson
WSET certified international wine writer with a passion for rare varieties and cellar hand experience in both hemispheres. Join me in the vineyards and cellars of the wine world at palmandvine.com.