Key French Red Grapes by Wine Region
France is a conundrum. As the world's viticultural map continues to expand and change at an unprecedented rate, the birthplace of fine wine appears to be sleeping. The global wine industry has witnessed a series of tectonic movements over the past 20 years:
The rise of social media marketing
Shifting priorities in the face of global warming
The emergence of new regions and styles
The shift of marketing emphasis from place to grape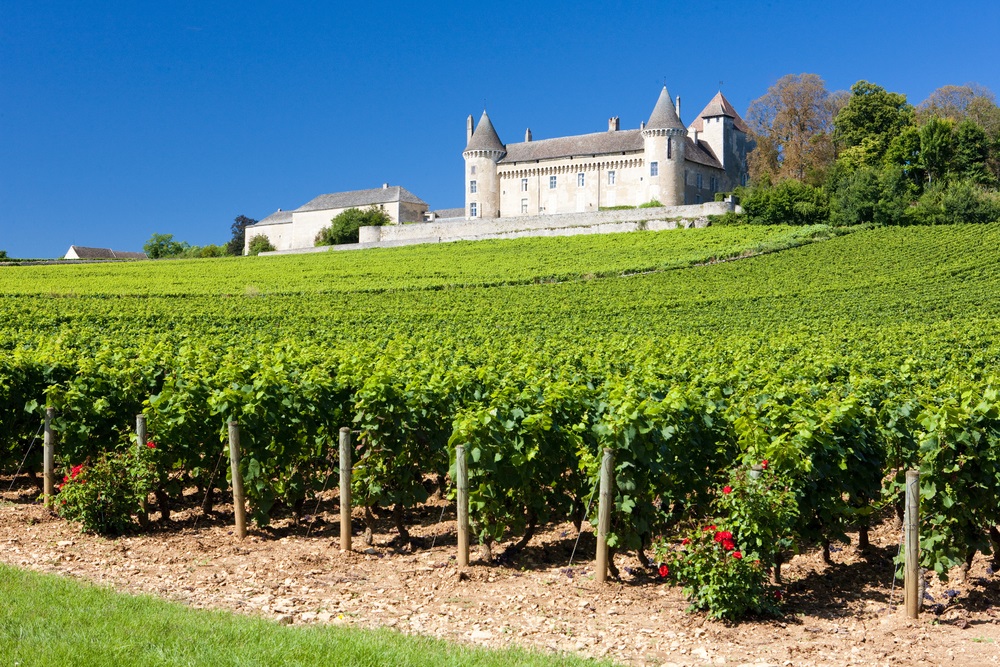 Yet, at first glance, France remains aloof. Longstanding visitors to Bordeaux, Champagne, and Burgundy will tell you that the appellations have not changed in any meaningful way – based on initial appearances, at least. The Medoc hierarchy, save the promotion of Mouton Rothschild, is as rigid as ever. Burgundy has not accepted new Grand Crus into the fold. And NV Champagne is still made using the traditional method, blending across different terroirs and vintages to create a far greater product than the sum of its parts.
Ironically, this reactionary tendency may be the secret to France's success. Despite the ever-increasing global competition, Champagne, Meursault, Pauillac, and Volnay are keenly sought-after commodities. They're adored by collectors who view Gallic winemaking as the pinnacle of all that is refined and sophisticated. In the secondary market and auction houses of London, Hong Kong, and New York, France continues to dominate. Although most New World labels promote the grape variety with cheerful abandon, most French regions market soil and climate, not the varietal. This, they argue, gives them a decisive advantage. After all, good Merlot can be made across the world – Pomerol can only come from Bordeaux.
But don't get us wrong. The switch of emphasis from place to grape has made the whole business far less opaque and more user-friendly. It's just that Gallic vignerons see things very differently. In a sense, they feel they cannot adapt: winegrowers are fiercely attached to their vines and the soil they inherit. Terroir is their very being and lifeblood. Fortunately for them, the market tends to agree.
However, France has changed a great deal over the past two decades. It's just that winemakers tend to be more discrete about it. New hybrid varieties are being trialed in the fight against climate change, while the organic and biodynamic movement is spreading like wildfire. As a result, natural and low-intervention winemaking is all the rage, particularly in the South of France. Sustainability, once treated with scorn, is a major priority across Bordeaux. The region has even opened its heart to tourism, building new plush hotels, Michelin restaurants, and tasting rooms. Of course, it's a long way from becoming a facsimile of Napa Valley or Stellenbosch. But it's a step in the right direction.
Like every wine nation, France is a chameleon. The fine wine sphere, endlessly hyped, is responsible for the world's most luxurious red wines, often with eye-watering prices. Nevertheless, there is no doubt that France has provided the seminal benchmark for New World producers to follow. From California to Hawke's Bay, growers are obsessed with making their versions of Margaux and Chambertin. French grapes and wine styles remain the country's most popular and iconic export. If you suggest to a Kiwi that their Pinot Noir reminds you of a good Burgundy, just wait for the beaming smile.
The other side to France is driven by value. Yes, value. Every major region, even Burgundy, is producing superlative wines that don't cost the earth. With a run of excellent vintages under its belt, mid-range Bordeaux is an attractive proposition. Bourgogne Rouge is seldom overpriced, while the mighty reds of the Southern Rhône and Languedoc-Roussillon deserve greater recognition. Indeed, the Rhône, even at the top end, has yet to catch up with Burgundy Grand Cru prices. Occasionally inflicted with a certain arrogance, this glorious wine-growing nation has delivered more pleasure than any other. If France didn't exist, we'd all be much poorer for it.
If you are looking to discover the best of France, its top wine regions, and gourmet eateries, look no further than Cellar Tour's French Wine Odyssey, perfect for wine lovers and connoisseurs alike.
Bordeaux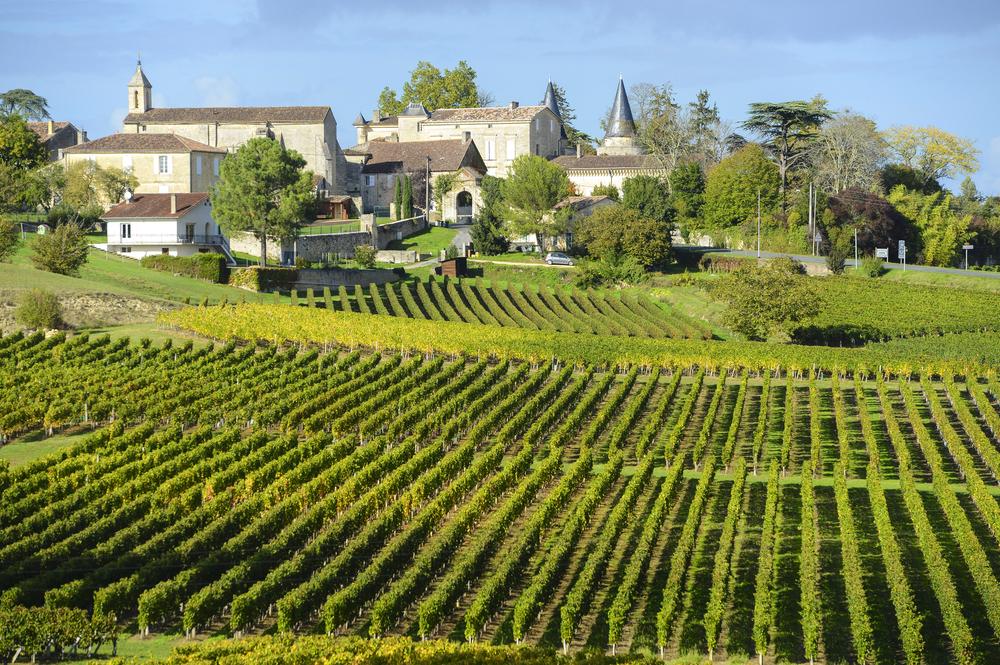 Welcome to the most diverse wine region on earth. Bordeaux caters to every whim and price point, encompassing a wide variety of sub-zones and appellations. Collectors swoon over the First Growths of Pauillac, while students love the affordable wines of Fronsac. If you have a viticultural desire, Bordeaux will satisfy it.
Situated in southwestern France, Bordeaux has been exporting fine wine since the Middle Ages. Although the area's maritime climate can cause problems for late-ripening varieties like Cabernet Sauvignon, the overall terroir is first-rate. Well-drained gravel soils in the Medoc reflect heat into the canopy, helping the grapes reach good phenolic maturity levels, even in cooler years. In Saint-Emilion and Pomerol, clay, limestone, and sand are abundant, ideal for the earlier-ripening Merlot.
However, mono-varietal wines are quite rare in Bordeaux. Instead, the region is celebrated for its signature red 'Bordeaux blends,' involving different proportions of Cabernet Sauvignon, Merlot, Cabernet Franc, and sometimes Petit Verdot. The top labels are glorious: refined, structured, and complex red wines that can improve in bottle for decades. Chateau Latour, one of the great icons of Bordeaux, can be fresh and alive after a century underground.
Bordeaux is traditionally divided into two sub-regions: Left and Right Bank. The Left Bank refers to the Medoc, located north of the city of Bordeaux and to the south Pessac-Leognan and Graves, flanking the west bank of the Garonne. Meanwhile, Saint-Emilion and Pomerol are the two most famous appellations of the Right Bank, situated east of the Dordogne. Cabernet Sauvignon is king in the Left Bank, accounting for at least 70% in ripe vintages. The resulting wine style is typically built for the long haul. However, specific appellations and producers have been using greater proportions of Merlot in recent years to soften the tannic austerity. That grape variety has long dominated the wines of the Right Bank. However, when skillfully blended with Cabernet Franc, a more opulent and hedonistic style of wine emerges, characterized by beautiful aromas of violets, plum, and raspberry.
The Left and Right Bank also take very different approaches to classifying their wines. The seminal 1855 hierarchy remains in force today in the Medoc – only Chateau Haut-Brion is from outside the area – ranking chateaux from First to Fifth Growth. It is unlikely ever to change. Meanwhile, Saint-Emilion revises its democratic classification framework every decade – Pomerol sees no need for any formal ranking. As far as they're concerned, the market is the only judge that counts. Considering the insatiable demand for Petrus and other brands, a lack of classification has not done any harm.
Of course, there is more to Bordeaux than classified estates. The wider region contains over 55 appellations, and most of them do not produce expensive red wine. However, Fronsac, the Saint-Emilion satellites, Lalande de Pomerol, Blaye, and Bourg are all extremely adept at marketing high-quality reds at affordable prices. They lack the glamour of Chateau Lafite, to be sure, but that doesn't make them any less delicious.
Main red grape varieties
Cabernet Sauvignon
The mighty red grape of Bordeaux is now a familiar face across the world. Late-ripening, Cabernet's skins are packed full of wonderful color, flavor, and tannin. It will produce the most structured and long-lived red wine imaginable in the right hands. Moreover, its signature scent of cassis is adored by all.
Read more about Cabernet Sauvignon
Merlot
Merlot remains astonishingly popular with consumers and growers despite the so-called' Sideways effect. It ripens earlier than Cabernet Sauvignon, producing softer and more approachable wine with plum, raspberry, and mint notes. In Saint-Emilion and Pomerol, it yields voluptuous wines of immense charm.
Cabernet Franc
The 'third variety' of Bordeaux is no poor relation. Capable of producing exquisite and aromatic red wines, Cabernet Franc is now much-admired in the Right Bank. It ripens earlier than Cabernet Sauvignon and blends very well with Merlot, adding perfume and freshness. At Cheval Blanc, it can sometimes constitute over 40% of the final blend.
Read more about Cabernet Franc
Petit Verdot
Petit Verdot continues to divide opinion in Bordeaux. Difficult to grow, especially in cooler vintages, it can nevertheless add spice and potency to the red wines of the Medoc.
Bordeaux Wine Maps
Bordeaux Wine Regions
Left Bank
Right Bank
Bordeaux Food Guide
Wine Tours in the Bordeaux Region
---
Burgundy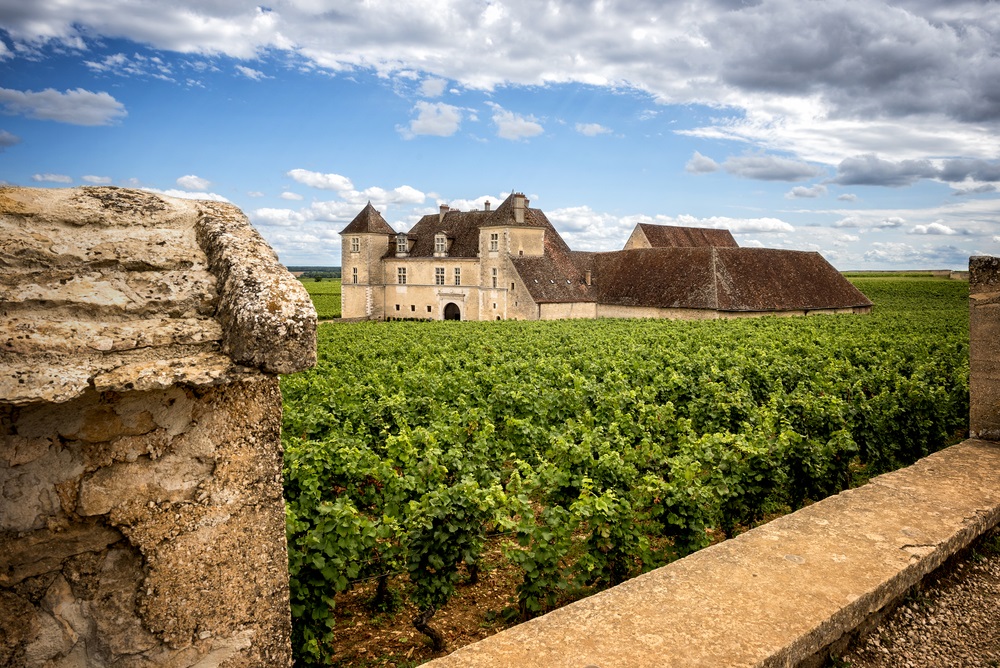 In almost every conceivable way, Burgundy is the antithesis of Bordeaux. The system of land ownership, wine classification, and winemaking philosophies are diametrically opposed. Blending different varieties is severely frowned upon in Burgundy, as is 'splicing' terroir. In Burgundy, the land is considered genuinely sacred. Question this paradigm at your peril.
The region's history is long and distinguished; Burgundy was the richest of all the ancient duchies of France, while viticulture was pioneered by the Cistercian Monks of the Middle Ages. The religious establishment first laid the foundations for Burgundy's landmark system of classifying the land. Burgundy is situated in central-eastern France, where vineyards thrive in a continental climate. However, it is important to remember that the phrase "Burgundy" refers to several distinct sub-regions grouped together under the umbrella term. For example, the wines of Musigny have little in common with Beaujolais Nouveau, yet both would be considered red Burgundy.
In terms of fame and international recognition, however, Côte d'Or stands head and shoulders above the rest of the region. The "golden slope" is responsible for the finest – and most expensive – Pinot Noir in the world. Wine lovers and collectors can name every climat (single vineyard) and will happily wax lyrical about the particular qualities of Bonnes Mares and La Tache. By law, only 100% Pinot Noir expressions are allowed. Blends are forbidden in the Côte d'Or.
Running from just south of Dijon to the west of Chagny, the Côte d'Or is perhaps the greatest viticultural mystery of all. For centuries, its vineyards have been classified according to the quality of the wine they produce. There are four tiers: Grand Cru, Premier Cru, Village, and Generic. It is taken for granted that a Grand Cru vineyard like Musigny will yield grapes with more character, depth, and complexity than a village site. Yet no one precisely understands why this is. To an extent, it can be attributed to a more favorable aspect, drainage and soil structure. But the central mystery remains. Geologists have been analyzing the clay/limestone soils of the Côte d'Or for many decades. But unfortunately, they have yet to provide a definitive answer.
The contemporary face of the Côte d'Or is highly fragmented; vineyards often have multiple owners, perhaps cultivating less than 2 hectares. Clos de Vougeot, for example, is farmed by over 45 different grower families. Therefore the quantities made are often very small, which is one of the reasons why red Burgundy fetches such astronomical prices on the secondary market. The area is divided into two sub-regions: Côte de Nuits and Côte de Beaune. The former is responsible for almost all Burgundy's illustrious Grand Cru climats, including La Romanee Conti, La Tache, and Musigny. A great deal of excellent red wine is also made in the Côte de Beaune, most frequently in Volnay, Aloxe Corton, and Pommard.
So, where does one find good value in the heartland of exceptional Pinot Noir? First, you need to journey to the less exalted appellations and villages. The Côte Chalonnaise, south of Chagny, is a fertile hunting ground for well-made and inexpensive Pinot Noir wines. In particular, the communes of Givry, Mercurey, and Rully; granted, even the best wines lack the structure and power of the Côte d'Or. But they can offer beautiful red fruit and aromatic complexity, nonetheless.
We must also not omit Beaujolais from this discussion. Located south of the town of Macon, the red wines of the region are still vastly underrated, despite the efforts of Beaujolais' quality-focused growers. Of course, a decent volume of anemic and lackluster Beaujolais is still exported around the world. But there is an ever-increasing amount of superlative wine, often going for a song. The northern section's warm climate and granite terroir are custom-made for producing fragrant and elegant red wines. The wines of the Beaujolais Crus, particularly Fleurie, Morgon and Moulin a Vent, are every bit as complex and delicious at Côte d'Or reds. For sure, Gamay can be frivolous and one-dimensional. Yet, it is capable of so much more in the right hands.
Main red grape varieties
Pinot Noir
Adored by both oenophiles and winemakers, Pinot Noir is arguably France's most challenging grape variety. Highly sensitive to its environment, this capricious grape can easily be ruined by clumsy winemaking. Fortunately, a skilled hand (and great terroir) creates pure bottled magic with an exquisite bouquet of crushed red fruit and plum. The esteemed wine writer Hugh Johnson once claimed that the best Pinot Noir has "reserves of flavor beyond imagination." He is spot on.
Gamay Noir
Like Pinot Noir, Gamay is very much a product of its terroir. Consequently, the resulting wine is often pale and acidic when planted on clay soils. Warmer conditions, however, can yield wines of good weight, with beautiful aromatics and silky tannins.
Wine Maps
Burgundy Wine Regions
Burgundy Food Guides
Wine Tours in the Burgundy Wine Region
---
Cahors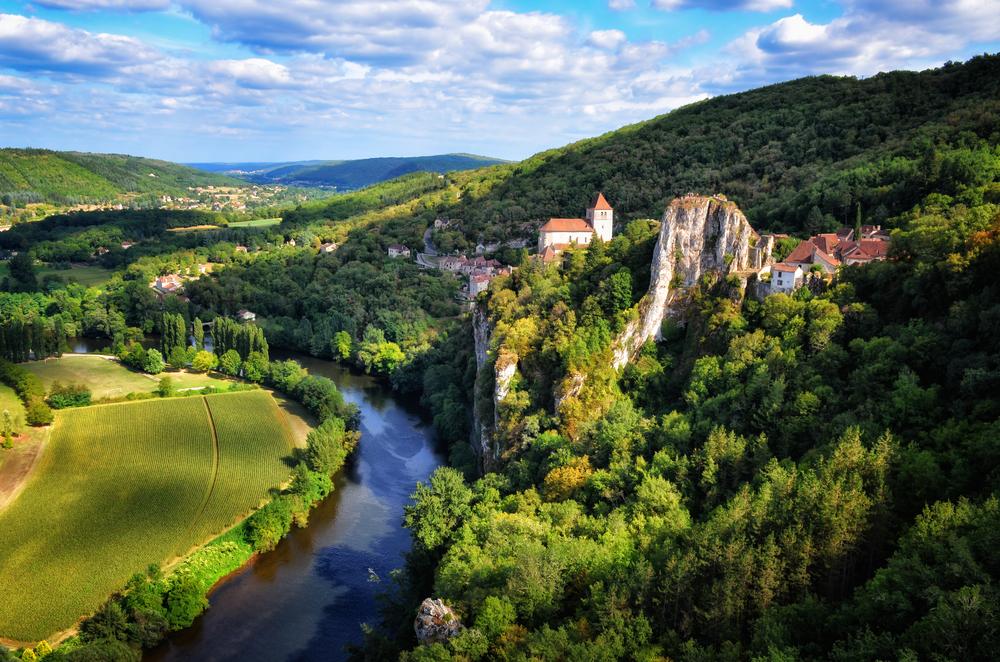 There is no question that Cahors is not an international bestseller. Compared to Bordeaux and Burgundy, it is scarcely recognized outside Western Europe or France. Nevertheless, there is much to recommend about Cahors, famous for its legendary 'Black Wine' of the Middle ages. The vineyards are found north of Toulouse, in a very beautiful part of central France. The principal grape variety is Malbec, known locally as "Cot." Sometimes blended with Merlot (permitted under the appellation rules), the resulting wine style bares little resemblance to Argentina's signature export. Instead, you'll discover lovely aromatic complexity and good acidity, but not the velvety texture and concentration of Mendoza's best. All agree that the top-performing climats are south-facing vines planted on three alluvial terraces above the River Lot. The diurnal temperature variation keeps everything fresh and lively—a Cahors trademark.
Main red grape variety
Malbec
The hero of Argentina owes its provenance to Bordeaux, although the grape is now scarcely used in the wines of the Medoc. Adapting with relative ease to various soil types, Malbec runs the whole gamut from spicy, middle-weight reds to very concentrated and deeply colored wines.
Wine Tours of the Cahors
---
Champagne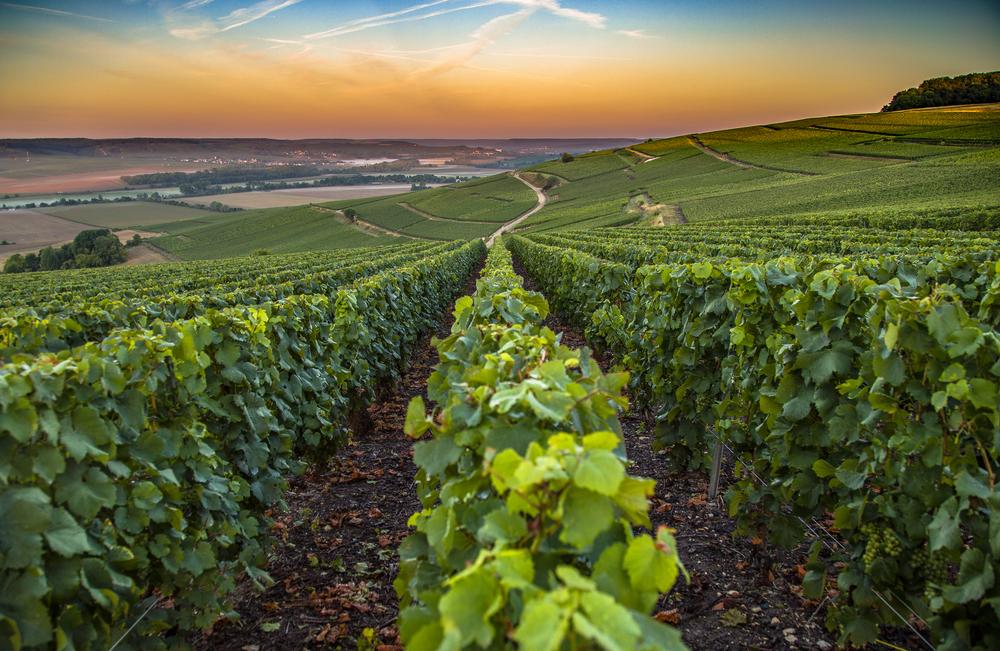 From a historical perspective, the inclusion of Champagne into this red wine discussion makes sense. Situated approximately 122 kilometers east of Paris, the region produced still red wines long before Champagne became synonymous with fizz; its global reputation was only really established in the 19th century. In the Middle Ages, Paris' 'backyard' was responsible for supplying the taverns of the City of Light with pale (and probably very acidic) reds, some of which were based on the Pinot Meunier grape. It remains an important part of Champagne's viticultural landscape today.
Indeed, most winemakers would not countenance omitting Pinot Meunier from the region's signature non-vintage (NV) style. In recent years, about one-third (34,000 hectares in total) of vineyards in Champagne are used to grow Pinot Meunier – it is more adept at handling cold than its common blending partner Pinot Noir. Although there is some debate about Pinot Meunier's ability to enhance long-aged cuvèes (it is said that the grape peaks very quickly), houses like Krug remain resolutely committed to blending all three varieties. At its best, Pinot Meunier contributes red fruit, spice, and creaminess to all good Champagne. Perhaps the most hedonistic – and yet occasionally maligned – of the region's key blending materials.
Main red grape varieties
Pinot Meunier
Champagne's lesser-known red grape can bring much to the world's most iconic sparkling wine. Growers regard Meunier as relatively robust and easy to grow; it is a relatively early-ripening variety that will succeed in various soil types and micro-climates. In addition, it is appreciated for its open fruit profile and vibrant acidity, although detractors claim that Pinot Meunier has nothing to gain from the extended bottle age.
Pinot Noir
Discussed above.
Wine Map
Wine Region
Wine Tours
Champagne Food Guide
---
Rhône Valley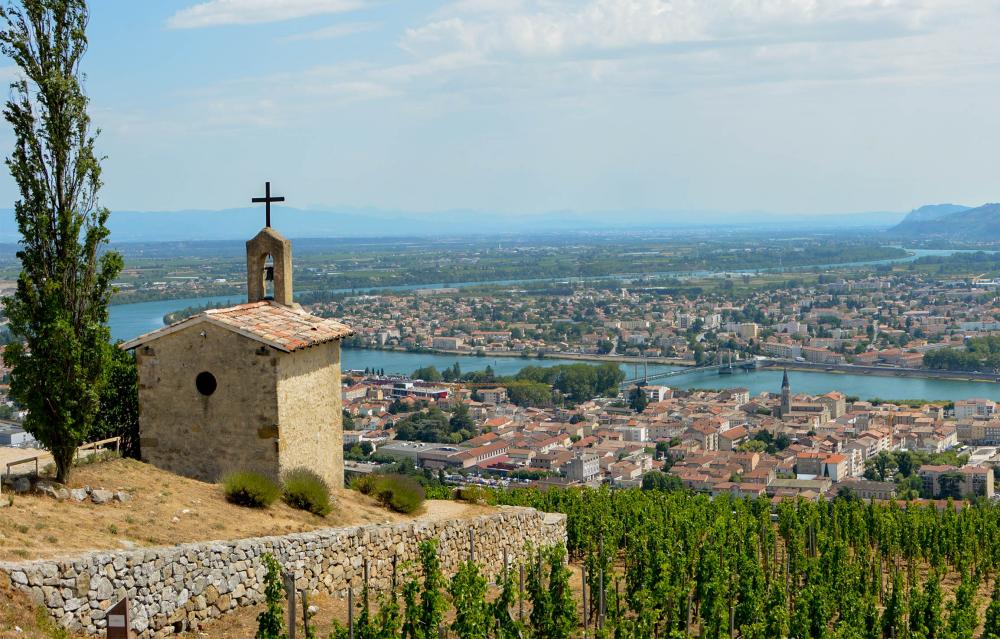 Click here to view a Rhone Wine Region Map
Although the Rhône may lack the global cachet of Bordeaux and Burgundy, its glorious red wines are exquisite and long-lived. The Rhône Valley, defined by the winding river that runs a 250-mile course to the Mediterranean, has long been divided into two key regions: Northern and Southern Rhône. The viticulture, terroir, and wine style of these two areas is remarkably different.
The area under vine is expansive, running from the commune of Vienne to Montelimar, the latter signifying the start of the Southern Rhône region. Vineyards' south of the border' are heavily weighted towards Grenache. However, the Northern Rhône stakes its reputation on the mighty Syrah grape, occasionally enlivened with a dash of Viognier, Marsanne, and/or Roussanne. It reaches an apogee on the steep, narrow banks of Côte-Rotie and Hermitage, cultivated on metamorphic granite terroir. The continental climate, with its cold winters and warm (but not hot) summers, ripens the grape to perfection. In Côte-Rotie, oenophiles are treated to a potent combination of force and finesse, with Burgundy-like transparency of flavor.
Meanwhile, Hermitage offers a more concentrated and voluptuous interpretation of Syrah, with aromas of chocolate, plum, and leather. Although winemakers have traditionally produced cuvèes based on wines from different plots, the cult of the single-vineyard is alive and kicking in the Rhône. Guigal's range of single-vineyard wines, including La Mouline and La Turque, are said to be the finest expressions of Syrah in the world. But aficionados need not restrict themselves to the most iconic labels; the quality of Syrah being witnessed in the lesser-known appellations of Cornas and St Joseph is very impressive, particularly when considering the amazing value on offer.
However, Syrah plays a less important role in the vineyards south of Montelimar. The Mediterranean climate of the Southern Rhône is far more suited to the cultivation of robust, late-ripening varieties like Grenache, Mourvèdre, and Cinsault. Nevertheless, a classic local blend mixes Grenache, Mourvèdre, and a smaller percentage of Syrah to create a spicy cocktail – a wine style celebrated for its warmth and potency. GSM is the local synonym.
The terroir of Southern Rhône is as eclectic as any you'll find in Bordeaux. Châteauneuf-du-Pape is the region's most popular and recognized appellation, littered with galets (giant pebbles) that help reflect sunlight into the canopy. The wine varies enormously: Châteauneuf-du-Pape can be medium-bodied and fresh or massively concentrated, rich, and strong. Elsewhere, sandy soils predominate, while bands of limestone, clay, and alluvial deposits are situated throughout the wider region. As elsewhere, growers exploit altitude to their mutual advantage; the slopes located southwest of Mont Ventoux are prized for the cool night air that descends from the mountain top. As a result, some of the Southern Rhône's most elegant Syrah is made in Ventoux: fresh, lively, and packed with ripe acidity.
Much well-made red is produced under the Cotes du Rhône and Cotes du Rhône-Villages appellations, while Gigondas and Vacqueyras (the latter created in 1990) are reliable sources of excellent wine. However, in keeping with the general theme of the Rhône, GSM blends are the mainstay of production, imbued with the signature scent of garrigue.
Main red grape varieties
Syrah
Syrah has proven itself to be a most willing and adaptable traveler. In the Northern Rhône, Syrah is responsible for the supremely elegant labels of Cote Rotie, yielding more alcoholic and voluptuous wines in the South of France, where it is usually blended with Grenache. The flavor profile ranges from white pepper and raspberry to dark chocolate and mocha.
Grenache
Grenache is enjoying a global renaissance as winemakers reassess their apathy towards this tricky variety. Late-ripening and prone to oxidation, Grenache requires careful handling. But old bush vines can yield wines of real class and complexity, with crushed red fruit aromas and supple tannins.
Mourvèdre
Mourvèdre has its fair share of fans and detractors. The main red grape of Bandol in Provence, Mourvèdre, is packed full of tannin, color, and extract. Unfortunately, it can take a lot of work to coax finesse out of the grape, as it is prone to reduction. Nevertheless, aficionados love its gamey bouquet and firm tannic structure, ideal with strongly flavored dishes.
Wine Maps
Rhône Wine Region
Rhône Food Guide
Wine Tours in the Rhone Wine Region
---
South of France: Languedoc-Roussillon and Provence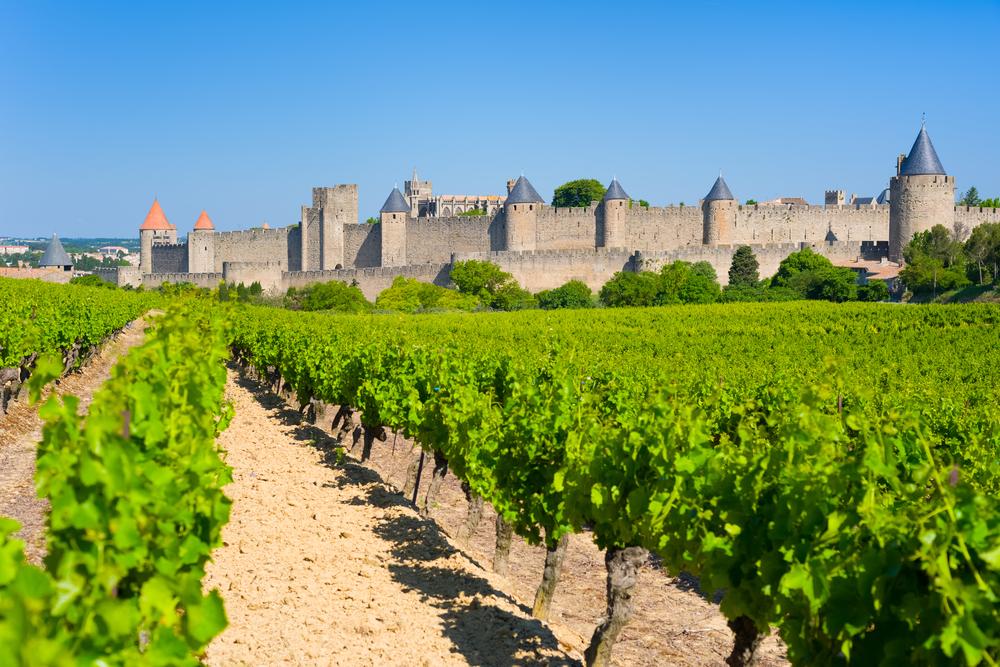 The South of France now offers a surfeit of high-quality red wines to match its beguiling scenery, gastronomy, and culture. But it was not always so; volume was the chief priority for the vast majority of growers during the 20th century, churning out rustic reds sold at bargain-basement prices. Then the next generation, conscious of the encroaching competition from the New World, decided to turn things around. Propelled by a rash of domestic and foreign investment, the South of France is now brimming with concentrated, fresh, and delectable red wines.
There is certainly an incredible amount of choice in the gigantic expanse of the Languedoc-Roussillon. The area under vine encompasses over 280,000 hectares, extending from Montpellier on the Mediterranean coastline to within touching distance of the Spanish border. The sheer diversity of terroir among the numerous appellations and sub-zones is astounding. For example, the high-altitude sites of Limoux have little in common with the sun-baked coastal vineyards of Fitou. The climate is decidedly Mediterranean, although variances in elevation inevitably create a patchwork of distinct micro-climates in the Languedoc-Roussillon. Soils range from calcareous marls to alluvial deposits, while schist and sandstone dominate in the western Languedoc. It is a veritable paradise for the grower who wishes to push boundaries and experiment.
Indeed, one of the most popular designations is Pays d'Oc. Unveiled in 1987, it later became a 'Protected Geographical Indication' (IGP) in 2009. Today, any winegrower in the wider region is entitled to produce red wines labeled as Pays d'Oc, from a selection of over 55 grape varieties! Mirroring the Southern Rhône, GSM blends are trendy, occasionally 'spiced' with a dash of Cinsault or Carignan. There is also a great deal of excellent rosè made under the auspices of the Pays d'Oc label.
Historic appellations also play a key role in the winemaking culture of the Languedoc-Roussillon. Some of the most important and quality-driven include
Corbieres, Fitou, St-Chinian, Limoux, La Clape, Boutenac and Minervois. Pioneers like Gerard Bertrand have been particularly focused on the vineyards of Minervois, situated to the northeast of Carcassonne. The lower slopes of the Montagne Noire yield wines that skillfully combine power and supreme elegance. The modern consensus, though, is that the vineyards surrounding the commune of La Liviniere are the finest in the entire Languedoc-Roussillon. Unsurprisingly, more than 90% of all Minervois red are based on the quintessential Grenache/Syrah/Mourvèdre concoction, with smaller amounts of Cinsault/Carignan. In addition, Lledoner Pelut, a seldom recognized local grape, is also sometimes used.
In many ways, Provence's revival echoes that of its close neighbor. After a slow start, Provencal red wines are starting to earn a reputation abroad for their quality and spicy potency, broadly emulating the blending traditions of the Languedoc-Roussillon. In addition to a large volume of delicious rosè, the Cotes de Provence appellation is increasingly admired for its premium reds, characterized by herbal scents and concentrated summer fruits on the palate. But, thus far, prices have yet to catch up with the stars of the Southern Rhône.
Ultimately, though, Provence's greatest gift to red wine lovers is surely Bandol. It is the only French appellation to place Mourvèdre front and center in the wines, supported by smaller amounts of Grenache and possibly Cinsault. The town itself is flanked by south-facing terraces, interspersed among pine trees and the iconic garrigue of the southern Mediterranean. Bandol is utterly exquisite, hedonistic, ripe, and fresh. It can be enjoyed young yet will age for over a decade in bottle. Seduction is thy name.
Main red grape varieties
Syrah/Grenache/Mourvèdre – discussed above
Cinsault
A key part of the Mediterranean viticultural diet, Cinsault needs first-rate terroir if the winemaker has aspirations to premium quality. Sometimes derided for its tendency to crop at high yields, Cinsault needs very poor and infertile soils and judicious pruning. The best examples are delightfully perfumed and fresh, however, with aromas of black pepper, violets, and strawberry.
Carignan
Carignan, another Mediterranean variety that continues to divide opinion, ranges from the sublime to the godawful. Old bush vines give the best results: berry-scented red wines of considerable interest. Like Cinsault, high yields can result in pale, aggressively acidic wine.
Wine Maps
Languedoc-Roussillon Wine Regions
Provence Wine Regions
Food Guides to Languedoc-Roussillon and Provence
Wine Tours in the Languedoc-Roussillon and Provence