Guide to Portuguese White Wine
March 15, 2023
Estimated reading time: 15 minutes
KEY PORTUGUESE WHITE GRAPES BY WINE REGION
The familiar images of Portugal – Mateus Rosé, Port, and Madeira – do no more than hint at the incredible diversity of this wine country. Portugal is now a key exporter of premium – and super–premium–table wines, labels that can compete with the best of Rioja, Bordeaux, and Burgundy. It is a country of endless possibilities and opportunities: Portugal boasts a number of distinct wine regions, each with their portfolio of indigenous grape varieties, unique terroirs, and climates. Its landscapes, ranging from the Minho's undulating green hills to the Douro's steep terraces, are achingly beautiful. Above all, Portugal is a nation of contrasts. Indeed, critics, sommeliers, and consumers are increasingly drawn to this once-marginalized country.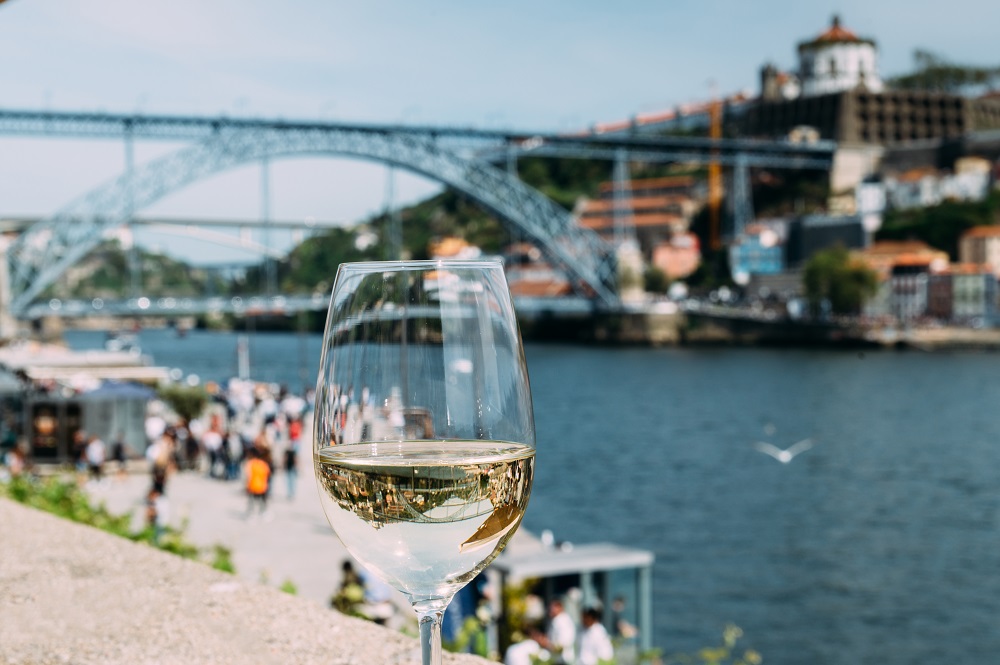 Yet viewing Portugal as a nation defined by fortified and red table wines is still tempting. A great deal of volume sent abroad is based on red grapes: Touriga Nacional, Tinta Roriz, Baga, and many others. But although Portugal is undeniably famous for its strong and sweet Port wines, the country has recently diversified its offer. In the 21st century, Portugal has emerged as a serious white wine producer – now a real competitor to Spain over the border. If you seek proof, take a trip to the beautiful vineyards of the Minho; the quality of white Vinho Verde has changed out of all recognition over the past decade. The key white variety of the Bucelas region, Arinto, is now grown across the country, much appreciated for its ripe acidity that does not diminish in warm areas. Bairrada's Bical is another superstar grape, as is the tropical-scented and voluptuous Antão Vaz. In the right hands, Antão Vaz can yield very complex and, dare we say it, rather Burgundian-style whites. But this is simply the beginning; we haven't even started to talk about the incredible wines of the Douro or the eruption of winemaking talent on the Azores.
However, Portugal's biggest surprise is found in the torrid plains of Alentejo. Every year, winegrowers perform nothing less than a minor miracle, fashioning racy and fresh whites in this unbelievably dry and sunny climate. Their secret? Judicious site selection and utilizing varieties, such as Arinto, that, can withstand the heat. There are also some excellent dry styles in Dão, not to mention the quality revolution that has redefined the potential of Trás-os-Montes. Much of this can be attributed to the advent of modern technology and, of course, new ideas. Better site selection and viticultural management are also playing a valuable part. Lastly, a new generation of oenologists are playing with historical paradigms, such as aging in amphorae, to spectacular effect. The net result has been an explosion of quality in the vineyards of this maritime nation. And it's a modern industry being built around indigenous flavors and original tastes rather than bland imports.
But don't take our word for it. The Portuguese are the best advocates for visiting Portugal; key stakeholders have invested significantly in the country's once-ailing tourism infrastructure. Today, you can drink these delicious white wines at source, often in the convivial surroundings of a glamorous tasting room or winery restaurant. The food and wine of Portugal are justly celebrated, and yet, until recently, there were few exceptional white wines to accompany your bacalhau. Thankfully, those days are long gone. The best Portuguese whites stimulate the intellect and gratify the senses. After a false start, this nation can hold its head high.
KEY PORTUGUESE WHITE WINE REGIONS
DOURO VALLEY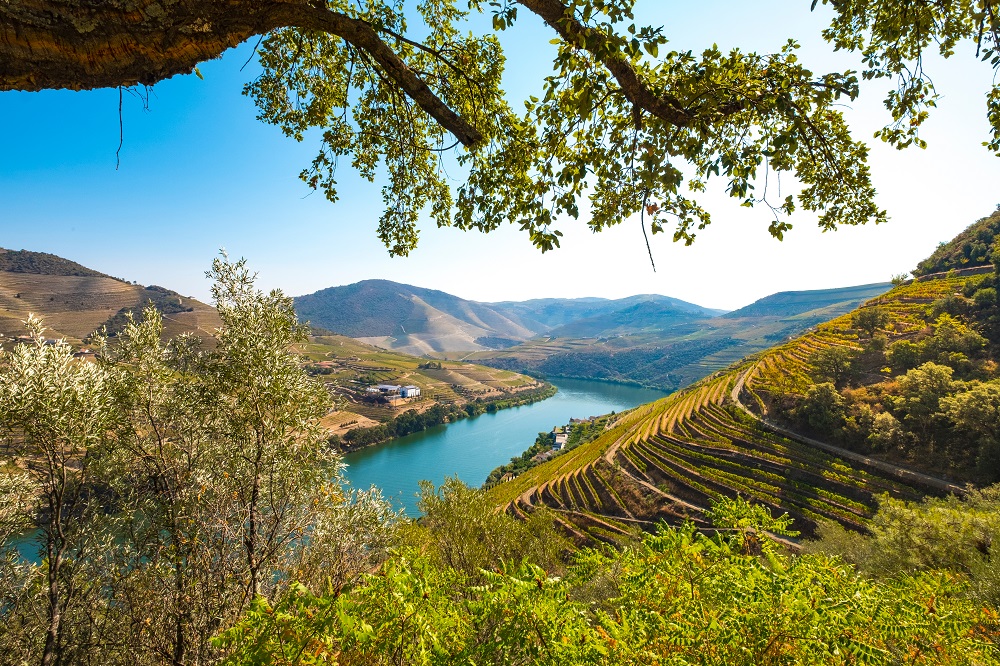 The Douro was one of the first vineyards to be demarcated and regulated (1756) in Europe, occurring long before the appellation d'origine contrôlée system became established in France. It is also Portugal's leading fine wine region, a destination that has embraced both high-quality tourism and premium table wines. Here, on the dramatic slopes of the Douro River, you'll find some of Europe's finest whites. Indeed, the Douro is a paradise for the ambitious winegrower. However, with an enviable portfolio of indigenous grape varieties, there is no excuse for poor quality.
Moreover, the Douro is blessed with exceptional soils: friable, well-drained metamorphic schist and granite. In addition, elevations and aspects can vary enormously. Nevertheless, primarily the stagnant market for fortified wine encouraged local growers to diversify – almost half of the annual production in the Douro is now table wine.
However, not every climat (vineyard site) is a suitable candidate for white wine production. The overall climate is fierce: cold, wet winters and very hot, dry summers. Yet there are marked temperature variations in the eastern Douro Superior, particularly on the higher slopes. The north bank sees more sunlight than the south – the latter is a better prospect for white wine production. A prime piece of real estate is the Torto tributary, where high elevation encourages a slower maturation rate with concomitant lower levels of alcohol. Of course, higher vineyards, regardless of their location, tend to ripen later and produce lighter wines. These sites often make full-bodied yet very fresh whites, often a blend of Gouveio, Arinto, and Vioshino.
Can we infer, therefore, that there is a quintessential style of Douro white? In a word, no. The fact of the matter is that because altitude – and aspect – can vary so dramatically, the character of wine produced in different subregions can have remarkably little in common. You'll find it all in this corner of Portugal: Burgundian elegance, raw power, restraint, and aromatic whites that invoke the best of Galicia. There is a real air of excitement in the sommelier community today as the realization that this extraordinary terrain can turn its hand to anything hits home. A wine list that omits the Douro is no wine list at all.
KEY WHITE GRAPE VARIETIES
Arinto
One of Portugal's most popular varieties, Arinto, is planted nationwide. Indeed, growers love its ability to tolerate a surprising amount of heat and drought, producing very crisp and perfumed white wine. It is often blended with Antão Vaz.
Gouveio
The early-ripening Gouveio has been used to make white Port for centuries; more recently, the grape has become a key part of the Douro's table wine revolution. It yields small berries of incredible potency, producing tropical-scented, rich wines.
Rabigato
Rabigato is a divisive grape variety in the Douro: it is susceptible to powdery and downy mildew, while its yield is notoriously unreliable. Nevertheless, the quality potential is undoubtedly there in the production of table wines and white Port.
Vioshino
Indigenous varieties like Vioshino are Portugal's gift to the wine world: unique flavors and tastes not replicated elsewhere. However, an early-ripening grape can deliver a poor yield in difficult years. But, the results in bottle can be spectacular, with notes of stone fruit and buttered toast. Sadly, single-varietal expressions are pretty rare.
TRÁS-OS-MONTES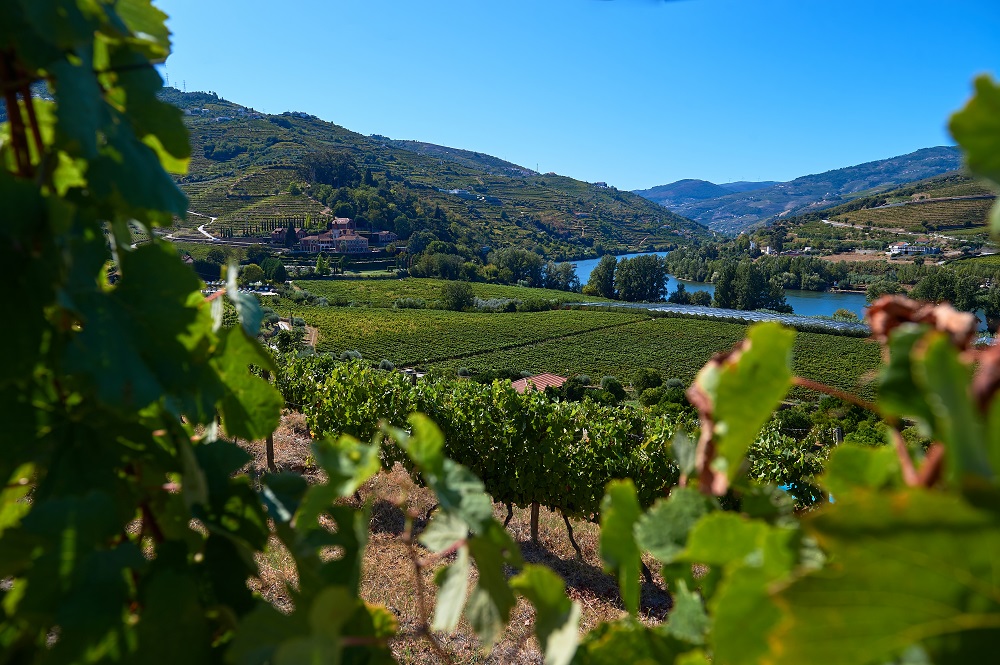 Trás-os-Montes is a leading competitor for Portugal's most underrated wine region. But, unfortunately, it is also the country's most obscure; literally translated as "Behind the Mountains," Trás-os-Montes exists on the fringes of Douro, and yet it has traditionally lacked the investment – and fame – of that premier wine zone. However, this is slowly changing as investment continues to reinvigorate formerly dilapidated cellars and unkept vineyards.
There is no lack of geographical opportunity to make exceptional table wine in the undulating landscape of Trás-os-Montes, situated in northeastern Portugal on the border with Spain. Vines are cultivated on free-draining granite and schist soils, protected from the Atlantic squalls by a chain of green mountains that act as a barrier to inclement weather. For that reason, Trás-os-Montes enjoys very warm and dry summers. Yet the region has abundant high-altitude sites, a major advantage that growers are only too happy to exploit. This is because vineyards planted at raised elevations enjoy all the benefits of diurnal temperature variation. This significant difference between day and night time temperatures helps to preserve acidity in the berries. The results can be tasted in bottle – impeccably fresh and fragrant white wines that are among the best value in Europe today.
KEY WHITE GRAPE VARIETIES
Bical
Bical is a chameleon used to produce still and sparkling wine. The reason? It yields fantastically fresh and fruity wines, bursting with crunchy acidity. As a result, Portugal's finest traditional-method wines almost always include a certain percentage of Bical. Like Arinto, the grape is resilient in the face of heat and drought, although Bical is susceptible to powdery mildew.
Gouveio
Discussed above.
Vioshino
Discussed above.
DÃO AND BAIRRADA
Talk about a revival story! Bairrada and Dão were once viewed as Portugal's least inspiring sources of red (and white) wines; rustic, badly made, and virtually undrinkable. Yet modern versions, with their innate freshness and poise, are now among the country's best.
Bairrada and Dão are situated north of Lisbon, flanked by the Atlantic to the west and Spain to the east. Bairrada is particularly easy to visit – the vineyards are bisected by the highway that links Portugal's capital to handsome Oporto. You'll discover some of Portugal's finest whites in these gently rolling hills, often based on Bical and/or Cercial. Planted on calcareous terroir, local varieties produce very structured and minerally wines, slightly reminiscent of Riesling. Traditional-method sparkling wine, meanwhile, has been produced in the appellation since the late 1800s. Today, it is made by merchants and growers – the latter often have the edge regarding terroir character.
Of course, grape varieties are only half the equation. The region's proximity to the Atlantic makes local wines naturally fresh, although fungal diseases can be an issue in particularly wet vintages. Nevertheless, overripeness is seldom an issue in the hills of Bairrada. Add a surfeit of clay-limestone into the mix, and you have a recipe for producing very fine wines: think of them as Portugal's version of white Burgundy.
However, the white wines of Dão are no less exciting, despite their strong association with the (red) Baga grape. Named after the river that bisects the region, Dão is effectively one big granite plateau; these free-draining soils are ideally suited to white varieties like Bical. Until the late 20th century, the region was pigeonholed as an epicenter of fiercely tannic wine made by lazy co-operatives. However, the number of independent producers has increased significantly, resulting in a surfeit of exceptional white wines. The best winemakers, such as Alvaro Castro, Dirk Niepoort, and Antonio Madeira, continue to seek out select parcels of very old vines – plants that yield incredibly concentrated fruit. These vineyards are often found on a mixture of metamorphic and sandy soils, planted at elevations that climb to as high as 800 meters above sea level; the higher the vineyard, the more marked the difference between day and night-time temperatures.
Moreover, the region offers several key topographical advantages, not least the sheltering influences of the Serra do Caramulo and Serra da Estrela mountains. The latter arguably provides the best growing conditions for white varieties in Dão: the longer growing season on the mountain foothills results in some of Portugal's most structured and complex white wines. The best are positively Burgundian.
KEY WHITE GRAPE VARIETIES
Bical
Discussed above.
Cercial
Cercial is very popular nationwide because it usually delivers a very generous yield. But, of course, that is not necessarily an advantage if premium quality is sought. Therefore, a strict pruning regime is essential throughout the season.
MADEIRA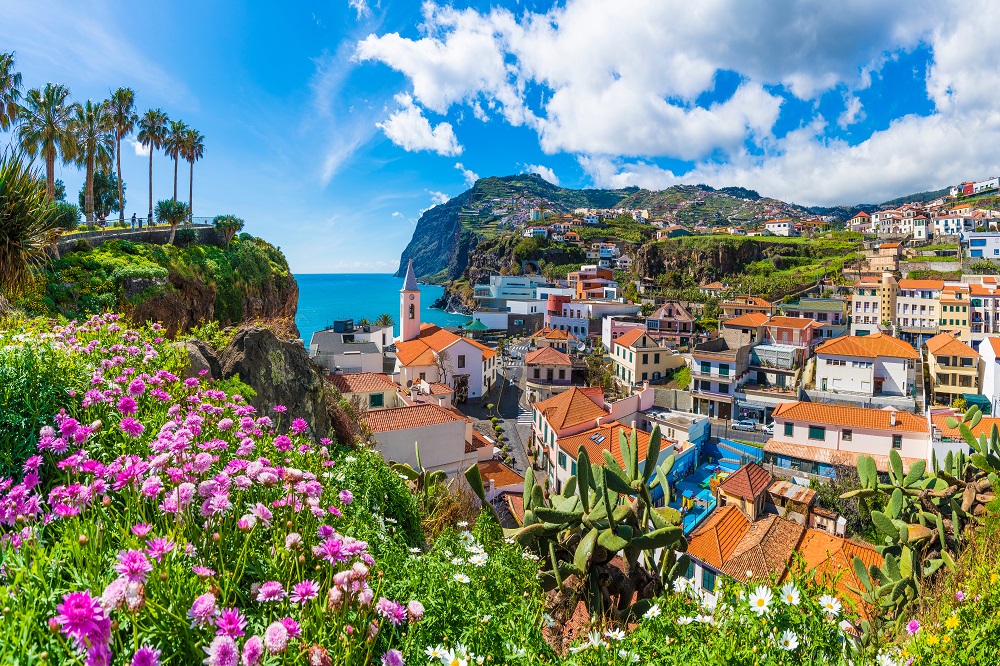 This is quite possibly the Atlantic's most enchanting island. Situated 400 miles off the coast of Morocco, it has been producing exquisite fortified wines – sadly no longer in fashion – for many centuries. The legend goes that when the first Portuguese explorers arrived in the 1400s, they set fire to the dense forests that gave the island its name (Madeira is the Portuguese noun for wood). Incredibly, the fire is said to have burned for years, enriching the soil with ashes from the forest. The island's colonists soon exploited this richly fertile terrain, used to grow all manner of crops and, of course, vines. Indeed, by the mid-15th century, Madeira was exporting sweet wine to the court of Francois I of France. A century later, Madeira was widely associated with dry and sweet fortified wines heated in the bowels of trading ships during the long sea voyages that would cross the equator. Today, Madeira is heated before it leaves the island, although the principles remain the same. Fortified wines are gently oxidized in bottle, often for many years before release. The rarest – and most expensive – labels are aged over 80 years in barrel and/or transferred to glass demijohns before bottling. This represents the best of Madeira – perhaps the finest fortified wines in the world. They can live for centuries if stored properly.
KEY WHITE GRAPE VARIETIES
Verdelho
Madeira's most planted white grape can produce very high-quality table wine and long-lived Madeiras matured in cask. Its distinct aromas of honey, butter, and apricot have made it popular in the New World, in addition to the beautiful – and unspoiled – collection of islands known as the Azores.
MINHO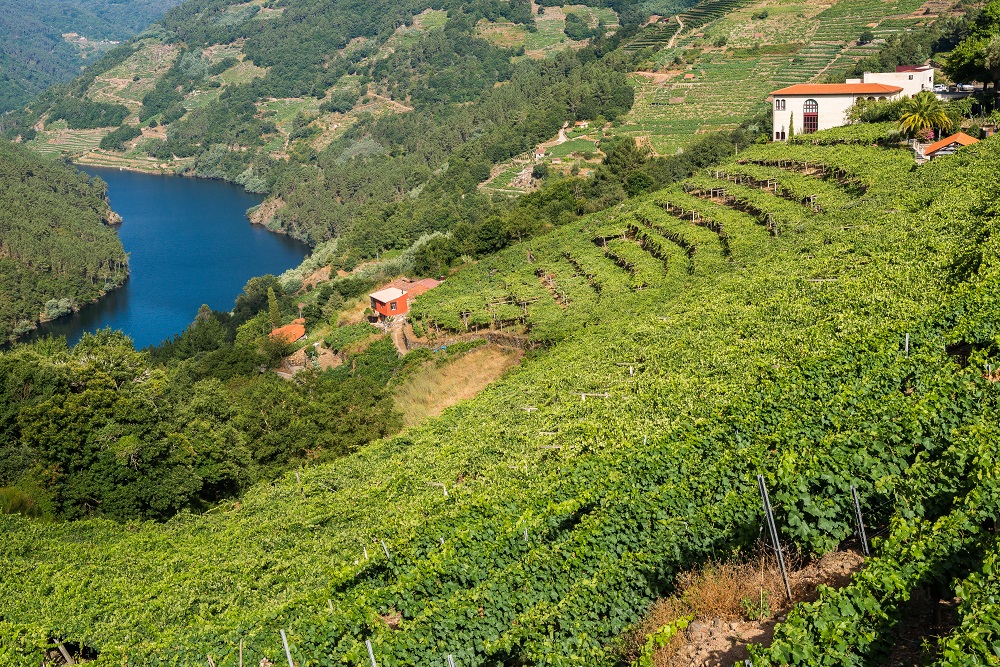 The Minho is Portugal's version of Galicia. Vines cling to steep terraces covered in a wide variety of colorful flora along the banks of this meandering river. Some of the world's most beautiful vineyards are in the Minho – it competes with central Italy for the title of Europe's prettiest landscape. The local wine style Vinho Verde (red and white) emphasizes low alcohol, high acid, and freshness beyond freshness. But then again, what else do you expect in Portugal's wettest region?
This, of course, can be a major problem in certain years. If the rain continues throughout the summer, undisciplined vines will grow mammoth canopies that cannot possibly hope to ripen fruit. However, the best winegrowers will judiciously 'groom' their vineyards at every critical juncture, ensuring the yield is kept reasonably low. If not, Vinho Verde is liable to be an extremely tart drink, with barely 9% alcohol and raging acidity that can curl hairs. Historically, poor quality Vinho Verde was adulterated with sugar and carbon dioxide – two relatively cheap ways of disguising nasty wine! Yet better canopy management techniques allied to climate change have transformed the quality of local output. Today, some of the raciest and crisp whites are the Loureiro-only wines made in the Lima subregion, celebrated for their powerful bouquet of orange peel, rose petals, and lanolin. But, most Vinho Verde is a blend of at least 2-3 grape varieties, quite often Alvarinho, Loureiro, and Trajadura.
KEY WHITE GRAPE VARIETIES
Arinto
Discussed above.
Loureiro
Loureiro is one of those grape varieties that deserves to be better known. It yields fabulous wine – a hybrid of Riesling and Godello with a dollop of Portuguese class. Nevertheless, it will crop at high yields unless the vigor is strictly controlled.
Trajadura
Known as Treixadura in neighboring Galicia, this is one of the superstar varieties of the Minho. It produces floral and elegant wine, yet the grape is relatively easy to grow. The potential headache is, as ever, keeping the yield at reasonable levels. It's the concomitant of working in such a wet climate, unfortunately!
ALENTEJO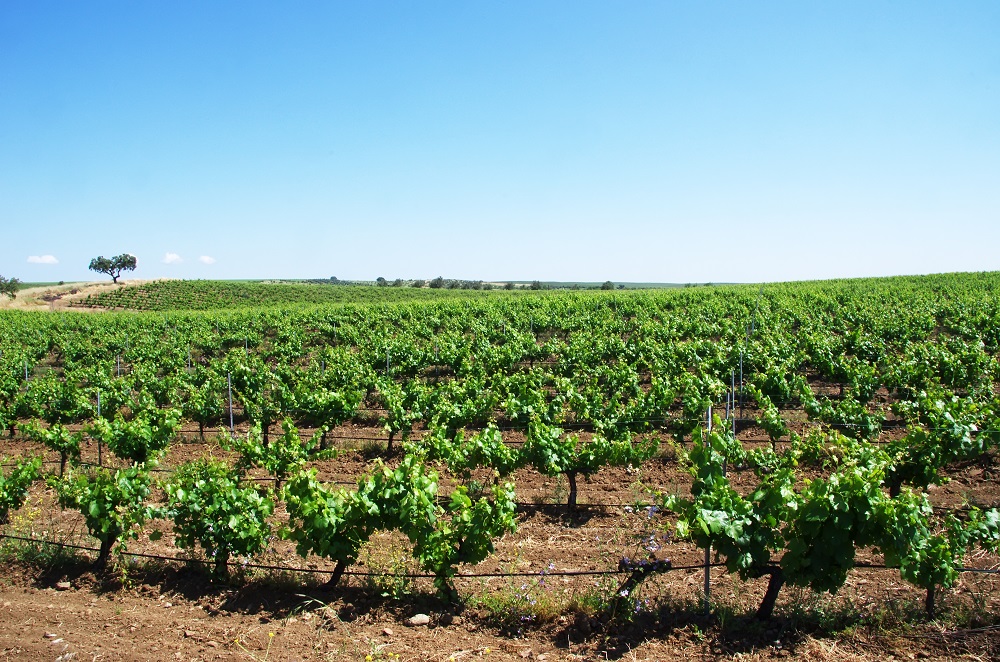 Alentejo is a land of sun and cloudless skies—vast, arid plains stretching far beyond your imagination's realm. But what is most remarkable is the soaring quality of local white wines. Yes, even in the torrid heat of Alentejo, it is possible to fashion crisp, dry whites that can compete with the best of Alsace. It is perhaps the most striking 'miracle' of contemporary Portuguese wine. In Alentejo, all your perceptions – and perhaps prejudices! – about this nation will be challenged.
How is this achieved? Site selection is crucial: Portalegre's cooler, wetter subregion is ideally suited to producing saline whites. Average rainfall hovers around 600mm, while vineyard elevation can rise to 750 meters in some places. This affords all the benefits of diurnal temperature variation, with cool evenings helping preserve the grapes' acidity. Soils, meanwhile, are composed of free-draining granite and schist. It is hard to imagine a more suitable terroir in Alentejo if you seek to craft premium whites. Today, such is the renown of Portalegre that many growers based in the south purchase grapes from its vineyards to add zip to their blends. Organic viticulture is also on the rise, particularly in the warmer zones of Redondo, Reguengos, and Vidigueira. In the southern interior of Alentejo, rainfall is very low and temperatures so routinely high that picking in mid-August is considered normal.
Yet even the hottest parts of this vast terrain can produce exceptional whites, particularly from Arinto and Antão Vaz blends. This is partly due to the early picking dates and the incredible talent working in the region. The Australian-born David Baverstock first demonstrated that Alentejo's climate was no barrier to white wine production at Herdade do Esporao. Founded by Jose Roquette, former CEO of one of Lisbon's leading football clubs, the estate is now fortunate to have Sandra Alves working her magic in the winery. Esporao was one of the first to unveil a 'lifestyle' winery in the Napa mold; a growing number of estates are capitalizing on the possibilities offered by wine tourism in an area where Lisbon and the Algarve are easy to reach. To drink these glorious bottles at source, accompaniment by Michelin-starred Portuguese cooking, is what the industry calls a "perfect vacation." Try it and see!
Read more about the Alentejo Wine Region
KEY WHITE GRAPE VARIETIES
Antão Vaz
Antão Vaz is the Rocky Balboa of vitis vinifera. You can subject it to all kinds of punishment that would floor other grapes, yet Antão Vaz will still rise to the occasion. It is loved for that reason: the ability to produce very fresh wine in torrid climates where water is scarce. Moreover, it is a tropical-scented delight.
Arinto
Discussed above.
More information
If you would like us to customize an exclusive luxury tour, contact us and let us know your travel plans. We offer luxury food and wine tours for private groups of a mininium two guests. In addition, all of our private, chauffeured tours are available year-round upon request.
Cellar Tours
Welcome to Cellar Tours, the premier Luxury Travel Specialist since 2003. Our goal is to provide you with the ultimate food and wine vacation experience, with exclusive Mercedes chauffeured tours that showcase the best of local cuisine and wines.
Our team specializes in crafting bespoke, custom-designed vacations, events, and incentives tailored to your unique tastes and preferences. Travel is not just about seeing new places - it's about creating unforgettable memories and indulging in the finer things in life.
As members of Slow Food, OTAVA (Travel Agency Association in Spain), and the IACP (International Association of Culinary Professionals), we promote sustainable tourism and support local communities. We work closely with top-rated hotels, restaurants, and wineries to provide you with the highest level of service and attention to detail.
Whether you're planning a romantic getaway, a family vacation, or a corporate retreat, let Cellar Tours be your guide. With our passion for food and wine, extensive knowledge of local culture, and dedication to exceptional customer service, we're confident we can exceed your expectations.
Contact us today to start planning your dream vacation – we can't wait to hear from you!