Italian cuisine is renowned the world over for its fresh ingredients and vibrant flavors. While classic Italian dishes like pizza, pasta, and lasagne are often thought of as traditional Italian food, there is so much more to the cuisine of Europe's third most visited country. Italy became a single nation-state in the Risorgimento in 1861 when the peninsula's states unified under the Kingdom of Italy. Before this unification, states were governed separately and had their customs, culture, and culinary traditions. Italy's history and the country's varied geography contribute to the diverse Italian cuisine available today. Whether you're planning to visit northern, central, or southern Italy, you'll encounter authentic Italian food unique to the region you're visiting. Here's what to expect from Italian cuisine in each area of this spectacular country.
Northwestern Italian Cuisine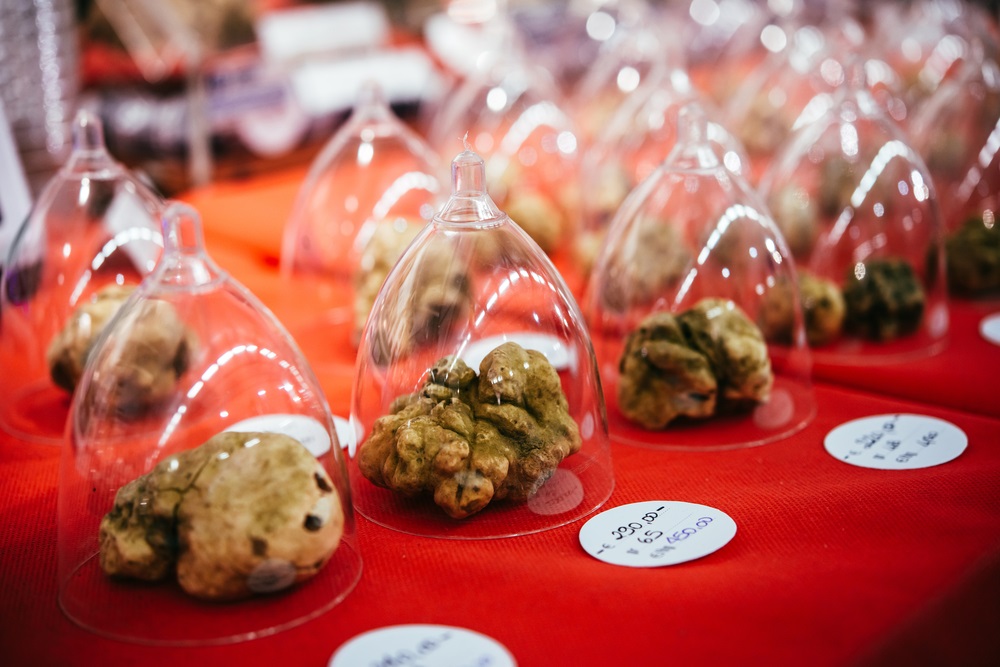 White Truffles, Alba, Italy
Northwestern Italy encompasses Aosta Valley, Piedmont, Liguria, and Lombardy. This zone of Italy shares borders with Switzerland, France, and the Mediterranean Sea. Plus, other Italian regions surrounding Lombardy, such as Emilia-Romagna, the Veneto, and Trentino-Alto Adige. Northwestern Italian food differs from Mediterranean dishes driven by fresh flavors of basil and tomato, which often come to mind with traditional Italian recipes. The Alps claim the northern portion of this region. Thus, the markedly cooler Alpine or pre-alpine zones call for a heartier cuisine featuring more meat, polenta, and butter in favor of olive oil.
Classic Piedmontese dishes like vitello tonnato and carne cruda all'albese, along with the Lombardian veal Milanese and ossobuco alla Milanese are not to be missed. The Alpine foothills also offer prime land for grazing, resulting in an array of flavorful Alpine cheeses. Additionally, the Po River and its fertile valley are ideal for cultivating rice and other abundant produce and legumes. Consequently, rice is a staple ingredient in authentic Italian recipes in this area. Risotto al Barolo or risotto alla Milanese are two flavorful preparations representative of northwestern Italian cuisine. Pasta in this area is often stuffed, as with agnolotti in Piedmont and tortelli di zucca in Lombardy. However, rice or polenta is usually the carbohydrate of choice.
Piedmont Cuisine
In Piedmont, Italian dishes provide a juxtaposition of the traditions of cucina povera alongside a range of authentic Italian recipes which originated in the Court of Savoy.
read more: Piedmontese Cuisine from the Land of Barolo and Barbaresco
Lombardy Cuisine
In contrast to Piedmont, classic Italian dishes in Lombardy were shaped by cucina povera traditions and the region's diverse terrain.
read more: Lombardian Cuisine: What to Eat in Lombardy from the Best Food in Milan and Beyond
---
Northeastern Italian Food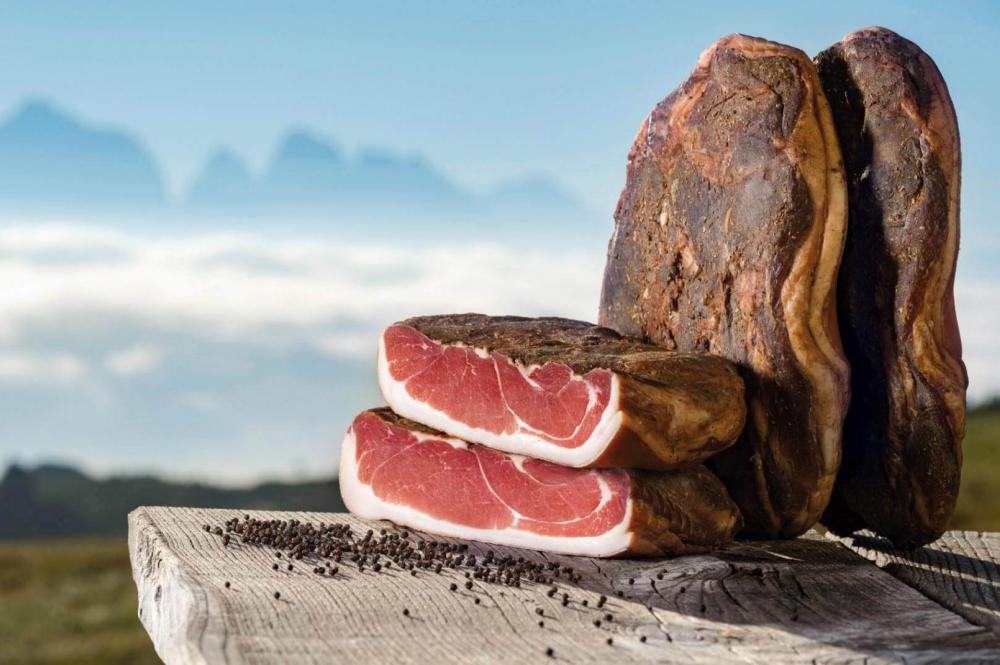 Speck Alto Adige PGI
Northeastern Italian cuisine includes some of the most classic Italian dishes and recipes highly influenced by neighboring countries. The regions of Emilia-Romagna, Friuli-Venezia Giulia, Trentino-Alto Adige, and the Veneto make up this portion of the country.
Trentino-Alto Adige Cuisine
Austria primarily borders Trentino-Alto Adige. Therefore, Italian dishes here are highly influenced by Austro-Hungarian cuisine and the cooler Alpine climate. Austrian bread, schnitzels, dumplings, and hearty stews are incorporated into Italian cuisine, along with alpine cheeses, stuffed pasta, and spätzle.
read more: Trentino Alto-Adige Cuisine: Must-Try Tyrolean Food Dishes
Friuli Cuisine
Friuli also boasts Austro-Hungarian influences, as it shares a border with Austria and Slovenia. Here, authentic Italian dishes are hearty and filling, though its vicinity to Venice also means Mediterranean-inspired recipes. Polenta is a regional favorite, and many authentic Italian recipes in Friuli originated in the traditions of cucina povera, such as frico, a filling potato, and cheese pancake.
read more: Friuli-Venezia Giulia Cuisine: What to Eat in Italy's Northeastern Frontier
Veneto Cuisine
The vast Veneto stretches from the Dolomite Mountains to the Adriatic Sea, offering an array of authentic Italian food. In comparison, the fertile soils of the Po River Valley provide an abundance of vegetables. Plus, the Venetians love rice and polenta. Historically, the Port of Venice on the Venetian Lagoon and the Adriatic Sea was a center of trade for Europe, Asia, and the Middle East. So, local seafood and exotic ingredients both make their way into traditional Italian recipes here.
read more: Venetian Cuisine from the Adriatic to the Dolomite Mountains
Emilia-Romagna Cuisine
Finally, Emilia-Romagna sprawls along the Pianura Padana Valley to the Adriatic Sea. Known as Italy's food valley, this region is home to classic Italian dishes and ingredients, such as tagliatelle alla Bolognese, lasagne, Parmigiano Reggiano, Prosciutto di Parma, and Aceto Balsmico Tradizionale di Modena. The Italian cuisine in Emilia is heavily influenced by pork, whereas Italian dishes in Romagna more so embrace ingredients from the Adriatic Sea.
read more: Emilia-Romagna Cuisine: Home of a Thousand Gastronomic Treasures
---
Authentic Italian Food in Central Italy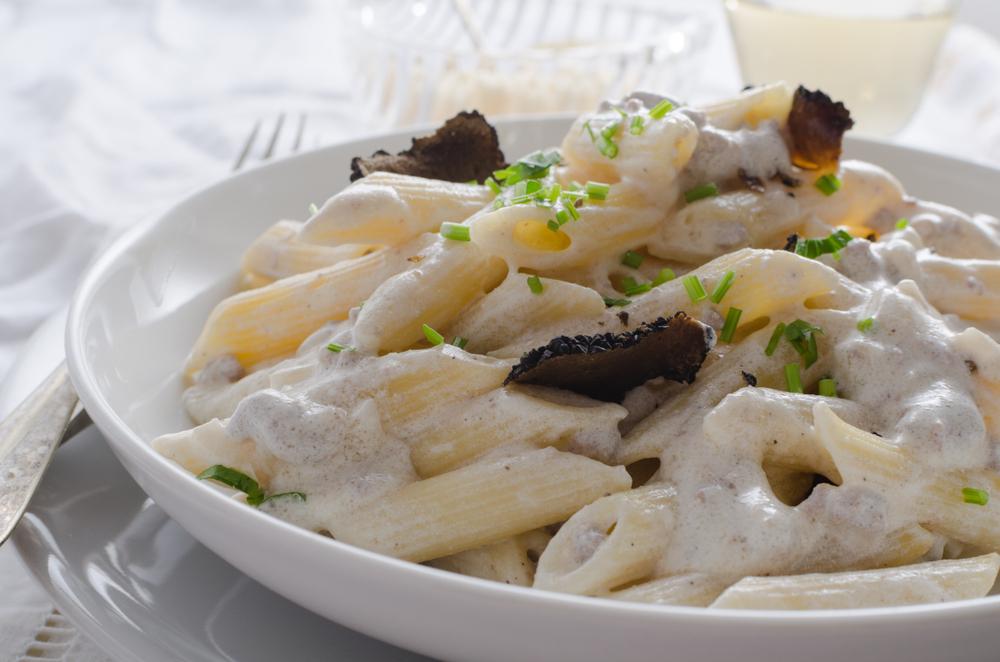 Pasta alla Norcina
Tuscany, Umbria, Marche, and Lazio are all part of Central Italy. Tuscan cuisine highlights the classic Mediterranean diet with olive oil, seasonal fruits and vegetables, legumes, cheese, and pasta.
Tuscany Cuisine
Historically, Tuscany was a poor, rural region, so many classic Italian dishes here originated in the no-waste philosophy of cucina povera. For example, pappa al pomodoro and panzanella were both created to extend the life of bread. However, the Medici and Florentine nobility also influenced regional Italian cuisine, evident in recipes like papero all'arancia and cibreo.
read more: Tuscan Cuisine Guide: From Cucina Povera to Noble Italian Dishes
Umbria Cuisine
In Umbria, the green heart of Italy, you'll find classic Italian dishes like porchetta alongside more unique regional specialties. Pork, olive oil, seasonal produce, and cheeses are staples in the Umbrian kitchen. One must-try Umbrian dish is pasta alla norcina, an authentic Italian recipe made with a cream sauce and pork sausage hailing from Umbria's city of pork.
read more: Umbrian Cuisine: What to Eat
Le Marche Cuisine
Italian cuisine in Le Marche also embraces Cucina povera, focusing on zero-waste and seasonal ingredients. Classic Italian food here is often fried, such as olive all'Ascolana or fritto misto all'Ascolana. There's an exciting mix of land and sea in Le Marche cuisine, seafood-based brodetto in towns along the coast, and authentic Italian recipes featuring chicken and rabbit.
read more: Le Marche Cuisine: A Foodie Guide to Authentic Local Dishes
Lazio Cuisine
Lazio encompasses the eternal city of Rome, where traditional Italian recipes like pasta alla carbonara, pasta all'amatriciana, pasta alla gricia, saltimbocca alla Romana, and more abound.
read more: What to Eat in Lazio – the Best of Roman Cuisine
---
Southern Italian Cuisine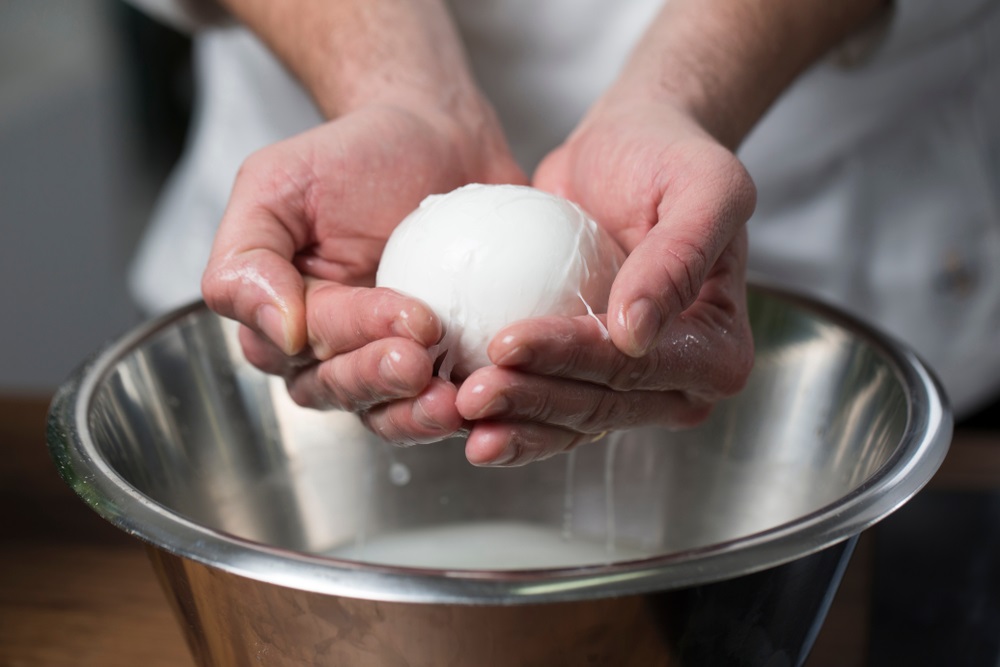 Mozzarella di Bufala
The southern Italian regions of Abruzzo, Molise, Campania, Puglia, Basilicata, and Calabria offer a warm, sunny Mediterranean climate. Much of the regional Italian cuisine in southern Italy is focuses on simple, fresh cooking with seasonal ingredients. Other southern Italian specialties include spicy Calabrian peppers, pecorino and goat's milk cheeses, saffron, and lamb-based dishes.
Campania Cuisine
Italian recipes in Campania use both fresh seafood from the Amalfi Coast and meat and produce cultivated inland. Authentic Italian pizza originated in the city of Naples, which is still famous for Neapolitan pizza today. Mozzarella di Bufala and classic Italian dishes like caprese salad, spaghetti with clams, and fritto misto di mare are widely savored in Campania.
read more: The Best Food in Campania: Neapolitan Pizza and Beyond
Puglia Cuisine
Located on the heel of Italy's boot, Puglia has the longest coastline of any Italian region. Italian dishes here are based widely on the abundance of seafood available and staples like bread, pasta, and seasonal produce. Puglia is a top producer of extra virgin olive oil and is home to burrata and Stracciatella, two Italian cheeses famous worldwide. Orecchiette is Puglia's most renowned pasta that's often enjoyed with turnip tops, broccoli rabe, or small meatballs and tomato sauce.
read more: The Best Food in Puglia for an Authentic Taste of the Region
---
Italian Food in Sardinia and Sicily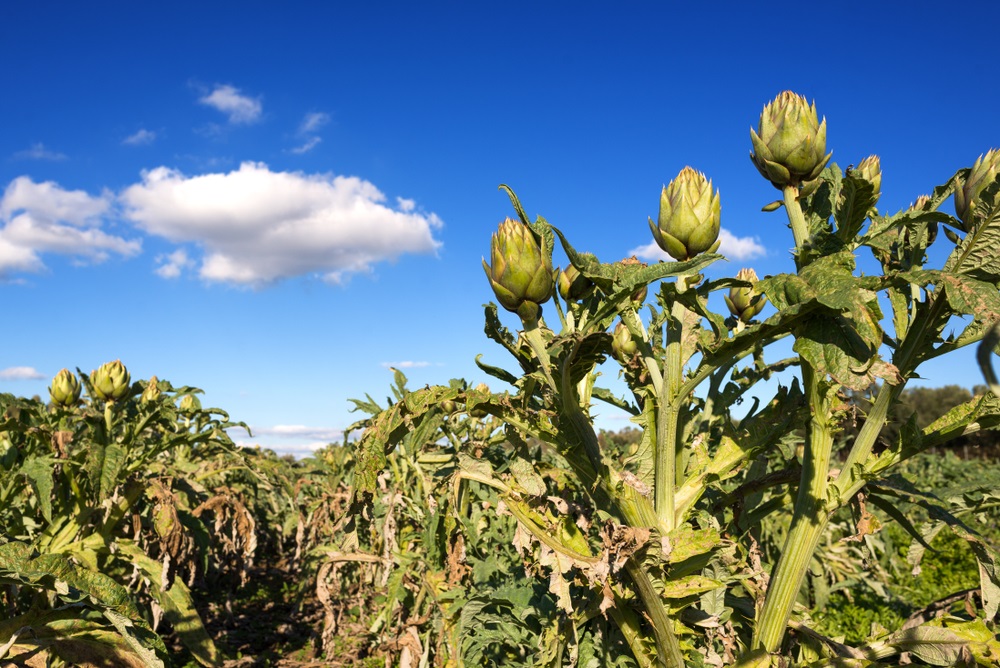 Carciofo Spinoso di Sardegna
Though often classified as part of southern Italy, the islands of Sardinia and Sicily each have rich culinary traditions uniquely their own. Moreover, both are positioned in the Mediterranean Sea as a gateway to Western Europe. Consequently, they were ruled by many civilizations throughout history, hoping to take advantage of their strategic location. As such, the Italian cuisine of Sardinia and Sicily exemplifies a melting pot of culinary traditions.
Sardinia Cuisine
In Sardinia, bread, pasta, seasonal produce, cheese, meat, and seafood are staples in the local diet. Though seafood is savored along the coast, Sardinian cuisine widely features meat and animal products due to the pastoral traditions of the island. Lamb, sheep, and pork are often enjoyed, and su porceddu, the island's specialty roast suckling pig, is a must-try when visiting Sardinia. Additionally, Sardinia delivers authentic Italian pasta unique to the island, such as culurgiones and fregola Sarda.
read more: Sardinian Cuisine: The Mediterranean's Culinary Melting Pot
Sicily Cuisine
Sicilian cuisine utilizes grains, seasonal produce, fresh seafood, and meat, too. The island is famous for its irresistible street foods like arancini, cipollina, stigghiola, and authentic Italian recipes like pasta alla Norma and pasta con le sarde. You can enjoy a plethora of seafood specialties on this sun-soaked Mediterranean island alongside a glass of vibrant wine from Mount Etna. Plus, Sicilian sweets, such as cannoli, cassata Siciliana, and granita, are among the most popular desserts in Italian cuisine.
read more: Sicilian Cuisine: Culinary Jewel of the Mediterranean
---
About Nicole Dickerson
WSET certified international wine writer with a passion for rare varieties and cellar hand experience in both hemispheres. Join me in the vineyards and cellars of the wine world at palmandvine.com.
Related Blog Posts: