For decades, Ireland's whiskey industry was almost a museum. Enthusiasts could visit a distillery alright – you were just not able to experience whiskey being made. There were ghosts of former glories to be found everywhere – Tullamore sat idle for decades, its banks over-growing, its equipment degrading and a once-proud tradition fading into history.
Yet in the middle of the 19th century, it all looked so very different. The Old Tullamore Distillery was founded at Tullamore – a rural gem situated west of Dublin – in 1829 by entrepreneur Michael Molloy. Irish Whiskey was one of the most well-known and respected spirits during this period, and sales quickly grew as the whiskey found a willing audience both at home and abroad. After the death of Molloy, control of the business passed to his nephew, Bernard Daly, who appointed Daniel E. Williams as the distillery's general manager, which was to prove to be the best decision that Daly ever made. Shrewd, intelligent, ambitious but fair, Williams increased the distribution of Tullamore tenfold and introduced what has become one of Ireland's most famous whiskey brands: Tullamore D.E.W, a simple reference to his initials. Sales of this new exciting brand rocketed and it seemed that Tullamore would go on distilling for centuries.
Unfortunately, events of the 20th century caused the business numerous headaches. Before, during and after the Second World War, sales dramatically fell, accentuated by the prohibition of alcohol in the US, the Anglo-Irish Trade War, oppressive taxation and aggressive competition from Scotland, which was thriving. With great reluctance and sadness, the owners sold Tullamore to a Dublin distillery John Powers & Sons. Rather than invest in bringing the Old Tullamore Distillery back to life, John Powers & Sons merged with two other Irish companies to create the mighty firm Irish Distillers. Closing their existing distilleries and building a new, state-of-the-art operation in Midleton, County Cork, Irish Distillers realized that Tullamore D.E.W was too valuable and popular a brand to delist. Production continued at their new plant at Midleton, while Tullamore's facilities were shut down.
However, in the 1990s Irish Distillers sold the brand to the C&C group who 'sat' on Tullamore D.E.W for over two decades; neither helping the brand to prosper, or doing it any substantial harm. The whiskey continued to be made at the Midleton plant, distilled under contract. Everything was all right with the world, although the Old Tullamore Distillery's decay was a tragedy to any follower of Irish whiskey.
But this isn't the end of the story. In 2010, the C&C group decided to put Tullamore D.E.W up for sale – it was purchased by the Scottish firm William Grant & Sons for €300 million. The owners had bold plans for Tullamore D.E.W – they wanted to restore its former great legacy, increase production and introduce new brands to the market. So after a hiatus of more than 55 years, Tullamore D.E.W returned home. William Grant spent over €35 million building a new distillery at Tullamore, which now boasts a handsome visitor center, boutique, and restaurant. Production was moved from Midleton and will increase at the new plant, as sales and distribution continue to grow. The glory days, it seems, are back.
Indeed, any follower of Irish whiskey visiting Tullamore today would be amazed at the optimism and energy that flows through these corridors. Decay and decline have been replaced with innovation and understandable pride. The entire range of whiskeys is to be recommended – the single malts and grain whiskeys are winning awards and reaching new fans. The Tullamore D.E.W 15-year-old Trilogy is particularly outstanding. Elegant, rich, sweet and complex, this is proof if you needed it that Irish Whiskey can hold it's head high. There is a fascinating interplay between the sweet and savory flavors, with a core of earthy, smoky complexity that never seems to fade on the palate. There is also talk of William Grant releasing older versions, and new blends. This is exciting, positive news and further proof that Irish whiskey is undergoing a striking revival. A golden era indeed – and with so many firms investing unprecedented amounts into Irish whiskey, it can only get better.
Whiskeys produced
Tullamore D.E.W whiskies

Tullamore D.E.W Original

Tullamore D.E.W 12-year-old Special Reserve

Tullamore D.E.W 14-year-old Single Malt

Tullamore D.E.W 18-year-old Single Malt

Tullamore D.E.W Phoenix

Tullamore D.E.W 15-year-old Trilogy

Tullamore D.E.W Old Bonded Warehouse Release

Tullamore D.E.W Cider Cask Finish

Tullamore D.E.W XO Rum Cask Finish
Distillery details
William Grant & Sons Irish Manufacturing Ltd
Ballard & Clonminch, Co. Offaly
Tullamore, Co. Offaly, Ireland
Tel +353 (0) 57 932 5015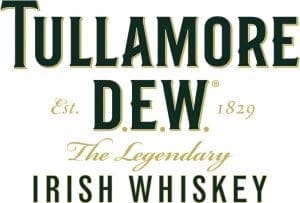 Winemaker

Brian Kinsman

Owner

William Grant

Production

3.6 million litres per annum