The Mendoza region is perhaps the world's most famous piece of desert landscape. It is home to two of Argentina's major claims to fame – the Andes mountain range, and wine. Many visitors get lost for weeks in the region, and with good reason; who could resist lively and cosmopolitan Mendoza or the surrounding area which boasts hundreds of wineries, often attached to luxury hotels, spas and gourmet restaurants? Yet there is much to enjoy in the city itself, without venturing to the great plains – a bustling city of wide, leafy avenues, atmospheric plazas, and superlative restaurants, Mendoza is an addictive proposition. Even if you only give it a day or two on your itinerary, we guarantee you'll be back for more.
History
Mendoza's history is complex and fascinating. Before the first Europeans arrived in the 16th century, many different native peoples ranged throughout what became Argentina. Until many tribes were tragically wiped out by Europeans, there were indigenous inhabitants as far south as Tierra del Fuego (Land of Fire) in Patagonia. But, just over a decade after Christopher Columbus accidentally encountered the Americas, other European explorers began probing the Rio de la Plata estuary. Most early explorers were motivated by legends of vast quantities of silver.
The first real attempt at establishing a permanent settlement in Argentina – in what is now present-day Buenos Aires – was made by Pedro de Mendoza in 1536. However, his attempt failed and it wasn't until 1561 that Mendoza was founded by the conquistador Pedro de Castillo. Interestingly, Mendoza was actually part of present-day Chile until 1776, controlled under the jurisdiction of the Spanish territory "Captaincy General of Chile." In that year, Spain made Buenos Aires the capital of the new viceroyalty of the Rio de la Plata – which included Paraguay, Uruguay and, of course, Mendoza.
Unfortunately, the new viceroyalty had internal squabbles over trade and control issues, but when the British raided Buenos Aires in 1806 and again 1807 (in an attempt to seize control of the Spanish colonies), the response was unified. Locals rallied against the invaders without Spanish help and chased them out of town!
Meanwhile, Mendoza's growing populating was becoming restless. Initially governed as part of a wider jurisdiction which included the province of Tucuman, in 1813 the region became part of the Province of Cuyo, a much smaller regional jurisdiction with far greater autonomy. Indeed, the 19th century was a very turbulent time for Argentina. Toward the end of the 18th century, criollos (Argentine-born colonists) became increasingly dissatisfied with Spanish authority. After Napoleon invaded Spain in 1808, Buenos Aires had the courage to declare itself independent in 1810. However, the troubles didn't end there. United in name only, and lacking a central authority, the various provinces began to clash and conflict ensured for over 20 years. Argentine politics was divided between the Federalists of the interior, and the Unitarists of Buenos Aires, who upheld the city's central authority. Then, in 1820, Mendoza decided to further isolate itself and parted ways with the provinces of San Luis and San Juan, which were formerly part of the province of Cuyo, which included Mendoza.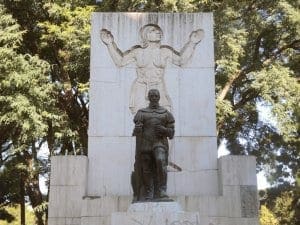 Modern Times
In the 1860s, Argentina elected its first official president, Bartolome Mitre. His goals were to build a united nation and to develop Argentina's infrastructure. There were problems and conflicts during his presidency, but overall the late 19th-century was a stable and prosperous era for the citizens of Mendoza. The economy boomed and immigrants poured in from Europe – by the turn of the 20th century Argentina had a highly developed rail network. In 1885, Mendoza was connected to the capital by rail, which helped to encourage the development of the region's fledgling wine industry. Yet this century was also a mixed bag; in 1861 a terrible earthquake nearly destroyed the city of Mendoza, which had to be almost entirely rebuilt.
Nevertheless, this period saw the development of what is today arguably Argentina's most famous export. Since the Jesuits first planted vines in northern Argentina more than 500 years ago, Argentine wine has gone from strength to strength. Historically, the first major changes occurred when large numbers of European immigrants arrived in the 19th century. With them came new ideas, grape varieties, and techniques, all of which helped to propel Mendoza's industry into the vibrant state it enjoys today.
The 20th century, however, was a time of great political and social upheaval across Argentina. The rise of Juan Peron and his famous wife Evita, numerous economic recessions, the Falklands War and the rise of a military dictatorship – and the subsequent return to democracy – were all part of Argentina's colorful and turbulent 20th-century history.
Today, though, one detects a tangible sense of optimism, rather than pessimism, in the streets of Mendoza. Ostensibly it's a desert town, though you wouldn't know it – acequias (irrigation channels) run beside the roads and glorious fountains adorn the plazas. Lively during the day, Mendoza's USP is its wonderful nightlife and citizens unparalleled sense of joie de vivre. At night, the city really comes into its own when the bars and restaurant of central Mendoza overflow onto the sidewalks. But the real beauty of this captivating city is its diversity and enviable location – if you can bare to put your glass down for a minute, there's plenty more to keep you busy. Just down the road is Cerro Aconcagua, America's highest peak, while outdoor-nuts will love the bewildering array of activities on offer. Bored in Mendoza? It's extremely unlikely, to say the least.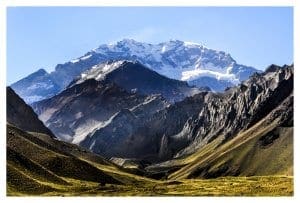 Gastronomy & Wine
If there is one overarching symbol of Argentine gastronomy, then it is surely the asado (BBQ). Indeed, Argentines are artists at the grill, and it's no exaggeration to say that meat is a massive part of the daily diet. It is justly considered the best in the world, and at the top of the culinary hierarchy is Argentine beef. When the first Spaniards came to Argentina, they brought cattle, and this tradition of rearing cows for slaughter eventually became an integral part of local food culture. Today the average Mendoza inhabitant consumes over 59kg of beef per year – impressive! But then who could resist the aromas of Bife de Chorizo (Sirloin steak) cooking over a sizzling grill, while your host offers you a glass of Malbec?
Of course, beef doesn't have the monopoly over Argentina's innumerable parrilla's (steak restaurants). In Mendoza, chefs pride themselves on chivito (young goat), which is grilled to perfection. Empanadas – small, stuffed pastries – are ubiquitous in Mendoza, and are typically filled with minced beef or sometimes lamb, although this is more common in Patagonia. They make for a delicious, tasty snack.
However, the culinary world in Mendoza doesn't just revolve around delicious cuts of grilled meat, moreish though they are. Thanks to Argentina's Italian heritage, the national cuisine has been heavily influenced by Italian immigrants, who settled across the country in the late 19th-century. As a result, pasta features heavily in cities such as Mendoza, with local chefs adding their own creative touches to classic Italian dishes.
Nevertheless, the undisputed highlight of any trip to Mendoza is the magnificent and seemingly endless quantities of fine wine. The name Mendoza is now globally synonymous with wine, as vineyards stretch out in all directions in the Luyan de Cuyo region. Velvety, sublime Malbec is the obvious draw, and by far Argentina's most important grape variety. Whether by accident or by design, we all now associate Argentina with lush, rich and impeccably balanced Malbec – the ideal foil to local cuisine. It has long been one of our favorite wine styles.
But, take the time to explore this stunningly beautiful country's potential and you'll discover a varied wine industry brimming with premium and diversified wine styles. Bodegas Riglos, founded in 2002 by Dario Werthein, is one such bodega (winery) providing hard evidence that Mendoza, or indeed Argentina does not begin and end with Malbec. Their Cabernet Franc is justly celebrated, offering intensity, deep red fruit, freshness and potent aromas by the bucket load. The Cabernet Sauvignon, Syrah, Bonarda and smaller amounts of Chardonnay, and Sauvignon Blanc grown across Mendoza are similarly excellent. Proof that even if you're tired of Malbec, Mendoza can still deliver.
One trick pony? No way!