The delights of Pairing Sea Bass with Chablis and more!
For a long time, the accepted wisdom was that white wine goes with fish and red wine with meat. That was as complex as food matching needed to be. It was a useful rule of thumb when fish came poached or simply grilled, and red wine meant wines from the Bordeaux and Burgundy region of France; now that we eat food and drink wine from all over the world, it's an unduly restrictive approach. Today, the matching of food and wine is an extremely flexible affair its fun to experiment and try unusual flavor combinations since, after all, most of us know what we like to eat and drink!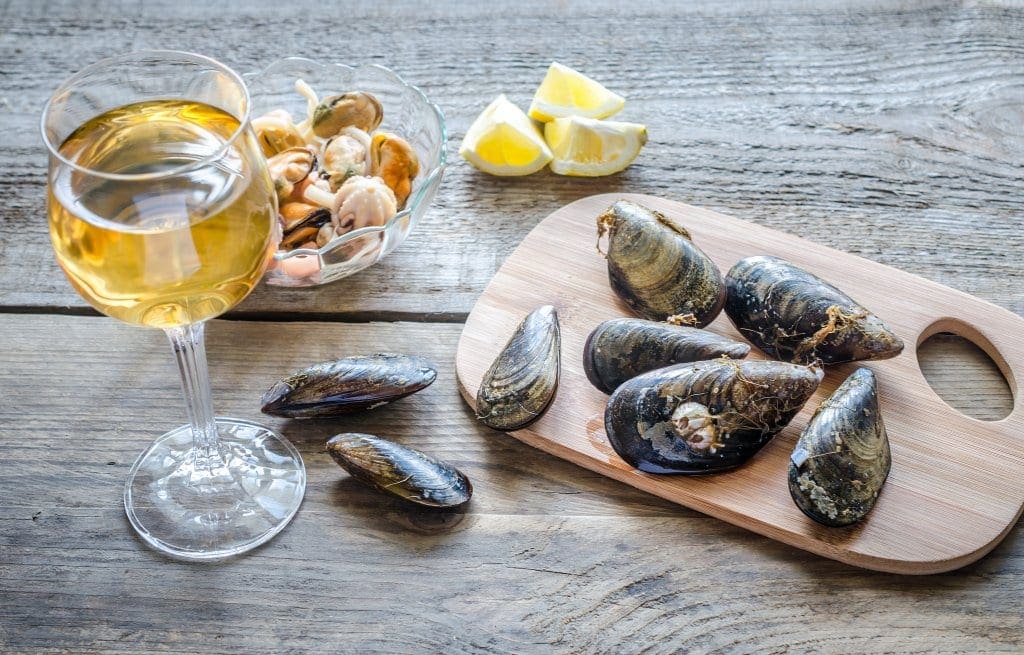 So are there any rules to matching fish with wine? God no! However, there are most definitely sensible guidelines that can enhance your enjoyment. The best guideline to follow is to match the intensity of flavors in the food with the wine's weight and personality. This assumes that we want to taste both the wine and the food and don't want one to overpower the other. Serving fine white Burgundy with Lamb Madras never works; believe us, we have tried. It is usually a good bet to match delicate flavors with delicate wines and strong wines with food that has plenty of personality. There is nothing like Syrah and Beef Casserole for gastronomic heaven.
With its usually soft and delicate flavors, Fish provides the perfect foil to a variety of white, and yes, red wines! Matching fish with wine is a joy, not least because of the adaptability and ease with which you can match your Sea Bass Fillet to a range of wines. In general terms, we find that light/medium bodied unoaked white wines with a lively acidity are the best companions for various fish dishes. Chablis, Riesling, and Spanish Albarino are 3 great examples. These wines have pure, direct flavors and a vivid acidity that can be eased and complimented by the salt in fish. Pinot Noir works extremely well with Salmon and Red Mullet, whilst try meaty fish like Monkfish with oaked creamy Chardonnay from California or Australia.
Ultimately though, when pairing wines with fish, you don't need to drill down to the level of the fine nuances to make an informed choice. All you need are a few simple pairing rules. Below are a few of our recommendations, but please feel free to experiment.
Here is a list of suggested Seafood and Wine Pairings, Bon Appétit!
Anchovies
A salty fish that needs an acidic, robust white like Muscadet or young simple Chablis. Brilliant with Fino sherry.
White Fish with a Beurre Blanc sauce
Sauvignon Blanc/Semillon blend will match and cut through the sauce, Chablis Premier Cru, for a real treat.
Crab
Crab salad and Riesling is a match made in heaven.
Fish with tomato-based sauces
Tomato-based sauces can devastate fine wines, so a sharp, dry wine is needed. Often a red works well; try Zinfandel or Barbera D Alba from Piedmont.
Fish with cream-based sauces
A medium-bodied Chardonnay works best. Try Rully.
Haddock
A perfect companion to rich dry whites, Meursault, New Zealand Chardonnay, and the like
Hake
Open a bottle of New Zealand Sauvignon Blanc for culinary bliss.
Halibut
Works well with any rich dry white, white burgundy is the most obvious place to start.
Lobster
Vintage Champagne for a real treat. White Bordeaux and Riesling also work very well.
Mackerel
An extremely oily fish requires a very sharp white: Loire Sauvignon Blanc or Vinho Verde works wonderfully, as does white Rioja.
Monkfish
A meaty, full-flavored fish that often works better with red wines. We love roasted Monkfish with Pinot Noir (or Merlot is a great combination too!)
Mullet
Perfect with red Burgundy
Prawns
Fine dry white again, New Zealand Chardonnay or Champagne seems to work best.
Salmon
If the salmon has been grilled, then look to Burgundy, red and white. Roast Salmon is wonderful with Grand Cru Chablis. Smoked Salmon, on the other hand, works better with aromatic, acidic whites. Fino Sherry, Riesling, or Pinot Gris work very well indeed.
Sea Bass
Divine with Chablis, Riesling is also a fair bet.
Shellfish
Unoaked Chardonnay is the way to go. Give Pinot Blanc a try.
Dover Sole
Only the finest white Burgundy will suffice.
Sushi
A difficult one as hot wasabi kills wine flavors. Cava works best we find
Tuna
A medium-bodied red with a fruity character, Merlot is our choice.
Turbot
Chardonnay or even better, try with white Rhone. Condrieu works surprisingly well