The Microbrewery Revolution
Ireland has enjoyed a prosperous brewing culture for over 200 years. In the late 18th century, there was an explosion in the brewing industry – by the beginning of the 19th century, over two hundred breweries were registered across Ireland. Government legislation in the 18th century reduced the taxation on brewing against distillation to encourage the consumption of less harmful alcohol. This and increased demand in Europe ensured that the country's industry flourished into the early 19th century. Exports to England rose sharply, and there seemed to be no end to the industry's good fortunes.
However, the number of breweries declined significantly in the early 20th century. The rise to fame of Guinness meant that more than a few breweries closed as they were unable to compete in the marketplace. Until recently, the brewing industry in Ireland has been dominated by large, powerful brands, both Irish and International. Heineken has an important presence in Ireland, possessing the most significant share of the market. Yet, those who would suggest that the country can only offer a few high profile names would be mistaken. A microbrewery revolution has taken place in the last 20 years, which has shaken-up the market place. Although the number of microbreweries is relatively small, the industry is more dynamic than it has been for many a decade. Exciting news indeed, not least for the consumer who has never enjoyed as much choice of quality beers, and with so many breweries performing at the top of their game, it can only get better!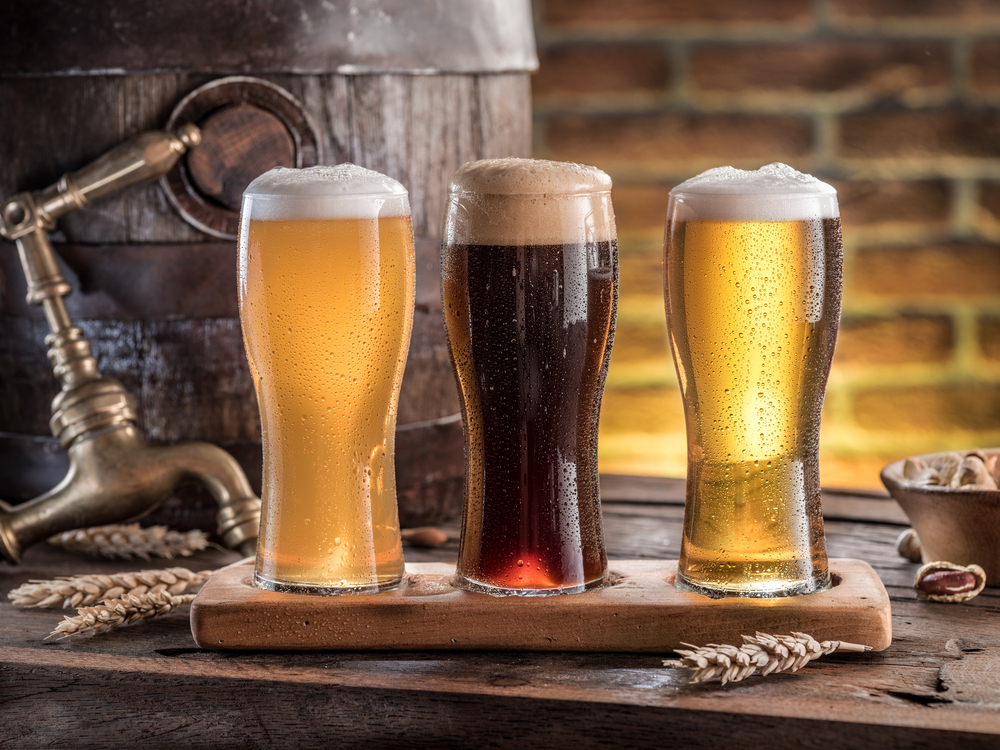 Visitors to this beautiful and friendly country know what they should really get excited about in the beer department – delicious Irish craft beers made with care and pride by smaller outfits offering something more distinctive than the big boys. After many years of big brands dominating the Irish beer scene, small microbreweries began to emerge in the early 1990s. The first outfit that dared to succeed was the Biddy Early Brewery Pub, which eventually closed after many years of trading. However, they were followed by niche, enterprising start-ups like the imaginatively named Galway Hooker Brewery and Trouble Brewing. The Franciscan Well Brewery joined this growing group of successful start-ups in the late nineties and is still going strong. It is today one of the premier reasons to Visit Cork! Built on the site of, unsurprisingly, an old Franciscan Monastery, dating back the 13th century, the Brewery produces a wide range of ales and stouts, the Rebel red ale being our favorite!
More recent additions to this ever-growing family are the Dungarvan Brewing Company and Metalman Brewing Company. The Dungarvan Brewing Company was founded in April 2010 on the Irish South Coast by the Dalton and O'Dwyer families. This unstoppable team sought to prove that handmade, Irish craft beers could compete in a corporate marketplace. Their small Brewery produces a spectacular range of beers – The Black Rock Irish Stout, Copper Coast Red Ale, and Helvick Gold Blonde Ale. Since its inception, the Brewery has won critical pundits and consumer acclaim, adding to the impetus for smaller breweries to reclaim some of the Irish market share.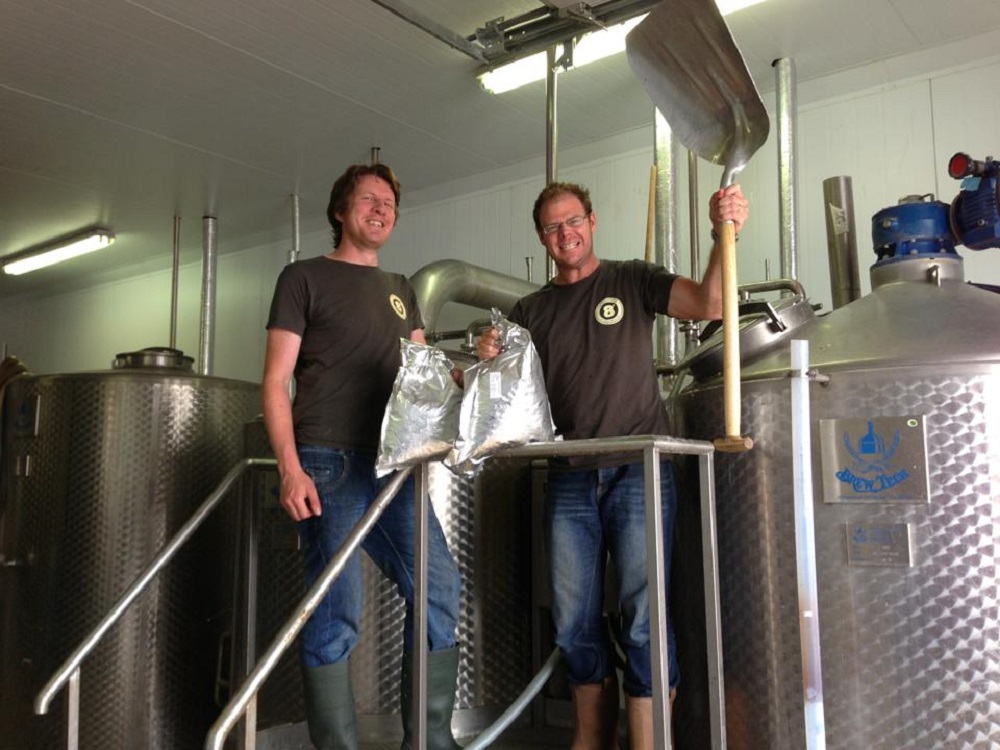 Scott Baigent and Cameron Wallace founders of the Eight Degree Brewery
However, the poster child for this microbrewery movement is undoubtedly Eight Degrees Brewing, who has risen quickly from producing minute quantities of beer at home to running a state of the art brewery, capable of producing 12,000 bottles of beer per week!
Eight Degrees Brewing is the brainchild of Scott Baigent and Cameron Wallace, who had lived together in Dublin when Scott first moved to Ireland. Located in the beautiful Ballyhoura region in County Cork, Eight Degrees are on a mission to make modern interpretations of traditional Irish ale styles, providing distinctive malt and hop characteristics. Scott and Cameron have invested their hearts and souls into this project, electing to study at the renowned Versuchs und Lehranstalt fur Braurei ("VLB") institute in Berlin. Today, they are professional brewers par excellence and continue to astound the press with their Irish ales' quality.
Lager
The world's most popular and best-selling style of beer, lager, has taken some time to win the Irish beer drinkers' hearts and minds. The first lager brewery, Darty Brewing was founded in 1892 in Dublin and only managed to stay open for five years, before competition from stout breweries drove it out of business. A second brewery, named Regal Lager Brewery, opened in 1937 and managed to last until 1954. Lager only really became a permanent fixture in Ireland when Guinness and other international companies started brewing foreign brands under license in Dublin and other cities. Heineken dominates the lager market today in Ireland, which has overtaken stout as the most popular style. However, several microbreweries also produce a lager style, although their ales and stouts are really what they are famous for.
Stout
Ireland's most famous beer style, stout, actually originated in London in the 18th century and became extremely popular in Ireland towards the early 19th century. Dublin became the porter (a dark style of beer) capital in Europe, and large quantities were exported to England. The most widely recognized brand is, of course, Guinness, which was founded in 1756 by Arthur Guinness, who built a small brewery in Dublin. However, smaller, more characterful and individual stout brands now abound in Ireland, the thirsty stout lover is no longer forced to drink Guinness forever-more.
First on our list would be the brilliant stouts produced by The Porterhouse Brewing Co, the largest craft brewery in Ireland now has bars in London and New York in addition to their main brewing site in Ireland. The Brewery was founded in 1989 by two passionate gentlemen, Liam LaHart and Oliver Hughes, who have since gone on to win countless awards for their range of stouts and ales. One of their most popular is the Plain Porter – a lighter, aromatic stout that continues to garner gold medals. Also worth checking out is the bestselling Oyster Stout, a rounder, fuller style with just a hint of sweetness and spice.

Of Course, Porterhouse isn't the only successful microbrewery making stout today. They have some stiff competition from the O'Hara family, who founded Carlow Brewing Company in a 19th-century disused brewery site. Most of the successful microbreweries in Ireland have emerged in recent years. But Carlow has been around since 1996 and is still one of Ireland's biggest microbrewery names. Their multi-award winning stout is one of the richest around, tasters speak of coffee and dark chocolate, Carlow recommends serving the stout with parma ham and shellfish, no less.
Moving to Northern Ireland, the region's infamous Belfast Black stout is another one to watch out for, produced by the Whitewater Brewery of Kilkeel. The Brewery founded in 1996 (that year again!) and, in a little over 15 years, has Northern Ireland's largest and arguably best microbrewery. All their range has won pundits, particularly the Clotworthy Dobbin porter and aforementioned Belfast Black, which compliment their lagers and ales.
The above is merely a snapshot of how fast the brewing landscape has changed in Ireland over the last two decades. Powerful brands like Guinness and Heineken no longer have the nation strangled with a monopoly on brewing – Ireland now has more microbreweries than at any time since the early 1920′s, and the outlook is bright. These are generally family concerns that have survived a competitive arena and emerged victorious, winning customer loyalty with the most important things: quality and individuality. With the raw talent of visionaries like the founders of Eight Degrees, Porterhouse and Dungarvan, Irish beer lovers have never had it so good.
Other notable craft breweries:
Related Blog Posts: