[Updated August 2017] Campania is one of our favorite regions in Italy, so diverse and with such stunning countryside, coast, and towns.  In this area of southern Italy, you'll find the Amalfi Coast,  the fascinating city of Naples, volcanic Pompeii, Capri, lesser-known islands like Ischia and countless seaside hamlets.  Enjoy these short travel notes on Campania based on our various research trips and tours, to help you plan your next vacation: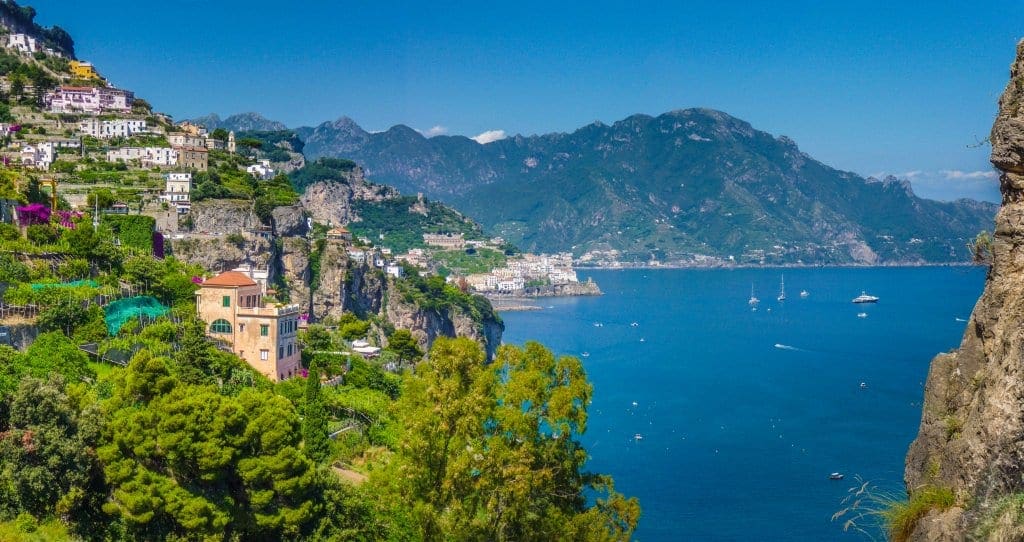 WINE TOURS IN CAMPANIA & AMALFI COAST
Some cellars open to the general public. Contact the Consorzio for more info. For private and VIP wine tours, we organize day excursions from Ravello, Positano, and Naples and week-long discovery tours of Campania.  More info
---
CAMPANIA WINE APPELLATIONS
Taurasi– the best Cru reds of Campania, and a lovely village
Fiano di Avellino– exquisite white wines, fullest bodied whites of all of Campania´s whites
Greco di Tufo– another stylish white brought to Campania by the Ancient Greeks
DOC:
Aglianico del Taburno
Aversa
Campi Flegrei
Capri
Castel San Lorenzo
Cilento
Costa d´Amalfi
Falerno del Massico
Gallucio
Guardia Sanframondi
Ischia
Penisola Sorrentina
Sannio
Sant´ Agata dei Goti
Solopaca
Vesuvio
---
TOP VINTAGES FOR TAURASI CRU WINES:
2001, 2000, 1999, 1998, 1997, 1993, 1990, 1988, 1985
CAMPANIA WINE GRAPES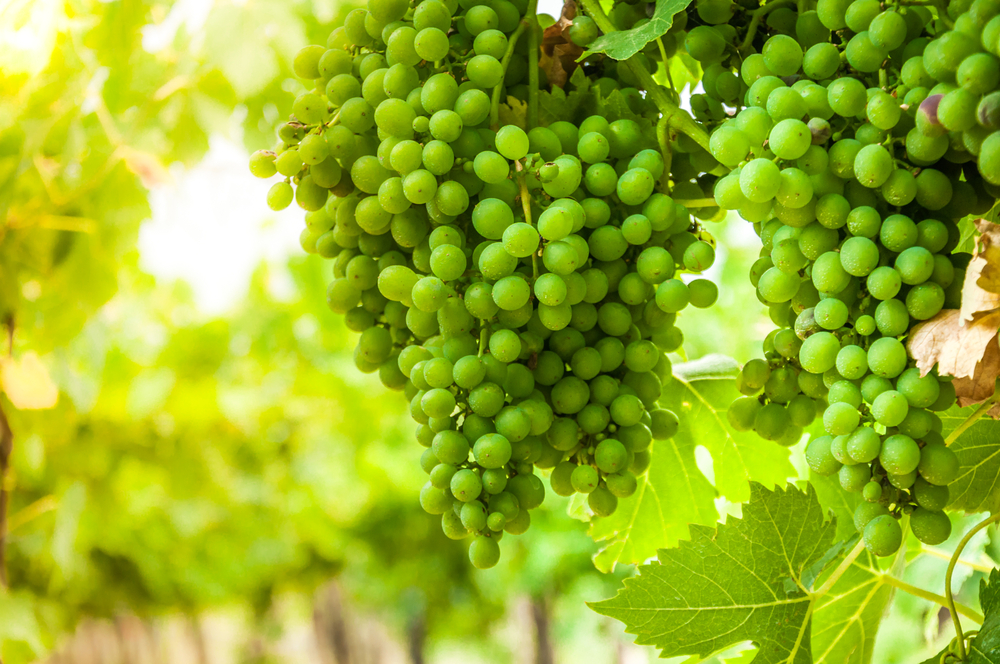 Main white grapes- Falanghina, Fiano, Greco, Coda di Volpe
Main red grapes- Aglianico, Piedirosso
A-Z Italian Grape Glossary
---
CAMPANIA TOP WINE ESTATES
Antonio Caggiano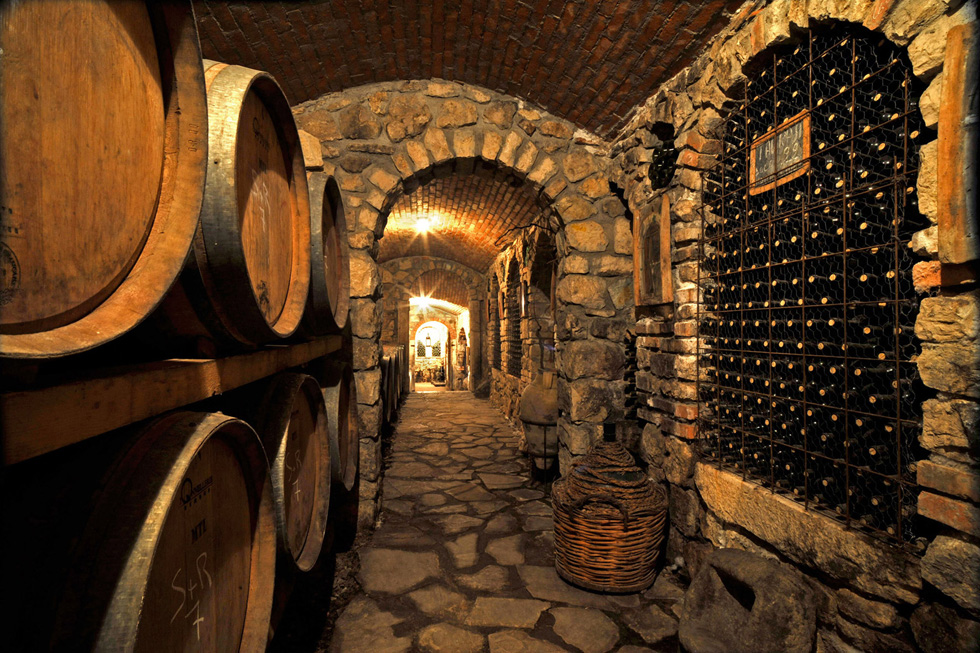 Caggiano is one of our favorites! This estate is beautiful (pristine vineyards, vaulted cellars, a little wine museum) and sleek and elegant wines. Caggiano´s Taurasi Vigna Macchia dei Goti is considered to be one of the best Taurasis in Campania, on a par with a very good Barolo. The white Fiagrè, made with Fiano and Greco, is a sexy white with a bewitching nose. Beautiful place and great wines. You can visit the local castle while in the area.
More info on Antonio Caggiano
Feudi di San Gregorio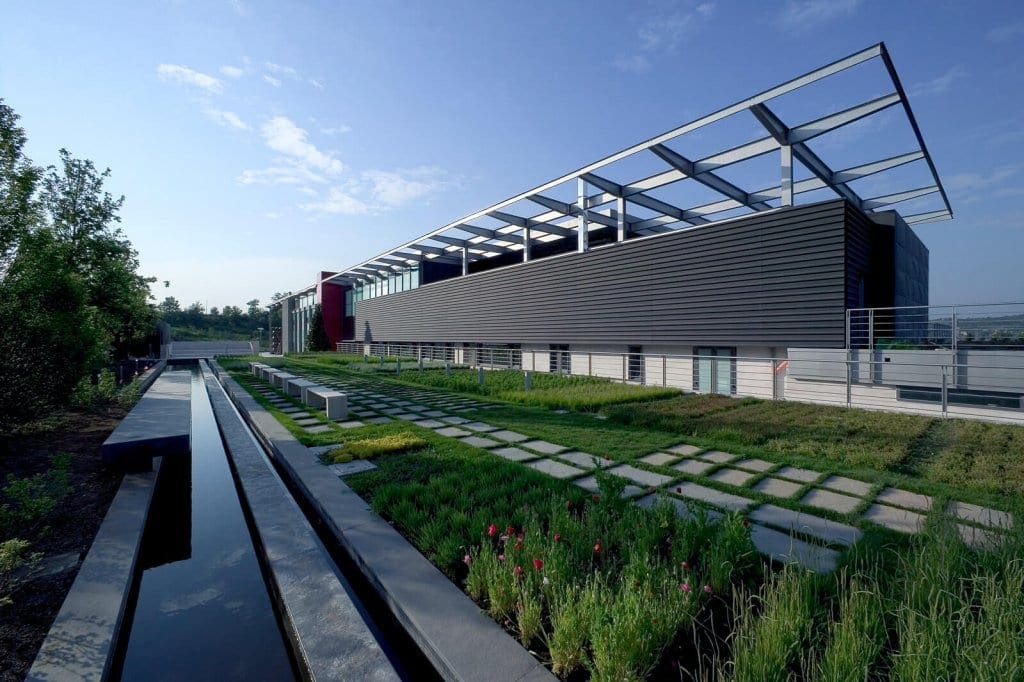 The ultra-modern Feudi di San Gregorio estate is one of the absolute best in Italy. LOcated in Sorbo Serpico (Avellino province), Feudi is incredible. They have an extensive line of red and white wines, using mainly indigenous varietals, and have a sparkling wine line made by superstar Riccardo Cotarella in conjunction with French Champagne god Anselme Seloss. The property is gorgeous, and they have the best winery shop in the south. Also, a superb restaurant, managed by 3 Michelin starred chef Heinz Beck.
More info on Feudi di San Gregorio
Mastroberardino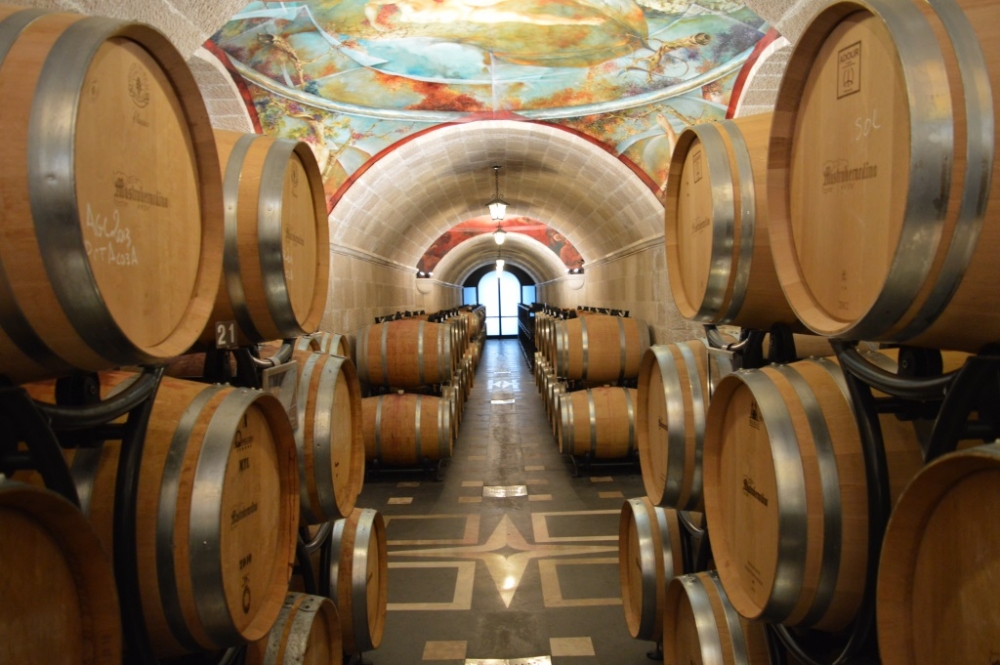 Called the "trailblazers of Irpinia," Mastroberardino have their pretty wine cellar (not vineyards) in Altripalda. This family has been making wines since the late 1800s.  Frescoes adorn the vaulted ceilings, and they have a small shop where you to get some of their gems, including the Radici cru, the colorfully named "Lacryma Christi" (which translates as "Tears of Christ") and the Fiano based Vignadora. They also make wine on the volcanic soils of Pompeii, including the highly-rated Villa dei Misteri. Mastroberardino have a luxurious new small wine resort where you can sleep in the wine country if you want to visit a few cellars in the area.
More info on Mastroberardino winery

Montevetrano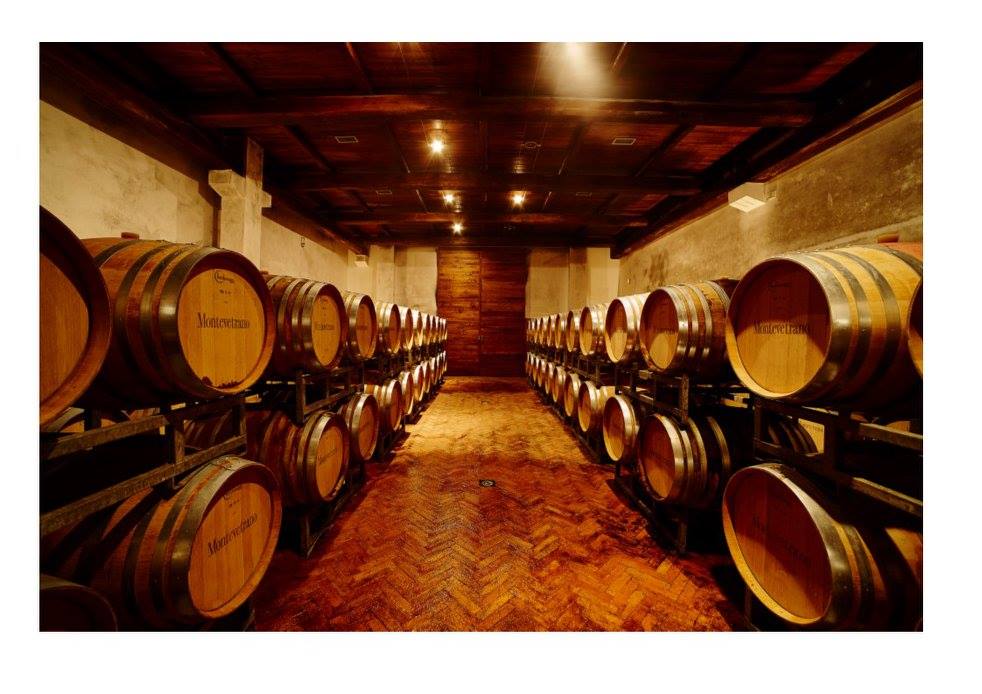 This boutique winery was propelled into the international spotlight when Robert Parker coined it as the "Sassicaia of the south." The winery is owned by Silvia Imparato, who hired golden boy  Riccardo Cotarella to reconstruct her family´s vineyards located on a historical plot that had once belonged to the Bourbon monarchy. The first vintage was only in the early '90s, and it took the wine world by storm. The flagship Montevetrano is made with  60% Cabernet Sauvignon, 30% Merlot and 10% Aglianico Taurasi and is in the Colli di Salerno IGT appellation. The elegant estate is located near Salerno, in San Cipriano Picentino.
More info on Montevetrano
Mustilli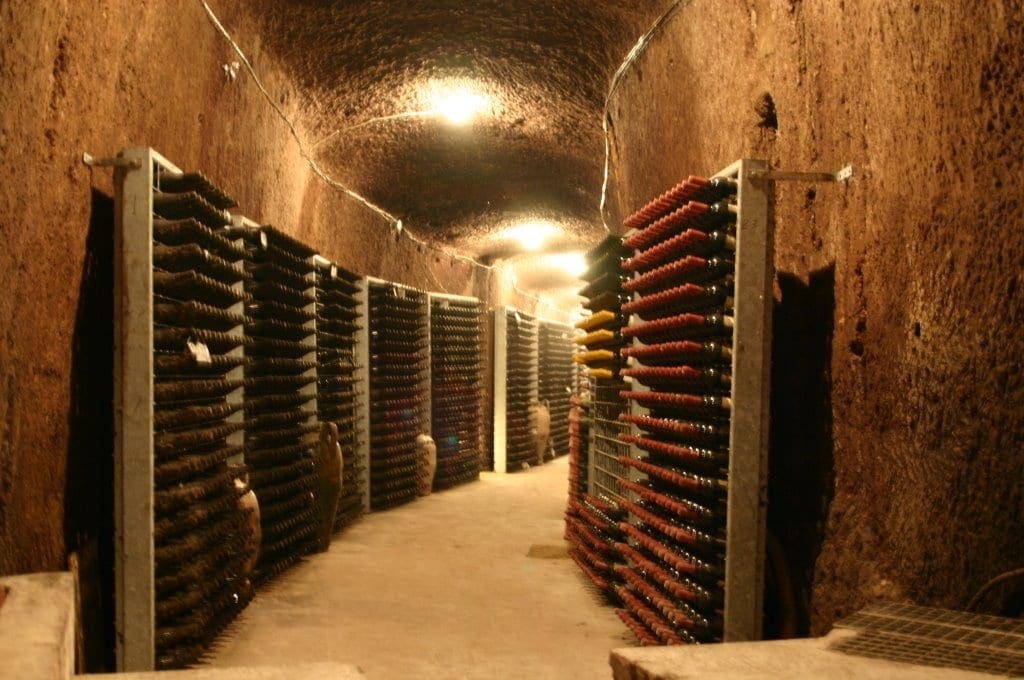 This is another of our favorite wineries in Italy.  The beautiful historic cellars are located in the 1000-year-old village of Sant´ Agata dei Goti, whose villas hang off a dramatic cliff. Mustilli are credited for their important revival campaign for the native Falanghina grape, an Ancient Greek import to Campania, now making some of the freshest and loveliest white wines in the country. The patriarch Leonardo Mustilli wrote a book about the Falanghina, now considered to be the benchmark for reference. Winemaking has been in this family´s blood for over 500 years.  In the 16th century, the Mustilli ancestors arrived in this little village from Ravello and built the cellar, which is carved into the rockface. Today you can visit this historic cellar and taste their excellent wines. Occasionally, the matriarch also hosts jazz music sessions in their little 17th-century inn where you can stay.
More info on Mustilli
Villa Matilde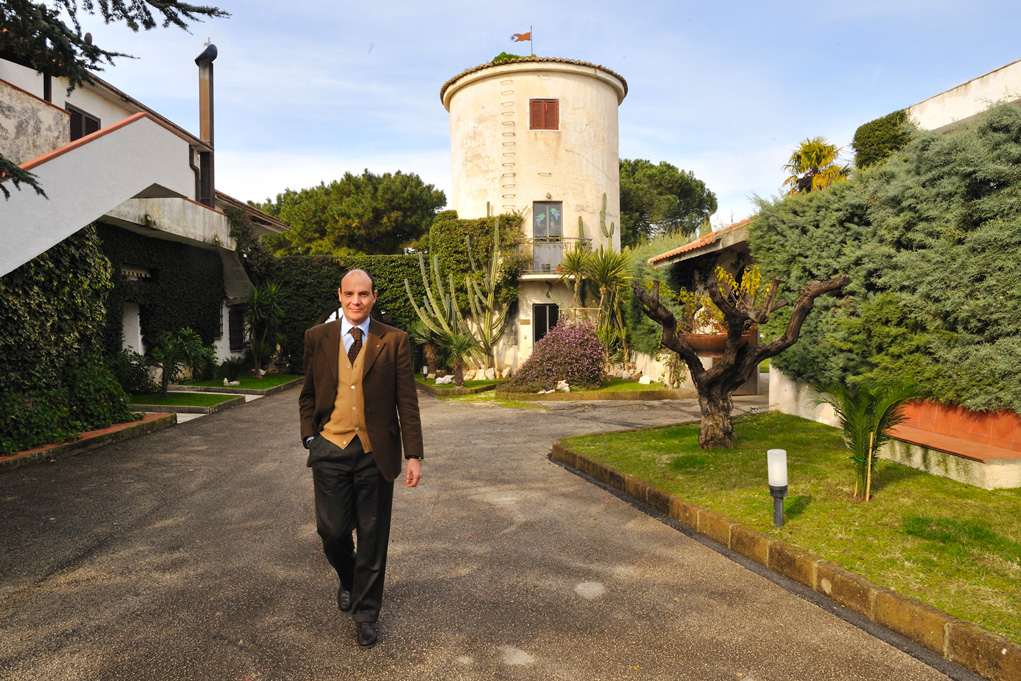 Another superb winery where Riccardo Cotarella is making sophisticated wines. Our favorites include the Falerno del Massico Bianco Cracci cru (made with 100% Falanghina-Falerna clone- aged in Alliers oak) and the single vineyard "Camarato (made with 80% Aglianico and 20% Piedirosso and winner of the prized Gambero Rosso Tre Bicchieri award). Villa Matilde has vineyards in the provinces of  Benevento (on the hills of Mount Taburno) and Avellino (including the DOCG appellations of Fiano di Avellino and Greco di Tufo). The wine estate is remarkable, stunning and they have a luxurious small hotel as well.
More info on Villa Matilde
Viticoltori De Conciliis
Located in Prignano Cilento, southeast of the Ancient Greek settlement of Paestum and close tot he unspoiled national park of Cilento in southern Campania; this wine estate is a treat. Some of the wines we love include the Naima (intensely powerful Aglianico with 15% alc!) and the refined Donnaluna Fiano white. This part of Campania is more off the beaten track and a pleasure for nature lovers and foodies. You have some incredible beaches in this area and some sublime Buffalo Mozzarella producers.
More info on Viticoltori De Conciliis
---
CAMPANIA RESTAURANTS
Bacco Furore– We love this informal restaurant (in the photo above) located on the Amalfi Coast in Furore and connected to the excellent Marisa Cuomo Gran Furor winery. Some highlights- marinated salt cod with wild fennel, Cavatelli with provola cheese and rucola, and Chocolate covered fried eggplants! More info.
Don Alfonso 1890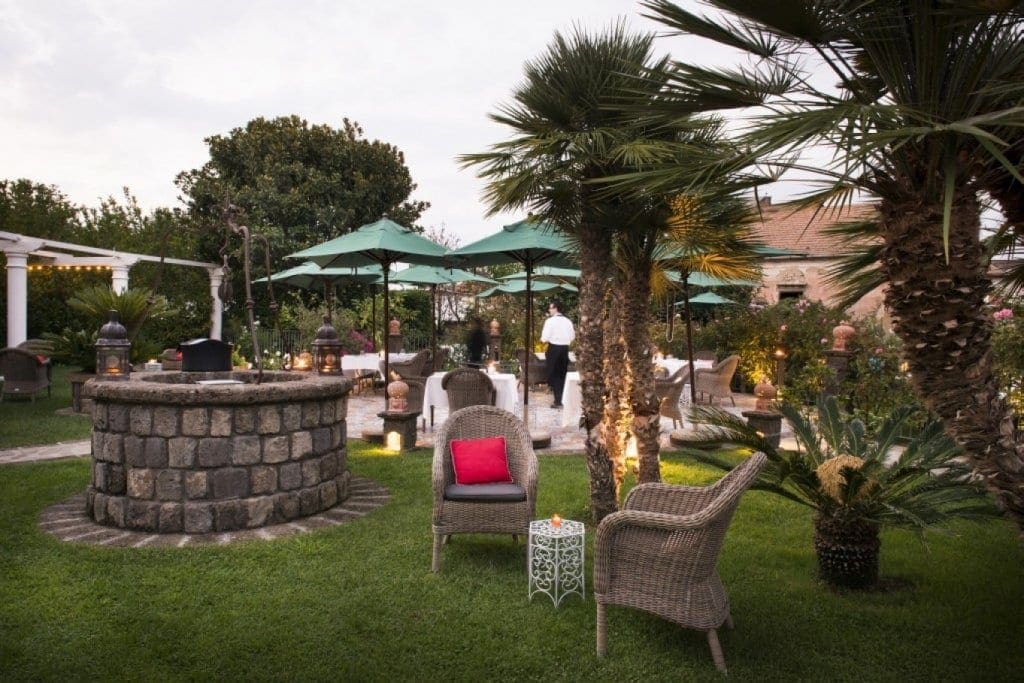 The best high-end restaurant on the Amalfi Coast, this Michelin starred ristorante is a legend and a "must" for foodies. Ask the sommelier if you can visit their historic wine cellar, awe-inspiring. They have a new cooking school for those looking to learn some of the recipes, some of which date back to the Italian renaissance. More Info
Eolo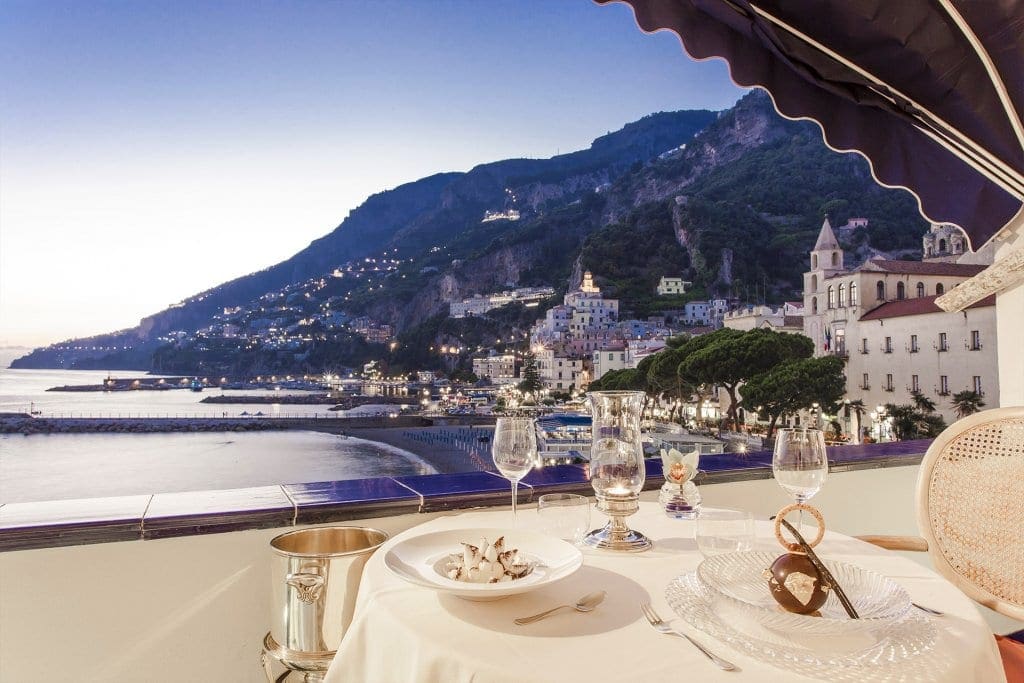 Located in Amalfi town on the coast, inside the Marina Riviera hotel, this restaurant has a million-dollar view! Expect fine cuisine, great views, and service here. More Info
Torre del Saracino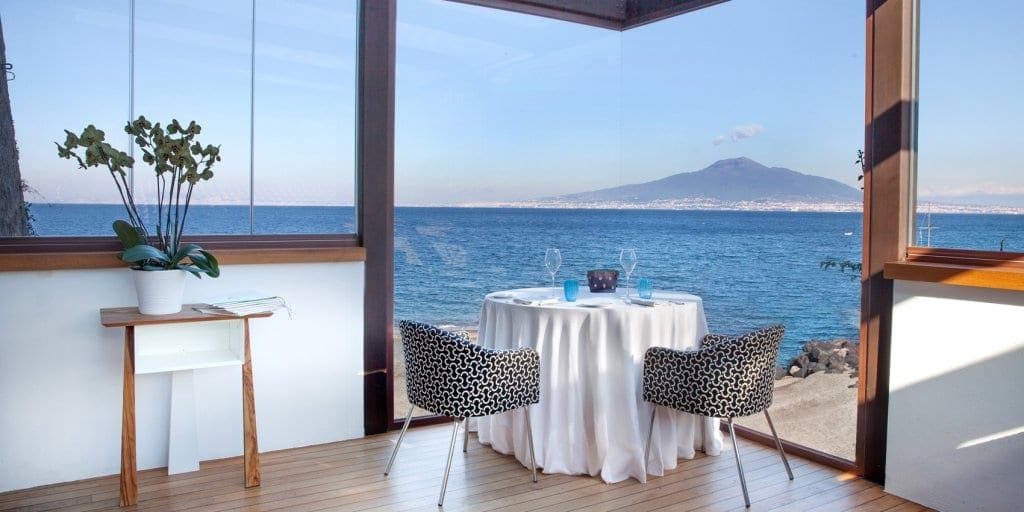 Another Michelin starred "must".  Expect to see famous chefs and celebrities dining here. Chef Gennaro Esposito revives classic Campania recipes with a creative flair. More info.
Al Convento– Located in the wonderful authentic fishing village of Cetara, known for its "Colatura diAlici" (a modern-day version of Roman Garrum), the owner of this restaurant is one of the Amalfi Coasts´s best characters. A major promoter of "Slow Fish," Pasquale also gives cooking classes using this ancient recipe. Traditional and highly recommended. More Info
---
BUFFALO MOZZARELLA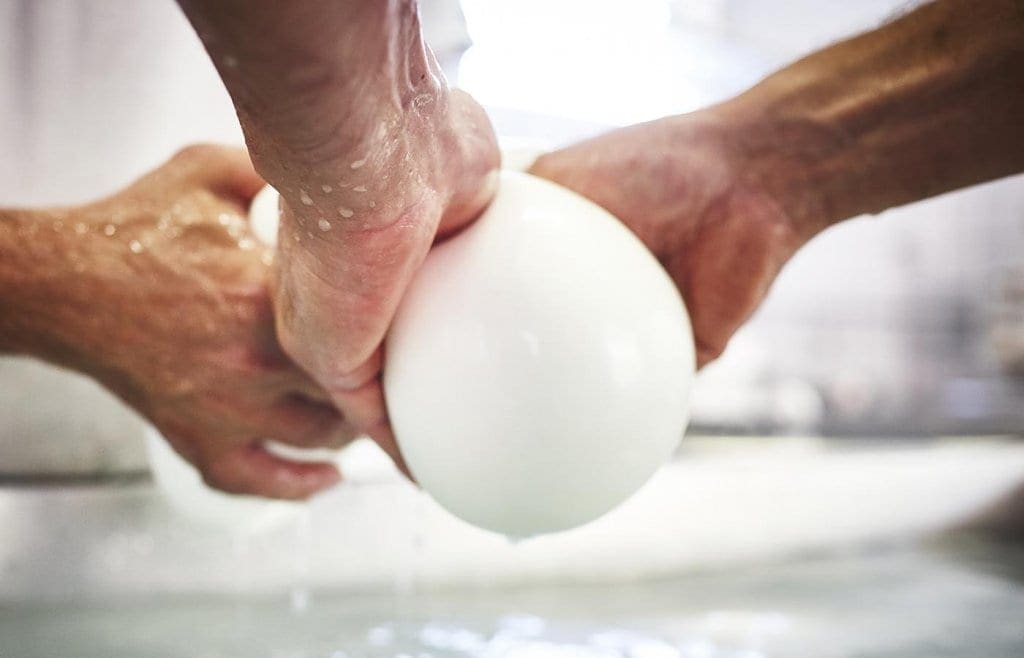 Vannullo is an EXCELLENT producer that you can visit. See the cheesemaking process, taste just-made buffalo mozzarella, ice cream, and yogurt made with buffalo milk and visit the water buffalo.
---
CAMPANIA HOTELS
Palazzo Avino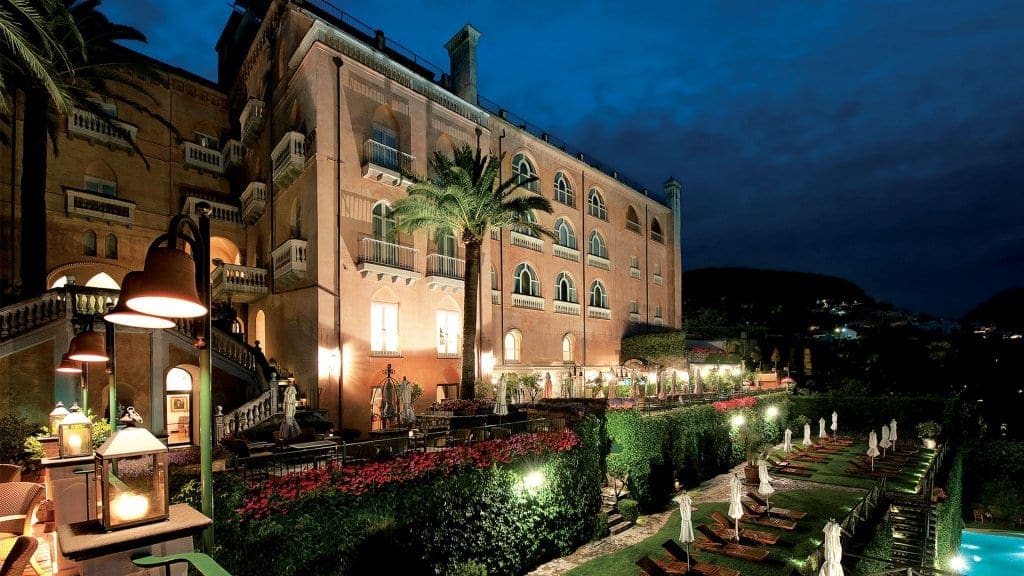 For Silver Screen Glamour- the Palazzo Avino is one of the most beautiful historic hotels in Italy with a gorgeous setting in Ravello.
Casa Angelina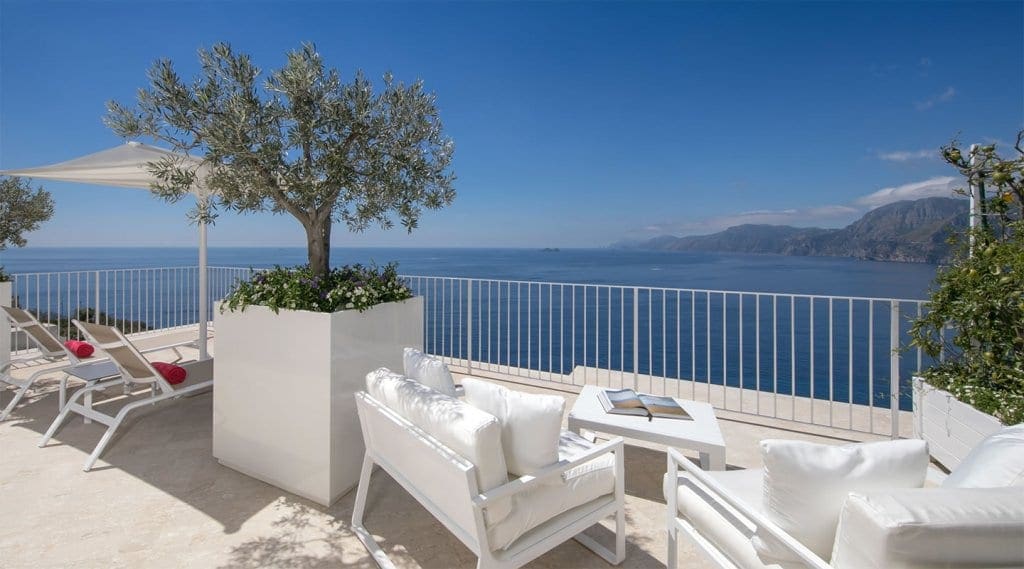 Stylish, airy, and youthful- For those looking for something more contemporary, Casa Angelina in Praiano is a Philippe Starck design hotel.
Grand Vesuvio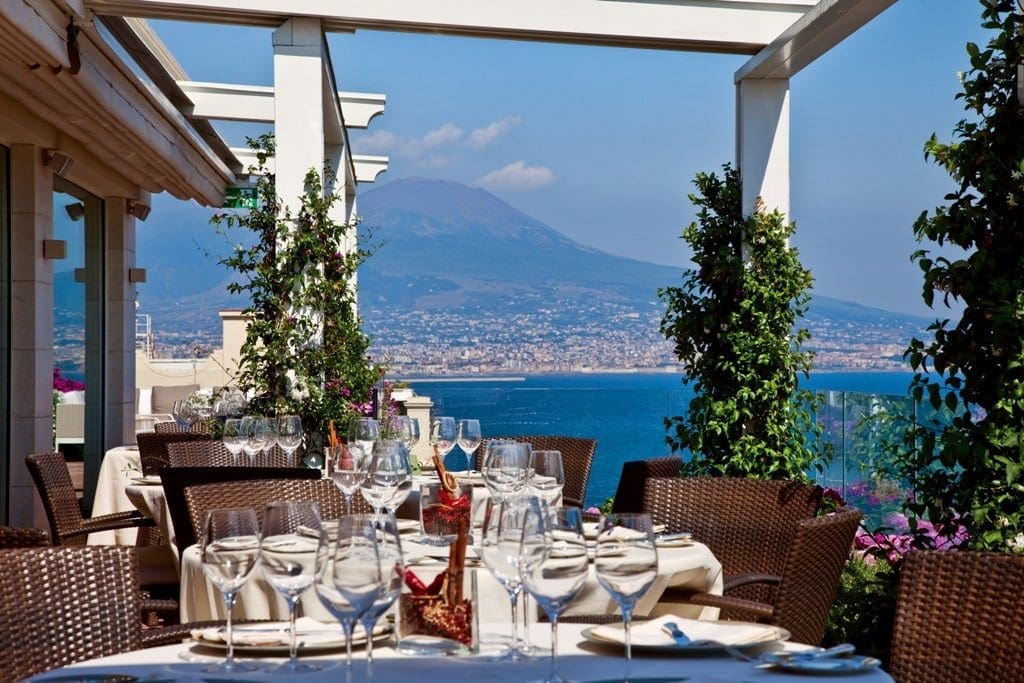 In Naples, for the best view in town, stay at the luxurious period hotel Grand Vesuvio, overlooking the castle and the bay of Naples.
Other Notable Properties
Other fabulous spots include Il San Pietro and Le Sirenuse in Positano, and Relais Blu in Massa Lubrense near the FABULOUS Quattro Passi restaurant.
---
WHAT TO SEE
Visit the beautiful towns on the Amalfi Coast including Ravello, Positano, Amalfi, and Sorrento; don´t miss Naples, with its spectacular Archeological museum (including the erotic collection from Pompeii) and the world´s best pizza (taste pizza at Brandi); the islands of Capri and Ischia; the wine country; Ancient Roman settlements at Pompeii and Herculaneum, Ancient Greek settlement at Paestum; the "Versailles" of Southern Italy at Caserta.

Related Blog Posts: