In the Mediterranean, vines and olive trees have always grown side by side, making olive oil as integral to the Italian culture as wine. Olive oil is inescapable in Italian cooking; from pasta dishes to vegetables to meat or fish, it's hard to find a recipe that doesn't include a drizzle of extra virgin olive oil. Drizzle it on bread, use it on a salad, enhance steamed vegetables, or use it to cook with. Like wine, olive oil is made with different varieties of olives, each of them with its own unique character, flavor, and aroma.
The Oils of Tuscany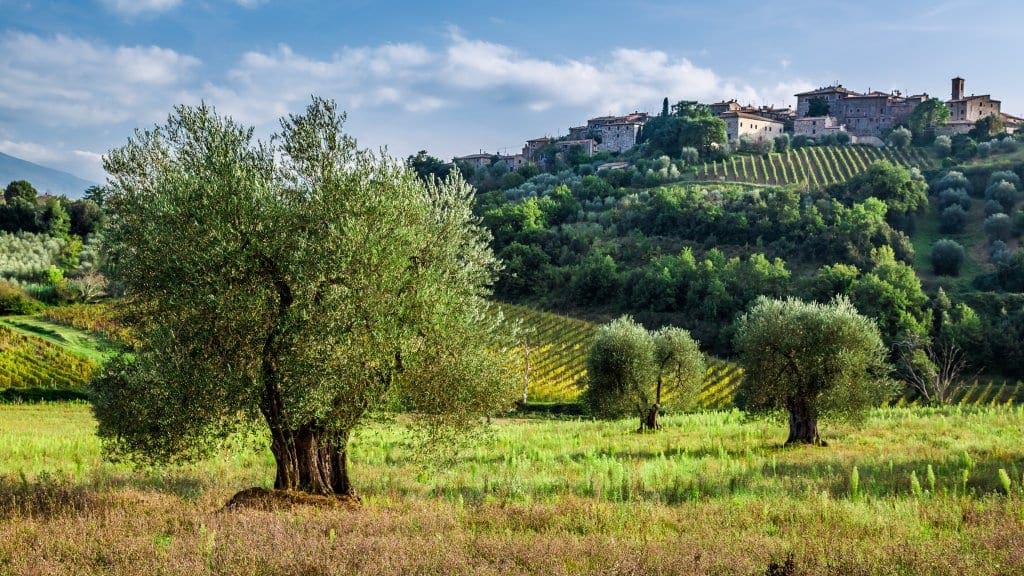 Of the countless varieties made throughout Italy, those from Tuscany (especially Lucca and Chianti) are the most coveted. Here, three main varieties are used Frantonio, known for its fruity flavor; Moraiolo, famed for its spicy notes; and Leccino, a rich and deeply flavorful olive. The olives are often harvested in early autumn for fear of frosts before they're fully ripened. The premature harvest leads to Tuscan olive oils' distinguishing lime-green color, peppery bite, and raw, herbal freshness.
Yet Tuscany is not the only region that lays a strong claim on olive oil. Throughout the country, olive-growing regions have been designated with a DOP label. Much like the DOC system in place for wines, olive oil classification identifies those regions that produce excellent olive oils because of tradition or terroir.
Northern Italy
In northern Italy, Friuli-Venezia grows olives in its northeastern hills; Groves of olive trees line the Adige River and cluster near the Lago di Guarda and in Lago d´Iseo. In central Italy, the Liguria region boasts intense plantings of Taggiasca and Opalino olive trees, making sweet, unobtrusive oils that complement local seafood. Umbria grows the varieties Frantoio, Leccino, Moraiolo, and Agogia and Raggiola, whose full-bodied oils are known for their aromas of artichoke, green tomatoes, pepper, and fruit. Nearby in the rural, little-visited Abruzzo, valleys like Valli del Tordino e del Vomano and Valle del Tavo are dotted with olive trees. In the south, Puglia makes an abundance of fresh and fruity oils from varieties like Coratina, Provenzale, and Ogliarola. This is Italy's top olive oil-producing area, although much of the production is mass-produced. Thanks to its varied terrain, Sicilia produces a fabulous mix of well-rounded, fruity oils from varieties like Belice, Biancolilla, Moresca, Cerasuola, Nocellara, and Tonda Iblea.
No matter what the variety, the elaboration process is similar across Italy. Olives are picked (often manually) in the fall, beginning in October and continuing into January. A day or two after harvest, olives are pressed using a cold-pressing technique (maximum temperatures of 60ºF). The first pressing produces the highest quality grade, extra virgin olive oil, which has an acidity of less than 1 percent. Oils with a higher acidity level are marked simply virgin olive oil. Lesser grades include fine virgin oil, superfine oil, and pure olive oil. A good oil will last up to two years if stored in a cool, dark place. Sunlight will cut the life of the oil in half. It's hard to tell from sight alone how good an olive oil is. High-quality oils could be either bright green or a pale greenish-yellow, depending on the variety and how ripe the olives were (very ripe olives produce yellow oils). It could be cloudy (unfiltered) or crystal clear. It could be very thick or more watery, again depending on the variety. Your taste buds are the best judge.
Finally, one exciting olive oil producer in Italy (featured on our gourmet tours) is Poggio Cappiano, based in the medieval hamlet of Ponte a Cappiano, in Tuscany. Situated between Pisa and Florence, Poggio Cappiano is a beautiful olive oil estate known for its top-quality produce and amazing hospitality. Their olive oils are considered to be some of the best in Italy. We particularly like their extra virgin olive oils made with Madremignola olives (and blended with 10% Frantoio and Leccino) and their 100% Mignola olive oil.
Some Recommended Producers
Top Italian olive oil makers include many winemakers, like Antinori, Avignonesi, Castello di Ama, and Badia a Coltibuono.
Great olive oils to look out for are:
Ferento
Gianfranco Becchina
Vila Cappelli
Vittorio Cassini Classico
Stefano Bartoli
Pianogrillo
Cetrone Fruttato Intenso
Related Blog Posts: