Love Italian Cooking? Want to dedicate yourself to making Italian recipes from scratch, and need a list of the essential kitchen "musts" for gadgets and ingredients?
Here is our essential list, and readers: please send in your tips and advice so we can make the list even more complete!

Essential Ingredients & Gadgets for Italian Cooking
Fresh herbs
Basil, parsley, rosemary, sage, oregano, bay leaves, marjoram
Fruit and Veg in Season
Like garlic, onion, celery, carrot, Peperoncino (small chili peppers) lemons-  ALL YEAR ROUND; eggplant (aubergine), red peppers, zucchini (courgette), tomatoes (S. Marzano) figs- SUMMER ;  fennel,peas – SPRING;  radicchio, rocket,  spinach, butternut squash, endives, orange- AUTUMN AND WINTER
Cherished Italian food brands
Lavazza coffee (you can buy the beans and grind yourself), Illy (coffee), Bei & Nanini (coffee), Gerardo di Nola (pasta), Annalisa (canned tomatoes), Menabrea (beer), Baladin (beer), Mutti (passata), San Pellegrino (mineral water) , Nutella, Cedroni (sauces and preserves), Brezzo specialty foods, Prunotto (honey and jams).
Condiments
Extra virgin olive oil, Olive Oil, Truffle olive oil, Balsamic vinegar (aceto balsamico tradizionale di modena), butter (yes, butter!), black pepper mill, coarse sea salt, fine salt, Mostarda, etc. Here are some original and fabulous condiments from the Accademia Barilla gourmet shop.
Small gadgets
Mezzaluna cutter, Scolapasta (pasta strainer), Ravioli wheel, Pizza stone, Pestle and mortar (stone or wood), Mandolin, Mozzarella slicer, Ravioli tin, Parmesan Cheese grater, Garlic press, Pasta serving spoon, Parmesan knife, Peppermill.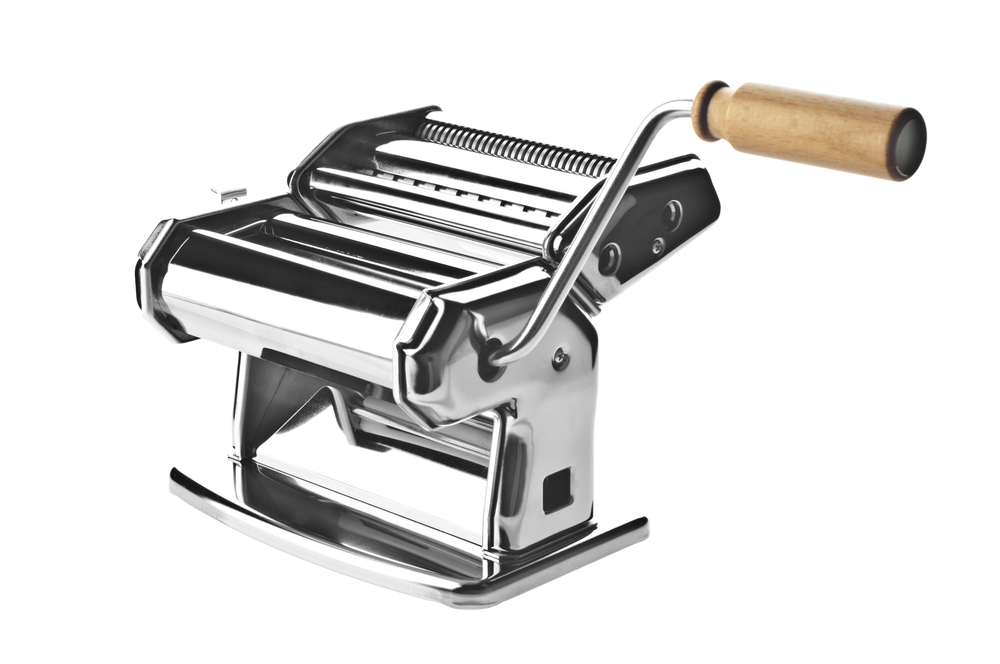 Bigger gadgets
Tirasfoglia (pasta machine), Espresso maker, De ' Longhi coffee maker, pizza oven.
Other Food ingredients to have in the pantry
Canned tomatoes , passata (Mutti), anchovies, Colatura di alici, Capers from Salina, Cucunci from Salina, olives, chicken bouillon, canned cannellini beans, canned garbanzos (chickpeas), lentils, Pancetta or guanciale, Prosciutto di Parma, Bresaola, Salami, Italian sausages, cornmeal (farina gialla), Italian 'OO' Flour, Nutella, canned tuna, polenta, walnuts, hazelnuts, pine nuts, saffron.

Italian Cheeses for Cooking
Gorgonzola
Mascarpone
Mozzarella
Parmigiano
Pecorino
Ricotta
Taleggio
Pasta
Ditalini
Penne
Rigatoni
Spaghetti
Tagliatelle
Good brands include Garofalo, Martelli, Pastai Gragnanesi, Senatore Cappelli, Setaro
Rice
Arborio
Superfino Carnaroli
Cooking wines

Drinks Cellar
White wines
Friuli super whites
Falanghina from Campania
Gavi from Piedmont
Red wines
recommended wine estates here
Liqueurs
Campari
Limoncello (keep in the freezer),
Vermouth
more on Italian spirits and liqueurs here.
Some Italian cookbooks we love
The Essentials of Classic Italian Cooking by Marcella Hazan, La Cucina: The Traditional Home Cooking of Italy by Italian Academy of Cuisine, Gennaro's Italian Home Cooking: Quick and Simple Meals to Feed Family and Friends by Gennaro Contaldo, Carluccio's Complete Italian Food by Antonio Carluccio and Priscilla Carluccio.
Related Blog Posts: