Safe Private Travel in Portugal,  post-Corona Virus
Breaking News August 2020
The Portuguese tourism authority has, as of August 2020, launched an innovative initiative for visitors from abroad visiting the country. "Turismo de Portugal", via RNA Seguros de Assistência, are offering a specific type of Covid-19 travel insurance for the current pandemic reality. This insurance cover includes "complete coverage for unforeseen situations" at extremely reasonable rates. Portugal has been the most proactive country in Europe in consolidating a "safe destination" quality seal, and this latest initiative will help consolidate its mission "to guarantee, to all who visit Portugal, that they can travel around the country, safe and with confidence". This initiative is designed to work in conjunction with the Portugal Health Passport policy, which allows tourists to register for free on the website and guarantees access to Covid -19 testing in Portugal (with results within max 72 hours). Both of these are highly recommended if you intend to visit Portugal in the near future!
Related Links:
When the current Covid-19 crisis finally recedes, there is one thing we are all going to want and need to do: take a proper vacation! And while the first vacations and short breaks will most likely be "staycations" close to home, we will want to explore further afield at some stage. For wine lovers looking for luxury private tours, Europe will be top of the list for many! The food, wine, scenery, architecture, and lifestyle are second to none.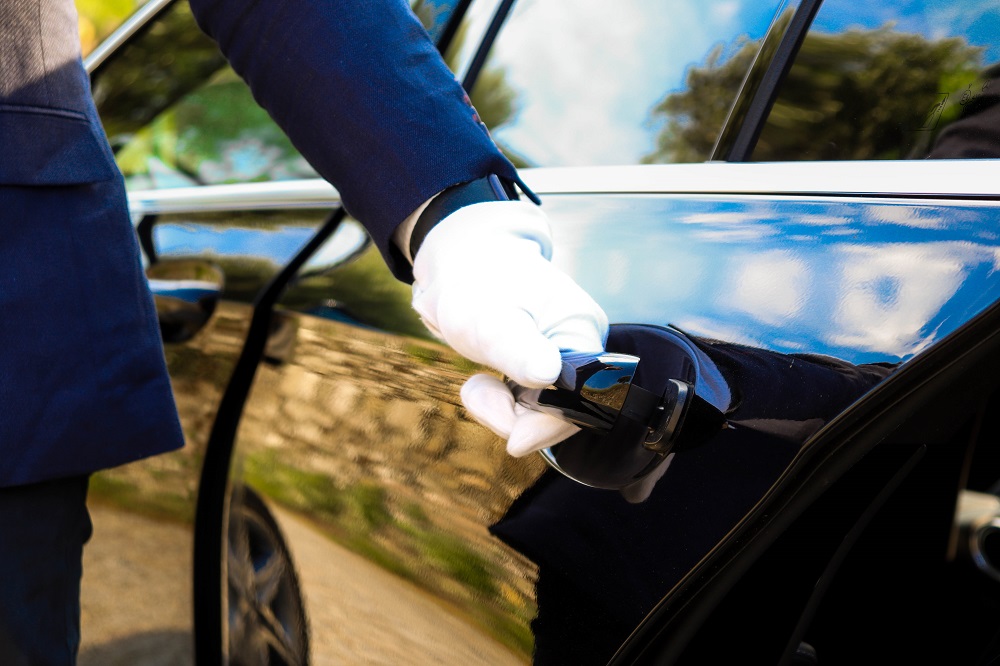 While all countries in Europe have been affected adversely by the pandemic, individual countries and regions have managed the crisis with better results. Thanks to very early action when the Covid-19 virus emergency erupted, Portugal has managed to keep the contagion levels extremely low. Portugal has successfully flattened the curve and massively contained the spread of the virus with early border closures, sheltering in place, and social distancing that is being rigorously respected.
The Portuguese Tourism Board implemented a groundbreaking "Clean and Safe" program in April. This quality seal identifies Portuguese businesses in the tourist sector that are compliant with specific hygiene & protocols set in place per activity (hotels/ drivers/ museums/ restaurants/ etc.) for the prevention of Covid-19 transmission. The seal is a "clean stamp of approval," as the most critical factors that travelers will want when they finally decide to go abroad are safety and peace of mind. If you are considering traveling to Europe soon, then one of the safest and most recommended destinations is Portugal.
Extra privacy is another aspect that guests will consider when planning a trip in these unprecedented times, and the thought of crowds and shared public spaces in hotels will initially still seem a bit too close and a bit too soon for many. Once you do decide to take the leap and book an international trip, to enjoy yourself thoroughly, you will want to be guaranteed seclusion and tranquility so that you can fully relax. We have been offering private, luxury wine tours in Portugal for over 15 years. We have observed the trend and shift to exclusive villa/ serviced hotel luxury apartment based stays, and in these unusual times, more so than ever.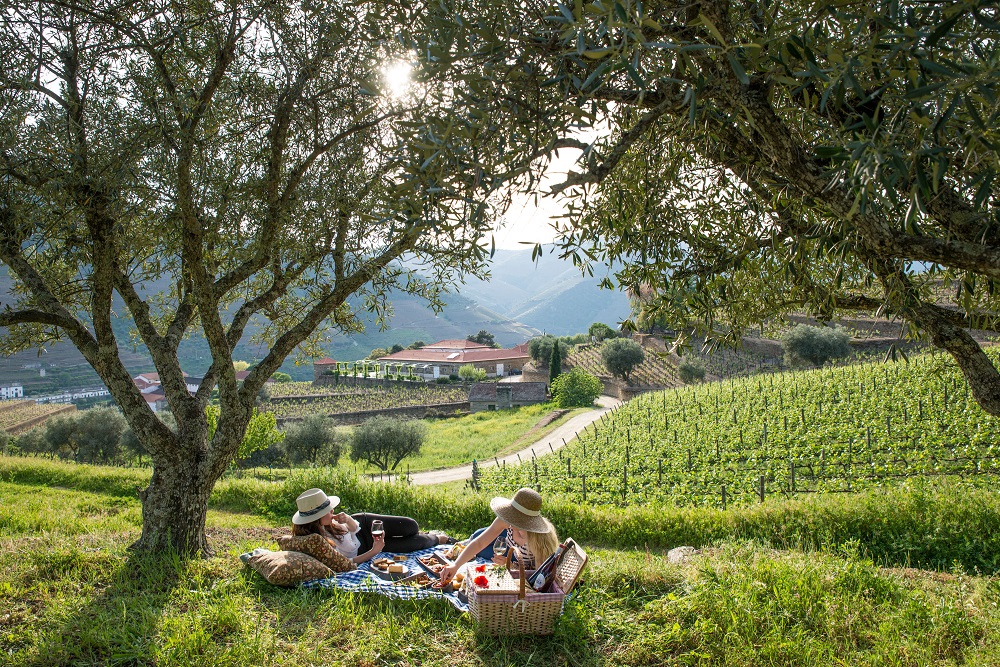 When the time is right for you to travel to Portugal, we would love to welcome you to these incredibly select and hidden properties in the wine country, offering you plenty of private space, great views, clean air, and direct access to nature and the countryside. Using the strictest hygiene, most thorough safety measures, and gold-standard cleaning, you can unwind and let us organize an unforgettable vacation for you. We will take care of your door-to-door white glove, private chauffeur services, VIP private wine tastings, and luxe picnics in the vineyards, personalized cultural experiences, and private dining- all in an environment of safety and fun. We can organize private chefs, butlers, sommeliers, and guides- all exclusively for your party.
Cellar Tours Covid-19 Safety Check List for our Luxury Wine Tours in Portugal:
"Clean and Safe" certification for all partners and suppliers
Temperature checks for guests on arrival and documented procedures if someone is found to have Covid-19 symptoms, such as requiring an additional screening or a consultation with a local English-speaking doctor.
Operational health and safety protocols for staff to give the utmost levels of safety and tranquility for our guests and likewise for our suppliers
Safe social distance and use of personal protective equipment (PPE) by all staff and suppliers
Welcome Health Pack with hand sanitizer, surgical masks, disinfectant wipes, gloves, and alcohol spray
A deep cleaning by a dedicated "Disinfection Team."
Sit back, pour a glass of wine, and enjoy the armchair travel dreaming and planning!

DOURO VALLEY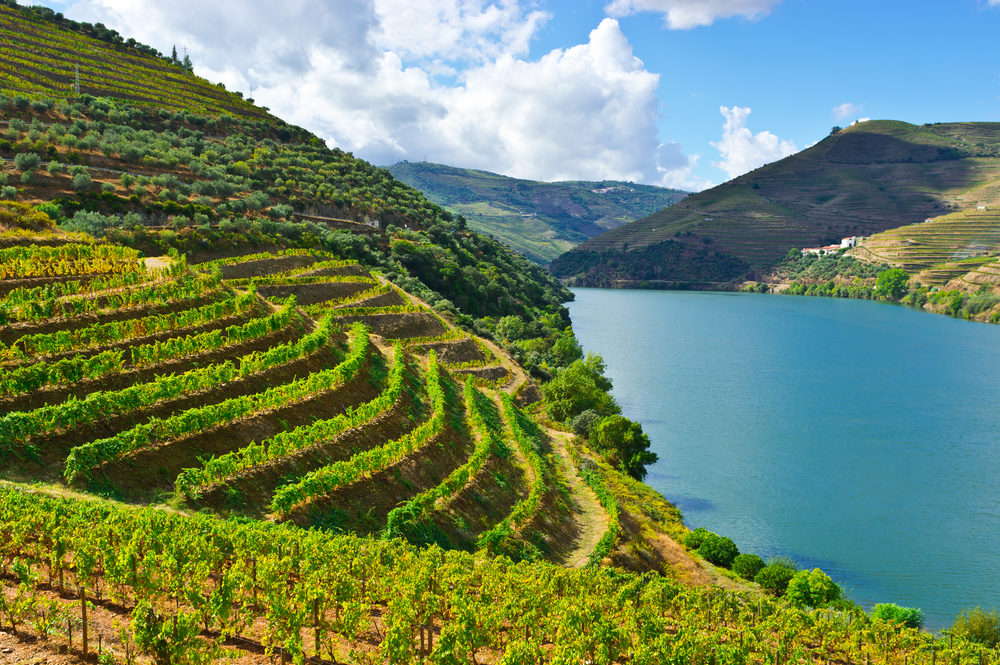 The Douro Valley is Portugal's oldest and most famous wine region and a destination offering an abundance of natural beauty. Majestic, steep terraced vineyards spotted with quaint whitewashed wine estates and historic granite manor houses spill down to the scenic Douro River. The valley is absolutely stunning! The winding country lanes are narrow and utterly picturesque, lined by vines, olive groves, and cypress trees. In Spring, the explosion of almond blossoms is wonderful. Cistercian monasteries, historic bridges, and numerous viewpoints punctuate the dramatic countryside.
Apart from the stunning scenery in the Douro, its main attraction is, of course, the wine production. This is where Port wine is made before being shipped to Vila Nova de Gaia in Porto. While port dominated the wine production here for centuries, in the last 20 years there has been a major increase in super-premium dry wines, and you can enjoy both wine styles on your private cellar tours at top estates like Quinta do Crasto, Quinta Nova, Quinta do Noval, Quinta da Pacheca, Quinta do Vale Meão and Quinta de la Rosa.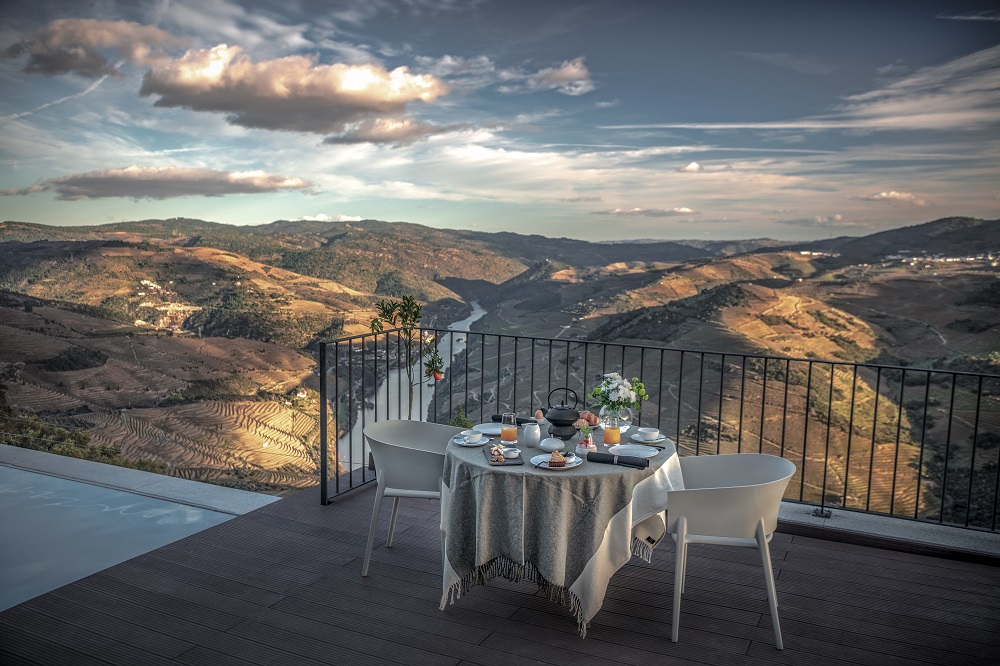 We suggest a private villa as your base in the Douro, such as this super chic, contemporary beauty. Enjoy absolute privacy, out of this world views over the vine-covered hills, and terrific amenities. You will have a private pool and ultra-luxury villa with top-class natural materials used throughout. The bathtub is special! Concierge services that we can offer as part of a package with the villa include private yacht charters with onboard wine tasting on the Douro river, private winery tours and tastings, helicopter tours over the vines, private chef, gourmet al fresco dining, private cooking classes, horse riding, transport by luxury Mercedes and English speaking professional chauffeur, elegant picnics, private garden visits and more.
Closest Airport: Francisco de Sá Carneiro Airport outside Porto
Best time to go: March – November
Related tours: Douro Valley River Cruise & Douro Valley Wine Tours
---
ALENTEJO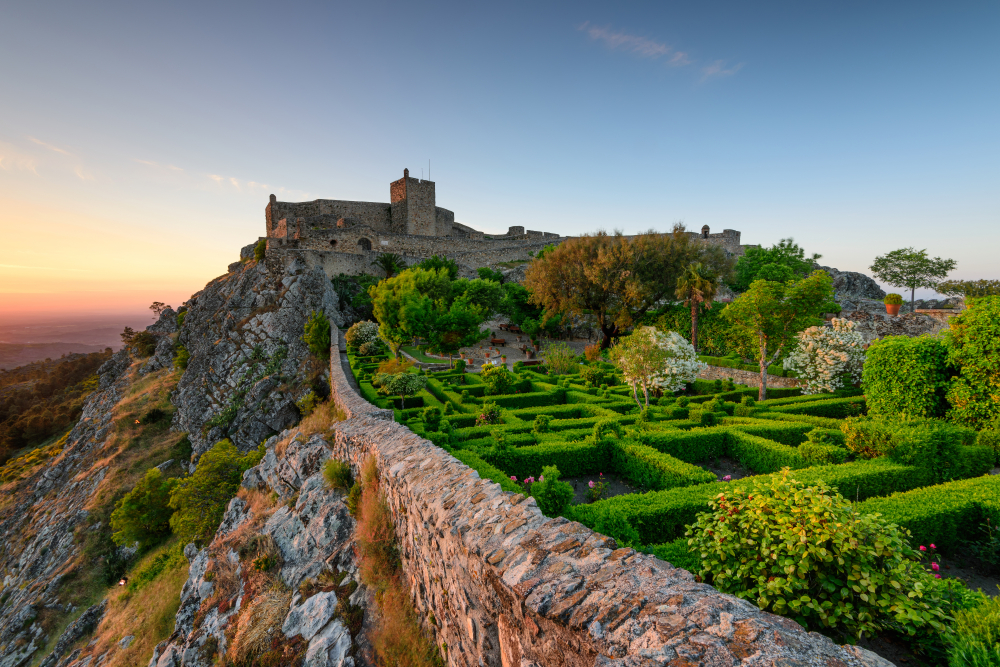 Possibly Europe's best-kept secret for wine lovers, the sun-drenched Alentejo is a dreamy, rural, completely unspoiled gem. We love it! This feels like a land that time forgot, with idyllic "out of Africa" landscapes as far as the eye can see. This supremely relaxing and beautiful region is characterized by its undulating hills blanketed by ancient cork trees, manicured vineyards, silver-green olive groves, Moorish castles, and cobblestoned, hill-topped hamlets with white and blue cottages. In Alentejo, the vistas are endless, and the effect of so much natural beauty is one of real peace.
Some of the best and most famous Portuguese wine estates are found here as well, such as Dona Maria, Esporão, Herdade dos Coelheiros, Cartuxa, and Herdade São Miguel- to name a few favorites. The main white grapes cultivated in Alentejo are Arinto and Antão Vaz, and they make delicious, rich, highly perfumed, and ripe wines. The main noble red grape used here is Aragonês (called Tempranillo in Spain), and it blends well with grapes like Trincadeira and Syrah to produce silky, aromatic wines. The winery tours we will organize for you here are all 100% private with outdoor tastings set up for you in sublime settings.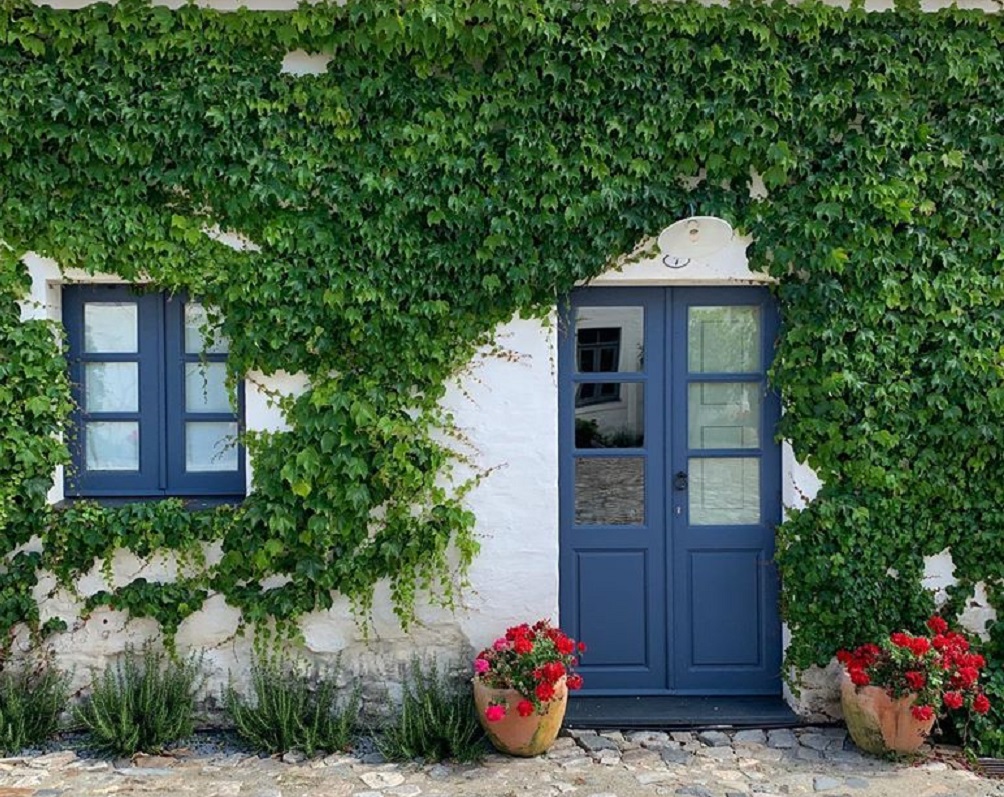 We propose a serviced, luxury "rustic chic" cottage as the base for your vacation with us in Alentejo. Set in a private corner of a vast luxury country resort, you will have all the seclusion you want while still having access to the resort services (spa, gourmet restaurant, and casual outdoor grill restaurant, Pinarello bicycles available for cycling, mountain bikes, and gourmet shop). Concierge services we can suggest for you on this trip include VIP wine experiences of course, as well as hot air balloon rides, 4X4 jeep tour through a Cork forest with a local expert, an artisan shopping tour for ceramics and handwoven Arraiolos rugs, cheese tour & tasting, professional olive oil tasting, private guided tour of Unesco world heritage town Évora, and more. And on the days you want to just chillax at your hideaway cottage without leaving the property, we can organize romantic picnics, private BBQ, nature hikes, and private wine tasting with your own sommelier.
Closest Airport: Beja Airport, Lisbon Airport
Best time to go: March – November
Related tours: Alentejo Private Tour
---
ALGARVE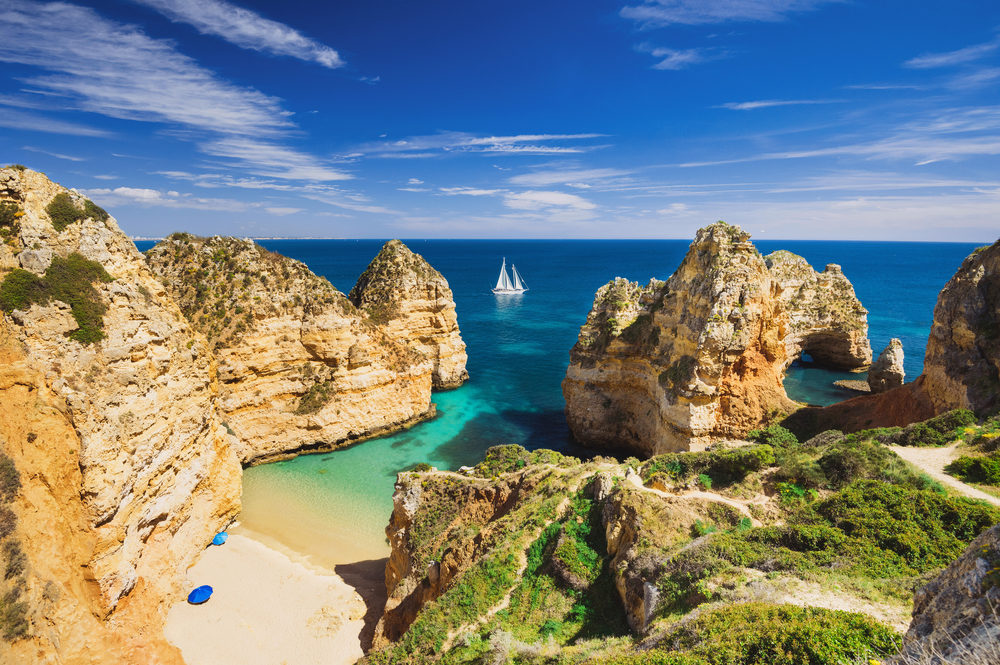 The Algarve, in Southern Portugal, is a sensational destination that has it all – amazing sunny weather nearly year-round; a stunning coastline of dramatic cliffs and turquoise coves; five-star golf courses; darling fishing villages; out of this world, fresh seafood; unspoiled mountain hamlets and forests; fabulous sailing and water sports; boutique wine estates; colorful markets; and some of the best Michelin starred restaurants in the country. For utter tranquility and the ultimate luxury escape, we recommend this spectacular seafront, private serviced villa for your vacation in Algarve. It's perfect for a family or group of friends. The location is impossibly perfect, on the cliffs directly overlooking the Atlantic Ocean. The elegant, blue, and white nautical decor and surrounding lush garden are instantly soothing. You can start your day here with a morning swim in your own infinity pool. Workout in the private gym and relax in the sauna, or just hang out on your beautiful patio and have a barbecue. Enjoy wine in the jacuzzi while watching the sunset. You'll also have a chef's kitchen, shady gazebo, and five bedrooms spread over two floors with ocean views. The villa is managed by a luxury resort, so you have access to all resort facilities, including their Michelin starred restaurant, spa, etc. while maintaining your privacy and seclusion at the same time. There are two incredible beaches within a short walk of your villa if you feel like an ocean swim.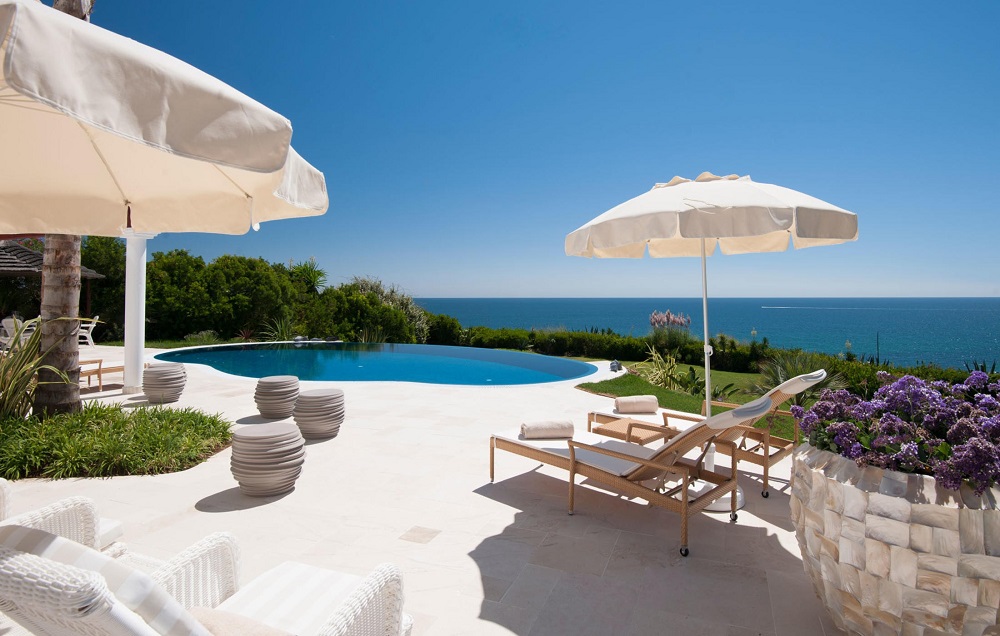 Concierge services we can include for you as part of your vacation here at the villa include private, Mercedes chauffeured winery tours and al fresco tastings; deluxe vineyard picnics; private chef and gourmet dinners at the villa; fun, interactive cooking classes; oyster tastings; catamaran sailing trips with fish lunch on an island; mountain bikes/beachcombers; golf; and private spa treatments; certified, licensed art guides for cultural tours.
Closest Airport: Faro Airport
Best time to go: Year-round. May, June, and September are especially great months.
Related tours: Algarve Wine Tours
---
AZORES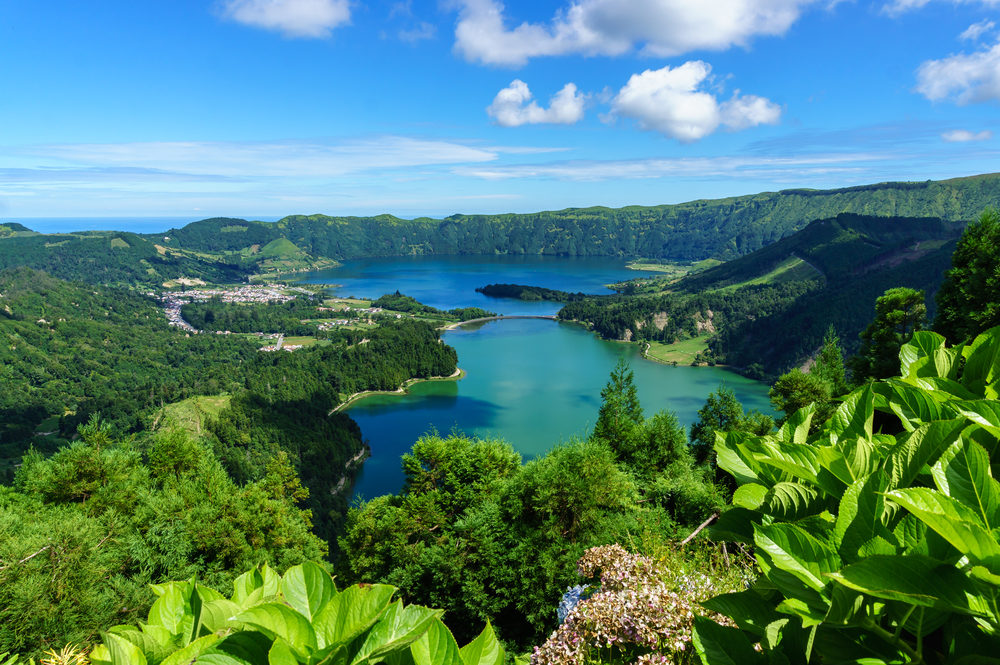 The Azores island archipelago is so special, so lush and so beautiful- a veritable "Garden of Eden" in the middle of the Atlantic. The landscapes are epic, monumental, life-affirming, vast, and subtropical. Think Jurassic Park -meets – Hawaii. This is a destination for those looking for invigorating nature, coastal and mountain walks, peaceful scenery without the crowds, and great food and wine. This sums up the Azores, and with a Portuguese colonial flavor too. Even if you have never thought about whale watching, it is an absolute must here, as the Azores is home to one of the largest whale sanctuaries in the world, and seeing these gentle creatures in their natural habitat is truly a once in a lifetime experience.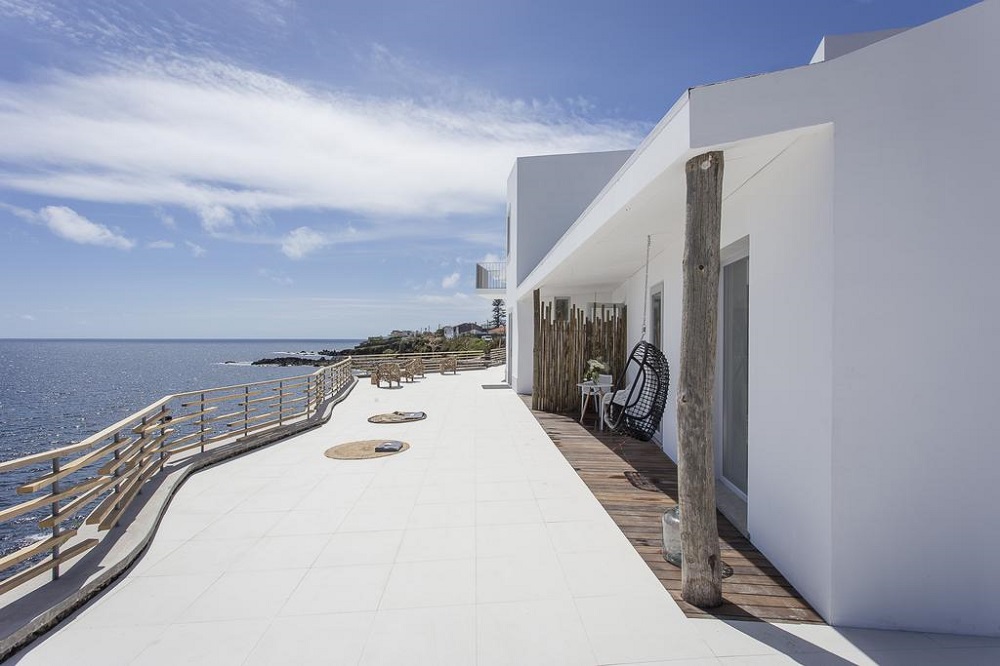 We suggest this private serviced villa on the extraordinary little Azorean island of São Miguel, as your base for this vacation. This exceptional retreat is located in a private, quiet corner of a small luxury resort, right over the sea. It is perfect for couples, and there are few places quite as truly relaxing and romantic as this almost secret part of the world. Your dreamy all-white villa has a heated saltwater pool, wooden deck, fireplace, and "Ibiza" style design. It is simple and chic at the same time and offers wonderful views of the ocean.
There are countless ways to keep you busy in São Miguel (as busy as you like, of course!) and some of the concierge services we can organize here include private winery tours and tastings; big game fishing; diving; private zodiac boats with expert marine biologists for whale and dolphin watching excursions; 4X4 jeep tours of volcanic parks with stops in the crater lakes, time to splash in the waterfalls and lookout points in the mountains; gourmet picnics in hidden locations with unbelievable views; horse riding; unique cooking workshop; Azorean wine masterclasses and more.
Closest Airport: João Paulo II Airport, outside Ponta Delgada
Best time to go: April- October for whale watching, June- September for best weather
Related tours: Azores Food & Wine Tours
Trusted Sources for up to date information:
As the situation, coined the "CovidCoaster," is dynamic and ever-changing, here is some helpful information from trusted sources regularly updated:
The STEP Program (Smart Traveler Enrollment Program ), a free service to allow U.S. citizens traveling abroad to enroll their trip with the nearest U.S. Embassy or Consulate.
Related Blog Posts: