Best Wine and Pintxos Bars in San Sebastian
The Basques, with their famous gastronomical clubs and New Basque cuisine, are rightly considered the most sophisticated and dynamic chefs in Spain. Nowhere is this more plainly evident than in the chic resort of San-Sebastian, where numerous Michelin-starred restaurants have won global acclaim and attract discerning visitors from around the world, desperate to sample the latest Basque culinary masterpiece. Catalans would undoubtedly disagree, but for lovers of fine food and delicious wine, there truly is no finer destination in Spain.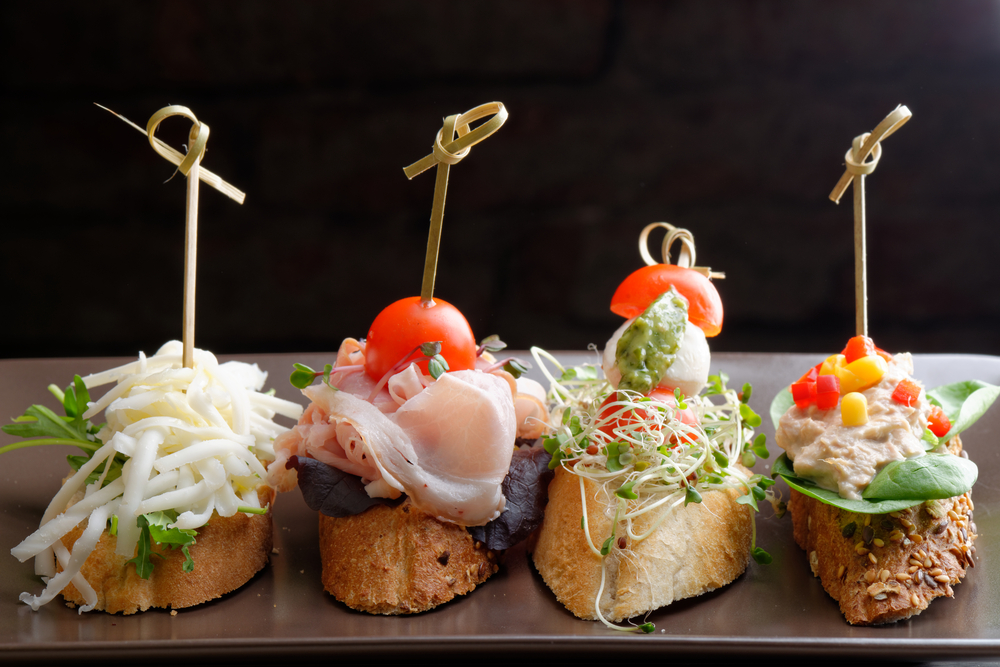 However, lurking behind this surfeit of fine gastronomy and award-winning chefs is an equally mouthwatering but less serious culinary tradition – Pintxos. These are essentially the Basque Country's version of tapas: an ingenious culinary combination is impaled on a small slice of bread by a toothpick. Gargantuan platters are brought out by bars across San Sebastian at particular times, often at around 1 pm and again at 8 pm. Pintxos can be either inventive or beautifully simple, traditional favorites include hake, cod, anchovies, tortilla, squid, octopus, stuffed peppers, and croquetas. More creative combinations we have sampled were courgettes with Roquefort cheese and mushroom-filled artichoke hearts. Such is the popularity of this Basque tradition that other Spanish cities have taken to enjoying Pintxos: Barcelona is full of Pintxo bars and locals can't seem to get enough of them.
The vast majority of San-Sebastian's best haunts are found in the fascinating old town, called the Parte Vieja. It is wedged between the bay and the Urumea river; its alleys are packed with Pintxo bars and are immensely animated at night. The only problem, therefore, is simply one of choice, many venues vie for your attention, not all of them particularly inspiring. But, don't despair, to ensure you enjoy nothing but the best, freshest Pintxos on offer, we've selected our favorite, tried-and-tested destinations below:
Here is our selection of the best Pintxos bars in San Sebastian.
Goiz Argi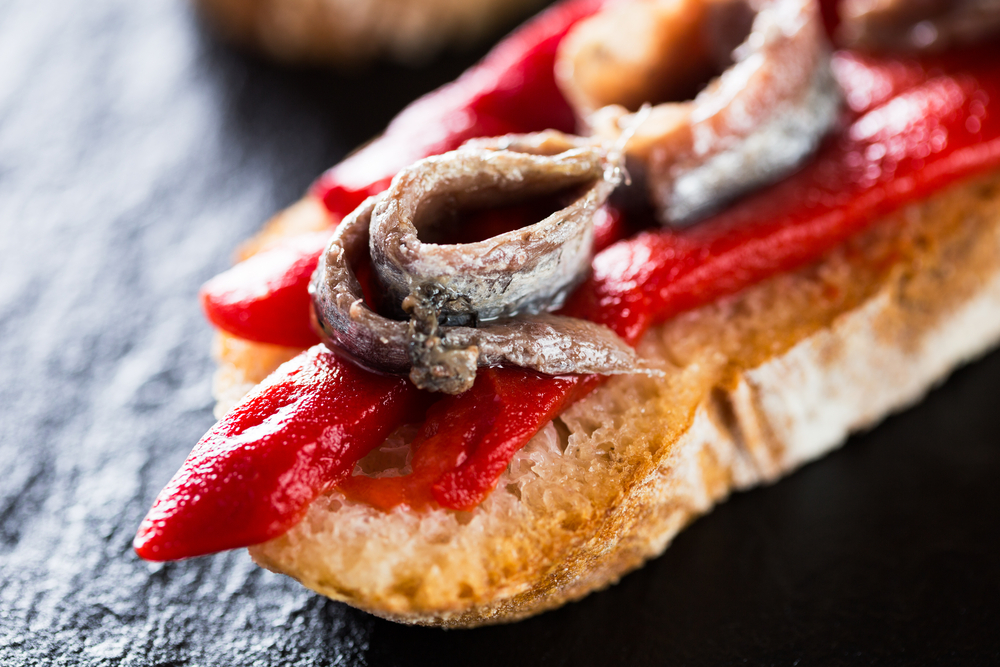 Calle de Fermin Calbeton, 4, San-Sebastian
Best for: grilled seafood
Eternally popular with all ages and nationalities, Gozi Argi cannot be missed due to its mouthwatering selection of fresh seafood tapas. Highlights include grilled squid (chipiron a la plancha), salmon sashimi with cream cheese, honey and soy or cod, passata, and black olive pate. Gozi also wisely offers some of the Spanish classics to non-seafood lovers and boasts a wide selection of refreshing whites, including the local Txakoli. We love the place!
---
Zeruko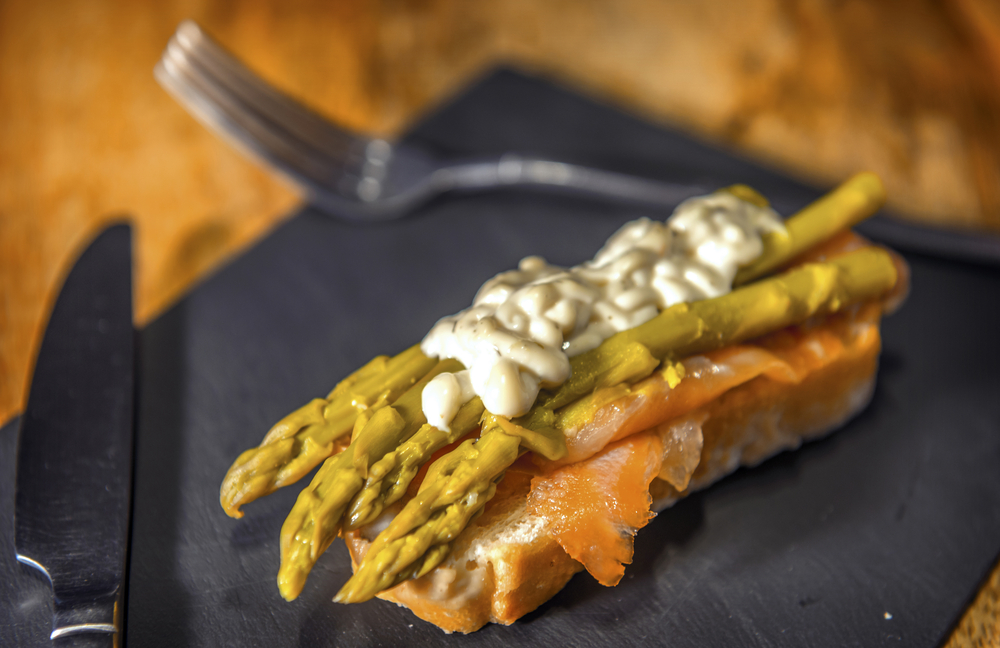 Calle Pescaderia, 10, San-Sebastian
Website: barzeruko.com
Best for: Inventive Pintxos
Zeruko caused quite a ripple in the city's dining scene when it started offering pintxos that went far beyond the tried and tested formulae of grilled seafood and tortilla. Frequently described by visitors as an 'avant-garde tapas bar,' Zeruko serves delicious, inventive pintxos in addition to the classics. It is most famous for La Hoguera (the bonfire) which is a ramekin dish filled with a smoking rosemary twig covered by a grill topped with a slice of cod. Other specialty tapas include marmitako, a Basque tuna, potato soup, and wild mushrooms with a foie gras mousse. But don't worry, all the obligatory pintxos such as cod croquetas and grilled prawns make an appearance too, in addition to copious amounts of Galician whites by the glass.
---
La Viña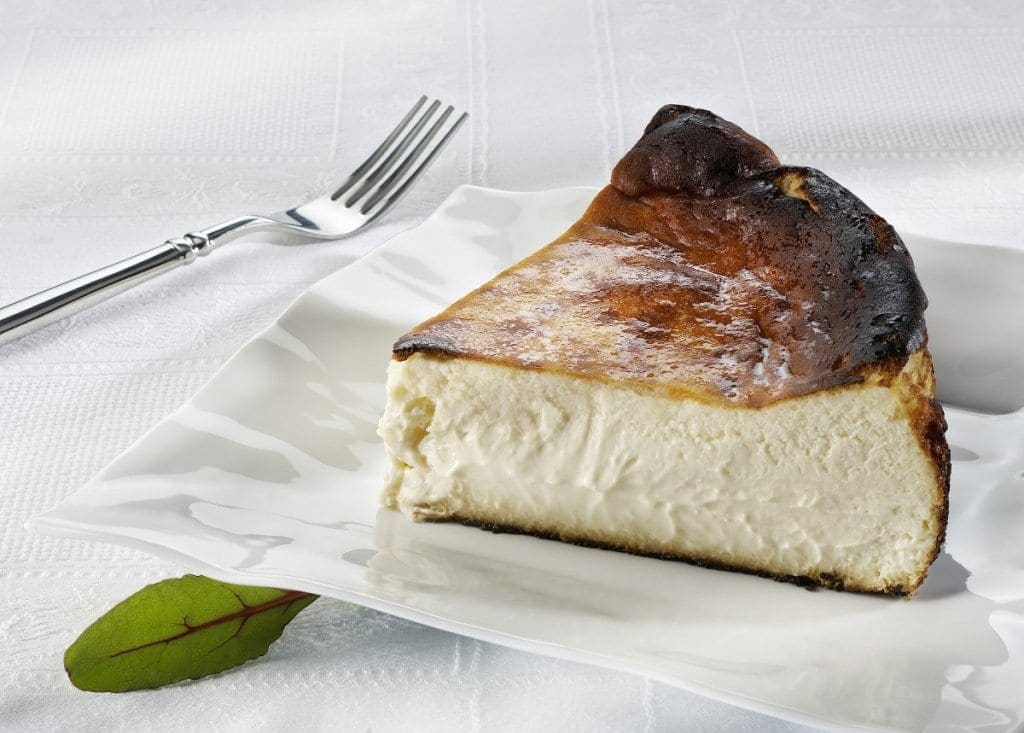 Calle 31 de Agosto, 3, San-Sebastian
Website: lavinarestaurante.com
Best for: Spanish classics
La Vina is an unashamedly old-school tapas bar and proud of it, no molecular creations are welcome here, thank you very much. Instead, feast on much-loved classics like a tortilla, albondigas, boquerones (pickled sardines) and patatas bravas. The Jamon is reputably some of the finest available in San-Sebastian, as is the effervescent and warm service from the family that runs La Vina. Be warned: it gets incredibly busy at weekends, so arrive early if you want any chance of grabbing a seat by the bar.
---
La Txuleta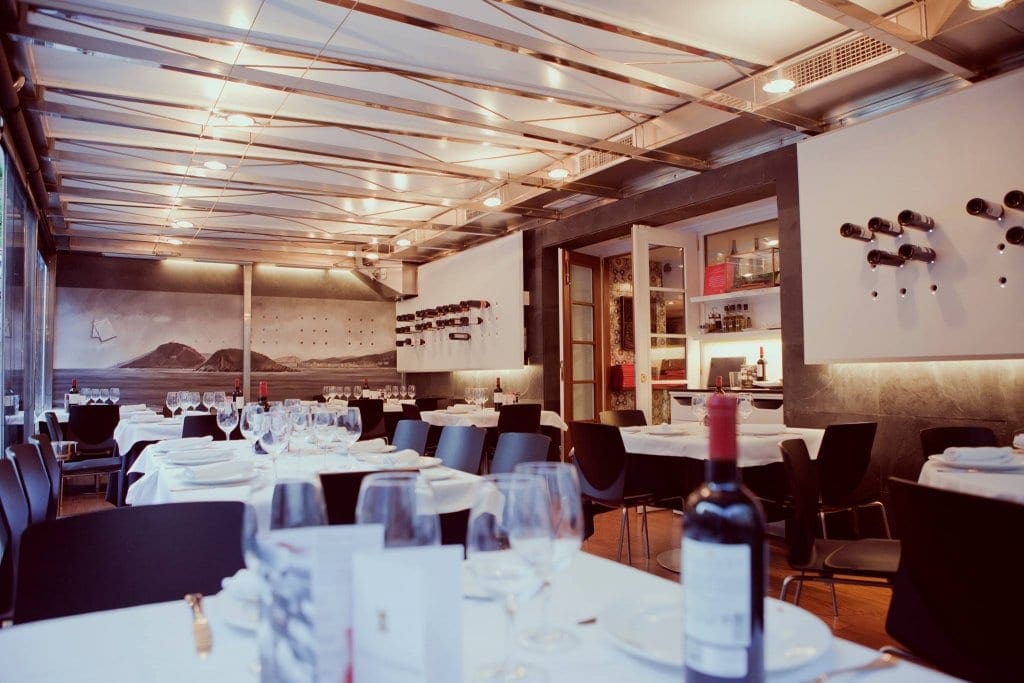 Plaza de la Trinidad, 2, San-Sebastian
Website: www.txuletarestaurante.com
Best for: grilled meat dishes
A bright, upmarket pintxo restaurant, where some excellent and creative dishes complement an impressive selection of top Spanish wines and Cavas. Owned by maestro chef Ander Esarte, the tapas bar sits next door to a more formal restaurant and packs in both locals and visitors during the summer season. They come for his legendary grilled lamb chops, which demand pairing with a fine Rioja or Ribera Del Duero. But all the tapas on offer here are undeniably superior: try everything from kokotxas (grilled hake jowls) to the grilled scallops and steak croquetas. In a word? Genial.
---
La Mejillonera
Calle del Puerto, 15, San-Sebastian
Best for: Mussels
The specialty at this cozy and unassuming pintxo bar is seafood in every shape and form, from gambas a la plancha to some of the finest calamares (squid) around. The only problem is that Le Mejillonera is far from being undiscovered, so at busy periods you'll have to fight for space, never mind a table at the bar! The seafood pintxos are superb, but what Mejillonera really does fabulously well are mussels, served in a variety of interesting ways – our favorites were covered in a Romesco like sauce. But if such nautical delights don't really take your fancy, try the patatas bravas, they're excellent. Oh, and the local Txakoli is pretty decent too.
---
Borda Berri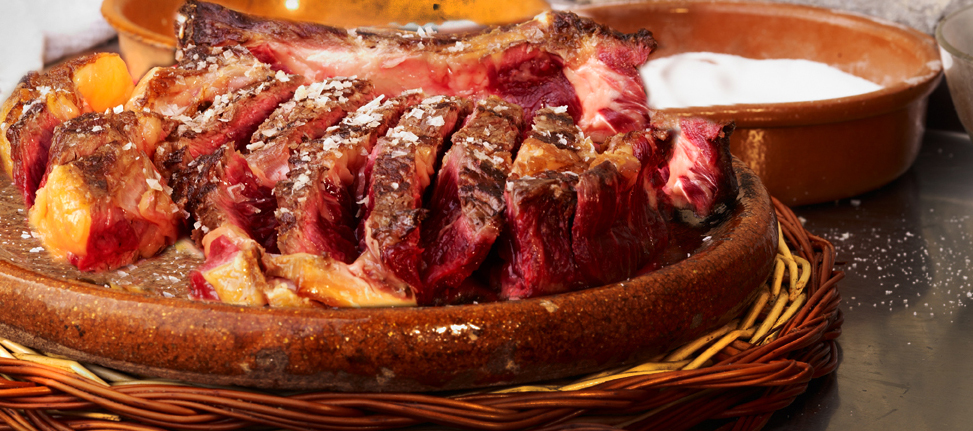 Fermin Calbeton, 12, San-Sebastian
Website: www.bordaberri.com
Best for: veal cheeks
This delightful local haunt, with a pretty tiled floor, is unpretentious, buzzy, and welcoming, supplying students, businessmen, and pretty much everyone in between with reasonably priced wine, cider on tap, and prime-quality pintxos. The emphasis is placed on locally sourced products, with the braised veal cheeks in red wine being the major highlight. The meat simply melts in the mouth and the flavors are absolutely exquisite. Other old favorites also make a welcome appearance and the staff are super friendly, if sometimes over-worked. It can be impossible to talk or move your elbows, but Borda Berri remains perpetually mobbed for its age-old look and wonderful atmosphere.
---
Hidalgo 56
Website: www.hidalgo56.com
Paseo Colon, 15, San-Sebastian
Best for: wine list
A well-kept gastronomic secret from tourists, Hidalgo 56 isn't found in the party atmosphere of the Parte Vieja, instead, it resides in the quiet business district of Gros. The clientele is therefore unsurprisingly often suited businessmen and a generally well-heeled clientele, who come to savor Juan Mari's genius. With a Michelin-star under his belt, Juan Mari understands how to muster the wow factor and his venue boasts superb gourmet tapas and a team of very professional and knowledgeable waiters. In addition to the usual fayre, look out for dishes such as a volcano of black pudding and egg yolk, or the tomato juice mojito served with Jamon serrano. But, the most remarkable attraction at Hidalgo 56 is arguably the wine list, one of the largest and most diverse in the city. We'd plump for a glass of Cava, before enjoying a bottle of Vina Ardanza Rioja Reserva, silky, smooth, and utterly divine.
---
Casa Senra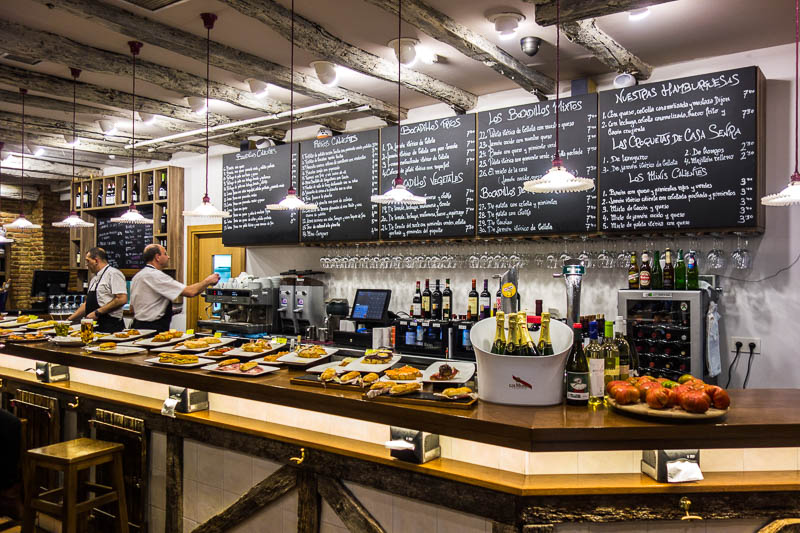 Calle de San Francisco, 32, San-Sebastian
Best for: grilled cuttlefish
A superb pintxo bar with an enthusiastic following of both visitors and regulars, situated just over 5 minutes walkway from San-Sebastian's main surfing beach. Sit by the lively bar area and order some clam croquetas and vermut (vermouth) to whet your appetite, followed by Casa Senra's signature dish: grilled cuttlefish on a bed of chestnut puree, served with black squid ink. It works surprisingly well with Godello. Later there is a healthy mix of classics and more experimental dishes, we love the morcilla and Jamon de bellota bikini, washed down with a glass of Ribera Del Duero. After which the world is your oyster, mussel, or clam.
Related Posts