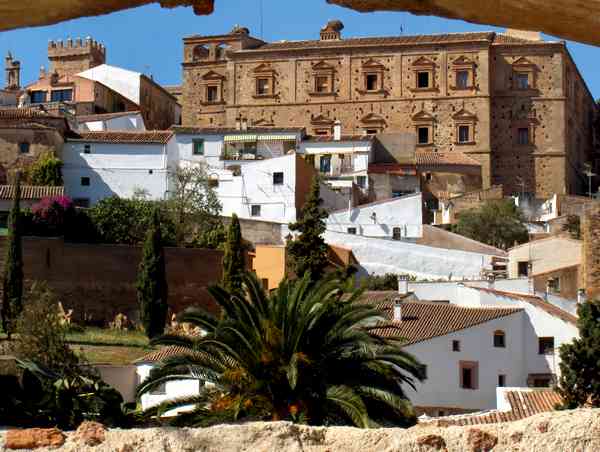 The Spanish southwestern region of Extremadura is one of our most cherished, and we love going back often to enjoy the historic villages, breathtaking Jerte Valley (famous for its Cherry Blossoms) and for eating well. This region is off the beaten tracks for many foreigners and is refreshingly free of the tourist crowds. There are some truly fantastic small historic towns, our favorites being Trujillo and Cáceres. Extremadura produces a wide range of gourmet products from cheeses (Torta del Casar, Queso Ibores, Queso de la Serena, etc) to smoked paprika (Pimentón) to the famed Jerte cherries and yes, even wines (the up and coming appellation is Ribera del Guadiana).
Pimentón-This essential ingredient in any Spanish kitchen, paprika, is made with smoked peppers and can be dulce (sweet) or picante (spicy). The texture is like a velvety powder and the color is blood red. It is used in a variety of stews, can be used to spice up chorizo, is a delicious addition to soupy potatoes (like patatas a la riojana) and of course is doused in many local recipes in Extremadura like the Caldereta de Extremadura (slow cooked and stewed lamb). Pimentón is produced in a variety of villages such as Jarandilla de la Vera (with its beautiful Parador). Here is a list of Pimentón de la Vera producers.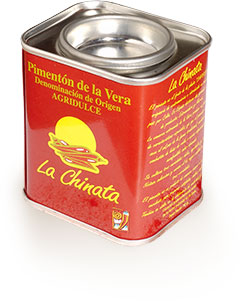 Torta del Casar- This heavenly cheese is made with organic sheep´s milk and is one of the most tantalizing gourmet goodies in the WORLD. The cheese is circular and the inside is soft, semi liquid and has an almost melted texture. It is usually served with crackers or bread, and can be topped with caramelized onions, chutney or relish or as a sauce on solomillo steak. Production of Torta del Casar in Extremadura is thankfully still on a small and artisan basis and the quality is ultra high.
WHAT TO DO IN EXTREMADURA- The beautiful towns of Trujillo and Cáceres are a must and would be the best bases. The town of Merida is not particularly nice at all, but the Roman theater and Archaeological museum are fantastic for history buffs.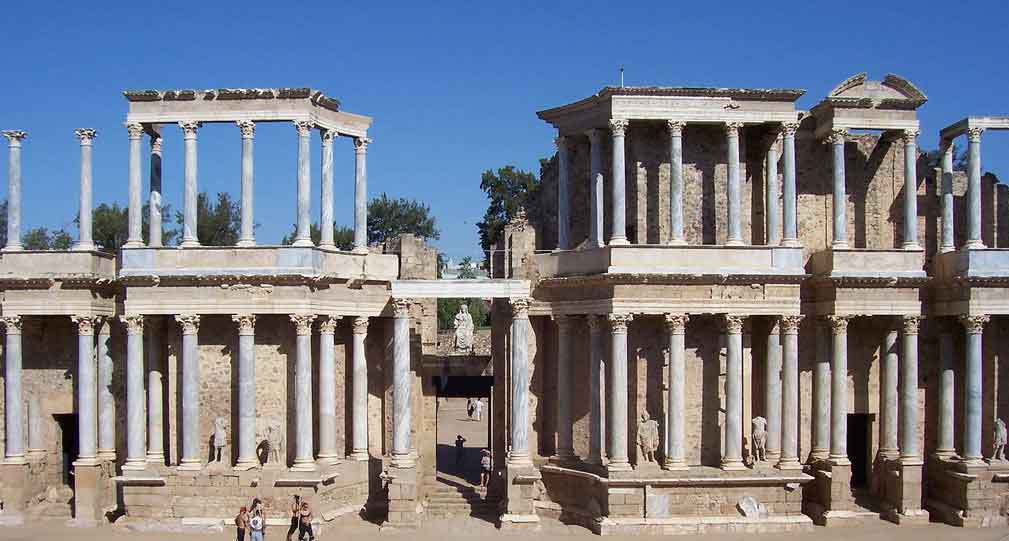 WHEN TO GO- Trujillo holds the big cheese festival- Feria Nacional del Queso– in early May, fun for gourmets. Spring is the best time to see the spectacular cherry blossoms in the Jerte Valley. Check out the Theatre Festival at the outdoor Ancient Roman amphitheater of Merida from June to August Autumn and winter are romantic in the historic castle towns, with cozy restaurants, chilly nights and bright sunny days.
WHERE TO STAY– We love the beautiful recently restored palace in Trujillo NH Palacio de Santa Marta, an absolutely stylish gem in a dramatic historic setting. In the countryside of southern Extremadura, the luxury Rocamador is a destination hotel that attracts an eclectic mix of Spanish celebrities, socialites and artists.
WHERE TO EAT– For atmosphere (medieval tower) and great food, the Torre de Sande in Caceres is a must. Also in Caceres the Atrio restaurant, located in a weird modern part of this medieval city, won the best wine list in Spain by Wine Spectator. While we had a mixed experience regarding wine service due to an inexperienced and unfortunately rude waiter, the food is really amazing and the owners are very attentive and come out to greet clients after the dinner. The restaurant in Monasterio Rocamador is highly recommended, as is Altair in Merida.