What could be more evocative of the famed Italian Dolce Vita than sipping cocktails under an open summer sky, reveling in the magic of one of the world's greatest cities – Rome?
The Italian capital, of course, hardly needs an introduction. This vibrant and historic city is as culturally rich and architecturally stunning as they come. The nightlife scene, after a somewhat slow start, is now one of the best in Italy: bars, restaurants, cafes, and pubs to suit all tastes and budgets. Also, stylish rooftop bars now abound in Rome, glamorous destinations where you can dress to kill and enjoy pre-dinner cocktails.
The scene is dominated mainly by 5-star hotels in Rome, meaning you're likely to enjoy suitably chic surroundings, a great cocktail list, and utterly professional service. Many serve a large selection of wines and smaller plates, the perfect proposition for oenophiles and those who want to avoid a full-blown meal.
The following are some of our favorite roof bars in Bella Roma:
1. Terrace Bramante bar at Hotel Raphael
Address: Largo Febo, 2 (Piazza Navona) – 00186 Roma – directions
Website: www.raphaelhotel.com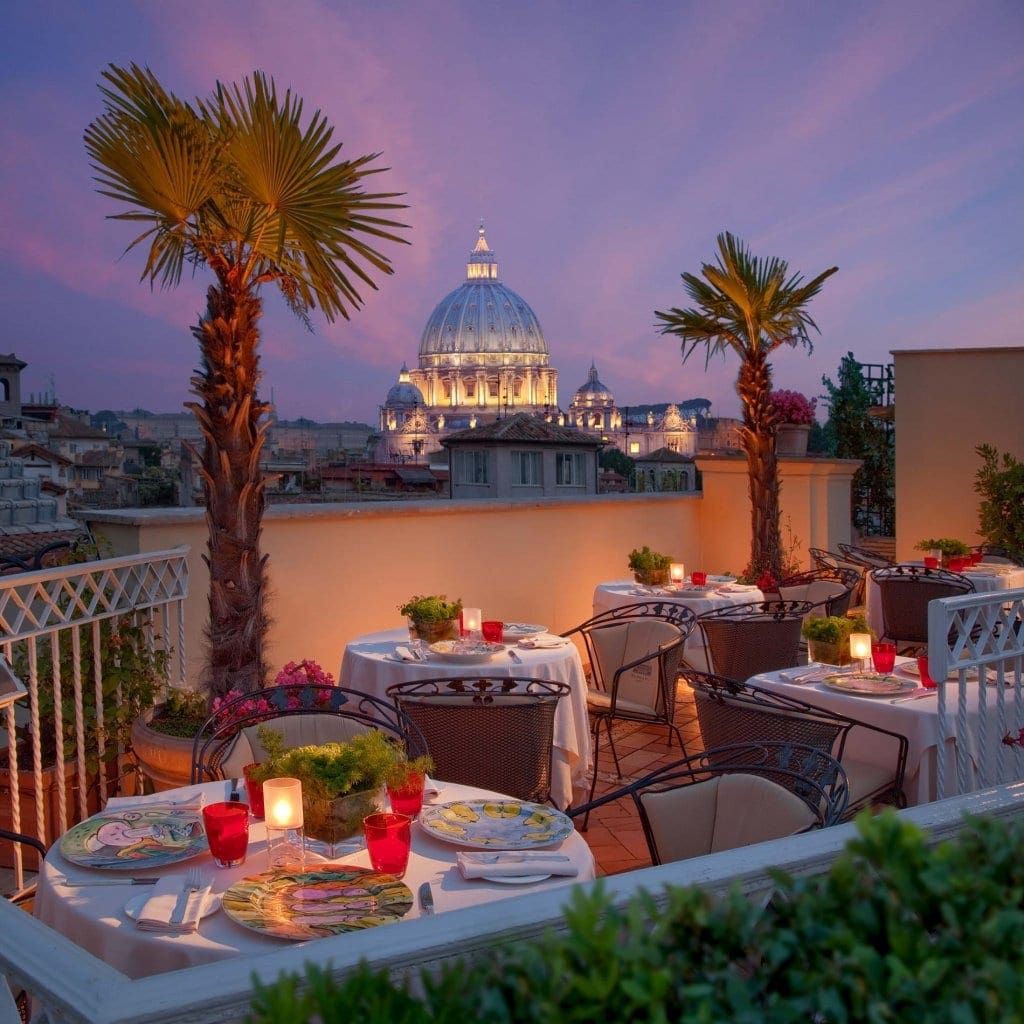 There is no better way to start an evening than sipping a cocktail at the gorgeous hotel Raphael, overlooking Rome's famous Piazza Navona. It affords beautiful views of the Vatican, the surrounding colorful rooftops, and energy from the square below. The atmosphere in the evening is unbeatable, and the wine selection impressive! Hotel Raphael has one of the best cellars in Rome, including some top Champagnes and fine wines from across the globe. There is better food in Rome, but it would be hard to imagine a finer position. Whatever you fancy: morning coffee, a pre-lunch aperitif, or an evening cocktail, you're bound to fall in love with this little slice of heaven in Rome.
---
2. The American bar at Hotel Forum
Address: Via Tor de' Conti, 25-30, 00184 Roma RM, Italy. – directions
Website: www.hotelforum.com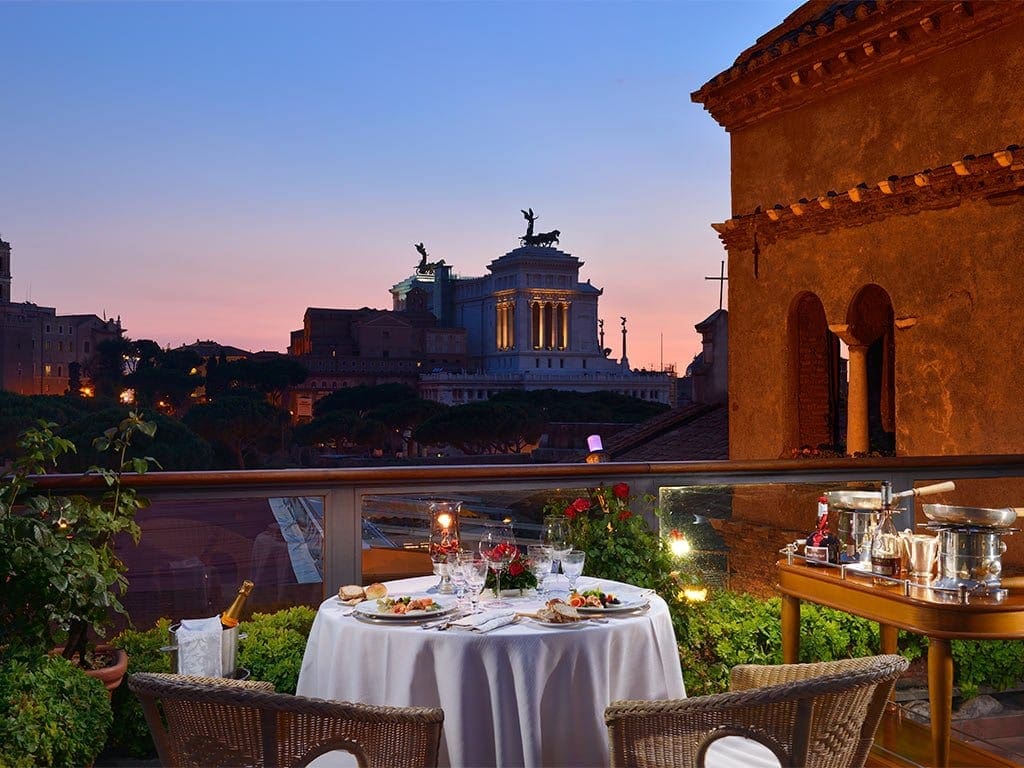 Situated at the heart of Rome's ancient center, the American Bar at the Forum has a prime position for admiring the city's Roman heritage, while sipping a glass of Prosecco (or five!). The bar has become a popular place to meet before a night out, for both visitors and locals who come for the fantastic 360-degree views of the Imperial Forum and across to the Piazza Venezia, but stay for the cocktails and delicious bar snacks. The rooftop restaurant is also one of the finest in the city, and will happily accommodate both hotel guests and visitors. The atmosphere is tranquil yet vibrant, making this unique space the perfect spot for a bit of romance with a loved one. Undoubtedly, one of Rome's best roof-top bars!
---
3. La Terrazza Rose Bar, St. George Hotel
Address: Via Giulia, 62, 00186, Rome – directions
Website: www.hotelindigorome.com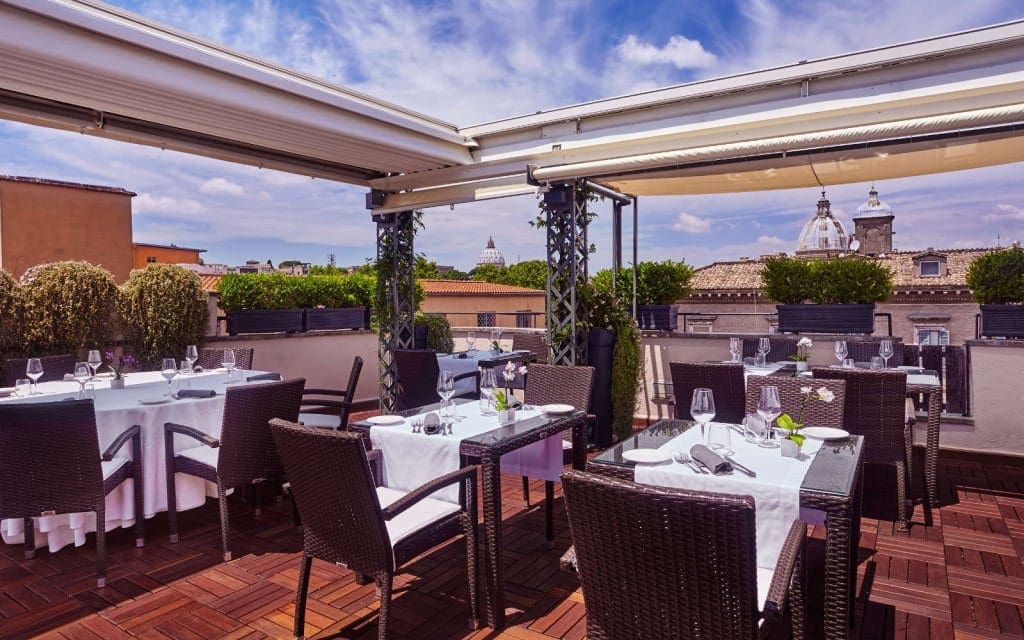 A sophisticated cut above the rest, La Terrazza Rose has an effortless chic about it. Offering a unique concept unheard of in Rome – at least to our knowledge – the bar is devoted solely to rosé wines and champagnes. The views from this sleek, cream-colored space are some of the best in Rome, attracting a well-heeled, chic crowd. They come for the comfortable setting but stay for the incredible selection of rose by the glass. All this pink stuff is bound to work up an appetite, luckily La Terrazza rose serves a mouth-watering selection of seafood, the oysters being a particular highlight. With such stunning vistas over the capital in this setting and superlative rose on tap, it's not hard to see why La Terrazza is rarely anything less than packed.
---
4. Posh Bar at the Hotel Palazzo Naiadi
Address: Piazza Della Repubblica, 47 00187 Rome – directions
Website: www.dahotels.com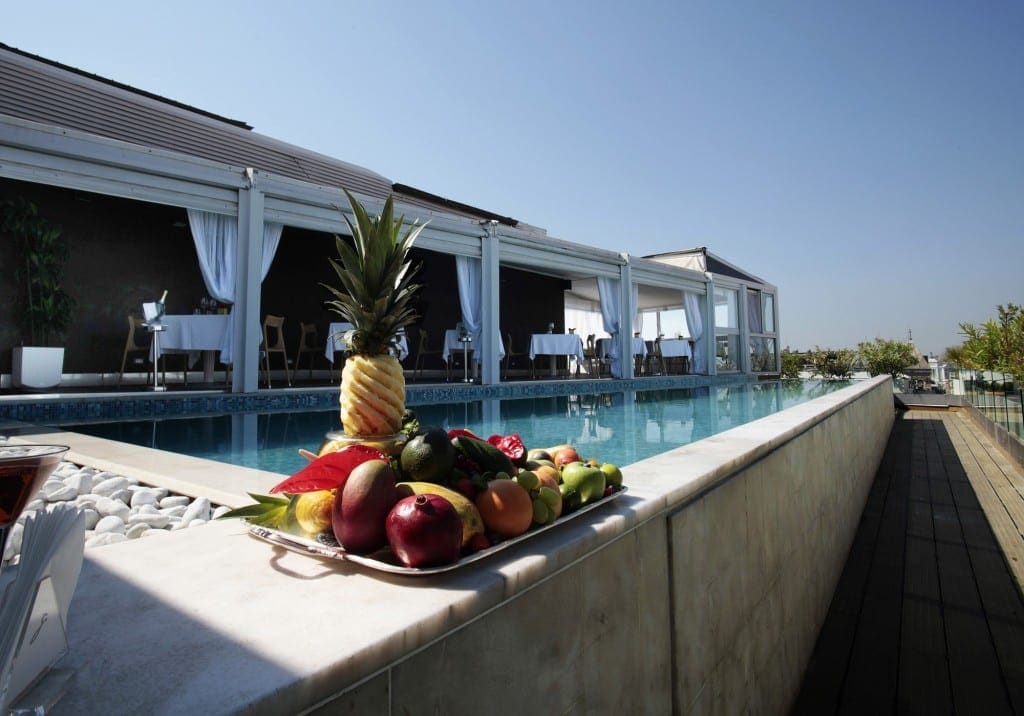 Facing the imposing Piazza Della Republica in central Rome, lies a gem of a pool bar and restaurant, always full at weekends with revelers enjoying a poolside cocktail. The terrace overlooks the spectacular fountain of the Naiads and the church of Santa Maria degli Agneli – quintessential Rome then! Visitors can use the pool (for a fee) and are welcome to sip a cocktail until 1 am or enjoy a lavish dinner overlooking the pool. The Palazzo Naiadi also has one of the best Champagne bars in Rome, Champagnerie Tazio, where you can enjoy a formidable selection of local and international fizz by the glass, including top Champagnes like Dom Perignon and Krug.
---
5. Roof Garden Bar, Hotel Minerva
Piazza Della Minerva, 69, 00186, Rome – directions
www.minervaroofgarden.it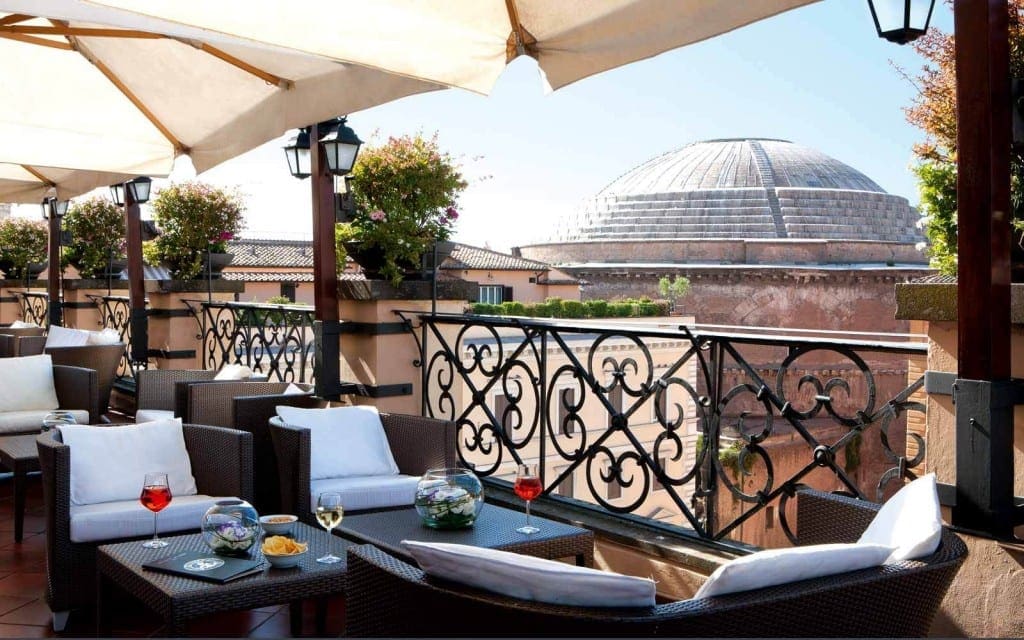 Effortlessly chic, grand and intimate at the same time, the historical and luxury hotel Minerva has one of the most elegant terrace bars in the entire city. The roof garden is a blissful haven away from the chaos and traffic of Rome; the white tuxedo jacketed staff are effortlessly professional and welcoming, offering both guests and visitors a wide choice of Champagnes, cocktails, and wines by the glass. There is often a pianist playing soothing music, creating a lovely soft ambiance for admiring the wonderful views of the Piazza Venezia and St Peters in the background. A fantastic space for the great and the good to meet, which manages to remain decidedly un-pretentious!
---
6. 0-300 Roof Garden [closed]
Via de Vantaggio, 14 – 00186 Rome
0-300 degrees wins the award for the coolest Rome nightspot. Situated on top of the Michelin starred All'oro restaurant, diners and revelers can enjoy a range of superlative small plates and snacks on a small, delightful terrace, ranging from crudo, raw fish and hams to delicious seafood and meat appetizers cooked on an outside grill. The views, as you'd hope in Rome are amazing; the hot ticket is before sunset, watching the sun disappear behind the Vatican while sipping a cocktail. Which incidentally, are some of the best and most inventive in Rome, head chef Riccardo di Giacinto loves the weird and wonderful. We'd go for the croccante all'amarena, a heady concoction of chocolate, crème de lait, and cherry.
---
7. Champagnerie ai Limoni – Grand Hotel Plaza
Address: Via Del Corso, 126 – 00186, Rome
Website: www.grandhotelplaza.com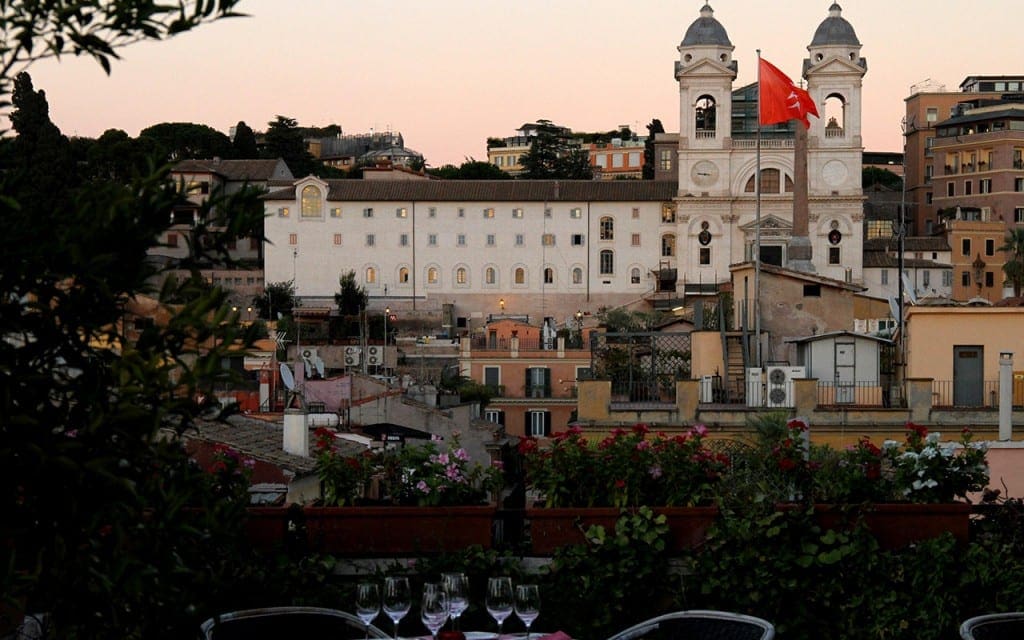 A wonderfully secluded hideaway hidden deep inside Rome's touristy historical center, the Champagne terrace of the Hotel Grand Plaza offers an irresistible combination of fizz on tap and suitably romantic atmosphere. A small space adorned with citrus trees and flowers gives unrivaled views of the Piazza di Spagna and medieval Rome. The list of cocktails is impressive, but you all know why you came here – for the fizz! Make the waiters happy by sticking to Italian Franciacorta or splash out on vintage bubbly from Champagne, but whatever your choice, you're guaranteed a memorable evening at this little slice of Italian heaven.
Just be aware that opening times are limited and weather permitting: weekends from 6 pm – midnight.
Enjoy the Roman Summer!!
Related Posts: