Places to go and visit in Sicily
Sicily is a fascinating place to visit and actually merits MANY visits as there is simply so much to see and do. For a small taste of ideas for touring in Sicily– ski volcanic Mount Etna; see a lava "show" on Stromboli in the Aeolian islands; taste wine all over the island from Marsala to Vittoria to Etna itself; go snorkeling in Sicily´s myriad divers´ paradises (Lampedusa, Pantelleria, Aeolian islands, Egadi islands, Tindari and Riserva Dello Zingaro, and so many more spots), go hiking in the Nebrodi mountains;visit saltworks near Trapani and fascinating tuna fisheries, see Ancient Greek ruins in Segesta, Selinunte, Agrigento, and Syracuse; visit Sicily´s Baroque gems (Ragusa, as below, Modica, Noto, Scicli); see Ancient Roman mosaics at Piazza Armerina; go cycling on the cycle paths from Siracusa to Ragusa, crossing the Iblei mountains; go "Canyoning" near Mount Etna; go windsurfing in colorful Mondello; visit fascinating cities like Palermo and Catania; and quaint towns such as Cefalù, Sciacca and Randazzo. But if for whatever reason you could only spend a short while in Sicily, then don´t miss these beautiful Sicilian towns, in the west, southeast and northeastern corners of the island:
ERICE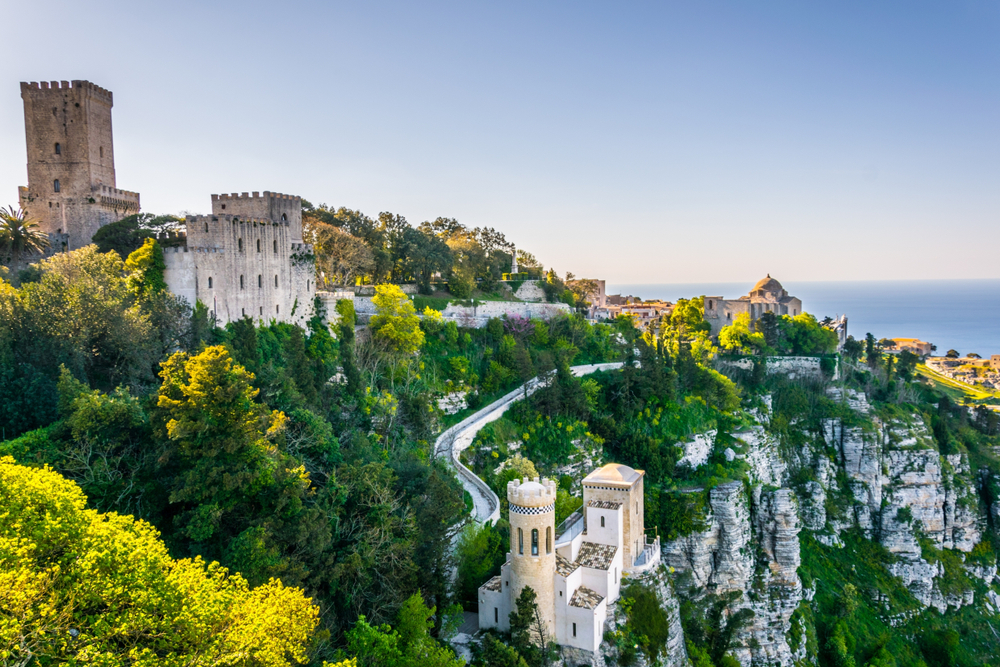 Erice called the "city in the clouds" is extremely picturesque. Located in Western Sicily between Trapani and the beautiful Zingaro marine reserve, Erice is a  splendid little hamlet perched atop Monte San Giuliano with its lush pine forest. It features a medieval cluster of narrow laneways intertwining with charming squares, ancient stone houses and some stunning monuments. Imagine cobblestoned streets, castles, dramatic views over the sea, and wildflowers blossoming in the valley below. Erice has it all for such a small town and is in easy reach of Palermo if you wanted to do a day trip.
What to do and see
Visit the 12th century Venus castle (a Norman castle built on the ruins of an ancient temple dedicated to Venus, the goddess of love.) The views from the castle´s towers are incredible and its history is fascinating (over the centuries it´s been used as a dungeon, watchtower and governor´s mansion). The Chiesa Matrice, located near the Porta di Trapani entrance to the hamlet,  is a church dating back to the 14th century (although repaired extensively in the 18th century), and is worth a look. The Cyclopean walls (part of the city´s original ancient wall from the time of the Phoenicians) are partially intact and they extend over 2000 feet. The "Porta Spada", gateway, still stands. Its name means "Sword gateway" and refers to a massacre that took place here during the rebellion of the 13th century against Angevin rule (called the "Sicilian Vespers". From the Giardino del Balio gardens around the Venus castle, you have FABULOUS  views of the sea and the Egadi islands in the distance. A few miles from Erice, another point of interest is the Tonnara di Bonagia, with the Museo Della Tonnara. This is a 17th-century tuna fishery that you can visit (part of it is a historic hotel now, in what was their own self contained village.)
Wine tasting in Erice
While in the area you must try the superb wines from the Fazio and Firriato estates. You can also visit some of the wineries in nearby Marsala, some open to the general public.  For private VIP tours, we offer Mercedes chauffeured wine tours in this area of Western Sicily.
Where to stay
While not in Erice itself, about an hour and a half´s drive you have the fabulous ultra-luxury 5* Kempinksi spa resort, our favorite hotel in Western Sicily. It can be used as a base for visiting Erice as well as Marsala, the salt works of Trapani, Greek Segesta and wine tasting to top estates like Planeta. For something closer and not as extravagant, you could stay in the 17th-century inn 3* Baglio Santa Croce.
Where to eat
Monte San Giuliano is a must, famed for its elegantly presented local cuisine and for its country chic atmosphere. A sublime and "must visit" bakery and patisserie is the Pasticceria Maria Grammatico.
RAGUSA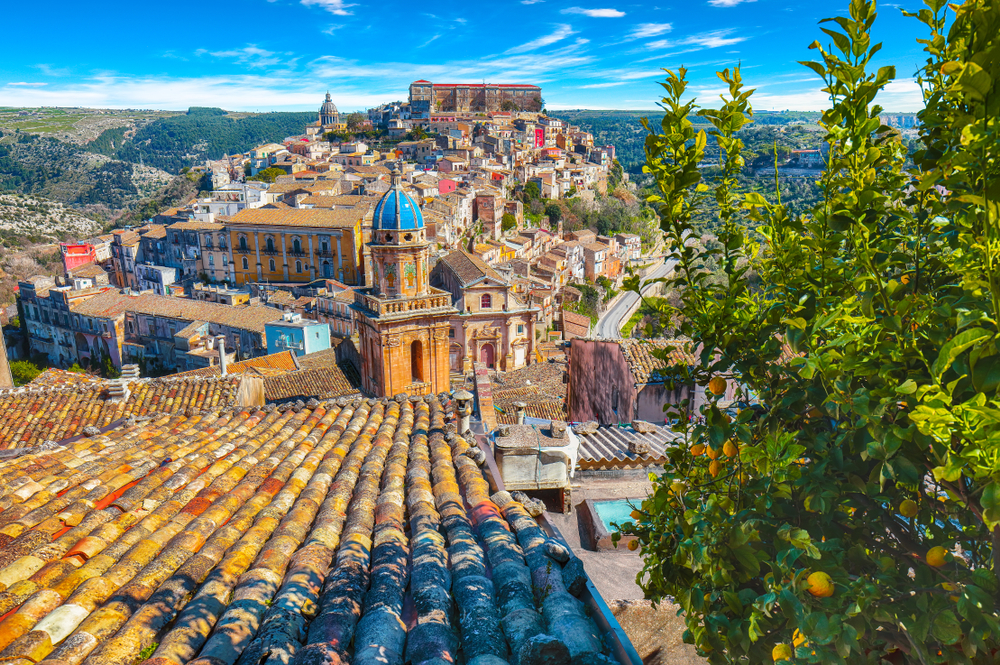 Ragusa is one of the Baroque jewels of the southeastern Sicily, located in the Unesco protected Valley of Noto (with other Baroque towns such as chocolate making Modica, Scicli, Noto and ceramic making Caltagirone).  The city is divided into two sections, the "new" Baroque Ragusa and quieter, wonderful Ibla. Much of this ancient town was destroyed in the famous 1693 earthquake which devastated this corner of the island and was rebuilt in the Baroque period. We love Ragusa for its atmospheric location, decadent Baroque flourishes and for its stellar restaurants like the Michelin starred Il Duomo, a "must" while in Sicily (see below).
What to do and see
In Ragusa, the 18th-century cathedral of St John the Baptist is definitely worth a visit. the Santa Maria Delle Scale is a must, standing at the top of 340 steps (the name, in fact, means Saint Mary of the Steps) and connecting Ragusa to Ibla.  For lovers of antiquities, there is a good archaeological museum in Ragusa. Then across in Ibla, the Duomo is very impressive. Set in peaceful Piazza Duomo, this church has a series of beautiful stained glass windows and a collection of valuable paintings. We love the Giardino Ibleo, 19th-century gardens. Pick up a bottle of the local Cerasuolo di Vittoria wine, some Ragusano cheese, and freshly baked bread and have a romantic picnic here. Drive out of the town and admire it from many angles, don´t forget the camera as there are some spectacular panoramic views! Out of town, a nice visit is to the Donnafugata Castle and the Sampieri beach.
Wine tasting Ragusa
There are some excellent wineries within the nearby Cerasuolo di Vittoria appellation (famous for rich red wines made with a blend of Nero d´Avola, Frappato, and Pignatello grapes) such as Cos and Occhipinti, so keep your eyes out for those wines on local menus (and if you´d like to see the actual estates, you can contact us for private tours). Other wines from the southeast of Sicily beyond Ragusa's provincial limits include the excellent Moscatos from Siracusa (Syracuse) as well as the Moscatos from Noto.
Where to stay
For ultra-luxury and romance stay at Eremo Della Giubiliana in a restored monastery outside of Ragusa (with modern touches like a helipad!).  For something quaint, also romantic and on a smaller scale, try Locanda Don Serafino, famous for its Michelin starred restaurant.
Where to eat
The best restaurant in Ragusa and possibly all of Sicily is the Michelin starred Il Duomo, where chef Ciccio Sultano offers culinary epiphanies. Don Serafino as mentioned above is also excellent. Another recommendation is the beautiful Ristorante  Baglio la Pergola, set in an elegant ancient "Baglio" (old farmstead/ villa).
TAORMINA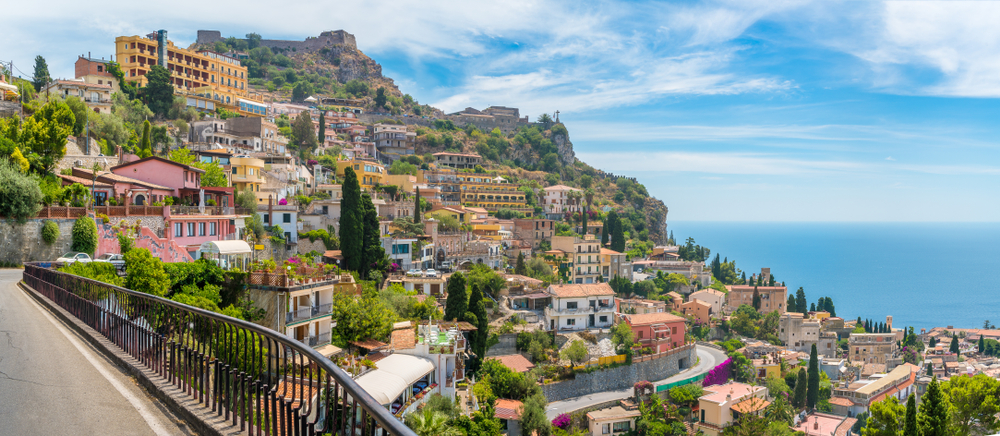 Taormina is located in an almost ridiculously picture-perfect setting- atop a clifftop overlooking the sea, in the shadow of snow-capped Mount Etna.  While dating back to Ancient Greek times (it was one of Sicily´s most important Greek settlements), most of the beautiful architecture, villas, and gardens we can admire now date back to when Taormina was a playground for aristocrats doing the "Grand Tour". It is simply the most captivating town on the island in our opinion, and in excellent condition, as it remains on the wealthy stomping grounds for Europe´s jet setters. Expect lush hillsides, outrageous villas, ancient ruins and many points of interest for history buffs, and some outstanding restaurants here, as well as some of the best hotels in Sicily.
Wine tasting Taormina
The closest wine country is volcanic Mount Etna, where some of the most exciting wines in Italy are being produced. Top estates include Benanti, Tenuta Delle Terre Nere, Cottanera and Biondi. Many celebrities and foreigners have flocked to Taormina and the Etna wine country: For example the singer for the band Simply Red has a cult wine venture here (made by golden boy winemaker Salvo Foti, the wine is called Il Cantante, ie "the singer"). Some wine estates will allow visits if you request ahead of time, and of course, we offer VIP tours to include both Taormina and the best wines of Etna.
What to see and do
Sightseeing highlights include an obligatory visit to the Ancient Greek Theatre located in an amazing natural amphitheater between mountain and the sea and overlooking Etna. Really and truly stunning place. Other places of interest include the Archaeological Museum and the Castello. For shoppers, Taormina is a paradise and you´ll find some of the best gourmet shops in Sicily (pick up sea salt from Trapani, olive oils, rare Passito and Moscato wines, chocolate from Modica and sooooooo many more goodies), excellent ceramics shops featuring traditional Sicilian ceramics, and some high end antique shops if you are looking for something unique. For nature lovers, hike down to Isola Bella, just below Taormina; it´s a protected marine reserve with crystalline waters that you can go swimming and snorkeling in. There are countless places to enjoy an aperitif or digestif with a view, and for silver screen glamour, have a (quite overpriced) cocktail at the Wunderbar.
Where to stay
Our two favorite hotels in Taormina are the 5* Palazzo San Domenico for its setting, history, and opulence; and the newish very stylish 4* Villa Carlotta, without a doubt the best 4-star option in Taormina. While we don´t like the outdated rooms of the 5* Grand Hotel Timeo, its terrace bar (open to non-residents) is simply GORGEOUS with direct views over the sea and Etna; a glass of bubbly here at sunset is a "must".
Where to eat
Taormina has no shortage of restaurants and for an informal pizza or plate of scrumptious Pasta Alla Norma, you have countless options on and around the Corso Umberto. You´ll find plenty of quaint trattorias and wine bars here, too. For fine dining, we love Al Duomo (great food and delightful location right in front of the pretty Duomo), the Michelin starred Principe Cerami Restaurant for food and elegant atmosphere  (inside the Palazzo San Domenico hotel, also open to non-residents).
Related Blog Posts: