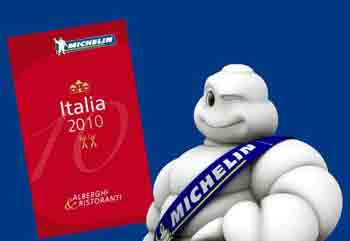 MICHELIN STARS IN ITALY FOR 2010
FOODIE NEWSFLASH: This very morning the 2010 edition of the Michelin Red guide for Italy was presented in Milan at the Triennale and we couldn't miss it!!
by Simona Piccinelli, Italy specialist and Milan correspondent
Just as Gualtiero Marchesi did last year, Ezio Santin (chef and owner of the Antica Osteria sul Ponte in Cassinetta di Lugagnano) has decided not to be in the Michelin guide, as quote "after 33 years under examination, we don't think a guide can improve our work".
Is this a new trend of big "grand old men" chefs rejecting the Michelin?
Is Michelin losing its power and authority?
We don't know and will keep our eyes peeled on this, but in the meantime we are happy to announce that the new 3 star restaurant in Italy, Da Vittorio, is also one of our favorites. Not only for the excellence of their cuisine, but also because the Cerea family happen to also be extremely nice, professional, and generous people. We worked with them during some events and catering and I can really say that they have a special place in my heart!
So "bravo" to Francesco, Bruna, Chicco, Raffaella and Bobo! Father Vittorio (who passed away 4 years ago) would be so very proud of all of them.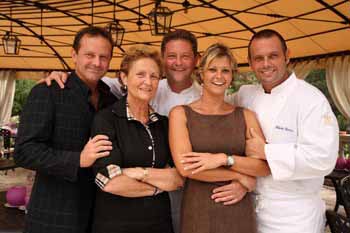 The other 3 stars are a carry over from last year, so nothing new to report there. Here is the list of our faves and the dishes we liked most and would kill to try again:
1. Dal Pescatore di Canneto sull'Oglio (Mn)
chef Nadia Santini
Dishes:
Tortelli di zucca
Frog Legs with herbs
2. Enoteca Pinchiorri di Firenze
chef Annie Feolde
Dishes:
All about Burrata
"Agnolotti" filled with polenta and tossed with scampi, tomatoes and black olives
chef Heinz Beck
Dishes:
Lamb with artichokes with garlic purée, sweetbreads and pecorino cheese
Tortelli filled with lamb tossed with pecorino cheese and mint
4. Le Calandre di Rubano (Pd)
chef Massimilaino Alajmo
Dishes:
Cuttle fish cappuccino
Roquefort cheese mousse with iced strawberry crust
5. Al Sorriso di Soriso (No)
chef Luisa Valazza
Dishes:
Sorriso risotto, a dream come true for risotto lovers (like me!) with prawns, artichokes, pine nut kernel and saffron
Fassone beef braised with Barolo sauce
New 2 stars in Italy:
Antica Corona Reale – Cervere (Cuneo)
Piazza Duomo – Alba (Cuneo)
Il Pellicano -Porto Ercole (Grosseto)
La Madia – Licata (Agrigento)
Met dell'Hotel Metropol – Venezia
Il Mosaico – Casamicciola Terme, Ischia (Napoli)
Il Trenkerstube – Tirolo (Bolzano).
New restaurants with 1 star in Italy:
Andreini – Alghero (Sassari)
Kleine Flamme – Vipiteno (Bolzano)
Ortica -Bedizzole (Brescia).
Maxi – Vico Equense (Napoli).
Roof Garden – Bergamo
Vicolo Santa Lucia – Cattolica (Rimini).
L'accanto -i Vico Equense.
Baldin -Genova.
Hotel Cinzia (Vercelli).
Al Vigneto – Grumello del Monte (Bergamo).
Osteria del Pomiroeu – Seregno, Milano.
Sissi – Merano.
Antonello Colonna – Roma
Glass Hostaria – Roma.
Castel Fragsburg – Freiberg (Merano).
La Fenice – Ragusa
Le Robinie – Montescano (Pavia).
La Meridiana – Piove di Sacco (Padova).
Caffè Le Paillotes – Pescara.
Hostaria del Mare (Modena).
Il Piastrino – Pennabilli, Pesaro.
La Fornace – Barbablu di Noli (SV).
La locanda di Bu – Nusco (Avellino)
MICHELIN STARRED RESTAURANTS IN ITALY CLOSE THEIR DOORS
What made such an impression on me was the number of Michelin starred establishments that closed this year:
4 Mori in Varese, Locanda del Palazzo in Barile (Potenza), Via romana in Bordighera (Imperia), La Bitta nella pergola in Genova, Vesta in Tivoli (Roma), L'Acquamatta in Capolona (Arezzo),  Conti Roero in Monticelli d'Alba (Cuneo), Il Gallopapa in Castellina in Chianti (Siena),  Terrazza in Montecchio di Crosara (VR), L'Arsenale in Cavegnano d'Adda (LO), Castello Banfi in Montalcino (Siena), Fini in Modena.
MICHELIN INSPECTORS
Have you ever wondered how to become a Michelin inspector? Each inspector  travels over 30.000 km, has over 200 meals in restaurants and spends over 160 nights in hotels, per year. The majority of the inspectors come from hotel schools and/or is well-experienced in the hospitality business. After sending a request to the Red Guide, you will have a meeting with a senior inspector in a restaurant and after that you will have to write a report about restaurant details (service, mise en place, whether your neighbor´s plate was empty or not when he left, etc) and meal details (food quality, cooking, raw materials, etc). If you do a superb good job, you will spend some months in European restaurants with a senior inspector and finally you will be able to work on your own!
The 2010 guide will be released at all fine bookshops on November 26th.