The Cuisine of Trentino Alto-Adige
Tucked away in mountainous northeastern Italy, Trentino Alto-Adige is a unique Italian region in culture and cuisine. The alpine region is made up of two separate and distinctive provinces. Trentino [mostly Italian Cuisine influence], lies in the south encompassing the city of Trento as well. While Alto-Adige, also known as the province of Bolzano [mainly German influence], claims the northern half of the region and shares a border with neighboring Austria. Formerly, this province was under Austro-Hungarian rule, during which time it was known as South Tyrol or Südtirol; after the First World War, the region was incorporated into Italy. Trentino Alto-Adige is technically part of Italy, though both Trento and Bolzano are their self-governing provinces. You will find more details on the interesting history of Trentino here.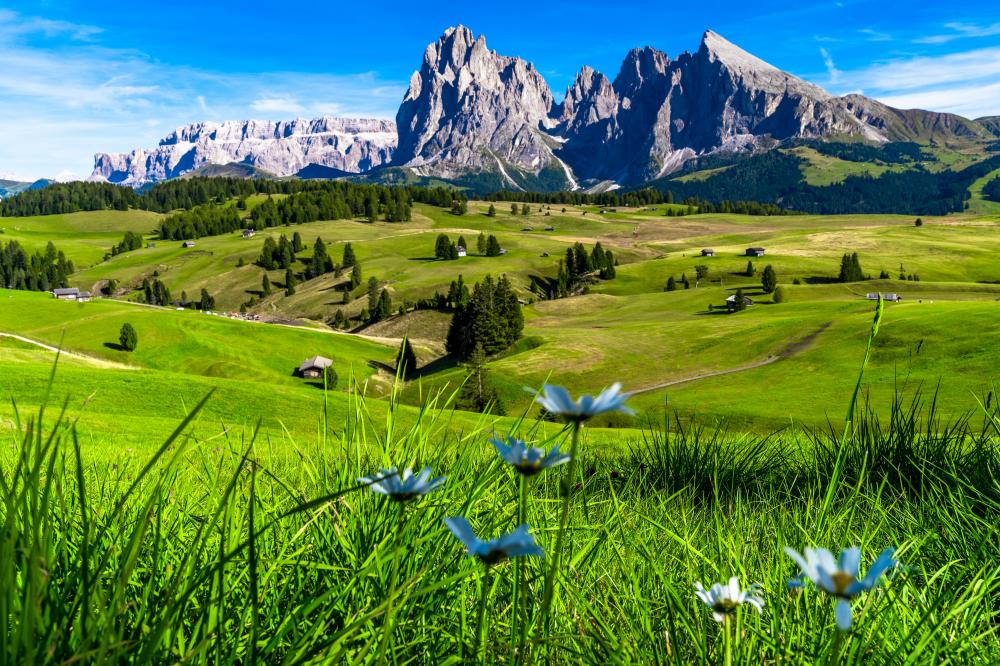 Consequently, Italian, German, and a local language called Ladin are all spoken in this region. Yet you'll hear more German spoken and find more German, Austrian, and Hungarian cultural influences in the northern Alto-Adige. However, whether you're in Bolzano or Trento, you'll discover breathtaking alpine landscapes, including the amazing Dolomites and beautiful fusion cuisine with Italian and Germanic influences.
Both Austrians and Germans contributed ingredients and recipes to South Tyrol throughout the region's tumultuous history. Whereas the southern province of Trento, more geographically aligned with Italy, emphasized Italian culinary traditions, including those of cucina povera, or poor cuisine. This meant making the most of available ingredients and resulted in many dishes based on polenta or sauerkraut. Previously, meat from local mountain animals was reserved for the upper class.
Today, these disparate culinary traditions combine to form a robust array of dishes unique to Trentino Alto-Adige. For foodies, the region offers typical Italian classics like pasta and pizza enhanced by Austrian-influenced bread, dumplings, hearty stews, schnitzels, apple-laden desserts, a plethora of cheeses, and more. On a Private Food & Wine Tour of Trentino, with Cellar Tours, you will visit the region in style, tasting the finest dishes and wines this idyllic region has to offer.
Its alpine landscape largely influences food in Trentino Alto-Adige. Distinct microclimates and varying elevations amidst the mountainous terrain mean a variety of fruits and vegetables can thrive. For example, a range of apples grow exceptionally well in South Tyrol's semi-continental climate and are produced under the Mela Alto Adige PGI. Plums are also spectacular in Trentino Alto-Adige, especially a dark purple variety called Susina di Dro. Plus, the region grows all types of red and blackberries.
Local cuisine also utilizes typical vegetables like carrots, onions, celery, cauliflower, zucchini, green beans, lettuce, tomatoes, and more. Additionally, meat is a staple in the local diet, as mountain-grazing animals provide an exceptionally high meat quality. Beef, lamb, and venison are often enjoyed, and sausages served with sauerkraut are popular, too.
Must-Try Bread in Trentino Alto-Adige
Trentino Alto-Adige boasts a diverse collection of bread thanks to its multicultural history. Known as pane in Italian and brot in German, bread relies on Italian, Austrian, and German baking traditions. As you head north, bread becomes darker and is characterized by barley and wheat, which grow plentifully at high altitudes. Bolzano alone produces between 60 to 100 different types of bread. This diversity is primarily due to historically difficult travel in this alpine zone. Therefore, recipes for various bread were created and consumed locally. Here are a few must-try breads to seek out when you visit Trentino Alto-Adige.
Fasten Bretzel
Fasten bretzel, or bretzels, are a South Tyrol classic with German roots. Made with only flour and water, monks first made these twisted, salted bretzels in the seventh century. The twisted dough represented hands folded in prayer, while the three holes signified the Holy Trinity. Laugen is a similar type of pretzel bread prepared as a loaf, baguette, or smaller roll.
Schüttelbrot
Schüttelbrot, also known as pane scosso, is a crisp flatbread made with rye flour and seasoned with popular South Tyrol spices like caraway, fenugreek, and aniseed. The bread's name means shaken bread, referring to the method used to shape the dough. Baked until golden brown, Schüttelbrot hardens fast once removed from the oven, allowing it to keep throughout winter.
Pane Scuro (Pane Nero) di Segale
Different versions of pane scuro are available throughout the region, depending on the types of herbs and seeds locally available. Basically, pane scuro, also called pane nero, is a dark rye bread to which flax, sunflower, or pumpkin seeds are added. In Bolzano, the bread dough is made with rye, wheat, barley, and oat flour.
Other Bread to Try
Many variations of fruchtbrot, or fruit bread, are baked throughout the region. They include ingredients like pears, apples, apricots, plums, figs, walnuts, and more. For example, Apfelbrot is made with rye flour, apples, cinnamon, sunflower, and sesame seeds. Paarlbrot offers a more savory bread made with cumin, fenugreek, and other seeds or herbs. This flat double loaf sourdough rye bread was created in the 13th century at Monte Maria Benedictine Abbey and developed for extended shelf life. Today, paarlbrot is often enjoyed with sausage and cheese.
Cheeses of Trentino Alto-Adige

Asiago cheese aging
Cheese is undoubtedly a staple in the local diet, with over 200 types produced in Trentino Alto-Adige. However, South Tyrol is especially renowned for its artisanal cheeses made with flavorful milk from alpine-grazing cows.
Trentingrana
Reminiscent of the more widely consumed Grana Padano cheese, Trentingrana PDO is a similar hard, cooked cheese with a crumbly texture. It's made in the same method as Parmigiano Reggiano in Emilia Romagna and is produced in the Trento province using cow's milk from the Bruno Alpina, Frisona, and Rendena breeds.
Asiago
Next, Asiago PDO cheese originating in the Altopiano di Asiago Plateau [in bordering Vento] is also produced in the province of Trento. The milk for this cheese comes solely from mountain farms at 600m above sea level. Fresh Asiago cheese has the taste of fresh milk with slightly sweet and sour notes. At the same time, aged Asiago will be more strongly flavored with mezzano (medium seasoned), vecchio (mature), and stravecchio (extra mature) designations.
Stelvio
Stelvio is the only PDO-designated cheese in South Tyrol and is made in Venosta Valley, Burgraviato, Salto-Sciliar, Pusteria Valley, and Isarco Valley. The cheese received its PDO designation in 2007, guaranteeing quality and authenticity. Stelvio, also known as Stilfser, is made with fresh cow's milk from 350 dairy farms in South Tyrol, 97% of which are situated at altitudes over 1,000 meters. Native microflora is used to ripen the cheese, and these bacteria give Stelvio its typically robust and spicy flavor.
Vezzena
Recognized by the Slow Food Presidium, Vezzena is a cow's milk cheese only made in the summer months, produced in the Lavarone Plateau, Vezzena, Folgaria, and the Trento province. This medium-fat cheese offers a buttery smoothness, plus unique flavors from wild herbs and extensive aging.
Cured Specialties and Other Meats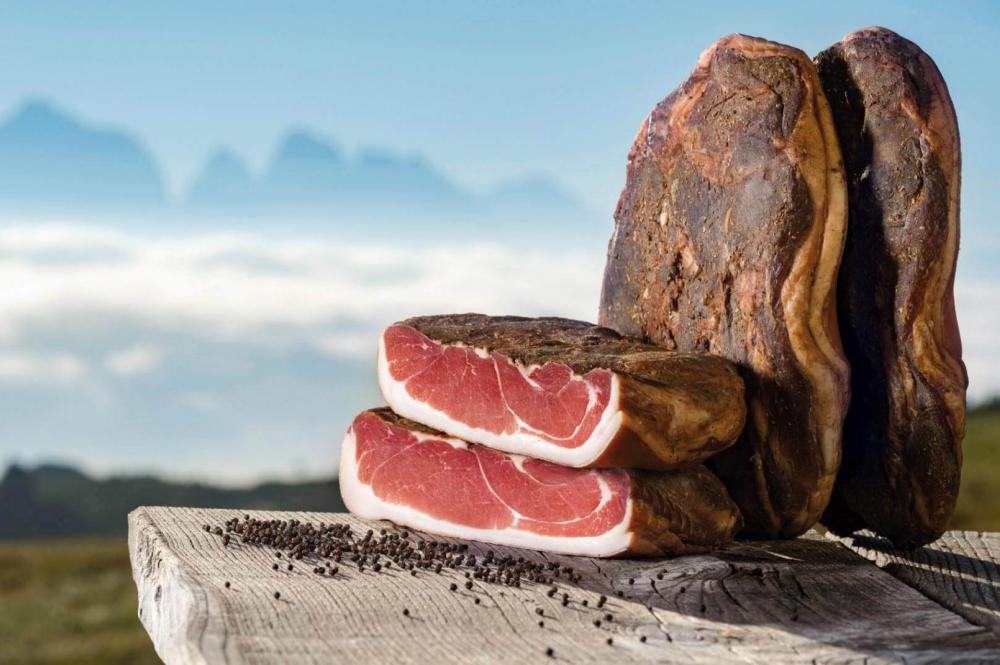 Speck, lightly smoked ham from Alto Adige
Speck Alto Adige PGI
Speck is Alto Adige's (PGI) most well-known cured meat specialty. It's made with ham that's gently smoked and slowly cured in the fresh alpine air. The ham is first given an herby crust made with rosemary, bay leaves, juniper, salt, and pepper. After being seasoned, smoked, and cured, the result is a flavor-packed ham with a much more distinctive taste than the average Italian prosciutto crudo. Speck is included in several recipes throughout the region and is also commonly enjoyed with bread and cheese.
Mortandela
Not to be confused with mortadella from Emilia-Romagna, mortandela is made from various pieces of pork, including the shoulder, jowls, belly, and legs, as well as mild seasonings. First, the mixture is shaped into a large meatball weighing around half a pound. Next, the meatball is sprinkled with cornflour or buckwheat and left to dry on wooden boards for twelve hours. It's then smoked for one week to one month. Mortandela is often served with polenta, potatoes, boiled vegetables, or sauerkraut.
Lucanica
Lucanica, or luganega, is a mild pork sausage usually sold by the meter, thus earning the name salsiccia a metro or sausage by the meter. A mixture of pork fat, lean pork, salt, pepper, and garlic is packed into natural casings up to four meters long to make the sausage. It's unique in that no smaller sausage links are formed. Different types of meat are used in various valleys of the region. For example, while in South Tyrol, luganega is smoked over charcoal and juniper berries. This sausage is frequently served alongside polenta for a hearty meal.
Ciuiga
One of the lesser-known specialties of Trentino Alto-Adige, ciuiga is a cured meat prepared with pork and local turnips. With origins in cucina povera, ciuiga was first created by a butcher in Banale to utilize the less noble parts of the pig that couldn't be sold. He ground them with turnips, another prevalent local ingredient, to make the first ciuiga. Today, better cuts of meat like pancetta, coppa, shoulder, and throat are used along with a smaller percentage of turnips.
Carne Salada
Typical of Trentino, carne salada is made from lean raw beef aged with spices, such as salt, pepper, juniper berries, rosemary, garlic, and bay leaves. The meat is turned and kneaded for two weeks while resting in stainless steel containers with the seasonings. When ready, carne salada can be sliced thinly and served raw with a drizzle of olive oil, lemon slices, arugula, and shaved Parmigiano Reggiano cheese. Alternatively, carne salada is sliced thicker for cooking the meat and is often served with beans.
Primi Piatti in Trentino Alto-Adige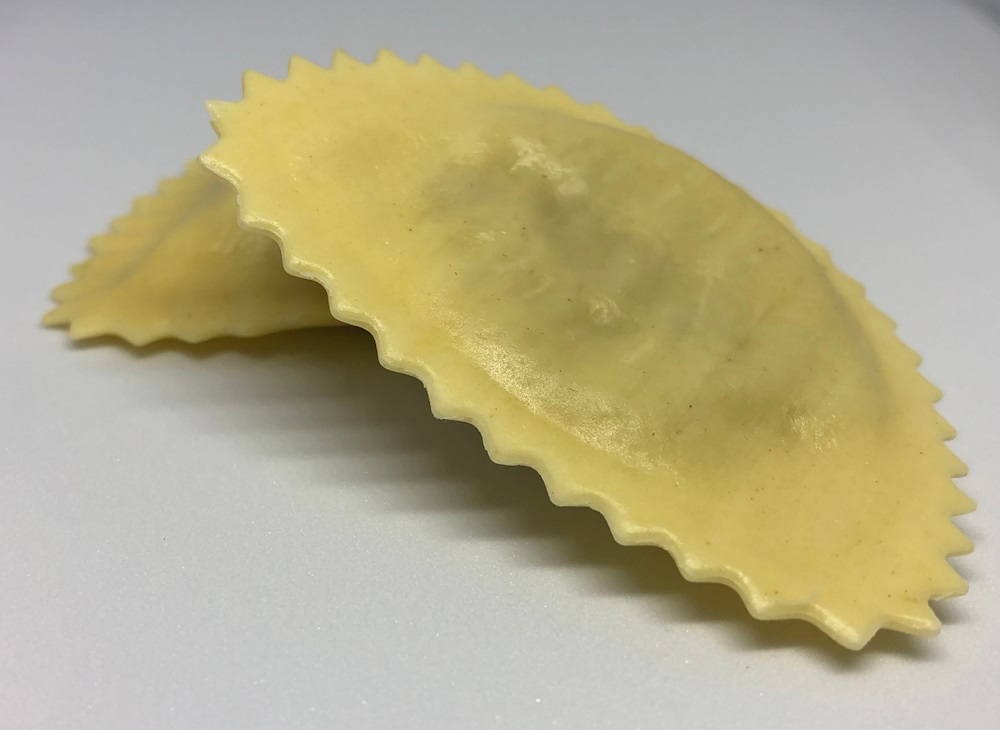 Schlutzkrapfen, half moon ravoli
Canederli
Dumplings are commonly savored in Trentino Alto-Adige and canederli, also known as knödel, are one of the most widely enjoyed preparations. The ideal way to use stale bread, canederli, is prepared with old bread soaked in milk. Onions, chives, speck, and eggs are mixed with the bread to form the dumplings. This combination is typical of South Tyrol, whereas smoked luganega is used in Trentino. Many families throughout the region have their variation of canederli. The dumplings are usually served in a meat broth or butter and grated cheese regardless of the recipe.
Strangolapreti
Stangolapreti is another type of dumpling or gnocchi enjoyed in Trentino Alto-Adige, which was created as a poor dish to utilize leftover ingredients. They're made from stale bread, milk, spinach, onion, eggs, butter, and grated cheese. The dumplings is flavored with salt, pepper, and nutmeg and are boiled in salted water. Then to serve, the strangolapreti is seasoned with sage-infused melted butter and topped with grated cheese. Other leafy greens like chard, dandelion, or beet tops can be used instead of spinach. The name for this tasty dish is derived from the satirical idea that priests with insatiable appetites could easily choke on this gnocchi, which is more difficult to swallow than gnocchi made with potatoes.
Spätzle Tirolesi
Also known as spinatspatzeln, spätzle Tirolesi is a cross between dumplings and pasta. The dough for spätzle is more like a batter made from flour, eggs, water, nutmeg, and salt. It's then passed through a board with tiny holes known as a spätzle maker to create the spätzle shapes as the batter drops directly into boiling water. In Trentino Alto-Adige, spätzle is served in a simple sauce made of heavy cream and crispy speck. You might also encounter green spätzle in which boiled spinach is included in the batter.
Schlutzkrapfen
Schlutzkrapfen is a type of ravioli typical of South Tyrol, and their distinctive half-moon shape is usually filled with spinach, ricotta, and occasionally potato. Schlutzkrapfen is served with brown butter and grated Grana Padano for the perfect savory dish.
Casunziei
South Tyrol cuisine offers another type of ravioli called casunziei [also popular in Cortina and Ampezzo provinces in Veneto], which were traditionally stuffed with red beets as one of the poor dishes of the area. Today, these ravioli are made with various fillings, from ricotta and spinach to potatoes and more. The original recipe calls for the casunziei to be served with melted butter, grated cheese, and poppy seeds.
Minestra d'Orzo
Trentino Alto-Adige is known for hearty soups, and la minestra d'orzo is the perfect example. Typical of Val di Non in Trentino, this barley soup originated in peasant kitchens and can be served as a primo piatto or piatto unico. Today, minestra d'orzo warms up visitors to the higher alpine altitudes. The soup is made of carrot, onion, celery, potato, smoked pancetta, and pearl barley cooked in meat stock, then seasoned with chives, thyme, salt, and pepper; minestra d'orzo is a simple yet flavorful dish ideal for warming up in winter.
Zuppa di Mele e Fagioli
A lighter dish for the region, zuppa de mele e fagioli, is a soup of apples and beans. It's prepared with cannellini beans boiled with bay leaves until tender. The apples are sliced and cooked in butter with cloves, then added to the beans and cinnamon, salt, lemon zest, and water. Everything simmers together until the apples are soft. Then, a bit of butter is stirred into the soup before serving.
Secondi Piatti in Trentino Alto-Adige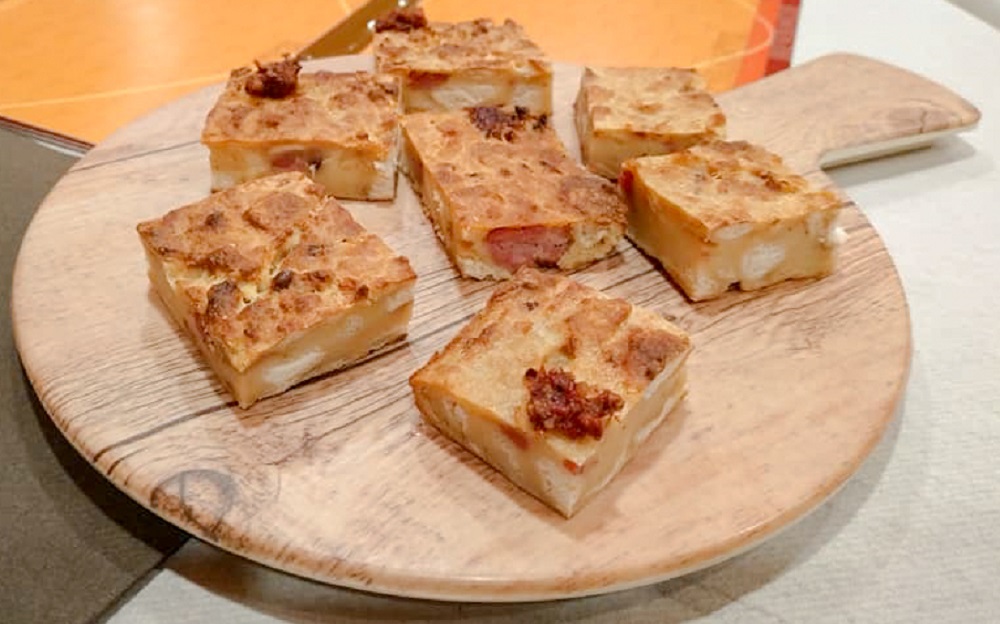 Smacafam is a traditional savory dish
Smacafam
In local dialect, smacafam means scaccia fame or crush hunger, referring to this traditional dish's ability to satiate any appetite. Typical of Trentino, smacafam is made with thinly sliced lucanica sausage. Next, the sliced sausage is mixed with flour, lard, butter, and pork broth. The mixture is topped with grated cheese and more butter, then baked until golden brown.
Tyrolean Goulash
In Alto-Adige, goulash offers a hearty meal typical of the region's Austro-Hungarian background. Tyrolean goulash is a robust beef stew seasoned with paprika and cumin typically served alongside creamy polenta. The goulash is prepared by sautéing carrots, onion, and celery, then deglazing the pan with red wine. Next, tomato paste, paprika, cumin, more wine, and beef are added. Everything simmers together until the beef is tender and a thick, savory sauce has formed.
Osei Scampadi
Osei scampadi is a Trentino recipe from the 16th century whose name means escaped birds. However, the dish is made with veal rolls wrapped in pancetta or lard. The shape of the rolls is reminiscent of birds, which are not there, hence the name. The veal rolls are frequently cooked on skewers with alternating pieces of luganega sausage. Plus, the rolls can be stuffed with lard, mushrooms, or other vegetables. Osei scampadi is enjoyed alongside polenta, potatoes, or beans for a filling meal.
Delicious Desserts 

Kaiserschmarren, lightly sweetened pancake
Strudel
One of the most beloved sweets of the region, strudel is prepared with a pastry crust which must be rolled out super thinly. The delicate sheets of pastry are then wrapped around a filling of raisins, pine nuts, sugar, butter, and cinnamon. Once baked, the strudel's crispy, flaky pastry is dusted with powdered sugar. Alternatively, this dessert can be filled with various fruits and is commonly made with the region's prized apples to make apfelstrudel or strudel con le mele.
Kaiserschmarren
Kaiserschmarren is a dessert with Austrian origins. It's a slightly sweet, fluffy, shredded pancake that's served sprinkled with powdered sugar and accompanied by blueberry jam. In comparison, strauben are fried spiral pancakes flavored with grappa which resemble a funnel cake.
Zelten
Finally, if you visit Trentino Alto-Adige during the Christmas season, don't miss zelten. This traditional Christmas cake is made with flour, butter, eggs, sugar, and baking powder. Zelten is filled with candied fruits and nuts, then topped with walnuts and almonds for a wholesome treat.
About Nicole Dickerson
WSET certified international wine writer with a passion for rare varieties and cellar hand experience in both hemispheres. Join me in the vineyards and cellars of the wine world at palmandvine.com.
Related Blog Post