Every year travelers flock to the Veneto to visit the region's world-famous capital, Venice. A city built on the Venetian Lagoon, Venice is a worthwhile destination full of ancient history, stunning palaces, and culinary delights. Yet, travelers would be remiss not to venture beyond the renowned city to experience the spectacular landscapes and diverse Venetian cuisine the Veneto has to offer.
Located in northeastern Italy, the Veneto stretches from the Adriatic Sea in the east to the Dolomite Mountains in the north, with the fertile Po River valley in between. Consequently, the region boasts a variety of foods from mountains to sea, all worth experiencing. While you'll find more seafood-based dishes closer to the Adriatic, the inland mountain regions are known for rich ragùs, hearty stews, bollito misto, and even horsemeat specialties.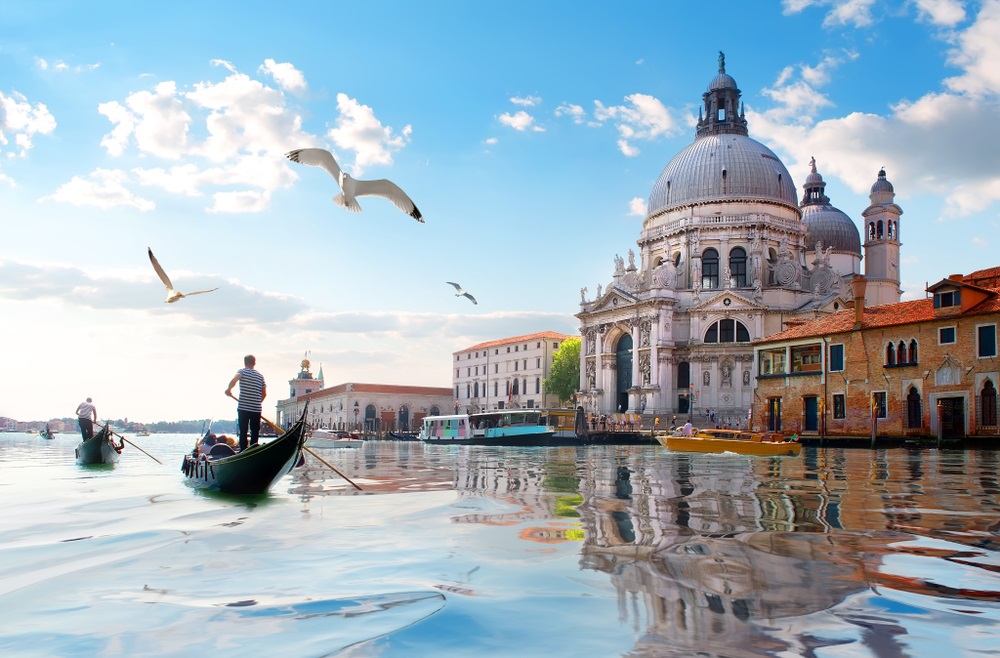 Moreover, the Veneto is home to some of Italy's most famous wines and cheeses. Prosecco, Valpolicella, Amarone, Soave, and more are produced in various parts of the region. Italy's popular PDO-protected Grana Padano, Asiago, and other cheeses are made here, too.
The seven provinces of the Veneto each offer their unique recipes, though culinary traditions are common throughout the region. With Cellar Tours, you can explore these truly amazing provinces on a luxury Veneto food and wine tour.
Seafood in Venetian Cuisine
The Adriatic Sea and the Venetian Lagoon provide Venice and coastal zones with a plethora of seafood to enjoy. Anchovies, sardines, and pilchards are prominently featured in many Venetian dishes. While octopus, squid, mussels, clams, and prawns are also savored often.
In Rovigo, prized clams, mussels, and oysters find their ideal breeding environment in the River Po Delta. In this area where the Po River meets the Adriatic Sea, innovative oyster farming methods simulate tidal flows using a suspension system powered by clean energy sources. The process results in high-quality, delicate pink Tarbouriech oysters.
Venetians Love Rice and Polenta
Unlike other Italian regional cuisines, Venetian cuisine favors rice and polenta over pasta. Risotto is a main staple in the kitchens of the Veneto and is regularly served as a primo piatto. The Veneto sources much of its rice from Lombardy and Piedmont. However, the Vialone Nano Veronese IGP located in the province of Verona also produces a quality variety of rice.
Irrigated by the Tartaro River and natural water springs, the Vialone Nano Veronese IGP rice route connects twenty-four rice cultivation zones in Verona. If you visit the region from August to September, catch the annual Fiera del Riso rice fair in Isola della Scala. Arrive hungry because half a million rice dishes from eighty recipes are served over the twenty-day festival.
Once considered a peasant's dish, polenta is another staple in Venetian cuisine. In ancient Roman times, polenta was made by boiling different ground meals until they formed porridge. Today, you'll find yellow and white versions of polenta in the Veneto made mainly from cornmeal. Both can be served as a mash or pressed and pan-fried into bread-like pieces.
Though pasta isn't featured prominently in the Venetian kitchen, bigoli is a regional pasta worth exploring. It's a long, rough pasta made with buckwheat or wholewheat flour and a small amount of water. In Venice, it's prepared as bigoli in salsa with a sauce made from anchovies, onions, and olive oil. While in Vicenza, you'll find bigoli con l'anatra, known locally as bigoi co' l'arna. This dish sees the pasta dressed in a rich duck ragù made with onions, celery, carrots, white wine, bay leaves, and sage.
Productive Soils for Abundant Vegetables
The fertile soils of the Po River Valley provide the Veneto with an abundance of vegetables. Radicchio is especially adored, and there are many varieties to savor. Radicchio di Verona grows in Vicenza, Verona, and Padua. It's rich in antioxidants and known for its strong, bitter flavor. While radicchio di Chioggia, named for the fishing port in the south of Venice's lagoons, grows in Venice, Padua, and Rovigo.
In Treviso, you'll find the Radicchio Rosso di Treviso IGP with the tardivo and precoce varieties. Both must be produced within the area between Treviso, Padua, and Venice. The tardive variety is known for its bitter flavors with lengthy red leaves and a wider white dorsal rib providing an extra crunch. In contrast, the precoce variety has a more elongated head that's just slightly bitter and not quite as crunchy.
The Radicchio Variegato di Castelfranco IGP resembles a leafy green rose with red specks. It's a cross between Treviso radicchio and escarole, rich in vitamins and minerals. The leaves are delicately sweet with just the right amount of bitter flavor.
In addition to radicchio, different types of asparagus grow in the Veneto. Asparago di Badoere is prominent in Padua, Treviso, and Venice, with white and green varieties. The white asparagus is bittersweet with subtle flavors of wheat. In comparison, the green asparagus has fruity, herbal aromas with more robust flavors and a slightly bitter aftertaste. At the same time, the Asparago Bianco di Bassano DOP from Vicenza has a distinctive bitter taste and tender texture. Rich in antioxidants and vitamins, this white asparagus came to be thanks to a hailstorm back in the 1500s. The crops were destroyed by hail, but the farmers decided to harvest the parts remaining underground. Due to lack of sunlight, the asparagus was white yet super flavorful and tender. So, they began to grow asparagus underground in Bassano.
Ovi e Sparasi
Ovi e sparasi, or asparagus with eggs, is a traditional way of preparing asparagus in the Veneto. The asparagus are boiled and served with a sauce made from boiled eggs, vinegar, olive oil, salt, and pepper.
Popular Rice Dishes Throughout the Veneto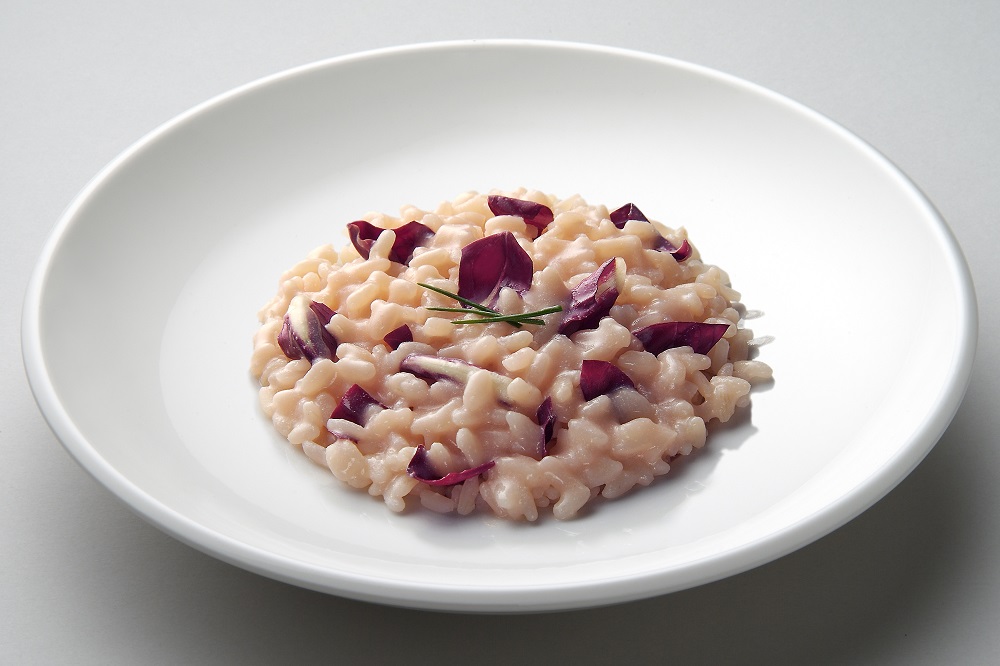 risotto with red radicchio
Pasta e Fasoi
The Veneto's take on pasta e fagioli, or pasta and beans. Different versions of pasta e fasoi are made throughout the region's various provinces. It's a hearty soup dish ideal for cold days or time spent in the mountains. Pasta e fasoi is often prepared with Lamon beans, a type of borlotti bean grown in the Lamon plains near Belluno. The dish is made by first cooking the beans, then adding lard, celery, carrots, leeks, rosemary, and tomato concentrate. Finally, the pasta is added to cook within the sauce.
Risi e Bisi
Risi e bisi is a delicious springtime dish in the Veneto that's most common in Venice, Verona, and Vicenza. The dish is a risotto with more of a soupy consistency, made from peas, butter, stock, rice, Parmigiano Reggiano cheese, and salty pancetta. Traditionally, risi e bisi was made every year on April 25 in Venice to celebrate Saint Mark, the city's patron saint.
Risotto alla Primavera
Another springtime favorite, risotto alla primavera, includes rice, peas, spring onions, shallots, asparagus, stock, Parmigiano Reggiano, and butter. It's loaded with all the fresh, green flavors of spring and was supposedly first created at Harry's Bar, the famous Venice haunt.
Risotto in Cantina
This risotto preparation calls for a simple, savory risotto made from rice, butter, stock, and Parmigiano Reggiano. Then, when it's time to serve, a dry glass of white wine like Soave is poured on the plate, and the risotto is served on top. It's sacrilege to mix everything. Instead, each forkful of risotto is dipped into the wine for added flavor.
Other Pasta Dishes in the Veneto
Paparele e Bisi
Paparele e bisi is somewhat reminiscent of risi e bisi but made with tagliatelle pasta. This Venetian pasta dish is prepared by first sautéing onions and pancetta in butter. Then, stock, peas, parsley, salt, pepper, and Parmigiano Reggiano are added to the pan. Finally, cooked tagliatelle pasta is mixed with the thin sauce and topped with grated cheese to serve.
Dolci in the Veneto
Torta Sabbiosa
Though the name means sandy cake, torta sabbiosa is soft and fluffy made with potato flakes, butter, sugar, almond flour, eggs, and orange zest. The name is thought to refer to the delicate granular texture of the potato flakes. Torta sabbiosa is delicious eaten as is but can be enhanced with toppings from caramel to mascarpone and more.
Pinsa Veneta
Pinsa Veneta is a rustic cake typically made around the Epiphany. It is prepared with either polenta flour and regular flour, plus raisins, apples, orange zest, sugar, yeast, butter, grappa, figs, and fennel seeds. Pinsa Veneta is baked until golden brown and often served with a glass of sweet dessert wine.
Sùgoli
Sùgoli is prepared around the grape harvest in September and October. Made from grape must cooked with sugar and thickened with flour until it reaches a pudding-like consistency. Traditionally, grape harvesters would eat sùgoli over bread to give them energy for the long days of grape harvesting.
Typical Dishes of Rovigo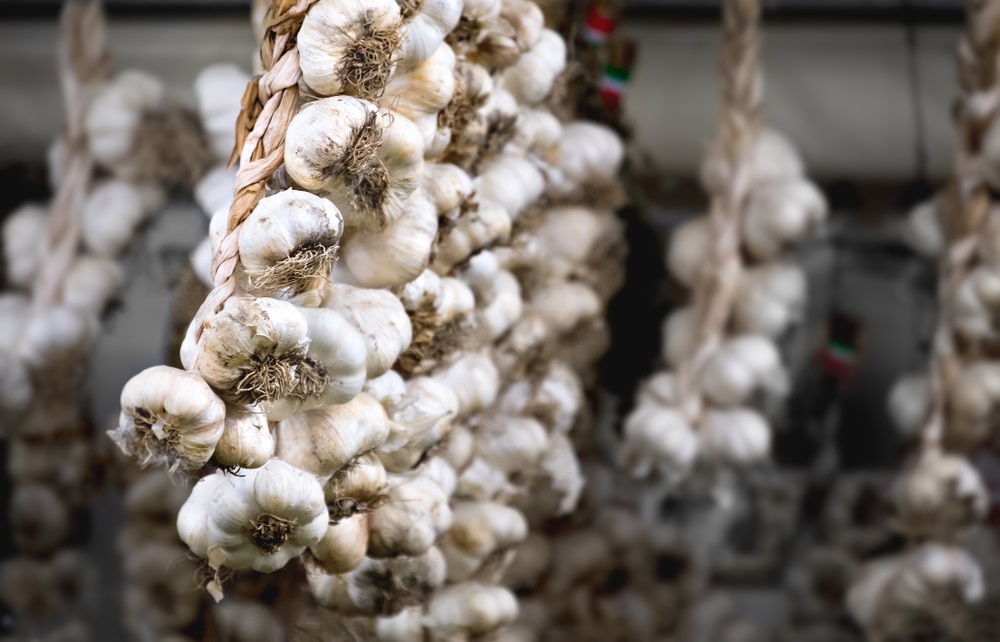 Bianco Polesano, Italian white garlic
Rovigo is the most southern province of the Veneto bordering Emilia-Romagna. The River Po Delta delineates the border between the two regions and influences certain culinary traditions of Rovigo. For example, the Riso del Delta del Po IGP covers rice produced in an area within the provinces of Rovigo in the Veneto and Ferrara in Emilia-Romagna. The unique biosphere created by the combination of freshwater and saltwater provides high salinity and an abundance of minerals, giving the rice a unique flavor profile.
While clams, mussels, oysters, and other types of seafood abound in the River Po Delta, the cozza di Scardovari is especially worth seeking out. Since the 1960s, this mussel has been cultivated in the Sacca degli Scardovari, the largest lagoon of the River Po Delta. These mussels are lower in sodium and known for their delicate flavor.
You'll also find l'aglio bianco Polesano DOP cultivated in Rovigo. This garlic is known for being less pungent with sweet, grassy, and fruity flavors. Since ancient Roman times, it has been cultivated in the area, and every year, people from the Veneto gather for a feast of Aglio Polesano in the Arquà Polesine Castle. For a dish that highlights this white garlic, try supa da ajo or minestra d'aglio. This creamy soup is made from garlic, stock, eggs, and olive oil with cubes of stale bread and parsley to garnish.
Risotto Polesano
For a true taste of Rovigo, try risotto polesano. This dish features Riso del Delta del Po and the plentiful seafood offered by the River Po Delta or the Adriatic. Varying recipes include the sumptuous cozza di Scardovari, eel, or seabass within a typical risotto prepared with olive oil, fish stock, garlic, onion, white wine, and parsley.
Seafood Specialties of Rovigo
Alternatively, if you're craving seafood in Rovigo, there's always fritture di pesce featuring different pieces of fresh fish lightly battered and fried. You'll also find fresh eel cooked with radicchio di Chioggia, as well as omelets made with tiny shrimp called schile. In addition, there's a local cod stew specialty served with polenta. Plus, you'll find fresh mussels in a variety of preparations, such as au gratin, saffron, and leeks, or with fresh tomatoes, garlic, and parsley.
Faraona in Tecia
Faraona in tecia is guinea fowl cooked in a pot and often served with polenta. This preparation involves sautéing the guinea fowl in lard, oil, sage, and rosemary. Once it's golden and the liquids released during cooking have evaporated, the guinea fowl is seasoned with white wine, salt, and pepper and then covered to cook. The dish is traditionally served with a sauce made with soppressa, guinea fowl livers, olive oil, lemon, salt, pepper, and parsley.
La Bondola Polesana
Bondola or bondiola is the typical cured meat of Rovigo. It's a sausage made from pork raised on the banks of the Adige and Po rivers; the meat and pork rinds are ground up and mixed with spices like salt, pepper, cinnamon, and cloves. The mixture is stuffed into a veal or pork bladder to form the sausage, boiled to cook, and often served with mashed potatoes or sautéed vegetables.
Gratin Polesano
For a hearty side dish in Rovigo, try gratin polesano, made with sliced potatoes combined with diced fontina cheese, pancetta, vegetable broth, and butter. The mixture is baked together until golden brown on top. For the authentic Venetian version, the pancetta must be diced into cubes and browned first.
What to Eat in Verona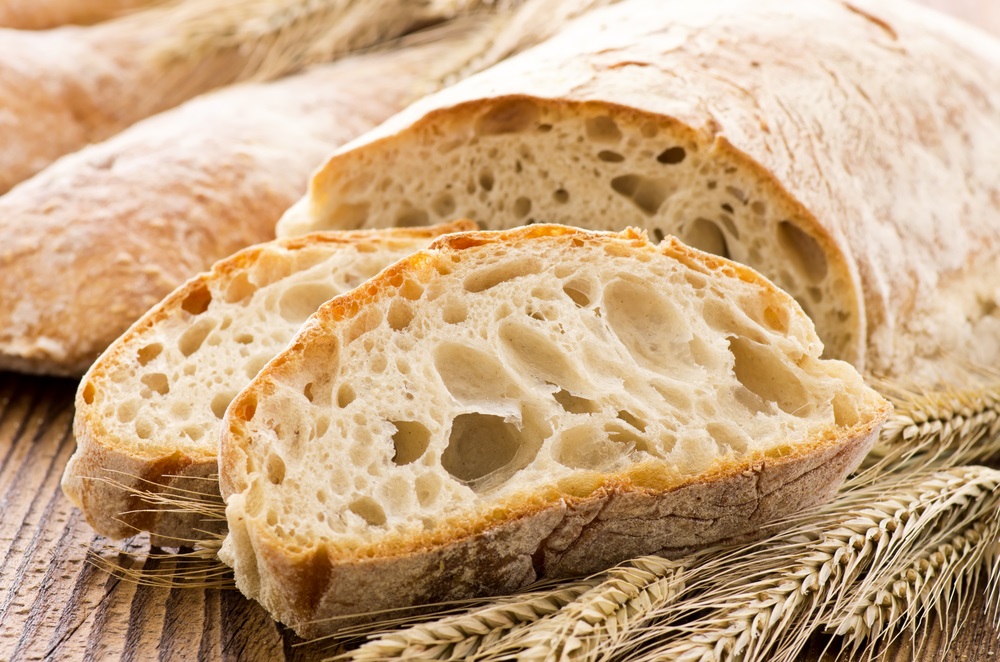 Ciabatta bread
Monte Veronese DOP Cheese
While in Verona, be sure to try the Monte Veronese DOP cheese typical of the region. This cow's milk cheese has a unique production process involving several milkings to make the curds. There are three different types of Monte Veronese cheese. A whole milk version that's matured for 25-60 days labeled green. The D'Avello version can be aged for up to 90 days. It has a blue label with less fat and a savory, slightly piquant flavor. Finally, the black label indicates a minimum one-year aging period.
Ciabatta Bread
Did you know ciabatta bread was first made in Verona in 1982? The name translates to 'slipper,' referring to the shape of this white bread. Baker Arnaldo Cavallari invented the bread when bakers were worried about the rising popularity of the French baguette.
Risotto all'Amarone
The winemaking and culinary traditions of Verona come together in risotto Amarone. This simple dish highlights two of the region's top products, Vialone Nano rice, and Amarone red wine. Broth, olive oil, butter, onions, salt, and pepper are also used to make risotto all'Amarone, which is topped with Parmigiano Reggiano to serve.
Risotto all'Isolana
Typical of Isola della Scala, risotto all'isolana is a meat-based dish. The risotto is prepared with Vialone Nano rice, pork loin, veal, meat broth, Grano Padano, butter, rosemary, cinnamon, salt, and pepper.
Tortellini di Valeggio
When you're craving pasta in Verona, try tortellini di Valeggio. These tortellini are made with thin sheets of egg pasta filled with a meat mixture of pork, chicken, veal, and beef. The original recipe may include chicken livers, breadcrumbs, Parmigiano Reggiano or Grano Padano, and spices like pepper, nutmeg, and rosemary. The tortellini are often served with broth or with butter and sage.
Tortellini di Valeggio originated in a town called Scaligero on the banks of the Mincio river. The recipe dates back to the 1300s when a soldier and nymph in love took refuge here to escape their enemies. They left a knotted handkerchiefs on the river bank as a symbol of their love, whose shape is embodied in the tortellini di Valeggio.
Gnocchi con la Fioretta
Gnocchi con la fioretta is a must try dish while in Verona. Fioretta is the liquid ricotta attained by not completely skimming the whey while making classic ricotta. The result is a semi-liquid consistency, fresh in flavor with a hint of acidity. In the Agno Valley and especially in Recoaro Terme, they make gnocchi using fioretta, flour, and eggs. Gnocchi con la fioretta is frequently served with butter, sage, and a pinch of nutmeg.
Luccio alla Gardesana
For a seafood dish in Verona, try luccio alla gardesana or luccio in salsa. The plate is especially popular around Lake Garda. Luccio in salsa sees pike fish first cooked in broth with onions, celery, carrots, and herbs. Then it's served with a sauce made from anchovies, capers, olive oil, garlic, and parsley.
Polenta e Bogoni
Since Verona is one of the Veneto's more inland provinces, you'll find many land-based dishes in the region. Polenta e bogoni is a traditional Veronese dish of snails and polenta. The snails are washed and boiled twice, once to clean and the second time with garlic, celery, onions, vinegar, and bay leaves for flavor. Then, they are baked or cooked with lemon zest, onions, parsley, garlic, white wine, and butter. After the extensive cooking process, the snails are served on a bed of polenta.
Lesso e Pearà
Lesso e pearà or bollito e pearà is a dish typically prepared for festive occasions. It's often made with boiled beef, though the type of meat can vary. The star of this dish is the thick, rich pearà sauce, which is made with bone marrow, olive oil or butter, broth, breadcrumbs, Parmigiano Reggiano, and black pepper. Its name comes from the Venetian word for pepper, pearà, and the sauce cooks for hours until fragrant and thick.
Pastissada de Caval
This ancient horsemeat stew is a regional specialty in Verona. The dish traces back to Theodoric, King of the Ostrogoths, who let the locals take the meat of the horses who died in battle. Then, they marinated the horsemeat with wine, vegetables, and onions to mask the smell resulting from too much time left out on the battlefield.
Today, pastissada de caval is prepared by cooking horsemeat with onions, carrots, cloves, and Valpolicella red wine. Bay leaves, cinnamon, and nutmeg usually add flavor to the stew, traditionally served with polenta.
Pandoro – A Sweet Specialty of Verona
Pandoro is a traditional Christmas bread savored throughout Italy that originated in Verona. The name comes from pan d'oro, or bread of gold, referring to the bread's yellow color. The high number of eggs used to make the bread contributes to its yellow dough.
Beyond eggs, the dough for pandoro also includes yeast, sugar, flour, vanilla, milk, butter, and salt. It's traditionally baked in a star-shaped, tall mold and served sprinkled in powdered sugar—the original version of pandoro dates to the 18th century when it was made for the aristocracy.
Nadalin
Another sweet bread from Verona, nadalin, was created in the 13th century to celebrate the ruling Scala family's first Christmas in Verona. It's less buttery and sweet, yet denser than pandoro. The dough is flavored with vanilla and lemon zest. Nadalin's trademark is the sweet bread's crunchy top made from Marsala wine, sugar, almonds, and pine nuts.
What to Eat in Venice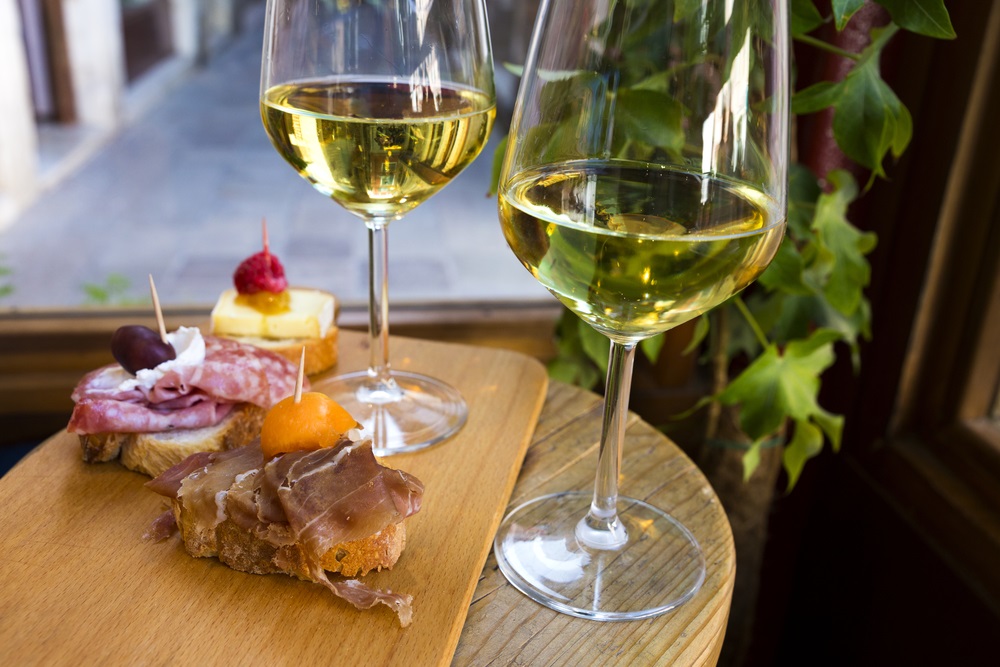 Cicchetti, small dishes similar to Spanish tapas
Home to the Venetian Lagoon and its enchanting namesake city, the province of Venice is full of culinary delights. The region's rich gastronomic culture is primarily because the Port of Venice was historically a center for trade between Europe, Asia, and the Middle East. Here, Venetian cuisine represents the cultural exchanges of a former trading post and the region's access to the riches of the Venetian Lagoon and the Adriatic Sea.
Baccalà Mantecato
Baccalà mantecato is a traditional savory dish enjoyed throughout the Veneto thought to have originated in Venice. Though Venetians have access to plenty of fresh seafood, they historically enjoyed preserved fish, too. This dish is made by first boiling salted cod in milk and water. Then, the fish is deboned and mashed into a creamy paste enlivened with garlic, olive oil, and parsley. Loaded with flavor, Baccalà mantecato is served on toasted slices of bread or with grilled polenta pieces.
Sarde in Saor
One of Venice's most famous dishes, sarde in saor, was created as a means for fishermen and sailors to preserve fish on their long voyages. The preparation involves frying fresh sardines, then marinating them with vinegar, onions, pine nuts, and raisins. The name means sardines with flavor, referencing the sweet and sour flavors for which sarde in saor is known.
Cicchetti
Additionally, Venice is especially well-known for its cicchetti, or cichéti, in Venetian. These small Venetian plates are like Spain's tapas-style dishes. Cicchetti are always seasonal and often include olives, hard-boiled eggs, panini, or marinated anchovies. You'll also find relatively more elaborate dishes like different types of polpette, baccalà mantecato, sarde in saor, various crostini, seafood, or meat in sauces.
For an authentic Venetian experience, head to one of the city's bacari or small bars. First, ask for an ombra, or drink, which is often a glass of wine or an Aperol spritz, and nibble on some cicchetti. Then, when you're ready to move on or the bar gets too crowded, head to the next bacaro and repeat.
Carpaccio
A dish famous the world over, carpaccio, was first created in the 1950s at Harry's Bar in Venice. Restaurateur Giuseppe Cipriani developed the dish for Countess Amalia Nani Mocenigo after her doctors recommended adding raw meat to her diet. Though many versions of carpaccio abound today, Cipriani's original version consisted of super-thin slices of beef dressed with olive oil, lemon juice, and cheese shavings. An avid art lover, Cipriani named his creation after painter Vittore Carpaccio. The bold red color of the raw meat reminded him of the more colorful works of the artist.
Risotto al Nero di Seppia
While risi e bisi highlights the land-based culinary traditions of the Veneto, risotto al nero di seppia embodies the seaside customs. First, squid is sliced and slowly braised with garlic, parsley, and white wine to make this Venetian dish. Next, rice is added to the pot to toast a bit before adding broth and squid ink. The latter gives a striking black color to the risotto and a salty, earthy flavor.
Risotto di Gò
A Venetian classic, risotto di gò is prepared with the goby or ghiozzo fish from the bountiful Venetian Lagoon. This is a dish of humble origins because the goby fish is considered a poor fish mainly used for soups or risottos. It's fatty and intensely flavored, making it the ideal fish for developing flavorful broths. Risotto di gò involves first making a broth from the goby fish with celery, onions, carrots, and shallots. Then the fish is removed and deboned while the risotto is cooked with the fish broth, dry white wine, and the fish meat. The risotto is finished with fresh chopped parsley to serve.
Moeche from the Venetian Lagoon
A true delicacy of Venice, moeche are seasonal soft-shell crabs that you're likely to find at the Rialto fish market only in spring or autumn. Skilled locals have harvested them for over 300 years from the Venetian Lagoon. For this Venetian specialty, the crabs must be harvested after they molt but before their new shells harden. Both male and female crabs molt in the spring, while only the male crabs molt their old shells in the fall. In Venice, moeche are prepared with seasoned scrambled eggs, which they absorb. Then, they're dredged in flour and fried until golden brown and crispy. Finally, Moeche is served with a squeeze of lemon and a sprinkle of salt and is best enjoyed alongside a glass of Prosecco.
Folpetti
For another simple Venetian seafood preparation that allows the sea's flavors to shine, look to folpetti. This flavorful octopus dish involves first boiling the octopus with herbs and spices like peppercorns, bay leaves, and garlic. Then, cut the cooked octopus into pieces and season with salt, pepper, lemon juice, and a sprinkle of parsley to serve. So keep an eye out for folpetti, a tiny octopus, while hopping from one bacaro to the next in Venice.
Broeto – Chioggia Style Fish Soup
Chioggia is a town that lies on the southern end of the Venetian Lagoon. Fishing is Chioggia's main economic activity, as the town encompasses one of Italy's largest ports. Broeto was created to utilize the daily catch that customers didn't purchase or as means for sailors to use the excess seafood on board. The fish soup consists of different types of fish, mollusks like shrimp, squid, or baby octopus, mussels, clams, garlic, a Chioggia white onion, celery, carrots, and vinegar. Traditionally, broeto was served with bussolai or bussolà, which were thick breadsticks in a ring shape baked in the oven so they'd remain crunchy for a long time and not be affected by mold while out to sea. Today, broeto can be found served with polenta, too.
Fegato alla Veneziana
Fegato alla Veneziana is a preparation of the calf's liver that involves sautéing the thinly sliced liver with caramelized onions. A splash of white wine, lemon juice, or vinegar is added to provide a sour contrast to the sweetness of the caramelized onions. Fegato alla Venezia is traditionally accompanied by grilled polenta.
Traditional Desserts in Venice
Frìtole
Venetian frìtole is a symbolic dessert of Carnival in Venice. The first mention of these golden globes of fried dough date back to the 14th century. During Carnival, the fritolèri would line the alleys of Venice, selling their steaming hot donuts. The fritolèri were so prominent that they were even regulated by their own union. By the 18th century, frìtole became the official sweet treat of Venice. The original recipe involves a dough made from flour, eggs, milk, raisins, and pine nuts. Each spoonful of dough is fried in hot lard, then rolled in sugar while piping hot. The frìtole are given a scent of anise liqueur and served on wooden skewers to easily be eaten on the street. Today, you'll also find frìtole with fillings like custard, chocolate, and chantilly cream.
Zaletti
These cookies are named for the Venetian word for yellow—zálo. Their yellow color comes from a cornmeal-based dough, flavored with lemon zest and enhanced with rum-soaked raisins. Traditionally, zaletti are made without sugar, and a splash of grappa is added to the dough. They're often enjoyed for breakfast alongside tea or coffee and are frequently savored for dessert, too.
Baicoli
Though the name means seabass, baicoli are thin, slightly sweet biscotti created by a Venetian baker in the 18th century. Their elongated, flattened shape resembles that of their namesake fish. Baicoli is made with flour, butter, sugar, yeast, egg whites, milk, and just a pinch of salt. Since they have a long shelf life, historically, baicoli were taken on ships for long voyages. Today, they're savored with coffee or zabaglione.
Bellini – A Famous Cocktail from Venice
While it's a popular brunch cocktail today, the bellini was first created in Venice at Harry's Bar around the 1930s. The cocktail is made with Prosecco and white peach nectar or purée. Restaurateur Giuseppe Cipriani also named this creation after an artist, the Italian painter Giovanni Bellini.
What to Eat in Padua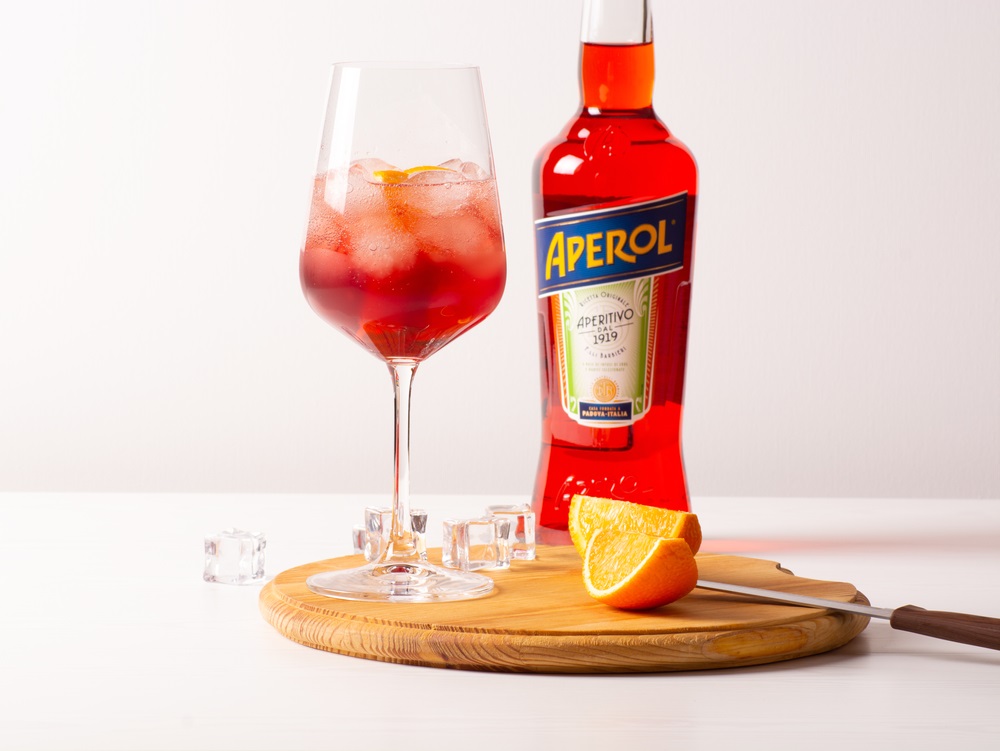 Aperol liqueurs 
Baccalà alla Cappuccina
Baccalà alla cappuccina is a flavorful preparation of codfish typical of Padua. The double cooking method of first pan-frying then baking the fish makes it even more delicious:
To start the dish, onions are sautéed in butter and oil.
The cod is lightly dredged in flour and then added to the pan for cooking. Once the cod has been browned on both sides, raisins, pine nuts, anchovies, bay leaves, sugar, cinnamon, nutmeg, salt, and pepper are added.
Everything is covered with vegetable broth or hot water and cooked until the liquid has evaporated.
The cod is sprinkled with breadcrumbs for the second round of cooking and then baked until a golden crust has formed.
Gallina Padovana
The Gallina Padovana, or Padovan Chicken, is a unique breed of chicken found in Padua. Its history dates to the 1300s when Marchese Giovanni Dondi brought an odd-looking chicken back with him following a trip to Poland. The bird started producing unique crossbreeds, which captured the attention of Venetian merchants. Soon enough, the Gallina Padovana, characterized by its red nostrils and pointed feathers emerging from the top of its head, was being exported to other European countries like Belgium, France, and Holland.
Oca in Onto
In Padua, farmers also bred different varieties of geese, which were eventually replaced with a breed of white goose from Romagna. During the winter, local women would make a goose preserve known as 'oca in onto' or goose in fat. This type of confit preserves geese from the winter months to be enjoyed into the following summer. Today, there are only a handful of producers making oca in onto for sale.
Sfilacci di Cavallo
Additionally, horsemeat is widely eaten in the province of Padua, where there is a long tradition of horse breeding. Sfilacci di cavallo is a local delicacy of extremely thin strips of dried horsemeat. Legend has it that a local farmer left pieces of horsemeat on the hearth for too long while drying them out. So as not to waste the overly dry meat, he began to beat and fray the meat to make it edible; if you're interested in trying sfilacci di cavallo while in Padua, head to Macelleria di Coppiello Giovanni where this delicacy has been made since the 1980s.
Gran Bollito alla Padovana
For meat lovers, the gran bollito alla Padovana is a must-try dish while in the region. It was first prepared when Tuscan scientist Galileo Galilei taught at the University of Padua from 1604 to 1629. Bollito misto was one of his favorite dishes, and Galileo wanted to prepare it for his students. His dated shopping list proves as much, listing ingredients like duck, chicken, beef, tongue, cotechino, and veal head. Fatty cuts of meat are the best for gran bollito because they don't become stringy while boiling. While carrots, celery, onion, parsley, cloves, and bay leaves typical ingredients additionally, lard, Parmigiano-Reggiano, grated stale bread, an egg yolk, and a clove of garlic may also be added.
Aperol
In 1919, one of Italy's most internationally famous liqueurs was created in Padua. Silvio and Luigi Barbieri created Aperol, a bitter orange liqueur, seven years after inheriting their father's liquor company. The name of the liqueur was inspired by the French word for an aperitif—apéro. The original recipe still used to make Aperol remains secret to this day, though it's said to include bitter and sweet oranges and rhubarb. The liqueur grew in popularity internationally with the Aperol spritz, a cocktail served for summertime aperitivo in Italy. It's made from Aperol, Prosecco, a splash of soda, and garnished with an orange slice.
VOV
Another famous liqueur from Padua, VOV, is an egg liqueur created by Gian Battista Pezziol with the extra eggs leftover from his nougat business. Pezziol added sugar and Marsala wine to make a sweet liqueur which became highly popular with the Austrian court. The beverage was first known as vovi, or eggs in the Venetian dialect.
Torta Pazientina
For dessert in Padua, try the regional favorite torta pazientina. This cake is made from layers of almond shortcrust, soft sponge cake, and Cittadella polenta. Zabaglione cream is spread between each layer, and the cake is garnished with extravagant chocolate flakes. Torta pazientina was created in the 1600s by Franciscan friars at the Basilica of Sant'Antonio monastery. The name may refer to the patience required to make this elaborate dessert.
The Cuisine of Vicenza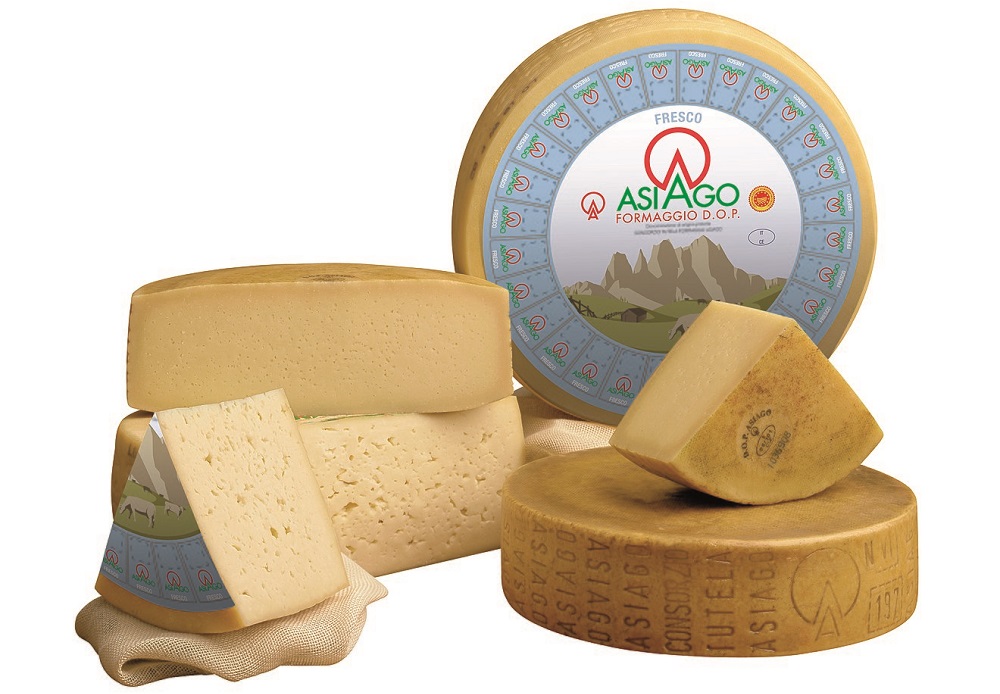 One of Italy's most famous cheeses, Asiago, has been made in Vicenza's Asiago Plateau since 1000 AD. Back then, the cheese was made with sheep's milk until the rise of cattle farming in the 1500s. Today, the Asiago PDO encompasses fresh and aged cheese styles. Fresh Asiago has a delicate flavor with the aromas of yogurt and butter. Much of the cheese's flavor results from the cattle free grazing on the Asiago Plateau. The aged style is matured for three to fifteen months or more. This Asiago has a straw yellow color and an ore savory flavor. There are three designations, including the Asiago Mezzano aged four to six months, Asiago Vecchio aged ten to fifteen months, and Asiago Stravecchio aged more than fifteen months.
Soprèssa Vicentina PDO
Soprèssa Vicentina is the highest quality cured meat in Venetian cuisine. It's a medium-grained cured sausage made from pork belly and neck fat and pork leg, shoulder, neck, and loin. Soprèssa Vicentina is known for its slightly sweet, garlicky taste, as it is flavored with salt, pepper, and garlic.
Baccalà alla Vicentina
This specialty from Vicenza is made from stoccafisso, an air-dried codfish that's soaked for several days before cooking. The air-dried stockfish was first introduced to the region by Venetian merchant Pietro Querini in 1432. He discovered stoccafisso on the Norwegian island of Røst while shipwrecked off the coast of Norway. Vicenza developed a new recipe to utilize this new ingredient by slowly simmering stoccafisso in milk flavored with garlic, onions, and anchovies. Hours of cooking make the dried fish very tender. Baccalà alla Vicentina is accompanied with polenta to serve.
Torresani allo Spiedo
Torresani allo spiedo, or torresani on the spit, has been made in Breganze in the province of Vicenza for 500 years. The dish is made from only twenty-five to thirty days old pigeons, which have not yet taken off; consequently, their meat is more tender.
Towards the end of the fifteenth century, the Republic of Venice adapted former castles for civilian purposes. The towers of castles and agricultural outposts were used for breeding pigeons, which is where the name torresani originated. The original recipe for torresani allo spiedo sees the pigeons cleaned and stuffed with juniper, sage, rosemary, minced heart and liver, lard, and butter. Then, the stuffed birds are slowly roasted on the spit and brushed with their own fat while cooking. Torresani allo spiedo has received the Denominazione Comunale (De.Co) designation to safeguard its production and territorial identity.
Cren
You'll find cren served in Vicenza alongside bollito misto, various types of meat, and stews. It's a spicy sauce made from horseradish, dried bread, vinegar, and olive oil.
Grappa
Grappa, perhaps Italy's most famous spirit, takes its name from the city of Bassano del Grappa, where it was first made. The spirit is produced by distilling grape pomace left over after the winemaking process. Different styles are made using various grape varieties. Plus, there is a barricata style aged in oak casks and known for its yellow color and complex flavor.
Typical Dishes of Treviso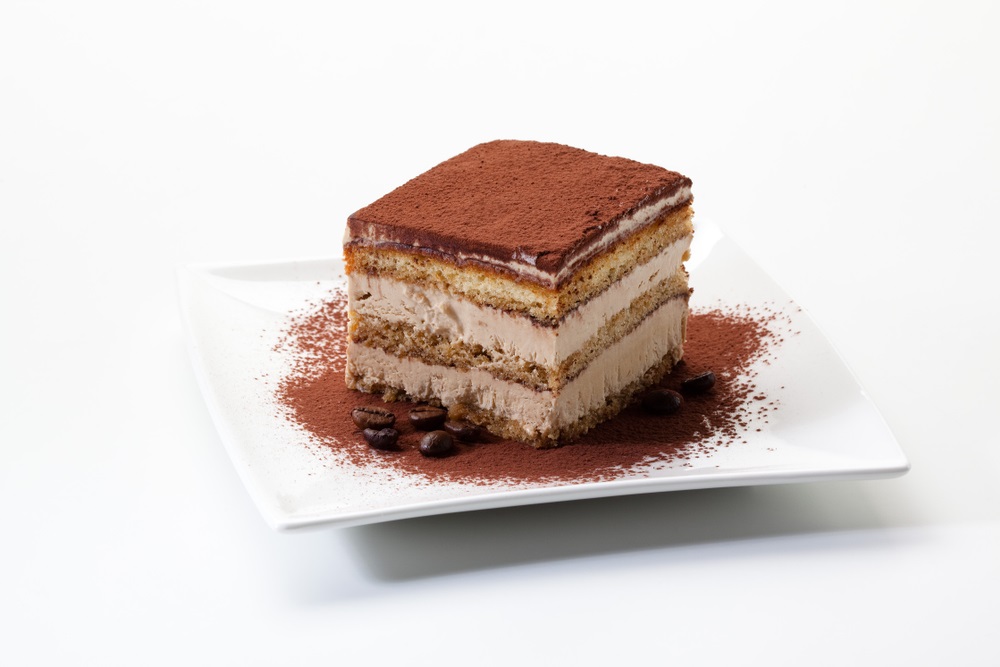 Tiramisù, a classic Italian dessert from Treviso
Cheese to Try in Treviso
Keep an eye out for Casatella Trevigiana, Ubriaco, and Brillo di Treviso cheeses when in Treviso. Casatella Trevigiana is a cow's milk cheese named after the "casa," or home, because traditionally, every local farmer made his own Casatella cheese at home. It has a delicate, sweet flavor and creamy texture.
Ubriaco is an aged cow's milk cheese that's soaked in dry sparkling Prosecco and the seeds, skins, and other pomace left over after winemaking. It has a soft texture, which becomes crumblier with age, with floral, rich, and fruity flavors. The unique production methods are thought to have originated in WWII when farmers used to hide their cheese in barrels of wine.
Brillo di Treviso is also a cow's milk cheese left to age for fifteen days or more in red wine. The wine-soaked purple rind houses a fruity, tangy, soft-textured cheese.
Risotto alla Trevigiana
This regional risotto is made from the local radicchio rosso di Treviso, rice, onions, stock, olive oil, and sparkling wine. The radicchio is first sautéed with onions and oil before adding the rice and other ingredients. Finally, risotto alla Trevigiana is enhanced with Parmigiano Reggiano and butter before serving.
Sopa Coàda
Sopa coàda is a rare dish in Venetian cuisine from Treviso. It's a type of pigeon casserole featuring pigeon meat layered with bread, covered in cheese, drenched in pigeon broth, and baked to cook. The broth is prepared by cooking the pigeons with onions, celery, carrots, garlic, rosemary, sage, and red wine.
Fugassa Veneta
Fugassa Veneta, or focaccia Veneta, is a Venetian sweet bread made around Easter. It was originally a sweet treat for the poor. The base dough for Fugassa Veneta is made with flour, sugar, eggs, butter, and yeast. Then, armellina, sugary sprinkles, almonds, and raisins might be added to enhance the focaccia.
Tiramisù
One of Italy's classic desserts, tiramisu, is made from savoiardi cookies soaked in espresso, layered with a cream made from whipped eggs and mascarpone, and dusted with cocoa powder. The name tirami sù means pick me up, likely referring to the energizing effects of caffeine and chocolate.
The origins of tiramisù are highly debated, with one version attributing this dessert to Treviso and another to Friuli Venezia Giulia. In Treviso, the sweet specialty is credited to Alba Campeol, who says she created the dish at the family-owned Le Beccherie restaurant in the 1970s. She intended its pick-me-up effects to help mothers who had recently given birth and the elderly and younger children.
Fregolata
This Italian crumb cake is made from flour, butter, sugar, and lemon zest. Alternatively, lard or chopped almonds can be added to the dough for fregolata. The mixture is baked in a pan until it sets and is crunchy.
What to Eat in Belluno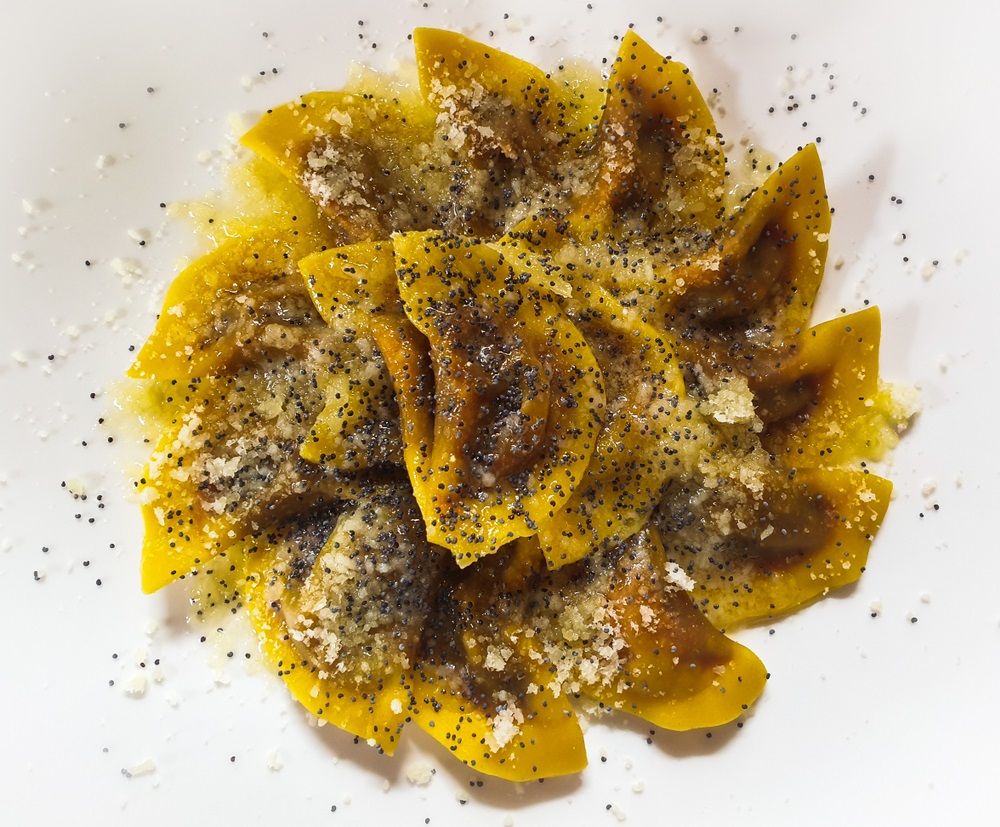 Casunziei – half-moon-shaped ravioli
Belluno is situated high up in the Alps on the Austrian border amidst the Dolomites, which significantly influence the cuisine and economy of the region.
Piave
Piave is the typical cheese of Belluno named for the river which runs through the region. It has a sweet milky flavor which becomes more intense and riper as the cheese ages. Piave comes in a variety of styles:
Fresco (fresh)
Mezzano – aged 60-80 days
Vecchio—aged more than 180 days
Vecchio Selezione Oro—aged for 12 months
Vecchio Riserva—aged for 18 months or more
The matured versions are often used to flavor risotto. While fried Piave served with polenta and sauerkraut makes up a traditional Belluno dish called formai frit.
Schiz
Beyond Piave, Schiz is another famous cheese in the region. The name comes from schizza, meaning squirt, which is the excess cheese that seeps out of the molds while making other cheeses. Traditionally, schiz cheese was also made in mountain huts from fresh milk curd directly from the cow. It is a soft, fresh, creamy cheese often served with polenta and mushrooms.
While in Belluno, keep an eye out for schiz impanato, a fried version of this specialty cheese. It's prepared by dipping slices of schiz, first in egg and then in breadcrumbs. The breaded cheese is then fried until golden brown, seasoned with salt, and often served with wild mushrooms.
Casunziei
Casunziei is half-moon-shaped, ravioli-like pasta savored widely throughout Belluno. They're often stuffed with beetroot, though potato-filled casunziei and many other variations exist. The pasta dough is very thin, and casunziei are frequently served with butter, poppy seeds, and grated Parmigiano Reggiano.
Pastin
In Belluno, a specialty sausage made from a mixture of beef and pork seasoned with white wine and spices is often enjoyed. In addition, you'll find pastin grilled, sliced, and served with polenta or wrapped in a baguette-like bread at festivals.
Chenedi
Chenedi is delicious dumplings typical of the province of Belluno. They're made with flour, stale bread that's been soaked in milk, speck, and other cured meats, eggs, chives, and parsley. Then, the dumplings are cooked in chicken broth and can be served dry or with hot broth for the perfect alpine meal.
Kodinzon
A sweet specialty of the region kodinzon is a purée of various local apples mixed with sponcio cornmeal, a special type of cornmeal from Belluno. The purée is spread out and left to dry in the sun, then cut into bars for a high-energy treat.
Pan de Belun
Pan de belun is a traditional cake made of walnuts, sponcio cornmeal, hazelnuts, poppy seeds, and chocolate. Unfortunately, the origins of pan de belun have been lost over the years, but it's a recipe that's been passed down from one generation to the next.
Carafòi
In Belluno's Ampezzo Valley, the locals make carafòi for special occasions like birthdays, weddings, religious events, and Carnival. Carafòi is fried, sweet pastries made from flour, eggs, sugar, butter, oil, and grappa. Every family has its secret ingredient, and the recipes are handed down generationally. First, the dough is fried until golden brown; then the carafòi are sprinkled with powdered sugar to finish.
About Nicole Dickerson
WSET certified international wine writer with a passion for rare varieties and cellar hand experience in both hemispheres. Join me in the vineyards and cellars of the wine world at palmandvine.com.