There are many contestants for the title of Europe's nightlife capital, but we can assure you that Madrid is ten leaps ahead of the competition. Spain's biggest city remains one of the world's most thrilling and vibrant destinations, famous for its dynamic, exciting, and ever-changing nightlife scene, including many rooftop bars. Its inhabitants, the Madrilenos, may be a diverse bunch, but they all share a love of social drinking and partying that supports one of the highest concentrations of bars per capita in Europe. Indeed, perhaps the country's most famous attraction is simply the Spanish's sheer sociability and infectious joie de vivre. Spain, and in particular Madrid, is where going to bed early isn't an option!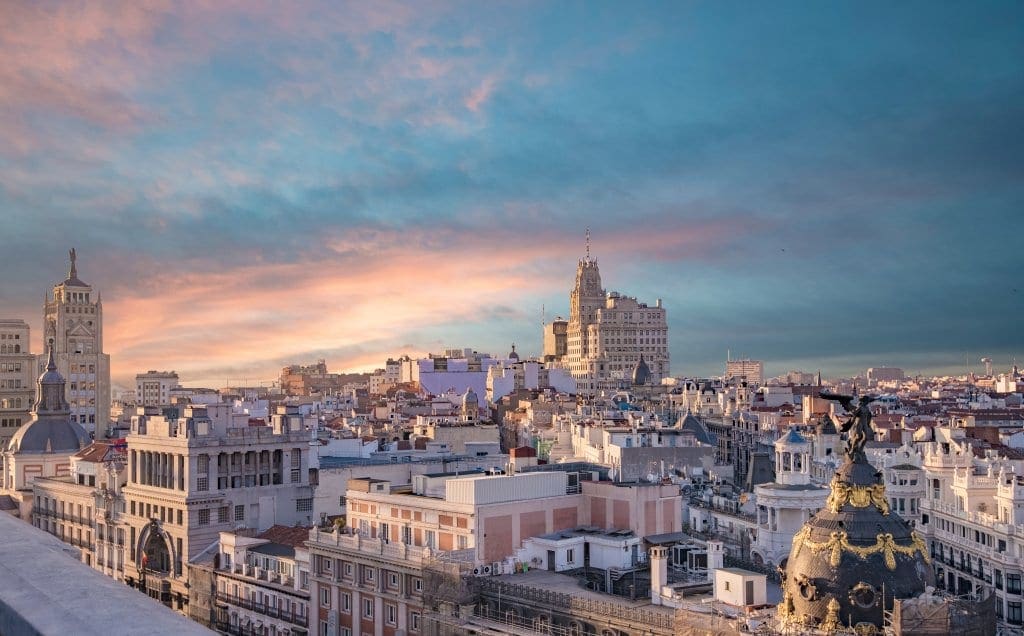 The Madrilenos love of the night-time is in full swing in the summer months, where the balmy temperatures mean that only the evenings offer some respite from the intense heat. The upside of all that sunshine is that the action can take place outside until the early hours, so don't be surprised if you see young ones playing in the Retiro Park at 2 am. Indeed, enjoying Madrid's nightlife requires a 'slight' adjustment to your normal timetable; in the summer, friends and families would often not sit down for dinner until as late as midnight, with most nightclubs devoid of life until 2/3 pm.
Enjoy some of these rooftop bars on a Luxury Food & Wine Tour in Spain
Another endearing feature of Madrid's nightlife is its sheer diversity; enjoy a pre-dinner cocktail in one of the city's upscale venues in Barrio Salamanca or head to La Latina for a more grungy, hipster vibe. The city's bars and nightclubs run the whole gamut from wood-paneled wine cellars to smoky student haunts and trendy designer places that only allow in the beautiful set. But in recent years, one trend has been particularly in vogue: sipping cocktails until the wee hours in one of the city's many rooftop bars. Enjoying a few drinks alfresco is all the rage in Madrid at the moment, with new venues opening each year. In fact, no self-respecting 5-star luxury hotel is now without a chic terrace, complete with inviting loungers and a rooftop pool. There are also plenty of more unusual locations, and the rooftop bar scene now has enough diversity to cater to every crowd.
The following are some of our favorite rooftop bars in Madrid:
Terrace bar at the Principal Hotel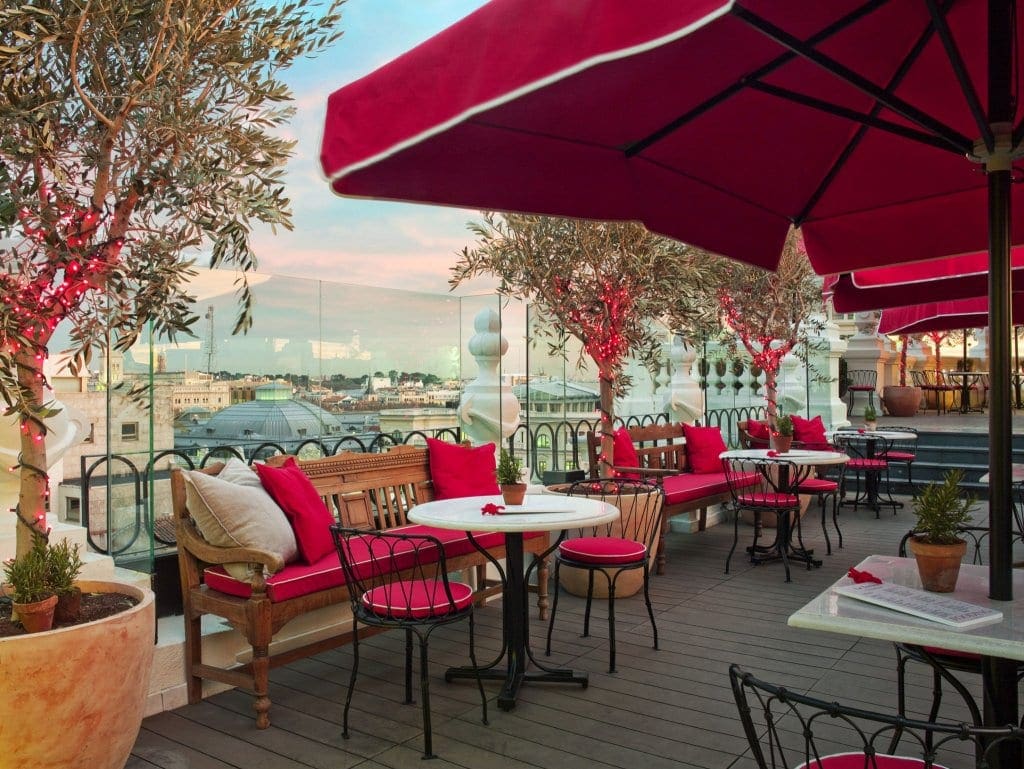 Website: The Principal Hotel
Address: Marqués de Valdeiglesias, 1 (Esq. Gran Via, 2), Madrid 28004
One of Madrid's newest rooftop addresses, the terrace at the Principal hotel has an effortless chic about it. The city's beautiful set intermingles with its international clientele to appreciate the stunning views from the hotel's rooftop over central Madrid, often with a cocktail in hand. Your drink arrives in the most salubrious of settings; plants, cypresses, and olive trees dot the terrace, which boasts some of the most comfortable loungers in Spain. With a large selection of wines and spirits and a team of professional, courteous staff, the place is pretty much perfect – expect it to be packed in the summer months.
---
The Roof – ME Madrid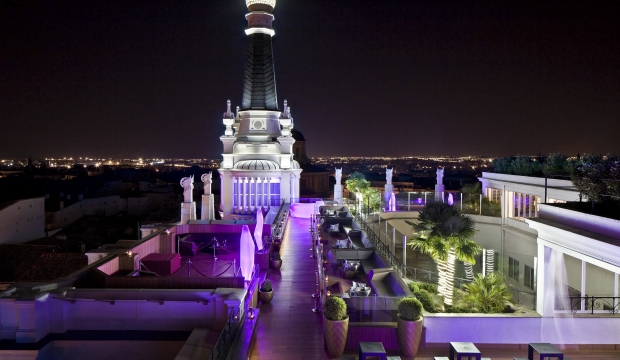 Website: ME Hotel
Address: Plaza de Santa Ana, 14, Madrid, 28012
The ME hotel kick-started the trend of providing rooftop terrace bars, offering its discerning guests an extremely sophisticated and secluded space where they could enjoy unparalleled views across Madrid and sip Cava until the early hours. It remains to this day one of the most popular places in Madrid to enjoy a post-sunset cocktail, now open to both guests and Madrilenos. With an ultra-trendy vibe, it's VIP space attracts Madrid's well-heeled elite in their droves, who come to see and be seen. The resident DJ always keeps the party interesting, as does the lavishly designed space, which is embedded in a broken stone wall, complete with purple glass and marble tables. Well-dressed waiters serve an extensive selection of beers, wines, and spirits, with quite a few wines available by the glass. The perfect space to chill, entertain or seduce!
---
Terrace at the Urban Hotel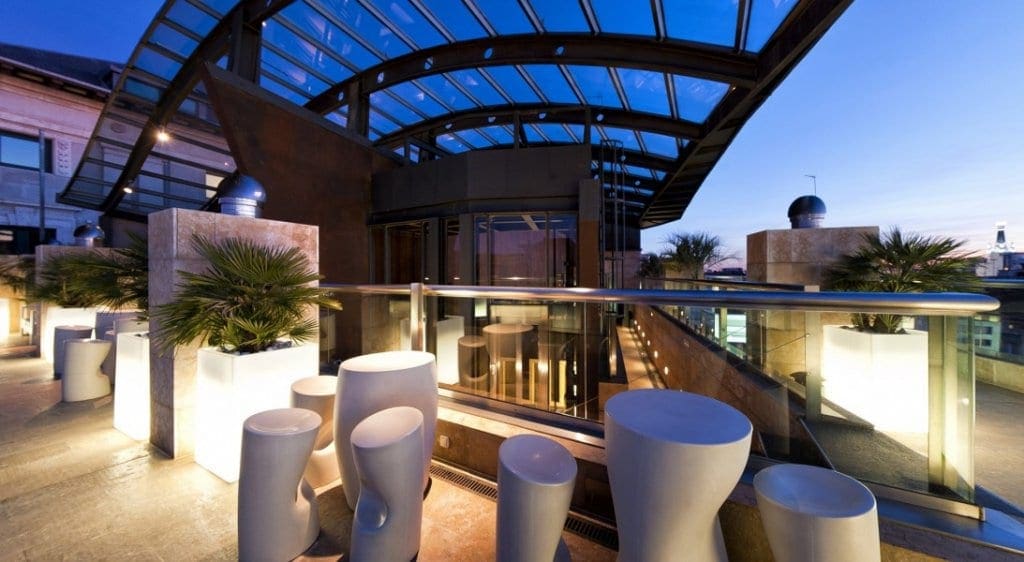 Website: Urban Hotel
Address: Carrera de San Jerónimo, 34, Madrid 28014
Situated at the heart of Madrid's bustling center, the Urban hotel's striking terrace has become THE place to meet before a night out. Open every day in the summer season, the terrace is a simply fabulous place for a glass of chilled Albarino, with inviting loungers, tropical plants and stunning views across the city. Complementing the wide range of cocktails and Gin & Tonics is a mouth-watering selection of hot and cold tapas, including Tempura cod, mushroom croquettes with cream cheese, and mini Wagyu burger with black garlic mayonnaise. A complete hedonist's dream come true then.
---
Atico de las Letras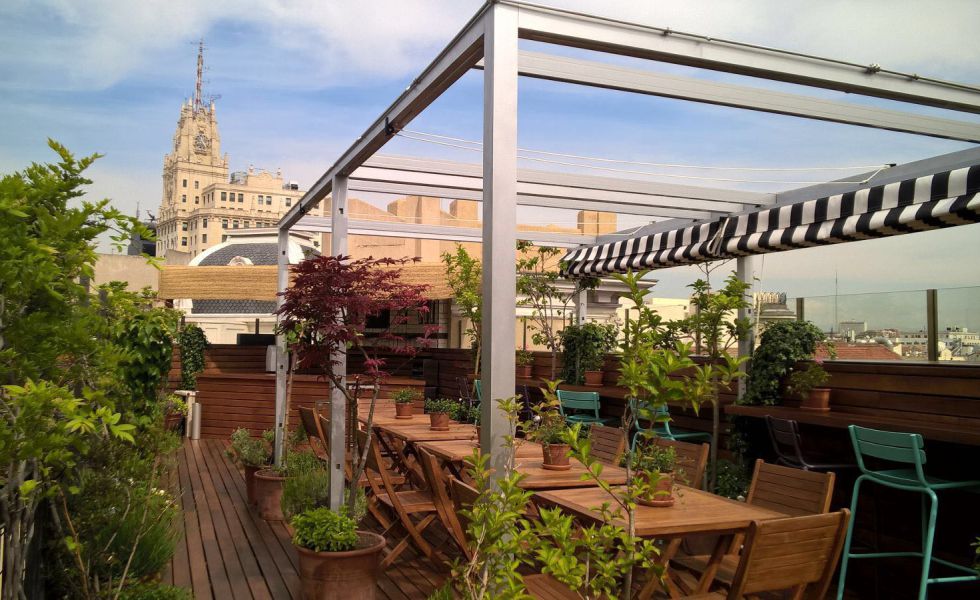 Website: Hotel de las Letras
Address: Gran Via, 11, Madrid 28013
Atico de las Letras is, without a doubt, a top contender for the title of Madrid's most glamorous and exciting terrace nightspot. Offering a welcome respite from the madness of the Gran Via, this calming, wood-paneled space serves delicious cocktails, including a superlative Mojito, tapas, and a diverse range of wines by the glass to both weary shoppers and hotel guests after a pre-dinner drink. After the sun goes down, however, Atico takes on a less sedate and more frantic vibe, with live DJs, impeccably dressed crowds, and views to die for. A must-visit destination for any night owl on tour in Madrid.
---
Terrace at Hotel Oscar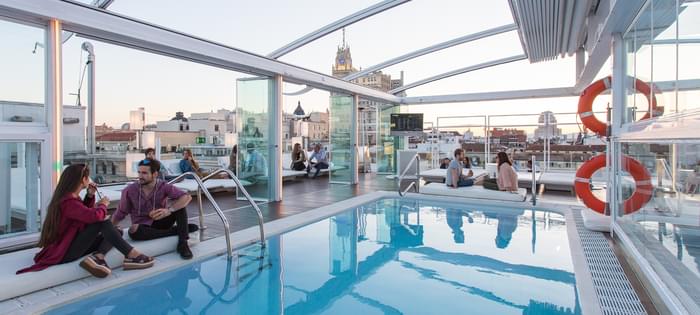 Website: Hotel Oscar
Address: Plaza Vázquez de Mella 12, Madrid 28004
A sophisticated cut above most hotel terraces in Madrid, this is the Chueca district's most desirable place to hang out. In the summer season, the hotel's luxurious white loungers quickly fill up with appreciative crowds, whilst the incredibly efficient and charming staff keep everyone's glasses filled. Black and white tiles, white loungers, glass panels, and a glistening pool give the terrace a cool, calm atmosphere, attracting a well-heeled, grown-up crowd. For a great evening sipping cocktails under the stars at the heart of Madrid's most fashionable barrio, few places beat it.
---
Terrace at the Mercado San Anton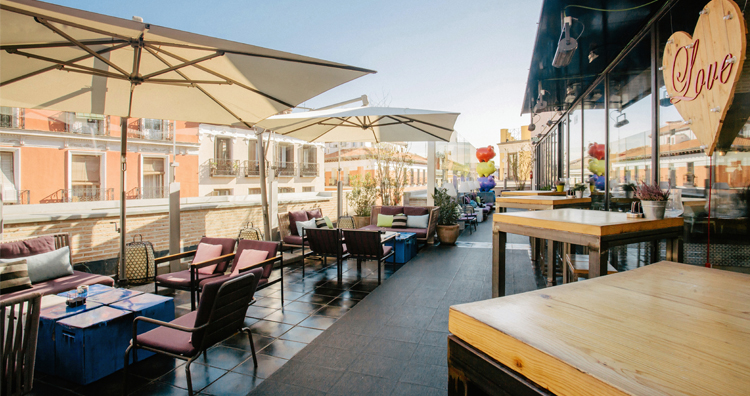 Website: Mercado San Anton
Address: Calle Augusto Figueroa 24, Madrid 28004
What could be cooler than browsing Madrid's lively gourmet food market before heading to the rooftop terrace for a well-earned glass of vintage Cava? Having quickly established a reputation as one of Chueca's trendiest haunts, the terrace at the Mercado San Anton is always packed in the summer months with a mixture of locals and visitors enjoying the great views of surrounding Chueca, the delicious tapas and copious amounts of wine by the glass. At weekends the terrace often has live music – the perfect spot to start your evening in style.
---
Gau & Cafe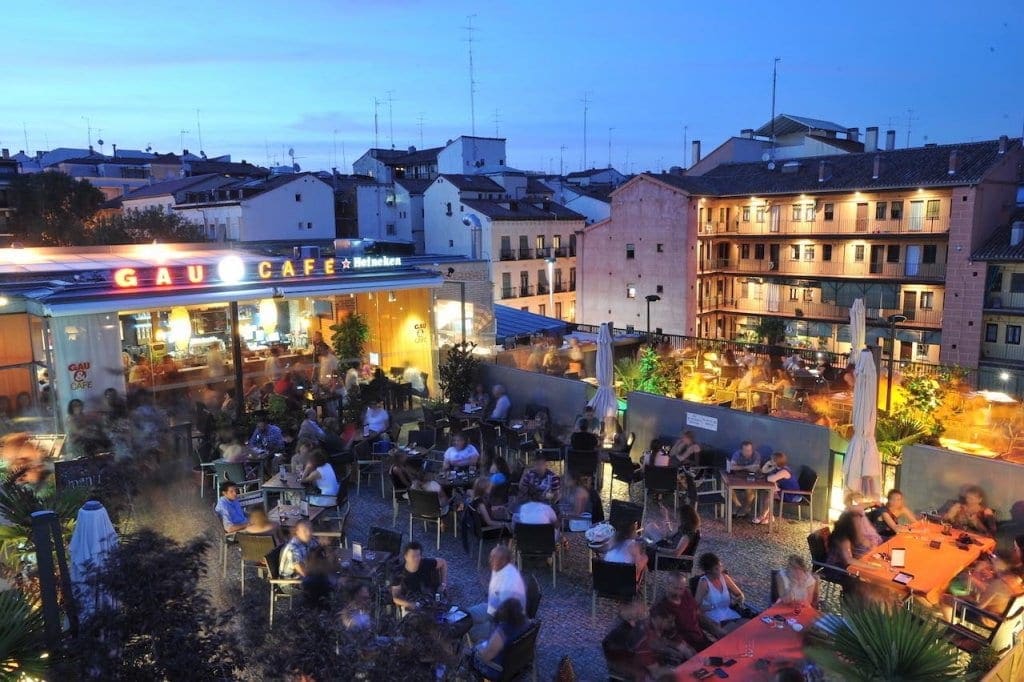 Website: Gau & Cafe
Address: Edificio Escuelas Pias (UNED), Calle Tribulete, 14, 4ª Planta, Madrid 28012
Why can't all university bars be like this? Situated in the most unlikely of locations, on the fourth floor of a historic university building, Gau & Cafe attracts all sorts: students, trendsetters, canoodling couples, and of course, visitors in the know. The atmosphere in the rooftop bar buzzes night after night in the summer months with the wonderful sound of people having a great time. The drinks list is extensive and covers most of the Spanish wine regions in addition to plenty of imaginative cocktails and, naturally, a healthy selection of Gin & Tonics. But the real reason to head to Gau & Cafe is the restaurant, one of the best in the city by far. Enjoy such mouth-watering – and unusual – dishes as lamb couscous, Dim Sum with zebra, yes, zebra meat, and chicken tempura. A meal under the stars at Gau & Cafe is a memorable experience.
Related Blog Posts: