We have just returned from a very interesting research trip in Spain's beautiful Garrotxa national park, a delightful area in Catalunya characterized by its extinct volcanoes, medieval villages, lush scenery and passionate local chefs. We visited a variety of local producers and restaurants and here are some of the highlights of our trip-
Mas Corominas–
This artisan charcuterie producer is located in a picturesque valley near Begudà. A variety of organic cured meats are produced with the purebred Duroc pig including the famed Fuet, chorizo, white butifarra, salcichón and jamón. Our charming hosts put on a feast of these local delicacies, all served with "Porrones" of local Empordà wines, pan con tomaca (country bread rubbed with fresh tomatoes, olive oil and sea salt). The owners receive visitors at their small country house in the forest and also have a permanent stall in the main market square in the town of Olot.
Mas Corominas Tel +34 972 26 65 24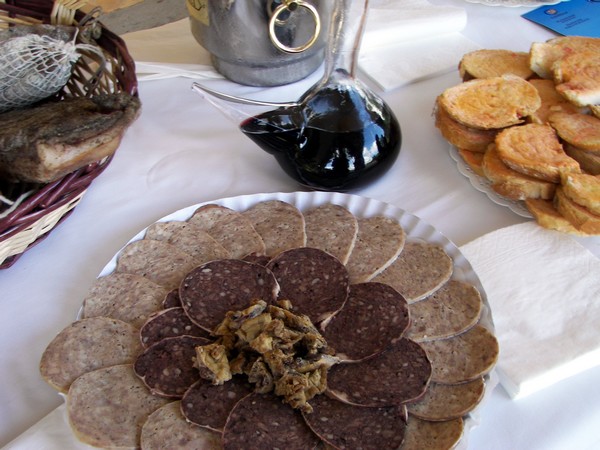 Keks Beer-
We met so many interesting characters in the Garrotxa including Pep Nogué i Puigvert, a young chef who has also added micro beer production to his resume (CV). Pep´s beer is made with buckwheat (called "Fajols") grown on the fertile volcanic soils of this region and 2008 was the first "vintage". The initial production of 4000 bottles sold out immediately and the production for next year is set for 9000. The beer has an unusual almost fruity flavor and is delicious, 3.5% alc. The only place you are likely to taste it is in the Garrotxa, and we highly recommend a visit to this lovely green area of Spain.
Visiting La Garrotxa and Osona province-
Best towns to visit-Medieval village of Besalú with its Jewish heritage; Olot for its old town and markets (the outskirts are industrial); the spec of a medieval fortified hamlet of Santa Pau on the map for mountain hikers and gourmets; stunning Castellfollit for its magnificent volcanic basaltic cliff crowned with the historic village; Vic for its lovely old quarter and wonderful markets,  also some fabulous little restaurants.
Best restaurants- Ca l´U in Vic, a beautiful 18th century mansion filled with an array of charming dining rooms and excellent local country cuisine (rich in ceps and wild mushrooms) served by gracious old time waiters; the excellent Michelin starred Can Jubany in Calldetenes with a good value tasting menu; Cal Sastre in Santa Pau for rustic charm and delicious white beans and butifarra (!!), known for its "Cuina Volcanica"; and the superb Les Cols (ultra stylish gourmet hotspot set in a historic masia) in Olot.
Best accommodation- Sant Ferriol 4* Hotel, Spa and gourmet restaurant with 12 rooms in a historic masia (villa) near Besalú; Mas Salvanera, a charming B&B set in a 17th century masia Catalana; and outside Vic you have the tranquil and relaxed 4* Parador of Vic-Sau, surrounded by nature and a picturesque reservoir (the terrace bar overlooking the water is great to enjoy your aperitif before dinner and sunset).