Tara Stevens, author of  Clock Book: Recipes from a Modern Moroccan Kitchen, was kind enough to give us her favorite tips on the best places to stay and dine in Fez and Marrakech in Morocco for foodies who enjoy a bit of pampering: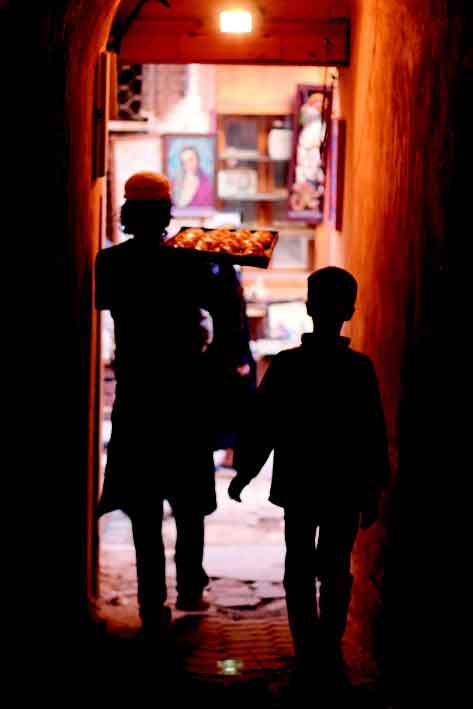 In Fez:
Obviously you've got to go and eat at the Café Clock and have a camel burger. They also do wonderful, traditional cooking classes with Souad (and sometimes me if I'm in town).
Fez Food is run by a friend of mine Gail and it's a great way to get deeper into the culinary culture of Morocco. She does foodie tours of the medina, but also gastronomic adventures out into the hinterland. Couscous making in a remote Atlas village for example, and visits to the Meknes wineries.
The Jardin des Biehn is sensational. The 'Caliph's Suite' is something else complete with private Turkish baths. And it's keenly priced for a place of its caliber.
Dar Seffarine is the most beautifully restored traditional house I can think of anywhere in Morocco, and its owners Kate and Alla are gorgeous. Alla is an Iraqi architect, Kate's a Norwegian photographer and their attention to detail and authenticity are second to none.
In Marrakech:
I always stay at Riad Tizwa because it feels like home to me. The owners Dan and Richard Bee make you feel like one of the family, its intimate, laid-back and brilliantly positioned on the edge of the medina so you can get in and out easily.
Riad Due is a great example of the sort of contemporary boutique that is starting to spring up around Morocco. It's a light take on traditional Arabic design, a bit more irreverent and fun. Another of my favourite places to stay.
La Mamounia of course is the grande dame of Moroccan high-end hotels and since Jacque Garcia's careful renovation is looking dazzling. Some great modern Moroccan cooking in one of the restaurants too.
If you want to get away from it all Dar JL is a handful of exclusive riads in La Palmaraie and is perfect for living out an Arabian Nights style fantasy. When I stayed I didn't leave once.
Harem is an extraordinary getaway for women with a focus on food therapies, yoga, meditation and basically time for oneself away from the demands of work and family. It is located in the private residence of a well-known French artist, so the kind of place you don't get to see very often.
You've got to spend an evening at the night market in Jemma al Fna to sample Moroccan street food.
For lunch I like Terrasse de Epices . Its nicely put together modern Moroccan fare on a contemporary designed Moroccan rooftop. They have a sister café nearby too.
Dar Cherifa is good for a traditional fare and cultural events. The owner Abdellatif owns a handful of pretty riads too.
Azar is good for a night out. The design is spectacular, by a young local designer, the food is Lebanese and there's a great nightclub underneath for a bit of a boogie.
I also like the rooftop at Le Bab for drinks.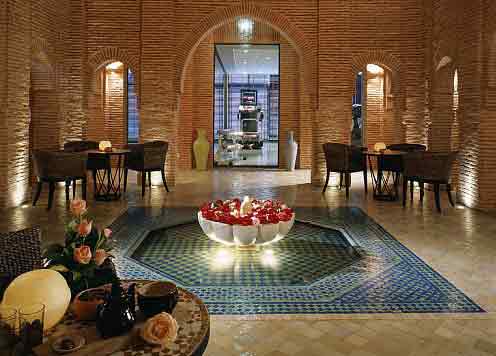 Café Clock: recipes from a modern Moroccan kitchen is available priced 15 pounds at amazon.co.uk