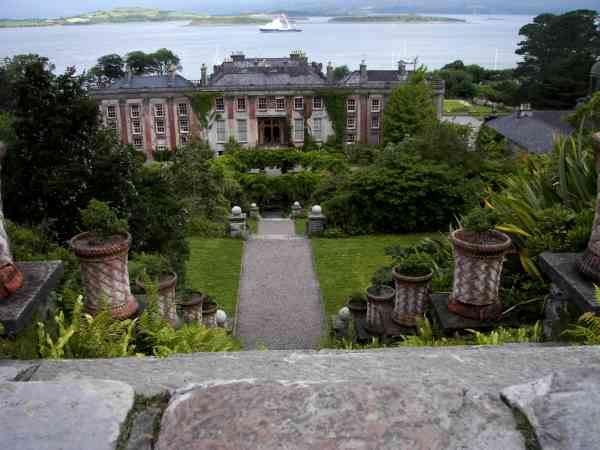 For the last few weeks we have been on the road, burning rubber across the island to find luxurious country retreats and historic hotels. We visited all kinds of wonderful places from Design Hotels (see our favorite designer hotels here), Country Guest Houses, Manor Homes and Palatial Estates and of course, some Irish castles!
Here is a list of our top picks which we will be including in our new private chauffeured gourmet tours in Ireland.
BEST MANOR HOTEL-ADARE MANOR
Adare Manor is one of the most stunning properties we have see in Europe! Built in the early 1800's for the 2nd Earl of Dunraven and his wife, Lady Caroline Wyndham, it is a beautiful Victorian Gothic mansion (plenty of bay windows, gargoyles, etc) with a few quirks (for example there are 52 chimneys- one for every week of the year). The ivy clad manor rests in an absolutely gorgeous estate of more than 800 acres of manicured gardens (with a beautiful Cedar of Lebanon), parkland and a river flowing around the hotel. Brown trout can even be fished year round on site, Adare Manor has a private gillie for guests. Adare Manor is also known by golfers for its 18 Hole Championship Golf Course (which regularly hosts the Irish Open) designed by the mythical Robert Trent Jones Senior. Their Manor Oakroom Restaurant run by head chef Mark Donahue is high end traditional cuisine with a discreet creative twist. When we visited this past weekend dishes on the tasting menu included Roast Atlantic Scallops with a thermidore glaze of endives and red onions; roast quail and crisp air-dried Irish pork; and roast breast of Guinea Fowl filled with foie gras mousse. The atmosphere in the dining room is romantic with its original oak panels, high ceilings, and flickering candles. Adare Manor web
BEST CASTLE HOTEL- DROMOLAND CASTLE
Our expectations were not extremely high, as while visiting other properties we had found that many castle hotels live off their name, similar to some of the Paradors in Spain, and rooms tended to be dated and tired. What a surprise when we arrived! Not all hotels have a history dating back to the 11th century and can claim to be the ancestral home of one of the few Royal Gaelic families (Brian Boru, the High King of Ireland). The list of famous guests is long and distinguished including the last few American presidents and a host of celebrities. This gorgeous property is located in the west of Ireland, about an hour south of Galway and two hours northwest of Cork, and a few minutes drive from Shannon airport. It stretches out over 400 acres of lush parkland with a soft rolling golf course (JB Carr & Ron Kirby), sparkling lake (complete with ducks) and beautiful tree lined paths. High Tea is served from 3-5PM in elegant salons that wind around the first floor of the castle. We loved the Earl of Thomond dining room, very atmospheric and pretty and serving haute Irish cuisine (think Roast Monkfish with black pudding risotto and langoustine & asparagus salad). The latest novelty at Dromoland is a fabulous spa, using the Irish – Voya- line of products whose products are made with an organic seaweed base. Treatments could include a – Tangle Me Up- seaweed body wrap for example. Love this place. Dromoland Castle web
BEST GARDENS- BANTRY HOUSE
Wow, location location location. Mama mia, this hotel (really a luxurious B&B) is set in an absolutely idyllic spot. Located in cute Bantry in West Cork, you drive in from the coast about a kilometer through thick woodland before arriving to the Bantry House, surrounded by luxuriant gardens. We arrived late and the gracious owner himself welcomed us. We later found out that Mr. White is the actual descendant of the original owners who had the mansion built in the 1700's! Our very pretty room faced the formal gardens and had the most comfortable bed I have slept in I think in years! There is an old fashioned billiards room with an honor bar and all kinds of games from scrabble to Mahjong, and an adjoining salon with cozy fire. Gin Tonics beside the fire after a walk in the gardens are a must. We had an informal dinner at their little cafe style bistro but for finer dining head to O'Connors (fine seafood restaurant). The Bantry House, while not ultra luxurious, is one of the most unique places we have stayed, and the views from the gardens over the bay are simply priceless. Bantry House web
BEST LUXURY HISTORIC HOTEL WITH SPA- THE PARK, KENMARE
Kenmare is one of the cutest little gourmet villages of southern Ireland and is located in the southwest in the Kerry region. And the much loved Park Hotel is still gorgeous, run by some of the best hospitality professionals we have had the pleasure of meeting. This Victorian landmark hotel faces the Kenmare Bay and houses what is considered to be one of the best spas in Ireland if not Europe. The Samas spa is a real experience and is part of the Park experience. Some of the Samas rituals include a basalt hot stone therapy and the 2 hour ladies ritual (with deep facial cleansing and hypnotic acupressure massage). The beautiful and peaceful location of The Park in this beautiful corner of Kerry, lends itself to a stay focused on relaxation and indeed many guests enjoy simple pleasures like yoga and jogging, followed by cocktails and fine dining in their delicious formal dining room, or head to Kenmare to local gems like Packies.
BEST LUXURY HOTEL FOR FISHING- SHEEN FALLS, KENMARE
Also in Kenmare is the extremely comfortable Sheen Falls Lodge property, which we also loved for its dramatic riverside location, services, and superb staff. The Danish owners revamped a historic hunting lodge dating back to the 1600's, although most of the hotel is (tastefully) new. This pampering hotel is a member of Relais & Chateaux, and understands luxury and how to spoil its guests. The hotel will organize a champagne picnic served by the lake after a scenic drive in a vintage Buick dating to the 1930's for example. Or for our wine loving clients, a private wine tasting in their impressive cellar with their knowledgeable and friendly sommelier. The suites here are great and overlook the cascading waterfalls, and they have thought of everything. A major focus at the Sheen Falls is on fishing and they are very proud of their private gillie who will also act as private river guide. Sheen Falls Lodge web
BEST COUNTRY HIDEAWAY- CARRIG HOUSE
We had the best dinner I think we have had in over a year here at this adorable tiny country house on Caragh Lake in Kerry. Simple dishes like baby lamb chops and roast turbot were cooked to perfection and out of this world!!! This converted 19th century hunting lodge is located in a hidden corner of tiny Caragh Lake near the Ring of Kerry and is very romantic and cozy. While we stayed here in summer, it would be great to go back in winter and just relax in front of the fire and enjoy long walks and gorgeous dinners with brandies to follow in the front salon. The room to go for is definitely their presidential suite with views opening onto the lake, and a delicious bed they personally brought over from India. Carrig House web
ANOTHER GREAT COUNTRY HOUSE FOR DINING- BALLYMALOE HOUSE
The Allen family are the most famous culinary family in Ireland. Darina Allen is the Julia Childs of Ireland and Rachel is a celebrity TV chef- both sell bucket loads of cookbooks and of course they offer those world famous cooking demonstrations and professional classes nearby at their organic farm and cookery school. The house is where foodies can overnight (decor is simple country chic) and above all, eat! The beautiful dining room is most atmospheric at night with a roaring fire, and the food here is all sourced locally (much of it from their own farm) and daily. We enjoyed an excellent lunch here just a few days ago, and can definitely sing their praises. We tried mackerel fished from Ballycotton (a few miles down the road), tender organic steak and free range organic chicken (both from their own farm) in a delicate tarragon sauce- simple and very, very good. We look forward to sending you here and to our other favorite corners of Ireland! Ballymaloe House web