Located in southeast Italy, Puglia is an ideal destination for travelers and foodies alike. The region encompasses the heel of Italy's boot and is one of the country's least mountainous areas. Consequently, Apulian terrain is ideal for agriculture, and the region is especially renowned for its olive oil production. Puglia also has the largest coastline of any Italian region, stretching 800km long, meaning seafood is prominent in coastal zones. Yet the best food in Puglia has its origins in cucina povera, or poor cooking because the region was always historically poor.
Traditionally, meat was reserved for Sunday meals and special occasions. So, many Apulian dishes rely on the region's plentiful seasonal produce, bread, pasta, and the bounty from the sea. Both the Adriatic Sea to the east and the Ionian Sea to the west provide a variety of fish, octopus, mussels, and more to enjoy. In addition, Puglia is one of the largest producers of durum wheat, which is used prominently in pasta and many of the region's bread.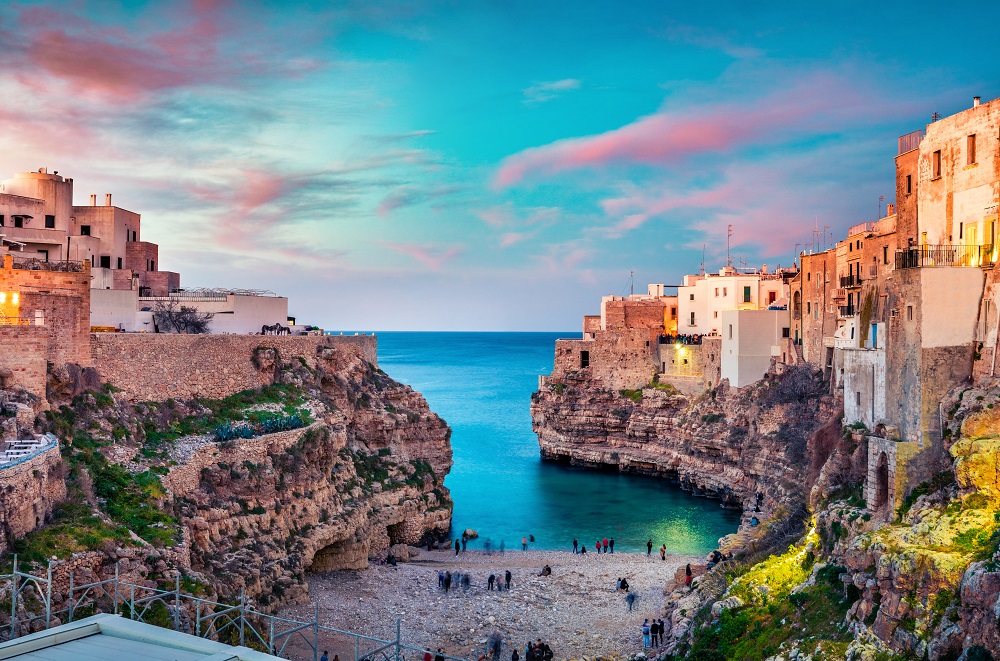 One of Puglia's most famous ingredients, grano arso, was born from cucina povera though it's highly sought after today. It's a type of flour with a nutty, earthy flavor made from burnt wheat, which locals usually collected from wheat fields once they'd been burnt after harvest.
Explore some of the best food in Puglia and must-try dishes of Apulian cuisine with Cellar Tours on an exclusive Puglia Food & Wine Tour.
Top Producer of Extra Virgin Olive Oil
As in other Italian regions, olive oil is used prominently in Apulian kitchens. Remarkably, Puglia supplies 40% of Italy's olive oil production and 12% total global production. Olive oil from Puglia is characterized by high vitamin content and digestibility. The best oils are said to come from Andria, Bitonto, and Cerignola, located in the province of Bari. If you're a spicy olive oil lover, look to the renowned Terra di Bari DOP for one of Italy's most famous olive oils made from the Coratina olive.
Must-Try Bread in Puglia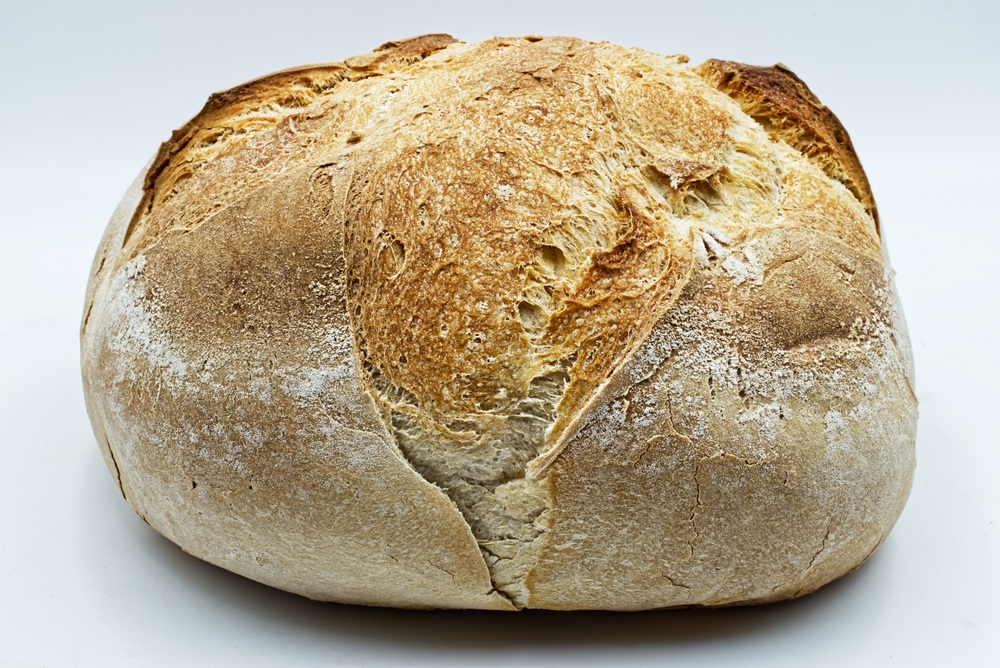 Pane di Altamura
Bread is a staple in the Apulian diet because it was always affordable and accessible. Here are a few types of bread in Puglia worth seeking out.
Focaccia
No visit to Puglia is complete without savoring focaccia, a round, crunchy yet fluffy bread found in different variations throughout the region. One of the most prominent versions in Puglia is topped with roasted cherry tomatoes, olives and drizzled in olive oil. In contrast, focaccia Barese involves adding mashed potatoes to the dough, resulting in a taller bread with an even softer texture often topped with similar ingredients.
Pane di Altamura
Pane di Altamura DOP is a traditional bread of the pastoral culture of Alta Murgia. The bread is made with ground durum wheat semolina from different varieties in Alta Murgia, along with a mother yeast, water, and salt. It's cooked in a wood-burning oven, resulting in a solid, crunchy exterior and soft crumb. Pane di Altamura is known for its durability, remaining fresh for up to two weeks, which was essential for the livelihoods of local farmers and shepherds.
Taralli
An international symbol of Puglia, taralli are ring-shaped snacks similar in texture to a breadstick. Legend has it the first tarallo dates to 1400 when Puglia was ravished by famine. A mother desperate to feed her children mixed flour, extra virgin olive oil, salt, and white wine. She shaped the dough into small rings, baked them after leavening, and the first taralli were born. Variations of the recipe developed over time, including an added step of boiling the dough rings before baking for an extra crunch.
They eventually became a devotional food for nuns, followed by sustenance for pilgrims, or ziazì, on long journeys in the south of Italy. Today, taralli are flavored in several ways, such as salt, fennel, garlic, olives, chile flakes, sesame seeds, and more. They're eaten as snacks throughout the day and frequently served with wine or cocktails for aperitivo.
Friselle
Another popular snack food in Puglia, friselle, is a twice-baked dry bread typical of Salento. They are like extra crunchy taralli made from whole wheat or white flour. After cooking, the friselle is cut in half and sent back into the oven to be baked again. Traditionally, they were a type of pane di viaggio, popular amongst farmers and fishermen because they were dry and easy to transport. They'd rehydrate the hardened bread with a dip in seawater or well water, then top it with a smashed tomato and seasonings for flavor. Today, you'll find friselle topped with local ingredients, such as olive oil, oregano, olives, and tomatoes.
Puccia
Puccia is a small round bread made with pizza dough also found in Salento in southernmost Puglia. Baking in a wood-fired oven produces bread with a crunchy exterior and tender interior. Moreover, puccia Salentina is savored as street food with various fillings, including mozzarella and tomatoes, meatballs, sundried tomatoes, cheeses, and salumi.
Cheese from Puglia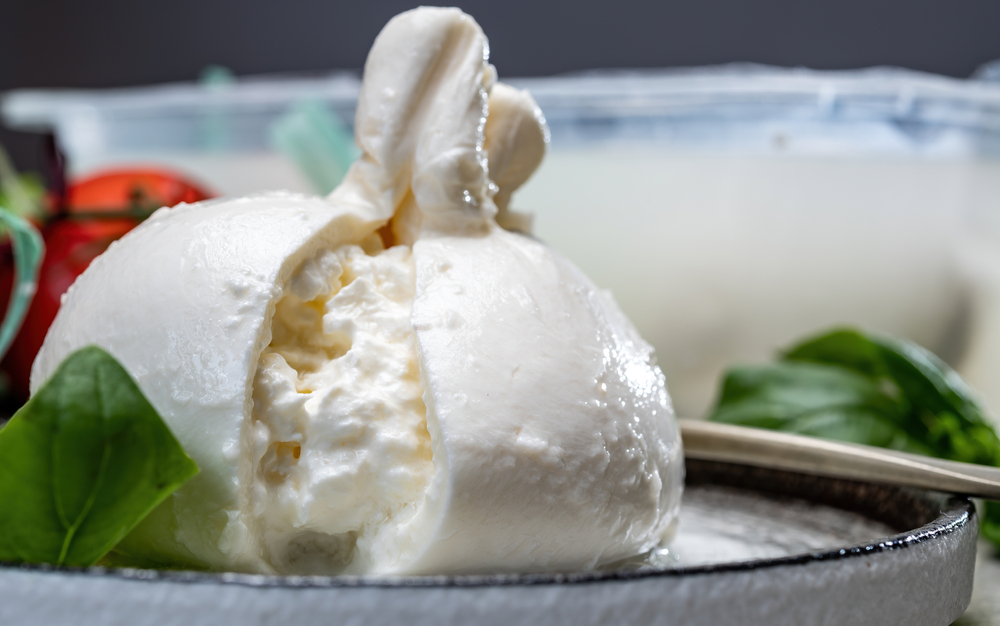 Delicious and creamy Burrata
Burrata and Stracciatella
One of Italy's most revered cheeses, burrata hails from the city of Andria in Puglia's Murge district. This Italian cheese was first made in the 1920s in a farmhouse, or masseria, close to Castel del Monte, known as Masseria Bianchini. Burrata was first created to utilize the leftovers from the cheesemaking process. First, the remaining pieces of stretched curd fiordilatte were mixed with cream to make the filling. Then, the cheesemakers would blow forcibly into a piece of warm, malleable fresh fiordilatte to make the pouch for burrata.
Additionally, the filling for burrata is known as stracciatella and is often eaten as a creamy, fresh cheese. Mozzarella, which originated in Campania, is also eaten throughout Puglia.
Caciocavallo
Caciocavallo is another cheese often savored in Apulian cuisine. It's a cow's milk stretched curd cheese known for its unique pear shape. The cheeses are tied together, then hung to dry and mature. Caciocavallo has a slightly salty taste and is frequently served grilled alongside bread.
Canestrato Pugliese DOP
Canestrato Pugliese is a sheep's milk cheese made in the provinces of Foggia and Bari. Its name comes from the baskets in which each wheel of cheese is formed, leaving distinctive imprints on the rind. Canestrato Pugliese is typically enjoyed as a table cheese or served alongside salads or grilled vegetables.
While on the go
Capocollo from Martina Franca
The capocollo from Martina Franca is Puglia's top salami made from premium pork raised in the Valle d'Itria. Meat is taken from the back of the neck, salted with sea salt and black pepper, and left to dry for fifteen days. Next, the meat is washed and cooked in wine for a few hours, then set into a natural casing by hand. Finally, using Fragno oak local to the region, the capocollo is lightly smoked then rests in cellars for 120 days before being consumed.
Panzerotti
Panzerotti is another must-try street food in Puglia. They resemble mini calzones stuffed with mozzarella and tomato sauce. Except panzerotti is fried in oil and best enjoyed hot while the cheese is still melted and gooey.
Calzone di Cipolla
Calzone di cipolla resembles a pie more than a calzone. The shell is made with bread dough, while the filling consists of onions, green or black pitted olives, anchovies, grated cheese, and raisins. These ingredients create a delicious sweet and savory contrast for which calzone di cipolla is adored.
Piatto Unico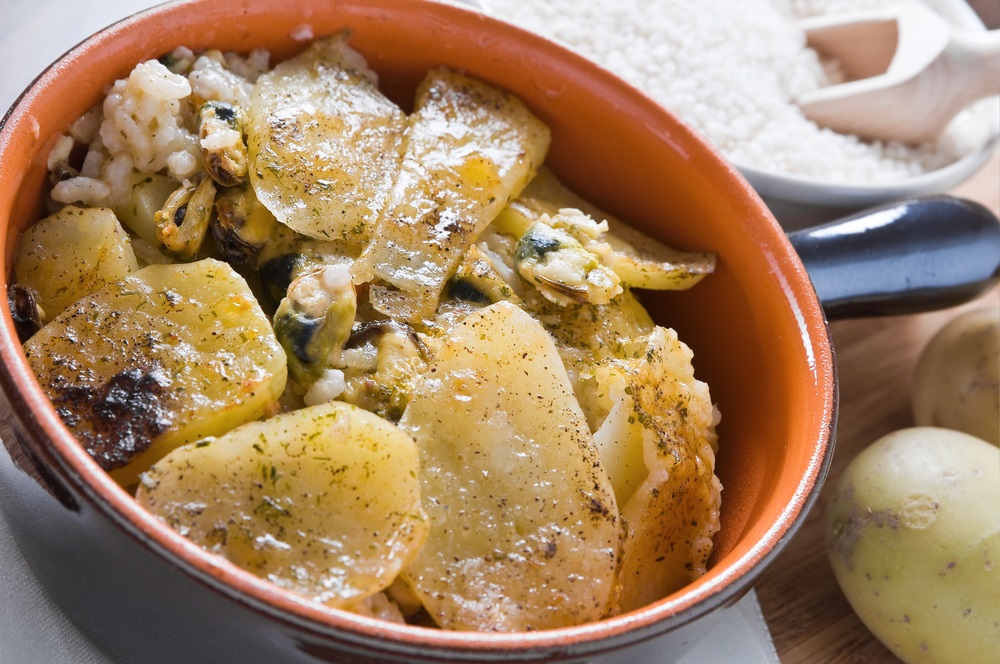 Tiella with potato, rice, onion and mussels
Fave e Cicorie
A trademark vegetable dish of Puglia, fave e cicorie consists of a fava bean purée served with sautéed chicory. The fava bean purée is simply flavored with garlic, bay leaves, vegetable stock, salt, pepper, and olive oil. This dish is a prime example of the region's history of cucina povera, highlighting Puglia's seasonal produce.
Tiella
This classic Apulian dish combines both flavors of land and sea. Tiella is a baked dish consisting of layers of tomatoes, onions, rice, mussels, and potatoes. It's topped with breadcrumbs and grated pecorino cheese, then baked until golden brown. The mussels are cooked inside their half-shell traditionally, so you'll need to pick them out by hand when you enjoy tiella.
Primi Piatti in Puglia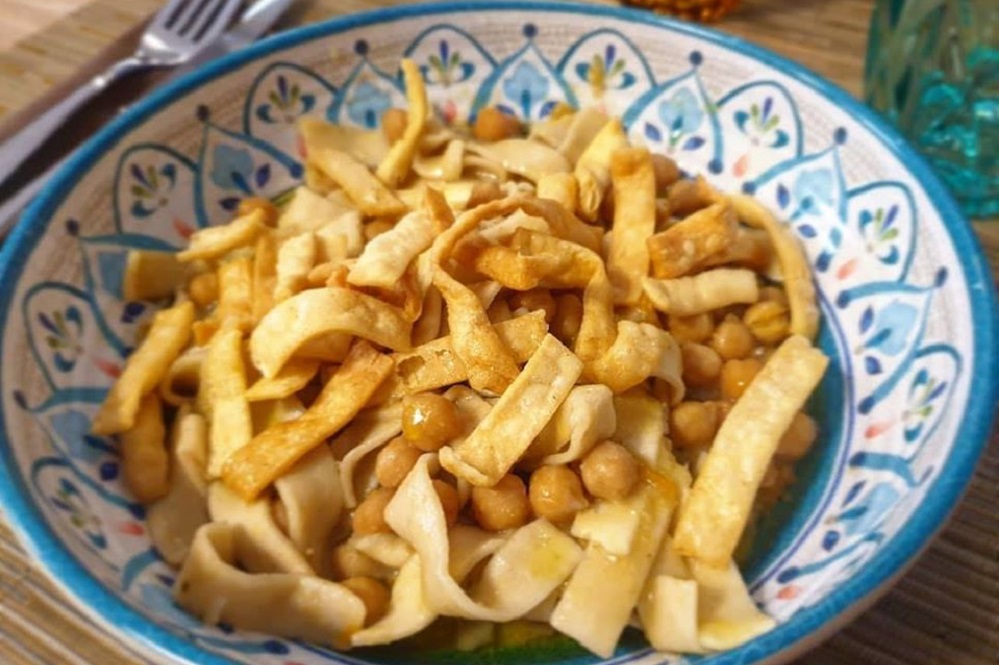 Ciceri e Tria
Orecchiette
Orecchiette is Puglia's most widely savored pasta. The name translates to small ears, which perfectly describes the shape of this handmade pasta. Orecchiette is concave and smooth on one side and slightly rough on the other. Wandering the streets of Bari Vecchia, you're likely to stumble upon the Strada delle Orecchiette to find local grandmas sitting outdoors happily making orecchiette by hand daily.
Le orecchiette con le cime di rapa, or orecchiette with turnip tops, is a highly popular preparation of this pasta. Orecchiette is also enjoyed with broccoli rabe or baked in a tomato sauce with small meatballs and cheese.
Spaghetti Ai Ricci
This simple, flavorful pasta dish features sea urchins, or ricci, one of Puglia's most prized seafood treasures. To make this dish, freshly cooked pasta is stirred with garlic sautéed in white wine, olive oil, salt, and chili. Then, the fresh sea urchins are added to the pasta for a fresh yet buttery taste of the sea.
Ciceri e Tria
Ciceri e Tria, a pasta dish from Salento, is an ancient recipe first mentioned as early as 35 B.C. by the poet Horace. The pasta is made from flour, re-milled semolina, water, and olive oil. Then the dough is rolled thinly and formed into short noodles with a spiral shape. Some of the pasta is boiled and cooked normally, while other noodles are fried, hence the name tria, which comes from the Arabic word ittrya, meaning fried. Ciceri refers to chickpeas, which are also included in the dish.
Acquasale
A classic dish of cucina povera, acquasale originated amongst the peasant and pastoral cultures of Puglia. Created to utilize stale bread and readily available ingredients, acquasale involves first soaking bread in water, though the crust should remain crunchy. Next, the water is squeezed from the bread. Then, the bread, diced tomatoes, thinly sliced onion, olive oil, oregano, and salt are added together to complete the dish.
Secondi Piatti in Puglia

Parmigiana di Melanzane alla Pugliese
Cozze Ripiene
Mussels are one of the most savored seafood specialties in Puglia. They often come from the coastal town of Taranto, where they have a delicious preparation. Known as cozze ripiene or cozze alla Tarantina, the mussels are stuffed with a mixture of bread, parsley, egg, grated cheese, pepper, and olive oil. Then, they're simmered in tomato sauce to cook, which can subsequently be used as a pasta sauce as well.
Baccalá al Forno con Patate alla Salentina
Baccalá al forno con patate alla Salentina is another typical food in Puglia highlighting both land and sea. To make this baked salted codfish dish, the fish is first soaked in water for a few days to remove the salt. Next, the cod is layered with potatoes and baked with cherry tomatoes, olive oil, garlic, parsley, and onions.
Parmigiana di Melanzane alla Pugliese
Puglia's take on the classic Italian eggplant parmigiana involves dredging the eggplant slices in batter before frying them. Depending on where you are in Puglia, meats like mortadella or cooked ham might be layered into the parmigiana di melanzane. Otherwise, the battered and fried eggplant is layered with mozzarella, Parmigiano Reggiano, and a freshly made tomato sauce, then baked.
Bombette
Bombette is especially popular in Cisternino, home to many restaurants called Fornelli, where they grill various types of meat and sausages. Every fornello has its own recipe, but bombette are small meat rolls filled with cheese and spices, then grilled. The meat is usually veal, and certain bombette might be found wrapped in pancetta or cooked in the oven instead.
Polpette Pugliesi
Polpette, or meatballs, are another traditional meat-based dish of Puglia. The meatballs are made with a mixture of minced meat, pecorino, breadcrumbs, egg, garlic, parsley, salt, and pepper. They're the most flavorful when cooked in tomato sauce, though the polpette may also be fried.
Braciola alla Barese
Though not eaten as often today, the consumption of horsemeat was once prevalent in Puglia. Braciola alla Barese is a typical horse meat preparation, which involves stuffing rolls of horse meat with parsley, garlic, and pecorino cheese. The meat rolls are then simmered in tomato sauce that can be used as a sauce for pasta once the meat is cooked. Braciola alla Barese may also be made with veal.
Typical Dolci of Puglia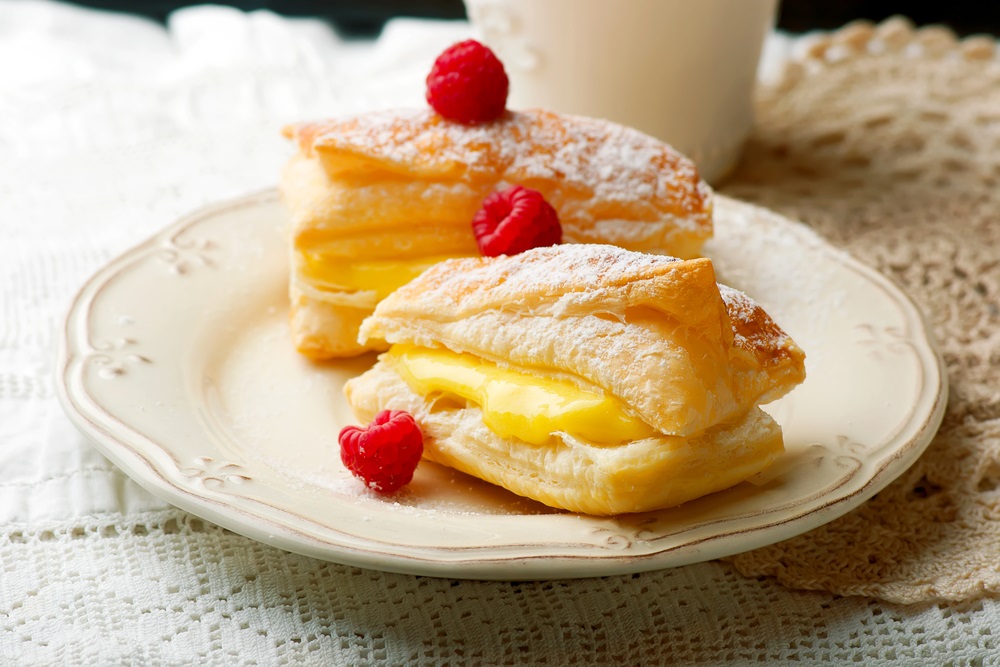 Sporcamuss
Pasticciotto
Pasticciotto is custard-filled sweets from Lecce widely enjoyed throughout Puglia today. The traditional versions are flavored with lemon and vanilla, though other variations with hazelnuts, chocolate, or pistachios abound. In Puglia, pasticciotto are enjoyed with morning coffee just as often as they're enjoyed with dessert.
Caffé Leccese
Speaking of coffee, caffé leccese is a refreshing coffee drink from Lecce which involves combining espresso, ice, and a splash of sweet almond milk. Though not a dessert, caffé leccese is an ideal pick-me-up when visiting Puglia.
Sporcamuss
A quintessential pastry from Puglia, sporcamuss are squares of flaky puff pastry filled with pastry cream sprinkled with powdered sugar. In the local dialect, sporcamuss means dirty mouth, so-called because it's impossible to bite into these pastries without getting your face dirty with cream or powdered sugar.
Cartellate
Originally a Christmas dessert, cartellate is now enjoyed year-round in Puglia. The fried, crispy dessert is made from dough shaped into a rose-like form. The dough consists of flour, olive oil flavored with a clementine rind, white wine, salt, sugar, and cinnamon. Once the dough has been shaped into its rose shapes, it dries overnight. The next day, each cartellate is then fried, dipped in honey or vincotto, and decorated with sprinkles.
Pettole
Finally, pettole is a very common street food in Puglia. They're small, puffy balls of dough that have been fried in oil until golden brown and then dusted in sugar. Savory versions also exist in different provinces, which might include sundried tomatoes, olives, or anchovies. You're most likely to find sweet pettole around the Feast of the Immaculate Conception on December 8th or closer to Christmas.
About Nicole Dickerson
WSET certified international wine writer with a passion for rare varieties and cellar hand experience in both hemispheres. Join me in the vineyards and cellars of the wine world at palmandvine.com.