Puglia is "the heel" of the boot of peninsular Italy. It is bordered by both the Adriatic and Ionian Seas, giving it one of the longest coastlines of any region in Italy. Puglia is also one of Italy's most fertile regions on a par with the Po Valley. Olive trees, wheat, and vines cover the territory of Puglia like a colorful patchwork. Most visitors to Italy are not familiar with this region or the fantastic food and wines on offer. Brindisi is most famous for being where backpackers catch their ferries over to Greece. The "Trulli" of Alberobello, Lecce (called the Florence of the south with its stunning historical architecture), the seaside village of Gallipoli, and the Gargano peninsula, are some of the best "secrets" of the south.
Principal wine towns in Puglia include Lecce, Martina Franca, Manduria (a lot of "Primitivo" is produced in this wine town), and Salice Salentino. More than 60% of the production of wines in Puglia is red wine. Puglia was, for years, a supplier of massive bulk "plonk" (low-quality wine). An awful lot of this plonk was sent on tankers, by night, to Italy's north to be (illegally) blended into mediocre wines.
Luckily this practice has stopped, and more inspired winemaking is taking place in the 21st century. Wineries from the north of Italy and even American wineries are beginning to see the potential of Puglia and are starting to invest heavily. Antinori and American importer Neil Empson (founder of A-Mano) have already experienced commercial success with their Puglia wine ventures.
Visiting
Cellar Tours organizes exclusive luxury Puglia Wine Tours, featuring top producers, privately chauffeured, dining in the best local restaurants, and staying in charming countryside hotels.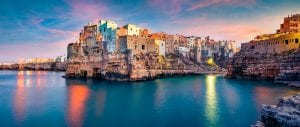 Primitivo Grape
The flagship red grape of Puglia is Primitivo, a distant cousin of California's Zinfandel grape. The wines made with Primitivo are luscious, heavy, and definitely "food wines." Typical dishes in Puglia to accompany their local wines include eggplant, Parmigiano, Orecchiette pasta, flavored bread, and aged ricotta. Apart from Primitivo di Manduria (considered to be the best wine from Puglia), another amazingly successful red wine is Salice Salentino, a robust red wine made primarily with Negro Amaro.
Uva di Troia (literally "Grape from Troy," reflecting the region's Ancient Greek influence) is a secondary red grape that is used in Foggia province to make the famous "Castel del Monte" wines. Puglia also produces light white wines with the Bombino Bianco and Verdeca grapes (and some barrel-fermented Chardonnays). The rosés of Puglia (made of negroamaro) have also been surprisingly successful.