Le Marche is often overlooked in favor of its more well-known neighboring regions like Emilia-Romagna and Tuscany. As a result, Le Marche is somewhat of an undiscovered gem for the culinary traveler. The beautiful Adriatic Sea borders the region on the east, where the cuisine is heavily influenced by seafood. Further east inland, you'll find verdant rolling hills reaching the foothills of the Apennines, with Umbria flanking most of Le Marche's western border. The cuisine features rich pasta dishes, stews, grilled meats, and salumi as the landscape changes. Deep-frying abounds, and many regional specialties are fried to a delicious crisp.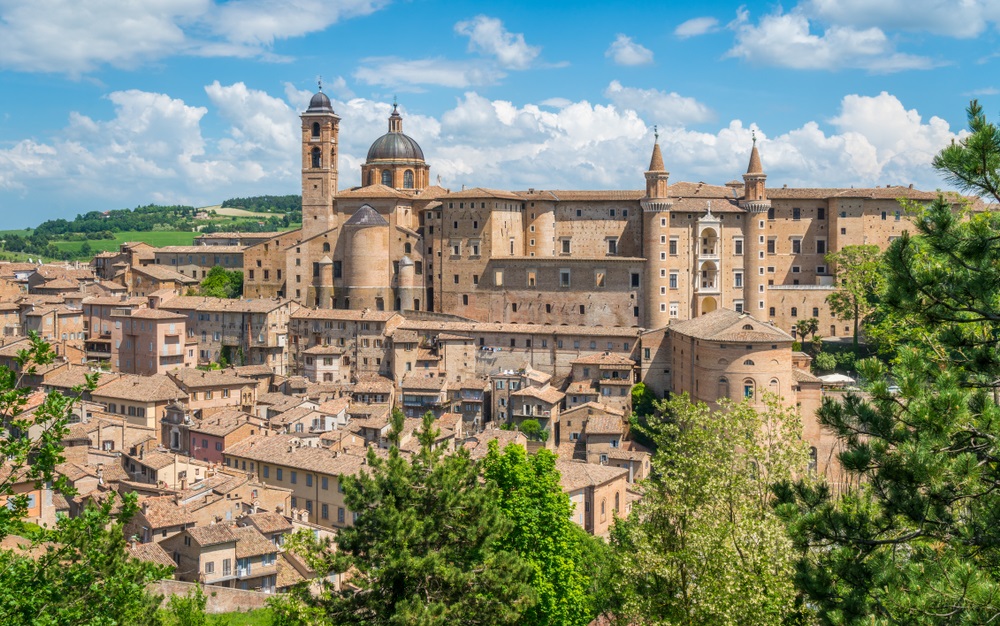 As with other regional Italian cuisines, Marche cuisine originated in the philosophy of cucina povera, emphasizing no waste and local, seasonal ingredients. Le Marche is known for its olives and high-quality olive oil, especially the olio extravergine di Cartoceto DOP with slightly bitter notes and spicy fruitiness. In addition, the region's fresh produce stars in several traditional dishes featuring staple ingredients like mushrooms, artichokes, cauliflower, and Le Marche's prized black and white truffles. With Cellar Tours, you can explore this beautiful lesser-known region of Italy and taste its wonderful produce and wine on a Luxury Private Food & Wine Tour of Le Marche.
Cheeses of Le Marche
While salumi generally steals the show when it comes to Le Marche food, the region has some must-try cheeses. Allegedly a favorite of Michelangelo, Casciotta d'Urbino is a PDO-protected cheese from the Pesaro Urbino province and is typically made from sheep's milk and a small amount of cow's milk resulting in a semi-soft, crumbly texture and pleasant, grassy flavor. Pecorino dei Monti Sibillini is another Marche cheese to watch for; protected by the Slow Food Presidium, this Pecorino cheese produced in the Sibillini Mountains is made from sheep's milk cheese. It's aged for a minimum of twenty days and up to one year. In Le Marche food tradition, other ingredients like basil, cloves, nutmeg, black pepper are commonly added for additional flavor.
Formaggio di Fossa is a strongly flavored cheese from the Apennine foothills made with cow's milk, sheep's milk, or a mixture of both. This cheese has a unique aging process in that it's placed in cloth bags and set into limestone pits where it ages underground for 80-100 days. Traditionally, the pits were opened on November 25th for the Feast of Caterina. The process results in a highly aromatic intensity for which formaggio di Fossa is known.
Additional popular cheeses in Le Marche include a cow's milk cheese called slattato, which is filled with small holes, and a fresh cheese from Montefeltro called Raviggiolo.
Acqualagna Truffles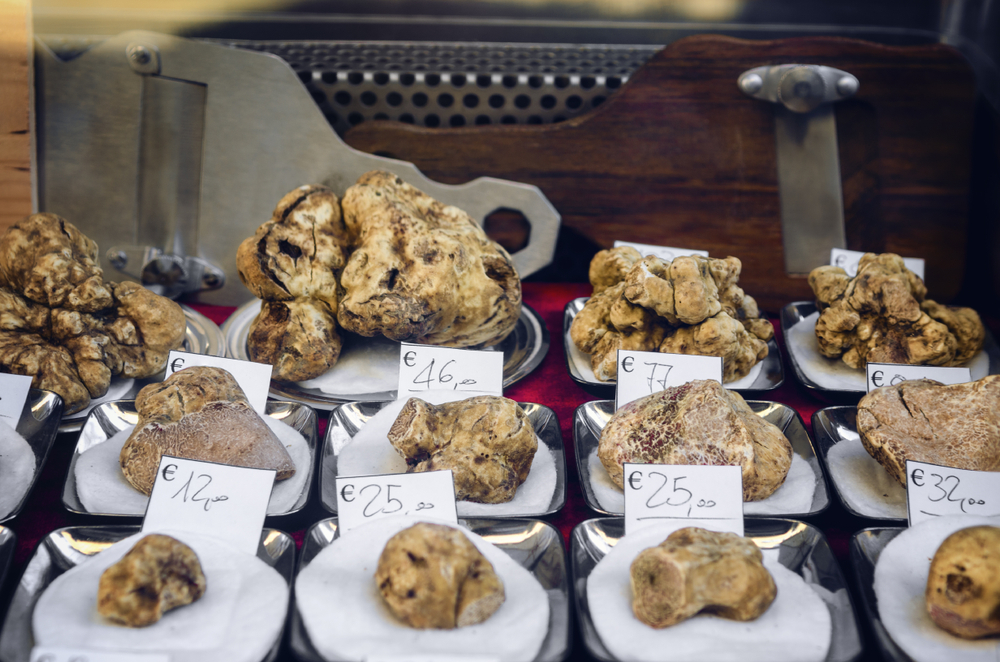 White truffles
Located in the foothills of the Apennine Mountains, Acqualagna is known as the epicenter for fresh truffles. The world's most treasured white truffles called Magnatum Pico come from Acqualagna and Alba in Piedmont. Beyond prized white truffles, Acqualagna boasts nine other truffle varieties, including summer black truffles and superior black truffles. Festivals in honor of this precious product occur year-round. The National White Truffle fair is hosted from October to November in Sant'Angelo in Vado. The town is located in the Pesaro and Urbino province near Tuscany and Umbria, ideally situated in truffle territory. While the regional prized black truffle fair is on the last Sunday of February, and the regional black summer truffle fair happens on the first Sunday of August. So when you make it to Marche, trust that truffles will be waiting to greet your palate. Cellar Tours can organize exclusive Truffle Hunting Excursions in Le Marche
Salumi & Other Cured Meat Specialties of Le Marche
Since the 5th century B.C., people in Marche have raised pigs, and pork has been an integral part of regional cuisine. However, drastic temperature drops in the winter historically meant the Marchigiani couldn't keep their pigs through the season. Consequently, locals found ways to preserve all parts of the pig to last throughout the year in the spirit of cucina povera.
Ciauscolo is one of the most beloved regional results of this salumi tradition. It's a spreadable pork sausage, produced in Macerata, Ancona, and Ascoli Piceno under IGP-protected status established in 2009. The sausage is made from shoulder, loin, and pork belly minced with pancetta and flavored with white wine, garlic, fennel seeds, salt, and pepper and then aged for at least twenty days in a natural casing after being smoked over juniper wood for a few days. Enjoy cirasuolo spread over bread or a local pasta dish prepared with olive oil and garlic.
Another must-try cured meat specialty of the region is Prosciutto di Carpegna DOP. Named for the town of Carpegna in the Pesaro Urbino province, this prosciutto is made only from pigs raised in Marche, Lombardy, and Emilia-Romagna. Following two saltings, Prosciutto di Carpegna ages at least thirteen months resulting in the ideal balance of sweet, salty, and delicate flavors.
Additionally, ciarimbolo is a popular Marche food exemplifying the region's love of pork and cucina povera tradition. Ciarimbolo is a spreadable paste made from pork entrails boiled with vinegar, bay leaves, basil, and orange peel for added flavor. There's also salami di Fabriano produced in the city of Fabriano, whose meat historically came from Le Marche's finest pig breeds. Plus, mazzafegato, a pork liver sausage made with nutmeg and orange zest, is also found throughout the region.
Antipasti in Le Marche Cuisine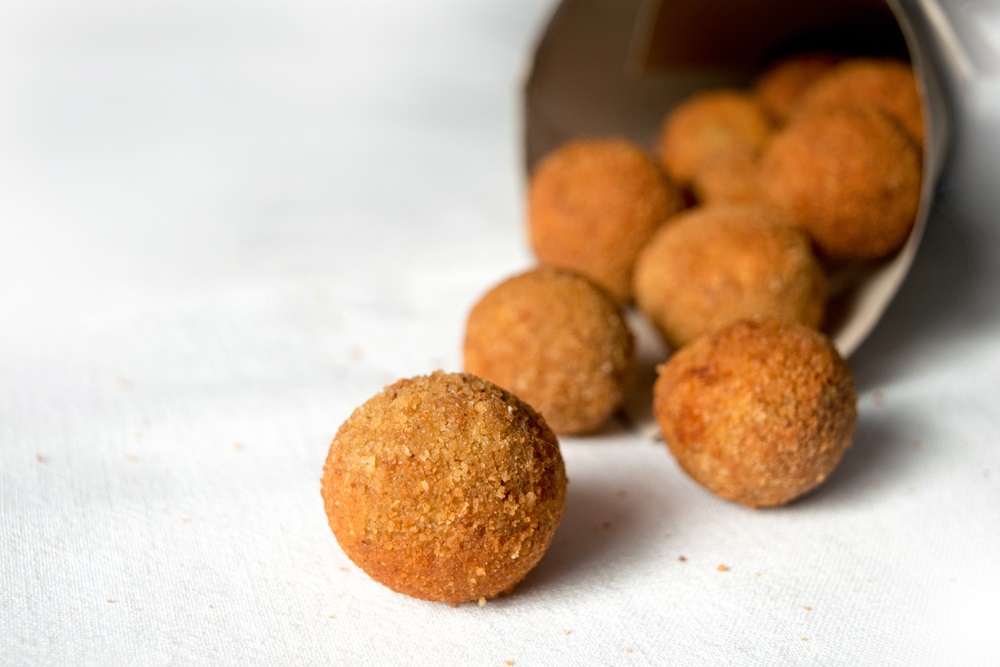 Stuffed deep fried Olives – Olive all'Ascolana
Olive All'Ascolana
Olive all'Ascolana, or olives ascolana, is one of the most beloved deep-fried Le Marche foods. These savory, bite-sized antipasti hail from the town of Ascoli Piceno. The original recipe calls for Ascolana Terrena olives, a local, large, green variety. To make olive all'ascolana, the olives are stuffed with a meat mixture made of pork, veal, and chicken that has been sautéed with carrot, onion, celery, and perhaps a splash of wine. Next, the mixture is seasoned with Parmigiano Reggiano and nutmeg. Then, the stuffed olives are breaded using eggs, flour, and breadcrumbs before being fried until golden brown and crispy.
Piconi
Piconi, also known as calcioni of Treia, is a baked savory Marche food resembling ravioli and is typically served around Easter. The dough for these cheese-filled pastries is made from eggs, flour, and oil. Once formed, the dough is cut into discs and folded over a filling of eggs, Parmigiano Reggiano, pecorino, lemon zest, salt, and pepper. After baking the piconi, the cheese filling oozes beautifully from the top of these pastries making for an irresistible bite.
Bread to Try in Le Marche
You can't go to Marche without trying crescia, the region's version of a piadina. Many versions abound, but the zones of Pesaro and Urbino are most well-known for their crescia. These flatbreads can be greased with lard or olive oil and enhanced with pieces of pancetta. Crescia sfogliata is another popular take on this regional specialty, commonly eaten warm with a sausage and cheese topping. Its dough is made from flour, eggs, water, and lard. While in Urbania, you'll also find crostolo di Urbania which is similar to crescia but made with cornflour instead of regular flour.
Additionally, there is chichì ripieno from the village of Offida in the province of Ascoli Piceno. In the local dialect, chichì means pizza or mass, referring to the dough traditionally given to children to occupy them during the bread-making process. The story goes that the rustic focaccia known as chichì came from this tradition. Chichì ripieno is usually stuffed with tuna, olives, artichokes, anchovies, and peppers. They're ideal for aperitivo or picnic snacks.
Antipasti
Fritto Misto all'Ascolana
As previously mentioned, Marchigiani embrace fried food wholeheartedly, and fritto misto all'ascolana is the prime example of this culinary tradition. This fried mix includes olives all'ascolana, lamb, or other types of meat like veal or chicken, vegetables, and even a slightly sweet custard.
Creme fritta, also known as cremini, is a fried custard that provides a delicately sweet contrast to the savory flavors of this fritto misto. When not served with the full fried mix, cremini is often enjoyed at the start of the meal alongside olives all'ascolana and crispy, fried sage leaves. Each fried specialty is dredged in an egg mixture followed by breadcrumbs to form the perfect crisp, golden-brown crust when fried.
Primi Piatti

Vincisgrassi, Le marche's version of lasagna
Frascarelli
One of the humble Marche foods, which epitomize the tradition of cucina povera, frascarelli, is a dish based on simple ingredients of rice and flour. It's named after the ancient wooden tool called a frasca, once used to mix the dough. The dish is prepared first by cooking rice in boiling water for 10 minutes. Next, flour is added to the mixture, boiling them together until forming a polenta-like consistency, though with more lumps than typical polenta. Frascarelli is often served with sugo or ragù and topped with a sprinkle of Parmigiano Reggiano.
Minestra di Ceci alla Marchigiana
Legumes have always been an inexpensive source of protein in peasant dishes throughout Italy. Le Marche is no exception, and minestra di ceci alla marchigiana is the ideal dish that exemplifies this tradition. The soup is made from chickpeas (ceci) with a soffrito of onion, celery, carrot, and garlic. Bietole, or beet greens, can also be added. Toasted bread or crostini usually accompany the soup when served.
Vincisgrassi
This classic Marche food resembles lasagna, though it differs in that traditionally, no bechamel is used, and different meats go into the ragù. Chicken livers, hearts, sweetbreads, and beef are often included in the ragù. However, recipes can vary significantly and may consist of veal, lamb, or duck. If bechamel is not used, milk is added to the top layer of vincisgrassi and grated Parmigiano Reggiano. The dish is named for the Austrian General Windisch-Graetz, who was involved in military activity near Ancona in the early 1800s.
Regional Pasta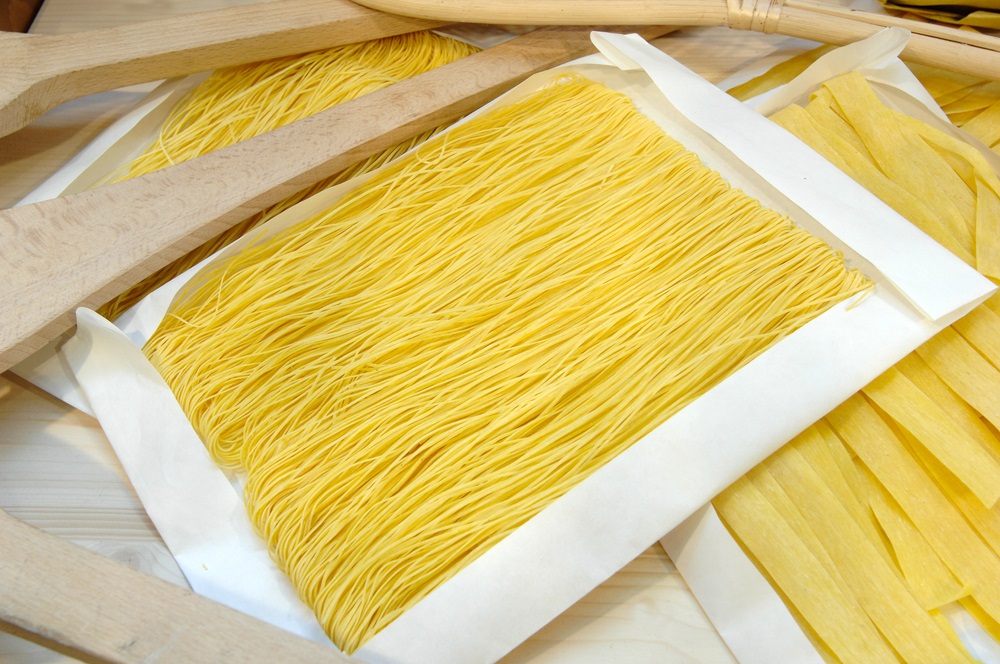 Maccheroncini di Campofilone
When it comes to Marche food, maccheroncini di Campofilone is the region's most noteworthy pasta. As with most pasta in the region, the dough for maccheroncini di Campofilone forgoes water and is made with only flour and eggs. More specifically, ten eggs are used for every kilo of flour. In the spirit of cucina povera and extending the life of food, the people of Campofilone figured out that they could make this egg-pasta last year-round by forming the dough into very thin strands of pasta and drying it out in the sun. The technique dates back to the early 1400s, making maccheroncini di Campofilone over 600 years old. Traditionally, this regional pasta is served with a creamy sauce made with chicken giblets or a rich, meaty ragù.
Tacconi
Tacconi is a specialty pasta made with fava bean flour. Historically, tacconi was a peasant pasta dish, as fava bean flour provided enough protein and sustenance when wheat was scarce. The pasta is made from the favette bean flour, which is native to a small hillside village in the province of Pesaro and Urbino called Fratte Rosa. The traditional preparation involves drizzling olive oil over the cooked tacconi and mixing in a little grated Parmigiano Reggiano. Today, tacconi are also eaten with a simple, fresh tomato sauce or more complex sauces made with meat, fish, or vegetables.
Passatelli
Passatelli is another type of pasta from Pesaro and Urbino. The dough is made from a mixture of breadcrumbs, eggs, salt, and Parmigiano Reggiano. Lemon zest and nutmeg are also occasionally included. The passatelli are cooked by passing the dough through a potato ricer and into boiling broth. They're served in soup bowls with a bit of broth and topped with grated Parmigiano Reggiano. Lastly, keep an eye out for tagliatelle al tartufo di Acqualagna is another flavorful yet simple pasta dish in Marche cuisine.
Risotto del Montefeltro
If you're craving risotto while in Le Marche, opt for risotto del Montefeltro. The dish features authentic Marche flavors, as it's made with prosciutto di Carpegna and casciotta di Urbino cheese. Lemon zest and ground black pepper are also added to risotto del Montefeltro for a flavor-packed dish representative of Le Marche.
Seafood in Le Marche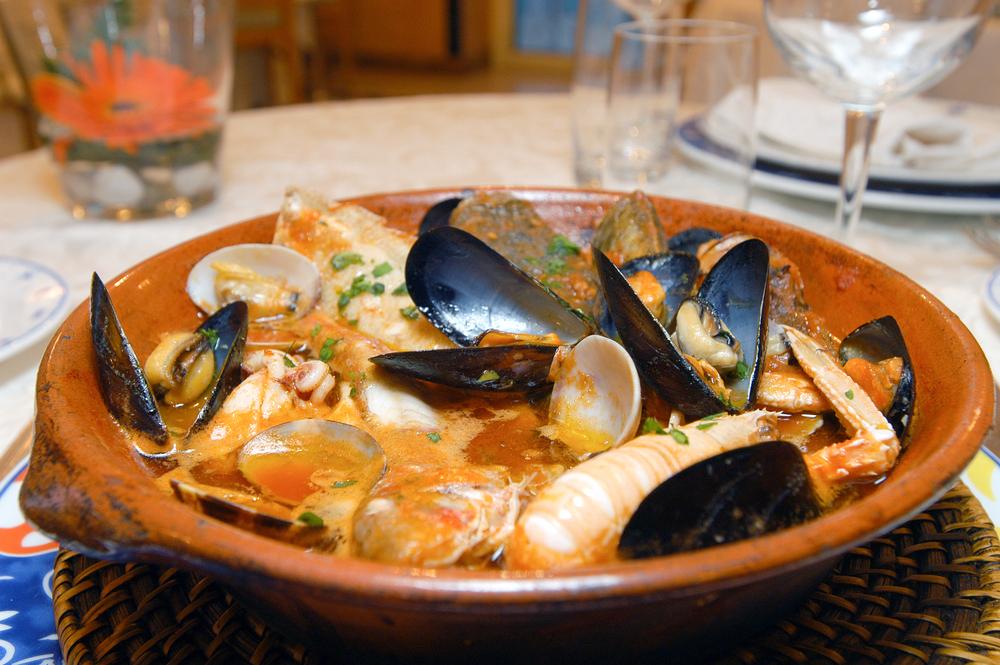 Brodetto
The Adriatic Sea provides an abundance of seafood treasures to the coastal towns of Le Marche. Everything from red mullet to tuna, mackerel, sardines, swordfish, and more are readily available. The day's catch that doesn't get sold at local markets or consumed in restaurants turns into brodetto. This tasty fish stew also originated in cucina povera as a way to utilize all scraps and small fish leftover from the daily catch.
Every town along the coast has its variation of brodetto, and today more than leftover seafood scraps are thrown into the mix. San Benedetto del Tronto uses green tomatoes and peppers, while in Pesara, the brodetto is more traditional with a flavorful tomato-based broth. Though further south in Ascoli, tomatoes are left out altogether, and saffron is used to flavor the broth instead. Brodetto all'Anconetana is possibly the best known, as it contains thirteen different types of fish and seafood.
Moscioli
For a seafood experience authentic to Le Marche, look to moscioli. These wild mussels are exclusive to Portonovo near Conero (ensure they bear the Mosciolo Selvatico di Portonovo brand mark). In Portonovo, they're often prepared with lemon zest, parsley, and garlic. Alternatively, you'll find them baked and filled with breadcrumbs flavored with olive oil and parsley.
Stoccafisso all'Anconetana
Stoccafisso all'Anconetana is another seafood dish you're likely to encounter in Le Marche. It's made with stockfish sautéed with potatoes, tomatoes, olive oil, onion, garlic, capers, anchovies, black olives, white wine, and often herbs like rosemary. Stoccafisso all'Anconetana offers the ideal mix of Mediterranean flavors.
Classic Secondi Piatti

Delicious Coniglo in Porchetta
Coniglio in Porchetta
Coniglio in porchetta is classic rabbit preparation from Le Marche. It's made in the same spirit as porchetta, stuffed with offal and sausage, flavored with wild fennel, and embellished with pancetta. Of course, every family has its variation on the original recipe. Still, the most important aspects are that the coniglio in porchetta has an unmistakable taste of fennel, the meat is tender inside, and the exterior is roasted to crisp.
Pollo in Potacchio
Pollo in potacchio is braised chicken prepared in a tomato and rosemary-based sauce:
The chicken is rubbed with lemon to make the dish, then fried in olive oil and butter before being cooked in white wine, onions, and garlic.
The potacchio sauce made of onions, rosemary, lemon rind, chili peppers, olive oil, and tomatoes are added to the pan.
The chicken is cooked until it absorbs the flavors of the sauce.
Dolci in Le Marche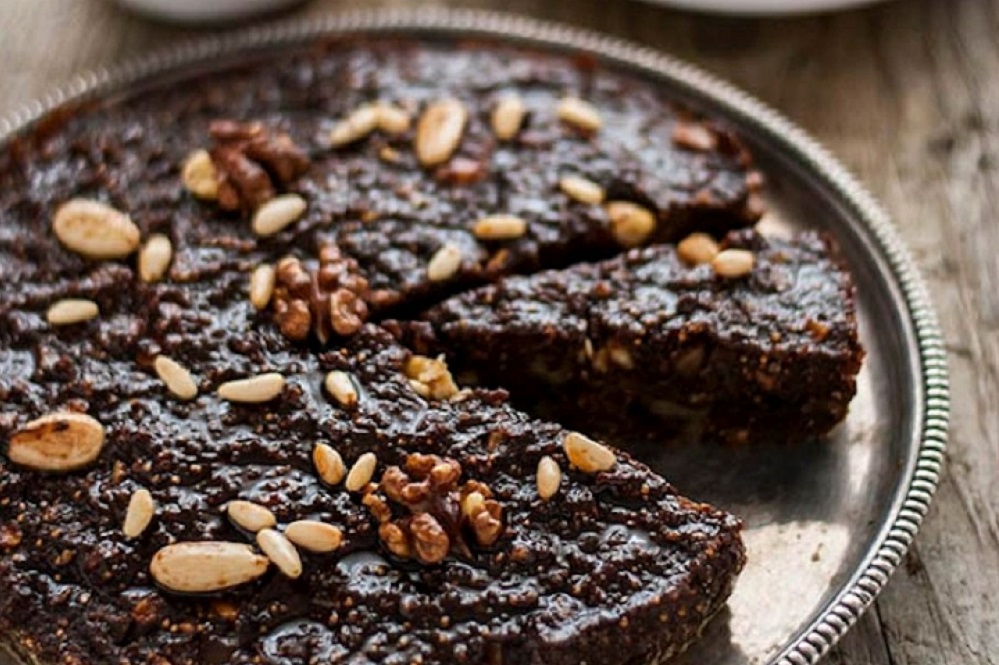 Frustingo, Christmas cake
In addition to the savory version of calcioni, there is also a sweet version made with the same shortcrust pastry. But for the dessert version, the filling is made of ricotta and lemon zest. These deep-fried treats are served sprinkled with more lemon zest and drizzled with honey for just the right amount of sweetness.
Finally, if you find yourself in Marche around Christmas, be sure to try frustingo. Also known as fristingo, frostengo, pistengo, and bostrengo, depending on what province you're in, this dessert was created as a poor dish. It's made of stale bread, and dried fruit, the latter of which enhances the use of old bread. There are over twenty variations that include a plethora of ingredients like walnuts, almonds, dried figs, lemon zest, candied citron, and more. Though the base of this Christmas cake typically consists of nuts and figs.
About Nicole Dickerson
WSET certified international wine writer with a passion for rare varieties and cellar hand experience in both hemispheres. Join me in the vineyards and cellars of the wine world at palmandvine.com.
Related Blog Posts