Dynamic, beautiful, exciting and beguiling, Cape Town is one of those places that travelers don't want to leave. The city is peppered with fine restaurants, theatres, museums, and art galleries, while the surrounding areas boast encounters with penguins, whales and baboons. Meanwhile, the world's most idyllic vineyard is less than 30 minutes drive away and the coast allures surfers and beach babes, who'd rather sunbathe and swim than sip Sauvignon Blanc. And sitting amid it all is the ever-visible and mighty form of Table Mountain – truly, this is a city that caters to all.
Cape Town's history extends back to around 40,000 BC when the San people first settled South Africa. By AD 500, Bantu-speaking tribes had arrived from West Africa's Niger Delta and indigenous tribes held control until the 17th century.
History
However, the first historical mention of Cape Town occurred in 1488, when the Portuguese explorer Bartholomeu Dias sailed to the Cape from West Africa. Then, in 1497 Vasco de Gama sailed past what we today know as Cape Town, on his journey to find a direct route to Asia from Europe, In fact, it was a Portuguese explorer, Antonio de Saldanha, who coined the name Table Mountain, or Taboa da caba, for the city's most famous geological phenomenon.
Yet it was not until 1652 that the first Europeans would set foot on land in the Western Cape. Jan van Riebeeck, an employee of the Dutch East India Company, arrived with a small contingent of explorers to establish a base for the company's ships traveling to the West Indies. The first settlers, marveling at the climate and fertile growing conditions soon planted a range of European crops and their new home grew at an astounding rate.
Indeed, by 1688 Cape Town's reputation had attracted Huguenot (protestant) settlers looking to escape persecution in their native France. With their arrival came a wealth of viticultural expertise, which was quickly put to good use by the region's nascent wine industry. By the mid 18th century, Cape Town was by far South Africa's most prosperous settlement, with a thriving wine industry finding a welcome home in the markets of Europe.
Sadly, the first of many European conflicts would engulf Cape Town in 1780, when France and Great Britain went to war. The Netherlands, as an ally of France, attracted a small contingent of French troops, who were sent to Cape Town to defend it against the British, although they left in 1784. Nonetheless, widespread colonial settlement of South African continued in the early 19th century, with the British finally annexing the Cape in 1806.
Tensions, however, soon erupted between the British, the native Zulus and the Boers (descendants of the Dutch settlers) in the 19th century. The Zulus were eventually defeated, but relations between the British and Boers remained fragile, at best. The Boers defeated the British during the first Anglo -Boer war but eventually succeeded their territory after the Second Boer war ended in 1902.
Modern Times
In 1910 a new era dawned for Cape Town after the Union of South Africa was created, a historic predecessor to the Republic of South Africa created in 1961. The outbreak of the 1st and 2nd World Wars did not directly affect Cape Town's citizens, instead, the city would be defined by the onset of apartheid after the Afrikaner National Party won the election in 1948. During the apartheid era, the South African government attempted to categorize everyone into one of four major groups – Black, Colored, Asian and White. These arbitrary and contentious classifications were used to regulate where and how people could live and work; apartheid endured until the early 1990s when the new president FW de Klerk set about dismantling apartheid and Nelson Mandela became president of a newly united and optimistic South Africa in 1994.
Today, Cape Town remains one of the most inspiring and hope-filled cities in this great continent. It's also a city that is easy to fall in love with, and hard to leave; a heady mix of vibrant culture, dynamic food and drink scene, diverse architecture and breathtaking natural beauty. Above all, Cape Town is a cultural melting pot, full of people with fascinating stories to tell and a warm welcome to share.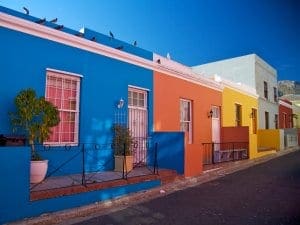 Gastronomy and Wine
Whether it's a group of students gathered in Cape Town's many fast-food joints, or businessmen enjoying gourmet cuisine in one of the city's deluxe (and pricey) venues, there are two things all Cape citizens have in common – they love to eat and it's almost always a social event.
Today, an enticing potjie (pot) of culinary influences awaits the visiting gastronome, everything from Malay curries to the obligatory braai (barbecue), which is an Afrikaner institution. One of the most famous examples of this culinary diversity – a fusion of Malay and Dutch influences – is the bobotie, a curried mince pie topped with savory egg custard, served on a bed of yellow rice.
Of course, this is just the beginning. Cape Town is undoubtedly the finest destination in Africa to go searching for a great meal, and the city runs the whole gamut from casual to posh, from delicious comfort food to sophisticated haute-cuisine. Long Street is a good place for first-time visitors to go looking for great food, while Bo-Kaap is the place if you're in the mood for a spicy Malay curry.
Meanwhile Kloof Street offers plenty of less touristy options – Maria's on Barnet Street is another top favorite of ours. Classic Greek cuisine is served by a team of affable waiters on rustic tables beneath the trees in the square. It's the very definition of a perfect evening. Wakame on Cape Town's famous V&A Waterfront is another hot ticket – tuck into the finest, freshest seafood paired with a glass of Chenin Blanc while gazing at the spectacular coastal view – bliss!
Speaking of wine, since it made its debut in the 17th century, Cape wine has come on leaps and bounds and now ranks among the world's best. Yet prices have remained reasonable for the most part, resulting in a glorious treasure trove of wine styles, grape varieties and vintages for the curious wine lover. Moreover, the Winelands are less than an hour's drive away from Cape Town, ensuring that even the most humble establishment has a healthy selection of labels. Top choices include the DeMorgenzon Reserve Chenin Blanc, Meerlust Rubicon, and Russell Hamilton Vineyards Pinot Noir, which is outstanding and remarkably Burgundian in style.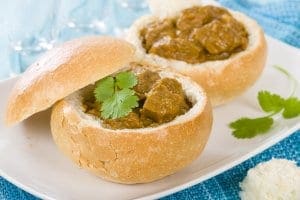 Highlights
This fascinating museum guides visitors through the story of District Six, a once multicultural neighborhood that was uprooted by forced evictions during the apartheid era in the 1960s and 70s. An essential part of any Cape Town itinerary.

Cape Town's most iconic symbol, the park stretches from the flat-topped Table Mountain to Cape Point. Yet, for most visitors the main attraction is, of course, reaching the top of the Mountain itself, which can be easily reached by the Table Mountain Aerial Railway, which operates every 10 minutes in high season.

Used as a prison by the Dutch East India Company right up until 1996, Robben Island is a must-visit part of the Cape's history. Today it is a protected UNESCO World Heritage Site, preserved as a memorial to those, including Nelson Mandela, who was incarcerated there.

Cape Winelands

The Boland (upland) stretching inland and upwards from Cape Town isn't the only wine-growing region in South Africa, but it is certainly the most beautiful. A wealth of fantastic wines, restaurants, hotels, cultural attractions, and more awaits.