Most Visit Villages of Alsace
Beautiful scenery, superlative gastronomy, vibrant culture, and, of course, world-class Riesling – Alsace has it all. A signposted Route du Vins takes a meandering path the whole length of the Alsace wine country, calling at some of the prettiest wine towns in the world. Between the villages, the high-trained vines block out the view along the narrow lanes, until you reach a ridge and suddenly see the gleaming green sea rolling against the mountains disappearing in a haze in the distance. It is truly a sight to behold.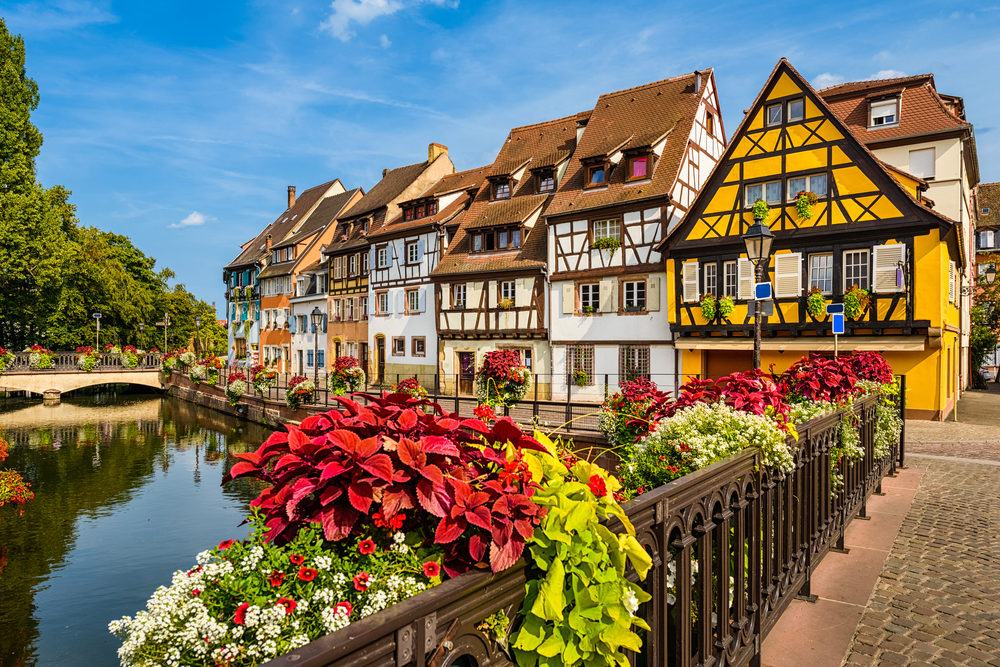 Yet this is only the beginning. Meandering for some 120km along the eastern foothills of the Vosges mountains, the Route du Vins (Alsace Wine Route) passes through villages guarded by ruined hilltop castles, joyously colored by half-timbered houses in lurid pastels. Combine such charms with the region's famous caves (wine cellars), and you have a recipe for a very memorable vacation. The Route du Vins stretches from Marlenheim, about 20km west of Strasbourg, southwards to Thann, about 35km southwest of Colmar. En route are some of France's most picturesque villages (and some very ordinary ones, too). We've separated the wheat from the chaff to bring you Alsace's most beautiful wine villages below, that you visit on an Alsace Wine Tour designed exclusively for you by Cellar Tours:
Obernai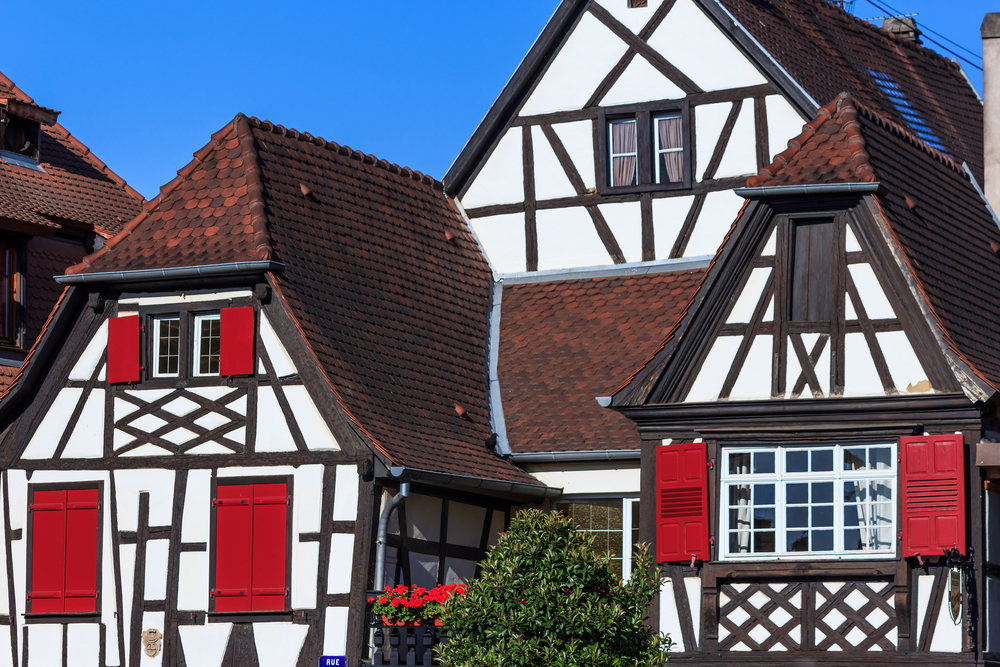 Despite some stiff competition, Obernai is definitely in the running for the prize of Alsace's most charming wine village. A walled village 31km south of Strasbourg, Obernai's main attraction is the pretty place du Marche, an ancient market square that's still put to use each Thursday morning, hosting one of Alsace's best food markets. Around the square, you'll find the mainly 16th-century hotel de ville (town hall), decorated with baroque trompe l'oeil. But strolling around Obernai's flower-bedecked courtyards and alleyways is arguably the best way to explore this part of Alsace, making time to savor local cuisine in one of the village's many excellent taverns.
---
Mittelbergheim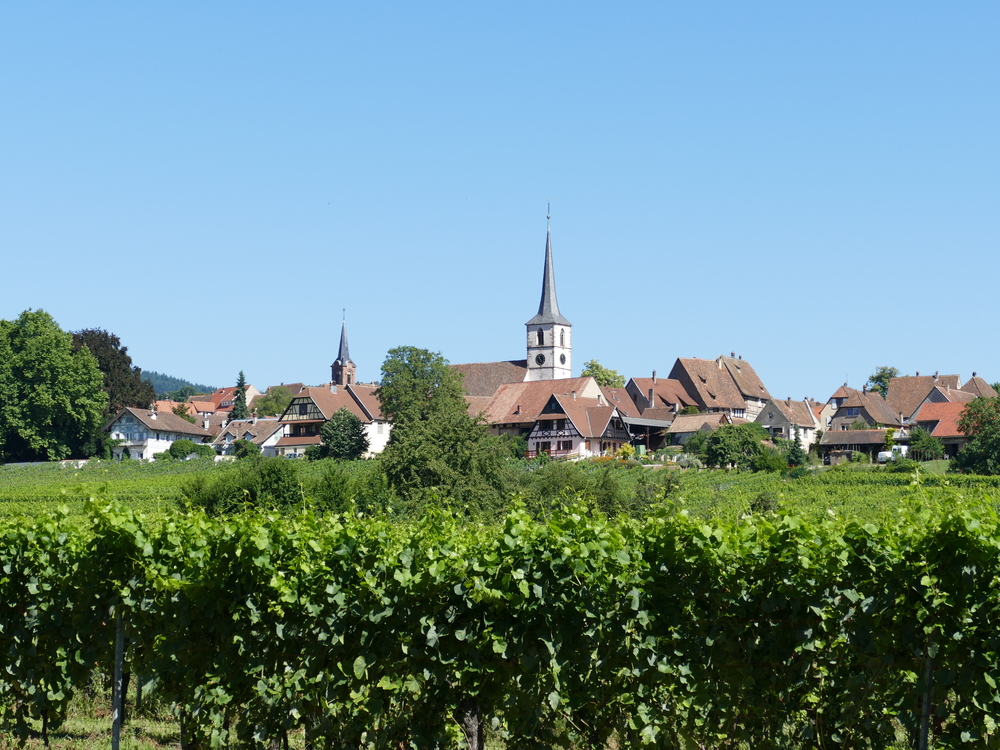 The charm of this village is its relative anonymity – as of yet undiscovered by hoards of visitors, Mittelbergheim feels like an authentic destination, rather than a tourist trap. It sits amid a sea of Silvaner vines and seasonal wild tulips, its tiny streets lined with ancient houses in subdued tones of tan, mauve, and terracotta. The perfect place to relax, meander, and sip local wine!
---
Dambach-la-Ville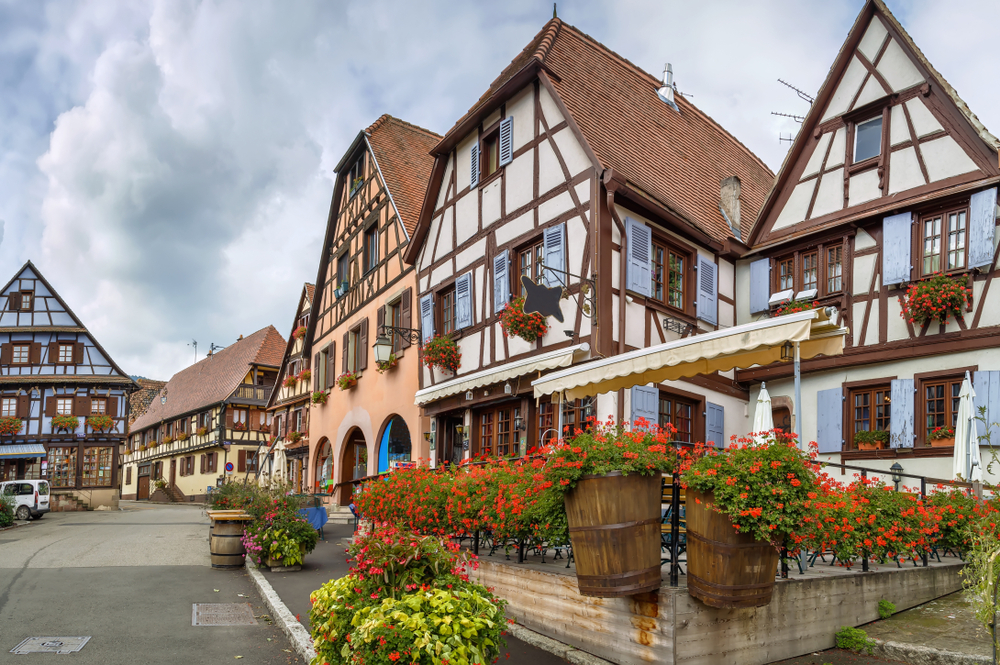 Surrounded by vines, Dambach-la-Ville has also managed to avoid tourist overload. Why this is, however, is a complete mystery, for this village is among Alsace's prettiest. The 14th-century, pink-granite ramparts are pierced by four portes (gates), three holding aloft ancient watchtowers. The village's superb half-timbered houses dating back to the 15th-century. However, it is principally renowned for its proximity to the celebrated Frankstein grand cru vineyards, covering the southern and southeastern slopes of four granite hills west and southwest of Dambach. Some of Alsace's best wine is produced from this remarkable terroir.
---
Bergheim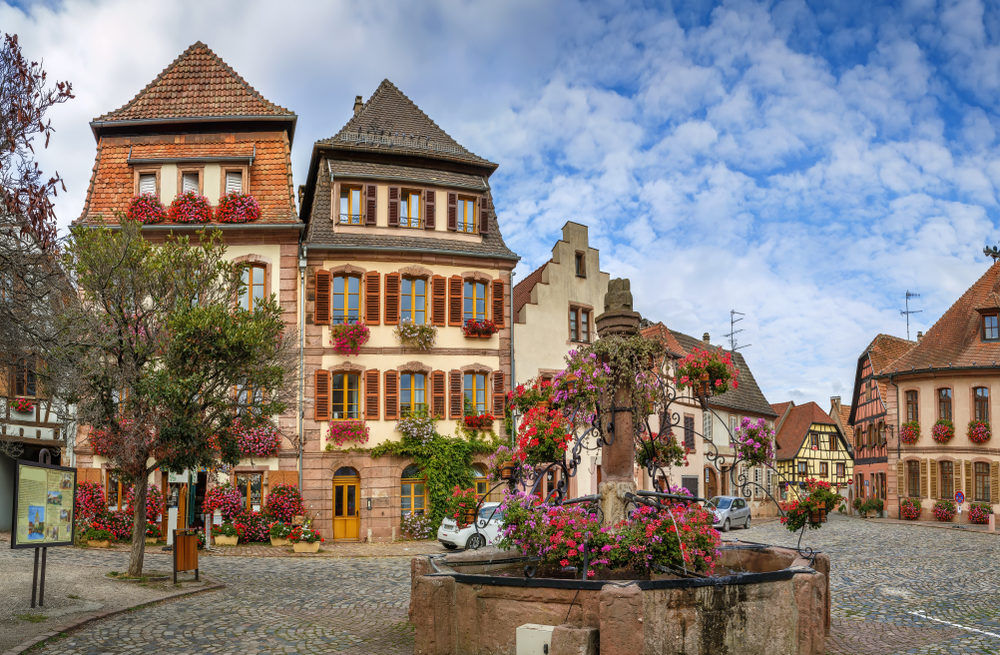 Another extraordinary part of Alsace, the delightful walled village of Bergheim, deserves a full day's exploration. Overflowing with geraniums, dotted with flowerbeds, and enlivened by half-timbered houses in vibrant pastels, Bergheim is effortlessly charming. Yet its history has been distraught; over the centuries, the village has passed from one overlord to another, having been sold, ceded, or captured some 20 times. Thankfully, the center was spared from the ravages of WWII, ensuring that visitors can enjoy its spectacular Gothic church and lovely winding alleyways and cafe-filled squares.
---
Ribeauville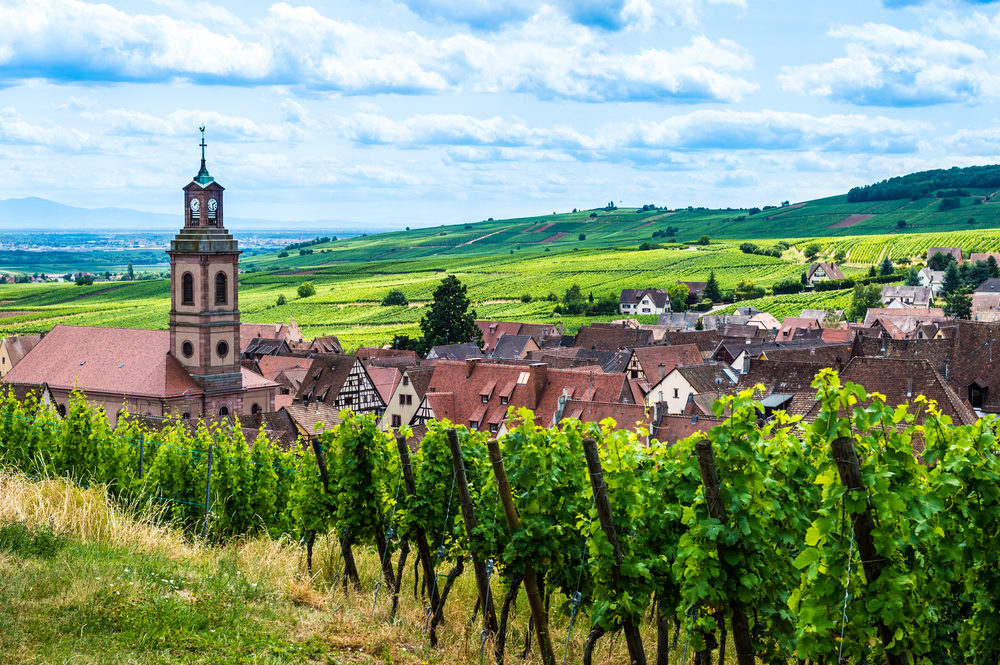 First things first – Ribeauville is undeniably one of the most heavily touristed of all the villages on the Route du Vin. If you want the place to yourself in high season – forget it! But, it is easy to see why visitors fall in love with Ribeauville; this little village, nestled in a valley and brimming with 18th-century overhanging houses and narrow alleys, is irresistible. It's also the destination to explore Alsace's leading grand crus: Kirchberg de Ribeauville, Osterberg, and Geisberg are all in the vicinity. Along the main street, don't miss the 17th-century Pfifferhus, which once housed the town's fife-playing minstrels and is home to a great wistub; the hotel de ville and its Renaissance fountain; or the nearby Tour des Bouchers. And, of course, take the time to explore the village's many excellent restaurants and taverns – Sante!
---
Hunawihr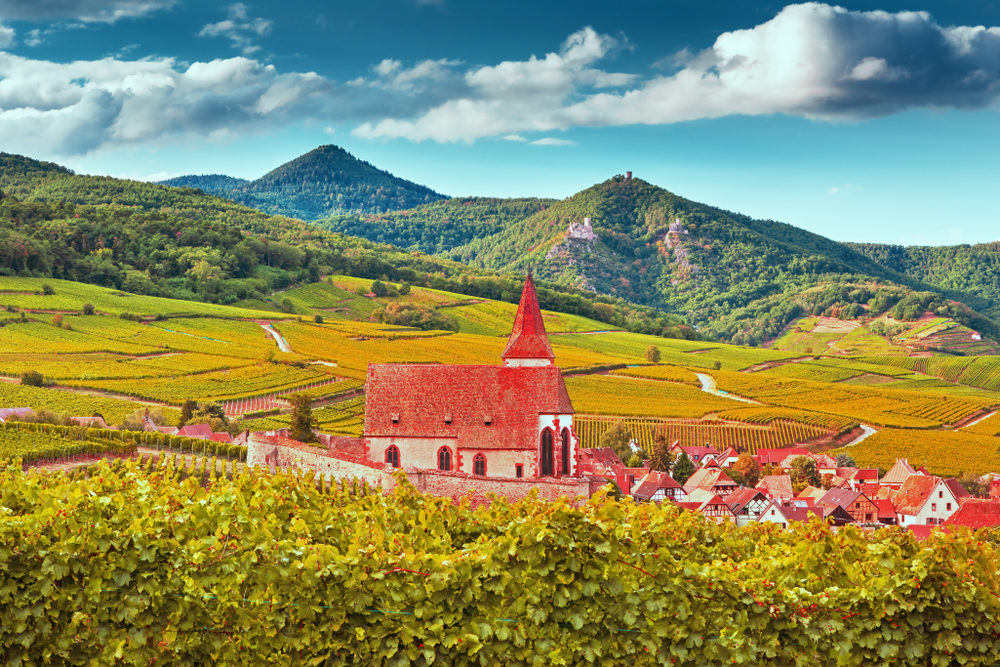 In complete contrast to the frenetic and sometimes crowded Ribeauville, Hunawihr is a sedate, quiet hamlet. But you're bound to see storks in Hunawihr, about 1km south of Ribeauville, which is surrounded by a 14th-century wall. On a hillside just outside the center, the 16th-century fortified church, surrounded by a hexagonal wall, has been a simultaneum – that is, it has served both the Catholic and Protestant communities – since 1687.
---
Riquewihr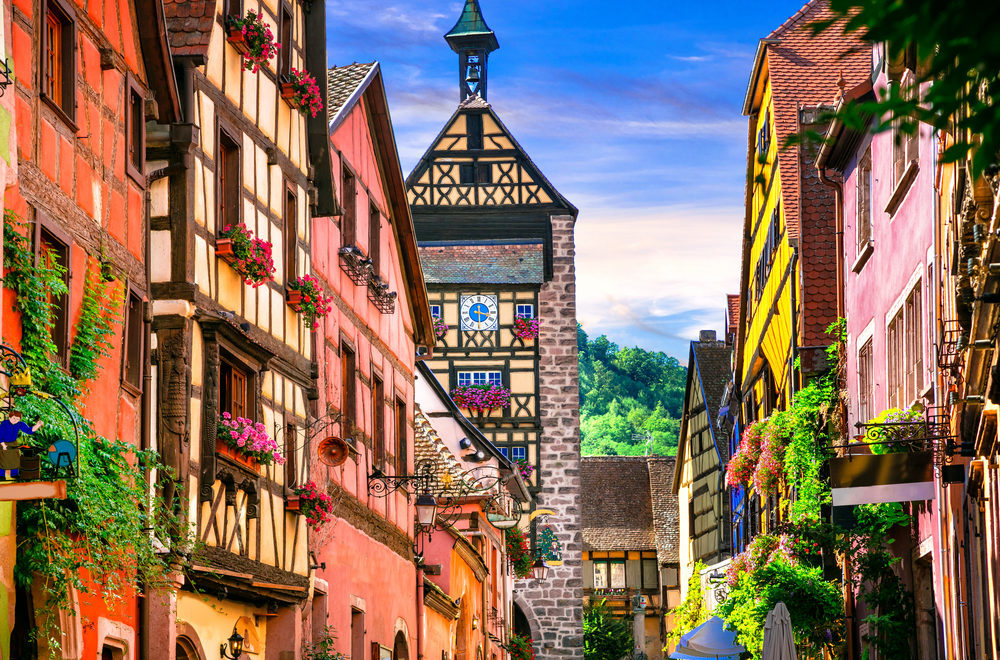 Another massively popular destination, Riquewihr, is probably best avoided in high season – July to August. Nevertheless, it is the most medieval stop along the Route du Vin, and therefore an essential part of your itinerary. Indeed, who could fail to be captivated by Riquewihr's 13th – and 16th – century ramparts and a maze of alleyways and courtyards that beg to be explored. Among the highlights are the late-13th-century Dolder, a stone and half-timbered gate – topped by a 25m bell tower – with panoramic views and a small local-history museum. Choose your restaurant carefully, however, as the village is full of lackluster tourist traps.
---
Kaysersberg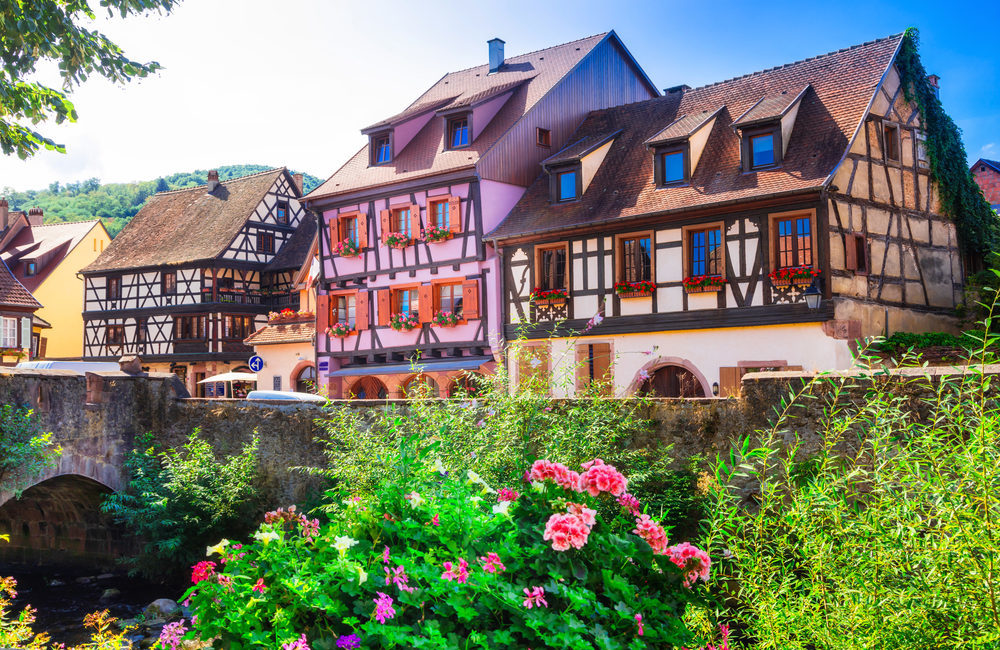 We finish with Kaysersberg, a postcard-perfect village with a historic center to die for. The ornate Renaissance hotel de ville and next door, the red-sandstone Eglise Ste Croix, are the main reasons to visit Kaysersberg. However, we prefer to aimlessly wander and marvel at the colorful old houses, many half-timbered, others showing baroque influences. You should also visit the house where musicologist, doctor, and 1952 Nobel Peace Prize winner Albert Schweitzer was born, now the Musee Albert Schweitzer.
Related Posts: