Critics, buyers, and journalists have been scratching their heads over Riesling. It is universally regarded as one of the world's finest white grapes – the antithesis of Chardonnay in every way imaginable. Unoaked, saline, and aromatically complex, Riesling should be the star of the hospitality sector. Yet consumers remain, at best, largely indifferent to the grape, except for a small number of enthusiasts and collectors. It just doesn't make sense: why has Riesling been outflanked by Sauvignon Blanc, Spain's Albarino, and other aromatic styles at every turn?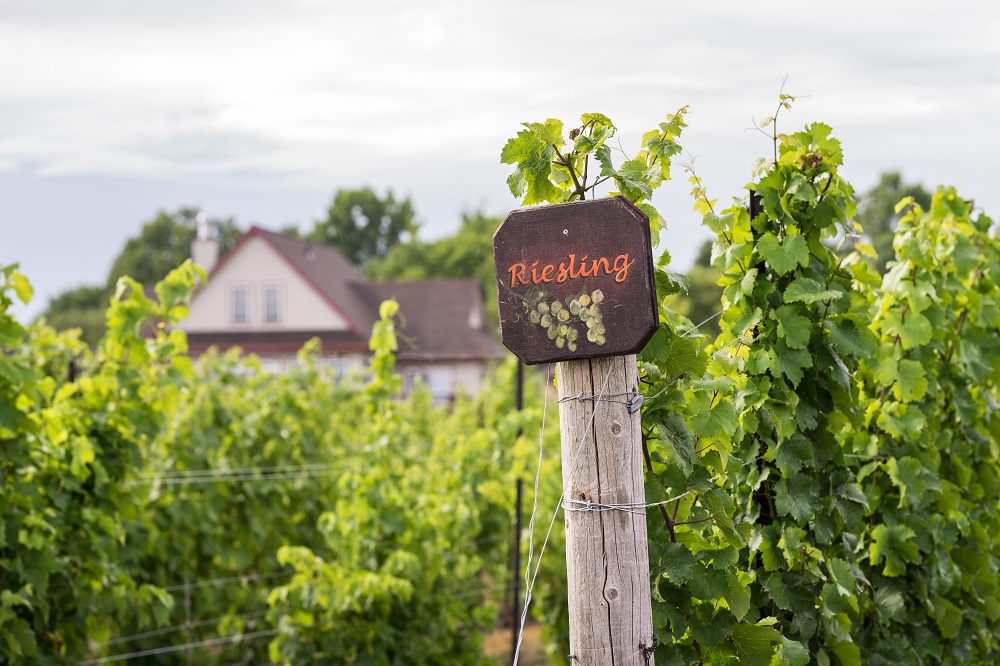 Germany is partly to blame for this lack of consumer engagement: gallons of sweetened dross, marketed as Liebfraumilch, were exported worldwide in the 1970s and 80s. This did untold damage to Riesling's reputation, albeit the grape responsible was the cross Muller-Thurgau. Nevertheless, for better or worse, many consumers still associate Riesling with residual sugar – hardly a boon in our health-conscious age! In this case, they should explore the wines of Alsace. Except for Vendage Tardive styles, Alsatian Riesling is bone dry, perfumed, and incredibly versatile at the dinner table. If you're ambivalent about the variety, Alsace will help to change your mind.
Read more about French White Wine
History and viticulture
Riesling has been with us for a very long time. Believed to be indigenous to west Germany, the grape was first mentioned in the 1400s. It was referred to as Rüssling by a merchant in the city of Worms, situated in the Upper Rhine. However, the most famous historical reference to Riesling occurred in 1435, when a German count's stock inventory mentioned payment of "22 shillings for Riesling vine cuttings." That same century, Riesling was recorded as being planted in the vineyards of Alsace in a parchment dating back to 1477. It seems likely, therefore, that the grape has been cultivated in north-eastern France since at least the 15th century.
By the 1700s, all the best German and Alsatian vineyards were planted with Riesling. Indeed, Riesling has a longer history in international trade than any other white grape – Chardonnay is a relative newcomer to the party. Eagerly consumed by the upper-middle classes of Europe, Riesling would often command a price higher than the top estates of Bordeaux – hard as that is to imagine today.
Sadly, these glory days were not to last. In the 1860s, a new disease named phylloxera killed alarming numbers of vines in the southern Rhone Valley. Spreading into the vineyards of northern France, Alsace's winegrowers could only watch as their livelihoods disappeared before their eyes. A solution was eventually found mercifully: European vines had to be regrafted onto American rootstock. As a result, a large-scale replanting program was initiated in the early 20th century – unlike some other varieties; Riesling was not sidelined during this period of viticultural renewal.
On the contrary, German viticulturists became preoccupied with using Riesling to create more robust, hardy varieties after phylloxera dented their confidence. The most famous of these is the Muller-Thurgau mentioned above. It is a cross between Riesling and Madeleine Royale.
However, the real damage was done after the Second World War. A taste for sweet wines in the markets of northern Europe endured until the mid-20th century; Germany responded by exporting huge swathes of cloying dross, which was made as cheaply and quickly as possible, high-yielding vineyards produced massive crops, fermented and re-sweetened before bottling. The 1980s, however, saw a powerful reaction against sweetness, particularly among younger drinkers. But the damage was done: however unjust the association was, consumers believed Riesling was the grape behind this mass-market sugary plonk. Thus, for the last 40 years, producers, critics, and promotional bodies worldwide have invested much time and resources into augmenting Riesling's reputation. Unfortunately, progress has been slow because of the rise of Sauvignon Blanc and other trendy styles.
Interestingly, the variety's genetic ancestry has only (relatively) recently come to light. Scientist Ferdinand Regner discovered that Riesling owes its parentage to Gouais Blanc and an unidentified variety, believed to be a cross between Traminer and a mystery grape. Nevertheless, it is a testament to how much winemakers love the grape that Riesling has been enthusiastically adopted by the New World, particularly Australia, New Zealand, and South Africa. Even Poland has released a handful of exceptional white wines from the grape!
In a sense, planting Riesling in a cool climate vineyard is counter-intuitive. It ripens late in the season and therefore needs a warm site, preferably with a south-facing aspect in the northern hemisphere. But Riesling is a remarkable variety, able to achieve intense flavor ripeness with as little as 10 percent alcohol. A superior terroir – Riesling can thrive on clay, slate, and loamy soils – will yield small berries full of aromatic compounds and bracing acidity. It's one of the reasons why growers love Riesling so much – the variety is not very susceptible to fungal diseases, rot, or other maladies. It is a gift to oenologists everywhere.
Winemaking
One of the great paradoxes of this versatile grape is that a winemaker's options are fairly limited. Indeed, there is a strict orthodoxy about how to handle Riesling that growers, even today, rarely challenge. Maturation in barrel is considered sacrilegious – everyone agrees that oak subjugates Riesling's floral profile. Fundamentally, Alsatian winemakers seek to make an interpretation of Riesling that is distinct from the sweet cliché; bone-dry wines imbued with a steely minerality. Many houses still practice a very hands-off and minimalist approach, emphasizing terroir over human inputs.
Nowhere is this more evident than in the cellars of Hugel. Hand-harvested Riesling grapes are typically processed quickly as possible in Alsace to safeguard against oxidation and spoilage. First, the bunches are taken directly to the press, where care is taken to select only free-run and light pressings, free of coarse phenolics. The juice is then transferred to a settling tank, where solid material can collect at the bottom of the vessel. Next, a centrifugal machine is used to clarify the must at this stage if the winemaker believes it is necessary.
In traditional houses like Hugel, fermentation will occur in old oak vats, with a temperature range ranging from 18-24 degrees centigrade. This stands in marked contrast to the New World paradigm, where vinification in stainless steel is commonly employed. Fermentation at low temperatures (often below 15 degrees centigrade) yields Riesling's perfumed and fruity style, approachable from a very young age. However, warmer fermentations will inevitably burn out much of the fruity esters and flavors in the Riesling grape – the Alsatians do not seek instant gratification from their wines. Instead, the aim is to make a white capable of long-aging. Fresh, bracing, and firm, top Alsatian Riesling can live for a century. That said, there is a growing firmament in Alsace who look to Australia and New Zealand for inspiration, producing wines that can be enjoyed from the get-go. Whether this is the right approach is very much open to debate.
But let's return to the point of consensus: once fermentation is finished and the wine is racked off its lees, the Alsatian philosophy is strictly non-interventionist. Maturation on the fine lees is unnecessary and detrimental – filtration, fining, and even pumping are used sparingly. Riesling, unlike Chardonnay, does not take well to being manipulated or sculpted. Its merits derive exclusively from the soil, climate, and varietal character.
The world's greatest Riesling vineyards
Although Germany remains Riesling's spiritual home, the vineyards of Alsace have stolen our hearts. In the rain shadow of the Voges mountains, where summers are typically warm and dry, Riesling produces wines of unparalleled aromatic intensity and finesse. They can best be described as a kind of perfumed essence – the yin to Chardonnay's yang. If you dislike the scent and flavor of new wood, unoaked Alsatian Riesling is guaranteed to put a smile on your face.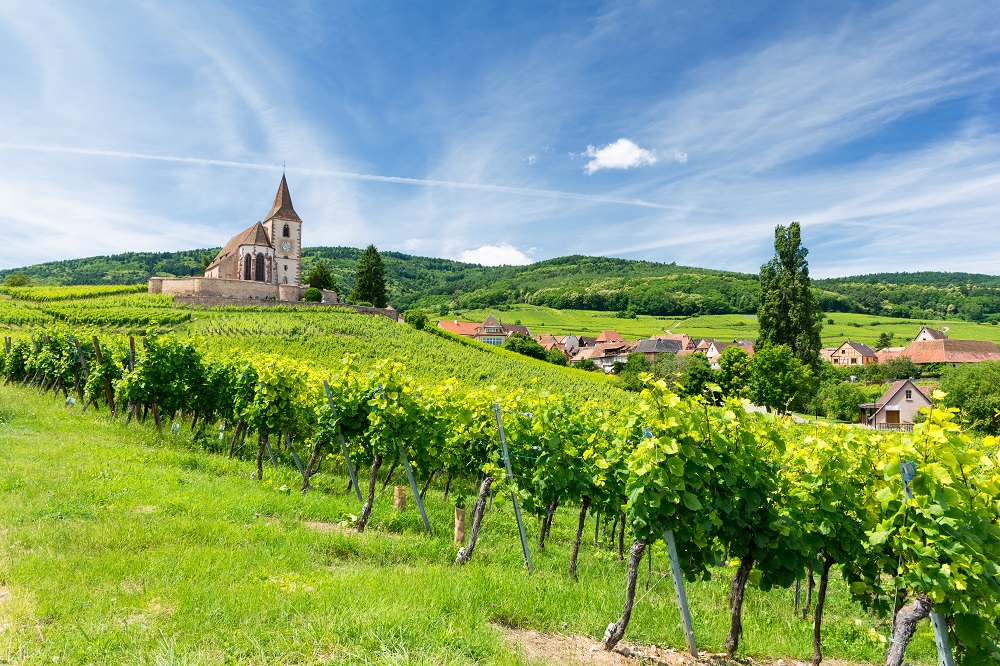 Bucolic vineyards of Alsace
The cream of Alsace's Riesling crop has long been made in the region's Grand Cru vineyards. Yet they were not codified until 1983 – an official hierarchy was based on the exhaustive research of winemaker Jean Hugel. He was asked to help define vineyard boundaries and to delineate superior climats from inferior plots. Today, 51 vineyards have been classified as Grand Cru, building on the groundbreaking work of this legendary man. In celebration of Hugel's pioneering achievement, we have listed our favorite Riesling vineyards below. They represent an inimitable combination of soil, aspect, and grape variety that cannot be replicated—the pinnacle of Alsatian terroir.
Brand
Carpeted in topsoil of metamorphic granite, the Brand Grand Cru at Turckheim produces some of Alsace's most nervy Riesling, renowned for its high acidity, minerality, and understated perfume. These Riesling wines will age and improve in bottle for many decades, although they can be slightly austere in their youth. Nonetheless, Brand is responsible for a world-class expression of the grape.
Kitterlé
The sandstone soils of Kitterlé yield particularly luscious Riesling wines: full-bodied, powerful, and aromatically complex. A racy palate supports notes of citrus, stone fruit, and orange peel with textbook ripe acidity and impressive length—a food wine in every sense of the word.
Schoenenbourg
Situated to the north of Riquewihr – one of Alsace's prettiest villages – are the vineyards of Schoenenbourg. The terroir is a mixture of clay marls and Muschelkalk (small pebbles), rich in minerals and able to retain good moisture levels during hotter years. As a result, Schoenenbourg consistently produces glorious Riesling, renowned for its aromas of white flowers, minerals, and lime. With age, notes of butter toast, honey, and kerosene will emerge. The quintessential hallmark of mature Riesling!
Clos Ste-Hune
Strictly speaking, Clos Ste-Hune is not the name of a recognized Grand Cru vineyard. The climat is known as Rosacker; however, the Trimbach family has long preferred to market this exceptional wine as Clos Ste-Hune. It is a self-contained vineyard within the Rosacker cru, situated above the village of Hunawihr. For many critics and collectors, it remains the finest dry Riesling in the world. Powerfully structured and wonderfully complex, Clos Ste-Hune reaches its peak at least ten years after release. After that, you'll be rewarded with fantastic minerality interspersed with mouth-filling flavors of petrol, orange peel, stone fruit, and white pepper. A wine to convince even the most hardened of Riesling skeptics.
Top producers of Riesling wines: