Best Michelin Star Restaurants in Basque Country
The Basque country and in particular the glamorous resort of San Sebastian – is now a must-visit destination for lovers of fine gastronomy traveling in Spain. Its inhabitants, the fiercely proud Basque people, have always enjoyed spending money on food and drink, and lots of it! They are privileged to have access to an abundance of superb raw materials – fish, seafood, excellent game, vegetables, mushrooms, fine wines, and other delicacies can all be sourced locally. Moreover, over the past thirty years, Basque cuisine has been going through a phase of creative renewal, inspired by the French nouvelle cuisine cookery school. The result is that the region is now Spain's uncontested gourmet stronghold and a paradise for visitors looking to immerse themselves in good food and wine.
Unsurprisingly, there are more Michelin-starred restaurants in the Basque country than any other part of Spain, and with standards ever-rising, the number is set to increase in the future. The city of San-Sebastian alone has 8 Michelin-starred restaurants, including the famous Arzak, one of the pioneers of the new Basque cuisine school of gastronomy. Of course, plenty of superb restaurants can be found across the region without a Michelin star, and not having a star does not mean that the restaurant does not work to the highest gastronomic standards. As a guide for discerning visitors keen to sample one or two of the finer points of Basque cuisine, we have selected our top Basque country restaurants below:
1. Akelarre – THREE MICHELIN STARS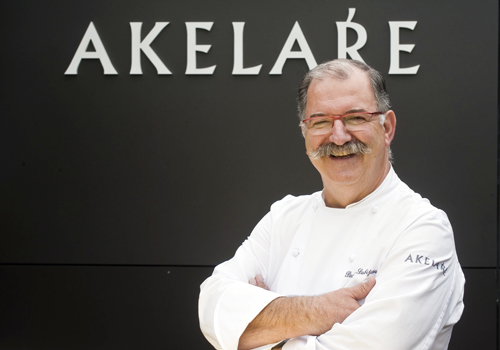 Address: Paseo Padre Orcolaga, 56, 20008, San-Sebastian
Website: www.akelarre.net
With over 40 years of experience of wowing diners, head chef Pedro Subijana rarely hits a wrong note with his incredibly refined, exquisite take on traditional Basque dishes and cuisine. This 3 Michelin-starred restaurant in San-Sebastian simply has it all: spectacular views of rolling hills which plunge into the sea, sublime food, a lengthy wine list, and professional, but not overly formal service. To savor Subijana's star dishes, you must try the seven-course menu de degustacion. Every dish is a gastronomic treat, but particular highlights include the Sauteed Fresh Foie Gras with Salt Flakes and Grain Pepper and the utterly irresistible Roasted Baby Pig with Tomato "Bolao" and Iberian Emulsion. One for that special occasion! And a personal fave is our clients get extra special service here.
---
2. Arzak – THREE MICHELIN STARS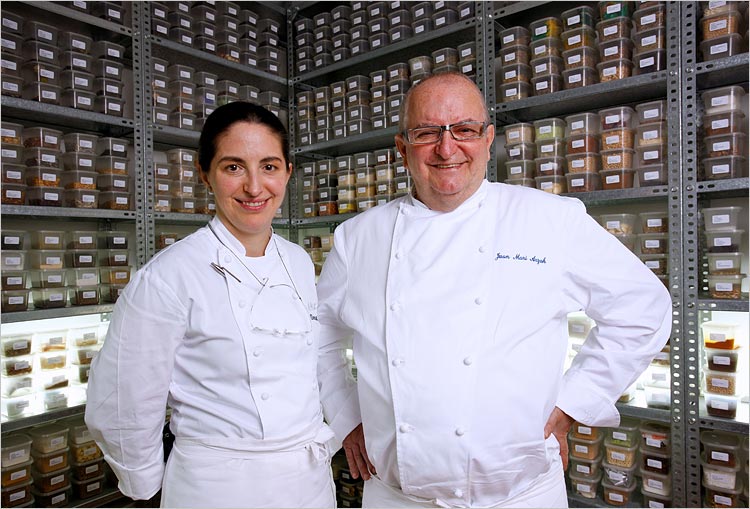 Address: 273 Avenida Alcade Elosegui, 20015, San-Sebastian
Website: www.arzak.es
Considered to be one of the world's best restaurants in any gourmet guide worth its salt, and, judging by the consistently excellent standards at this icon of modern Basque cooking, we'd have to agree. Founded in 1897 as a house by the current owner's grandparents, Arzak's fame can be attributed to one man with a great vision – Juan Mari Arzak. After returning home from the army, Arzak trained in his mother's kitchen and founded what would become Spain's first restaurant to be awarded three Michelin stars in 1989. Today, he works with his equally passionate daughter Elena to bring diners a taste of his incredible take on Basque dishes – Arzak is the godfather of new Basque cuisine. Signature dishes include his marvelous Rape Marea Baja, which is Monkfish with mussels and nori flavored shells, and his sublime Pichon con Chia, a moreish concoction of roasted pigeon with a Mexican Chia seed cracker and chia spheres filled with broth. A venue everyone should visit at least once in their lifetime.
---
3. Azurmendi – THREE MICHELIN STARS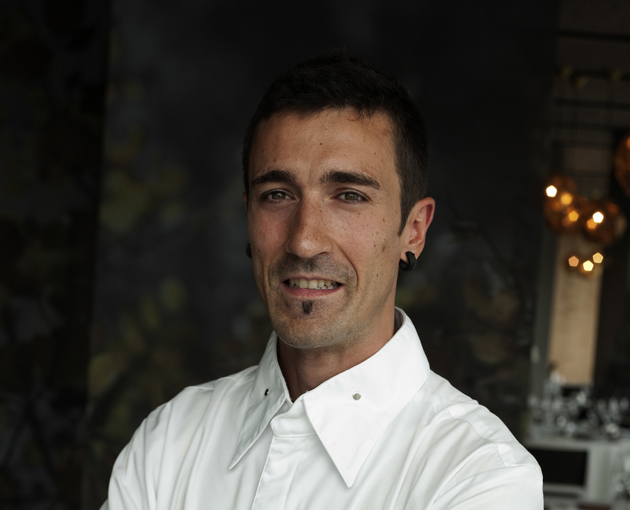 Address: Corredor del Txorierri, Salids 25, Barrio Legina, Larrabetzu, 48195
Website: azurmendi.restaurant
If Azurmendi were up for sale, then it would pull in a fortune for its location alone! A spectacular hilltop setting is a 10 minutes drive from Bilbao airport houses a modern glass and steel building that serves 3 Michelin-starred food of the highest quality. A relatively new kid on the block, Azurmendi was founded in 2005 by superstar chef Eneko Atxa who cut his teeth at such prestigious venues as Andra Mari and Mugaritz. Its fame quickly rose, and in 2013, the venue was awarded a third Michelin star. The restaurant, in addition to being celebrated for its Nouvelle Basque cuisine, is noted for its exceptional and well-stocked wine cellar, which is also excellent value. A bottle of the superb Alion from Vega Sicilia can be obtained for €60, for example, which is equivalent to the retail price. Atxa's prize-winning dishes include his roast lobster with a tapenade of lobster, mushrooms, black olives, and spring onion emulsion and the already legendary Confit of pork on a breadcrumb base salted with pork bones and acorns, garnished with pork jus, herbs and pork crackling. Divine!
---
4. Berasategui – THREE MICHELIN STARS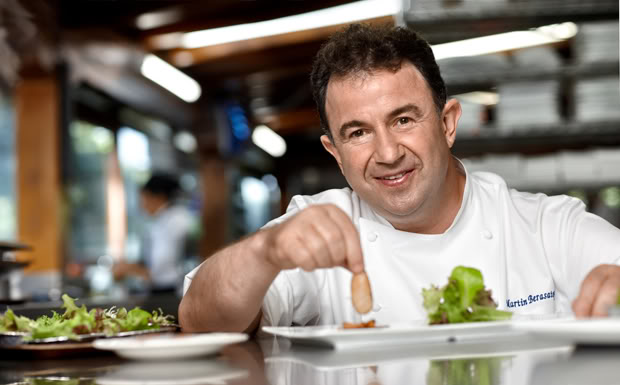 Address: Calle Loidi 4, Lasarte-Oria, 20160, San-Sebastian
Website: www.martinberasategui.com
A living legend in Basque gastronomy, Martin Berasategui currently holds more Michelin stars than any other Spanish chef. He opened one of the Basque country's leading restaurants in 1993, in a charming converted farmhouse. He quickly earned a Michelin star and was awarded his third in 2001. This is a restaurant that strives for perfection and easily achieves it; the service is some of the best in Spain, each dish is meticulously crafted, and most importantly, Berasategui will happily substitute any dish for something more to your liking. He will also design a menu to fit your budget, which is a rarity in Michelin-starred establishments. Add into the mix an extensive wine list and beautiful setting, and you have the recipe for gastronomic perfection. His signature dishes include a cold potato soup with smoked bacon and the award-winning roasted Araiz pigeon, with fresh mushroom pasta, spring onions, and light touches of truffle cream.
---
5. Elkano – One Michelin Star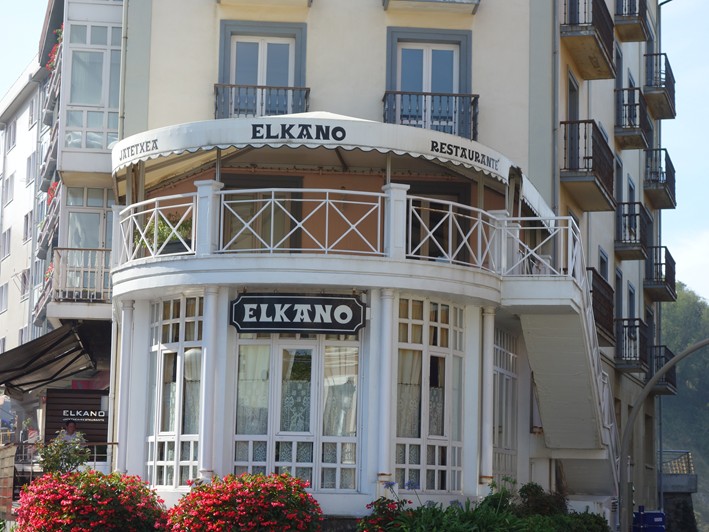 Address: Herrerieta Kalea, 2, 20808, Getaria
Website: www.restauranteelkano.com
This restaurant is justly celebrated for being a seafood lover's paradise. Located in the charming Basque village of Getaria, head chef Pedro Arregui, aided by grill master Luís Manterola are famous all over Spain, in fact, Europe and beyond for their exquisite shellfish and grilled fish dishes, washed down with the local Basque wine, Txacoli. Their secret is simply only using the freshest, seasonal, and locally caught produce, which is reflected in the menu. The undisputed highlight at Elkano is the turbot-rodaballo, whole turbot simmered on oak charcoal ashes, without touching the fire, the result is the finest turbot we have ever tasted. Visitors must also try the delightful kokotxas pil-pil, which is grilled hake jowl served with a sauce prepared with its gelatin, olive oil, parsley, and garlic. Finish with the delicious "helado de queso de Idiazabal," ice cream made from a mascarpone-like local cheese served with fresh strawberry coulis.
---
6. Etxebarri – ONE MICHELIN STAR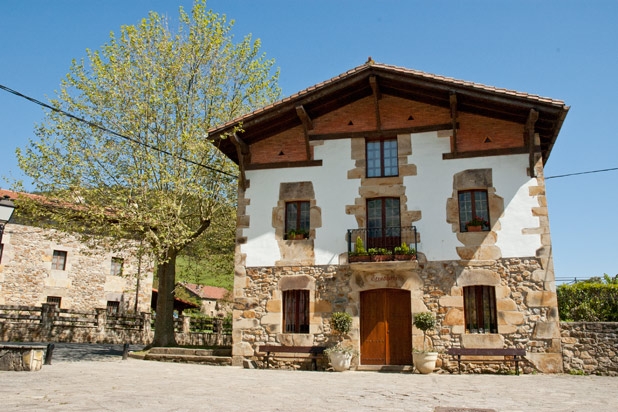 Address: Calle de San Juán, 1, 24549 Atxondo
Website: asadoretxebarri.com
Head chef and founder Victor Arguinzoniz is the master of Asador style cooking, which is a traditional Spanish method that cooks everything over a large charcoal grill, including dessert! Located in the beautiful Basque countryside, the restaurant offers new culinary creations based on classic techniques, and Arguinzoniz is not afraid to grill baby eels, rice, clams, anchovies, and black truffles in his quest for culinary perfection. At the heart of this gastronomic temple, however, is a love of freshness and flavor rather than aesthetics for aesthetic's sake or overwrought creations.  The wine list is a similar delight, packed with diverse offerings from Spain's finest regions. Start your feast with his signature grilled baby eels. Follow with baby sea-cucumbers and green beans and tartar of fresh lobster, then move on to the obligatory chuletón or grilled ribeye. This restaurant, although off the beaten track, is an essential visit for lovers of great food and wine!
---
7. La Villa Eugenie, Hotel du Palais – ONE MICHELIN STAR

Address: 1 Avenue de l' Imperatrice, 64200, Biarritz
Website: www.hyatt.com
One of France's greatest restaurants, the Michelin-starred Villa Eugenie, can be found in the stunningly beautiful Hotel du Palais in the glamorous French resort of Biarritz. The hotel was founded in 1855 as a private villa (known as Villa Eugenie) for Empress Eugenie. In 1880 the villa was sold and subsequently converted into a hotel-casino and then the luxury hotel we see today. It is now a must-visit destination of gourmets traveling in the Basque country and the favorite of many Parisians, who say it exceeds the finest restaurants in the French capital. Head Chef Jean-Marie Gautier is a culinary master, but unlike some of his contemporaries prefers to serve classical dishes and is not a slave to the inventiveness of the new Basque school of gastronomy. The ornate, opulent dining room is a sight to behold and one of the most romantic destinations in France. Diners come from far and wide to enjoy his wonderful creations, including the sangria poached duck foie gras and sautéed sucking lamb with artichoke. As expected, the wine list is extensive, and a Bordeaux and Burgundy lovers delight.
---
8. Mugaritz – TWO MICHELIN STARS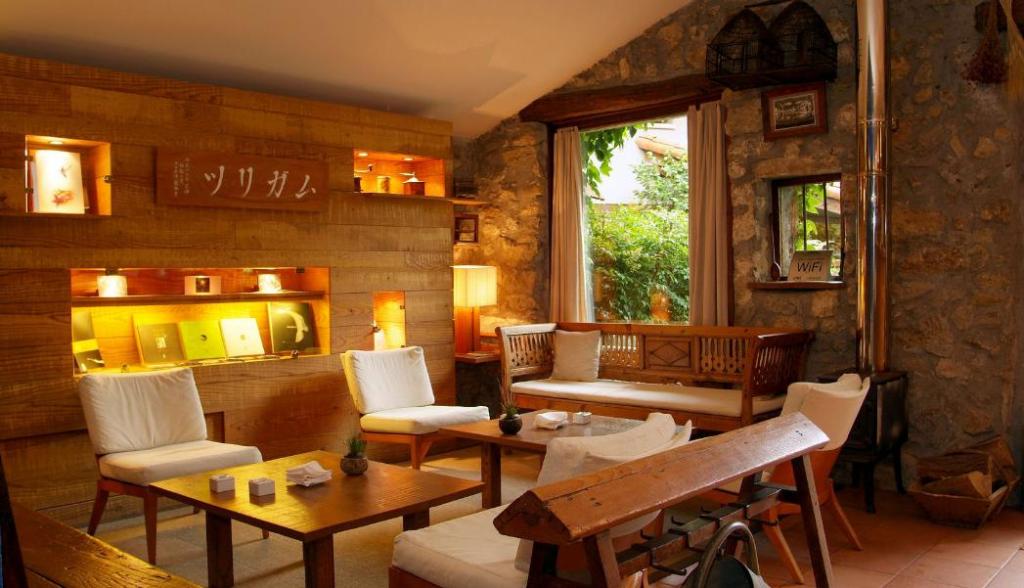 Address: Otzazulueta Baserria, Aldura Aldea 20, Errenteria, 20100, San Sebastian
Website: www.mugaritz.com
Andoni Luis Aduriz, who founded Mugaritz in 1998, has a pedigree like no other in Spain. This incredibly talented chef worked at the legendary El Bulli in the 1990s and also trained under Martin Berasategui in 1996, another of the Basque country's leading chefs. He is widely acknowledged to be at the forefront of the new Basque haute cuisine of the region, following the template set out by chefs like Arzak, who wished to investigate the science behind food preparation in their pursuit of perfect molecular gastronomy. Dining at Mugartiz – a mere 20 minutes drive by car from San-Sebastian – therefore, is an experience rather than just an evening of great food. Expect such creative delicacies as noodles of milk skin wrapped in lard served with tomatoes and pumpkin emulsion, hake with cauliflower and mascarpone cheese, and lamb with brain ragout! Service, as you'd expect, is flawless and attentive throughout, and the wine list is a monument to every major Spanish wine-producing region.
---
9. Zoko Moko- ONE MICHELIN STAR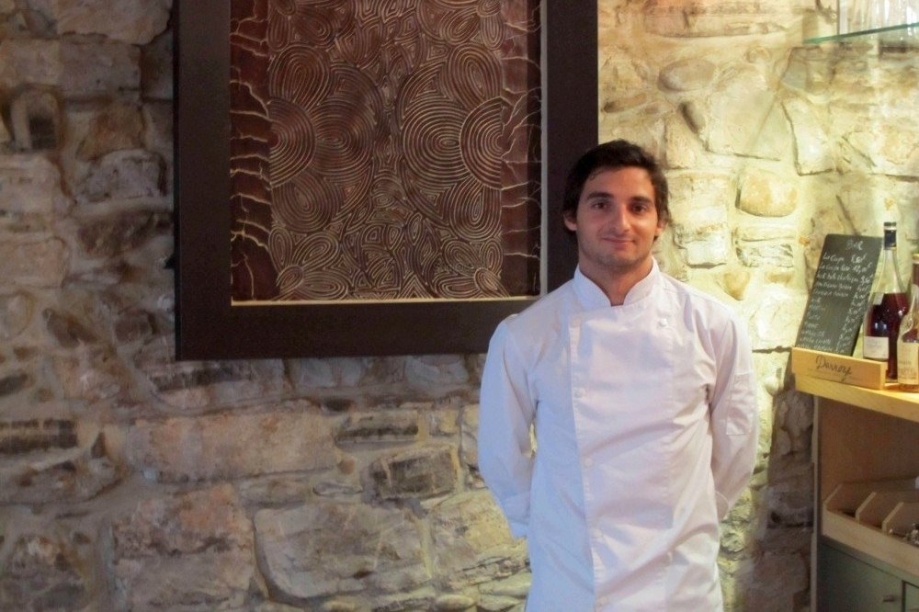 Address: 6 Rue Mazarin, 64500, St Jean de Luz
Website: www.zoko-moko.comx
This elegant and beautiful venue is now undoubtedly Jean de Luz's best restaurant. Presided over by head chef Remy Benedeyt since 2011, his cooking is a veritable showcase of sophisticated Basque cooking. It is well worth the visit to this delightful seaside resort on the French Basque coast. The emphasis is squarely on providing diners with a warm personal touch, service is friendly rather than overly formal, and the restaurant is only too happy to accommodate your requests or preferences. Highlights include prawns on a bed of a julienne of avocado and courgette and the famous cannettes (female duck), which comprise of a pan-fried breast and a confit leg. Desserts are also splendid, as is the carefully prepared wine list. Prices are reasonable considering the quality on offer and if this fantastic restaurant has a drawback, well then we can't see it!
---
10. Zortziko – ONE MICHELIN STAR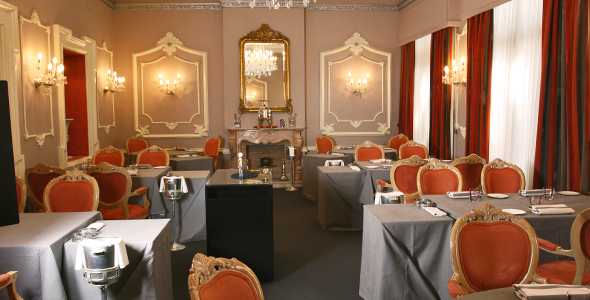 Address: Calle Alameda Mazarredo 17, El Ensanche, Bilbao, 48001
Website: zortziko.es
The legendary Zortziko remains today Bilbao's finest Michelin-starred restaurant, founded by Daniel Garcia in 1989; it continues to wow visitors with Garcia's superlative, contemporary haute cuisine. The destination is worth the price of admission alone, a gorgeous and elegant building that was declared a historical monument. Garcia keeps the menu seasonal, allowing diners to return and sample different innovative dishes, which are always sublime. Service is professional, and the wine list impressive. Start your meal with the signature langostino con risotto de perretxikos (prawns with wild mushroom risotto), followed by the suprema de pintada asada a la salsa de trufas (guinea fowl in a truffle sauce). Finish with strawberry soup and rhubarb ice cream for real gastronomic heaven.
---
11. Zuberoa – ONE MICHELIN STAR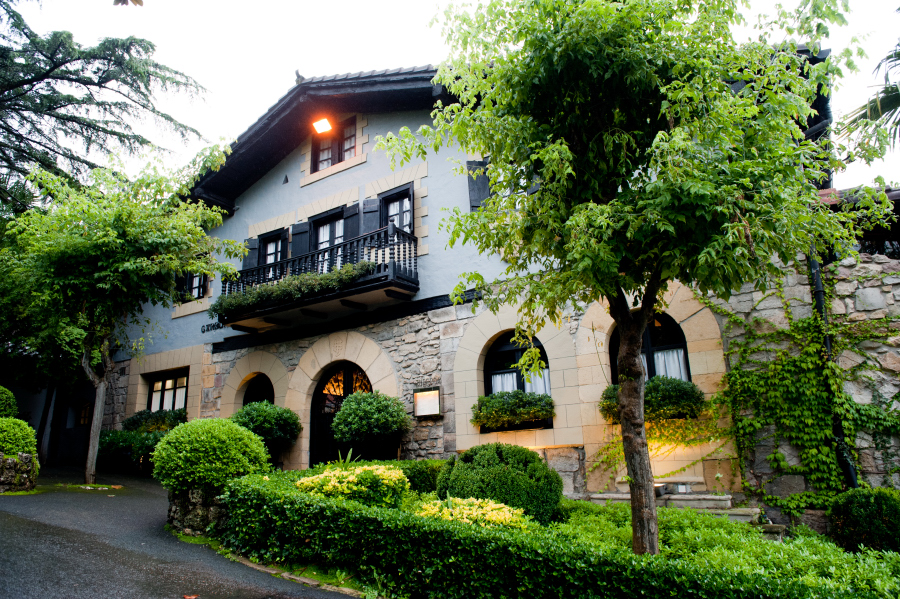 Address: Araneder Bidea, Barrio Iturriotz, 20180 Oiartzun
Website: www.zuberoa.com
Another of Spain's best restaurants, Zuberoa, is set in an idyllic 600-year-old farmhouse in the Basque countryside. Founded by the Arbelaitz brothers, the restaurant has maintained over the years a flawless consistency in its culinary artistry, head chef Hilario Arbelaitz is a devotee to the new Basque school of cookery. However, he never forgets the traditional origins of Basque cooking, which shines through in his creations. Service is perfect, complimenting his delicious, inventive cuisine. Signature dishes include foie gras with a chickpea sauce, roasted Norway lobster, vichyssoise and vanilla ravioli, roast duck foie gras with a red fruit sauce, and his legendary strawberry and tomato soaked gazpacho.