Vega Sicilia is Ribera del Duero's legendary estate, and its wine, Unico, is the stuff legends are made of, writes Serena Sutcliffe, Master of Wine, "When I was feeling my way in wine in those far-off days of the Tender Twenties (my age, not the decade of my youth!), Vega Sicilia was a mythical name, like Chateau Chalon, old Ausone, and ungrafted vine gems such as Noval Nacional and Bollinger Vieilles Vignes. One lusted after them, longed to taste them – and the odd 'god' would regale one, slightly patronizingly, with tales of their magical qualities. Then someone opened a bottle of Vega Sicilia Unico at the end of a long lunch, and it was both oxidized and full of volatile acidity – a winning combination that, simultaneously in my studies, I was being told could not happen. Now, many hundreds of Unico bottles later, I still see lots of volatility in bottles of 50 years old and more, and these are not my favorite examples of the genre. However, Unico from certain vintages of the 1950s and the 1960s onwards has given me some of the most fascinating drinking experiences of recent years. Of course, the actual taste is complex and multi-dimensional. Still, I think it is the slightly unpredictable nature of Unico that adds a frisson every time a bottle is opened. Vega Sicilia Unico is never 'classic' – it is Dolce e Gabbana rather than Ferragamo – cutting edge rather than couture. Suddenly one sees that the most venerable of all Spain's great wines is also the most 'way out'.
There have been five owners of Vega Sicilia since its inception to the present day. In 1864, Don Eloy de Lecanda emulated Bordeaux on his estate at the Pago de la Vega Santa Cecilia y Carrascal. Still, he soon discovered that Ribera del Duero's native grape – Tinto Fino, or Tempranillo – performed to perfection in its own environment. The area's mixture of schistous base soil covered by a chalky subsoil, married to the region's altitude (600-700m above sea level), giving cool nights after hot days and a long ripening season, is all grist to the quality mill. In 1900, the Herrero family took over for half a century, and then Prodes SA, from 1950-64. The Hans Newmann ownership from 1964-1982 marked a fabulous period for Vega Sicilia and a glittering array of riveting wines. By coincidence, the current owners, the Alvarez family, bought the estate in 1982, the year Ribera del Duero was made a Denominacin de Origen. Bodegas Vega Sicilia now owns about 1,000ha (hectares) of land, of which 250ha are under vine. Vega Sicilia Unico and Valbuena 5 Ao (so named because it is put on sale five years after the harvest) are made from selected grapes of top quality, from vines that are over 10 years old. The average age of Valbuena vines is around 25 years, and 45 years for Unico."
Wines produced
Valbuena 5 Reserva

80% Tinto Fino, 10% Merlot, 10% Malbec, 27-29 months in oak.

Vega Sicilia Unico Gran Reserva

80% Tempranillo, 20% Cabernet Sauvignon, 66-68 months in oak.
Winery details
Ctra n-122, KM 323
47359 Valbuena de Duero
Valladolid
Tel + 34 983 680 147
Fax +34 983 680 263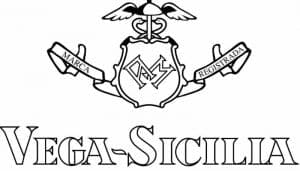 Appellation

Ribera del Duero

Founded

1864

Age of vines

35 year old vines

Oak barrel origin

65% American, 35% French
Winemaker

Mercedes Ausas

Production

200,000 liters

Grape varietals

Tinto Fino (Tempranillo), Cabernet Sauvignon, Merlot, Malbec