In just over twenty years, a remarkable resurgence in the quality and quantity of luxury Spanish wine hotels has ensured that Spain is now at the forefront of global wine tourism. Pioneers like Marques de Riscal, Abadia Retuerta, and Castilla Termal have given the industry a much-needed boost with their natural talent for delivering precisely what today's discerning traveler wants – understated and relaxed luxury. Their hotels have successfully redefined the very meaning of luxury: providing world-class service, food, amenities, and accommodation in locations as diverse as Rioja, Navarra, and Penedes. This is a veritable paradise for a passionate oenophile – exquisite old Spanish classics vintages without the stiff formality and pretension that once plagued upmarket venues in Europe. Of course, not all of Spain's deluxe venues make the grade, but the best of this exciting firmament is truly world-class. Indeed, visitors complained that their luxury options across Spain's wine regions were limited to the fingers on one hand. Today, the dilemma is where to start – so, to help the time-strapped discerning traveler, we've selected our top choices for a glamorous wine vacation below:
A list of some of the best wine hotels in Spain to help you plan your next Wine Tasting Vacation in Spain
1. Hotel Marques de Riscal – Rioja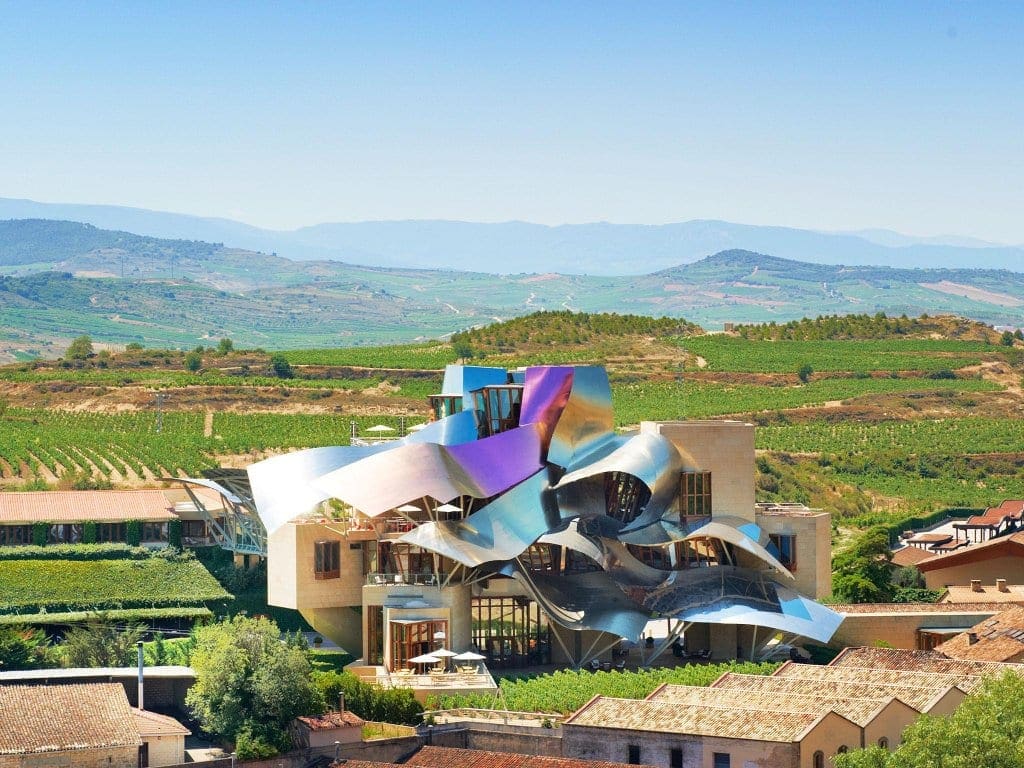 Rioja's Marques de Riscal redefined the concept of a luxury hotel in rural Spain, offering a very contemporary and immersive experience at the heart of the gorgeous Riojan countryside. Opened by one of the regions' oldest bodegas (winery), the hotel has been welcoming visitors since 2006 and has caused more than a little controversy in the sleepy village of Elciego. Its avant-garde design was masterminded by legendary architect Frank Gehry, celebrated for creating the Guggenheim museum in Bilbao. Today the hotel is run by the Marriott group. However, high standards remain the same. Outside the hotel's walls, you're ripe for exploring the Rioja Alavesa sub-region, home of such famous names as Luis Canas and Bodegas Ostatu. Inside, the visitor is mercilessly cocooned in absolute luxury – 43 top-notch rooms and suites are complemented by a state-of-the-art spa, a glorious rooftop terrace, wine library – with over 1000 different volumes – and exclusive access to the Marques de Riscal cellars. But, the real highlight is undoubtedly the hotel's signature Michelin-starred restaurant. Paired with a fantastic selection of Marques de Riscal wines (the winery has kept a few bottles of every vintage back since its inception in the 1860s), the avant-garde cuisine is simply breathtaking in its intricacy and creativity. Trust us; you won't want to leave.
More info: Rioja Wine Tour
---
2. Abadia Retuerta, Le Domaine – Castilla y Leon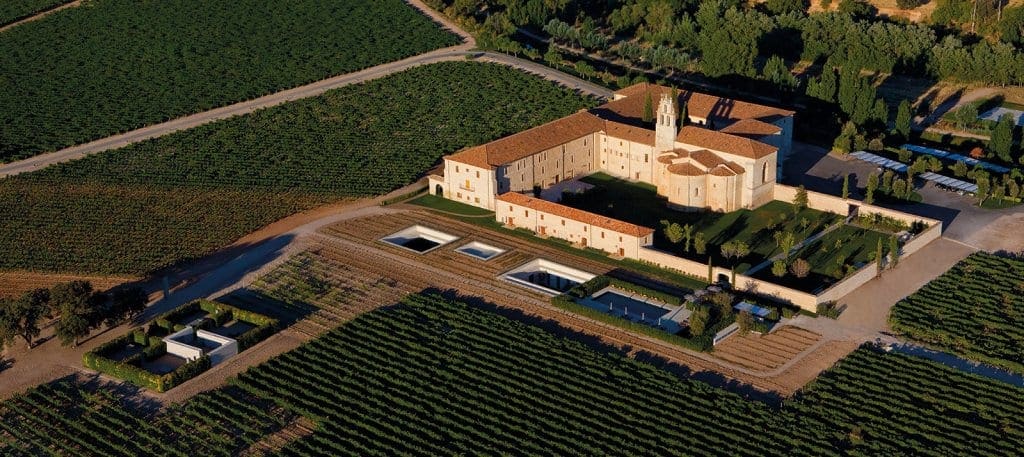 Just as Marques de Riscal reinvented the concept of visiting a wine hotel in Rioja, so Abadia Retuerta has led the way in revolutionizing the tourism experience in Ribera del Duero. Unfortunately, however, the winery is located just outside the appellation boundaries. But that's a minor quibble – this beautiful hotel is undoubtedly one of Spain's finest. Your home for the night (or several) is located in an ancient abbey founded in 1146 by an order of monks from France, which is today one of the most important Romanesque buildings in Castilla y Leon. It was opened as a luxury hotel in 2012, totally restored with the help of Swiss-Italian architect Marco Serra. From the outset, the hotel has made a name for itself by offering exceptional service – each bedroom comes equipped with a multilingual butler who will do everything to make your experience as memorable as possible. A luxury spa keeps guests pampered until it's time to sample the dramatic Refectorio restaurant's Michelin-starred cuisine, situated in the abbey's refectory. Accompanying your gastronomic adventure is a large selection of the estates' wines and top choices from across the region, including old vintages of Vega Sicilia. There is also the Vinoteca restaurant for those who want a more informal, tapas-style dining experience. A world-class hotel for discerning sybarites.
More Info: Ribera del Duero Wine Tour
---
3. Castilla Termal, Monasterio de Valbuena – Castilla Y Leon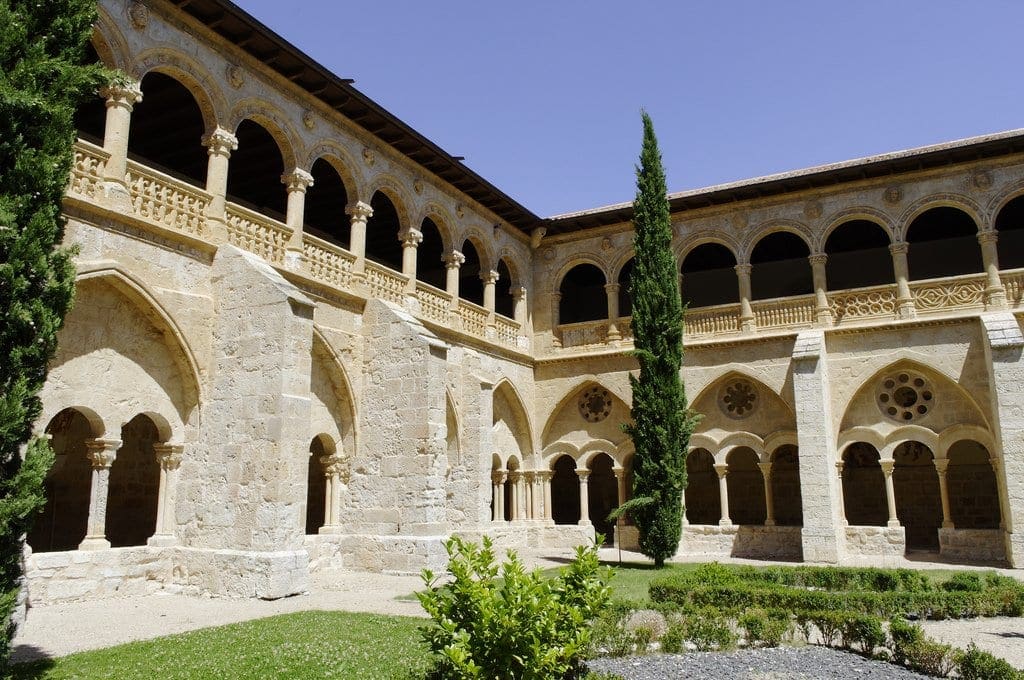 Why can't all wine hotels be like this? Located in an ancient Cistercian monastery built in the 12th century, Castilla Termal is ideally situated to explore the Ribera del Duero region, a land of powerful, structured red wines. Offering superlative accommodation, amenities, and cuisine in the most luxurious surroundings, Castilla Termal is the ideal place to recharge your batteries after a busy day's sightseeing and wine tasting. Each of the 79 bedrooms and suites is individually furnished and designed to an unparalleled standard; insanely comfortable beds, modern bathrooms, tasteful artwork, and beautiful balconies. An expansive pool and pampering spa await the weary, but we're more excited about the Converso restaurant and its veritable treasure trove of rare vintages. Service throughout is professional, discreet, and extremely courteous. It's the obvious choice for a wine-themed weekend break.
More Info: Ribera del Duero Wine Tour
---
4. Castilla Termal, Burgo de Osma – Castilla Y Leon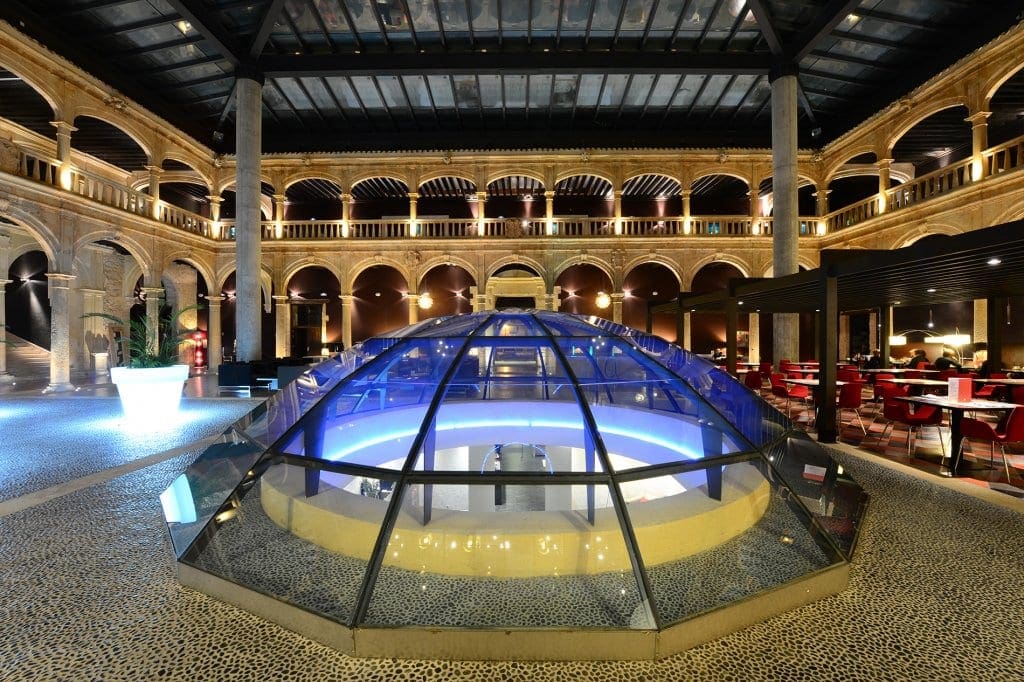 A truly remarkable hotel, Castilla Termal Burgo de Osma, is effortlessly inviting and uniquely situated. Housed in the ancient University of Santa Catalina, the building has been lovingly preserved to ensure no trace of its Renaissance splendor is diminished by the arrival of a contemporary luxury hotel. Today it attracts a discerning clientele who wish to explore the majestic surroundings of Soria, a city known for its perfectly preserved medieval center. The 70 rooms, including four suites, are decorated and furnished to the highest standard, while the suites boast remarkable views and gorgeous warm interiors. Also, and in keeping with the popularity of thermal pools, the magnificent spa area makes its home under the Renaissance cloister and a glass dome – dramatic and luxurious in the same breath. The food is yet another highlight, locally sourced and impeccably presented, resulting in a gastronomic paradise.
More Info: Ribera Del Duero Wine Tour
---
5. Hospederia de los Parajes – Rioja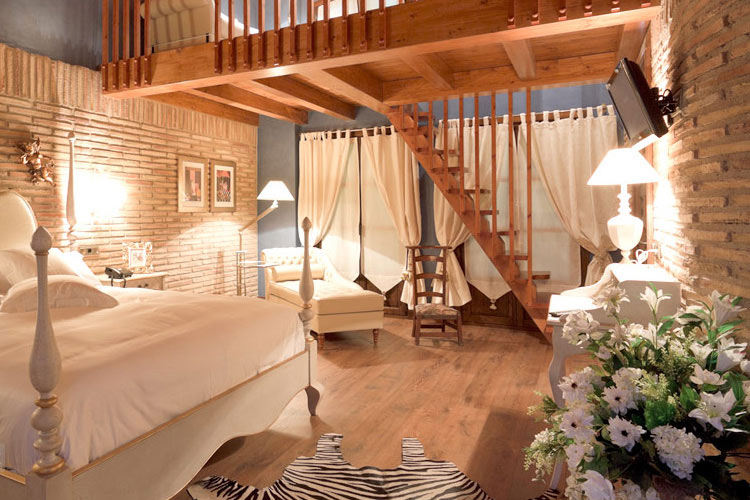 Rioja is full of great hotels, but we can assure you that Hospederia de Los Parajes is seriously cut above the rest. A sophisticated boutique address at the heart of Laguardia, Hospederia de Los Parajes is friendly, inviting, and refined all at the same time. The building is a renovated historic palace, sympathetically restored to balance the contemporary and historic. In particular, we love the glass-roofed central courtyard. The original building's ancient stones are combined with the modern structure to create a charming, welcoming space centered on a delightful fireplace.
The bright and elegant communal spaces complement 18 spacious, airy rooms, some of which face the courtyard. Indeed, relaxation is the name of the game at this hotel; chill on the terrace with a glass of wine in tow or explore the surrounding Rioja Alavesa region. And what a culinary treat you have in-store, for Hospederia de Los Parajes boasts two excellent restaurants, Los Parajes and Las Duelas. There's also an inviting basement spa and wellness center that features a Turkish bath, an ice fountain, various water treatments, and a wide range of massages. When in Rome!
More info: Rioja Wine Tour
---
6. Hotel Finca de Los Arandinos – Rioja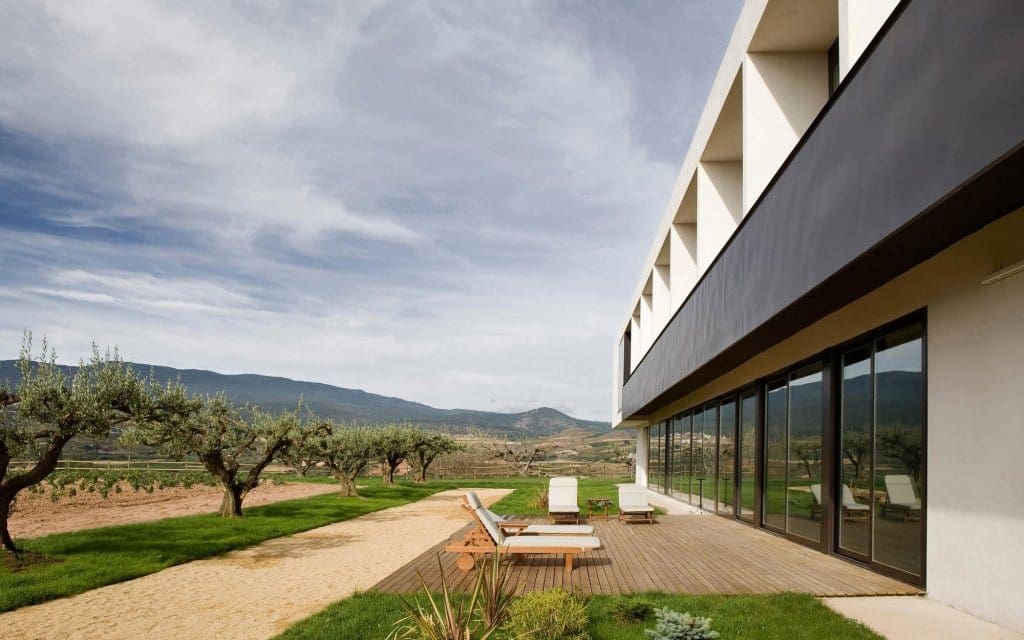 A small hotel with a big heart, Finca de Los Arandinos is way ahead of Rioja's boutique competition. It is one of the key venues that have redefined what luxury wine hotels should offer their guests, establishing a new breed of smart, sophisticated, yet relaxed accommodation for discerning travelers. Based at the heart of the Rioja Alta sub-region, the hotel is easily accessible from Bilbao airport (just over 2 hours by car) but far enough away from civilization to provide an unparalleled haven of relaxation. 14 sleek, sophisticated rooms keep guests suitably pampered, while the spa offers an extensive range of treatments. Top chef Diego Rodriquez handles gastronomic duties – he brings you mouthwatering, contemporary Spanish dishes that are the antitheses to irritating, undernourished nouvelle cuisine. Utilizing local produce and working with local suppliers, the cooking is all heart and soul – divine yet intensely nourishing and homely. However, the wine list is suitably extensive, with a plethora of rare vintages from across Rioja. Muy Bien!
More info: Rioja Wine Tour
---
7. Pago de Cirsus – Navarra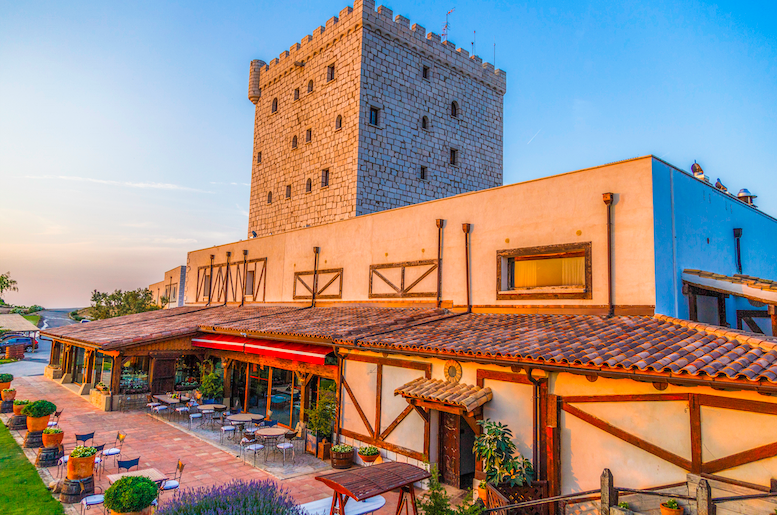 Navarra is undoubtedly one of the most captivating and beautiful of the Spanish wine regions. The expansive landscape, filled with vineyards and majestic mountain scenery, never fails to take a first-time visitor's breath away. And there is no better place to experience Navarra in all its splendor than Pago de Cirsus, a family-run hotel attached to a leading bodega (winery). Twelve elegant, traditional bedrooms are complemented by an excellent restaurant and some of the friendliest staff in Spain! But the real highlight is the simple fact that viticultural exploration at Pago de Cirsus requires only a few steps, as the winery is a stone's throw away. They will happily organize vineyard tours, tastings, and, of course, visits to other leading properties in the region. The only problem will be where to start.
More info: Navarra Wine Tour
---
8. Hotel Mastinell – Penedes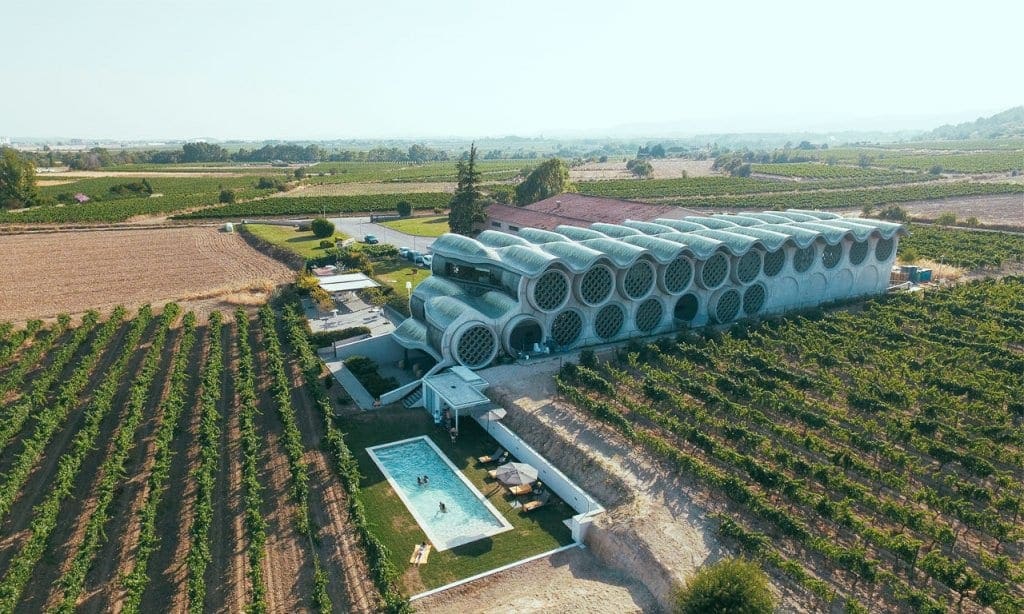 There are quite a few contestants for the prize of Catalunya's finest winery hotel, but we can assure you that Mastinell is ten leaps ahead of the rest. A sophisticated cut above most of the competition, Mastinell has an effortless chic about it. An imaginative modern design has been put to spectacular use, with numerous circular glass panels (13 rooms in total) offering superlative views over Penedes' vineyards. Service is in keeping with today's consumer ethos and is engaging and warm rather than stuffy. A large outdoor swimming pool allows guests to work off dinner, a particular highlight as tapas don't get any better than the memorable creations of the hotel's 'En Rima Culinary Space.' Fresh, perfectly cooked tapas – fish being the real highlight – shellfish on tap and an extensive wine list are all present and correct.
More Info on Penedes Wine Tour
---
9. Terra Dominicata – Montsant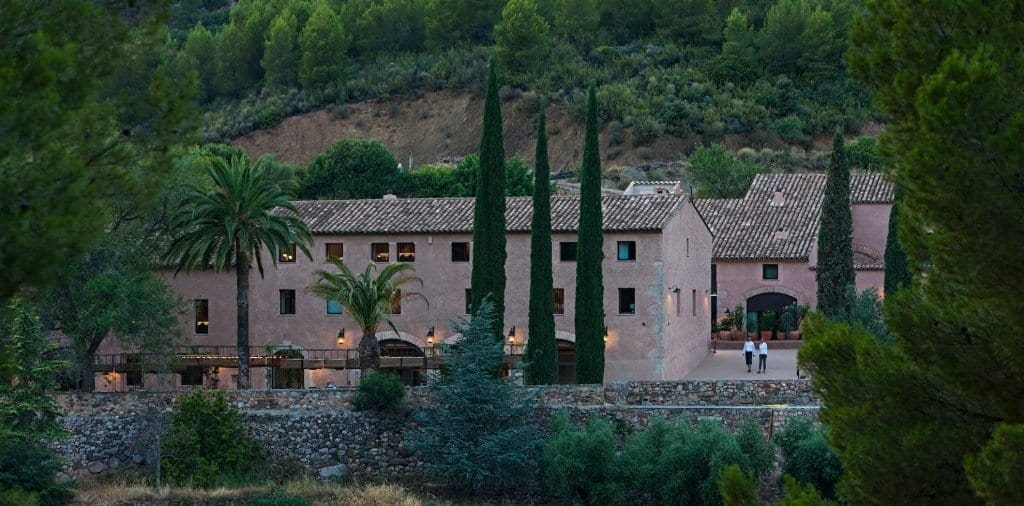 With its enviable position overlooking the dramatic scenery of Montsant, its splendid isolation, and gorgeous, individually designed rooms, Terra Dominicata is surely one of Spain's most relaxing hotels. It boasts just 26 deluxe rooms, distributed between the two historic buildings that made up the estate. The Deluxe Suites, in particular, are utterly gorgeous, lavish, and rustic at the same time. The ambiance is more akin to staying with friends than a luxury hotel – the staff are very warm and hospitable, and the overall ethos is very much relaxed luxury. Guests continue to rave about the inviting outdoor pool, the proximity to Catalunya's finest vineyards, and the superlative gastronomy on offer at Terra Dominicata.
More Info: Priorat Wine Tour
---
10. Casa Vina de Alcantara – Jerez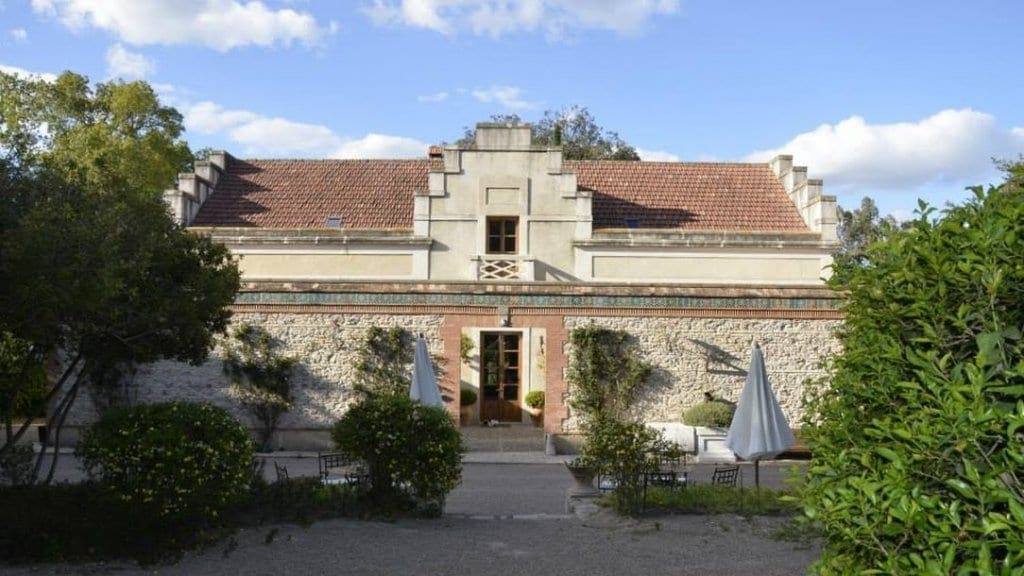 Elegance be thy name! Six perfectly appointed bedrooms await you at Vina de Alcantara, the sherry region's most elegant and understated hotel. There's no bling or lavish amenities at this address; instead, you'll receive a warm welcome and hospitality that the Andalusians are so famous for. The building itself is very historic and utterly charming, a testament to this region's proud legacy. Unfortunately, there's no restaurant, although a splendid breakfast is included with your stay—the perfect base from which to explore the enticing vineyards of Jerez de la Frontera.
More Info on Jerez Wine Tour
---
Related Posts: