Antiyal is now established as one of the very best wine producers in Chile. Hard to believe, then, that this tiny 'garage' vineyard was established as recently as 1996. The driving force and energy behind Antiyal have been provided by Alvaro Espinoza, a master of the art of Organic and biodynamic viticulture. The wines are made to strongly reflect a 'sense of place', to remain true to their origins in the Maipo Valley, Chile. Soil, aspect, altitude, climate, these are daily concerns to Espinoza. His passionate belief that nature knows best has paid dividends; his wines are today critically acclaimed and sell out very quickly upon release. Their Antiyal flagship red is currently a serious contender for the best red from Chile and, considering the competition, that's quite an achievement!
Antiyal has a relatively straightforward history, founded in 1996 by Alvaro Espinoza and Marina Ashton, although Alvaro has been tending to vineyards in Chile for over 25 years. He spent many years perfecting his craft at the internationally renowned Carmen winery before following his life-long dream to run his own estate in 1996. The duo bravely struck out on their own, purchasing just one hectare of land where they planted Cabernet Sauvignon. After two years and much hard work, Alvaro knew his wines were ready to bottle and they released the first vintage of Antiyal in 1998. As a complete newcomer, his partner Marina knew she had her work cut out in promoting the wine and has worked tirelessly to market Antiyal as one of the most potent expressions of the Maipo terrior. It has won critical acclaim from no less a figure than Robert Parker who considers it one of the premium Chilean reds. Alvaro and Marina have since accumulated 8 hectares of vineyards and produce three distinct wines from their tiny operation.
Today, the estate is as far removed from large scale, industrial winemaking as is possible. No artificial fertilizers or pesticides are used, animals roam freely through the vineyards and are nurtured entirely using natural methods. It is run by a small, close-knit team and the output is minimal. Visitors are always welcomed and will be given a guided tour by the master Alvaro himself. His Carmenère and Kuyen wines show vibrant, dark, spicy berry fruit and are much loved. It is the Antiyal flagship, though, that lifts this winery onto a separate quality plateau; quite simply a benchmark for all to follow in the region.
Wines produced
Antiyal

43% Carmenère, 39% Cabernet Sauvignon, 18% Syrah. Produced from certified Organic and biodynamic vineyards. Aged for 12 months in 100% new French oak. The flagship wine of the property, only 5,000 bottles produced per annum.

Antiyal Carmenère

100% Carmenère. Produced from certified Organic and biodynamic vineyards. Fermented and aged in stainless steel tanks. No oak used for maturation.

Kuyen

43% Carmenère, 39% Cabernet Sauvignon, 18% Syrah. Produced from certified Organic and biodynamic vineyards. Aged for 12 months in 50% new French oak.
Winery details
Camino Padre Hurtado number 68
Huelquen Paine
Chile
Tel + 56 (0) 2821 4224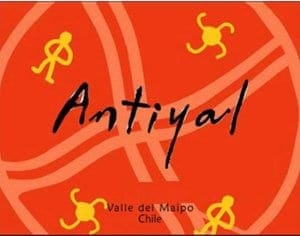 Appellation

Maipo

Founded

1996

Area under vine

7 hectares

Age of vines

30 years+

Oak barrel origin

French
Winemaker

Alvaro Espinoza

Owner

Alvaro Espinoza and Marina Ashton

Production

26.000 bottles per annum

Grape varietals

Syrah, Cabernet Sauvignon, Carmenère