Syrah is perhaps the most underrated of the 'noble' red grape varieties. Every critic worth their salt will tell you the same thing; Syrah (or Shiraz) is responsible for some of the finest red wines made in the world today. Like all great varieties, Syrah is a true chameleon, growing on a range of terroirs and producing an eclectic palate of wine styles. It comes in many guises:
Powerfully structured wines, lavishly seasoned in new oak
Blends, single-vineyard cuvées
Medium-bodied reds (often aged in old vats), and rosé
The fruit profile ranges from the classic Hermitage trademarks of black pepper and olive to chocolate and very ripe plum in certain parts of the US and Australia. The best examples will improve in bottle for over a decade, gaining in-depth and complexity. So why hasn't the grape achieved the global fame of its peers? The answer seems to be that aficionados like their Syrah wines to fly under an appellation banner – preferably French.
Read more about French Red Wine
You can explore the Rhône Wine Region with Cellar Tours on a private Luxury Food and Wine Vacation, dine in the best local restaurants, and enjoy VIP tastings in the top wineries.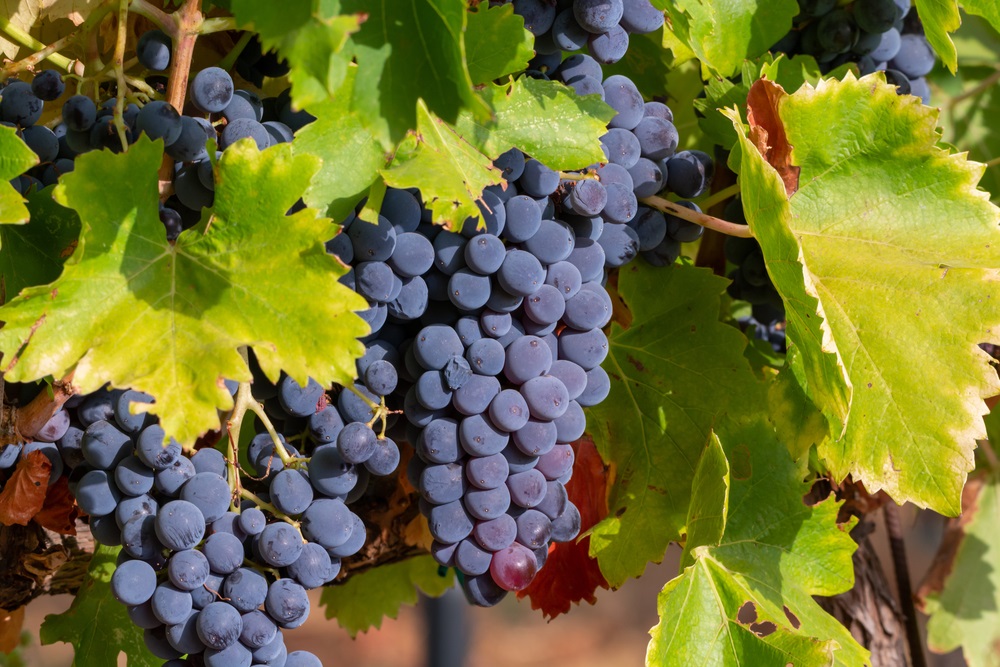 "We find varietal Syrah from California is a hard sell for example; it is just not a variety that does particularly well over here and is usually over-shadowed by Pinot Noir and Cabernet Sauvignon," observed British wine merchant James Hocking in 2018.
However, the wine trade is increasingly delighted with the responses to Syrah grown in the Northern Rhône – its spiritual heartland. As ever, most consumers would probably not even realize that appellations like Cornas place the grape at the heart of their wines (variety is only occasionally mentioned on French AOC labels), but this doesn't appear to be stifling demand.
"In NYC, there is much more excitement with the Northern Rhône wines than with the wines from Bordeaux," reported sommelier Cedric Nicaise in 2018, then working at the Eleven Madison Park Hotel, New York. "Top producers like Chave, Gonon, Jamet, and others are very popular, especially with sommeliers. I would imagine Syrah moving very quickly in restaurants where sommeliers can give recommendations often."
Hong Kong-based sommelier John Chan added: "The Rhône is becoming an increasingly important part of our daily sales. Rhône Syrah is unique – it stands out from the rest of the world."
And so it should. Syrah grown in the northern Rhône is simply magnificent; refined, concentrated, and supremely elegant. Of course, many excellent Syrah wines are being crafted in the New World, particularly in Barossa Valley, Hawke's Bay, and Napa. But the wines of Hermitage and Côte-Rôtie have an undeniable edge, not least in terms of their cachet with collectors. Traditionally perfumed with the addition of Viognier or Marsanne/Roussanne, the wines merge potency with finesse, resulting in a delectable and inimitable wine style. Today, Syrah reigns unchallenged in the Northern Rhône. It has no equal in the quality stakes.
History and viticulture
The history of the Syrah grape has been discussed and debated for decades. Advocates of one popular theory point to the city of Shiraz, located in modern-day Iran. Many centuries ago, the Persian Empire was known for its Shirazi wine, leading certain viticulturists to make the reasonable assumption that the grape was exported to France during this ancient period. It was believed that merchants may have transported the grape to the French port of Massilia in around 600 BC. However, there is no definitive proof of this.
We know for sure that the town of Tain l'Hermitage has been associated with wine – and the Syrah grape – for centuries. The settlement was known as 'Tegna' in Roman times – its wines were much lauded by Pliny the Elder and the poet Martial. In the 18th century, records show that the dark wine of Hermitage was regularly shipped to Bordeaux to add color and alcohol to the sometimes pallid wines of the region. In the 1700s, Andre Julien's survey of the world's finest vineyards described the wines of Hermitage as being in the same league as Lafite and DRC.
Syrah's genetic origins, incidentally, were revealed in 1998. A team of scientists at the Department of Viticulture and Enology at the University of California, Davis, discovered that Syrah's parents were Dureza (father) and Mondeuse Blanche (mother), respectively. Their findings convinced experts that the story of Syrah's journey from ancient Persia was a charming myth and that the grape was born in south-eastern France, close to the boundaries of the Rhône Valley. This does seem to be the most likely explanation, although the Iran theory does have a romance about it.
In the 19th century, Syrah was first exported to Australia, becoming a major feature of wine growing in the South Australia region. James Busby was the man responsible for taking cuttings from Hermitage's vineyards in 1831. He planted vines in the 1850s in Barossa, subsequently branching out to the Hunter Valley in New South Wales in 1880. It remains very popular across the nation, while producers in New Zealand, California, and South America are also devoted fans of the grape. However, there is more accessible money to be made elsewhere. Yet Syrah continues to hold their interest, not least because it is a very adaptable and somewhat forgiving variety to cultivate
The dark-skinned, mid-ripening Syrah grape does not generally cause too many problems throughout the growing season. The grape's synergy with metamorphic soils, mainly granite, schist, and shale, is appreciated. That said, Syrah will also grow well on clay/sandstone terroir, producing (relatively) light and aromatic wines with a softer structure than equivalent examples from stony soils.
The biggest challenge inherent to growing Syrah is its natural vigor. In particular, young vines will give prolific yields unless the vine is pruned regularly. However, the upside of this 'charged' metabolism is that even precious old bush vines will generally give a decent crop, producing immensely concentrated and ripe berries of dark fruit. Moreover, Syrah vines are characterized by their tendency to grow loose bunches, ensuring good air circulation and minimizing the risk of fungal diseases like powdery mildew.
Winemaking
There is no 'one size fits all' approach to making exceptional Syrah wines. Indeed, oenologists hold diverse views on how best to handle the grape, particularly concerning maturation, the role of white grapes, and filtration. For example, when Marcel Guigal started using new French oak for his single-vineyard cuvées, there was an uproar in the Rhône; critics argue that new barrique can spoil the style, although Guigal was aloof to such concerns. Elsewhere, certain growers advocate using carbon maceration (the signature technique of Beaujolais) to soften the tannins. The choices are almost endless.
One of the strongest dividing lines in the Rhône Valley concerns the subject of blending. One school of thought argues that Syrah should not be 'tarnished' with white grapes, while others insist that a dash of Viognier in Côte-Rôtie gives aroma to the bouquet and adds freshness. Equally, too much can spoil the style, lightening the color and structure. In the end, personal preference is the final arbiter.
The subject of carbonic maceration also causes much disagreement. This practice involves instigating an intracellular fermentation inside the grape itself while the alcoholic fermentation is beginning. It produces wines of great fragrance and a fruity character, although it is also derided for leading to 'nouveau' wines for early drinking. Not every bottle of Syrah needs to be super serious, and yet many winemakers consciously distance themselves from this paradigm.
However, the arguments start when the new oak topic enters the discussion. Traditionalists remain committed to aging in old oak vats, believing that new barrique ruins the flavor of Syrah. Nevertheless, maturation in one-to-two-year-old 225-liter barrels is becoming more popular, achieving that delicate balance between enhancing the wine's structure (and mouthfeel) and not overpowering it with the flavors of new oak. In terms of the time period, most growers age in wood for about 18-24 months – Guigal proposes over three years for the top cuvées. Aging in concrete and amphora is also gaining ground among the younger generation – most agree that filtration is detrimental to the final product.
Great Syrah wines of the Northern Rhône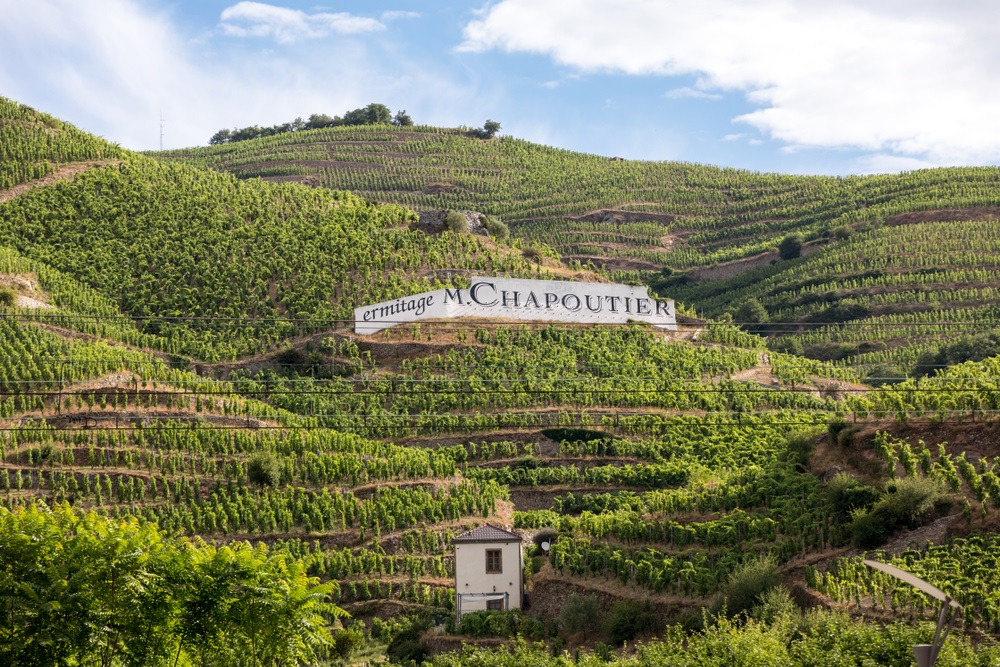 The steep, dramatic terraces of famous appellations like Côte-Rôtie and Hermitage can produce some genuinely spectacular Syrah wines. Côte-Rôtie is almost Burgundian, with its hauntingly beautiful aromas and floral delicacy, supported by fine tannins and ripe acidity. Located on the west bank of the Northern Rhône Valley, the area under vine has traditionally been divided into two key sub-regions: Côte Blonde and Côte Brune. It is said that the Côte Blonde, with its mix of metamorphic and sandy soils, gives softer and earlier-developing wines. Meanwhile, the generous proportions of schist and heavy clay in the Côte Brune are a recipe for more concentrated and structured Syrahs.
In the 20th century, blending from across different plots was the standard practice in Côte-Rôtie, often adding up to 10% of Viognier into the wines. Marcel Guigal, however, pioneered the cult of single vineyards with his justifiably lauded and expensive La Landonne, La Mouline, and La Turque bottlings. Rich, powerful, and extracted, they are wines to lay down for at least a decade. Both styles have their relative merits and fans.
Terroir delineation is also a hot topic in Hermitage. Situated on the Rhône's eastern flank, the sloping vineyards of this venerable appellation yield wines of considerable potency and color, with powerful tannins that assault your senses in their youth. Over time, though, a very harmonious and complex wine will emerge, with notes of wild berries, garrigue, balsamic, tobacco, and rosemary. Does it deserve to be drunk with exceptional gastronomy – roast Chateaubriand, perhaps?
Since the 19th century, winegrowers have recognized the finest sites as Beaume, Bessas, Bessards, Burges, Lauds, Meal, Muret, and Raucoule. The consensus is that Beaume produces wines with a lighter structure and great perfume, while the granite-heavy soils of Bessards tend to give tannic and long-lived wines. Le Meal is renowned for yielding Syrah grapes packed full of flavor and tannin; Jaboulet's flagship climat, La Chapelle, is arguably the greatest Hermitage of them all. Mirroring the diversity of Côte-Rôtie, Hermitage's growers take very different approaches to blending and the inclusion of white varieties Marsanne and Roussanne.
The top wines of these two famous appellations are undeniably expensive and fabulous. Yet there is a world of value to be discovered in Crozes-Hermitage, Cornas, and St-Joseph zones. Cornas is found on the west bank, just north of the commune of Tournon. Pioneers like Thierry Allemand and the Courbois brothers have proven that the granite terroir of Cornas can compete with Hermitage, producing concentrated and racy wines. However, they typically cost a lot less.
Saint-Joseph is another treasure trove of affordable delights, as is Crozes-Hermitage. Fresh, fruit-driven Syrah reds are the specialty of these two sub-zones, made in reasonably generous quantities. The latter is an expansive area, stretching over 15 kilometers from Tain l'Hermitage to the southern border of Gervans, a pretty village. A rash of investment in the 21st century transformed the area's reputation, as famous names were attracted to the relatively affordable land prices. As a result, the wines of Domaine du Colombier are outstanding – a rival to Hermitage itself, perhaps!
Syrah's future in the South of France
Syrah has always played a very different role in the spectacular landscape of the southern Rhône Valley. The hot Mediterranean climate encouraged growers to plant late-ripening varieties like Grenache, which typically dominate the region's wines. Syrah has traditionally been used as a blending partner, adding structure and finesse to the wines of Châteauneuf-du-Pape, Gigondas, Vacqueyras, and Ventoux. However, global warming is causing growers to rethink their approach to certain sites and appellations. Syrah is still very highly regarded, but it can struggle in the torrid and drought-ravaged heat of vintages like 2018. In Gigondas, for example, winegrowers are increasingly making 100% Grenache wines and not using Syrah in the blends at all. Others seek higher altitude sites and cooler terroirs to keep the grape part of the region's viticultural map. Single-varietal versions of Syrah are very rare in this part of the world.
It's a similar story in the Languedoc-Roussillon. The grape is permitted under numerous appellations found across this gigantic zone, appearing in Minervois, La Clape, Corbieres, Pezenas, and Terrasses du Larzac. Growers in the region have proven that the Languedoc is an important source of terroir-driven wines; Syrah is a vital component in many of the most expensive and award-winning cuvées, such as Clos d'Ora. The grape adds so much to the superlative red wines of the Languedoc-Roussillon, contributing structure, elegance, and a signature savory note that balances out the lushness of warm climate wines. But, once again, heat and drought are becoming a significant issue here. In certain years, growers must cope with scorched berries and potential alcohol of 16.5% in the fermenter, which is undesirable, not least because such brute strength comes at the expense of acidity and freshness. As elsewhere, the fight to maintain Syrah's importance in the wider region involves elevation, aspect, refined winemaking, and earlier harvest dates. It is stretching the ingenuity and resolve of local winemakers to the very limit. But it is a battle they intend to win.
Top producers of Syrah wines:
Thierry Allemand
Jean-Louis Chave
Jaboulet