Prettiest Villages in Provence
The cliché is world-renowned. The imagery more potent than any other in France: perfect blue skies, endless lavender fields, exquisite gastronomy, and some of Europe's most picturesque villages. With such high expectations from first-time visitors, Provence could be a major anticlimax. Yet, the region has retained its allure and unique charm, despite the growing number of summer visitors. It is most people's idea of a perfect holiday, delivering on all fronts.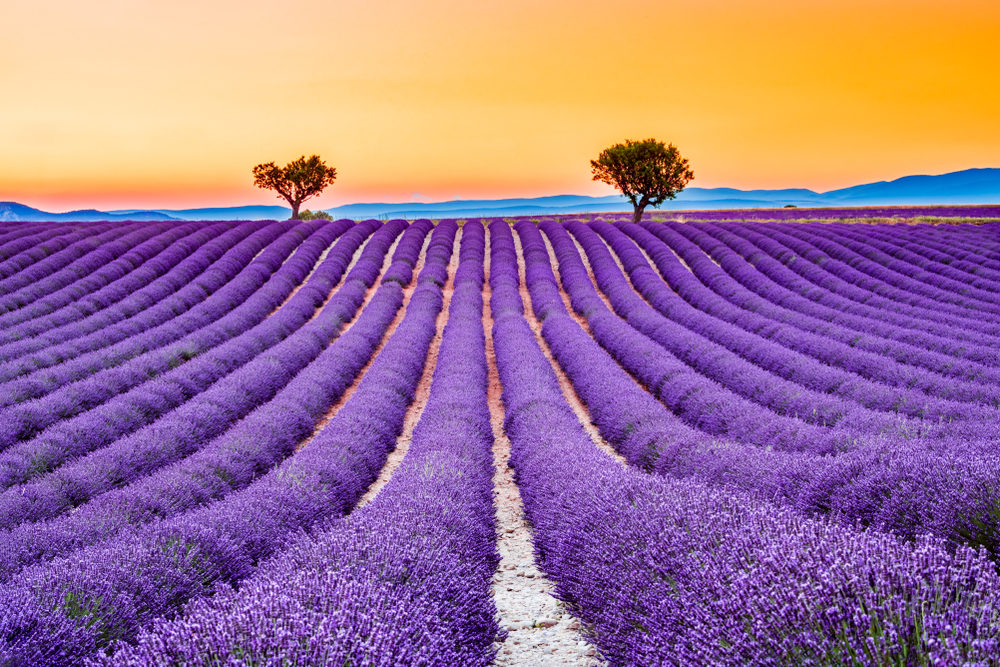 But what many visitors don't expect is the region's incredible diversity. Villages in the Vaucluse and Luberon epitomize the Provencal cliché. However, the Camargue's bleached landscapes and the rugged villages of the Alpilles could not be further apart. Traveling further east, you'll encounter the dramatic scenery of the Gorges du Verdon, a mix of Alpine peaks, sheer-drop cliffs, and eternal sunshine. We defy any visitor not to become instantly smitten with this landscape, like Van Gogh, Cezanne and Gaugin were before you.
Join Cellar Tours on a Provence Wine Tour, where you will explore stunning landscapes, gorgeous lavender, luscious vines, fantastic Mediterranean climate, sumptuous wines, and striking Roman heritage.
Gordes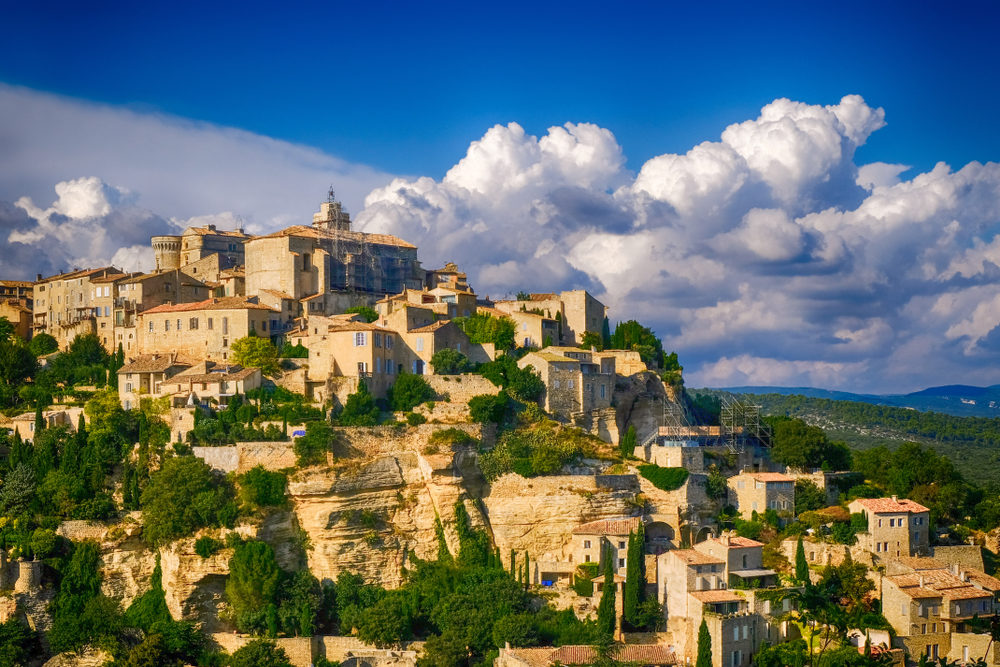 Gordes is to Provence what St-Emilion is to Bordeaux: a gorgeous, hilltop stone village with incredible views of the surrounding countryside. The name derives from the Celtic word "Vordense" – the village has played a pivotal role in French history, having been occupied by the Romans, the Franks, and subsequently, the Nazis, before attracting famous artists Chagall and Jean Deyrolle. Utterly gorgeous, few visitors are immune to its charms. Our advice is to try and visit early in the morning or late evening – wandering through its labyrinthine "calades" (narrow cobblestone streets) is such a pleasure, especially when a glass of Provencal rose is waiting for you at a terrace cafe.
---
Roussillon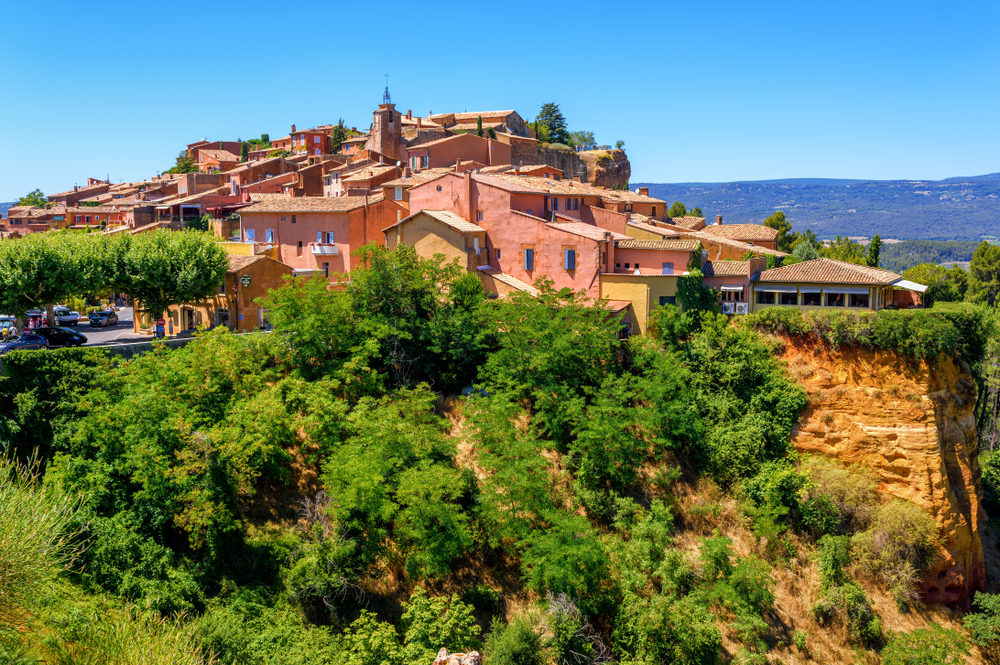 Roussillon is a 'poster boy' for Ochre – that beautiful Provencal clay that varies in color from bright yellow to red. Situated east of Avignon, Roussillon is a marvel to explore, thanks to its spellbinding views of the National Park du Luberon and its small, close-knit community. They still reside to this day in the stone houses. It has inspired numerous writers, including Samuel Beckett, and film director Henri Colpi, who shot a movie in Roussillon in the 1970s. After spending just a day here, we understand why. It is a charm that almost defies words, a magic that fully expresses itself during sunrise and sunset when the light shimmers on the gorgeous ochre colors of orange, yellow, and brown. You must see it for yourself.
---
Seillans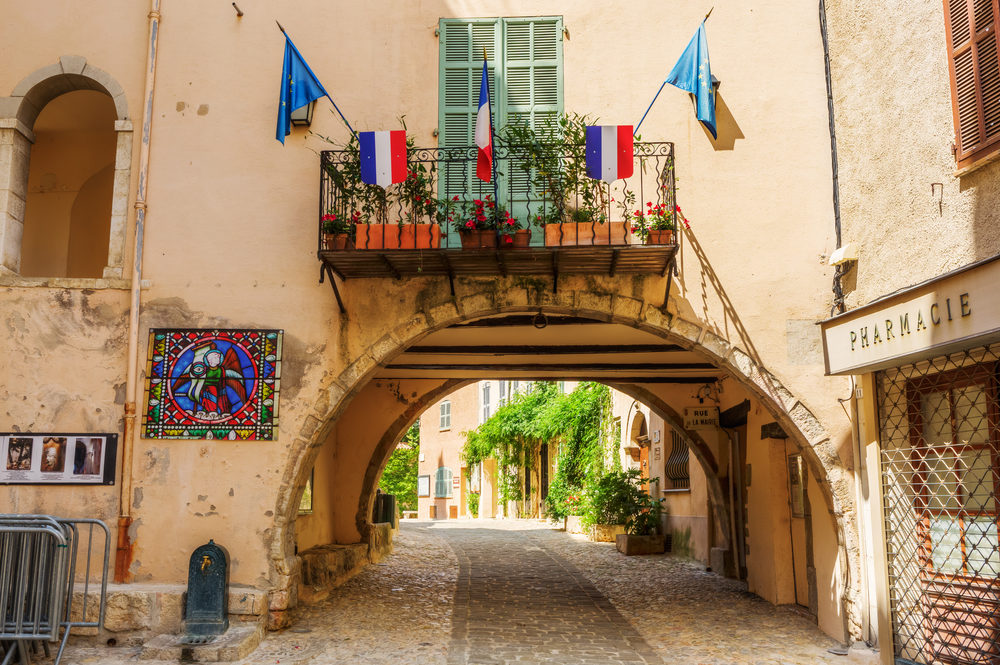 Impossibly beautiful, Seillans is the idealized medieval village – a tourist's fantasy. But what distinguishes this gorgeous hilltop village from the surfeit of hilltop villages in Provence is its art legacy: many artists took up residence here, and the surrealist painter Max Ernst spent his final years in Seillans. The village's cobblestone streets, squares, castle, chapel, and views of the surrounding landscape inspire hushed awe from visitors. Spring and fall are the optimum times to enjoy Seillans – high summer can bring unbearable heat and crowds.
---
Biot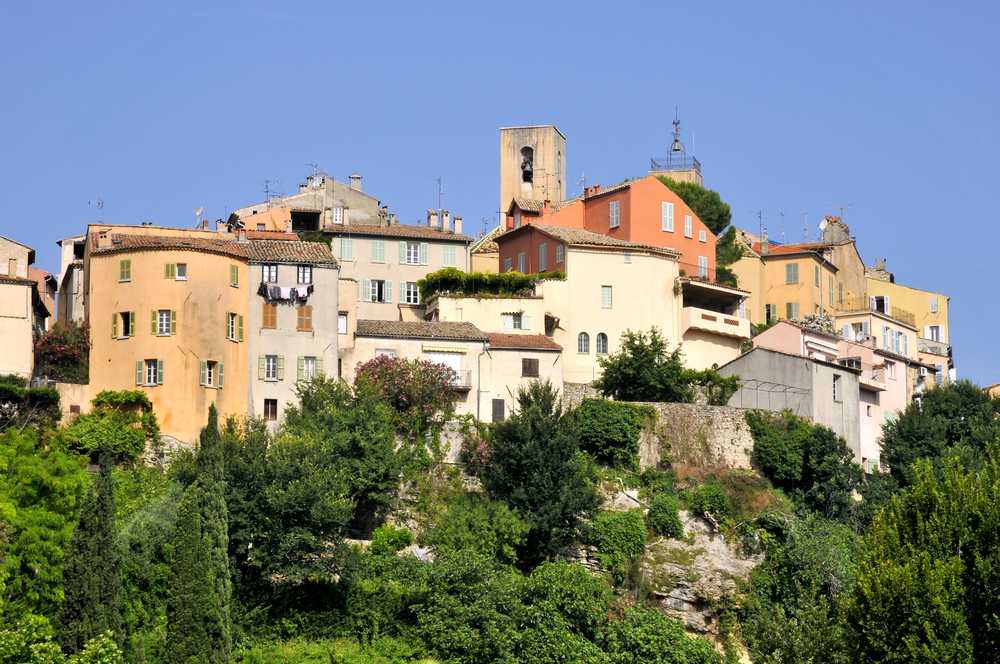 One of Provence's less instantly famous villages, Biot, is well worth a day trip. Its history is fascinating: from the 16th to 18th century, this lovely hillside village was renowned in France for the exceptional quality of its olive oil jars, which were distributed across the Mediterranean. Sadly, this industry has faded, yet today Biot is equally famous for its bubbled glass. Biot's famous bubbles are produced by rolling molten glass in baking soda to create a chemical reaction, then trapping the bubbles with a second glass layer. The end product is distinctive and beautiful, and so too is the timeless Place des Arcades Biot. Even if designer glass doesn't interest you, the medieval streets and charming squares certainly will.
---
Villeneuve-les-Avignon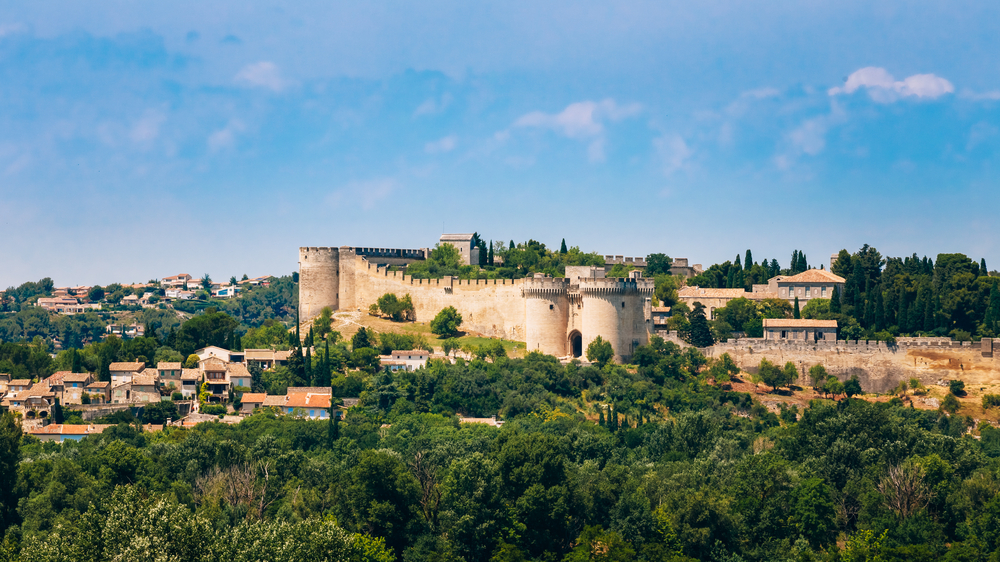 History comes alive in Villeneuve-Les-Avignon: Villeneuve (new city) became known as the city of Cardinals in the 14th century, as many archbishops built splendid residences in the town which remain today. Affiliated with the papal court, the French authorities established a garrison to keep an eye on the ambitions of the Papacy! Today it is one of Provence's most charming large villages, an open-air museum full of winding streets, historic buildings, and pretty squares. Located 3km from Avignon, Villeneuve has the added attraction of being easily reached on foot. Provencal panoramas are obligatory when you visit the majestic 14th century Fort St-Andre.
---
Vaison-La-Romaine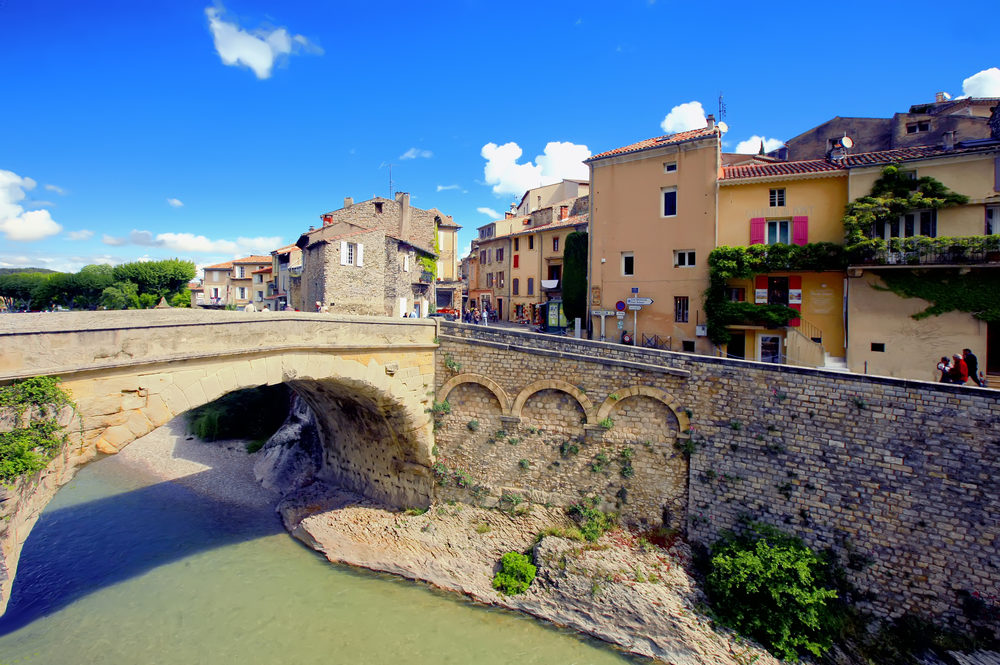 It is almost too beautiful. Crowded in the summer months, Vaison-La-Romaine is the quintessential Provencal village, split by the waters of River Ouveze into a lovely pedestrianized center. Overhead is the walled, cobbled street of the Cite Medievale on the hilltop. To stroll through the old city is to savor a remarkable history lesson; the ruined remains of the Roman city – Vasio Vocontiorum – have been meticulously preserved, a monument to Roman rule and achievements which flourished from the 6th to 2nd centuries BC. Our favorite spots to savor the views are the pretty Pont Romain (Roman Bridge) and the 12th-century Chateau built by the Counts of Toulouse. The thriving Tuesday market is the icing on the cake.
---
Carpentras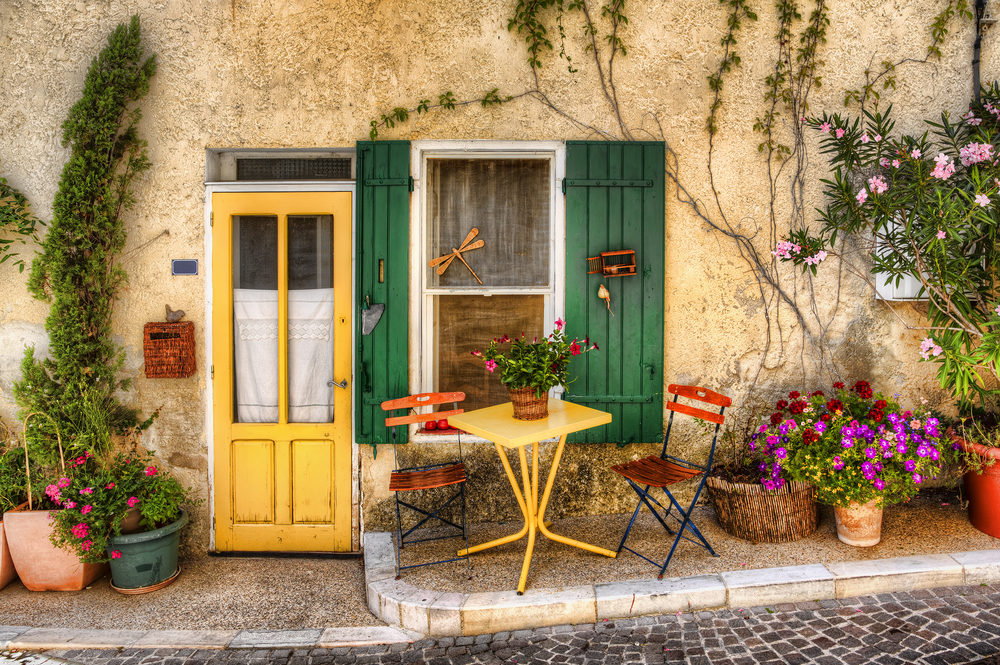 The Friday produce market at Carpentras is the stuff of foodie legends. The streets are bursting with more than 350 stalls laden with freshly baked bread, olives, Provencal cheeses, nuts, fruits, locally-made honey, farm produce, nougat, and other delights. During winter, the emphasis switches to truffles, their heady scent filling the market square as hushed transactions are made between foragers and chefs. But quite apart from Carpentras' incredible food scene and scenic beauty, it also boasts a unique and heady history. It became the capital of the papal territory of the Comtat Venaissin in the 14th century. Pope Clement V was a frequent visitor – the 14th-century synagogue is the oldest in France. History comes alive in Carpentras.
---
Les Baux-de-Provence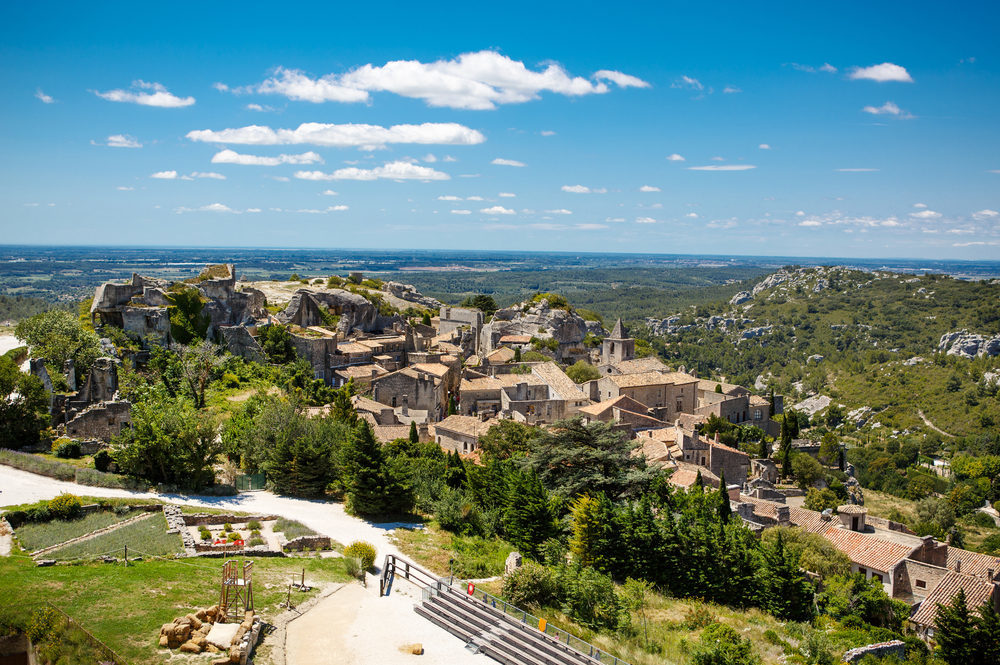 Les Baux-de-Provence is a leading contender for the title of France's prettiest village. Located at the heart of the Alpilles region, it is a precious gift to Instagram lovers. Here, you'll discover ancient stone houses spectacularly perched above rolling hills of vineyards, orchards, and olive groves in the center of bucolic bliss. It was immortalized by Van Gogh and remains one of the most visited in France today. The undisputed highlight is the Chateau des Baux, which clings precariously onto a 245m-high grey limestone rocky spur. It dates back to the 10th century, although it was badly damaged during the reign of Louis XIII in 1633. Offering breathtaking views of the valley below, Les Baux-de-Provence is rarely deserted. Aim to visit late evening or at sunrise for some peace and quiet.
---
Apt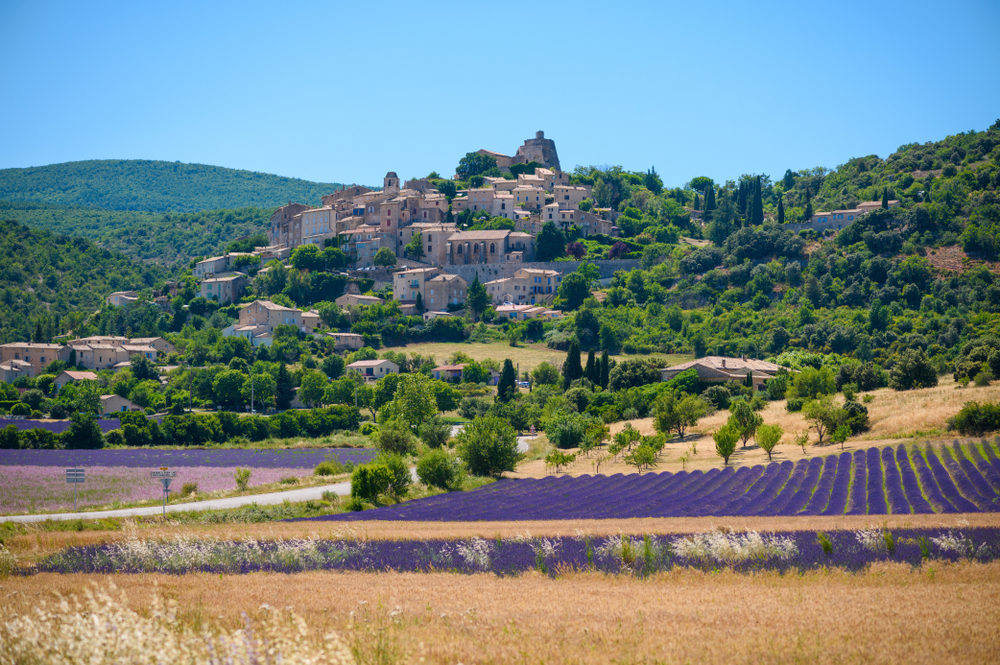 The epitome of a sleepy village, Apt, is ideal for getting away from it all. Unspoiled, untouched, and isolated, Apt nonetheless comes alive with its Saturday morning market, brimming with local specialties and fresh produce. The heady sights and smells are unmissable, as are the pretty medieval streets and squares. The town's festive spirit also peaks during its wine and cheese festival, held in the summer. Over 25 chateaux advertise their wares, to the delight of Apt's numerous visitors. It offers a veritable slice of the Provencal dream – visit in winter to have it to yourself.
---
Digne-Les-Bains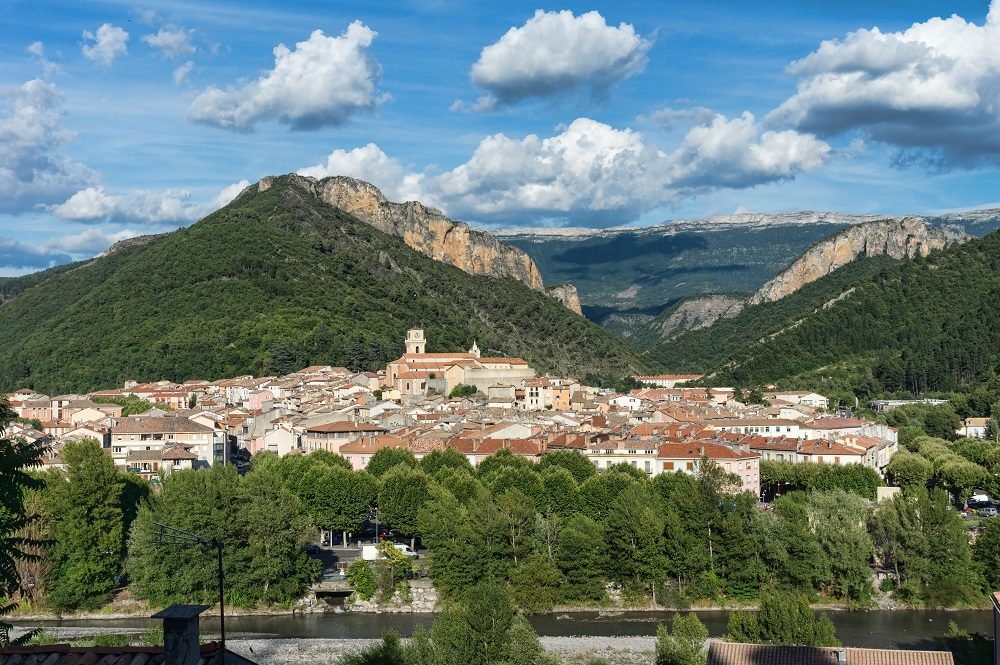 Famous for its magical waters, Digne-Les-Bains is privileged with a picturesque spring, which spurts out water rich in minerals renowned for its healing powers. Founded by the Romans, today, French doctors send patients to benefit from the spring, which supposedly helps cure asthma and rheumatism. But aside from its fame as a medical retreat, Digne-Les-Bains is a charming large village, less tourist-centric than other parts of Provence. It retains a sleepy provincial quality – an increasingly rare commodity – and a relaxed friendliness that is rare in many parts of the world. The lavender fields surrounding Digne-Les-Bains in the summer are idyllic: an intense shade of purple not seen anywhere else. Little wonder that French explorer Alexandra David Noel decided to settle here, in search of splendid isolation.
Related Blog Posts: