Where to Dine while Touring in Provence.
"The French think mainly about two things – their two main meals," a Parisian was once heard to say, and nowhere is this truer than in Provence. The undisputed European capital of summer tourism and arguably France's most celebrated region, Provencal cuisine is now among the country's best, supported by a growing number of excellent wines produced throughout the region's captivating and spectacular landscape.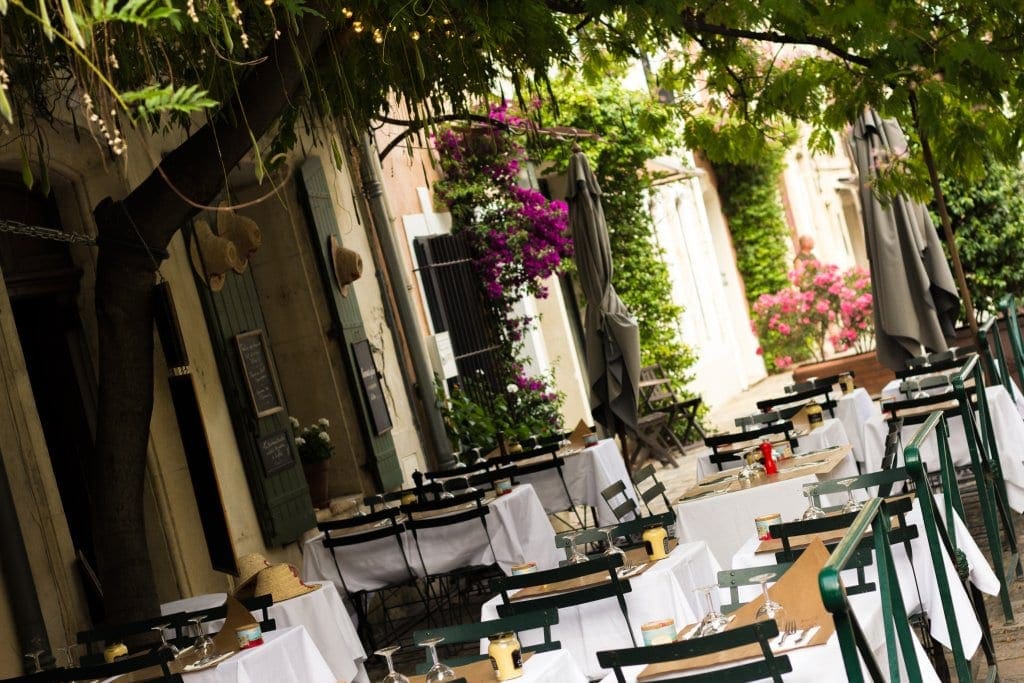 Indeed, visitors to Provence are often surprised at the quality of local restaurants, most of which rise above the Provencal cliches of olives, bouillabaisse, and tapenade. Of course, such dishes are unmissable for the traditionalists among us. Still, Provence now offers a culinary melting pot, with restaurants that range from the Michelin-starred and formal to rustic little hideaway only frequented by local families. Yet, particularly in the region's larger cities, North-African immigration has enriched the local gastronomic scene immeasurably, with Marseille, for example, now boasting an amazingly eclectic selection of restaurants, including Indian, Antillean, Thai, Armenian, and Tunisian. Of course, plenty of venues only specialize in local dishes, so don't fret if you're desperate for a fix of bouillabaisse and ratatouille.
Join Cellar Tours on a Provence Wine Tour, where you will explore stunning landscapes, gorgeous lavender, luscious vines, fantastic Mediterranean climate, sumptuous wines, and striking Roman heritage.
And so regardless of where your culinary allegiances lie, you're bound to find the restaurant that's perfect for you in our hand-picked selection of Provence restaurants below:
Bon Appetit!
Le Petit Nice-Passedat
Address: 17 Rue des Braves, 13007 Marseille – directions
Website: www.passedat.fr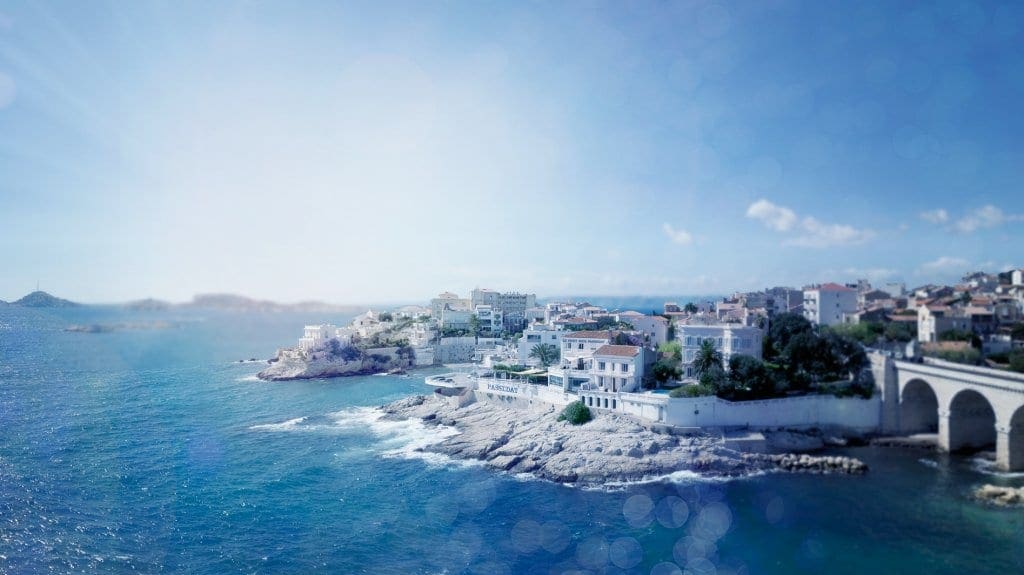 Le Petit Nice is undoubtedly one of France's finest restaurants, a testament to the legendary culinary skills of owner Gérald Passédat. Indeed, the setting alone means that Le Petit Nice is worthy of a special detour: nestled into the rocks above a small cove, Le Petit Nice is an idyllic hideaway and undoubtedly the most romantic of all the world's three-Michelin-starred restaurants. Renowned for his sophisticated and playful interpretations of traditional Provencal dishes, Passédat is famous for his signature "Bouille-Abaisse," a three-tier dish composed of raw shellfish, shallow-water fish, and deep-water species – it must be tried at least once in every gastronome's lifetime. As you'd expect, Le Petit Nice's service is equally as refined – professional, courteous, and incredibly attentive. And then there's the wine list, an expertly curated homage to both the famous Chateau of Champagne, Bordeaux, and Burgundy, and to the wonderful diversity of the Provence region itself.
---
Chez Madie
Address: 138 Quai du Port, 13002 Marseille – directions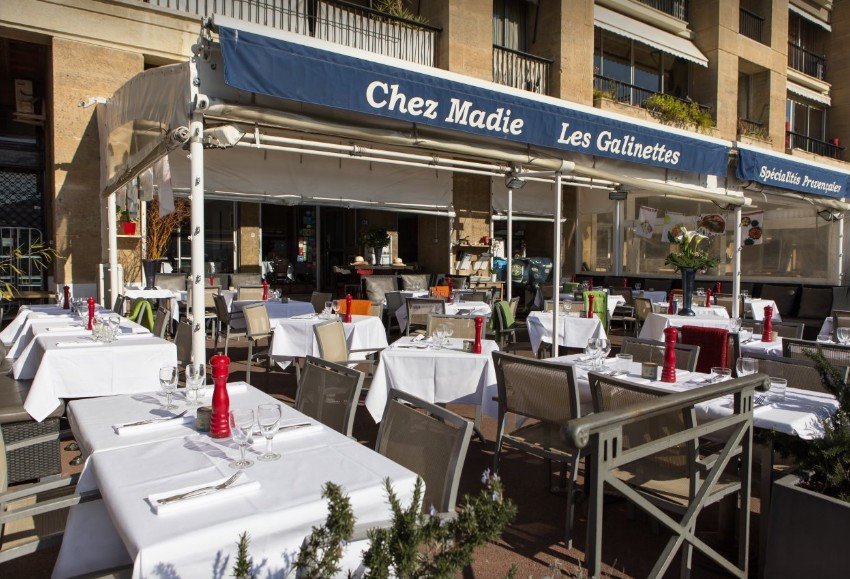 A legend for both its wonderfully fresh seafood and the inviting alfresco summer terrace, Chez Madie Les Galinettes is surely Marseille's most charming restaurant. It all starts with the warm welcome every guest receives from Les Galinette's convivial owners and gets better from then on. In the summer season, its port-side terrace is the place to be, while during the chillier months, patrons flock inside to a modern art-filled interior. The food, just like the owners, is uncomplicated, wholesome and inviting – oysters, mussels, turbot, Dover sole, red mullet, and, of course, the finest bouillabaisse money can buy are all up for grabs. Paired with a glass of Provencal rose, Les Galinettes' rich, hearty bouillabaisse is simply divine – the perfect way to spend a balmy summer's evening in Marseille's Vieux Port.
---
L'Esprit de la Violette
Address: 10 Avenue de la Violette, 13100 Aix-en-Provence – directions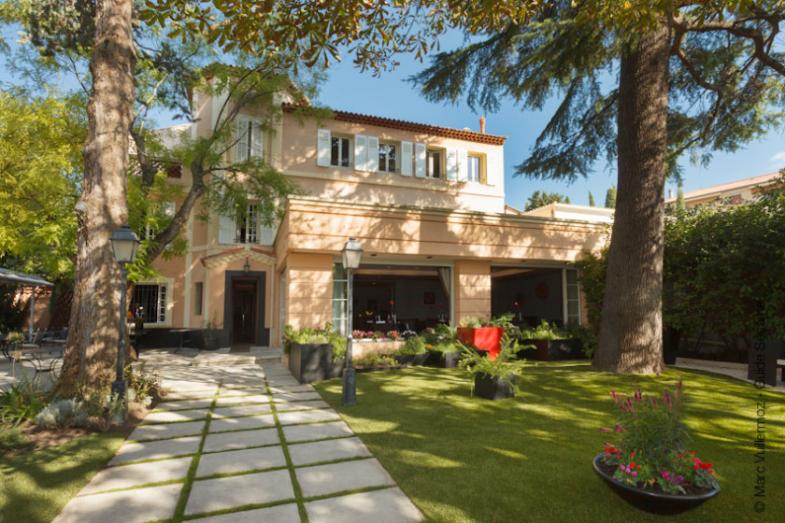 At L'Esprit de la Violette, head chef Marc de Passorio producers his own brand of high-Provencal cuisine. Indeed, it is his culinary genius and flair for the unexpected, which has earned L'Esprit both a Michelin star and a formidable reputation for the consistency of its cooking. And so it's little surprise that discerning palates flock to his restaurant each year, eager to experience Passioro's quite remarkable cuisine. Dishes such as roasted beef knuckle Provençal style, served with leeks vinaigrette, cocoa, and balsamic syrup; blue lobster cooked with vodka, soya jelly, and vodka whipped cream; and Meunière-style Dover sole, paired with a tarragon chlorophyll, spinach shoot, and pepper reduction. Desserts, too, are a lesson in perfection, as is the gracious service and extensive wine list. This is one restaurant to remember for that very special occasion.
---
L'Alcove
Address: 19 Rue Constantin, 13100 Aix-en-Provence – directions
Website: www.lalcove.fr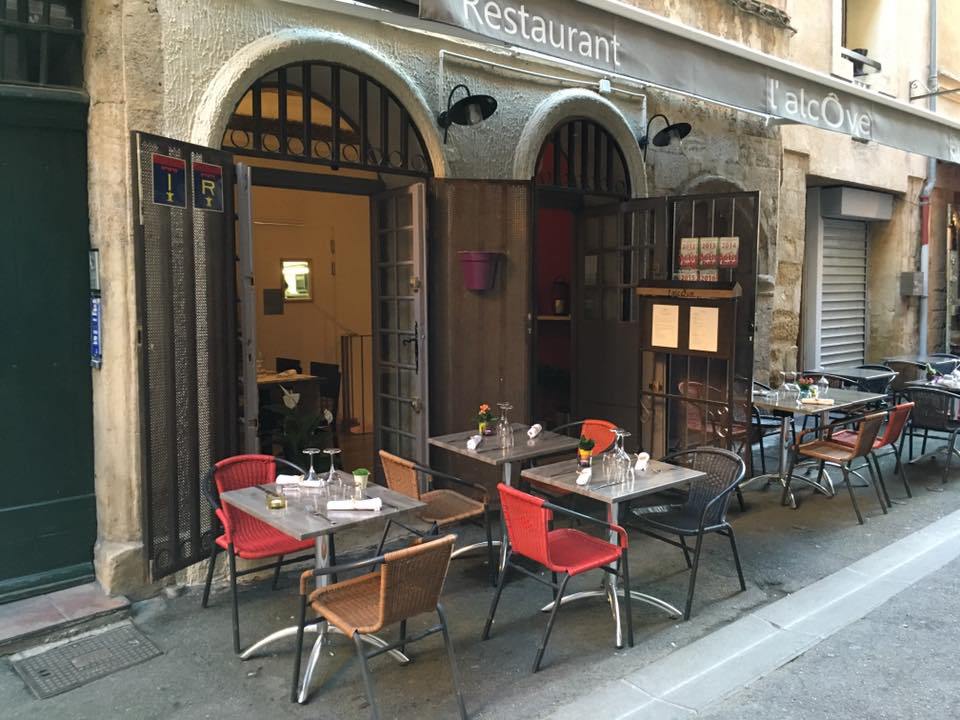 The thrill is finding it. On a nondescript street, savvy patrons discretely enter and proceed down a spiral staircase into a magical cave that today functions as one of Provence's finest restaurants. Low ceilings, Gothic arches, subtle lighting, and warm candles make eating in this former cellar a cozy affair, perfect for a romantic evening! However, L'Alcove is no one-trick pony, and the food is just as exciting, with a creative edge that takes classical French to new heights. Service is similarly spot-on, and the friendly owners will happily recommend a local vintage or two.
---
Christian Etienne
Address: 10 rue de mons, Avignon – directions
Website: www.christian-etienne.fr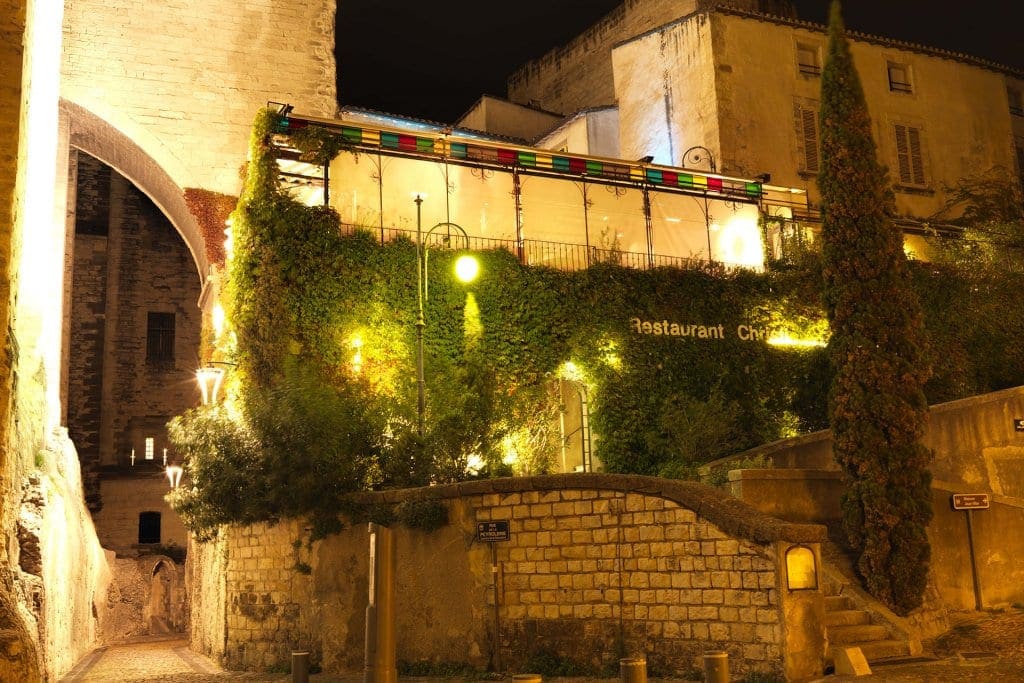 A spectacularly situated restaurant, Christian Etienne offers both the finest cuisine and views in Avignon. Discerning gastronomes make a pilgrimage to the eponymous chef's den of Haute Provencal cuisine every year, with the leafy outdoor dining room in high demand in the summer months. For inside this 12th-century palace, located near the Palais des Papes, you'll encounter cooking of the highest standards, which stands up even without the glamorous backdrop. Smoked mackerel ceviche and a trio of tomatoes – Green Zebra, Beefheart, and Pineapple – with basil make a fitting introduction to Etienne's genius. In contrast, his duo of Provencal lamb with crushed tomato "clusters," eggplant caviar, and rosemary crumble is utterly divine. Such high standards are maintained throughout the lunch and dinner service, while Christian's cellar is bound to make oenophiles drool, stocked full of rare and prestigious vintages.
---
Le Formal
Address: 32 Rue Espariat, 13100 Aix-en-Provence – directions
Website: www.restaurant-leformal.com
There's nothing stuffy or pretentious about this delightful gem of a restaurant, despite the name. Situated in a cave underneath the oldest part of Aix-en-Provence, Le Formal offers an extraordinary dining experience indeed. Exposed stone, soft lighting, and modern art lend Le Formal a very romantic air, while the seven-course tasting menu is an exercise in gastronomic perfection. Highlights might include sashimi of raw vegetables with truffle cream, baked fillet of turbot served with walnuts, herring caviar, and Camembert roti. Desserts are similarly high-class, but we don't want to spoil the surprise. Moreover, despite the level of cooking on display, prices are almost astonishingly reasonable—service with a smile and an extensive offering of wine round things off in exquisite style.
---
Le Parvis
Address: 55 Cours Pourtoules, 84100 Orange – directions
Website (Booking): restaurant.michelin.fr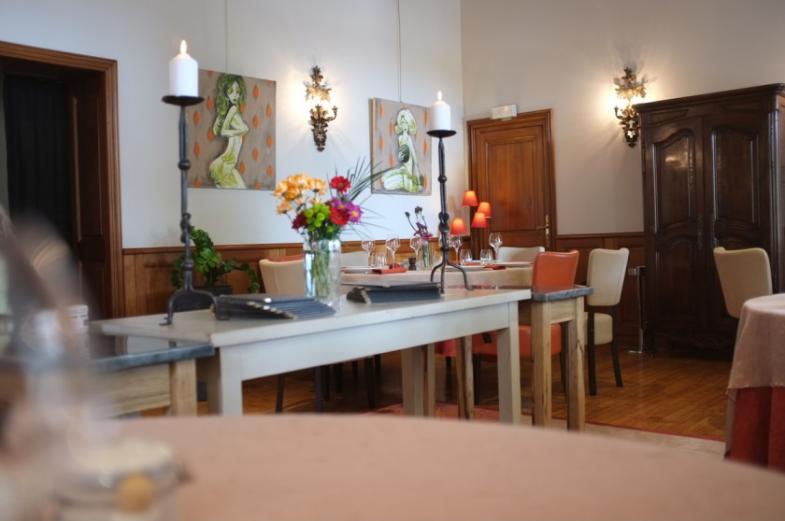 This is Orange's top table, so book ahead. Run by legendary chef Jean-Michel Berengier since 1986, Le Parvis continues to offer the highest standards of cooking, service, and hospitality. However, don't come to Le Parvis looking for a party; the dining room is a picture of elegant discretion, featuring beautiful china, fine cutlery, and traditional art throughout. Expect inventive combinations and sophisticated interpretations of Provencal classics, cooked to perfection. Start with the snail ravioli before devouring Berengier's legendary beef fillet with Béarnaise sauce and finish with a selection of local cheeses, accompanied with a glass of vin doux. When it comes to dessert, we'd advise letting Jean-Michel make your decision for you. Trust us; you won't leave disappointed!
---
Moulin a Huile
Address: 1 Quai Maréchal Foch, Route de Malaucène, 84110 Vaison-la-Romaine – directions
Website: www.lemoulinahuile84.fr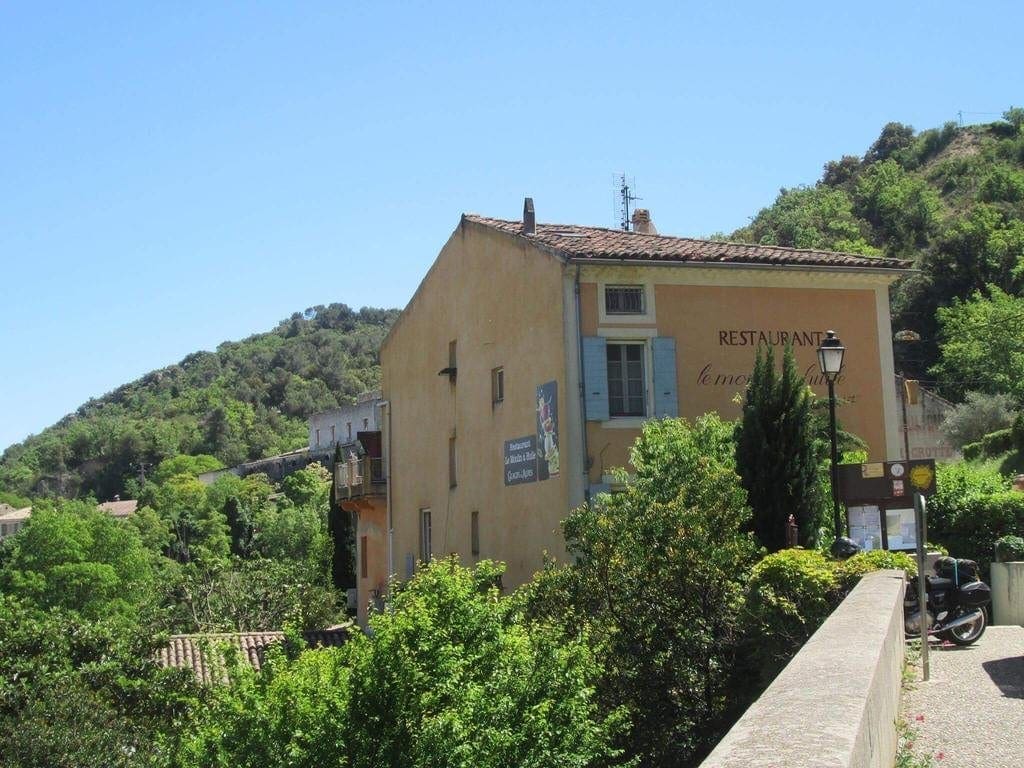 A hidden gem among tourist-ridden Provence, Moulin a Huile is surely the region's most pretty restaurant. Presided over by maestro chef Robert Bardot, Moulin a Huile serves delectable Provencal cuisine in the most pleasant of surroundings – in winter, you dine in a draped, stone-wall dining room inside an old mill. At the same time, in the summer, a delightful summer terrace awaits overlooking the river. The food is similarly every bit as spectacular: Ventoux pork, Colombier pigeon, and baked sea trout are all utterly delicious. Indeed, Bardot's presentation is a work of art, and every mouthful is a riot of taste. The same applies to the wine list: Bardot has spent years building up an enviable selection of excellent wines from every notable region in the south of France. An unmissable part of any gastronomic trip through Provence.
---
Bistro Du'O
Address: 37 Rue Gaston Gévaudan, 84110 Vaison-la-Romaine – directions
Website: www.bistroduo.fr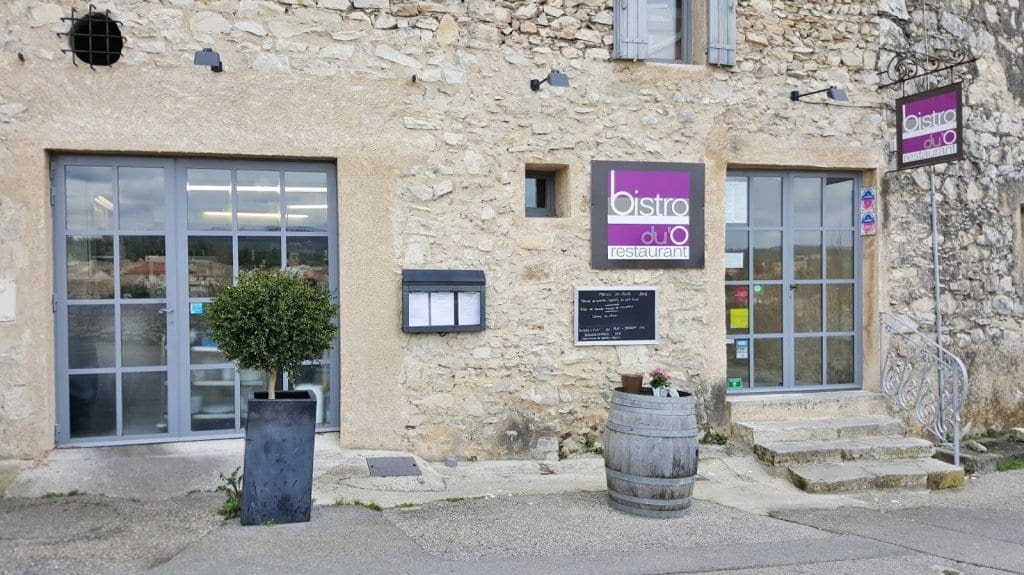 Situated in an old stable in the most idyllic of Provencal towns, Bistro Du'O is one of our favorite restaurants in the south of France. Located in a renovated stable, Bistro Du'O is run by the most genial and welcoming hosts, Phillippe and Gaelle. Together, they run a very classy establishment, which serves a small but exciting range of local dishes based on only the freshest, seasonal ingredients. The menu changes daily to ensure everything that arrives on your plate is hearty and super-fresh, a genuine celebration of the finer things in life! Wine lovers are also in for a major treat, as Phillippe and Gaelle work with a top-notch Gigondas producer, so expect many a vintage of this venerable Rhone wine.
---
Le Souk
Address: 98 Quai du Port, 13002 Marseille – directions
Website: www.restaurantlesouk.com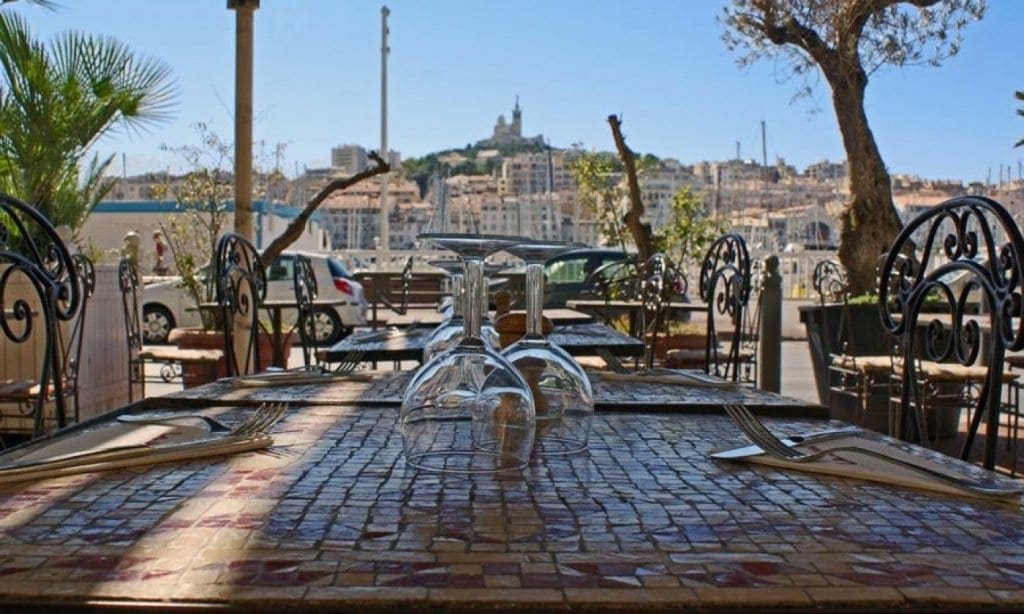 Located in Marseille's vibrant seafront quarter, Le Souk offers a welcome respite from traditional Provencal cuisine and will appeal to travelers looking for something a bit different. Thanks to Marseille's heritage, lovers of the spicy and exotic can sample some of the best North-African food on this side of the Med at Le Souk. Their specialties include the best lamb/chicken tajine that we've eaten in France, a range of slow-cooked vegetable stews, and delicious almond and pistachio pastries saturated in honey. Indeed, a feast for all the senses awaits you at Le Souk.
Related Blog Posts: