Cassis White Wines
At first glance, there are few surprises left in French viticulture. The wines of Bordeaux, Burgundy, and indeed Provence are globally renowned – Pauillac, Blanc de Blancs Champagne, and Provencal rose are as many cultural icons as they are wine styles. Yet, with real effort, France still has undiscovered regions and terroirs to enjoy. Situated 20km to the east of Marseille is a beautiful yet small and largely anonymous coastal village called Cassis. It is utterly idyllic and blissfully uncrowded; the village looks out over crystal-clear blue Mediterranean waters, with terracotta houses as far as the eye can see. Cassis is flanked by limestone-white cliffs, while vines carpet the surrounding hills, interspersed with the famous garrigue (low-growing vegetation which covers Provence, including a large percentage of herbs such as thyme, rosemary, and lavender). In this undiscovered paradise, it is here that some of Provence's best white wines are produced.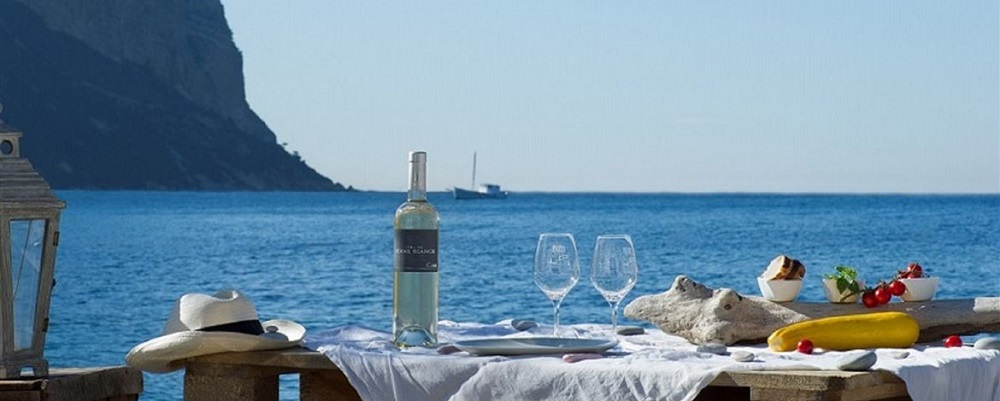 However, the wines of Cassis are as far removed from the Provencal cliché as is possible. It is an exquisite irony that Cassis is found in Provence. This name has such a resonance with visiting wine drinkers, who were (historically) prepared to forgive a region whose most distinctive offering used to be an excess of over-strong and under-flavored rose. Happily, this gorgeous Mediterranean region has been invaded by winemakers and investors hellbent on upgrading quality. An increasing proportion of rose, which remains extremely fashionable, is gently made and intriguingly scented. Yet, for the most part, Cassis does not stake its reputation on sun-kissed Provencal rose. Here, you'll discover white wines of the most unique kind, bursting with the flavor of herbs, rich and full-bodied, yet never blowsy or overblown. They are de rigueur with bouillabaisse, a dish that is served all over Cassis, much to the delight of the tourists who make it this far.
Join Cellar Tours on a Provence Wine Tour, where you will explore stunning landscapes, gorgeous lavender, luscious vines, fantastic Mediterranean climate, sumptuous wines, and striking Roman heritage.
A Brief History of Cassis Wine
Cassis has one of the oldest vineyards in France. Even before the Greek mariners arrived in Marseille in 600 BC, there were vines cultivated along this stretch of coastline. This tradition continued over the centuries – the first written account of winemaking in Cassis appeared in the 12th century. In the 16th century, Muscat was widely planted in the region, introduced by the Florentine family of Albizzi. By now, there were over 200 hectares being cultivated in Cassis, producing sweet wines that were sadly rarely seen outside of Provence. Tragically, the phylloxera louse, which arrived in the 19th century, obliterated wine growing in Cassis. However, vines were replanted in 1892 by Joseph Savon, who ripped up the Muscat as it could not grow on American rootstock. Over time the number of hectares grew, and Cassis recovered. It was awarded appellation status in May 1936 – today, there are over 200 hectares under vine.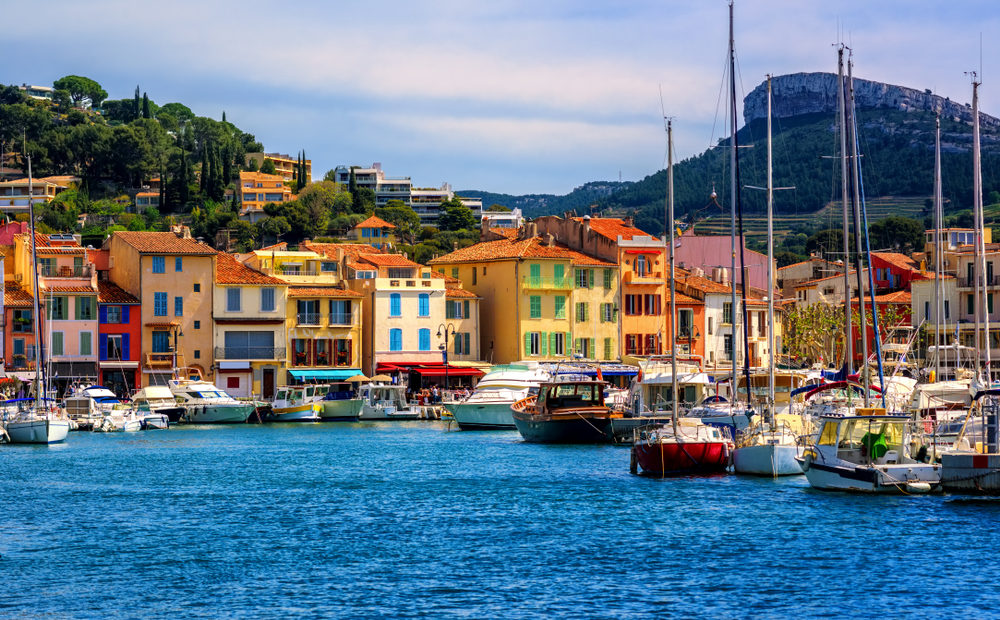 Beautiful Multi-Colored Port Town of Cassis
Nevertheless, the wines of Cassis remain local curiosities, rarely seen outside of Provence, let alone France. This is definitely our loss, for Cassis produces unique, stylish, and sophisticated whites of real class and distinction. According to the AOP rules, growers may produce red, rose, and white wines in this corner of France, although, for the most part, white wines tend to dominate production. A typical bottle of white Cassis will rarely just consist of one grape varietal; Clairette, Marsanne, Bourboulenc, Pascal, Sauvignon Blanc, Terret Blanc, and Ugni Blanc – used to make Cognac – all have a welcome home in Cassis. Blending is very much an art form in this appellation, and winemakers never follow a standard recipe, preferring instead to blend varying proportions of the authorized grapes to their requirements. Therefore, styles and characteristics tend to vary considerably. Cassis is rarely light, but examples range from more medium-bodied wines with higher acidity to luscious, textured, full-bodied examples, sometimes benefiting from aging in barrique. Very aromatic and striking, good Cassis will always make a strong impression on the palate – garrigue, citrus, stone fruits, and honey all vie for attention, becoming increasingly honeyed and rich with bottle age. A small amount of rose and red wines are also made – Mourvedre finds a welcome home here, as does Cinsaut and Grenache Noir. However, while the quality is very sound, they rarely hit the same high notes as the white wines.
But what is the secret of Cassis' inimitable style? The terroir, of course: vines are protected from the northerly winds by the Montagne Sainte-Victoire and Massif de la Sainte-Baume to the north, while the Chaine de Saint-Cyr adds another layer of protection. Planted on limestone soils, biodiversity is a key element of wine growing in Cassis; instead of a monoculture, growers encourage vines to cohabit with a variety of fauna and flora, resulting in a thriving and harmonious ecosystem. Drainage tends to be excellent, although the best sites enjoy higher altitudes and proximity to the Mediterranean, which helps to moderate the worse excesses of Provence's hot and sometimes torrid summers. The best sites in Cassis produce wines of such refinement and longevity that it is hard to believe that few connoisseurs have encountered these delicious whites. But then, for residents of Provence, the 'secret' status of Cassis only adds to its appeal!
Some Fine Producers of Cassis Wines:
Related Blog Posts: