Cellar Tours Selection of the Best Culinary Experiences in Florence
If your priorities while on vacation are great food and even better wine; welcome to paradise! Tuscany's proud capital has long been one of Italy's most exciting food destinations, the local philosophy of only using fresh, local, and seasonal ingredients remains unchanged today. That is not to say, however, that more refined and modern interpretations of Tuscan cuisine aren't available; Florence is a city that now enthralls with both inventive, avant-garde cooking and tried and tested Florentine dishes.  Game and meat dishes are the two major highlights, although of course plenty of divine pasta dishes and more unusual combinations can be found.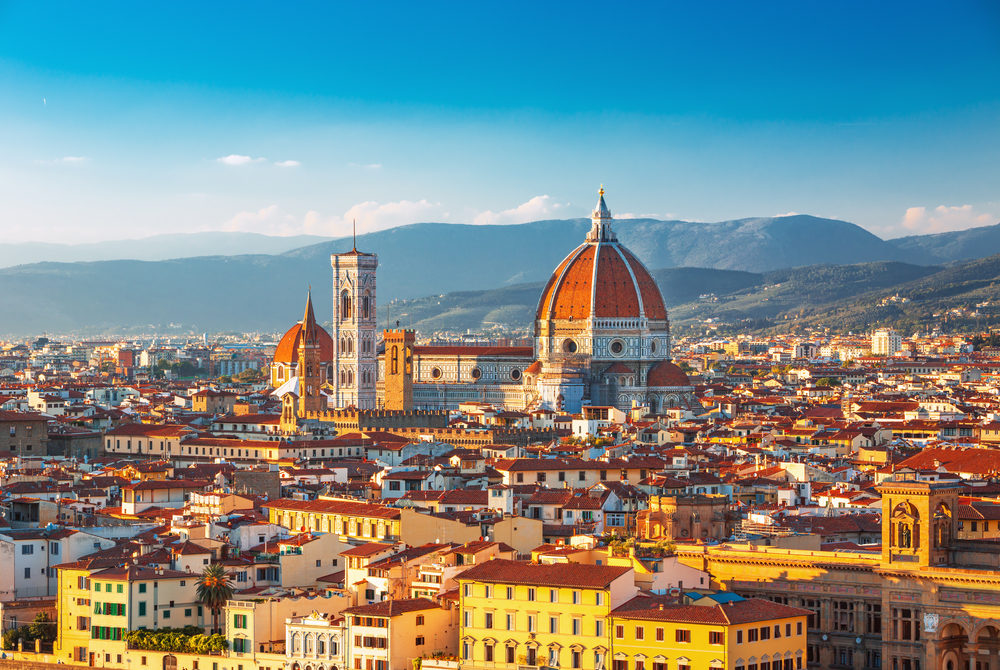 Indeed, ever since the cultural reawakening of the Renaissance in the 15th century, when Florence was the cultural heart of Europe, the city has fostered a love of the finer things in life; great art, culture, fashion, food and, of course, wine. In fact, the Tuscan region as a whole is enjoying something of a food heyday, now boasting over 24 Michelin starred restaurants, cementing its status as a major culinary hot-spot.
But like all major tourist destinations, Florence has its fair share of expensive disappointments. Visitors sometimes complain that they have dropped over 70 euros a head, experienced indifferent food and service,  wondering why they bothered. Florence is a city that demands insider knowledge when it comes to dining out. Research and recommendations are invaluable, which is why we have compiled our list of the best restaurants in Florence below. Buon appetito!
More information on luxury, private chauffeured Food & Wine Tour in Tuscany
Cibreo
Via Andrea del Verrocchio, 8, Florence
Price: Mid-range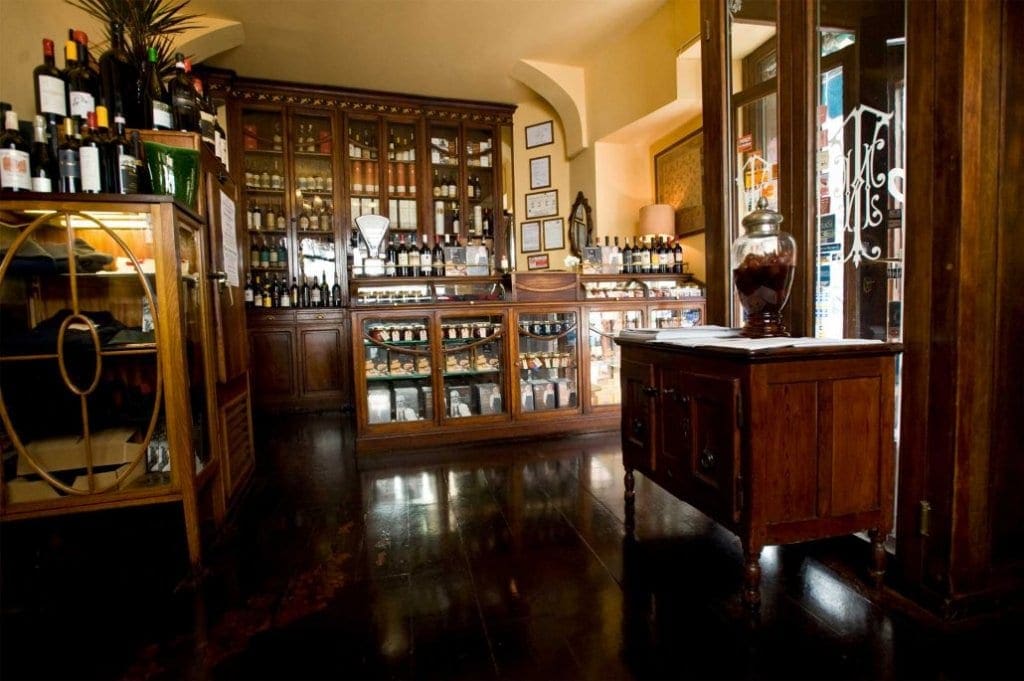 Cibreo is the destination for authentic, delicious local cuisine, lovingly prepared by owner and head chef Fabio Picchi. This traditional, yet thoroughly 21st-century restaurant has long attracted a faithful clientèle, trading on its reputation for great food and top-notch, professional service. Luminaries such as Woody Allen have been spotted at Cibreo, which also has a sister bar and trattoria. Picchi hunts for the finest local produce from the Sant'Ambrogio farmer's market, creating such treats as stuffed rabbit, roasted pigeon stuffed with fruit mustard, calamari, and spinach stew, not to mention the best chocolate cake in Italy. Service is faultless, engaging without being overbearing and the setting suitably elegant. Open daily for lunch and dinner, Cibreo is a must visit restaurant during your Tuscan adventure.
---
Pinchiorri
Via Ghibellina, 87, 50122, Florence
Price: Expensive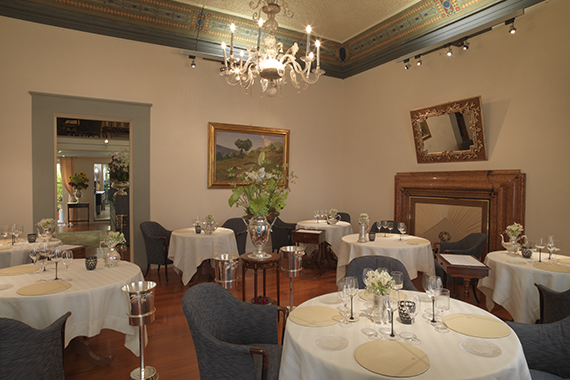 According to many a discerning foodie and critic, this is Italy's best restaurant and, judging by the superlative, inventive cuisine being prepared at this icon of modern Tuscan cooking with French overtones; we'd have to agree. Pinchorri also boasts the most incredible wine cellar in Italy, containing over 120,000 bottles, from local wines to the finest vintages of Latour and Lafite. The restaurant was initially conceived as a collaboration between current head chef Annie Féold and Sommelier Georgio Pinchiorri. They would prepare dishes to complement Pinchiorri's wine offerings at the National Wine Cellar. Since 1972 this dynamic duo have worked together, successfully holding onto the highly coveted status of running a three-Michelin starred restaurant since the 1990s.
Feold's cuisine is best described as Tuscan/Provencal fusion, applying classical French gastronomic principles and techniques to superlative local produce and ingredients. Unmissable highlights include wild sea bass, mushroom and shallot zabaione, the double breast of pigeon with liver sauce, and Feold's divine young roasted duck with apple ravioli and a walnut and ginger sauce. The setting is similarly refined: a 15th century Florentine Palazzo updated with clean, stylish modern décor and conversely antique furniture. An exceptional restaurant and a must for that special occasion. Open Tuesday-Saturday in the evenings.
---
Il Palagio del Four Seasons
Borgo Pinti, 99, 50121, Florence
Price: Expensive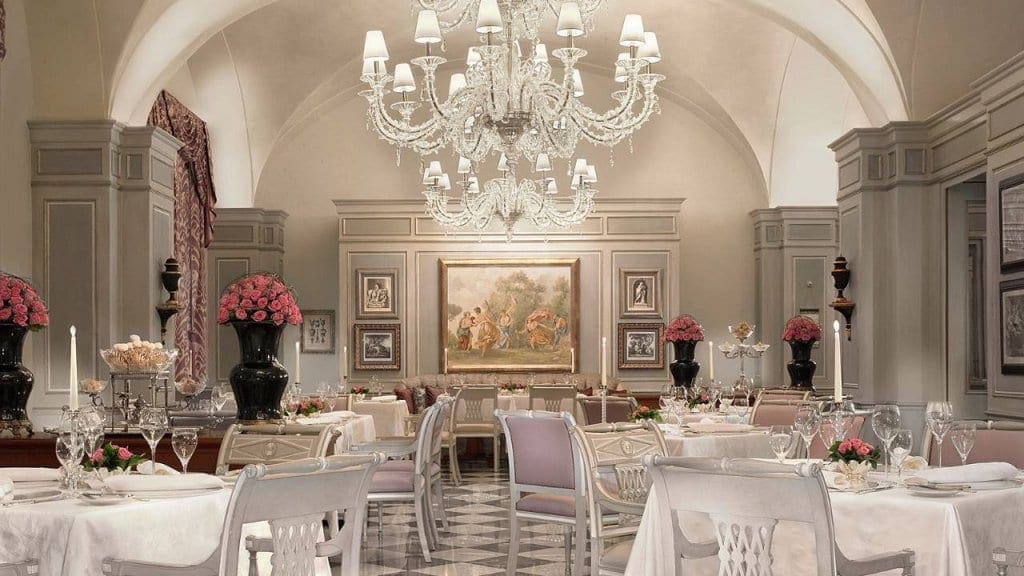 The signature restaurant of what is undoubtedly Florence's best hotel serves exquisite, seasonal cuisine in the most luxurious of surroundings. Indeed, it's worth a visit for the setting alone. A spectacular vaulted ceiling dining room lends the restaurant a suitably opulent air, with large French doors opening up to the city's best outdoor dining terrace, offering views of the stunning hotel gardens. Recently awarded one Michelin star, executive chef Vito Mollica focuses on crafting inventive, modern Italian cuisine without adopting the tricksy, over-experimental approach of some of his peers in the fine-dining world. His menu naturally changes with the seasons, but standout dishes include his ricotta cheese and zucchini raviolini with tomato sauce, the fried veal sweetbread on a zucchini and mint cream, and the utterly delectable Bellini' almond tartlet with white peach – our favorite dessert in Italy. Oenophiles always leave with a broad smile on their faces: the restaurant has one of the largest wine cellars in Tuscany. It offers everything from Super Tuscans to more affordable options by the glass – magnifico! (Open every day for lunch and dinner, Il Palagio also offers a Sunday brunch between June-October; 12-3 pm)
---
Oradaria
Via dei Georgofili,11R
50122, Florence
Price: Expensive

This intimate and elegant restaurant is the benchmark for Florentine fine dining. Tuscan Chef Marco Stabile is one of the region's greats, having been awarded his first Michelin star in 2011, we are sure that a second or third star will follow. His highly innovative but always delicious food combines the traditional and the unexpected; Tuscan old-style beef re-cooked in winter tomato, parsley, and artichoke being just one of the many star attractions. In line with Stabile's modern take on local cooking, the setting is minimalist chic; grey and white décor complemented by contemn artworks from a famous local gallery. But perhaps the unique aspect of this super venue – apart from the cooking – is its name, meaning 'hour of air.' Its origins relate to the restaurant's previous location, opposite a prison where the owners would observe prisoners taking their mandatory exercise hour, hence how the name Ora d'Aria was born. Today, you'll find this legendary restaurant in a more central location behind the Uffizi Gallery, serving such delights as home-made tagliolini with guinea fowl and goat cheese, or perhaps potato and walnut gnocchi with black truffle and clam. The wine list, as you'd expect, is long and varied, showcasing Tuscany's finest wine estates. Open lunchtimes Tuesday-Saturday and for dinner Monday-Saturday.
---
Il Santo Bevitore
Via Santo Spirito, 66r, Florence
Price: Mid-range
Arrive early or make a reservation to claim a table at this highly regarded and immensely popular restaurant. Packed every weekend with both locals and visitors in the know, Il Santo's cuisine isn't overly complicated or inventive; it's just downright delicious and perfectly executed! Run by the effortlessly charming couple Marco and Martina Baldesi and Stefano Sebastiani, the restaurant prides itself on only selecting the finest, freshest seasonal produce, handpicked by Head Chef Claudio Salvadori from local Tuscan markets. His cooking is all heart and soul: the Mediterranean inspired dishes such as purple cabbage soup with mozzarella cream, leg of rabbit with prunes, and coffee crème brûlée served with a moreish helping of rum ice cream. The setting and service are also marvelous: foodies dine by candlelight in a vaulted, whitewashed dining room, attended to by professional, courteous, and devoted staff.
---
Il Desco
Via Cavour, 27- 50129 Florence
Price: Great value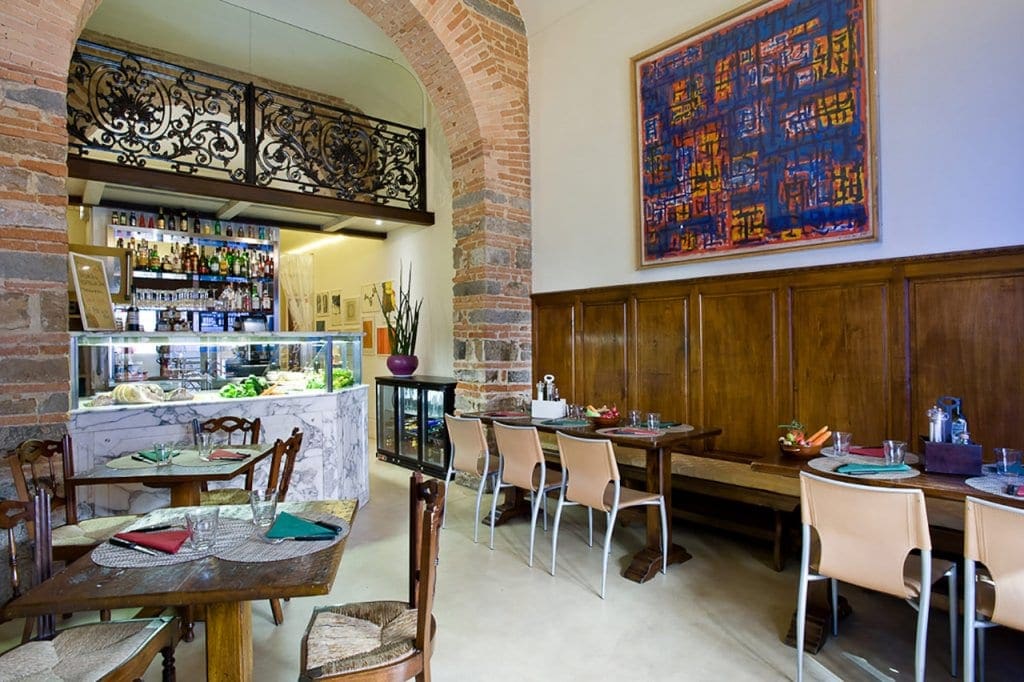 Il Desco boasts one of the finest locations in Florence: nestled in the heart of the city's historic center, a stone's throw away from Academia Gallery and the Piazza Duomo. Daily miracles are performed in their small but exceptionally well-stocked kitchen, with fresh produce sourced from the family's organic farm. Only open during the day for breakfast, lunch, or simply a light snack, Il Desco is the perfect place for a leisurely lunch after a hectic mornings sightseeing, with a delightful summer terrace and street side tables for the warmer months. The food is, in contrast to traditional Tuscan fayre, light, fresh, and a welcome antidote from the more heavy food that abounds in Florence. They pride themselves on their organic produce, in addition to offering a gluten-free and vegetarian menu – a rarity in Tuscany! They do wonderful, imaginative things with antipasti and pasta, the desserts and coffee are pretty legendary too. You could start your lunch with Parmesan flan on creamed green beans and confit cherry tomatoes, followed by their divine Lasagna with white meats ragout; finish with the best apple pie in Tuscany. Service is bright and breezy, the wine selection short but exceptionally well chosen, and if Il Desco has any faults, it's that they don't open for dinner.
Tables aren't numerous, so be sure to book in advance – open daily for lunch.
---
Il Latini
Via dei Palchetti 6/r (Palazzo Rucellai), 50123, Florence
Price: Mid-range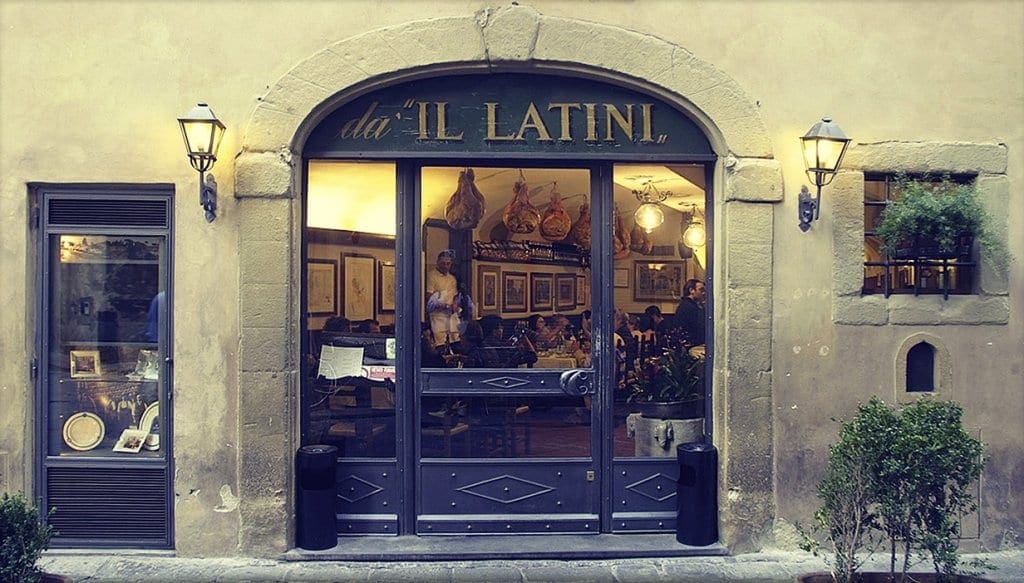 One of Florence's great family-run trattorias, Il Latini is seldom anything less than completely packed to capacity; it is undoubtedly the nosiest, most crowded, and most entertaining trattoria in the city! Your host, the genial Torello Latini, puts serious energy into ensuring that all his guests are having a great time – aficionados of hushed, stuffy fine dining venues should avoid Il Latini at all costs. But if you want hearty, tried, and tested delicious Tuscan dishes, then you've come to the right address. There are no menus; the owners will simply suggest a delicious selection of antipasti, pasta, and meat dishes, all of which are guaranteed to be delicious. The restaurant started as a family kitchen, serving home cooking to eager patrons in the nearby cellars of Palazzo Rucellai. Today, a lively crowd enjoy timeless Tuscan classics – you must try the Bisteca Florentine, it's the best in the city. The wine offering is extensive and reasonably priced, the staff professional, engaging, and remarkably efficient, considering the large demands placed on their time. Make sure to reserve a table far in advance; Il Latini is closed on Mondays.
---
Casalinga
Via Michelozzi 9r, 50125, Florence
Price: Great value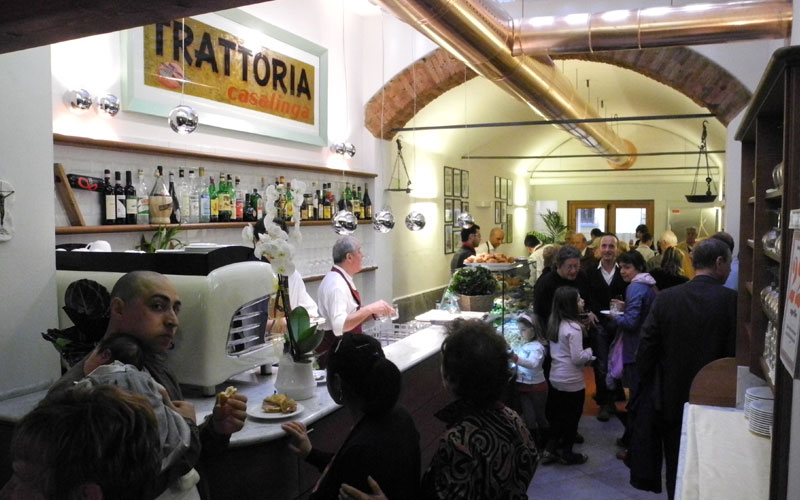 Nowhere in Florence does great food at value prices better than Casalina, the name incidentally means 'housewife.' Florentines and tourists flock to this 'old-fashioned and proud of it' local trattoria, which has been serving delicious home-cooking to a satisfied audience for decades, including the best ribollita in Florence. Indeed, the style, ethos, and cooking has changed little over the years, but then why mess with a winning formula? For Casalinga represents the quintessential trattoria experience in Italy; paintings clutter the walls, you're barely a conversation away from your neighbor's table, and the place is always jammed. It is simply a wonderful and delightfully unpretentious venue serving large portions of Tuscan classics in a convivial setting. The antipasti alone are enough to swoon over, but leave room for the divine cannelloni, their signature Bisteca Florentine and the crowd-pleasing lemon sorbet. Service is prompt, friendly, and waiters are always on hand to help visitors decipher those Italian menus! Casalinga is open for lunch and dinner, Monday to Saturday (Closed on Sundays)
Related Posts: