In the right hands, a winery can be far more than merely a functional center for processing grapes and producing wine. After all, making great wine is as much an art form as a science – so why shouldn't a winery reflect the inherent beauty of wine-making? The world's greatest architects, from Sir Norman Foster to Frank Gehry, have created some of the most incredible winery buildings in locations as diverse as Napa Valley, Rioja, and Tuscany. Italy, in particular, despite the country's long-standing association with a wine tradition of farmhouses and stone cellars, boasts many excellent design wineries that lead the way in cutting edge integrated design where the landscape and buildings merge as one. So from the new, shiny Tuscan cellars of Antinori to the famous Ceretto 'Cube", we've selected seven unique wineries in Italy that represent the very best in winery design.
Cantina Antinori

One of Tuscany's most historical and legendary wine estates, Antinori embraced modernity with the opening of its new winery and visitor center in 2013. Not only a masterpiece of design, but the center also heralded a new era for the 600 plus year-old wine estate as its cellar doors were to be opened to the public for the first time. The family wanted to lead by example in embracing wine tourism in Tuscany – located just 20 minutes outside of Florence, and 30 minutes from Siena, the Cantina is a must-see attraction for wine tourists to the region.
Set amongst olive groves, vineyards and oak trees, cleverly hidden from view by the Chianti vines, the Cantina seemingly blends into the rolling hills of Tuscany, with a uniquely designed earthen roof that permits the vines to climb in their natural state to its peak.  Moreover, there is a fantastic museum, charting the Antinori family's course through wine and a superlative restaurant to satisfy even the most critical of gourmets. And of course, plenty of opportunities to stock up on delectable wines before you leave!
Ceretto – The Cube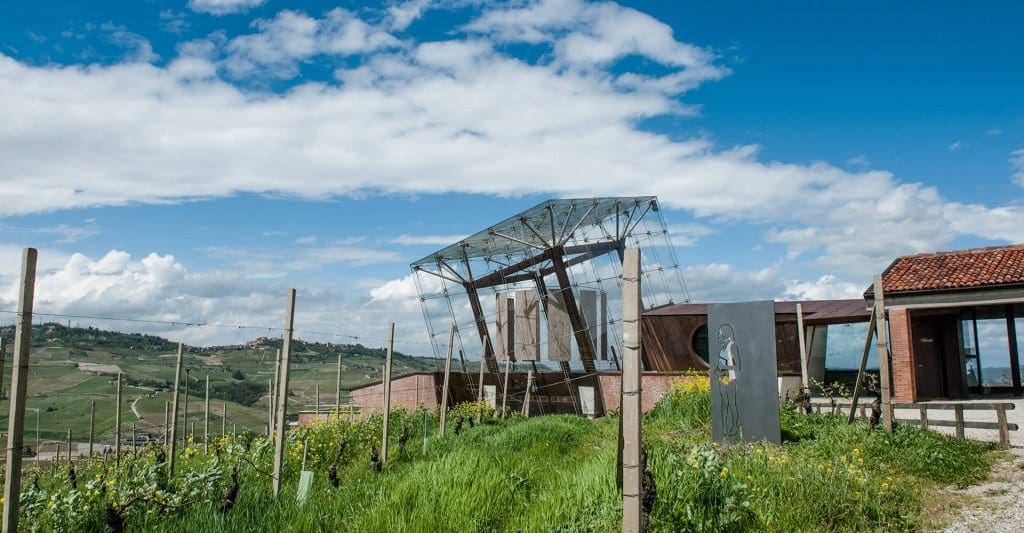 Ceretto has been producing superlative Barolo and Barbaresco in the hills surrounding Alba in Piedmont for generations, and have managed to stay true to their origins while welcoming new ideas about how the Nebbiolo grape can be brought to its fullest expression. The installation of the 'Cube' during their winery expansion is just the latest example of the Ceretto family embracing modernity – a glass structure without a frame that affords panoramic views of the Barolo region in all its glory.
Designed by leading Italian architects from the nearby city of Turin, the Cube does not in any way blight or obscure the landscape despite its cutting edge design. It is simply a glass sculpture attached to an all singing and all dancing renovated winery, and simplicity is its key. It set the example for modern architecture seamlessly blending into the landscape – in the generally conservative Barolo region, let us hope that others can follow their lead.
Petra – Vittorio and Francesca Moretti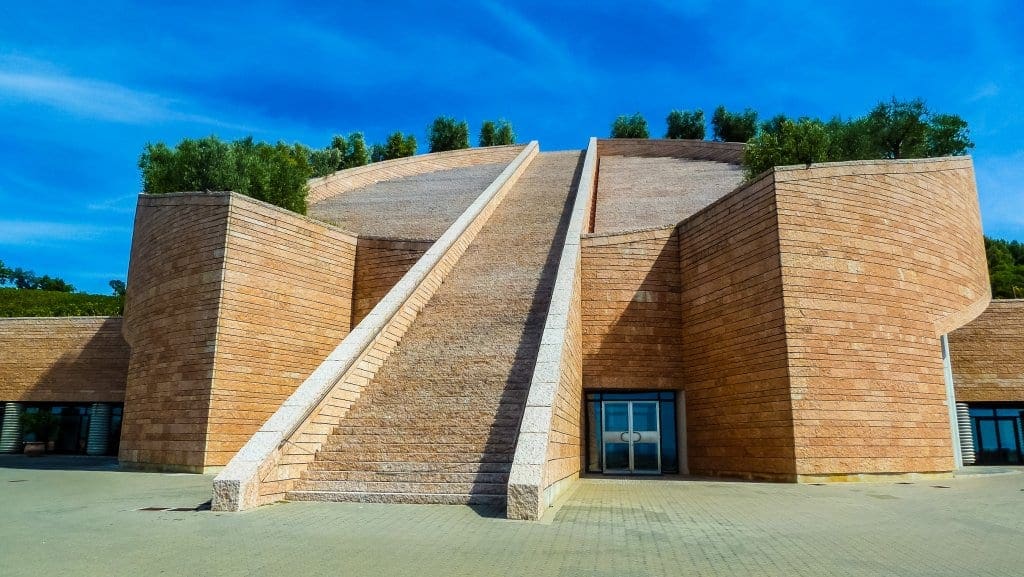 Legendary father and daughter duo Vittorio and Francesca Moretti produce fantastic wines in southern Tuscany, and are major supporters of the Super-Tuscan movement; using hitherto forbidden international varieties in the blends to fashion modern styles wines. So it is highly appropriate that they hired architect Mario Botta to design a winery like no other in the region.  With an impressive pedigree that included designing the San Francisco Museum of modern art, Botta created what has been termed 'a cathedral winery' which again seamlessly blends into the Tuscan scenery and has the gravitas and presence of indeed an important religious building.
On approach to the winery, you are instantly struck by the beauty of the design: a central cylindrical form with a vineyard-lined roof and stairs leading up the main building to afford visitors those memorable views. The interior is clean, functional yet attractive, and the slatted roof allows plenty of light to penetrate the winery. But perhaps the most striking feature is the space-age barrel tunnel, dug into the hill, which serves as a wine cellar for the Moretti family. A true icon of winery design.
Rocca di Frassinello
http://www.castellare.it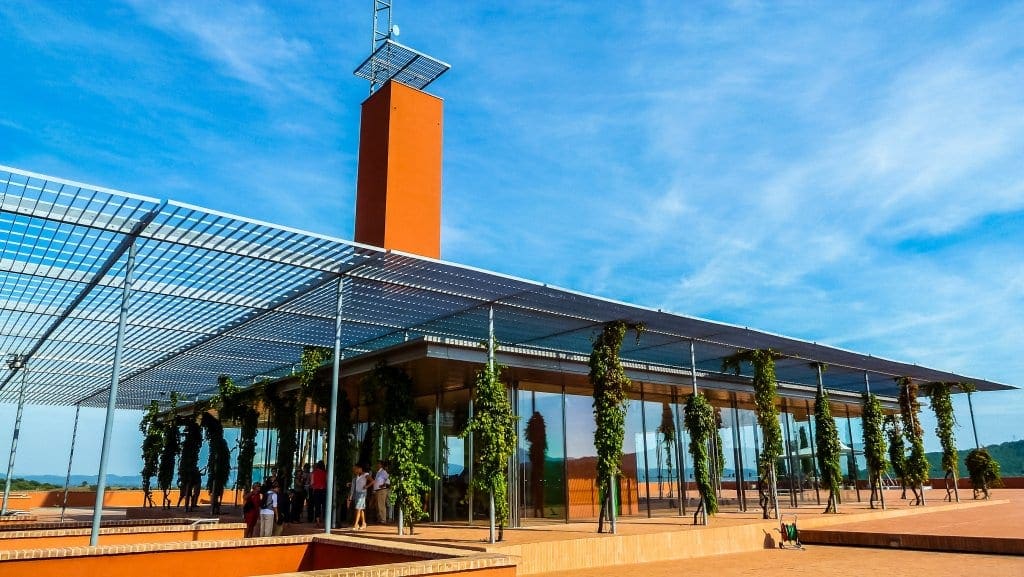 Another example of Tuscany leading the way in winery architecture, the Rocca di Frassinello winery, is a masterpiece of cutting-edge design thoughtfully integrated into an idyllic Tuscan vineyard. The man responsible is Renzo Piano, who designed a thoroughly modern take on Tuscan wine-making in the coastal region of Maremma in 2007.
The winery was designed to allow as much natural light to penetrate as possible, so large glass panels are very much in evidence with steel structures kept to a minimum. Piano was very much enamored with the color red – a red roof offers visitors a fantastic viewing area perfect for sipping a glass of Frasinello's gorgeous Super-Tuscan wines in the warmer months. The interior was designed to be as clean and spacious as possible, with the ultimate highlight being a large amphitheater-like barrel cellar that can hold over 2,000 barrels, stacked on each of the four sides above a central stage. A great example of the aesthetic and functional not being mutually exclusive!
Ca Marcanda
When legendary Barbaresco winemaker Angelo Gaja decided to build a new winery in Castagneto Carducci on the Tuscan coast, he turned to architect Giovanni Bo to design a sophisticated, cutting edge center for wine-making and wine education. And despite the winery's strikingly modern design, it blends well into the beautiful surrounding landscape.
The winery is mostly located underground, with an impressive network of tunnels, rooms, and cellars, which creates the effect of an art collection, rather than a winery. Only one section is visible from above ground, with the remaining three sides submerged in the hills. It is a testament to Bio's desire to integrate fully into his beloved Tuscan countryside.
Carapace – Tenuta Castelbuono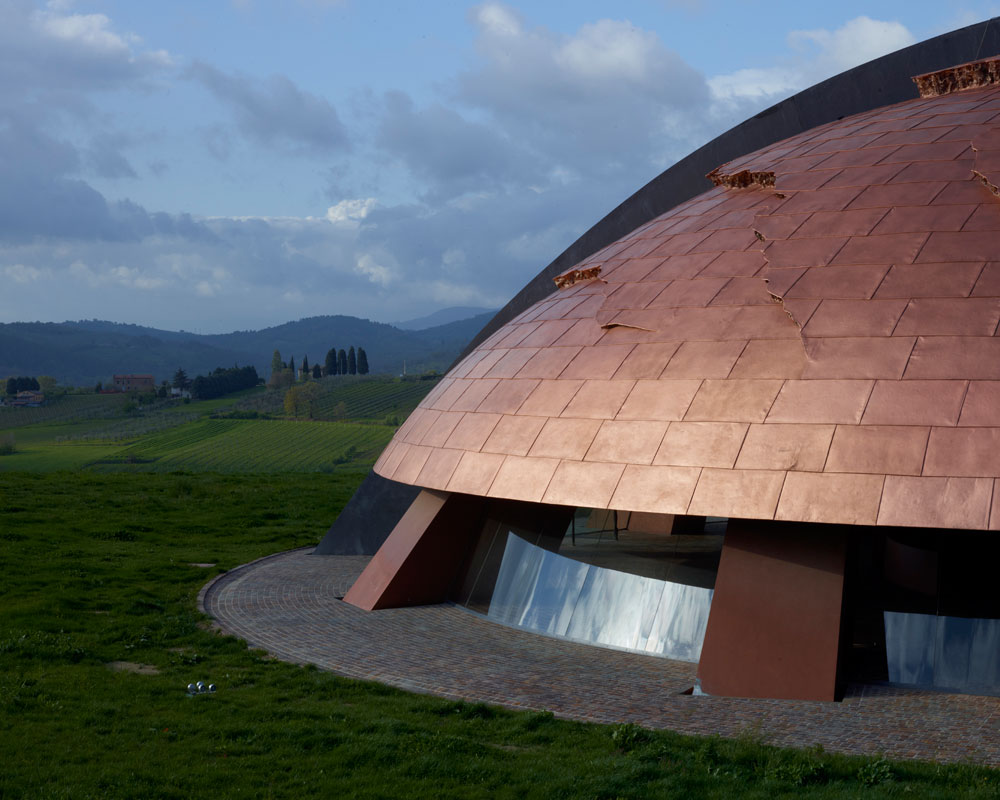 Welcome to Italy's first space-age winery! Carapace at the Tenuta Castelbuono in Umbria is undoubtedly one of the world's greatest and thoroughly 21st-century winery designs, a semicircular cylindrical building that invokes science-fiction films rather than centuries of wine-making in one of Italy's oldest regions. Commissioned by the Lunellli family who purchased the Tenuta Castelbuono estate in 2001, Carapace was designed by their close friend Arnaldo Pomodoro who wanted to merge a modern sculpture reminiscent of a turtle with his beloved Umbrian landscape.
After six years, Pomodoro's labor of love finally opened in 2012. Surrounded by vineyards in all directions, the dome cellar is an unmissable yet unobtrusive part of the landscape. The interior is truly astounding, again invoking a futuristic atmosphere with vibrant shapes, colors, and an extremely unorthodox layout. It is a winery that has to be seen to be believed!
Nals-Margried
Nals Margried is a wine co-operative in the Alto Adige zone like no other. How many co-operatives would invest in such a landmark winery, located high up in the Italian Alps? The winery was designed to make a bold statement about the region. Unlike other projects in Tuscany for example, it stands proud amongst the landscape rather than attempting to be part of it.
Over 100 growers who work for the Nals-Margried cellar invested in a bold, thoroughly modern wine cellar with steel and wood structures well integrated into the main concrete building. It undoubtedly creates an industrial feel, but one that doesn't feel obstructive to the mountain scenery. Inside the feeling is very much clean, industrial design with large and functional business, production and tasting rooms offering unparalleled views of the gorgeous Alto Adige region.
Related Blog Posts