Which restaurants open in Barcelona on Sundays and Mondays?
Sundays and Mondays are traditional closing days in Spain for restaurants, and Barcelona is no exception. It is notoriously hard to find nice places to eat on these days. If you don't plan it properly, you can end up in terrifyingly bad tourist dives, very disappointed. In a city as famous for gastronomy as Barcelona, there is no excuse to eat badly!
As our clients are always asking us to recommend excellent restaurants on these days, we have put together a little list of places we enjoy and who are open on Sunday lunch and Monday lunch and/or Monday dinner, so you will never be without some foodie recs under your belt on your next trip to Barcelona! Always book in advance to avoid waiting in line or being turned away.
If you are interested in visiting Barcelona,  why not have a look at some of the Luxury Food and Wine Tours of Spain we offer
Barcelona Restaurants Open for Sunday lunch
Arola at Hotel Arts

Mythical Michelin starred chef Sergi Arola has this wonderful, breezy eatery at the Hotel Arts, and on a balmy, Mediterranean afternoon, there are few nicer settings in Barcelona for lunch! Enjoy easy-going delicious tapas like fried calamari; Arola's signature Patatas Bravas; Iberian pork with Basque Idiazabal cheese, pistachios, and chili; succulent Girona beef marinated in soy, wasabi, and ginger; ravioli cooked in red wine, oxtail, and mushrooms; crab salad and garlicky shrimp, to name a few goodies.
Website: www.hotelartsbarcelona.com
---
Restaurante Gaig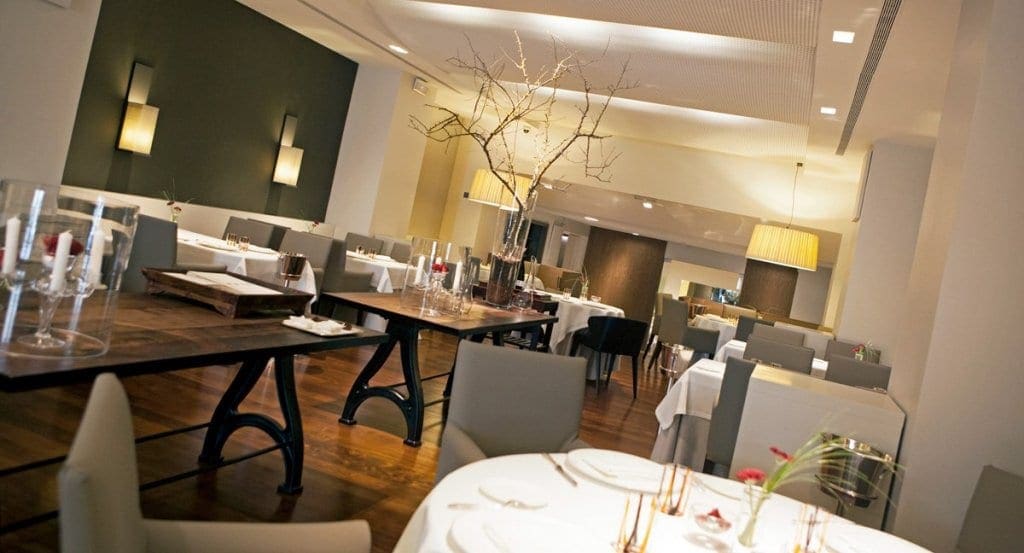 Amazingly this fantastic restaurant opens its doors on Sunday, although their day of rest is Monday. Situated in the Eixample district, owner and head chef Carles Gaig has gastronomy in his genes; his family has owned the Taberna d'en Gaig since 1869. Carles renovated it in 1989, gaining a Michelin star in 1993 and this current venue has been receiving and spoiling guests with their stunning cuisine since 2004. Such delights include Wild sea-bass tartar with imperial beluga caviar and seaweed bread or Crispy and boneless suckling pig with strawberry and soft onion salad.
Website: www.restaurantgaig.com
---
Taller de Tapas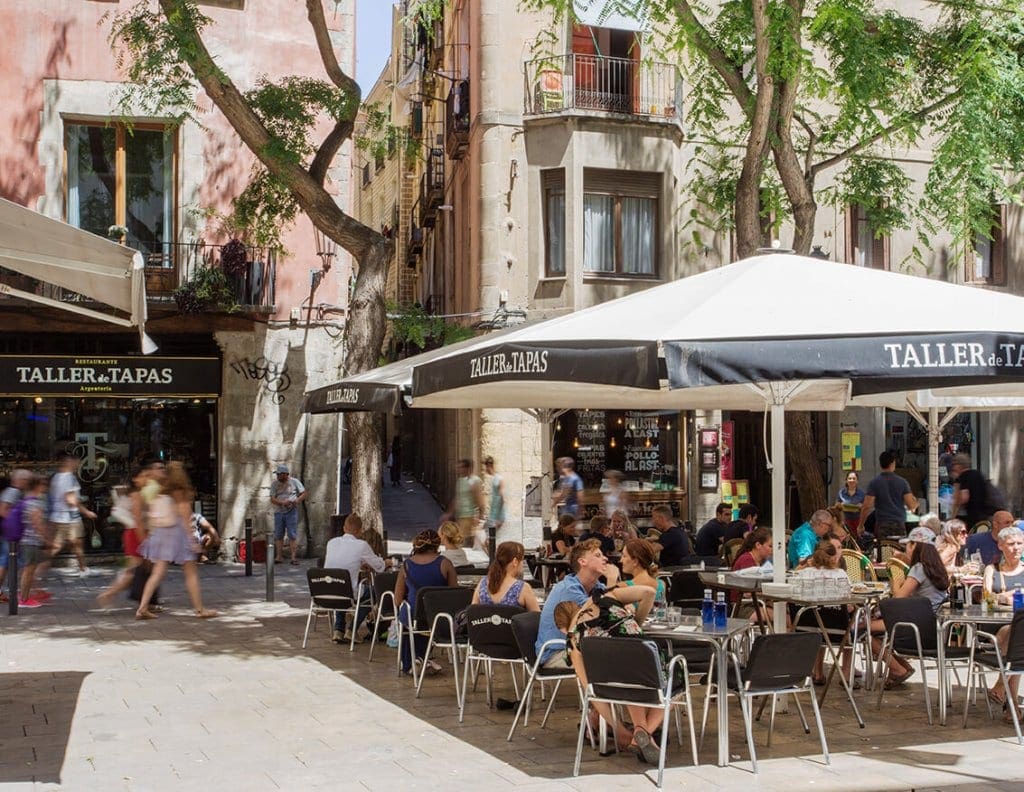 You cannot go wrong with the super high-quality tapas at the Taller de Tapas chain in Barcelona (our favorites are the ones on Calle Argentaria and Rambla de las Flores). Prices are superb for the quality of food and wine you have on offer here. We always order about 10 dishes and royally pig out, and no visit to Barcelona is complete for us without a lunch or dinner at Taller de Tapas. We especially love their Jabugo ham croquettes (homemade), Esqueixada de bacallà (delicious salt cod salad with black olives), Pulpo a Feira (Galician style octopus), Cazuela de almejas gallegas al alvarinho (Clams cooked in white wine, soooo good), Cecina de Astorga (cured beef thinly sliced similar to Bresaola from Italy), Pimientos de Padron (tiny roast green peppers, one in 10 is super picante), sautéed artichokes with wild mushrooms and the stunning Girona beef with caramelized onions…I personally love cava with tapas, and Barcelona is, of course, at the gateway to the Penedès wine country where cava comes from. On menus including here, you´ll always find some nice offerings. At Taller de Tapas, they carry Juve I Camps and Gramona, both faves. Also, sparklers from Alella, just half an hour north of Barcelona, like Parxet.
Website: www.tallerdetapas.com
---
ÀBaC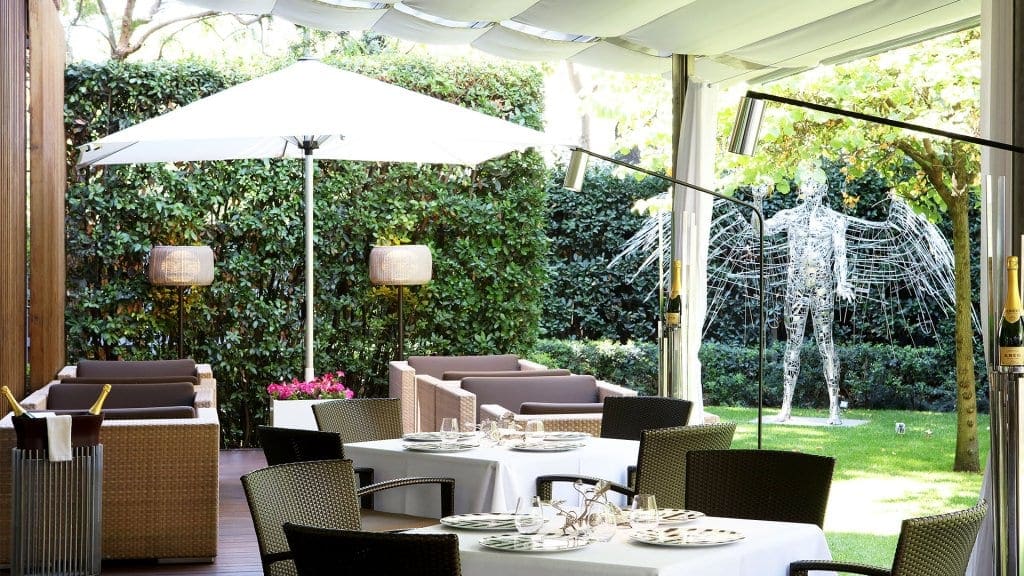 Head Chef Jordi Cruz is at the forefront of this sophisticated, elegant venue, which has two Michelin Stars to its name. Truly creative, yet staying faithful to traditional cuisine. The service is five star whilst providing a relaxed atmosphere. Some favorite dishes include the Smoked Steak Tartar, or Red Tuna stewed with fermented garlic and almond cream, absolutely divine!
Website: www.abacbarcelona.com
---
Casa Calvet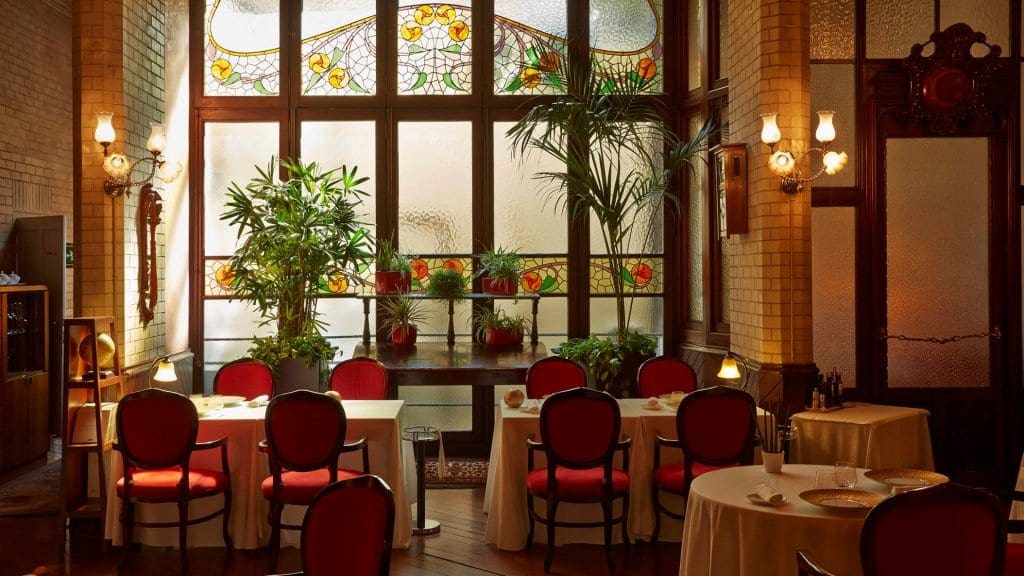 Named after the building in which it is found, Casa Calvet, an unusual and striking building designed by Gaudi for a local textile manufacturer. Today it is a unique dining venue, where Chef Miquel Alija continues to conjure up varied and seasonal dishes inspired by Mediterranean cuisine, as he has been for over 20 years. This is a great option for vegetarians, as there are always several divine vegetarian dishes. All paired perfectly with recommendations from the attentive sommelier.
Website: casacalvet.es
---
La Fonda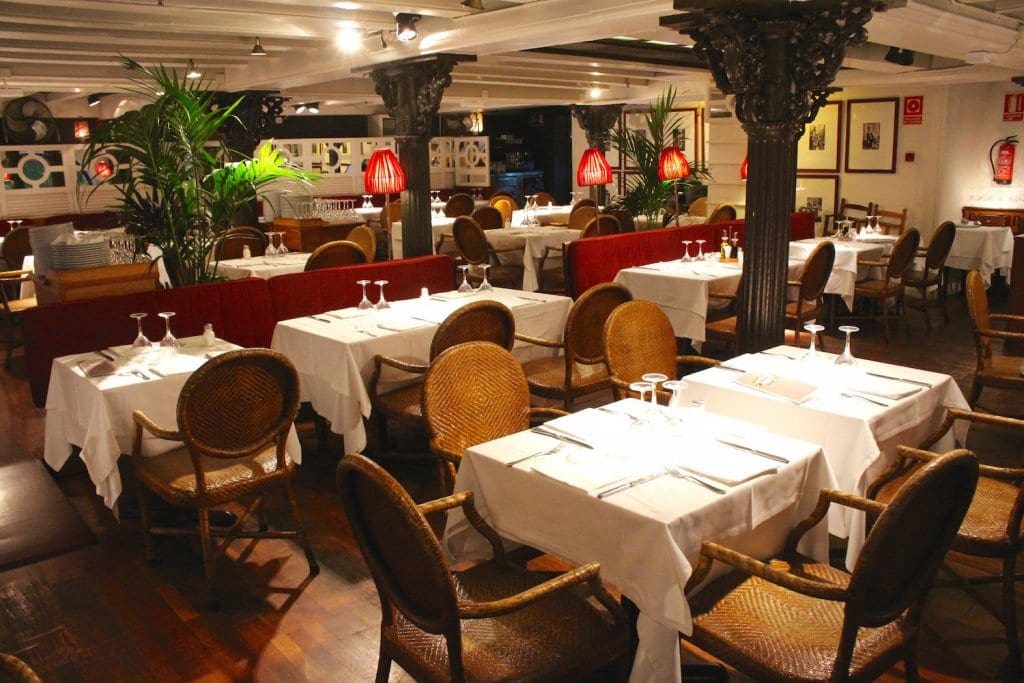 The prestigious Chef Martin Berasategui is the gastronomic consultant here, and it shows. Fonda España is situated in the emblematic Hotel España, just off the Rambla. Hake kokotxas in batter, Mackerel pie with smoked eggplant, and Basil ice cream with pine nuts are some of the delicacies you can expect here.
Website: www.grupandilana.com
---
Etapes

As their slogan suggests, Etapes is all about the "Essences and flavors of Mediterranean cuisine." A simple yet beautiful setting, carefully created menu, and inspiring wine cellar, combine to make for a real treat. The set menu with wine pairing is highly recommended here, the mouth-wateringly divine duck ravioli being a fave for most who try it.
Website:  www.etapes.cat
---
Montiel (closes Tuesday)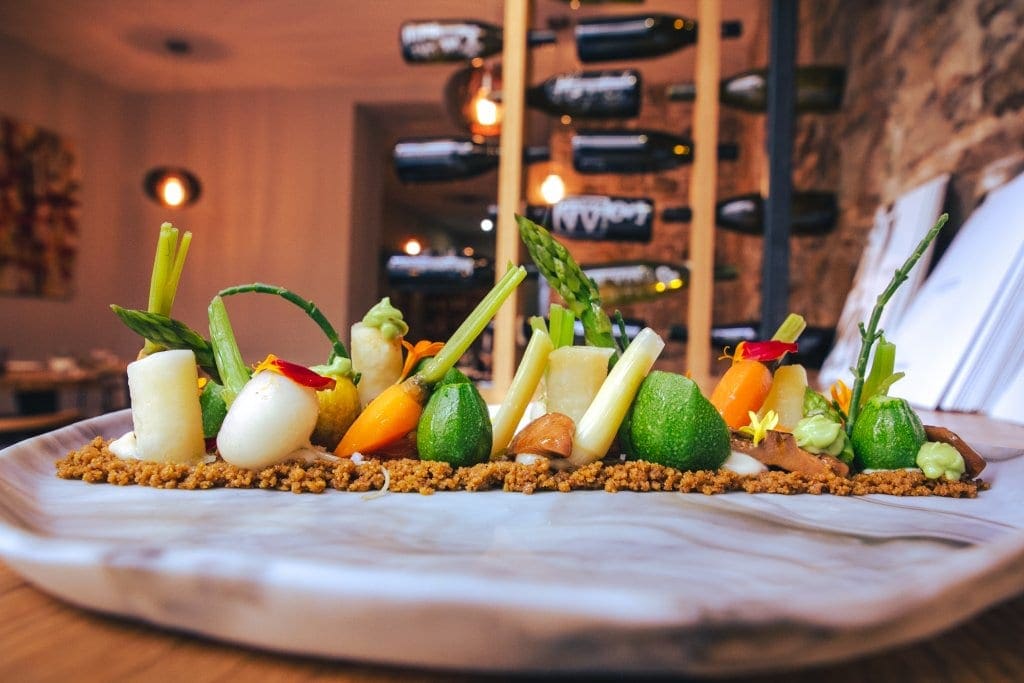 This charming restaurant in the heart of the Born district is open both Sunday and Monday (they actually close Tuesdays), and their wonderful fish and seafood selection is a real bonus find. Simple and elegant, focusing on traditional Catalan cuisine and with an excellent wine selection.
Website: restaurantmontiel.com
---
Petit Comité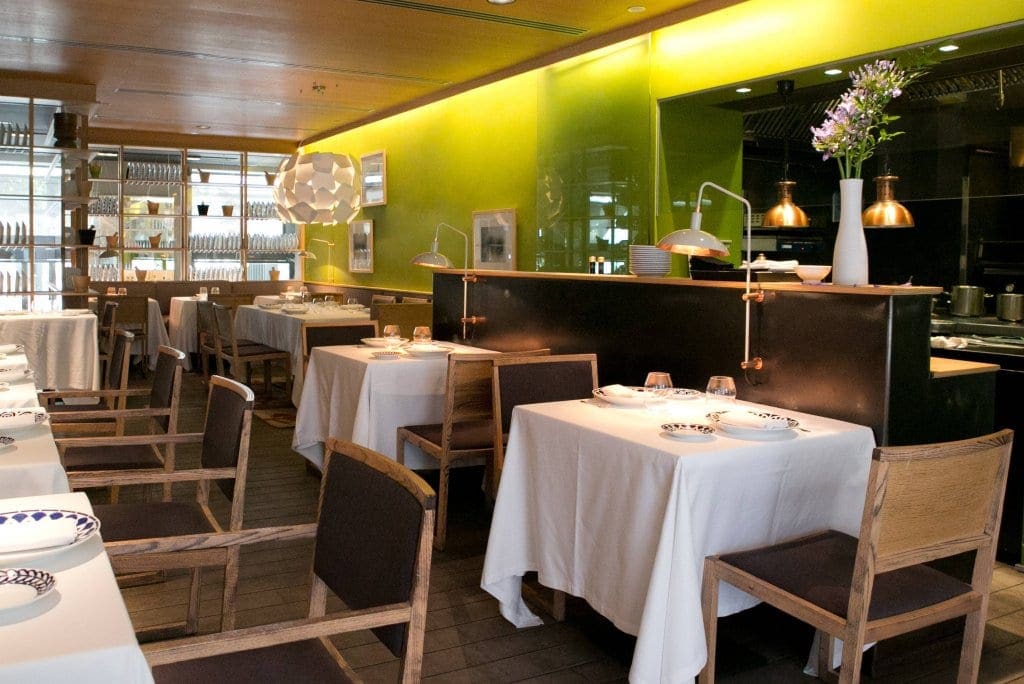 This attractive and always happening eatery is Michelin starred Fermi Puig's casual offering, with nostalgic traditional Catalan cuisine, served in a hip (but still cozy) setting. They currently have a fabulous 40 euro tasting menu including wine pairings, crazy good value for Barcelona, that includes Croquettes, Grilled Asparagus with Romesco Sauce, Catalan saucisson and wild Garlic Omelette, Tuna with Samfaina and Crema Catalana (like Créme Brulée) with cava, an Emporda white, and a Monsant red. Nice place to come with a group of friends.
Website: www.petitcomite.cat
---
Paco Meralgo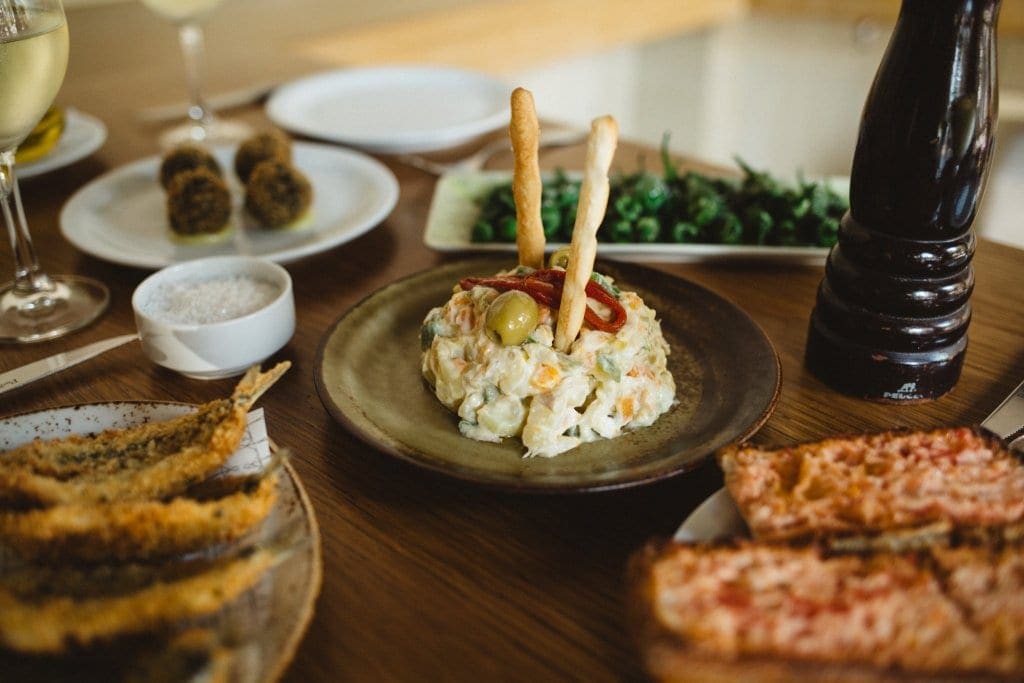 This self-described high-end tavern serves brilliant tapas. We love the cuttlefish meatballs, grilled razor clams, periwinkles, roast artichokes, cod Buñuelos, croquettes, Andalusian eggplant… delish and so worth it, don't miss the tapas here. They open 7 days a week (minus Christmas) for lunch and dinner, and lunch is particularly lively.
Website: restaurantpacomeralgo.com
---
Bravo 24 at the W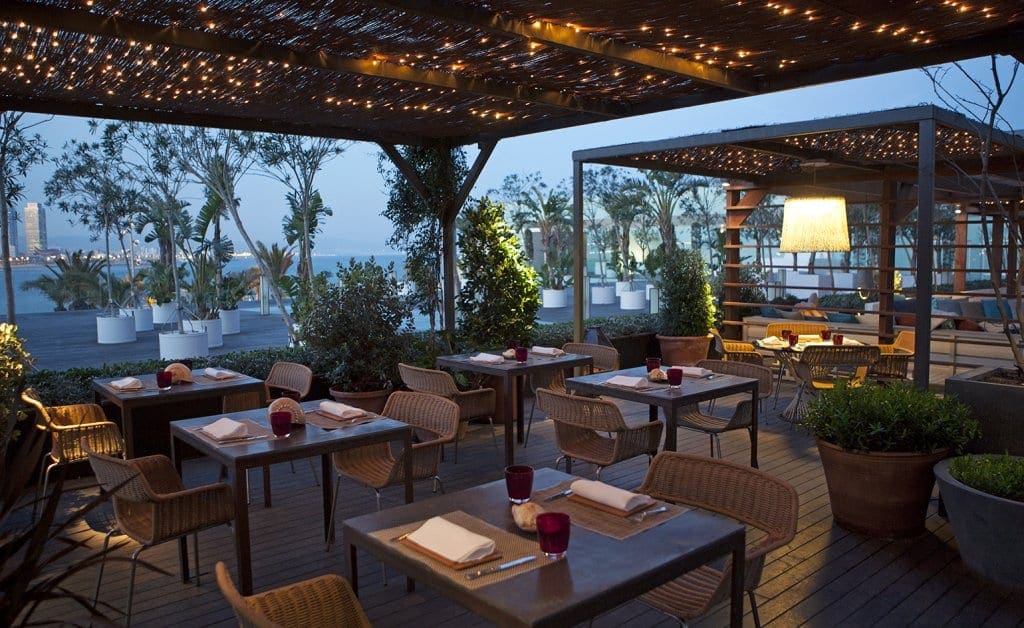 Carles Abellan (of Comerç 24) has this venture at the mega trendy beachfront W Hotel. Rice, seafood, and excellent tapas feature heavily on the menu, and this is a groovy place to have an upmarket yet casual lunch. Highlights include Zarzuela fish stew, razor clam salad, White asparagus from Gavà, and Wagyu beef. Chilled out and cool.
Website: www.bravo24.es
---
L'Olivé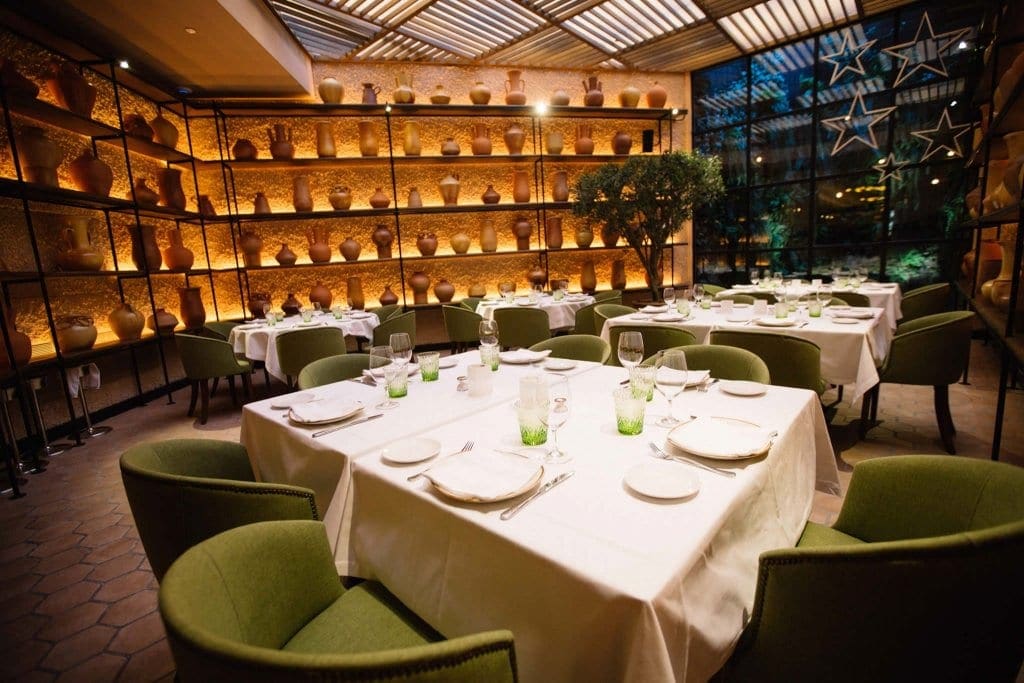 This elegant eatery is owned by the same group who run Paco Meralgo. Located on the shishi Calle  Balmes, the Olivé offers excellent Mediterranean cuisine in a cozy space; we like this one for lunch. Go with a group of friends so you can taste an array of dishes! Start with breaded Calçots (similar to leeks), marinated anchovies from Ondarroa, Fabulous Jamón de Bellota (hand-cut when you order), and perhaps their beautiful Catalan spinach dish (with pine nuts, raisins, and pancetta). The stuffed eggplant is also great, as are the road red peppers stuffed with cod. For the main course, you could taste their seafood paella or more traditional Fideos (noodles) with squid ink.
Website: restaurantlolive.com
---
Casa Delfin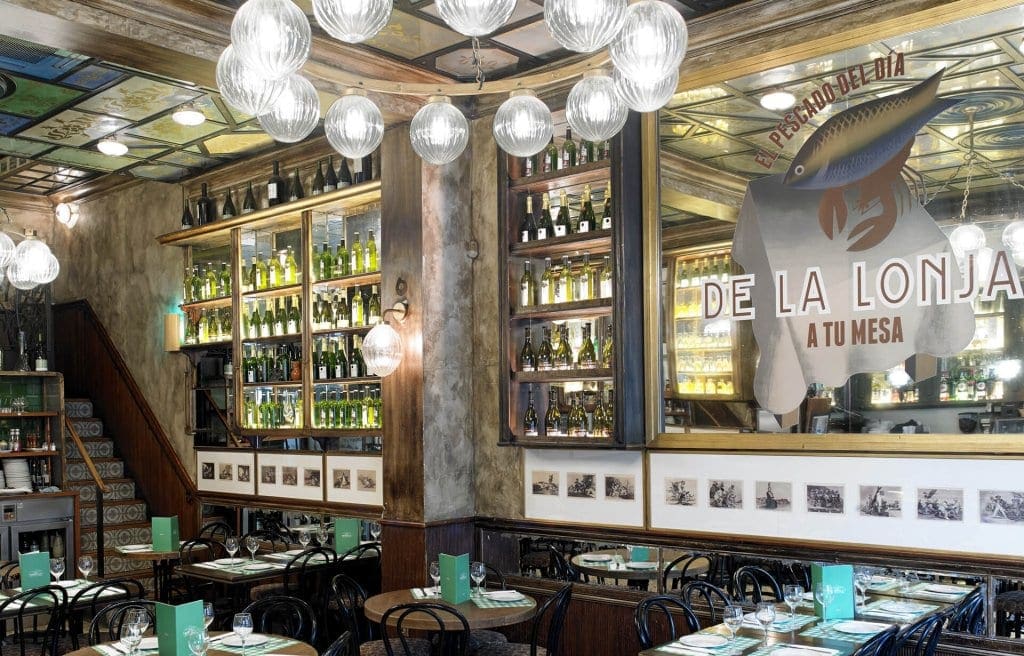 Again, top-notch tapas in a lovely location in the buzzy Born quarter, near the beautiful Santa Maria del Mar cathedral and a host of trendy shops and wine bars. We love sitting on the terrace at lunchtime and tearing into their mythical Catalan fish stew (Suquet) while guzzling Cava; this is one of life's pleasures! They do very traditional offal and seafood dishes too. They are one of the last traditional, honest, high quality  (not designer and trendy) tapas eateries left in Barcelona, refreshing.
Website: casadelfinrestaurant.com

---
Barcelona Restaurants Open for Monday lunch and Dinner

Fortunately, there are several Michelin starred haunts and top eateries that, although they don't open on Sunday, can be enjoyed on Monday; here are some of our recommendations;
Alkimia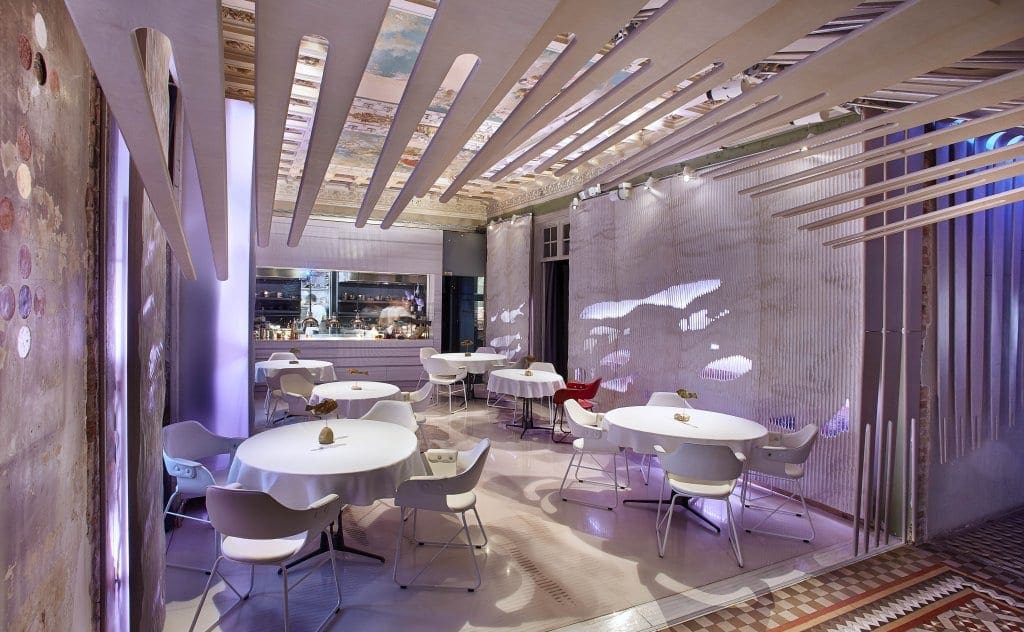 Super fabulous Michelin starred creative cuisine in a minimalist, chic setting in the Eixample quarter. One of the few high-end fine dining options on Monday nights. Run by the very pleasant Jordi Vilà. The dining room is bright and airy, and the dishes are a revelation!  Try beautifully presented dishes like Pickled oyster with glazed pork, Crystal bread with anchovies, Ñora pepper rice with saffron and bright red langoustine, and then seasonal offerings (they have white truffle from Piedmont now, for instance). Classics like Roast chicken cannelloni and baby lamb shoulder are given photogenic, cheffy presentations. For dessert, try masterpieces like Spiced pineapple with lemon and ginger sorbet or simple but utterly intoxicating Figs with soft cheese and black olives.
Website: alkimia.cat
---
Manairó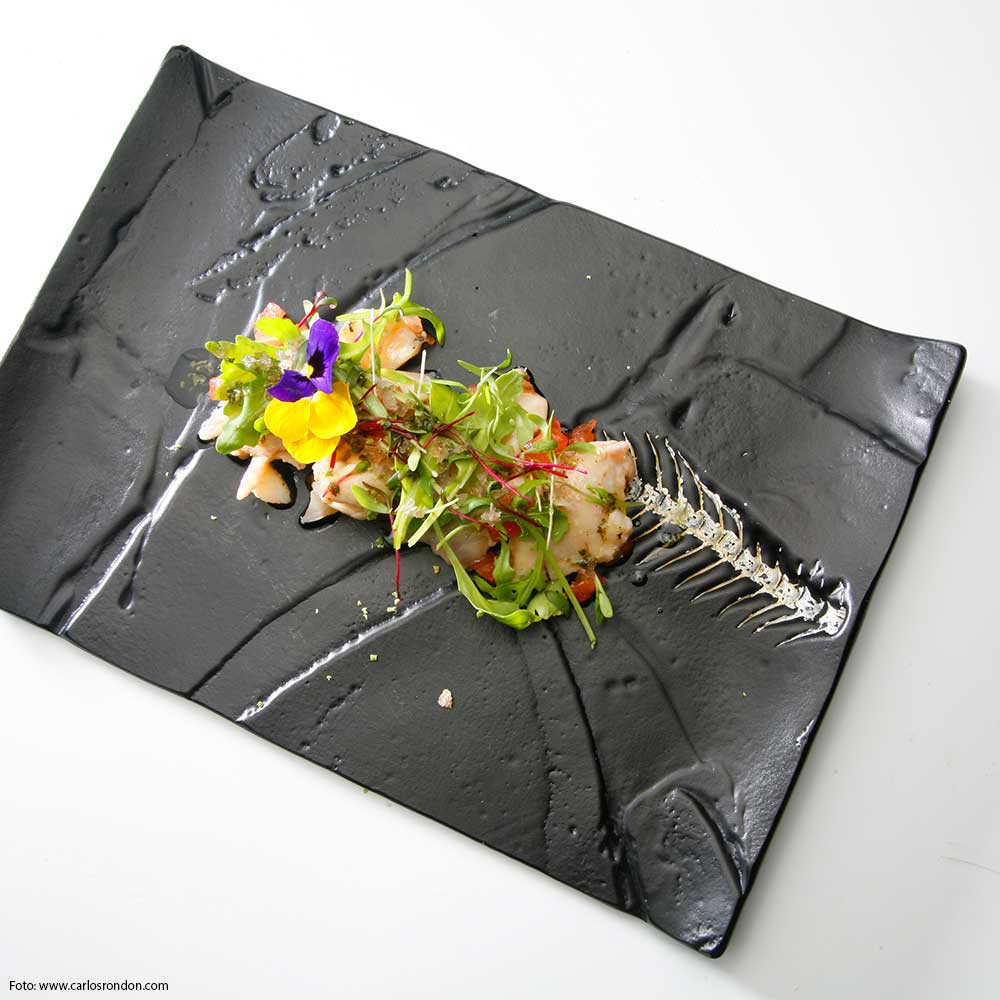 Barcelona's newish "Snout to tail" specialists, but don't let this put you off! Dishes include Wild sea-bream with stewed cuttlefish, mousse of grilled sardines, croquettes of roast chicken, scallops in rice, and so much more. While the presentation is creative, the dishes are actually appetizing with flavor combos that actually work (not pretentious flavor combinations showing off the chef's cleverness, there is a little bit of an epidemic of chefs using ingredients for the sake of novelty rather than flavor).
Website: www.manairo.com
---
Hisop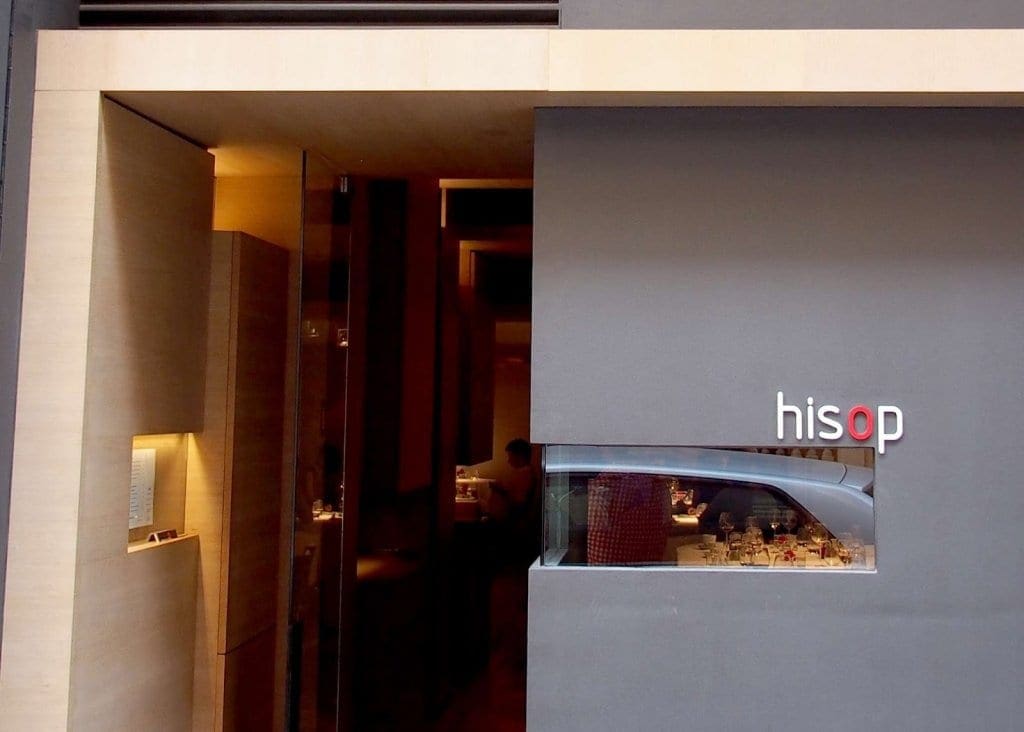 Contemporary and stylish, very small dining room, this is one of Barcelona's best value Michelin starred restaurants with accomplished creative cuisine. Signature dishes include their "After Eight Foie Gras" and grilled milk and hazelnuts. The current autumn menu looks very tempting with appetizers of pumpkin, scallops, Comté cheese & Squid with trumpets (wild mushrooms), sausage, and fennel; and main dishes of Monkfish with green "Romesco" and grilled duck with figs and endive. And the pistachio with kaffir lime also sounds delish; we need to go back to Hisop to taste their current menu as we have not been since last season, yummy!
Website: www.hisop.com
---
Hofmann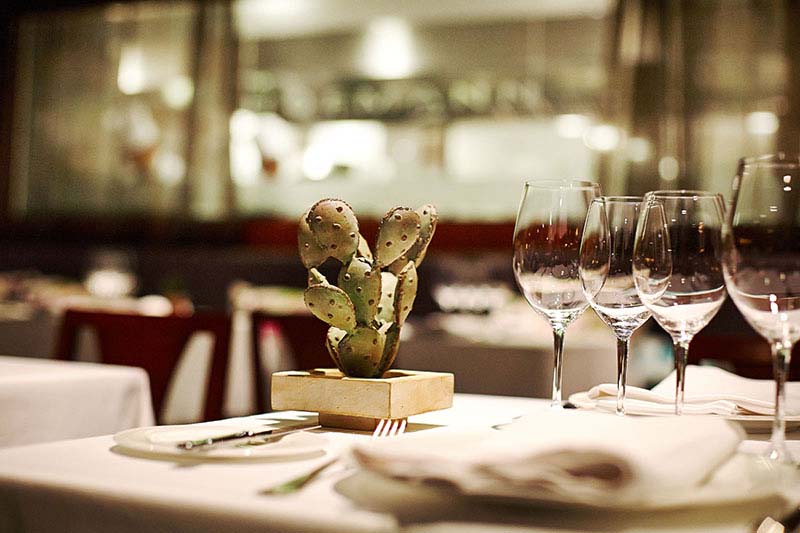 This is very much a fun gastronomic experience. Founder Mey Hofmann is also the inspiration behind one of the country's most influential culinary schools. A wonderful fusion of traditional Catalan dishes with modern, innovative touches. The desserts and patisseries are particularly heavenly, so make sure you save room for the finale.
Website: www.hofmann-bcn.com
---
Osmosis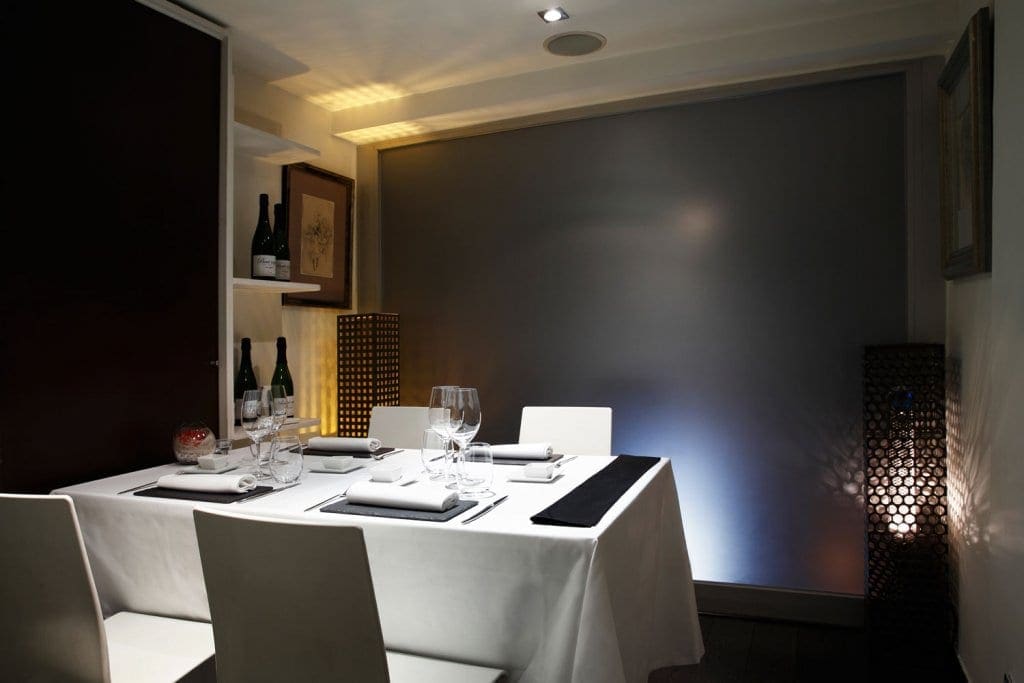 Modern crisp and clean yet at the same time providing a warm, cozy atmosphere, Osmosis prepares a new tasting menu every two weeks, market dependent. Offerings are always inspired by traditional Catalan cuisine, with a fun, creative touch and sublime presentation. You can enjoy a fabulous, extensive tasting menu with pairings for 115€ or if you are after a lighter option, their 5 dish menu with pairings is a fantastic option for 65€.
Website: www.restauranteosmosis.com
---
Nectari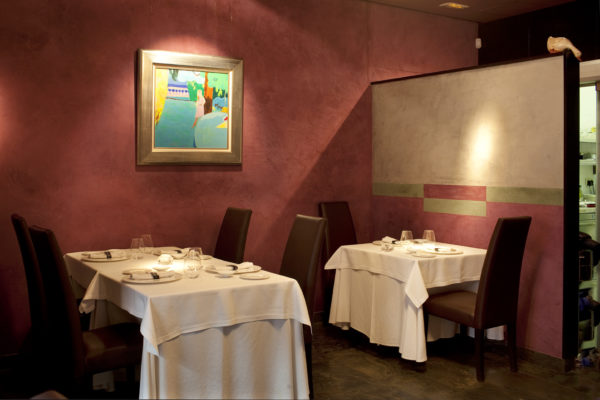 This elegant restaurant not far from the Plaza de España is a real gem. Jordi Esteve is the young, dynamic chef behind this project. Nectari gained its Michelin star in 2012 and has become a reference in Barcelona for innovative haute cuisine, with the utmost attention focusing on the quality of the raw ingredients. For the complete experience and to really see the endless works of art presented in front of you, the tasting menu with pairings is a must!
Website: nectari.es
---
Via Veneto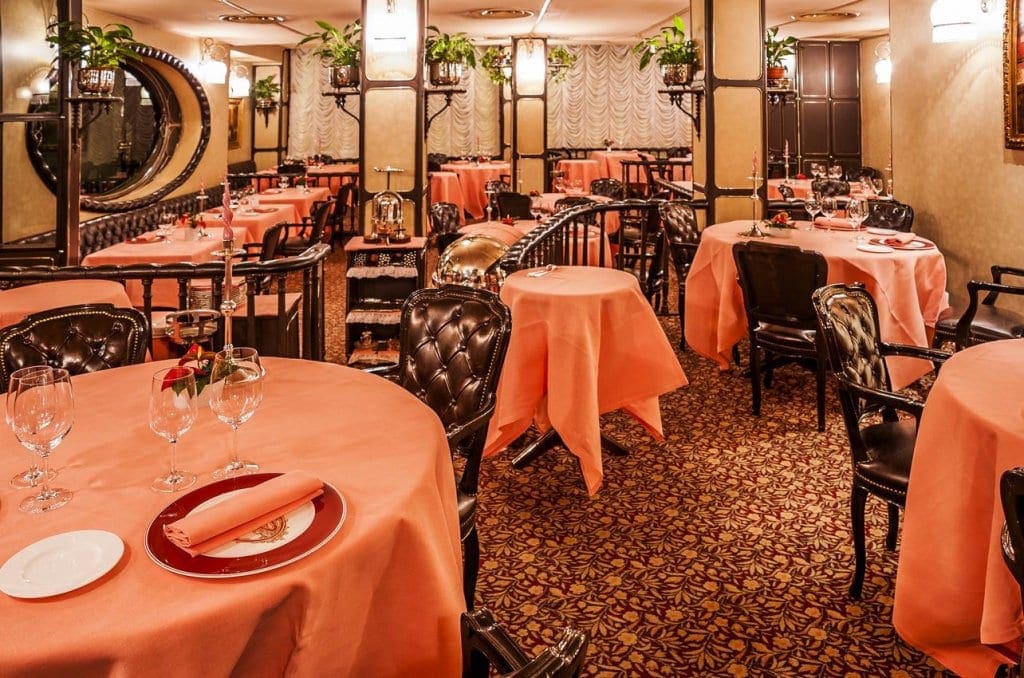 Currently celebrating their 50th Anniversary, this classic, opulently decorated luxurious restaurant is a must for gourmands. Everything is five star, the ambiance, service (hard to find this level of service these days), wonderful wine list, not to mention the amazing array of Catalan based, truly imaginative, and inspirational dishes that flow from the kitchen.  The Barcelona prawns (semi-cooked and tartar) with lime and carrot and the heavenly pressed duck are some favorites. For Negroni lovers, they make a mean one! Old school, but definitely still in Vogue!
Website: www.viavenetobarcelona.com
---
Tapas 24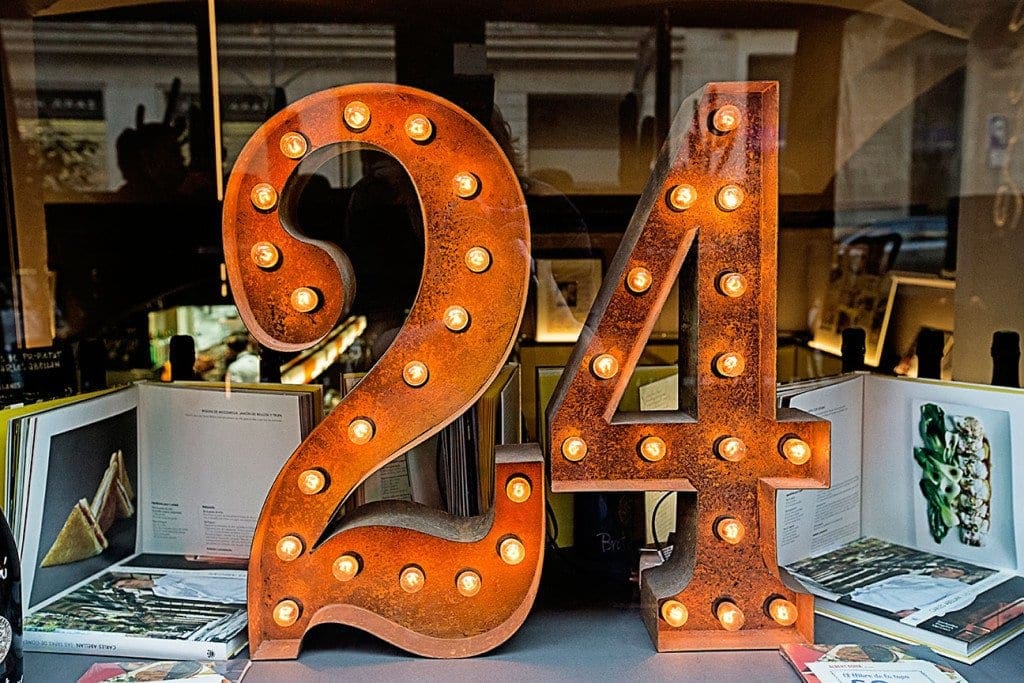 Michelin starred chef Carles Abellan's casual tapas joint. They don't accept reservations and open from 9 am to midnight, so you can come at nearly any time of the day, very handy to have a quality place like this on your agenda to avoid the ubiquitous greasy, touristy tapas places scattered around town. The tapas are all super traditional, just served with ultra-fresh ingredients. You´ll find classics like "La Bomba," the curious Russian salad, Pork croquettes, anchovy fritters,  the Bikini sandwich, Rabo de Toro, stewed lentils, and then a few cute creative tapas like the McFoie burger. They serve Vermut here, THE trendiest drink in Barcelona at the moment.
Website: www.carlesabellan.com
---
Cal Pep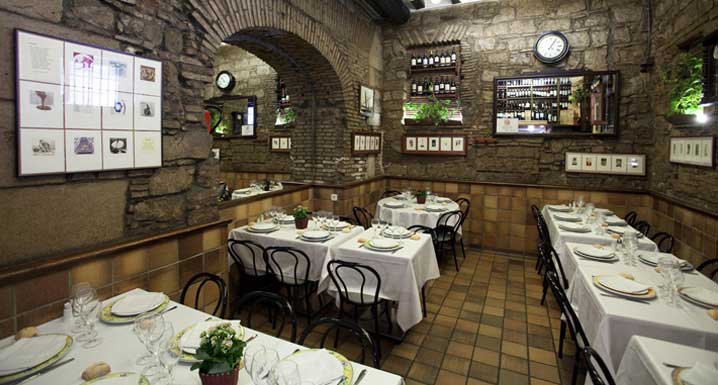 This wonderful fish restaurant is a veritable institution in Barcelona. Specialties at Cal Pep include Xipirons amb cigrons (Baby squid with garbanzos), hake wrapped in Swiss chard, artichokes stuffed with olives, tuna tartare, fried calamari, clams with cured Spanish ham, and so many more tantalizing dishes. They always have fresh fish of the daily specials, and you cannot go wrong with their recommendations.
Website: www.calpep.com
Related Posts: